Dallas Colleges:

Georges Niang
March, 22, 2014
3/22/14
7:09
PM CT
SAN ANTONIO -- According to the venerable RPI metric, the Big 12 had the best conference in college basketball this season. As a result, the league put seven teams into the NCAA tournament, more than any other conference.
But whether the Big 12 was really deserving of its top-dog status will largely be determined by the two games Sunday in San Antonio.
[+] Enlarge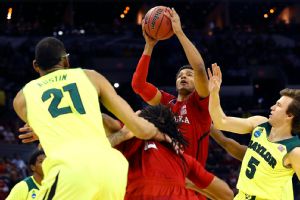 Ronald Martinez/Getty ImagesBaylor's athletic defense will have its hands full with Doug McDermott and Creighton.
First in the West Region, sixth-seeded Baylor will face off against the likely national player of the year in Creighton's
Doug McDermott
. Then in the East, No. 3 seed Iowa State will take on one of college basketball's bluebloods in North Carolina.
"We know that postseason is important for every conference," Bears coach Scott Drew said. "Statistically, we were the No. 1 conference in the country. But now postseason it's a new season."
It's also an opportunity for the Big 12 to confirm its distinction in two high-profile matchups. Especially following a lackluster start to the tournament elsewhere for the conference.
As a 5 seed, Oklahoma was knocked off by North Dakota State in overtime. Oklahoma State and Kansas State both fell in their 8-9 seed games to Gonzaga and Kentucky, respectively. Even regular-season champ Kansas struggled against No. 15 seed Eastern Kentucky, and even trailed with less than nine minutes to go in the second half.
But in San Antonio, the Big 12's two hottest teams delivered two impressive performances in the second round.
The Bears, who had won six in a row before falling to Iowa State in the Big 12 tournament championship game, dominated No. 11 seed Nebraska from the opening tip. Baylor held the Cornhuskers to just 23 percent shooting in the first half to build a double-digit lead, then cruised to a comfortable 74-60 victory.
"We're really confident right now," Baylor point guard
Kenny Chery
said. "All these guys in the locker room, no matter what we've been through this year, we feel like we're as good as any team in the country. We feel like we can play with anybody."
The Cyclones are feeling the same way, having reeled off five wins in a row.
While other high seeds struggled in their first tournament games across the country, Iowa State continued its hot shooting. In a 93-75 smoking of North Carolina Central, the Cyclones knocked down almost 64 percent of their field goals and 53 percent of their 3-pointers.
The win, however, came at a price, as
Georges Niang
suffered a tournament-ending foot fracture during the second half.
"

It was a grind to get through (the Big 12), but it helps prepare you for the moment that we're in for now. Our conference all year has been great.

"

-- Iowa State coach Fred Hoiberg
"Obviously, that's a very big loss for our team with the way that we use him and utilize his skill set to take advantage of a lot of mismatches," Iowa State coach Fred Hoiberg said. "Not only that, but just his enthusiasm and the way he helps keep guys together and fight through adversity -- it's a tremendous loss for this basketball team."
But even without Niang, the Cyclones still retain enough firepower, including Big 12 Player of the Year
Melvin Ejim
and All-Big 12 point guard
DeAndre Kane
, to slip past the Tar Heels and make a deep run in the East Region.
"This is still a confident group," Hoiberg said. "And we're playing a very good stretch of basketball right now."
To keep the stretch going against the Tar Heels, the Cyclones will have to figure out how they'll replace one of their top players in less than 48 hours. Hoiberg said Saturday he wasn't sure yet without Niang -- who at 6-foot-7 with range could play inside and outside -- whether he'd go small or go big. Either way, the Cyclones will need sophomore guard
Naz Long
, freshman guard
Matt Thomas
and junior forward
Daniel Edozie
to all play bigger roles Sunday, especially helping out on the glass against North Carolina, which secured 21 offensive rebounds to hold off Providence in the second round.
"People asked me how are you going to replace him? Who are you going to replace him with?" Hoiberg said. "And you can't just do it with one guy. It's going to be by committee. And everybody's got to be ready to go out there and contribute."
Baylor, meanwhile, will need a dogged team effort defensively to contain McDermott, who scored 30 points and grabbed 12 rebounds in Creighton's second-round win over Louisiana-Lafayette. The Bears, and their rangy zone defense, frustrated Nebraska. But nobody lately has been able to slow McDermott, who has scored at least 22 points in his last 14 games.
"He can score in multiple ways, whether it be shooting or getting to the basket," Baylor forward
Royce O'Neale
said. "So we just have to be prepared for it."
But both Big 12 coaches said the Big 12 season has prepared their players for such a pair of tough third-round matchups.
"It was a grind to get through, but it helps prepare you for the moment that we're in for now," Hoiberg said. "Our conference all year has been great."
By punching tickets to the Sweet Sixteen, the Bears and Cyclones would validate just that.
January, 20, 2014
1/20/14
3:00
PM CT
Game Plan is our Monday morning primer, designed to give you everything you need to know about the games that were and the games that will be in college hoops this week. Send us feedback and submissions via email and Twitter.
For the first 10 weeks of the 2013-14 college basketball season, Wisconsin and Iowa State shared much in common.
They were two of the sport's most enjoyable "surprise" stories, scare quotes intended, because the word surprise works only if you note that both were expected to be good, and wound up even better. Both programs subvert traditional offensive dogma, both rely on players (
Sam Dekker
,
Frank Kaminsky
,
DeAndre Kane
,
Georges Niang
) with uncommon skill sets; both take advantage of interchangeable parts. Both programs are more sheer fun to watch than ever before: The Cylcones have pushed their typical high pace under Fred Hoiberg to new versatile lengths, while the Badgers are playing at breakneck speed (for them, anyway -- 65 possessions per game). For the first 10 weeks of the season, both remained among the nation's ever-shrinking group of unbeaten teams. Last week, both lost that status.
[+] Enlarge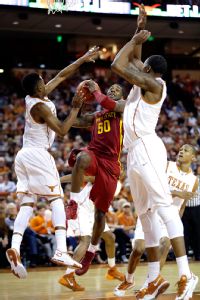 AP Photo/Eric GayIowa State's DeAndre Kane feels surrounded against Texas.
Did they ever. Ten days ago, Iowa State was in the thick of a three-team Big 12 title race. The Cyclones lost at Oklahoma on Jan. 11, then at home to Kansas two days later, and then, finally, at Texas on Saturday. Wisconsin, for its part, played uncharacteristically awful transition defense at Indiana on Jan. 14, falling to a shaky group whose next game
was a 54-47 home loss to Northwestern
. (
Yep
.) Just as surprising was Wisconsin's failure to recover over the weekend, when it managed 70 points in 68 possessions in a home loss to Michigan. It's now been nearly two weeks since either team won a game.
This is what makes January so fascinating: It is an exercise in transition. Teams are more frequently and more rigorously tested. Fatigue and attrition come into play. Certain teams begin to take fearsome shape; others reveal their shortcomings. Outliers regress to the mean. We go from shaky impressions formed from disparate nonconference schedules to solid ideas based on less noisy data (and more of it), and all in one month. And by the time it's all over, we're already slotting people onto seed lines. It happens fast.
So, what about Iowa State and Wisconsin? How much should perceptions change? Neither team was without its flaws even when it was undefeated, but those flaws were hidden behind close wins and scheduling luck. (Iowa State got the "Is
Mitch McGary
OK or not?" edition of Michigan at home; Wisconsin played Florida in the Kohl Center when the Gators had, like, six dudes on the team.) A few losses, sudden and stacked though they may be, won't send either team plummeting to the NIT. They're more like gentle reminders of the work ahead.
These are the kinds of things that get figured out in January, in this first great surge of conference clarity. It's when the nitpicking -- and the fun-- truly begins.
ICYMI: TOP STORIES
Kansas is starting to look scary.
On Saturday, our own Myron Medcalf made the rather bold proclamation that Syracuse was the nation's best basketball team. For what it's worth, and to channel Billy Madison, I disagree! Syracuse is a very good team -- that got a really great win over Pitt on Saturday -- but Arizona is the best team in the country. It is impossible for me to watch the Wildcats' combination of veteran guards and elite NBA frontcourt talent (not to mention its balanced offense and ruthless execution on defense) and not see the best team in the country, and it is hard for me to imagine another team approaching Arizona's comprehensive brilliance at any point before March.
If there is one team that
might
, it's Kansas.
The Jayhawks are still figuring it out, as the second half of their scraped knee of a win against Oklahoma State demonstrated. But at the rate they are improving -- which is roughly the same exceedingly fast rate as
Joel Embiid
's improvement -- and if they keep it up (and
Andrew Wiggins
doesn't make a habit of "three points on zero field goal attempts") the Jayhawks are a frightening long-term prospect.
(More: Kansas finally has an elite look, by Dana O'Neil, ESPN.com)
Digger Phelps was honored by Notre Dame
for his career as Irish head coach, and in the process celebrated the 40th anniversary of the school's streak-breaking win over John Wooden, Bill Walton and UCLA. I wrote about
the lasting meaning of that game here
.
Iowa demonstrates depth, pulls away from Minnesota, 94-73.
Fran McCaffery's rebuilding work at Iowa goes far beyond the brilliant offense the Hawkeyes play, or the textbook timeline they've followed to get from "disaster" to "Big Ten title contender." It is also about depth:
Josh Oglesby or no Josh Oglesby
, Iowa's combination of scorers is as well-rounded and effective as any team in the country. Even when
Aaron White
and
Roy Devyn Marble
struggle at the same time, they're pouring in points. It's remarkable.
STAT OF THE WEEK
: According to ESPN Stats & Information, Embiid's eight blocks Saturday constituted a 26 percent block rate -- which means when Embiid was on the floor, he blocked
one out of every four
Oklahoma State attempts. You know when your computer stalls and you have to restart it? I just had to do that,
but with my brain
.
THE GAMES YOU NEED TO SEE
(For two more in-depth previews of big games in the week to come, check back for Monday morning's "Planning for Success" series.)
Monday


Baylor at Kansas, 9 p.m. ET, ESPN
: I'm not sure a Baylor team that looked so nondescript in Saturday's home loss to Oklahoma -- and by the way, how good is Lon Kruger? -- has any chance here. But you have to watch Kansas at this point, because the experience of doing so is like watching a Power Rangers villain slowly learn how to assemble itself.
Wednesday


Wichita State at Illinois State, 8:05 p.m. ET, ESPN3
: Speaking of the "points of the calendar we are getting to" theme discussed in today's intro, here's another: The point when everyone starts to take Wichita State's chances of going unbeaten in the regular season seriously. After handling Indiana State at home Saturday,
the kenpom.com projection math
gives the Shockers a 25.6 percent chance of making it to the postseason unbeaten.
Saturday


Florida State at Duke, noon ET, ESPN
: You may have lost your interest in the Seminoles on Saturday, when Virginia tidied up a two-game regular-season sweep of FSU earlier than most, but in non-UVa-related games, Florida State has been mostly stellar since mid-December. Duke doesn't guard so well, but boy can it score; reverse that statement and you've got FSU's M.O. This game is pure strength-on-strength gold.


Tennessee at Florida, 4 p.m. ET, ESPN
: Tennessee rebounds 42 percent of its misses and features one of the best offensive guards in the country (
Jordan McRae
), and somehow is just 11-6. How so? The past two Saturdays -- a road loss at Kentucky, yes, but also a 57-56 home defeat to Texas A&M a week prior -- have not been kind. Will Florida make it three in a row?


Michigan at Michigan State, 7 p.m. ET, ESPN
: Last week, this game may have earned mention for the rivalry, though we would have covered the inherent disappointment, too -- that losing McGary to season-ending back surgery had kept reigning national runner-up (oxymoron?) Michigan from true Big Ten contention. After Saturday's win at Wisconsin, is it safe to say even that much? Put this one back on your radar.
PHOTO OF THE WEEK
January, 18, 2013
1/18/13
4:00
PM CT
Kansas State has moved up a spot in this week's Big 12 power rankings -- and the Wildcats could be even higher by this time next week if they capitalize on two huge opportunities in the coming days. K-State's next two games are against Oklahoma and Kansas -- both at home. The Sooners and Jayhawks are the only schools in the Big 12 besides K-State that have yet to lose a league game. Should be a fun week. Here are the latest rankings.

1. Kansas.
The Jayhawks' offense has sputtered a bit lately, but defensively Bill Self's squad has been stout. The Jayhawks held Baylor to 44 points on 23.2 percent shooting Monday. Leading scorer
Ben McLemore
injured his ankle but is expected to play against Texas on Saturday in Austin.
2. Iowa State.
After nearly upsetting KU in Lawrence nine days ago, Iowa State has defeated Texas by 20 points and staved off a late rally by West Virginia. The Cyclones' next two games are road tilts against the league's worst two teams: TCU and Texas Tech.
3. Kansas State.
No other player in the Big 12 has been as good as
Rodney McGruder
since the beginning of conference play. The senior is averaging 22 points per game against Big 12 opponents and is shooting 54 percent from the field. Center
Jordan Henriquez
has given his team a nice boost off the bench in recent weeks.
4. Baylor.
The Bears can't be as bad as they looked against Kansas on Monday, can they? Baylor is in for a long Big 12 season if it doesn't show more discipline and start taking better shots. Baylor plays a nonconference game against Hardin-Simmons on Saturday before hosting Oklahoma State in a crucial contest Monday night.
5. Oklahoma.
The Sooners hit the jackpot by hiring Lon Kruger. Oklahoma is one of the league's three remaining undefeated teams along with Kansas and K-State.
Romero Osby
leads the team in points (13.7) and rebounds (6.3). Saturday's game at K-State is huge for both teams. Four of OU's next six games are on the road.
6. Oklahoma State.
By the time they take the court for Saturday's game against Texas Tech, the Cowboys will have had a week to think about last weekend's 77-68 loss to rival Oklahoma in Norman.
Marcus Smart
has shown great leadership, but he's shooting just 41.3 percent from the field and 29.7 percent from 3-point range.
7. West Virginia.
The Mountaineers haven't lived up to their expectations, but they certainly appear to be getting better, especially in the toughness department. Bob Huggins' squad erased an 18-point second-half deficit against Iowa State but lost when Cyclones forward
Georges Niang
hit a layup with 2.5 seconds remaining. WVU is a threat to beat anyone in the conference.
8. Texas.
The Longhorns have lost four of their past five games, including two in overtime. With Kansas visiting this weekend, things probably won't get better soon.
Sheldon McClellan
played just one minute in last weekend's 20-point loss to Iowa State as coach Rick Barnes, displeased with McClellan's effort, sent the team's leading scorer a message.
9. Texas Tech.
Chris Walker's squad has lost its past three Big 12 games by an average of 22 points.
Jaye Crockett
leads the team in points (13.8) and rebounds (8.3). Texas Tech's next two games (at Oklahoma State on Saturday and at home against Iowa State on Wednesday) will be tough. But a Jan. 26 tilt at Texas could be interesting.
10. TCU.
The Horned Frogs led Baylor at halftime Saturday before losing 51-40. Trent Johnson's squad simply doesn't have the personnel to compete with major college schools. No one would be surprised if TCU finished 0-18 in league play.
December, 7, 2012
12/07/12
3:00
PM CT
Last season, the Pac-12 was the toughest conference in the country to power-rank each week. This season, that honor falls on the Big 12. Other than Kansas, the league is filled with mediocre teams that -- at least for now -- don't appear to have much potential for a deep run in March. But hey, on the positive side, the parity will make for some close, exciting games once Big 12 play begins in January. Here is how the conference looks thus far.

1. Kansas.
The Jayhawks clearly have separated themselves from the rest of the Big 12, yet even Bill Self will admit his squad hasn't looked all that great. Chemistry and depth are issues in the backcourt, and Kansas still is searching for a leader. Saturday's home game against Colorado is scary.
2. Iowa State.
As I mentioned, ranking the Big 12 is a crapshoot at this point, but Iowa State is 6-2 with losses against a pair of ranked teams (Cincinnati and UNLV). The Cyclones boast plenty of weapons with
Will Clyburn
,
Korie Lucious
,
Tyrus McGee
,
Melvin Ejim
and
Georges Niang
. And they've got a great coach. Good enough for me.
3. Oklahoma State.
I know Virginia Tech has surprised some people, but the Cowboys still shouldn't have lost to the Hokies by double figures last week in Blacksburg. Travis Ford's team is too talented to let that happen. Oklahoma State deserves credit, however, for bouncing back with a nice effort in Wednesday' 61-49 home victory over South Florida.
4. Kansas State.
Rodney McGruder
appears to have snapped out of his funk and is averaging 19 points in his past two games. Kansas State has played just one good team (Michigan) and lost handily. It's tough to get a read on the Wildcats at this point, but they're definitely one of the more experienced squads in the conference.
5. Oklahoma.
Lon Kruger has made the Sooners relevant again. Oklahoma competed its tail off before losing to Arkansas 81-78 in a difficult road environment Tuesday.
Romero Osby
is averaging a team-high 12.5 points per game for the Sooners, who are off until Dec. 15.
6. Baylor.
It seems unheard of for a team to beat Kentucky in Lexington and then drop four spots in the power rankings. But the Bears can't be trusted. Not yet, at least. Considering its depth and talent, Baylor's home losses to College of Charleston and Northwestern were two of the worst setbacks by any Division I team all season. And it easily could have lost to downtrodden Boston College. There's no excuse for this team to be playing so sloppily and uninspired.
7. West Virginia.
The Mountaineers appear to be on an upswing following Wednesday's victory over a solid Marshall team, although the victory was marred by a near-brawl that led to the ejections of four WVU players for leaving the bench. Bob Huggins' squad could gain even more momentum by beating undefeated Virginia Tech on Saturday.
8. Texas.
As if a 12-point loss to Division II Chaminade wasn't embarrassing enough, the Longhorns scored a measly 41 points in Tuesday's setback against Georgetown in the Jimmy V Classic. Even the return of point guard
Myck Kabongo
might not be enough to save Rick Barnes' team, which plays UCLA on Saturday in Houston.
9. Texas Tech.
The Red Raiders finally played a quality opponent last week and, predictably, got exposed in an 85-57 loss to Arizona. Still, there are reasons for optimism in Lubbock. Guard
Josh Gray
is averaging three steals, and
Jaye Crockett
is scoring 15.3 points per game. This team will win some Big 12 games, and not just against TCU.
10. TCU.
The Horned Frogs lost to Houston on Tuesday and will be looking to bounce back at Tulsa on Saturday. Coach Trent Johnson is doing well on the recruiting trail but simply lacks the personnel to win many games during his first season in Fort Worth.