Dallas Colleges:

Gerald J. Ford Stadium
September, 24, 2010
9/24/10
7:02
AM CT
By
Jeff Caplan
| ESPNDallas.com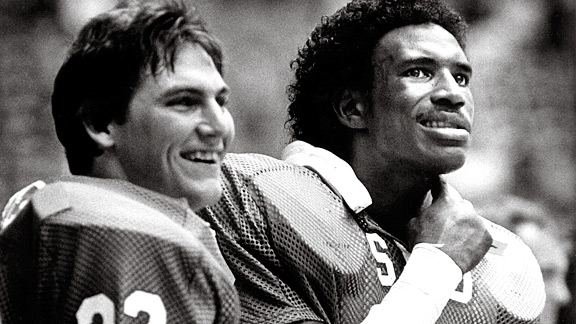 AP PhotoCraig James and Eric Dickerson combined for 282 yards against TCU in 1982, including the game-tying 5-yard touchdown run by Dickerson in the fourth quarter.
The final selection in a series flashing back to memorable moments in the Battle for the Iron Skillet. This season's version kicks off at 7 tonight at SMU's Gerald J. Ford Stadium and will be televised on ESPN.
Played at Texas Stadium, No. 6 SMU
To kick off this series on Monday, we looked back at the 2005 matchup in which SMU won a September matchup. It was the lone loss the Horned Frogs that season and likely prevented TCU from its first BCS bid, which it achieved last season. Twenty-three years earlier, the No. 6 SMU Mustangs nearly went down the same path.
Even though the Ponies were without coach Ron Meyer, who left for the NFL prior to the season, new coach Bobby Collins had a full stable. In a game played at Texas Stadium to open Southwest Conference play in week 3 of the season, the Pony Express expected to stamped the Frogs.
And they did, at least in terms of yardage. The backfield duo of Eric Dickerson and Craig James combined for 282 yards. But, it was the Kenneth Davis-led Horned Frogs who held a 13-6 lead entering the fourth quarter.
Dickerson tied it up with a 5-yard touchdown run and a 19-yard field goal by Jeff Harrell won it. A couple weeks later, SMU beat Texas in Austin, paving the way for an unbeaten season and a No. 2 national ranking at the end of the season.
SMU finished 11-0-1, including a 7-3 victory over Dan Marino and Pittsburgh in the Cotton Bowl. SMU was the only undefeated football team in the nation that season, but one-loss Penn State was named the national champion after beating Georgia in the Sugar Bowl.
TCU was headed the other direction. The 1982 season spelled the end for F.A. Dry and ushered in the Jim Wacker era.
September, 23, 2010
9/23/10
11:45
AM CT
By
Jeff Caplan
| ESPNDallas.com
Gary Patterson's vaunted
TCU
defense is right back at the top of the charts despite losing two players to the first two rounds of the NFL draft.
These days, the Horned Frogs simply re-load.
After three games, TCU is ranked No. 4 in the nation in total defense, allowing 222.7 yards a game. They've yet to give up 200 yards passing in a game or 100 yards rushing.
"Their defense is the best defense I've looked at in 10 years I've been in college football," said
SMU
coach June Jones, whose Mustangs take on the fourth-ranked Frogs Friday night at Gerald J. Ford Stadium. "They know what they're doing. They're well-coached, they know their schemes, they know how to play football. They play fast and do they do what they do, like all great teams do, and make you adjust."
Jones called this season's unit better than last year's that led the nation in total defense (239.7 ypg).
They limited pro-style
Oregon State
quarterback
Ryan Katz
to 159 yards passing and dangerous tailback
Jacquizz Rodgers
to 75 yards on 18 carries. Elusive
Baylor
quarterback
Robert Griffin III
was held to 164 yards passing and 21 yards rushing on 14 carries.
About the only thing the Frogs defense hasn't done much of yet is make picks. They have just one, from junior cornerback Jason Teague, on 70 pass attempts.
They'll get plenty of opportunities to make plays Friday night against Jones' spread offense led by impressive sophomore quarterback
Kyle Padron
. The Mustangs are averaging 35.3 pass attempts and a less-than-expected 224.0 yards a game through the air. Padron has thrown three interceptions. Surprisingly, they've been quite effective running the ball, averaging 165.3 yards a game. Sophomore
Zach Line
is averaging 7.7 yards a carry and 92.0 yards a game.
Jones knows his still-evolving offense has its hands full against the fast and physically imposing Frogs defense.
"That's a statement they make every game they go play. They play very physical and they play hard," Jones said. "That's what they're going to try to do against us or they're going to try to do it against Ohio State."
September, 23, 2010
9/23/10
7:00
AM CT
The fourth in a series flashing back to memorable moments in the Battle for the Iron Skillet. This season's version kicks off Friday night at SMU's Gerald J. Ford Stadium and will be televised on ESPN.
A day after highlighting the 1935 "Game of the Century" that featured TCU's Slingin' Sammy Baugh (and if you haven't seen the film clip of the game -- it is must-see -- click
here
), although in a rare, losing effort, how could we not come back with SMU legend Doak Walker doing his thing against the Horned Frogs in another classic cross-town grudge match?
The Mustangs came to Fort Worth sporting a 9-0 record. While the Horned Frogs were not as strong as some of coach Dutch Meyer's earlier teams, they jumped out to a 12-0 lead. Walker cut the lead to 12-7 as he pulled the down and scrambled 65 yards for a touchdown. Then, using a mixture of pass and run, guided the Mustangs in the end zone again. This time he missed the extra point, but the Ponies had the lead 13-12 with time running out on the Frogs.
But, as an SMU report tells it, the TCU wasn't about to give up on spoiling the Ponies' perfect season. TCU quarterback Lindy Berry threw a bomb from his own 10-yard line to Morris Bailey at midfield. Bailey took it all the way to the SMU 15, then tosseda lateral to wingback Charlie Jackson, who made it to the 5. He then tossed it back to fullback Pete Stout, who crossed the goal line to finish off the amazing play with only 1:30 left to play.
TCU 19, SMU 13. This one appeared to be history.
Again, according to the SMU report, legend has it that TCU tackle Harold Kilman, obviously believing the Frogs had the game locked up, looked over at Walker and said, "Now what are you gonna do, Doak? Walker responded confidently, "We're going to score again." On the ensuing kickoff, Walker caught the ball inside his 10 and took off down the sideline all the way to the TCU 35.
That's when Gil Johnson reentered the game and Walker moved to wingback. TCU double-covered Walker, knowing Johnson wanted to get the sophomore star the ball. Somehow Walker still managed to get open, and Johnson hit him at the 10-yard line.
According to the SMU report, Johnson, many years later, recalled what happened: "We didn't have time to huddle. I told everyone who was eligible to go down the field and everyone else to block. I looked for Doak, but they were all of over him as usual. Then I saw Sid Halliday out there and I threw it to him. I think he had a couple of men on him but he made a fine catch. I always did have a lot of confidence in Sid. He was a real fighter."
SMU had tied the score at 19-19 with 20 seconds left on the clock. All the Mustangs now needed to go to 10-0 was the extra point from the exhausted Walker, who had rushed for 119 yards, returned three kickoffs for 163 yards, completed 10-of-14 passes for 136 yards and scored the first two touchdowns.
Did Walker have enough leg left to win the game?
Incredibly, no.
The 1947 battle would end in a 19-19 tie.
September, 22, 2010
9/22/10
8:33
PM CT
By
Jeff Caplan
| ESPNDallas.com
Sudden demand for tickets to Friday night's Battle for the Iron Skillet, pitting No. 4 TCU against SMU at Gerald J. Ford Stadium has prompted SMU to begin selling $20 general admission tickets for the south end of the stadium.

In a release issued Wednesday night, SMU says the game is approaching a new stadium attendance record. The current mark is 34,749 set at the 2009 season opener.

The tickets will be available online at SMUMustangs.com and that the athletics ticket office at Ford Stadium.

The Mustangs have won five in a row at home. TCU is the highest-ranked team SMU has played host to since No. 2 Texas in the 1983, and the highest-ranked team SMU has faced since No. 1 Notre Dame in 1989.

For information on ticket availability, call 214-768-4263.
September, 22, 2010
9/22/10
1:46
PM CT
By
Jeff Caplan
| ESPNDallas.com
UNIVERSITY PARK, Texas -- Officially, Friday night's Battle for the Iron Skillet is not yet a sellout although it is expected to be very close to one by the 7 p.m. kickoff at Gerald J. Ford Stadium.
That's good news for
SMU
. But, better news for
TCU
?
"I am," SMU coach June Jones said on Wednesday, noting he's happy for his team that it will play in front a big crowd on its home turf. "But, I think there's going to be about 25,000 TCU fans. So, that will be fun for the kids to come into a full stadium though, certainly, no matter who it is."
Capacity at Ford Stadium is about 32,000. TCU quickly sold out its allottment of 2,000 tickets, but that hasn't stopped thousands of other Frogs fans from purchasing tickets from the SMU box office.
The Mustangs' success last season hasn't translated into a major attendance spike. SMU drew 16,612 to its home opener against UAB, and 18,184 last week against Washington State. SMU's last home sellout was last season's opener.
September, 21, 2010
9/21/10
4:25
PM CT
By
Jeff Caplan
| ESPNDallas.com
Gary Patterson, the 10th-year coach of the No. 4
TCU Horned Frogs
has never been afraid to use the words of others to fire up his own team. He did it just last week with
Baylor
quarterback
Robert Griffin III
, who had some rather innocent comments about the Frogs being a step above Baylor's previous conquest, Buffalo.
Patterson took exception to being just one step above the aforementioned Buffalo.
Now, Patterson isn't quite getting what June Jones, the resurrector of
SMU
pigskin, is laying down about Friday's Battle for the Iron Skillet at SMU's Gerald J. Ford Stadium (7 p.m., ESPN).
"It's the second week in a row we're playing somebody, and I guess having a ranking to you, it's a statement game for those people," Patterson said. "June's done a good job with words. I didn't quite understand the intent of the meaning. In one sense, he said it's not any bigger game for him, but it could be a statement game for the program. So, is it not a big game or is it a big game or what exactly is it?
Here's what Jones said to reporters at SMU's practice Monday morning: "You've got a chance to make a statement on national TV. At the same time, our next two conference games [Rice and Tulsa] after this one are something that we're trying to stay focused on."
That wasn't all Patterson nit-picked.
Jones also said: "We're going to play hard. We'll have fun. They [TCU] will come in here and try to embarrass us physically. Hopefully, our kids will rise up and play hard."
Patterson will insist forever that he's not out to embarrass anybody or rack up style points against anyone. Hey, he remembers 2005 when SMU handed TCU a loss in week 2, as it turned out, its lone loss of the season.
So, Patterson retorted: "I saw something on TV and read it where it was we were coming over to humiliate 'em. We're coming over to win by one point. SMU is a good football team. It's always a war. It's especially always a war when we play over at Ford Stadium. It's not going to be any different than that. So, I understand the challenge to get more people in the stands and get everybody fired up. But, the bottom line to it is we're just trying to go win a ballgame."
Later during Patterson's weekly Tuesday press conference, he said that as far as he's concerned, he and Jones are good friends.
Let's hope the game is as good as the coaches' banter.
September, 19, 2010
9/19/10
11:51
PM CT
By
Jeff Caplan
| ESPNDallas.com
The first in a series flashing back to memorable moments in the Battle for the Iron Skillet. This season's version kicks off Friday night at SMU's Gerald J. Ford Stadium and will be televised on ESPN.
TCU
coach Gary Patterson has a long memory, so Sept. 10, 2005, practically feels like yesterday.
The Horned Frogs were feeling great after going up to Norman, Okla., and holding the No. 5 Sooners to 225 yards of offense in a season-opening 17-10 victory in front of 84,332 stunned Oklahoma fans.
[+] Enlarge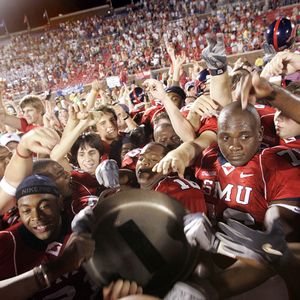 AP Photo/LM OteroThe last time SMU took home the Iron Skillet was after the Mustangs' 2005 shocker against TCU.
The Frogs used that victory to break into the AP Top 25 poll at No. 22. Next up was a short trip to Gerald J. Ford Stadium at University Park to play the downtrodden
SMU Mustangs
, who were coming off a season-opening home loss to Baylor. This was supposed to be an easy one for the Horned Frogs, who had big dreams of an undefeated season and a first-ever berth in a BCS game.
But, that's life in college football: Get too far ahead of yourself and all heck can break loose. After all, the Horned Frogs had beaten the Mustangs six straight times heading into the '05 matchup, their longest streak in a series that dates to 1915. The Iron Skillet wasn't going anywhere as far as the Frogs were concerned.
"The last time, back in 2005, I went to SMU after a big win, I got my ass beat," Patterson said after his fourth-ranked Horned Forgs spanked Baylor, 45-10, Saturday afternoon.
Patterson remembers it well. SMU's stunning 21-10 victory, in which it did not allow an offensive touchdown and hundreds of win-starved students stormed the field, went down as the program's most important win since coming off the Death Penalty in 1989. The Mustangs got to keep the Iron Skillet for two years because the series went on hiatus in 2006. Since, TCU has won the last three and it must make it four if the Frogs' current goal of a second consecutive undefeated regular season and BCS game are to come to fruition.
New SMU coach June Jones and a revived Mustangs program know it, too. As it turned out, the SMU loss in the second week of the 2005 season played the ultimate spoiler. It would have been a historic season for the Frogs, who went on to win 10 in a row, sweeping Utah and BYU in consecutive overtime thrillers and claiming the Mountain West Conference championship.
But, Sept. 10, 2005, belonged to the Mustangs, who hadn't beaten a ranked opponent since 1986, prior to the Death Penalty.
DeMyron Martin was the star of the game for SMU. He ran 26 times for 118 yards, with scores of 9 and 2 yards. He caught two passes for 30 more yards.
"Tonight was about SMU pride. We're tired of hearing about TCU and how they don't want to see this game as a rivalry," then-SMU coach Phil Bennett said. "I'll tell you something, they better see it as a rivalry. I can see why they haven't, because we haven't proved it and haven't earned their respect recently. They beat us 44-0 last year. But, tonight I told the guys you earn respect. You don't talk about it, you earn it."
Nothing went right for TCU. Quarterback Tye Gunn misfired on his first seven passes and finished 16-of-36 for 134 yards with three interceptions, two in the closing minutes. Running back Lonta Hobbs was lost to a groin injury in the first quarter. Even the kicking game went haywire. Peter LoCoco missed 3-of-4 field-goal attempts, including a 31-yarder that would have cut SMU's lead to 14-13 in the third quarter.
''We didn't score a touchdown on offense tonight," Patterson said, "and you're not going to win many games like that."
August, 17, 2010
8/17/10
11:47
AM CT
By
Jeff Caplan
| ESPNDallas.com
The Armed Forces Bowl on Tuesday confirmed that the Dec. 30, 2010 game
will move to SMU's Gerald J. Ford Stadium
.
The competing teams, one of which will be the
Army Black Knights
-- as long they become bowl eligible -- will still be housed in Fort Worth and all bowl activities during the week will take place in Fort Worth. The game is moving to SMU because of major renovations to TCU's Amon G. Carter Stadium that will begin at the end of the regular season in November.
The game will be broadcast at 11 a.m. on ESPN.