Dallas Colleges:

Graham Harrell
May, 14, 2013
5/14/13
5:30
PM CT
AUSTIN, Texas -- When it came to David Ash, Malcolm Brown's answer was no different than any other Texas player has given over the past several years when the quarterback question has come up.
"Like Mike Davis said, he has a swagger about him now," the running back said of the quarterback.
Only now it might be time to believe in the rising junior. Not because of some huge personality shift in Ash, but because this time –-- the junior season following a multiyear starter's sophomore season -- is typically when said actions start to speak louder than words.
Looking back at eight Big 12 multiyear starting quarterbacks -- Texas' Colt McCoy, Texas' Vince Young, Missouri's Chase Daniel, Texas Tech's Graham Harrell, Oklahoma's Landry Jones, Oklahoma State's Brandon Weeden, Baylor's Robert Griffin III and Kansas' Todd Reesing -- all but one had a dramatic leap in every statistical category from their sophomore to junior years. (Jones was the exception. In the six categories measured, he only increased his stats in one category, average yards per game.)
So the odds are Ash, who started 12 games in 2012, should follow suit. Maybe not to the extreme of Young, who topped the other seven aforementioned quarterbacks when it came to overall production increase. But there should at least be a measure of improvement to Ash's stats. How much is up for debate for the next several months.
But if he follows the statistical average presented by those eight quarterbacks who have gone before him, Ash could see his passing efficiency rating rise by 17.10 points, completion percentage by 5 percent, touchdowns by 5.8, interceptions shrink by a nominal 0.25, overall yards move up 581.8 and yards per game to increase by 45.6.
Of course, there are mitigating factors that could shape whether or not Ash has a rise or fall in his stats in 2013.
One of which is that Ash already experienced a dramatic rise in his stats from 2011 to 2012. In his sophomore season, Ash finished in the top 25 in passer efficiency rating and increased that rating 45.9 points. He had 15 more touchdown passes as a sophomore, threw for 1,620 yards and completed 10.4 percent more of his passes. (He also had 144 more attempts as a sophomore than as a freshman.) The point being that quite possibly a ceiling, if not already hit, is at least within arm's length.
A counterargument could be that a shift in offensive philosophy, from traditional sets to spread, should serve to bolster his stats. In addition, the Big 12's defenses -- at least that of top teams Oklahoma and Kansas State -- have experienced huge losses on their side of the ball. Add that fact to the unavoidable truth that the Big 12 is not exactly chock full of top defenses -- only TCU and Texas Tech finished in the top 40 in total defense in 2012 -- and it sets up for Ash to have at least a nominal rise in his statistical production in his junior season.
If all that is not enough to make a decision, there are still the words of Ash's teammates to go by as well:
"Now that he has it down, he's a lot more comfortable," Brown said. "He's loosened up with us and he talks more now because he knows what he's doing."
Given that this is Ash's junior year and that history is on his side, it might just be time to believe those words.
June, 5, 2012
6/05/12
10:26
AM CT
Yesterday, I
unveiled my list of the best Big 12 seasons of all-time
, but there were plenty of seasons that got left out.
In no particular order, here are the best of the rest:
Colt McCoy, QB, Texas, 2008:
McCoy carried the Longhorns to a BCS bowl win and a win over national title participant and Big 12 champion Oklahoma while throwing for 3,859 yards, 34 touchdowns and just eight interceptions. Most impressive? He completed just under 77 percent of his passes. Crazy.
Jason White, QB, Oklahoma, 2003:
White racked up 3,846 yards passing with 40 touchdowns to just 10 interceptions, and won the Heisman Trophy and Davey O'Brien Award. The Sooners went undefeated in the regular season, but lost in the Big 12 Championship and national title games.
Robert Griffin III, QB, Baylor, 2011:
Griffin did the unthinkable and brought a Heisman Trophy to Baylor, as well as a 10-win season. He threw for 4,293 yards, 37 touchdowns and just six interceptions. He also ran for 699 yards and completed 72.4 percent of his passes.
Darren Sproles, RB, Kansas State, 2003:
Sproles led the nation with 1,986 yards and 16 touchdowns, leading K-State to its only Big 12 title with an upset of No. 1 Oklahoma, soundly beating the unbeatable Sooners, 35-7. Sproles ran for an eye-popping 235 yards and caught three passes for 88 yards, including a 60-yard touchdown.
Justin Blackmon, WR, Oklahoma State, 2010:
Blackmon caught a touchdown pass and topped 100 yards in every game he played all season, winning the Biletnikoff Award (he'd do it again in 2011) and putting together the league's best individual season of 2010. He finished with 1,782 receiving yards, 111 catches and 20 touchdowns.
Graham Harrell, QB, Texas Tech, 2007:
Harrell threw for a country mile and then some, topping 5,700 yards in Texas Tech's pass-happy offense (713 attempts in 2007) under Mike Leach and throwing 48 touchdowns to just 14 interceptions.
Michael Crabtree, WR, Texas Tech, 2007:
Tech had a more memorable season as a team in 2008, but Crabtree's first of two Biletnikoff-winning seasons was better. He finished with a Big 12-record 1,962 receiving yards and 22 touchdowns on 134 catches.
Eric Crouch, QB, Nebraska, 2001:
Crouch carried the Huskers to the national title game in 2001 despite a Big 12 Championship Game loss, throwing for 18 touchdowns and running for 19 more. He rushed for 1,178 yards and threw for 1,115 to win the Heisman Trophy and Davey O'Brien Award.
Troy Davis, RB, Iowa State, 1996:
Davis finished second in the Heisman voting after carrying the ball 402 times for 2,185 yards and winning Big 12 Offensive Player of the Year honors in the league's inaugural season. That's not enough for you? It was his second consecutive 2,000-yard rushing season.
Roy Williams, S, Oklahoma, 2001:
Williams is best known for his "Superman" play that sealed a Red River victory over Texas, but he had 12 tackles for losses and five interceptions that season. He also recovered two fumbles, returning one for a touchdown. Williams revitalized the safety position in the Big 12, bringing some bulk to the position and playing closer to the line of scrimmage. He earned the Nagurski Trophy and Thorpe Award that season.
Chase Daniel, QB, Missouri, 2007:
Daniel took Missouri to the No. 1 ranking entering the Big 12 Championship Game and put Missouri football on the map. He finished with 4,306 yards, 33 touchdowns and 11 interceptions in the best season ever under Gary Pinkel. He also completed 68 percent of his passes and rushed for four scores.
Michael Bishop, QB, Kansas State, 1998:
Bishop carried Kansas State to an undefeated regular season before losses in the Big 12 title game and Alamo Bowl. He threw for 2,844 yards, 23 touchdowns and four interceptions, while also running for 748 yards and 14 touchdowns.
November, 9, 2011
11/09/11
1:30
PM CT
So what if Halloween was last week?
Tell that to the ghosts roaming around Texas Tech's Jones AT&T Stadium these days.
Back in 2007, there was a woozy Sam Bradford of Oklahoma sidelined with a concussion on the game's opening drive. National title hopes? Gone.
PODCAST
Trey Fallon and Landry Locker of ESPN Dallas are joined by Justin Wilmeth of O-State Illustrated to discuss Oklahoma State's tough game against Kansas State, Brandon Weeden's lack of national attention and whether or not Tech presents any problems for the Pokes.

Listen

A year later? An easy interception inexplicably slid through the hands of Texas' Blake Gideon. A play later, an ill-advised, unnecessary throw by Graham Harrell somehow became
one of the most famous plays in college football history
.
Beware the winds of West Texas, Oklahoma State.
The Cowboys travel there on Saturday, to the place where two Big 12 national title runs have been buried. The Cowboys will go there with the intention of preventing a third.
Gundy's players watch the weekly BCS rankings get unveiled, and this week, they saw themselves at No. 2, higher than any team in Oklahoma State history and firmly in control of their postseason destination.
"They're being told that they're having a great year and everywhere you go, it's 'Make sure you keep it going' and this and that," said coach Mike Gundy.
The odds say Oklahoma State will. The Cowboys enter as 17-point favorites over this particular band of Red Raiders that haven't wrecked much in recent weeks.
[+] Enlarge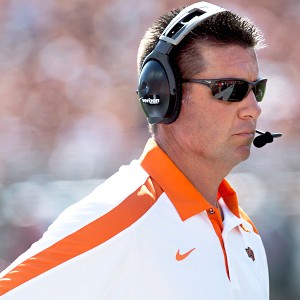 Kevin Jairaj/US PresswireMike Gundy is keeping his team's focus squarely on upset-minded Texas Tech.
"There's examples every Saturday, and just speaking for our staff, we're able to use examples of teams that, on paper or people thought may have had a better team, but for whatever reason, they didn't play as well that Saturday and didn't win," Gundy said. "Because of that, you have to stay focused and understand the importance of preparation going into each game."
The Cowboys won't have to look far for inspiration. Texas Tech is just 1-4 in its past five games, and its past two losses have come by 32 and 34 points.
Its one win?
Tech made it count. The Red Raiders raced to a 31-7 lead and beat Oklahoma, who entered the game as 28-point favorites. Oh, and they hadn't lost at home since 2005 or in a home conference game since 2001, concurrent streaks of 39 and 32 games.
Oklahoma State should --
should --
win on Saturday. Last year's win in Lubbock was Oklahoma State's first since 1944.
Whether it does or doesn't do it again is likely up to the superior team.
"We just have to stay focused, absorb information in meetings and have good practices on Wednesday and Thursday," Gundy said.
So how does that happen?
"There's not really anything other than trying to keep them in the moment and in the right frame of mind so they can stay focused on what's important here and not get caught up in all the hype outside the program," Gundy said.
We'll find out on Saturday if the Cowboys did it. Iowa State awaits a week later, and win that one?
Bedlam.
October, 23, 2011
10/23/11
12:58
AM CT
The Sooners have struggled in the red zone all season, and have shuffled kickers in and out of the lineup for three seasons.
Both came into play and cost Oklahoma in a shocking
41-38 loss
to Texas Tech, 28-point underdogs.


Michael Hunnicut clanged a 28-yard field goal off the upright late in the fourth quarter, and Oklahoma scored just one of its three second-half touchdowns from the red zone. It settled for one field goal, and also missed a 39-yard kick earlier in the game.
With that, Oklahoma's home-game winning streak and it's national championship hopes are over.
The warning signs were there in lackluster wins over Kansas and Missouri this year. The offense sputtered for most of the game against the worst defense in the nation last week at Kansas, and the defense gave up more than 500 yards to Missouri.
Saturday night, Texas Tech did what it wanted offensively for almost the entire 60 minutes and put up 600 yards and 41 points, all season highs, against the Sooners.
Just like Texas Tech did against Texas in 2008, the Sooners' national title hopes are dashed.
Seth Doege
to
Alex Torres
may not have the same ring to it as Graham Harrell to Michael Crabtree, but the duo was almost as potent Saturday against Oklahoma's defense, which was missing top cornerback Jamell Fleming.
Torres caught four passes for 94 yards and three touchdowns, tormenting Oklahoma's secondary with big plays.
Doege threw for 441 yards and four touchdowns on 33-of-52 passing.
Oklahoma didn't play well, but Texas Tech walked in and won this game, fully intending to do so all night. Tommy Tuberville faked a punt and went for it on fourth down twice inside the 5-yard line.
Only one of those attempts worked, but it said a lot about Texas Tech's intentions and mindset. Both paid off, and Tuberville has the biggest win of his two seasons in Lubbock.
Next week's showdown with Kansas State has lost a bit of its luster, but Oklahoma State and Kansas State are the last two remaining undefeated teams in the Big 12.
Who saw that one coming?
March, 24, 2011
3/24/11
10:00
AM CT
LUBBOCK, Texas -- Last season, Oklahoma State surely made some sort of history by starting a quarterback in
Brandon Weeden
, who hadn't made a start in nine years.
Next season, there's a good chance Texas Tech could have a quarterback who has made one start in five seasons. Junior
Seth Doege
's never made it on the field for his final two seasons of high school in 2006 and 2007, thanks to preseason torn ACLs in his right and left knees.
[+] Enlarge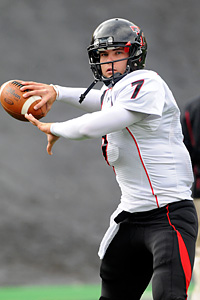 Dustin Bradford/Icon SMISeth Doege is excited to get a chance to start for Texas Tech.
In 2008, he redshirted. Doege started against Kansas in 2009 but was benched in favor of
Taylor Potts
at halftime, making his only start a forgettable one. In 2010, he waited his turn behind a pair of seniors, Potts and
Steven Sheffield
, both finally fully healthy.
"I know a lot of people that would have gone through those [injuries] and said, 'You know what, I'm done. I'm not going to go through this.'" said Texas Tech coach Tommy Tuberville. " But it shows the perseverance he's got and how resilient he is and how much he wants to play."
The big question: Why?
"Ever since I was little, this has been my dream," Doege said. "Not many people can say they're living their dream."
Doege can. For now, it's not official. But he's established a clear lead over
Jacob Karam
as the Red Raiders' starting quarterback, earning the majority of the first-team reps as the most experienced quarterback on the roster.
The quarterback play under former coach Mike Leach became a signature of the Red Raiders' program, and that doesn't look likely to change.
"We still want to go out and recruit quarterbacks who can throw it 50 times a game -- maybe 60," Tuberville said. "That's something that's helped Tech when Mike brought it here and I don't think there's any doubt that it's opened doors for us."
That includes Doege's door. A native of Wolfforth, Texas, Doege went to nearby Frenship High School and was a self-professed "West Texas kid." He remembers well the first time his dad, Randy Doege, a high school coach himself, brought him to a Texas Tech game.
"I was like, 'Man, I want to play here. I want to throw for 4,000-plus yards,'" he said. "I wanted to be the next Kliff Kingsbury, the next B.J. Symons, the next Graham Harrell. I wanted to be those guys."
That didn't change throughout high school. One of the top passers in Texas, Doege committed to Texas Tech the day he got his offer, the first of several that eventually rolled in.
"I knew this was where I wanted to be when I was little," he said. "There were other schools that offered, but as soon as they did, I'd tell them hey, I'm committed to Tech. I'm solid."
And despite missing those final two years, Texas Tech honored that commitment just as Doege honored his, both to the game itself and other schools that expressed interest.
"That really motivated me. It was like, 'OK, I still have a chance,'" he said.
Now that the chance is closer than ever, Doege's hopes and expectations are high.
"I just want to win, that's the main goal," he said. "My expectation is to be the No. 1 offense and that's what we want to do. For a quarterback to know that your unit is No. 1 in the nation, that's probably the best recognition you can get."
And Doege's confidence in himself and those around him is reflected by his coach, too.
"He's an older guy. He's not 18 years old. He's been through some tough times, some tough surgeries, and he's still got the hunger for it," Tuberville said. "You can tell he's physically tough, mentally tough to go through that, and you can tell he kept the hunger and he wanted to do it.
"Now we can see what he can do."