Dallas Colleges:

Grant Garner
February, 14, 2013
Feb 14
3:45
PM CT
This week, we
looked at the 2009 recruiting class' biggest surprises and biggest busts
, and colleague Jake Trotter
tackled 2008 last week
.
You guys loved it. It's still a little soon to make generalizations about the 2010 class just yet, but you wanted more, so we looked at 2007.
Here's the first half from Wednesday
. Now, it's time for the rest of the Big 12.
(Note: Players who signed and did not academically qualify are not eligible.)
OKLAHOMA STATE COWBOYS
Best surprise: C Grant Garner.
He was ranked in the middle of Oklahoma State's class, but became a huge piece of Oklahoma State's strong offensive line after impressing coach Joe Wickline early in his career. He was a two-year starter who was one of the Big 12's best offensive linemen and an All-Big 12 talent that helped Oklahoma State win the Big 12 title.
Biggest bust: WR William Cole.
Only Dez Bryant and Richetti Jones were ranked higher than Cole in Oklahoma State's 2007 class, but Cole suffered a knee injury before his first season and after 2008 concluded, was dismissed from the team by Mike Gundy. He transferred to North Texas.
TCU HORNED FROGS
Best surprise: ATH Tank Carder.
Carder came to TCU as an unranked athlete, but Gary Patterson helped turn him into the heart of TCU's defense in an undefeated Rose Bowl season in 2010. The Sweeny, Texas, native was a two-time All-American and a three-year starter for the Frogs out of nowhere.
Biggest bust: S Chez Thomas.
Most of TCU's best recruits in this class turned into contributors, but Thomas was one of the ones who didn't. He redshirted his first season, but never made an impact. He was TCU's sixth-highest rated recruit in the class.
TEXAS LONGHORNS
Best surprise: S Earl Thomas.
He came to Texas rated higher than just one recruit in Texas' 25-man class that included 12 players in the national top 150. He blossomed into a freshman All-American after one year as a starter and picked off eight passes during Texas' Big 12 title run in 2009, more than any player in the Big 12 since. He left Texas two years early and was the No. 14 overall pick.
Biggest bust: OL Tray Allen.
He played out his career at Texas and started six games, appearing in 44, but expectations are higher for the nation's No. 1 offensive tackle and No. 21 overall recruit. Allen was OK on Texas' offensive line, but the Grand Prairie, Texas, native never made the kind of impact his recruiting ranking suggested he might, as the Longhorns' top overall recruit in the class.
TEXAS TECH RED RAIDERS
Best surprise: OL Justin Keown.
He was ranked higher than just four high school signees in Tech's class, but fought through injuries to be a three-year starter at center.
Biggest bust: OG Jerrod Gooch.
He was Texas Tech's highest-rated recruit and a steal from Texas, but the Vidor, Texas, native transferred after a short career at Texas Tech. He was the nation's No. 14 offensive guard.
May, 10, 2012
5/10/12
9:30
AM CT
2011 overall record:
12-1
2011 conference record:
8-1
Returning starters:
Offense 6; defense 8; P/K 2
Top returners

RB
Joseph Randle
, WR
Tracy Moore
, WR
Isaiah Anderson
, CB
Brodrick Brown
, LB
Shaun Lewis
, S
Daytawion Lowe
, LB
Alex Elkins
, CB/KR
Justin Gilbert
Key losses
QB Brandon Weeden, WR Justin Blackmon, S Markelle Martin, DE Jamie Blatnick, C Grant Garner, RT Levy Adcock, WR Josh Cooper, WR
Michael Harrison
2011 statistical leaders (*returners)
Rushing:
Joseph Randle* (1,216 yards)
Passing:
Brandon Weeden (4,727 yards)
Receiving:
Justin Blackmon (1,522 yards)
Tackles:
Daytawion Lowe* (97)
Sacks:
Jamie Blatnick (8)
Interceptions:
Justin Gilbert*, Brodrick Brown* (5)
Spring answers
1. Handing the reins to the youngster:
I had my doubts about whether OSU would actually pull the trigger and name a starting quarterback. For the Cowboys to name 18-year-old true freshman Wes Lunt is a big move, and proof of the staff's confidence that the Illinois native is the best man for the job. The summer will be about him establishing himself as the team's leader, but seeing how he handles the fall will be fascinating.
2. Rebooting the offensive line:
You could say OSU must replace four starters on the offensive line, but sixth-year senior
Jonathan Rush
has plenty of experience while he returns from a knee injury, and
Lane Taylor
returns, too.
Michael Bowie
was a starter-quality contributor last year, and
Parker Graham
earned rave reviews for his work in the second unit last year, moving into a starter role for the final five games.
Evan Epstein
is the man at center, but replacing Grant Garner won't be easy. This is a unit hardly devoid of experience.
3. Emerging stars at receiver:
OSU knew Justin Blackmon and Josh Cooper would be gone this year, but Michael Harrison's exit from the team was a surprise. OSU needed talents to emerge in the spring, and they did.
Josh Stewart
was a big standout, as was juco newcomer Blake Jackson, in the mold of former Sooners star Jermaine Gresham.
Charlie Moore
exploded for 243 receiving yards and three touchdowns in the spring game.
Fall questions
1. How far can Lunt take the Cowboys?
Oklahoma State will carry the banner of defending Big 12 champs for the first time in school history next fall. They'll do so with a wide-eyed true freshman making his way through plenty of unfamiliar territory and playing plenty of new faces for the first time. His ceiling is high, but Oklahoma State will start in the top 25 and is good enough to be a factor in the Big 12 title race. How far will Lunt carry them?
2. Who's filling in for Markelle Martin?
Martin was the leader of the defense in 2011, but defensive coordinator Bill Young says replacing him will be done by committee.
Lavocheya Cooper
,
Zack Craig
and
Shamiel Gary
will be in the mix, but how will that rotation work out in the fall?
3. Can the defense carry more of the load?
OSU forced 44 turnovers last season, the most of any team in college football. It also finished 107th nationally in total defense. The Cowboys won't have the same awe-inspiring offense in 2011, but the defense returns a lot of experience and a lot of talent. Defensive ends Jamie Blatnick and
Richetti Jones
leave holes in the pass rush. The defense should be better, but it has to be. The margin for error will be much smaller.
March, 9, 2012
3/09/12
12:00
PM CT
Oklahoma State kicks off spring practice next week, but the Cowboys released their pre-spring depth chart on Thursday.
You can
see the full chart here
.
A few thoughts:
January, 27, 2012
1/27/12
4:00
PM CT
We're taking a look at what each program in the Big 12 needs to deal with during the offseason, whether it be in the spring, summer or fall preseason camp. Maybe all three! Who knows?
Next up: The
Oklahoma State Cowboys
.

1. Don't get comfortable.
Congratulations, you just won your first Big 12 title. Guess what? Now everybody wants to beat you a whole lot more. It took a whole lot of work for Oklahoma State to scale the league's mountain, and it has to remember how hard that was. Forget it, and get complacent? Ask Texas
how easy it is to replace the number of big-time contributors
on a team good enough to win the national title. The two biggest reasons for the Big 12 title run,
Justin Blackmon
and
Brandon Weeden
, are gone. New players have to work with that same sense of purpose.
2. Find a quarterback.
Losing Blackmon and Josh Cooper isn't as big of a concern. OSU has a lot of talent at receiver. But at quarterback? For now, there's no question filling Weeden's void is a huge question mark. All three guys vying for the spot —
Clint Chelf
,
J.W. Walsh
and Wes Lunt — have potential, but Weeden shattered all kinds of records and will be tough to replace. Additionally, will the offense change with more experience at running back? That's up to Todd Monken. This year will be a much tougher test than last year, which Monken compared to being handed the keys to a Ferrari.
3. Solidify the offensive line.
You've got to like offensive line coach Joe Wickline's ability to make this happen, and there's plenty of promise in the rising offensive linemen.
Parker Graham
has especially impressed older players. Tackle
Levy Adcock
, center
Grant Garner
and guard Nick Martinez are all gone. Adcock was the most talented player on the line and Garner made the whole machine work. Like Weeden, they leave enormous holes. This group will have to do what the unit in 2010 did: Grow during the season after figuring who'll be in the lineup by the season opener.
More offseason to-do lists
.
January, 24, 2012
1/24/12
10:57
AM CT
Signing day is coming fast. Next Wednesday, the next round of players will sign up for their respective programs and start what could be storied careers.
Here's what each team across the Big 12 needs. You'll find Texas A&M and Mizzou on the SEC blog and West Virginia on the Big East Blog.

BAYLOR
Quarterback:
This one's pretty simple.
Robert Griffin III
is taking his talents to the NFL early.
Nick Florence
is waiting to take over, and the Bears have
Bryce Petty
behind him, but more reinforcements at quarterback are needed. Dual-threat quarterbacks, ideally.
Defensive tackle:
Baylor already was one of the nation's worst teams (102nd nationally) at stopping the run. Now it'll need to replace both its interior linemen,
Nicolas Jean-Baptiste
and
Tracy Robertson
.
Offensive linemen:
Baylor's offensive line, meanwhile, has been solid. It loses junior college transfer and two-year starter
Robert T. Griffin
, as well as All-Big 12 center
Philip Blake
.
John Jones
, a reserve guard, also has exhausted his eligibility.

IOWA STATE
Receiver:
This has been a weak spot for the team for several years, and its top overall talent,
Darius Reynolds
, is gone.
Darius Darks
is, too.
Aaron Horne
and
Josh Lenz
will be the team's best weapons in 2012, but the pair of shifty slot guys will be seniors. This position needs reinforcements.
Defensive back:
The DBs have been a quiet strength for ISU, especially in 2011. Cornerback
Leonard Johnson
and safety
Ter'Ran Benton
both have exhausted their eligibility, though, and defensive backs coach Bobby Elliott left for Notre Dame. You'll see plenty of new faces in the Cyclones' secondary next year.
Defensive line:
Experienced starters
Stephen Ruempolhamer and Jacob Lattimer are both gone, and Iowa State has struggled to stop the run consistently the past few seasons.

KANSAS
Quarterback:
Kansas landed high-profile transfers
Dayne Crist
(Notre Dame) and
Jake Heaps
(BYU), but this is still a huge position of need. Last year's starter,
Jordan Webb
, left the team.
Quinn Mecham
is out of eligibility. Heaps is sitting out his NCAA-mandated year after transferring. Crist is the starter, but he badly needs a backup, especially if
Brock Berglund
's transfer appeal allows him to leave.
Wide receiver:
Kansas lacks a big threat at this position. It needs a talent upgrade in a big way. Oklahoma transfer
Justin McCay
is joining the team, but he's no guarantee to a) be granted immediate eligibility or b) become an impact player.
Defensive tackle:
Kansas is thin here, too. Richard Johnson,
Patrick Dorsey
and
Michael Martinovich
are gone, and Kansas couldn't stop much of anything on defense. Some push up front could help make everything look better. A late addition to the 2012 class from a junior college seems like a no-brainer. The Jayhawks need physically mature players to contribute immediately.

KANSAS STATE
Offensive line:
K-State's offensive line was much better in 2011 and could be again in 2012. It needs help replacing All-Big 12 lineman
Clyde Aufner
, though. Starter
Colten Freeze
is also gone.
Defensive line:
Kansas State is bringing back about as many starters as anyone in the Big 12, but the biggest losses are along the defensive line. Kick-blocking specialist (five in 2011) Ralph Guidry is gone, along with tackle
Ray Kibble
. Juco transfer
Jordan Voelker
exploded onto the scene this year, but he's gone, too.
Defensive backs:
Cornerback
David Garrett
leaves a huge hole behind.
Tysyn Hartman
may not be as talented as teammate
Ty Zimmerman
, but his experience leaves a big hole. Zimmerman will have to mentor a younger safety in the near future.

OKLAHOMA
Receiver:
The Sooners are thin here in a big way. That was obvious late in the season when
Ryan Broyles
' storied college career ended a few weeks early with a knee injury. The team also lost Justin McCay (transfer) to Kansas.
Jaz Reynolds
and
Kenny Stills
are the likely top two targets, but they need help.
Tight end:
This position inspired a bit of panic at the end of the season. Seniors
James Hanna
and
Trent Ratterree
are gone.
Austin Haywood
wasn't allowed back on the team, and two more tight ends left the team for various reasons. That left the Sooners suddenly without a scholarship player at the position returning in 2012.
Offensive line:
Starting tackle
Donald Stephenson
must be replaced, as will guard
Stephen Good
, who moved in and out of the starting lineup throughout his career. The Sooners bring back a lot of talent and aren't dying for depth there, but those two will leave holes. Three more offensive line starters will be seniors in 2012.

OKLAHOMA STATE
Offensive line:
The Cowboys need a whole lot of help here to fill in behind young players stepping into the starting lineup. Starters
Levy Adcock
,
Nick Martinez
and
Grant Garner
are gone. Backup center
Casey LaBrue
is gone, too. Those are two All-Big 12 linemen who leave big shoes to be filled.
Receiver:
Justin Blackmon
surprised no one by leaving a year early, and
Josh Cooper
leaves with perhaps the most underrated career of any receiver in school history. In OSU's offense, there's always room for depth here. Nine receivers had at least 19 catches in 2011. Blackmon and Cooper combined for 192, though.
Defensive ends
: The pass rush was solid for Oklahoma State this year, but both starters,
Jamie Blatnick
and
Richetti Jones
, are gone. Replacing both is a necessity.

TEXAS
Receiver:
Texas lacks a true game-changer at the position, though
Jaxon Shipley
and
Mike Davis
may develop into that role in 2012. Former blue-chip recruit
Darius White
left for Missouri, too.
Quarterback
:
David Ash
and
Case McCoy
didn't show a ton of potential at quarterback this year, though Ash may grow with an offseason to prepare as starter. Garrett Gilbert got a big chunk of the work in the spring, summer 7-on-7 and fall preseason camp. Even if Ash does grow, the Longhorns need reinforcements at the position.
Linebacker:
Two senior impact players are gone. Texas is left trying to replace
Emmanuel Acho
and
Keenan Robinson
, though
Jordan Hicks
may mature into a star in 2012.
TCU
Offensive line:
TCU's offensive line is headed for some major turnover. OT
Robert Deck
, OG
Kyle Dooley
and OG Spencer Thompson are gone. Two more starters, OG
Blaize Foltz
and C
James Fry
, will be seniors in 2012.
Defensive linemen:
TCU isn't losing a lot at this spot, but
Ross Forrest
and
D.J. Yendrey
will be seniors in 2012. The Horned Frogs would be well-served to prepare, and offer some depth next year.
Specialists:
TCU will have to break in a pair of new starters on special teams next season. Kicker
Ross Evans
and punter
Anson Kelton
have exhausted their eligibility.
TEXAS TECH
Receiver:
The Red Raiders' offense requires a lot of depth here.
Tramain Swindall
is the only loss at the position, but three more (
Alex Torres
,
Cornelius Douglas
,
Darrin Moore
) will be seniors. Douglas moved to cornerback this year after the team was racked with injury, but we'll see whether he moves back this offseason.
Offensive line:
Tech has a huge need here. Four players won't be returning in 2012.
Lonnie Edwards
,
Mickey Okafor
and center
Justin Keown
must be replaced.
Defensive linemen:
Tech's
Donald Langley
and
Scott Smith
are both out of eligibility, and juco transfer
Leon Mackey
will be a senior.
January, 1, 2012
1/01/12
9:00
AM CT
PARADISE VALLEY, Ariz. -- Mike Gundy's been around football a long time. He's seen the story happen over and over.
Player shows up. Player works hard. Player gets good.
Too often, the next step isn't quite as encouraging.
[+] Enlarge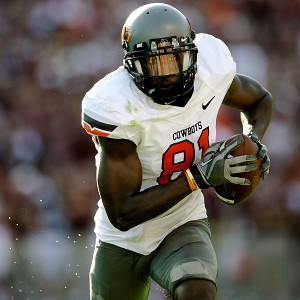 Brett Davis/US PRESSWIREJustin Blackmon has built a reputation as a tireless worker at Oklahoma State.
"When you get guys that know they're going to be top-10 picks in the draft, they don't practice as well," Gundy said.
Justin Blackmon
will almost certainly play his final game in an Oklahoma State uniform on Monday night in the Fiesta Bowl against Stanford. He has yet to officially declare for the NFL draft, but after going through Senior Day festivities before a Bedlam win against Oklahoma, despite being a junior, it figures to be a formality.
Blackmon being a top-10 pick is also a near formality, with production and physical prowess that outclasses just about any receiver in college football.
But ask around, and what sticks out about Blackmon isn't his two Biletnikoff Awards, or any of his 224 catches or 3,118 yards the past two seasons. It's not even a single one of his 35 touchdown catches over that same span.
"It's his work ethic," said receiver
Isaiah Anderson
.
It shows up in blocking drills, when rep after rep, he proves he's the team's best blocking receiver, even if he's the team's best everything else, too, when it comes to receivers. That endears himself to the big guys, too, who know "he's willing to get in there and do what you do every day," said center Grant Garner.
It shows up in one-on-one drills and team drills, when he refuses to run a route at less than 100 percent, which also helps the offense maintain its timing from week to week, said quarterback
Brandon Weeden
.
During practice, he doesn't go off to the side and take a break, Gundy said. He'll keep working.
"A lot of guys that are that successful and that good think they don't have to work hard, but there's no question that Justin Blackmon shows up to practice every day and he's one of, if not the hardest worker," Garner said. "That's what makes him good."
Said Weeden: "He's one of those guys that I think every program wishes they had a lot of him. There's a lot of 81 jerseys running around Stillwater and Oklahoma. Rightfully so."
Over and over, players and coaches said the same thing about what comes to mind when they think of what Blackmon has brought Oklahoma State during his career.
"Obviously, he's made a million plays. Everybody knows that," Gundy said. "Everybody's different. Kendall Hunter was good in that way, but Kendall wasn't a guy who knew he was going to be a top-10 pick. Blackmon just had the ability to get on the practice field and compete, and he's never slowed down. Everybody's put together different, and Blackmon's wired differently than most great players are."
It makes sense, though. It's what he's been going for over the course of his career.
How does he want to be remembered?
"Someone who worked hard and loved to go out there and compete," he said. "If you work hard and you buy into the system and you're coachable, things will work out in your favor."
Mission accomplished.
December, 31, 2011
12/31/11
1:54
PM CT
PARADISE VALLEY, Ariz. -- In Monday night's Fiesta Bowl, you'll see
Brandon Weeden
flip passes into tiny windows to athletic receivers who make acrobatic grabs. You'll see
Joseph Randle
shake a linebacker in the open field and turn a 5-yard gain into a 12-yard gain.
You might even see
Justin Blackmon
jump over somebody.
You probably won't see Oklahoma State's offensive line dominating, but that's because nobody watches what's been arguably the most impressive Cowboys unit over the past two seasons.
Maybe they should start watching.
Last year, the Cowboys were the Big 12's best line, and returned all five starters. In 2011, they've been just as good as expected, if not better, blocking for an offense that's tops in the league and No. 2 in the nation.
"We didn't have to worry about coming into a new offense or anything like that," said tackle Levy Adcock, whose mullet you'll see poking out the back of his helmet before he cuts it next week and heads to the NFL. "All we had to do was mature on what we had, and in the spring we did that really well. In the summer, we worked together every day. We just kept getting better and communicating better and grew as a group."
Why the success? Every Cowboys offensive lineman pointed in the same direction: at offensive line coach Joe Wickline.
"We've got a really, really good coach. I think he's incredible and he gets us on the right track," center Grant Garner, a first-team All-Big 12 selection, said of Wickline.
"If there was any kind of a glitch or a kink in our offensive line, he works it out, no matter what," Adcock said. "He's just an old-school coach, and it's never good enough, no matter how good it is."
For Oklahoma State, it's been pretty good, too. It's only gotten better since breaking in a brand-new offensive line at the beginning of the 2010 season, the first of consecutive 11-win seasons.
Why didn't they struggle longer than a few early games?
"You can give that to our coach, Joe Wickline," said left tackle Nick Martinez. "He's one of the best in the country. He's all about trying to make us one of the best offensive lines in the country."
Even after losing a top-10 pick in Russell Okung at tackle after the 2009 season, Wickline succeeded. When Oklahoma State loses three linemen who have started this season after the Fiesta Bowl, he'll try to do it again.
"Everybody was freaking out last year when we had to replace five starters, but this year, they really only have to replace two or three, and Wick is harder on the twos than he is on the ones, so I think it'll be a seamless transition next year," Garner said. "As long as he's here, that's going to be the case."
December, 13, 2011
12/13/11
7:48
PM CT
The season has come and gone, and
brought with it an All-Big 12 team
. But where do these guys come from? How easy is it for a no-name recruit to earn all-conference first-team honors?
Let's take a look at the All-Big 12 offense and see who surprises us.
You'll need ESPN Insider

to see each player's recruiting page from back in the day, but I excerpted a bit of what the scouts had to say about each player coming out of high school.
OFFENSE
QB:
Robert Griffin III
, Baylor
Griffin was infamously recruited as an "athlete" by top programs like Texas that may have moved him to safety or receiver. Scouts graded him as a 77 and the No. 40 quarterback. He committed to Houston before following coach Art Briles to Houston. One interesting note: He only threw for 1,734 yards as a high school senior. Development much? Scouts take: Griffin is a wonderful athlete with great size, solid arm strength and the ability to move to wide receiver if he doesn't remain at quarterback in college. He is long-legged, well built and is a smooth athlete. He's at his best when he is out of the pocket and can improvise. He will create when things break down and he shows very good presence to avoid the rush, use his feet to get on the perimeter and throw on the move.
All-purpose:
Collin Klein
, QB, Kansas State
Klein was graded as a 75 by ESPNRecruiting and the nation's No. 60 quarterback. He picked K-State over Colorado State, Utah and Air Force. Scouts take: Klein has prototypical size and a powerful arm. What you don't expect is how athletic he is and while he is a pocket passer, if he gets on the move, he can build momentum and create a few plays here and there with his legs. He can be unorhtodox in his delivery and mechanics can be inconsistent, but he is very productive and has a lot of physical tools to mold at the next level.
RB:
Terrance Ganaway
, Baylor
Ganaway played at Houston before transferring from junior college to Baylor. He was graded at the minimum grade of 45 and wasn't ranked by ESPN coming out of high school or junior college.
RB:
Henry Josey
, Missouri
Josey was a two-star recruit and the nation's No. 258-ranked athlete. He was also recruited by Baylor, TCU and UTEP. Scouts take: Josey flashes playmaker skills on both sides of the ball at the high school level and may get recruited on either side of the ball in college. We feel he is a bit of an overachiever and his weaknesses may get exposed at the major college level, but we like his foot-speed, quickness and overall savvy as a potential hybrid safety/Bandit type or change-of-pace back on offense.
FB:
Trey Millard
, Oklahoma
Millard was a three-star prospect and the nation's No. 59 athlete in the 2010 class. He graded out at 78, and was also recruited by Syracuse, Iowa, South Carolina and Tennessee. Scouts take: Millard is a thick inside linebacker prospect with good mobility and downhill burst between the tackles. We like his athleticism as a future tight end or H-back as well. Has a large upper-body and overall frame. Carries his weight well and has above average lateral agility for a defender with his thickness.
WR:
Kendall Wright
, Baylor
Wright was No. 118 in the 2008 ESPNU 150 and was the nation's No. 12 athlete. He was also recruited by Arkansas, Nebraska, Oklahoma and Texas A&M. Scouts take: Wright is an athlete playing quarterback who belongs at either wide receiver or at cornerback at the next level. He is an athlete with great speed and acceleration. He is at quarterback because he is a playmaker and is very difficult to handle in the open field. With the ball in his hands, he has running back-type skills. (My take: Hey, remember this?)
WR:
Justin Blackmon
, Oklahoma State
Blackmon was the nation's No. 139 receiver and was also recruited by Colorado and Missouri, grading out at a 74. Scouts take: Blackmon is a smooth-looking, natural receiver prospect with well-rounded tools at the position. A potential sleeper at this time. He is tall, rangy and layered with good muscle tone. Shows great downfield, big-catch ability with his good size, hands and large catch radius. Displays very good concentration tracking the ball in tight coverage and plucks the ball smoothly in stride.
WR:
Ryan Broyles
, Oklahoma
Broyles was the No. 58 receiver and graded out at a 77. He committed to Oklahoma State before switching to OU just before signing his letter of intent. He was also recruited by Arkansas, South Carolina and Tennessee. Scouts take: This versatile athlete excels as both a cornerback and wide receiver but appears to be more of a playmaker on the offensive side of the ball at this stage. Broyles is a lean, sleek athlete who is very shifty and fluid in his movements. He has excellent straight-line speed and acceleration. He is a threat to turn a short gain into a big play but is also a vertical threat who plays bigger than his size. Has very good hands.
TE:
Michael Egnew
, Missouri
Egnew was a two-star recruit who graded out at 40 and wasn't ranked. He was also recruited by Purdue and TCU.
C:
Grant Garner, Oklahoma State
Garner was the No. 20 center in the 2007 class and graded out at 72. He was also recruited by Iowa State and Vanderbilt. Scouts take: Garner is a good center prospect but will need to add bulk to his frame. He is going to need some time to properly get up into that 280-290 lbs. range. He looks to have a strong quick snap and can also adequately handle shotgun responsibilities. Once he snaps the ball, he does a good job of bringing his off hand and making good contact.
OL:
Kelechi Osemele, Iowa State
Osemele graded out at 68 and was the nation's No. 149 offensive tackle in the 2007 class. He was also recruited by Arkansas, Houston and TCU. Scouts take: Osemele is a good sized prospect that can deliver a good initial blow. He gets good hand placement and displays the ability to get into a defender and push him off the line of scrimmage in the run game. He needs to work on his initial footwork coming out of his stance.
OL:
Levy Adcock, Oklahoma State
Adcock was a junior college recruit and not scouted by ESPN.
OL:
Gabe Ikard, Oklahoma
Ikard was the nation's No. 19 tight end and graded out at 78. He was also recruited by Notre Dame, Stanford and Oklahoma State. Scouts take: Ikard is a good football player and it is tough not to like him. He comes across as a smart, hard working, and productive player. He plays both defensive end and tight end in high school and is a legitimate recruit on both sides of the ball. He is a sound defensive end prospect.
OL:
Luke Joeckel, Texas A&M
Joeckel was No. 83 in the 2010 ESPNU 150 and was a four-star recruit. He was ranked as the nation's No. 6 offensive tackle prospect. He was also recruited by Nebraska, LSU, Oklahoma and Oklahoma State. Scouts take: Joeckel is a dominant offensive lineman. He has great size and is an intimidating force on the field. Exceptional run blocker that completely engulfs smaller defensive lineman. Has a real nasty streak and finishes his run blocks on a consistent basis. Does a great job of getting his hands into the frame of the defensive lineman and locks on like vice grips. Drives feet after initial contact and often puts defender into the turf due to his aggressiveness in finishing the block.
Fascinating stuff here. I enjoyed looking these guys up. The two most highly recruited players on the All-Big 12 team? Kendall Wright and Luke Joeckel. Shocking stuff.
December, 9, 2011
12/09/11
4:30
PM CT
Editor's Note: Tune into the "AT&T ESPN All America Team Show" on Saturday (ABC, 1:30 p.m. ET) to see who ESPN's writers and experts selected.
It's been a fun season across the Big 12, with a few big names who didn't play as well as we thought, and lots of unknowns who became household names by the end of the season.
I'll offer my comments below, but here's our All-Big 12 team for 2011.
OFFENSE
[+] Enlarge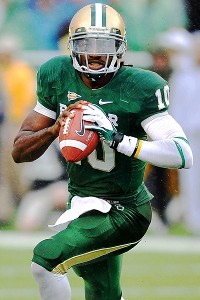 Jerome Miron/US PresswireThe heroics of Robert Griffin III got Baylor to 9-3 and made him a Heisman Trophy finalist.
QB:
Robert Griffin III
, Baylor
All-purpose:
Collin Klein
, QB, Kansas State
RB:
Terrance Ganaway
, Baylor
RB:
Henry Josey
, Missouri
FB:
Trey Millard
, Oklahoma
WR:
Kendall Wright
, Baylor
WR:
Justin Blackmon
, Oklahoma State
WR:
Ryan Broyles
, Oklahoma
TE:
Michael Egnew
, Missouri
C:
Grant Garner, Oklahoma State
OL:
Kelechi Osemele, Iowa State
OL:
Levy Adcock, Oklahoma State
OL:
Gabe Ikard, Oklahoma
OL:
Luke Joeckel, Texas A&M
DEFENSE
DE:
Frank Alexander, Oklahoma
DT:
Dominique Hamilton, Missouri
DE:
Alex Okafor, Texas
DE:
Jamie Blatnick, Oklahoma State
LB:
Sean Porter, Texas A&M
LB:
Jake Knott, Iowa State
LB:
Emmanuel Acho, Texas
NB:
Tony Jefferson, Oklahoma
CB:
Nigel Malone, Kansas State
CB:
Carrington Byndom, Texas
S:
Kenny Vaccaro, Texas
S:
Markelle Martin, Oklahoma State
SPECIALISTS
P:
Quinn Sharp, Oklahoma State
PK:
Randy Bullock, Texas A&M
PR:
Dustin Harris, Texas A&M
KR:
Tyler Lockett, Kansas State
Finally, a few notes and explanations:
I loved the media's idea to craft an all-purpose spot to accomodate Collin Klein. The Big Ten did the same for Michigan's Denard Robinson last season. I followed suit, and did so on the defensive side of the ball with a nickel-back spot for Oklahoma's Tony Jefferson. Two players that missed first-team designation by the coaches, but clearly deserve to be recognized.

Additionally, I prefer the teams to reflect the Big 12 style of play, so the nickel back fits. Each team doesn't have 11 players, but there were deserving linebackers. The same with Egnew and Millard. Does every team use a fullback or a tight end? No, but both are standout performers. They'd rotate in anyway, just as Jefferson would in a theoretical package.

Tough call to leave Philip Blake from Baylor off my team, but Garner's been better. Blake is very, very close, though.

Hated to leave off Brodrick Brown and E.J. Gaines, but I went with a more traditional two corners and two safeties, rather than four corners like the media's team.

Steven Johnson and Arthur Brown would have been right behind my three linebackers. That race was probably closer than at any other position, except maybe cornerback. Difficult to leave either of those guys off my first team, but the three on the team were better. I gave Brown my Newcomer of the Year nod, though.

I don't like going with three defensive ends and one defensive tackle, but there wasn't a defensive tackle who deserved the honor more than Okafor, my third defensive end. Okafor was a defensive tackle last year anyway, so that's close enough, right? He moved from tackle to end before spring practice earlier this year. In the Big 12, an additional pass rusher is necessary, too, right?

I made a similar move with my offensive line. Went tackle-heavy, but the guards didn't have quite as many standouts.
December, 7, 2011
12/07/11
12:54
PM CT
The Big 12 announced its league awards on Wednesday, as voted on by a panel of 18 media members.
Coach of the Year:
Bill Snyder, Kansas State
Offensive Player of the Year:
Robert Griffin III
, QB, Baylor
Co-Defensive Players of the Year:
A.J. Klein, LB, Iowa State; Frank Alexander, DE, Oklahoma
Offensive Lineman of the Year:
Grant Garner, C, Oklahoma State
Defensive Lineman of the Year:
Frank Alexander, DE, Oklahoma
Offensive Freshman of the Year:
Tyler Lockett
, WR/KR, Kansas State
Defensive Freshman of the Year:
Quandre Diggs, CB, Texas
Special Teams Player of the Year:
Quinn Sharp, P/K/KOS, Oklahoma State
Offensive Newcomer of the Year:
Aaron Horne
, WR, Iowa State
Defensive Newcomer of the Year:
Arthur Brown, LB, Kansas State
A few thoughts on the awards.
Well deserved honors for Snyder as the top coach and Alexander as the top defensive lineman. Both were runaway winners in my book. Garner is a solid selection as offensive lineman of the year.
Very surprised to see A.J. Klein share defensive player of the year awards. He had a great year, but you could definitely make the case that his teammate, Jake Knott, had one that was just as good. Iowa State's linebackers ascended to become the league's best by the end of the year, but Klein and Knott both surpassed 100 tackles. Klein had 101 tackles, two sacks, 7.5 tackles for loss and an INT he returned for a score. Knott had 107 tackles, four tackles for loss, two interceptions and three forced fumbles.
Lockett taking home the offensive freshman of the year award was a huge upset, but certainly, voters factored in his kick returning accomplishments. He caught 18 passes for 246 yards and three scores, but returned 16 kicks for an average of 35.2 yards and two scores. That average was almost 10 full yards more than any other player.
Still, I would have had a tough time picking between Texas running back Malcolm Brown and wideout Jaxon Shipley for that award. Both dealt with injuries late in the season (so did Lockett, though) and Brown had 707 yards rushing with five scores. Shipley caught 40 passes for 593 yards and three scores.
I doubt any player won an award by a wider margin than Quinn Sharp did for special teams player of the year. He was nearly the best at everything in every phase of special teams. Just an unbelievable year.
Not a lot of candidates for offensive newcomer of the year, but Horne is a good selection. The juco receiver made some huge grabs for Iowa State this year.
No question about Arthur Brown, though, clearly.
RG3 as the offensive player of the year is a no-brainer. He's Baylor's first winner in school history. He may soon be the school's first Heisman winner, too.
April, 12, 2011
4/12/11
2:20
PM CT
STILLWATER, Okla. -- A year ago, Oklahoma State was full of question marks. None, perhaps, were bigger than what to expect out of the 1,500 pounds or so trying to pave the way for the Cowboys' new offense.
[+] Enlarge
Chuck Cook/US PresswireLane Taylor is part of an experienced offensive line for Oklahoma State.
"We only had one guy [Lane Taylor] that was a returning starter and he'd only played 4 or 5 games, so we didn't know where we were at," said coach Mike Gundy.
Added quarterback
Brandon Weeden
: "[Offensive line] coach [Joe] Wickline, as good as he is, I expected the best, but that was kind of the unknown. Myself, I was kind of like, 'will they be able to get it done?'"
Wickline rotated a few players in and out of the starting group early in spring. Finally, in hopes of chemistry creating a "whole greater than the sum of its parts" type of situation, he decided to stick with five players.
Taylor, a sophomore and the lone returning starter, was slotted at right guard. Levy Adcock and Nick Martinez slid into the role of right and left tackle, respectively. Jonathan Rush took over at left guard. Grant Garner assumed the role of center, making up a group of four juniors and a sophomore.
"We hoped that [running back] Kendall [Hunter] and some of the wideouts we had could make plays for us and we'd overcome some deficiencies in the offensive line," Gundy said. "Later, we found out they were pretty talented and they were able to work well as a group and make some plays."
What looked like a patchwork offensive line eventually developed into one of the Big 12's best, helping pave the way for Hunter and give Weeden time to quarterback the nation's No. 3 offense.
"They were just some blue-collar guys that worked well together," Gundy said. "I think they had great leadership from their quarterback and it didn't hurt that we had a Doak Walker candidate at running back and a Biletnikoff winner at receiver, which takes a lot of pressure off those guys."
The best news now, though? All five are back. Four starters are seniors and Taylor will enter his third season in the starting lineup as a junior.
"Experience is very important in this game at any level and at any position, and when you have experienced guys up front, it gives your quarterback a little sense of security," Gundy said, "and they feel better about themselves and he feels better about his ability to be protected and make some plays."
The line saw progress in spring. It continued into the fall.
"By the end of the year, they were rolling pretty good," Gundy said. "They didn't just dominate people, but they were really good, sound and didn't make a lot of mistakes. Because of that, eliminating the errors, made them a good offensive line."
The offense will have to adjust to a new play-caller and a new running back next season, but with the play of the big men up front, their tasks look significantly easier.