Dallas Colleges:

Greg Davis
July, 22, 2014
Jul 22
9:40
AM CT
The Big 12 media days continue on Tuesday in Dallas, as Oklahoma's Bob Stoops and new Texas coach Charlie Strong each take the stage. Keep this page open throughout the day's proceedings as we bring you the latest from our reporters, who will cover all 10 teams at the event.
July, 25, 2011
7/25/11
12:42
PM CT
By
Jeff Caplan
| ESPNDallas.com


DALLAS -- Texas coach Mack Brown opted not to bring quarterback Garrett Gilbert to greet the media. He stayed in Austin. The big question is will Gilbert stay on the sideline in 2011?

Brown said the team lost its swagger last season and the No. 1 criteria for next season's starting quarterback is leadership.

"We want someone who can get the swagger back," Brown said, "and make sure the that the rest of the kids know that this person's going to lead them to victory."

Texas will not name a starting quarterback going into fall camp. Four quarterbacks will battle it out to become the first starter under Brown to have to pull a Texas team out from under a sub-.500 season.

"By not naming a starter," Brown said, "we hope it puts a tremendous amount of pressure on all four of them to become a leader."

The second criteria Brown mentioned is not turning the ball over, a constant issue last season. Brown said when the offense falters, the play-caller gets criticized and the quarterback gets criticized.

Well, Brown took care of the play-caller (Greg Davis). We'll see if the Longhorns have a new quarterback, too.
July, 19, 2011
7/19/11
8:18
AM CT
Heading into the season, I see five teams in the Big 12 with a realistic chance to win the league. I'll be breaking them down in order (which
won't be the same as my post-spring power rankings
) of their chances to leave the season with the Big 12 title.
No. 1 on the list was
the favorite: Oklahoma
.
No. 2 was Texas A&M
.
Oklahoma State came in at No. 3
.
No. 4? Missouri.
And now, we'll tackle the fifth and final team that I could realistically see winning the Big 12.
And yes, it's the team racking up good will from its conference brethren at a record rate.
[+] Enlarge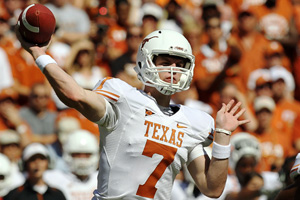 Ronald Martinez/Getty ImagesGarrett Gilbert struggled in his first season as a full-time starter, throwing 17 interceptions to just 10 touchdowns.
Why the Longhorns will win the Big 12
1. They're Texas.
You've heard it before, and cliche or not, it isn't meaningless. "They're Texas" simply means the Longhorns aren't short on athletes. Defensively, that was true even last year. Offensively, did Texas recruit a handful of guys that either a) haven't panned out or b) haven't fit into the offensive scheme well? The answer to that was pretty obvious after Colt McCoy and Jordan Shipley checked out for the NFL. But Texas has the athletes on defense, and 2010 struggles aside, the potential for big years is there for running back Malcolm Brown and receiver
Mike Davis
. If
Garrett Gilbert
can bounce back from last year, or whoever Texas puts out there at quarterback plays well, and the offensive line can at least be decent, Texas will look radically different.
2. Last year's team was a lot better than 5-7.
Mack Brown has repeatedly emphasized it, but he's not blowing smoke. Combine two simple stats from last year and Texas likely would have won 7-8 games. In 2009, when Texas went to the national title game, it turned the ball over 28 times and forced 37 turnovers. Last year, it turned the ball over just two additional times, totaling 30. The Longhorns, though, forced just 18 turnovers, including a big drop from 25 interceptions in 2009 to just eight in 2010. That margin put the Horns ahead of just three teams in all of college football. There's a lot of reasons for the drop in forced interceptions (not leading games and forcing teams to pass, weak pass rush, etc.) but there's no way that number will be as low in 2011. Manny Diaz's defense has emphasized forcing turnovers since Day 1, including pre-practice drills the Longhorns hadn't previously done. Additionally, Texas lost four games by one possession, and a couple bounces of the ball could have landed the Longhorns in the postseason, making the chasm between last year's last-place finish in the Big 12 South and a first-place finish in the Big 12 this year look much less imposing.
3. There's a renewed sense of purpose.
Texas restocked its staff with rising talents in the coaching profession and guys eager to make a name for themselves. Additionally, Mack Brown has lauded his team's offseason efforts, no doubt aided by having to stare at the garish 5-7 record in 2010 next to all those double-digit totals for almost a decade before them. You're crazy if you don't think that's major motivation for a team that should have good leadership behind guys like Keenan Robinson, Emmanuel Acho, Blake Gideon and
Fozzy Whittaker
. That will manifest itself on the field.
Why the Longhorns won't win the Big 12
1. There isn't enough offensive production.
For now, Texas has an underwhelming offensive line to block for a corps of running backs with two seniors who have never topped 600 yards in a season. Much-hyped incoming freshman Malcolm Brown won't join the team until fall camp, though he's on campus this summer. Texas has no receivers who have ever topped 550 yards in a single season or caught more than two touchdown passes in any given year. And there's an uncertain quarterback competition between three guys with no meaningful career snaps and another with 12 starts, 17 picks and just 10 touchdowns. Not exactly the recipe for a Big 12 champ.
2. The list of contenders is deeper than most years.
This isn't your favorite college football-glossing fan's Big 12, which hinges on the Red River Rivalry every year. Texas can't hope to best Oklahoma in Dallas and cruise to a Big 12 title. If Texas does knock of OU, it's still going to have to beat Oklahoma State, Texas A&M (in College Station, by the way) and Missouri (in Columbia). If it can't do that, or at least finish with 1-2 losses, the Longhorns won't have a chance. There is zero chance the Big 12 champion will have three losses.
3. Players won't have either new system down in time.
We haven't seen much from Texas, outside of its spring game, but this postgame quote from Diaz, the new defensive coordinator, definitely raised my eyebrows: "We are a defense that has to do everything right to be successful, and on the plays when 11 guys lock in and do their job, we are hard to move against. But we still have very little margin of error when we don't play within our technique or we don't play within our assignments." So what, pray tell, happens when all 11 guys aren't doing everything right? It's reasonable to suggest that in a new system, that might happen, and combined with the offensive issues we discussed earlier, 2011 could be another tough year for Texas. Of course, if things do come together and that potential becomes production, Texas might end up back on top of the Big 12.
January, 31, 2011
1/31/11
11:13
PM CT
Texas coach Mack Brown met with the media on Monday afternoon, two days before signing day, and sounded re-energized. Most importantly, don't expect another coach-in-waiting any time soon for the Longhorns.
[+] Enlarge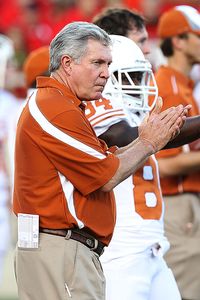 Ronald Martinez/Getty ImagesMack Brown says he doesn't have any plans to leave the program.
Brown, who has spent the past two months feverishly maintaining his recruiting class while hiring six new assistant coaches, was asked what he told his new assistants about his future while he was interviewing them.
"When you have a coach-in-waiting, it puts question marks into how long you're going to coach," Brown said. "I told them I was back in the game. I was full speed ahead. I wouldn't be working this hard on recruiting and hiring coaches if I wasn't in it for a long time, and I basically told them that Texas fans were going to have to put up with me for a long time. I'm back at work."
That's a good sign of stability for Texas, who has experienced some of the program's best years under Brown, excluding 2010, and has the talent in place for plenty more moving forward.
A few other notes from Brown on Monday:
Brown has spoken at length about his top-to-bottom review of the program after the 5-7 season. Part of process was handing out a survey to his players, asking them questions about himself, his assistants and other players on the team. He asked his players to write their names on the survey, but promised he would be the only one to see their answers. Brown says he'd only done it two or so other times at Texas, and the previous time was after the 2007 season. "As soon as I looked at the survey, I wrote down some thoughts that I felt were right on and I wrote down some of the things that I thought they had given me that they had probably misunderstood," Brown said, "and then I tore them all up the next day and started addressing them individually with some of the players."

He also expressed some brief thoughts on Texas' new network in conjunction with ESPN. "There's nothing like it in sports, which is just unbelievable," Brown said. "... we've got to see how we're going to use it in football. Do you have your pro day on it? Do you have the offseason on it some days? Do you have a guy that's going out in the community, whether it's to the hospital to see sick children? Do you have to get a waiver to put that on national TV? You'll have some kids that want to work in communications and what a great way for them to so some internships with Longhorn Network and ESPN. So we're looking at all those possibilities right now, and it's really exciting for us to have something that no one else has. It will, obviously, be great for recruiting, but we think it's also something to let people have more behind-the-scenes looks at what we do without giving up everything. So we've got to look at what that means and where we go with it."

Brown hasn't had to make many hires since coming to Texas in 1998, and weighed in with a few of the differences. One, he has to deal with agents now, and he didn't realize how high the assistant salaries had gotten until he started looking outside his program. Also, he sensed an interest in the coaching hires that wasn't there previously, with reports on planes flying in and out of Austin and various people's candidacies leaking out. "People say, 'Why do you care what gets out or who you talk to or when you talked to them?' You always want to protect the guy," Brown said. "If a guy is coming in to interview from his school, his fans are mad [and] his head coach is mad, usually. The assistant coaches with him are all talking to him. His players are upset, and his recruits are upset. It's not about whether it affects us or not, it affects the other candidate and especially if you don't hire him. It puts him in a very, very difficult place."

Tired of short hitch routes, Texas fans? New offensive coordinator Bryan Harsin's arrival is a good sign. "When you start looking at offensive coordinator, you have to look at the new changes, the new ideas, where you're going and very honestly, I think Boise has fun with their offense," Brown said. "They've been balanced with 200 yards rushing and 200 yards passing, and they run trick plays which I love. They actually throw deep a lot, and I love that. I heard Bryan Harsin say the other day to one of the coaches, 'You have to work just as much on a short pass as you do a long one, so why not spend that time on the long one and have a chance to score with it?'"

Brown ran down the resumes of his nine new assistants briefly. Their careers have cumulatively seen 71 bowl appearances and are 44-27 in those games.

They've been to 23 BCS bowls and are 16-7 in those games.

They've made 12 national championship appearances and are 5-7 in those games and one has coached in a Super Bowl.

After making his coaching hires, Brown had a 30-minute meeting with his players and without any other assistants to discuss the changes in the program and what he'd been up to. "I went back over their surveys. I went back over what I thought was important for us to restart," he said. "I told them that we would have a new offense. We'd have a new defense. We'd have some changes in special teams, and they all had a clean slate and that I was re-energized with what I had seen with the staff in the hiring process."
December, 15, 2010
12/15/10
10:53
AM CT
We're taking a look at some of the nation's higher profile bowl misses in 2010, and no one personified that in the Big 12 more than the
Texas Longhorns
.

How it happened:
Well, for starters, Colt McCoy and Jordan Shipley took their talents to Ohio and the NFL. No receiver ever emerged to fill Shipley's void, and all other problems aside, first-year starting quarterback
Garrett Gilbert
threw 10 touchdowns and 17 interceptions. Good luck finding those kind of numbers on a winning team. No other Big 12 quarterback threw more than 13 interceptions, and only three had double-digits. Additionally, Texas' commitment to a power running game throughout the spring and fall was a certified flop. The Longhorns never found a consistent back, and the team's leading rusher,
Cody Johnson
, finished with just 592 yards. No one else had more than 400.
The defense had a good season on the stat sheet, but a first-quarter lapse against Oklahoma and a poor second half against UCLA resulted in a pair of early-season losses that derailed the season. The Longhorns still managed to beat Nebraska in Lincoln, vaulting them back into the top 25. But the win was a result of the Huskers getting caught off guard by Gilbert using his legs to jump out to an early lead, while the defense corraled
Taylor Martinez
. Texas' only win the rest of the season came over Florida Atlantic.
What needs to change:
Texas has to find offense from somewhere. Freshman receiver
Mike Davis
offers hope, but of the Longhorns touted freshman receivers from the 2010 class, he was the only one to make a real contribution.
Darius White
didn't play much, and finished with just one catch. Gilbert must improve, and look for the Longhorns to ride tailback
Malcolm Brown
, a much-hyped 2011 commitment, in next year's offense.
Will they go bowling in 2011:
Uh, we'll wait and see when they fill the coaching staff. Defensive coordinator Will Muschamp bolted for Florida, offensive coordinator Greg Davis was forced to resign and two other assistant coaches had to retire. What the Longhorns look like next year is anyone's guess. You'd like to think boatloads of top-tier recruits will get you to a bowl game regardless, but we saw this year that's not necessarily the case.
December, 7, 2010
12/07/10
2:06
PM CT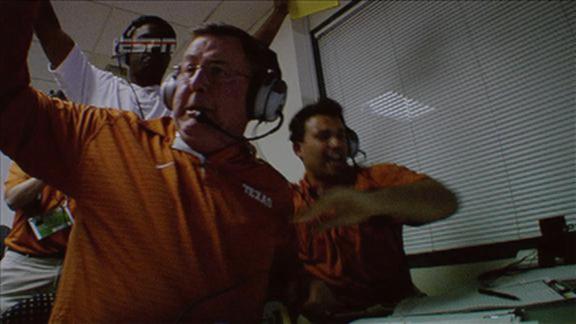 What season? Didn't Texas cancel 2010? You might hear something along those lines from Texas fans after a shocking 5-7 season that featured five home losses, with the only wins coming over ... wait for it ... Wyoming and Florida Atlantic. Ouch.

Most -- myself included -- figured Texas' defense would be good enough to carry the Longhorns to at least 8-9 wins while the offense suffered through what eventually became an identity crisis. Statistically, it was a great defense, but lapses against UCLA and Oklahoma turned into losses, and suddenly one-dimensional offenses like Kansas State looked just as dominant against the Longhorns as Oklahoma State's powerful, balanced attack.
Texas shuffled featured backs almost weekly, but no part of Texas running game was powerful, a stated spring goal that, to their credit, Texas tried to achieve for most of the season. It was a futile effort, and eventually cost the offensive line coach and offensive coordinator their jobs. Comically bad, recurrent punt-fielding decisions helped send special teams coordinator Mike Tolleson on his way, too.
Regardless, it was a year of losing in Texas that the program hasn't seen since the days of John Mackovic. Lucky for the Longhorns, by the end of the season, there was nobody left in the stands to see it.
Offensive MVP: Mike Davis, WR.
There wasn't much to pick from, but Davis' 47 catches and were a Texas freshman record, and give the Longhorns hope for the future for whoever is brought in to run the offense.
Defensive MVP: Sam Acho, DL.
Despite the disappointing showing from the defense as a whole, Acho put in an All-American effort and production every time he took the field. The senior led the nation with five forced fumbles, and was second in the Big 12 with 15.5 tackles for loss. He also had eight sacks and made 58 tackles.
Turning point: UCLA's 34-12 win in Austin.
It looked like a shocking upset at the time. The Bruins were an early disappointment, and Texas was 3-0 and ranked No. 7. It ended up just being a tussle between two mediocre teams who combined to finish 9-15. Texas extended its curious dominance over Nebraska with a win over the Huskers in Lincoln, but that win was more of an aberration produced by excellent game-planning from the Longhorns, rather than a second turning point.
What's next:
Good question. Who knows? Texas should field another excellent defense next season under Will Muschamp with plenty of new leaders like Keenan Robinson, Emmanuel Acho and Kenny Vaccaro, as well as Kheeston Randall and Blake Gideon, but offensively, anything could happen. I subscribe to the school of thought that, while
Garrett Gilbert
's numbers were average at best, he didn't have a lot of help. He wasn't the main problem. If Davis can continue to develop, and the running game can be a factor in 2011, he'll look like more of what most people thought he'd be. But much of that will depend on who Texas gets to replace offensive coordinator Greg Davis.
December, 6, 2010
12/06/10
12:50
PM CT
Texas offensive coordinator Greg Davis has resigned and two other assistant coaches are retiring after the Longhorns' first losing season since 1997, the Associated Press has reported.
Davis, who has been with coach Mack Brown for 13 seasons at Texas, had been under fire all season as Texas finished 5-7 and didn't qualify for a bowl.
For more, click here.
February, 24, 2010
2/24/10
3:15
PM CT
By
Jeff Caplan
| ESPNDallas.com
The
Texas Longhorns
begin spring workouts on Friday with questions about their new quarterback, spreading the wealth to a variety of receivers and how to jumpstart a ground game.
ESPN.com's Mark Schlabach
sat down this week with Texas offensive coordinator Greg Davis.
December, 28, 2009
12/28/09
2:36
PM CT
By
Jeff Caplan
| ESPNDallas.com
When
Vince Young
lost out on the 2005 Heisman Trophy to USC running back
Reggie Bush
, Texas offensive coordinator Greg Davis sent his star quarterback at text message.
"I said, 'You're my Heisman,'" Davis said. "VY texted back and said, 'Game on.'"
VY, of course, then led Texas to the national championship over Bush and the favored Trojans.
Davis sent the same text to
Colt McCoy
when Alabama running back
Mark Ingram
won the Heisman a few weeks ago. "He had same reply," Davis said, "'Game on.'"
Colt will have the same opportunity that Young did four years ago -- knock off the Heisman winner for the national championship. No. 2
Texas
faces No. 1
Alabama
on Jan. 7 at the Rose Bowl in the BCS national title game.
"I answered [Davis' text message] the way I felt. I mean, I think last year was a lot more disappointing than this year because I know how much more we have to play for," McCoy said. "The only disappointing thing was I was disappointed for my teammates that I couldn't bring it home for them."