Dallas Colleges:

Halloween 2013
October, 31, 2013
10/31/13
2:00
PM CT
It's that special time of year when it's OK to let your inner ghoul come out. It's when that thing that goes bump in the night is standing right behind you, smiling that sinister smile only nightmares can conjure.
Horror movies cover our TV screens, while candy wrappers litter our streets.
It's Nick Saban's birthday! ... Oh, and it's also Halloween.
Regardless of which one you celebrate, cut off the lights, wrap yourself in a blanket and try not to get scared as we look at the most bone-chilling people in the SEC:
[+] Enlarge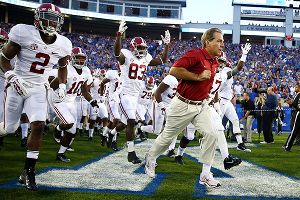 Andy Lyons/Getty ImagesThe scariest sight in the SEC is Nick Saban leading the Alabama Crimson Tide onto the field.
Jason Voorhees:
Alabama just won't go away. Even after losing at least one game in November the past two years, the Crimson Tide have won consecutive BCS national championships. Since 2010, Saban is 33-2 and is riding a 12-game winning streak. A trip to College Station to face Texas A&M didn't get in his way, and at this rate, nothing might keep him from steamrolling into his third straight BCS title game.
Michael Myers:
One of the most feared horror movie villains, Myers terrorized the citizens of Haddonfield, Ill., with his frighteningly slow stalk and superhuman strength. Meet Missouri defensive end
Michael Sam
, who torments quarterbacks with more speed and the reputation of being one of the country's scariest players. He has registered a nation-leading 16 tackles for loss and is tied for first with 10 sacks. He has totaled three sacks in a game three times this year.
Freddy Krueger:
This season, sleeping on Auburn has proved costly. The Tigers started the season unranked and under new management with Gus Malzahn, but are 7-1 and ranked No. 11 in the BCS standings. The biggest Krueger-esque attack occurred in College Station, when the Tigers upset then-No. 7 Texas A&M 45-41. Two weeks before, Auburn upset No. 24 Ole Miss at home. Could Auburn do the same against Alabama later this month?
The Great Pumpkin:
Like Linus
waiting in that pumpkin patch
on Halloween for the Great Pumpkin to arrive, we've waited for
Jadeveon Clowney
to return to his old form. Each week, we've been disappointed as Clowney, who entered the season with 21 sacks and 35.5 tackles for loss in his career, has just two sacks and 6.5 tackles for loss. Teams have schemed him differently and he has dealt with injuries, but he's just not the same player who had garnered so much attention. At least he has the awesome
Predator look
going!
The Walking Dead:
If anyone looks like a stumbling herd of undead walkers, it's Florida and Georgia. These programs have been ravaged by injuries. Florida has dealt with eight season-ending injuries, including to starters
Jeff Driskel
and
Dominique Easley
. Nicks and dings have piled up for Florida, too, as just 13 healthy defensive players dressed for the Mizzou game two weeks ago. Georgia watched as running back
Keith Marshall
and receivers
Malcolm Mitchell
and
Justin Scott-Wesley
went down with season-ending ACL injuries. Nagging injuries have sprinkled around, and heading into Saturday's game with Florida, receiver
Chris Conley
(ankle) is doubtful and safety
Tray Matthews
(hamstring) is questionable.
House of horrors:
Opponents might wander into South Carolina's Williams-Brice Stadium for a fun football game, but few leave with a win. The Gamecocks have an SEC-leading 14-game winning streak at home.
Trick:
Under Kevin Sumlin, all of Texas A&M's losses (four) have come at home. This year, the Aggies fell to Alabama and Auburn at Kyle Field by a combined 11 points. Not exactly the most intimidating home-field advantage.
The Joker:
Arkham Asylum's most heinous inmate and Batman's arch nemesis, the Joker has the ability to manipulate his foes and wreak utter chaos. Kind of like how
Johnny Manziel
plays. We thought he wouldn't be focused enough this season, so he has churned out 3,091 yards of offense and 28 touchdowns. Defenders think he's going one way, only for him to go the other. Manziel might have dressed up as
Scooby Doo
last year, but he's as evil as the Joker on the field.
Thriller:
The best game of the year has to be Georgia's 44-41 win over LSU. We saw three lead changes, four ties, 943 yards of offense and 85 points.
Aaron Murray
's touchdown pass to Scott-Wesley with 1:47 remaining proved to be the difference after LSU quarterback
Zach Mettenberger
threw four straight incomplete passes on LSU's final drive.
Scary:
Texas A&M's defense has been the SEC's most terrifying defense to watch. The Aggies rank 111th nationally in total defense, allowing 473.8 yards per game. They're 13th in the SEC in scoring defense (32.6), last in rushing (210.1), 12th in passing (263.6) and are giving up 6.4 yards per play. A&M has allowed fewer than 400 yards just twice this year.
Best costume:
Will Muschamp
.
October, 31, 2013
10/31/13
11:00
AM CT
Happy Halloween, dear readers. To commemorate this frightful holiday, here's a look at the Big 12 teams, coaches and players who might have a few things in common with some classic horror movie villains.
Michael Myers ("Halloween"): Oklahoma Sooners
[+] Enlarge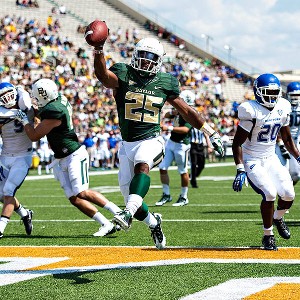 Jerome Miron/USA TODAY SportsWith 869 yards, Baylor back Lache Seastrunk leads the Big 12 in rushing.
The villain that just will not die. Deal them a couple body blows -- losing
Corey Nelson
,
Jordan Phillips
and
Trey Millard
-- and they just keep going. Got blown out by Texas and lived another day to light up Texas Tech. Like Myers, too, this Sooners team still has a bit of a faceless identity on both sides of the ball.
Freddy Krueger ("A Nightmare on Elm Street"): Texas Tech Red Raiders
While you're busy dreaming of the always-dreamy Kliff Kingsbury, his red-dressed team will destroy you in your sleep. Makes up for its human vulnerabilities with lots of razors. Got burned in a previous life by its last head coach.
The Alien ("Aliens"): Baylor Bears
Pretty much a perfect fit here. Highly evolved and truly deadly. Loaded up with blades from head to toe and pumping with yellowish-green acid blood. There's really no way of preparing for its wrath, and it'll kill you much faster than the average human villain.
Jaws ("Jaws"): Texas Longhorns
The big fish of the Big 12 is finally playing with some bite after lurking in the water early on. Like most murderous sharks, they're catching people by surprise and playing like they have nothing to lose.
Ghostface ("Scream"): Oklahoma State Cowboys
Who's behind the mask?
J.W. Walsh
or
Clint Chelf
? Despite some identity confusion, this is still a strong, durable bad guy who wields a knife. Not to be underestimated.
Jason Voorhees ("Friday The 13th"): TCU Horned Frogs
Keep the cool masks (helmets) on, Horned Frogs. This season is starting to get ugly.
Zombies ("Dawn of the Dead"): Iowa State Cyclones
Injuries keep piling up for the Cyclones but they're as motivated and hungry as ever. They might be 1-6, but they're never dead.
Edward Scissorhands ("Edward Scissorhands"): Baylor RB Lache Seastrunk
This makes too much sense. Both possess fantastic natural weapons, wild hairstyles and, most important, a heart of gold.
Predator ("Predator"): TCU CB Jason Verrett
Dangerous, well-built, awesome dreadlocks. Intercepts and breaks up so many passes that it's possible he has thermal imaging vision.
Stay Puft Marshmallow Man
(
"Ghostbusters"
)
: Baylor G Cyril Richardson
Richardson isn't 100-feet tall, but the best lineman in the Big 12 does destroy everything in his path.
Centaur ("The Chronicles of Narnia"): Texas Tech TE Jace Amaro
Wanted to go with Bane here, which is also very complimentary, but alas there is already
photographic proof
that Amaro is half man, half horse. "Narnia" isn't a horror movie but just go with it, OK?
Dracula ("Dracula"): Kansas State coach Bill Snyder
Though he's typically revered for being a wizard, it's not unfair to see a few parallels between the oldest coach in FBS (74) and the undead. He's not a bloodsucker, but he has admitted to eating only one meal a day, typically at Taco Bell.
Beetlejuice ("Beetlejuice"): West Virginia coach Dana Holgorsen
The bravado and the hair make this a good fit. Have to imagine Beetlejuice's salesmanship in the model graveyard is a lot like how Hologorsen recruits, right?
Dr. Evil ("Austin Powers: International Man of Mystery"): Texas coach Mack Brown
Not a horror, but both are eccentric masterminds with outgoing, friendly demeanors. Always plotting world domination. Dr. Evil demands $100 billion, and Texas has made that much in Brown's tenure. Wanted sharks with laser beams at quarterback, ended up with an ill-tempered sea bass.
Pile Of Crap ("Envy"): Kansas Jayhawks
Well, you know, this is
pretty self-explanatory
. "Envy," about a man inventing a magical spray that makes piles of crap disappear, isn't a horror movie. But it is a horrible movie.
Can you think of any more Big 12 horror villains? Disagree on any? Just furiously angry because you don't get that we're joking? We welcome your suggestions in the comments below.
And last but certainly not least, it's time to pay tribute to the art of dressing children up like Big 12 coaches. It's an annual tradition of which we can all be proud.
The runaway champion of 2013 is
Kliff Kingsbury Kid
. Brilliant job, son. Way to keep your swag up. You'll learn to keep your V-necks deep as you get older. Only thing missing might be some
PB&J sandwiches
.
Past champions include
Dana Holgorsen Kid
,
Bill Snyder Baby
and who could forget the irresistible
Mark Mangino Baby
. This is truly becoming an art form, people.