Dallas Colleges:

Horns-Aggies-111124
November, 25, 2011
11/25/11
1:22
AM CT
COLLEGE STATION, Texas --
History waited for the last second
.
As it should after 118 games between Texas and Texas A&M.
But when history finally did arrive it wrapped it arms around Justin Tucker,
Case McCoy
, and the Texas football team.
Texas 27. Texas A&M 25
.
"Instant classic," linebacker Keenan Robinson said.
More like a game and a moment forever frozen in time. With one 48-yard drive and one 40-yard kick as time expired, a middling Texas team became instantly unforgettable.
"To know that's what we accomplished, to know what this means and you hardly have the words for it," cornerback Carrington Byndom said.
November, 25, 2011
11/25/11
12:58
AM CT
COLLEGE STATION, Texas -- The deed was done.
Amidst a stream of long-faced Aggies fans filing out of the Kyle Field bleachers, a single hand flashed the most famous hand signal in Texas -- the hook 'em Horns -- and let out a primal "Yeah!"
Minutes earlier, the Aggies watched Justin Tucker flutter a 40-yard kick through the uprights for a
27-25 Texas win
, leaving the worst phrase in sports behind for the A&M faithful.
"Better luck next year."
Or not.
The deepest burn in the Aggies' self-inflicted wound on Thursday night was the Longhorns' absence a year from now, and likely many years in the future. Thanksgiving will come and go. The Longhorns won't be coming to College Station. The Aggies won't march to Austin.
These bitter rivals have undergone this joyous ritual 118 times in their history dating back to 1894. They won't again for the foreseeable future when Texas A&M kicks off its SEC schedule next fall and the Longhorns stay behind in the Big 12.
[+] Enlarge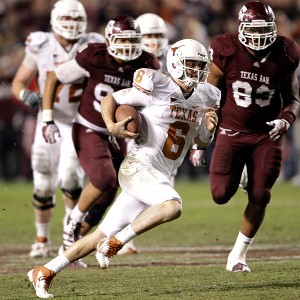 AP Photo/David J. PhillipA 25-yard run by quarterback Case McCoy helped set up the Longhorns for the game-winning field goal.
On Thursday night, the Aggies' biggest flaw flashed its face one more time, and Texas A&M will be forced to live with it for years to come.
"Seems like it's the same comment I've made before," coach Mike Sherman said before being asked a single question after the loss.
Another double-digit first-half lead -- nine at halftime -- and another crushing loss.
"Probably the hardest loss I've had since I've been here," said senior receiver
Jeff Fuller
.
Thursday marked the fifth time this season the Aggies controlled the game's first 30 minutes before ceding to chaos in the final stanza. In 12 outings this season, the Aggies were favored to win 11 times. They finish 6-6. A middling December bowl game awaits. For all the pain and frustration of this season -- losses at home to Oklahoma State, Missouri and a loss to future SEC foe Arkansas at Cowboys Stadium were among the worst -- a win against hated Texas would have made a disappointing 2011 season feel a bit more complete.
Fuller's 16-yard touchdown catch to snatch back the lead with 1:48 left made it feel oh so close.
"I didn't notice anybody panicking," said Sherman, now 25-25 in four seasons at Texas A&M. "If you look at our sideline, it's not a panicked sideline. It never has been. It never will be. We pretty much keep our composure."
Texas' offense, better than just two Big 12 teams, patching together a game-winning drive? Don't count on it.
In the cruelest of fashions, the improbable silenced the nearly hoarse 12th Man. Sophomore
Case McCoy
-- brother of perennial Aggie-annoyance Colt -- slipped past a pass rush for a 25-yard scramble to bring a second comeback in a single half near its completion.
This was the way it's always been. In many ways, it was how it had to end. The Longhorns, aka Big Brother, getting the best of the Aggies, ripping out a heart flush with hope from a touchdown pass to Fuller that embodied clutch.
Land grant versus the flagship. All too cruel. All too poetic.
"The young guys aren't going to get a chance to come back in the spring, work as hard as they can and avenge this loss," safety Trent Hunter said.
A loss that fit the mold of nearly every other defeat this season left Sherman saying words of frustration that were exceeded only by their familiarity.
"This was a game that we should have won," he said. "And we didn't."
Turnovers, an offense gone cold and a defense that looked lost let the Longhorns back into the game and kept the Aggies from scratching a seventh satisfying notch in the win column, even when so many more -- 10 wins? Eleven? -- could have gone the Aggies' way.
"We set our standards high and we didn't achieve what we wanted to. It's always difficult," Hunter said.
Instead, a tearful, silent locker room with nothing left to say and a future that's looking all the more imposing by the day. One of Texas A&M's most talented teams in recent history, forced to write 6-6 in the record books, complete with a loss to Texas.
"The Texas-Texas A&M game speaks for itself," said running back
Ben Malena
. "But we're going to the SEC next year, so we've got bigger and better things to worry about."
Indeed you do, Aggies.
November, 24, 2011
11/24/11
11:11
PM CT
COLLEGE STATION, Texas -- The script was so familiar and all too painful for the Aggies.
Texas A&M wasn't perfect in the first half, but it played well enough to firmly be in control, just like it was in four of its earlier losses this season.
And then ... there went that third quarter again. Followed by some big-time fourth-quarter drama.


Time for some instant analysis:
How the game was won:
Justin Tucker hit a 40-yard field goal as time expired to
beat the Aggies 27-25
. Texas A&M took the lead with 1:48 remaining, but the Longhorns' offense awakened with a huge drive, highlighted by a 25-yard scramble by
Case McCoy
.
Turning point:
Texas got the ball back with 1:48 left and a fresh-faced quarterback. The Longhorns made a history-changing drive to seize control of the rivalry for who knows how long. So long to Texas University, indeed.
Stat of the game:
Texas A&M QB
Ryan Tannehill
completed 20 of 49 passes for 224 yards and three interceptions. The normally solid, reliable senior had his worst career outing in a huge spot against a tough defense. His two turnovers helped swing the game in favor of the Longhorns as well.
Player of the game:
Justin Tucker, K, Texas. He'll go down in history for that one. His 40-yard kick silenced the Kyle Field crowd and emptied the stands with amazing speed before being mobbed by his teammates as "The Eyes of Texas" blared through Aggieland.
Best call:
Bryan Harsin's first-half trickery. The Longhorns had done almost nothing offensively through the first quarter and change. After a muffed punt, though, Harsin called a double pass and
Jaxon Shipley
found a wide-open
Blaine Irby
for a 41-yard touchdown pass that got the Longhorns on the board. A&M never saw it coming.
What Texas A&M learned:
It still can't hang on to a second-half lead. It truly is unbelievable. Texas A&M has put itself in position to be 11-1 this season. Instead, it falls to 6-6 with five losses in which it held a double-digit lead. Four of those losses featured a second-half, double-digit lead, and the Aggies led by nine at the half against Texas Thursday night. The Aggies rallied for a huge late drive, but it didn't matter. Texas got the best of them again, and the rivalry stands 76-35-5.
What Texas learned:
Even when its backed up in its own territory, the defense can make plays. The Aggies had better field position all game, but the Longhorns held strong and gave the offense a chance. The offense took advantage.
What it means:
The eyes of Texas won't be upon Texas A&M for quite some time. The Aggies leave for the SEC with a 6-6 season and have standing wins over every FBS team in Texas except ... Texas.