Dallas Colleges:

Iowa Hawkeyes
April, 5, 2013
4/05/13
12:52
AM CT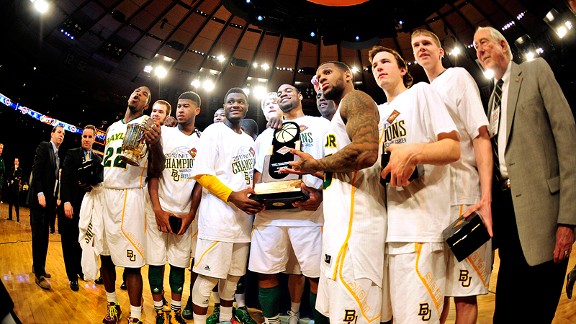 Joe Camporeale/USA TODAY SportsThe Baylor Bears celebrated the Big 12's first NIT championship win at Madison Square Garden.
Baylor made history in New York.
The Bears became the first Big 12 team to win the NIT, soundly defeating the
Iowa Hawkeyes
74-54
on Thursday night at Madison Square Garden.
"I'm proud of these guys," Baylor coach Scott Drew said. "Really proud of their heart and determination, and they'll always be remembered. Whenever you make history -- you don't get a lot of chances to do that."
Baylor led 27-22 at halftime, and Iowa cut the deficit to 28-27 early in the second half. But the game turned into a rout from there.
Pierre Jackson
, the Bears' leading scorer (19.9 PPG), heated up, scoring 13 of his 17 points after intermission. He also collected 10 assists, giving him a fourth consecutive double-double, and was named the tournament's most outstanding player.
"In the second half, they were getting some good screens for me to get to the paint," Jackson said, "and I got to the right spots and knocked down shots."
"They're a terrific offensive team," said Iowa coach Fran McCaffery. "They had us spread out. They were moving the ball, and they've got a lot of weapons, and Jackson is tremendous."
Iowa, on the other hand, had a nightmarish game on offense. The Hawkeyes shot just 18-for-69 (26.4 percent) from the field and 5-for-24 (20.8 percent) from beyond the arc. They missed open looks on the perimeter and several chippies around the rim, clearly bothered by the presence of 7-foot-1 center
Isaiah Austin
(15 points, 9 rebounds, 5 blocks) and 6-foot-9 forward
Cory Jefferson
(23 points, 7 rebounds).
[+] Enlarge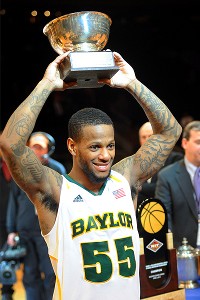 Joe Camporeale/USA TODAY SportsPierre Jackson was named NIT tournament MVP.
Roy Devyn Marble
, who had scored 21 or more points in each of Iowa's first four games in this tournament, finished with just six, shooting 3-for-12 from the field.
"[It] seemed like we just kept missing easy shots," McCaffery said. "The stat that jumps out at me is we had 20 offensive rebounds against this team. That's effort. That's special. That should have equated to more success offensively."
Baylor (23-14) was ranked No. 19 in the country in the preseason, so ending up in the NIT was a disappointment. But the Bears certainly finished the season strong.
"You look at most teams in the NIT, they probably lost a lot of close games, and with our team, we lost some close games," Drew said. "And the common denominator was when we shot over 70 percent from the free throw line, we won, and when we shot in the 50s and 60s, we lost. That's with a young front line."
Drew will lose his starting backcourt of Jackson and
A.J. Walton
, both seniors. But if the talented post players return, Baylor will be dangerous next season.
Iowa (25-13) had its NCAA tournament bubble burst Selection Sunday but gained valuable experience by playing five more games. Senior swingman
Eric May
departs, but everyone else should be back, and the Hawkeyes should go dancing next season, for the first time since 2006.
"There's just no substitute for experience," McCaffery said. "Come to Madison Square Garden, the greatest venue in sports, and play twice against two really good teams, win one, lose one, learn from that -- it can only make us better."
April, 4, 2013
4/04/13
10:32
PM CT
NEW YORK -- Quick thoughts on Baylor's
74-54 victory
over Baylor in Thursday's NIT title game at Madison Square Garden:


What it means:
Baylor is your 2013 NIT champion -- the first Big 12 team ever to win this tournament.
Baylor (23-14) had a disappointing regular season. The Bears were ranked No. 19 in the country in the preseason, coming off a berth in the NCAA tournament's Elite Eight a year ago. They didn't even make the Big Dance this time around but finished the season on a high note.
Iowa (25-13) was on the bubble on Selection Sunday and didn't make the NCAA cut, but collected four wins and some valuable experience the past couple of weeks.
The turning point:
After Iowa's
Roy Devyn Marble
scored the first bucket of the game, Baylor scored nine consecutive points and led the rest of the first half. It took the Bears' leading scorer,
Pierre Jackson
, almost 15 minutes to collect his first point. But Baylor still led 27-22 at intermission. The Hawkeyes shot just 7-for-28 (25 percent) in the first half and committed eight turnovers.
Iowa cut the deficit to one early in the second half, 28-27, thanks to five quick points by
Eric May
. But Baylor answered with seven points in a row to reassert control, and soon turned the game into a rout. The Bears pushed the lead past 20 for the first time on a
Cory Jefferson
two-hand slam with 7:04 remaining. The rest was garbage time.
Star watch:
Jackson scored just four points in the first half, shooting 1-for-6. The second half was a different story. The senior finished with 17 points and 10 assists, and was named the tournament's most outstanding player. Jefferson scored a game-high 23 points, and
Isaiah Austin
added 15.
Mike Gesell
scored a team-high 13 points off the bench for Iowa, while
Aaron White
chipped in 12. Marble finished with just six points.
Number crunch:
It just wasn't Iowa's night offensively. The Hawkeyes missed open shots from the perimeter, and several chippies around the rim -- they were clearly bothered by the presence of the 7-foot-1 Austin (five blocked shots) in the paint. For the game, Iowa shot 18-for-69 from the field (26.4 percent), including 5-for-24 from beyond the arc (20.8), while Baylor shot 26-for-48 (54.2 percent).
What's next:
That's the final college basketball game of the season at Madison Square Garden. Enjoy the Final Four, and we'll see you next year.
September, 8, 2012
9/08/12
8:00
AM CT
You may be asking yourself, who is this guy? Or maybe not.
Either way, my name is Brandon Chatmon. I'll be helping out on the Big 12 blog today with our main man David Ubben in Manhattan, Kan., for the Wildcats' battle with The U. Follow me on Twitter
@bchatmon
and I'll have plenty of Big 12 updates throughout the day.
Enough about me, let's jump straight into football.
TV SCHEDULE
Miami (Fla.) at No. 21 Kansas State, noon ET, FX
Iowa State at Iowa, 3:30 p.m. ET, Big Ten Network
Rice at Kansas, 3:30 p.m. ET, Fox Sports Net
Grambling State at No. 20 TCU, 7 p.m. ET, Fox Sports Net
Texas Tech at Texas State, 7 p.m. ET, ESPN3/WatchESPN
Florida A&M at No. 5 Oklahoma, 7 p.m. ET, PPV
New Mexico at No. 17 Texas, 8 p.m. ET, Longhorn Network
No. 18 Oklahoma State at Arizona, 10:30 p.m. ET, Pac-12 Network
WEATHER
Manhattan, Kan. -- Sunny skies, game-time temperature of 67 degrees, north and northwest winds at 5 mph
Iowa City, Iowa -- Sunny skies, game-time temperature of 72 degrees, northwest winds at 11 mph
Lawrence, Kan. -- Sunny skies, game-time temperature of 76 degrees, north and northwest winds at 8 mph
Fort Worth, Texas -- Partly sunny skies, game-time temperature of 84 degrees, north winds at 16 mph
San Marcos, Texas -- Partly sunny skies, game-time temperature of 83 degrees, north and northeast winds at 13 mph
Norman, Okla. -- Partly sunny skies, game-time temperature of 78 degrees, north winds at 10 mph
Austin, Texas -- Partly cloudy skies, game-time temperature of 78 degress, north and northeast winds at 10 mph.
Tucson, Ariz. -- Cloudy skies, game-time temperature of 83 degrees, southeast winds at 9 mph.
In case you missed it, Ubben's coverage this week should have you primed and ready for kickoff:
December, 15, 2011
12/15/11
9:35
AM CT
Here are a few things to keep an eye on in the bowl games involving teams from the Big 12 this season.

1. The headless Aggies.
A team playing in a bowl after firing its coach is a bit of a rarity, but that's where the Aggies are as they prepare to face Northwestern on Dec. 31 in the Meineke Car Care Bowl of Texas. Defensive coordinator and interim head coach Tim DeRuyter is leaving to become the coach at Fresno State. Former coach Mike Sherman served as their offensive coordinator, too, and it'll be interesting to see what Texas A&M looks like without him.
Cyrus Gray
is questionable, but Northwestern's defense is a lot different than Texas'. Quarterback
Ryan Tannehill
should be able to win this game, but will Texas A&M look like it's playing for anything, and will it show it has fixed the second-half woes?
2. Oklahoma State on the big stage.
Oklahoma State has played in a lot of big games over the past two years, but the two biggest -- Oklahoma in both years -- were played in its home stadium. The Cowboys never played in a Big 12 title setting and never played in a huge neutral-site game against a team suited to beat them. The Jan. 2 Tostitos Fiesta Bowl, opposite Stanford, will be all new for the Cowboys. Will the team look the same after a week unlike anything it has experienced before?
3. Sooners stopping a swoon?
Oklahoma finished the season with two losses in its final three games and now will be without
Jaz Reynolds
in the Dec. 30 Insight Bowl against Iowa.
Landry Jones
will be missing his No. 1 and No. 3 receivers, and the Hawkeyes' offense will take on a defense that struggled late in the year against Baylor and Oklahoma State. Iowa is closer to Iowa State -- Oklahoma's only victory in the final three games -- but the Sooners had better show up in this one, or this season will get even more forgettable.
4. A finale for RG3?
At Baylor, 2011 has been unforgettable. The Bears already have nine wins, a third-place finish in the Big 12 and the school's first Heisman winner. Quarterback
Robert Griffin III
has become must-see TV, but the Valero Alamo Bowl against Washington on Dec. 29 might be the last time we see him in green and gold. There's no guarantee on either side, but what's Griffin got in store for the finale?
5. Did the Longhorns learn?
Texas lamented its holidays at home last year, with players saying they never wanted to experience the feeling again. Several said they couldn't even watch the bowls. Well, the Longhorns are back. How much will they relish the Dec. 28 Holiday Bowl meeting with Cal? Texas should be back to health by then, and a big win in this game might produce big results next fall for a young offense that needs good vibes heading into the offseason.
December, 5, 2011
12/05/11
12:44
AM CT
Iowa Hawkeyes (7-5) vs. Oklahoma Sooners (9-3)
Dec. 30, 1o p.m. ET (ESPN)

Iowa take by Big Ten blogger Adam Rittenberg:
Iowa football hasn't had much go its way in the past 11 months aside from a dramatic victory against Missouri in the 2010 Insight Bowl. The Hawkeyes will return to Tempe, Ariz., later this month looking for another boost after an up-and-down 2011 campaign.
Kirk Ferentz's teams typically save their best for the postseason, as Iowa is 6-3 in bowls during his tenure as coach, including victories in each of the past three years (2010 Insight, 2010 Orange, 2009 Outback). But extending the win streak will be tough against Oklahoma, the preseason No. 1 team. Both teams struggled down the stretch, each dropping two of the final three games.
Iowa is led by its big three on offense: receiver
Marvin McNutt
, running back
Marcus Coker
and quarterback
James Vandenberg
. Coker burst on the scene as a freshman at the 2010 Insight Bowl, setting an Iowa bowl record with 219 rushing yards. McNutt also has been fabulous, while Vandenberg struggled away from Kinnick Stadium but can put up big numbers.
The Hawkeyes' defense was in rebuilding mode for most of the season, as the NFL losses along the defensive line and at safety stung. Oklahoma isn't nearly as dangerous on offense without star receiver
Ryan Broyles
, who is out for the season with a knee injury. But Iowa can't let
Landry Jones
settle into a rhythm and must pressure the Sooners junior quarterback.
Oklahoma coach Bob Stoops faces his alma mater in Iowa, which goes up against the Sooners for just the second time after dropping a 1979 game in Norman.
---

Oklahoma State take from Big 12 blogger David Ubben:
The "Chase For Eight" quickly went awry for the Sooners, who lost a 41-38 game at home to five-win Texas Tech. The Red Raiders didn't win again the rest of the season. The Sooners' defense fell to powerful offenses late in the season, too. Baylor bested the Sooners on a last-second touchdown from
Robert Griffin III
, and Oklahoma State receivers ran free in a Cowboys blowout.
Injuries played a huge role. That's undeniable, but this season, with the expectations that came with it, is nothing but a disappointment. The Sooners suffered two losses after losing Broyles and
Dominique Whaley
.
Blake Bell
's Tebow-esque "BellDozer" formation was pretty effective late in the season, but Oklahoma is bested only by Texas A&M as the Big 12's most disappointing team.