Dallas Colleges:

Iowa State
March, 7, 2013
3/07/13
11:16
AM CT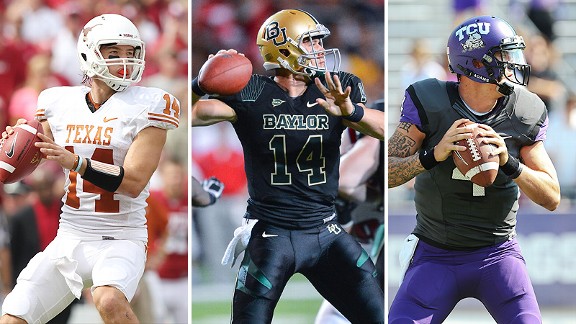 USA TODAY SportsDavid Ash, Bryce Petty and Casey Pachall could be next in the line of elite Big 12 signal-callers.
For years the torch has been passed from Big 12 quarterback to Big 12 quarterback. When received, it's been held high, allowing the remarkable play of those players to be illuminated and seen across college football.
From 2008 to 2011, the Big 12 produced at least one quarterback taken in the first three rounds of the NFL draft. In fact, in those four drafts the Big 12 has had five first-round quarterbacks selected and one in the third round. The 2012 crop of Big 12 quarterbacks --
Collin Klein
,
Landry Jones
,
Geno Smith
,
Nick Florence
, heck even
Seth Doege
-- may not be locks to be first-round picks, but they were prolific in college.
Heading into 2013 it is not that the Big 12's brightly burning quarterback flame has been extinguished so much as it has been reduced to the size of a pocket lighter. There still might be some talent. But the Big 12, long a passing league, has been left with a collection of quarterbacks who have yet to fully prove their ability or even make it to their senior years. (Well, TCU's
Casey Pachall
has but not without a significant interruption that very well could have him sitting on the bench watching
Trevone Boykin
in 2013.)
With all that in mind here are the top five quarterbacks to who could reignite the flame and carry the torch into 2013.
David Ash, Texas
. Yeah, we get it. Flame. Ash. Ha, ha. But on the serious side of things Ash is poised to have a breakout year for Texas. He has started 18 games in his career and finally, after yo-yoing back and forth with
Case McCoy
, has the full support of the coaching staff. Ash finished 21st nationally in passing efficiency last season and was the highest-rated underclassman in the Big 12 behind Oklahoma State's
J.W. Walsh
. (Walsh, who is in a quarterback battle, finished fourth in passing efficiency.)
With Texas making the move to a tempo/spread offense, Ash will have more of an opportunity to pile up stats. He is also leading an offense that has nine starters returning.
Wes Lunt or J.W, Walsh, Oklahoma State
: Lunt won the starting job last season and proved to be the right selection until he was hurt. Walsh proved to be a very solid starter until he was hurt. Even
Clint Chelf
proved to be a solid starter and finished with 15 touchdowns versus six interceptions.
Coach Mike Gundy will likely go with either Lunt or Walsh. Walsh brings more of a dual threat to the backfield. Lunt has a bigger arm but he had seven touchdowns and six interceptions in his five starts. Whoever fits into the Oklahoma State system will undoubtedly be one of the top passers in the Big 12 because the offense is constructed to pile up stats.
Bryce Petty, Baylor
: OK, he drew a Tim Tebow comparison. Yes, already. Yes, it is only spring. No, they have not started to chisel away at the statue for the Baylor campus just yet. But the materials might have been ordered.
"Bryce is a freak of nature," running back
Lache Seastrunk
told the San Antonio Express-News. "His frame, his build and how he throws the ball looks just like Tebow. And when he gets the ball (and runs), he's not going to try to surprise you. He's going to go right at you like a true running back.''
Petty has only made it into 11 games over the past two seasons, completing 10 of 14 passes for 140 yards. But given what Art Briles has been able to do with quarterbacks there is little doubt his numbers will explode this season. He probably will not be able to keep with the stats posted by RG3 and Florence. But Briles is optimistic about what Petty brings to the game.
"He has everything you're looking for -- size, strength, passion, energy, a great arm and great intelligence,'' Briles told the Express-News.
Michael Brewer, Texas Tech
: Brewer knows the spread and ran it successfully in high school under current Clemson offensive coordinator Chad Morris. He comes from a family that has a strong football background with his grandfather and dad played quarterback at Texas. Plus he is working with a coach, Kliff Kingsbury, who turned
Johnny Manziel
into Johnny Football in one season. While Tech doesn't have near the talent that Texas A&M and Manziel had in 2012 -- the Red Raiders also lost receiver
Darrin Moore
-- it will have some of the same looks that tend to confuse plodding defenses.
Casey Pachall, TCU
: Pachall is not guaranteed the starting spot. After he was removed from the program due to a drug and alcohol problem in 2012, Boykin was able to steer TCU to upset wins over Baylor, West Virginia and Texas. He also kept the Horned Frogs close against Oklahoma and Michigan State. But Pachall, who rejoined the team in January, was prolific in his time under center for TCU. In the first four games of 2012 he passed for 948 yards, 10 touchdowns and an interception. He threw for 2,921 yards, 25 touchdowns and seven interceptions in 2011.
Others to watch:
Blake Bell, Oklahoma.
He has only thrown 20 career passes but has been around the offense for several years.
Paul Millard, West Virginia
. WVU coach Dana Holgorsen has not had to break in a new quarterback since his first year at Houston in 2008. So this could get interesting.
Jake Heaps, Kansas.
Last year's heralded transfer,
Dayne Crist
, was a bust. Heaps was able to sit and learn for a year. It could help him understand the genius that is Charlie Weis.
Jake Walters, Kansas State.
He was the top player in junior college in 2012 but might split time with sophomore
Daniel Sams
.
March, 8, 2012
3/08/12
10:57
PM CT
By
ESPN.com wire services
KANSAS CITY, Mo. -- Texas knows enough to rely on
J'Covan Brown
when the Longhorns need a basket.
The Big 12's leading scorer converted a go-ahead three-point play with 36.3 seconds left, and the Longhorns held on to beat Iowa State (No. 25 AP), 71-65, on Thursday night in the quarterfinals of the conference tournament.
Brown finished with 23 points for the Longhorns (20-12), who reached the 20-win plateau for the 13th consecutive season and likely removed themselves from the NCAA tournament bubble.
Texas will face fifth-ranked Missouri in the semifinals Friday night.
Royce White
had 17 points and 10 rebounds for the Cyclones (22-10), and it was his turnaround bank shot with 51.6 seconds left that tied it 65. But after Brown was fouled on a spinning jumper and made the free throw, White lost control of the ball with 22.9 seconds left.
It wound up in the hands of the Longhorns'
Jonathan Holmes
, who made both free throws for a 70-65 lead. The Cyclones turned it over again on their next possession to seal the outcome.
February, 22, 2012
2/22/12
11:41
PM CT
By
ESPN.com wire services
AMES, Iowa --
Scott Christopherson
and
Melvin Ejim
each scored 17 points and Iowa State pulled away for a 72-54 victory over Texas Tech on Wednesday night, reaching 20 wins for the first time in eight years.
Royce White
had 13 points, 10 rebounds and eight assists for the Cyclones (20-8, 10-5 Big 12), who also earned 10 wins in the Big 12 for the first time since 2001.
Iowa State struggled at times against the Big 12's worst team, though. The Cyclones trailed by four at halftime, let the Red Raiders shoot nearly 46 percent and didn't push their lead into double digits until just over 6 minutes were left.
Jaye Crockett
had 17 points for the Red Raiders (8-19, 1-14), who remain winless on the road in the Big 12.
March, 9, 2010
3/09/10
4:30
PM CT
By
Jeff Caplan
| ESPNDallas.com
Wednesday's first-round games in the Big 12 Championship is a day for the underdogs and unranked to catch lightning in a bottle and play on as long as possible.
The
Baylor Bears
did it a year ago and it's exactly what the
Texas Longhorns
hope to do.
Once No. 1, the sixth-seeded Longhorns are looking for any momentum it can find to take into the NCAA Tournament. But, don't count on a walk in the park Wednesday at Kansas City's Sprint Center against 11th-seeded
Iowa State
with those pesky
Baylor Bears
awaiting the winner.
The Cyclones are 2-4 in their last six, but all four losses have come by fewer than five points and they stunned
Kansas State
in Manhattan in the regular-season finale. Iowa State gave Texas a good run ealry in the conference season before losing, 90-83.
"The last six [games] we've been right there with an opportunity to win," Iowa State coach Greg McDermott said. "I give great credit to my team."
Texas Tech Red Raiders
coach Pat Knight said he one of the lower-seeded teams will get hot and advance. Why not Tech?
It happened last year when
Mike Singletary
set scored 29 consecutive points in the second half and set a Big 12 record with 43 points to lead No. 11 Tech past No. 6 Texas A&M.
The ninth-seeded Red Raiders are coming off a horrendous three weeks and drag a seven-game losing streak into its game against eighth-seeded
Colorado
Knight is still holding out the carrot of an NIT berth.
"We're in the best conference, finished with a winning record, I think we're deserving," Knight said. "So you don't want to shut the door on it, kind of lead them with that carrot a little bit that they're still playing for something, that each win that they can add to their record just helps them play in the NIT."
Here's the Big 12 Championship schedule:
Wednesday's first round
8 Colorado vs. 9 Texas Tech, 11:30 a.m. (Big 12 Network - KTXA/Ch. 21)
5 Missouri vs. 12 Nebraska, 2 p.m. (Ch. 21)
7 Oklahoma State vs. Oklahoma, 6 p.m. (Ch. 21)
6 Texas vs. 11 Iowa State, 8:30 p.m. (Ch. 21)
Thursday's Quarterfinals
1 Kansas vs. Colorado/Texas Tech winner, 11:30 a.m. (ESPN2)
4 Texas A&M vs. Missouri/Nebraska winner, 2 p.m. (Ch. 21)
2 Kansas State vs. Oklahoma/Oklahoma State winner, 6 p.m. (Ch. 21)
3 Baylor vs. Texas/Iowa State winner, 8:30 p.m. (ESPN2)
Friday's semifinals
6 p.m. and 8:30 p.m. (Ch. 21)
Saturday's championship
5 p.m. (ESPN)