Dallas Colleges:

Ishmael Zamora
February, 27, 2014
Feb 27
9:00
AM CT
There few assistants in college football who pulled in a better recruiting haul this year than Kendal Briles.
Earlier this month, the Baylor wide receivers coach and passing game coordinator inked four receivers ranked in the ESPN 300, padding what was already a loaded position in Waco.
As the defending Big 12 champs get ready to open spring practice Friday, Briles took time to talk to ESPN.com about his signing class, the new expectations at Baylor and what he's learned coaching under his dad -- Bears head coach Art Briles.
Let's first go through the four receivers you signed, and what each brings to the table. Start with K.D. Cannon, who was recruited by virtually everyone in the country.
[+] Enlarge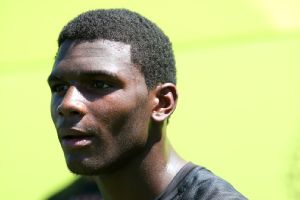 Tom Hauck/ESPN.comK.D. Cannon is one of four ESPN 300 wide receivers that Baylor signed in the 2014 class, making an already-rich position that much more stacked.
Briles:
Well, we feel like we know a lot about K.D. already. He possesses a lot of things you look for in a wide receiver. His body control, how he catches the ball, his shiftiness, competitiveness -- all those things. He's got a great family and all the intangibles to become a great wide receiver. We're real excited to get him here in June. From a talent standpoint, he's off the charts. We're very excited about him.
What about Davion Hall?
Briles:
Davion is already here and is doing a really good job. His body weight has already come up. He looks real good. He's a powerful, powerful athlete. He's got really good ball skills. He's not going to be as fluid as a K.D.-type player, but he's a really powerful kid [who] runs well. He's a great, great person, and wants to be extremely successful. That's the thing we really love about him; that's a really good person. We'll see what he can do here in a few days. He's going to get a chance to put the pads on and see where he's at. He's a little bit nervous, as he should be. But he's been great since he's been here working with the strength and conditioning program, and he's going to compete in spring ball.
Ishmael Zamora?
Briles:
Ishmael is a guy who might have the greatest upside of all of them. He was up to 210 pounds when I talked to him the other day. I expect him to win the state title in the 110-meter hurdles again in [Texas Class] 5A. He's a great athlete whose talents didn't flourish in high school because of the offense he played in. I think he had like five catches as a junior. But his upside is incredible. We're very, very excited about him.
Last, but not least, what about Chris Platt?
Briles:
Chris Platt is a sleeker guy, 168 pounds probably right now. He's going to win the state track meet and become the first four-time state champ in the 400 meters in Texas state high school history. He's a guy [who] can play -- good ball skills. We had him in camp, and you might think he's just a straight-line guy, but he's got some good hip flexion. He catches the ball, is competitive. He's got tremendous upside as well.
OK, let's get to the guys you have coming back, starting with Antwan Goodley. I remember talking to a Big 12 coach last October, and he was like, 'Where did Antwan Goodley come from?' How did Goodley make so much improvement, and where can he go after a monster junior season?
Briles:
Antwan was a really good high school football player. I saw him, and the kid could run. He wasn't real tall. He committed to us on a junior day in February and held strong the whole time. He was 192 pounds, and he's been as high as 222 -- he's gained 30 pounds of pure muscle. He's one of the strongest kids we have on the team without a doubt. My expectation for him now is to be the best wide receiver in the United States of America. He's proven what he can do on the football field, now we have to make sure he keeps getting better. The spring is big for him. We won't let him go as much -- we have other guys we want to get reps, and we know what he can do. But there are things for him to work on, and he's very excited to get back out there and get back to work.
You've got two highly-touted young guys in Corey Coleman and Robbie Rhodes who haven't made that big splash yet. What is your expectation for them as sophomores?
Briles:
With Corey, you don't think he had a splash as a freshman, but if you look at it, he was second all-time among Baylor freshmen in receiving yards next to Kendall Wright. That's pretty good company. He has a chance to have a tremendous career. He's a little bit raw, but has tremendous speed, tremendous hands and catches the ball very well. He wants to be great. And he's a tough guy. That allows us to play him inside and outside. He's not a big guy (5-foot-10) but at 190 pounds, he's very stout. He can play inside and outside because he can handle the blocking stuff well with how strong he is. We're going to have him plugged in all over the field, and he gives a really dynamic factor.
As for Robbie, it's hard to come in and play as a true freshman. I probably should have redshirted Robbie because he didn't get the experience that he probably needed. He got to play in some big games, but he hurt his ankle early against West Virginia, then again against Kansas, and was out the latter part of the year. He gained 10 pounds in the fall, changed his body in the last two months and looks tremendous. He's going to have an unbelievable spring, and I can't wait for the fall for him. He's about as natural as it gets.
[+] Enlarge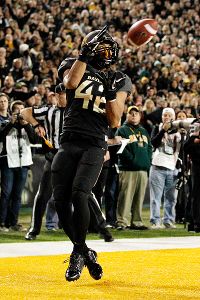 Tim Heitman/USA TODAY SportsLevi Norwood's size and ability to get open makes him a lethal weapon in Baylor's high-powered offense.
How would you characterize Clay Fuller's role on this team? Seems like he's a reliable target for you.
Briles:
That's Clay. That's what we call him. If it's third down or we're in the red zone, you throw it up to him, and he'll make the catch for you. He runs really well, and he's reliable. Add in
Levi Norwood
, who's in the same mold, and you're playing two big guys inside who are long, rangy, block well, catch the football well, run well. They do a tremendous job for us. Both do a great job on special teams for us, too.
With so many options at receiver, seems like you've got a good problem to have, right?
Briles:
Yeah it is. One guy we haven't talked about,
Jonathon Lee
, came on at the end of the year. I expect him to have a good year, too. We've done a good job recruiting as a staff. And playing wide receiver at Baylor is a pretty good deal. Wide receivers in this league have had success. We've led the country in total offense, we chuck the ball around, play in space. We have great uniforms, we're going to be playing in a great stadium. It's a pretty good gig playing wide receiver for us.
This season is going to have a different feel for you guys. As the defending Big 12 champs, you're going to have a target on your backs. How will you guys adjust?
Briles:
There's no doubt there's going to be a target on our backs, but we've always had a chip on our shoulder the way we play. We're not going to change our mindset. Our guys play fearless, physical and fast. People will be gunning for us, but we'll be ready for the task. We have a great team, and we're looking forward to defending our Big 12 championship.
What is the most valuable thing you've learned about being a coach from your dad?
Briles:
Treating people right. The way he treats people on a daily basis is one reason why he's been so successful. The humility, the way he cares for people, he truly wants people to be successful. He makes people around him feel good, and he gets the best out of people. That's a great trait that he has.
There was a lot of talk leading up to the bowl game about him possibly taking a job elsewhere. How did you guys handle that behind the scenes, and what was it like with all that around you?
Briles:
To be honest with you, it never came up inside this office or practice field with our players. People say stuff, put stuff out there. No telling what's true and not true. But if other people are coming after your head coach, then you're doing something right. But I think Baylor University understands the coach we have here, and weren't going to let him go anywhere. And Art Briles understands how much he loves Baylor, and doesn't want to go anywhere. It's a great marriage, and we're looking forward to being here a long time.
What's the one thing about your dad that people don't know about him?
Briles:
Everyone knows he's competitive. But if he sends you a text message to play golf at 11:30 in the morning, you better understand you're getting into a war. He's not going out there to enjoy the scenery. He's going out there to kick someone's [butt]. Most people don't know that. But it better be understood by the people getting into that situation.
February, 7, 2014
Feb 7
9:00
AM CT
Below, we address what signing day means for the 2014 season:
Which incoming freshman QB will play most in 2014?
[+] Enlarge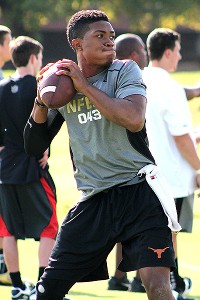 Max Olson/ESPNNot saying he will, but QB Jerrod Heard has the skills to make some noise for Texas this fall.
Brandon Chatmon:
Is none of the above an option? Even though the quarterback play in the league was lackluster in 2013, I don't expect any true freshman to have a major impact on the level of Texas Tech's
Davis Webb
during the upcoming season. If I have to pick, Texas quarterback
Jerrod Heard
gets the nod. He's a talented dual-threat quarterback who led his Denton (Texas) Guyer squad to two straight titles during his prep career. In other words, he's a consistent playmaker and a winner. Two traits the Longhorns haven't seen at the quarterback spot in a while.
Max Olson:
Don't sleep on the two quarterbacks that TCU signed on Wednesday.
Foster Sawyer
and
Grayson Muehlstein
walk into a situation that could be pretty wide-open entering the spring. The Frogs not only need a replacement for
Casey Pachall
, but one who will be comfortable and competent in the Oklahoma State/Texas Tech style offense they'll install for 2014. We know
Trevone Boykin
is capable of playing a number of roles in this offense, but can one (or both) of these rookies come in and do what Webb and
Baker Mayfield
did for Texas Tech?
Jake Trotter:
I'm already hearing good things about four-star QB
Mason Rudolph
, who is already enrolled at Oklahoma State and will participate in spring ball. Rudolph's skill set is a better fit for the Oklahoma State's offense than
J.W. Walsh
, who struggled getting the ball downfield last season, which in turn allowed opposing defenses to stack the line of scrimmage. Rudolph might not be the starter in the opener, but coach Mike Gundy has shown he's not afraid of playing a true freshman quarterback.
Which non-QB freshman will make the biggest splash?
Chatmon:
Iowa State receiver
Allen Lazard
is an elite talent who will have every opportunity to emerge as a major part of a Cyclones offense searching for playmakers at the skill positions. At 6-foot-5, 208 pounds, Lazard brings terrific size and athleticism. The No. 148 player in the ESPN 300 will become a valuable asset for Paul Rhoads' squad in 2014.
Olson:
I hate to feed the hype machine, but I have to go with
Joe Mixon
. Oklahoma managed the lure the No. 1 running back in California by convincing him he can play from Day 1, which is obviously a reasonable promise with OU's top three backs from 2013 all gone now.
Trotter:
I think this ultimately could come down to a pair of blue-chip wide receivers in Baylor's
K.D. Cannon
and Lazard. Both players should be in their receiving rotations from Day 1; either could wind up starting before long, too.
Which juco player will make the most significant immediate impact?
Chatmon:
TCU defensive back
Kenny Iloka
fits the mold of a Gary Patterson safety. He's athletic, aggressive and physical so he should be among friends on TCU's defense. The Horned Frogs return several talented secondary players, including
Sam Carter
,
Derrick Kindred
and
Chris Hackett
, but Iloka should force Patterson to find a spot for him.
Olson:
You didn't hear about him much on Wednesday because he's already on campus, but
Tyreek Hill is a name you must know. The Oklahoma State signee will be one of college football's fastest players in 2014. Hill is a former elite track athlete who will line up at slot receiver and also tote the rock on sweeps and handoffs. He's an absolute home run threat and he's going to get the ball a lot.

Trotter: This spring, Paul Millard will be playing baseball and Clint Trickett will still be injured, at least at the outset. With Ford Childress also gone, plenty of snaps will be available to juco QB Skyler Howard, who enrolled for the spring at West Virginia. Howard was the No. 3-ranked dual-threat juco QB. With West Virginia's QB situation completely in flux, Howard will have an opportunity this spring of laying claim to the job.

Who is the recruit nobody is talking about that will be talked about a lot in the fall?

Chatmon: Although the opportunity will be there with three senior cornerbacks moving on from Baylor, I'm not ready to say cornerback Verkedric Vaughns will immediately be an impact player in the Bears secondary in 2014. Nonetheless he is a name to know that went largely unnoticed on signing day and a guy to keep an eye on this fall, particularly if he makes a smooth transition to the demands of college football. I wouldn't be the least bit surprised if Vaughns ends up outperforming several highly rated cornerback prospects who signed with other Big 12 schools on signing day.

Olson: Lots of very talented receivers signed with Big 12 schools on Wednesday, and I'm tempted to say Baylor's Ishmael Zamora is the choice here. Instead, let's go with a guy who the Texas Tech coaching staff absolutely loves: Ian Sadler. The do-everything athlete led Argyle (Texas) High to a state championship as a receiver/quarterback, rushing for three touchdowns and returning a punt for a fourth score in the title game. He has the kind of playmaking ability and polish needed to see the field early, and I don't doubt he'll elicit comparisons to Wes Welker from the fan base.

Trotter: Keep an eye on Kansas State wide receiver Andre Davis. QB Jake Waters loves throwing the ball downfield, and Davis, one of the top receivers coming out of the juco ranks, has the ability to get downfield. When other teams focus their attention on Tyler Lockett on the other side, Davis should have plenty of opportunities to make plays in one-on-one coverage.

February, 5, 2014
Feb 5
9:52
PM CT
As hectic of a day as it was, national signing day was a success for all Big 12 programs. Coaches were up early manning their fax machines and showing excitement with every national letter of intent submitted via fax.
Nearly 250 football players signed letters of intent to play Big 12 football on Wednesday. Here are five of the biggest storylines -- and a bonus storyline that could have an ending Thursday -- from the conference.
Oklahoma takes over top spot in Big 12
In the past 48 hours, everything seemed to go Oklahoma's way.
[+] Enlarge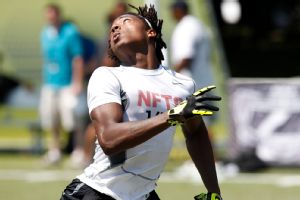 Courtesy of Nike ESPN 300 ATH Michiah Quick was a big part of Oklahoma's final rush, a rush that gave the Sooners the top class in the Big 12.
After getting a Tuesday commitment from ESPN 300 safety
Steven Parker II
(Jenks, Okla./Jenks), the Sooners got Wednesday pledges from ESPN 300 athlete
Michiah Quick
(Fresno, Calif./Central East) and high three-star offensive tackles
Kenyon Frison
(West Valley City, Utah/Granger) and
Orlando Brown
Jr. (Duluth, Ga./Peachtree Ridge).
All four players were a part of Oklahoma's signing class of 26 on Wednesday -- helping the Sooners take over the top spot in the Big 12 class rankings. Oklahoma's class is No. 13 nationally, three spots better than previous top dog Texas.
Oklahoma in previous years has been very good at finishing strong in recruiting. It managed to sign Frison, who committed to Utah last February before decommitting last month, as well as Brown, who had been committed to Tennessee since May before making an 11
th
-hour change.
Strong, Longhorns get their DTs
New Texas coach Charlie Strong wanted two players he recruited to play at Louisville, and by Wednesday afternoon, he had them.
ESPN 300 defensive tackle
Poona Ford
(Hilton Head, S.C./Hilton Head) and three-star defensive tackle
Chris Nelson
(Lakeland, Fla./Victory Christian Academy) signed with the Longhorns and were two of 23 to submit national letters of intent. They also helped erase the sting of the Longhorns losing three four-star defensive tackle commitments in LSU signee
Trey Lealaimatafao
(San Antonio/Warren), Oklahoma signee
Courtney Garnett
(New Orleans/St. Augustine) and Texas A&M signee
Zaycoven Henderson
(Longview, Texas/Longview) last month.
Collectively, Ford and Nelson recorded 235 tackles, 9.5 sacks, 35 quarterback pressures and four forced fumbles. The duo also had 37.5 tackles for loss.
Receivers 'No. 1' to Baylor coach
Baylor coach Art Briles made a bold statement about his new wide receivers -- one that might be challenged by some but co-signed by others.
"The thing that we feel really good about," Briles said, "is that we've signed the No. 1 receiving class in America -- I don't think that's up for debate."
Briles has an argument with four ESPN 300 receivers in
K.D. Cannon
(Mount Pleasant, Texas/Mount Pleasant),
Davion Hall
(Texarkana, Texas/Liberty-Eylau),
Ishmael Zamora
(Houston/Alief Elsik) and
Chris Platt
(Willis, Texas/Willis). The quartet helped to give Baylor a top-25 national recruiting class.
Rhoads fired up about lone in-state signee
To say Paul Rhoads is excited about his top-ranked signee, ESPN 300 wide receiver
Allen Lazard
(Urbandale, Iowa/Urbandale) is an understatement.
While Rhoads is pumped about the entire class, there's something special about Lazard, as he is this year's only in-state signee. Lazard, No. 148 in the ESPN 300, had opportunities to sign with other programs, but he chose to honor his original commitment and also follow the footsteps of his father Kevin Lazard, who played in the secondary for the Cyclones in the early 1990s.
"This is a young man who has gotten phenomenal national attention and was recruited by the traditional historical programs in college football and kept on turning them away to stay true to his word to be an Iowa State Cyclone," Rhoads said in a statement of Lazard, the No. 2 prospect out of the state of Iowa behind Alabama offensive lineman signee
Ross Pierschbacher
(Cedar Falls, Iowa/Cedar Falls).
West Virginia adds depth in class
Adding depth was the objective for West Virginia coach Dana Holgorsen, as he signed 22 players on Wednesday. Holgorsen was fortunate to add depth from coast to coast.
Of the 22 commits, only one -- three-star offensive tackle
Amanii Brown
(Morgantown, W.Va./Morgantown) -- is an in-state signee. The Mountaineers hit points all over the Lower 48, from California to Texas to Florida, to get players who can be contributors early and help the program return to star status.
West Virginia's class is led by five ESPN 300 players. Running back
Donte Thomas-Williams
(Durham, N.C./Hillside), the class' top-ranked player, was the last to commit early Wednesday afternoon. He joins defensive back
Dravon Henry
(Aliquippa, Pa./Aliquippa), linebacker
Davonte James
(Springfield, Ohio/Springfield) and receivers
Lamar Parker
(Miami/Booker T. Washington) and
Jake McCrary
(Miami/Coral Reef) in the class.
Bonus: Could the Sooners add one more?
LSU signed 22 players on Wednesday. The Tigers were hoping to sign 23.
Deondre Clark
(Oklahoma City/Douglass) has been verbally committed to LSU since July, but the ESPN 300 defensive end also has high interest in Oklahoma. There were conflicting reports on Wednesday regarding whether Clark actually signed and submitted his letter of intent to LSU.
ESPN's David Ching said an LSU spokesperson confirmed the letter of intent was at LSU and cleared compliance. Outside reports, however, say Clark did not submit the letter of intent, and a tweet from Clark's Twitter account said that "nothing is final." His mother Dorshell also told The Oklahoman that her son "has not signed with LSU."
Oklahoma City schools were closed on Wednesday because of bad weather, so Clark didn't fax anything by way of Douglass High School. He is expected to announce his final decision on Thursday.
If it's true that Clark has not signed with LSU, look for Oklahoma to be a key player in his final decision. Ranked No. 273 in the ESPN 300, Clark has built a great relationship with the Sooners' coaching staff, particularly defensive line coach Jerry Montgomery.
February, 5, 2014
Feb 5
9:00
AM CT
Today will be the busiest of the year for fax machines. That's because it's national signing day, and recruits across the country will be faxing in their letters of intent.
It's always an exciting day for college football fans. And there's plenty to be excited about in the Big 12.
Below is a breakdown of the most exciting element from each of the 10 Big 12 recruiting classes:

Baylor
What to get excited about:
The wide receivers
The players:
K.D. Cannon
(Mount Pleasant, Texas/Mount Pleasant),
Davion Hall
(Texarkana, Texas/Liberty-Eylau),
Ishmael Zamora
(Houston/Alief Elsik),
Chris Platt
(Willis, Texas/Willis)
The skinny:
The Bears have one of the best WR classes in the country, with four players ranked in the ESPN 300. With
Antwan Goodley
also back in Waco, QB
Bryce Petty
should have a big, signing day smile on his face.

Iowa State
What to get excited about:
A blue-chip wideout
The player:
Allen Lazard
(Urbandale, Iowa/Urbandale)
The skinny:
Elite skill talent has come at premium in Ames the last few years. But that's exactly what Iowa State is getting in Lazard, an ESPN 300 prospect who had offers from Notre Dame, Nebraska and Stanford. If Lazard comes ready to play, new offensive coordinator Mark Mangino will have a dynamic complement to pair with No. 1 wideout
Quenton Bundrage
.

Kansas
What to get excited about:
The replacements for RB
James Sims
The players:
Traevohn Wrench
(Gardner, Kan./Gardner Edgerton),
Corey Avery
(Dallas/Carter)
The skinny:
The Jayhawks graduated their only All-Big 12 performer this past season in Sims. But they prevailed in a pair of hard-fought recruiting battles to land four-star running backs Wrench and Avery. Wrench was the first commit in the class, and gave coach Charlie Weis a player to build the rest of the class around. Then this week, Weis beat out Nebraska, Ohio State and LSU, among others, to reel in Avery. The one-two combination of Wrench and Avery is reason to be optimistic about the future of the KU offense, even without Sims.

Kansas State
What to get excited about:
Junior-college impact
The players:
Terrell Clinkscales
(Dodge City, Kansas),
Andre Davis
(Santa Rosa, Calif./Santa Rosa), D'Vonta Derricott (Garden City, Kan./Garden City),
Danzel McDaniel
(Dodge City, Kan.)
The skinny:
The Wildcats have a returning core capable of contending for the Big 12 title. In this recruiting class, they'll be adding four players in the ESPN Junior College 50 to aid that cause. K-State swiped Clinkscales from Nebraska, and he could team with
Travis Britz
to form a stout one-two punch at DT. Davis could be the perfect complement opposite wideout
Tyler Lockett
. Derricott (OLB) and McDaniel (CB) should help the defense.

Oklahoma
What to get excited about:
Backfield firepower
The player:
Joe Mixon
(Oakley, Calif./Freedom)
The skinny:
The Sooners closed as strong as any program in the country, and that included plucking the No. 53 overall recruit away from the West Coast powers. Mixon, together with last year's No. 3 RB
Keith Ford
and budding dual-threat QB
Trevor Knight
, could be a devastating rushing force in the Big 12 for years to come.

Oklahoma State
What to get excited about:
The linebackers
The players:
Gyasi Akem
(Broken Arrow, Okla./Broken Arrow),
Josh Mabin
(Spring, Texas/Klein Oak),
Kirk Tucker
(Tucker, Ga./Tucker),
Devante Averette
(Melvindale, Mich./Ellsworth Community College),
Justin Phillips
(Pearland, Texas/Pearland)
The skinny:
The Cowboys graduated a pair of all-conference linebackers in
Caleb Lavey
and
Shaun Lewis
, who played big parts in Oklahoma State's defensive turnaround. But impressive help is on the way. Akem is a ESPN 300 prospect, and Tucker, the other outside linebacker in the class, ended up at Oklahoma State after failing to gain admission to Stanford. Averette should provide instant impact on the inside, and Mabin is a four-star recruit.

TCU
What to get excited about:
The offensive skill talent
The players:
Foster Sawyer
(Fort Worth, Texas/All Saints Episcopal),
Grayson Muehlstein
(Decatur, Texas/Decatur),
Shaun Nixon
(Austin, Texas/Lake Travis),
Corey McBride
(Geismar, La.,/Dutchtown),
Emanuel Porter
(Dallas/Lincoln)
The skinny:
The top five players in TCU's class are offensive skill players, providing help where the Horned Frogs really need it. Sawyer and Muehlstein could battle for the starting QB job right away. The opportunity for playing time is there for receivers McBridge and Porter, too. TCU also pulled off a coup Tuesday by flipping Nixon, a four-star RB, from Texas A&M.

Texas
What to get excited about:
Possible QB of the future
The player:
Jerrod Heard
(Denton, Texas/Guyer)
The skinny:
Charlie Strong's quickest path to putting Texas back on top is finding a solution at QB that eluded Mack Brown the last four years. Heard, an ESPN 300 quarterback who won two state titles in high school, could very well emerge as the answer.

Texas Tech
What to get excited about:
A shutdown corner
The player:
Nigel Bethel II
(Miami, Fla./Booker T. Washington)
The skinny:
The Red Raiders lose three starters from their secondary, but they have a player who can come in and help right away in Bethel. The ESPN 300 prospect is one of the better pure coverage corners in the country. To win in the Big 12, you have to defend the pass. And Bethel can defend the pass.

West Virginia
What to get excited about:
The quarterbacks
The players:
Skyler Howard
(White Settlement, Texas/Riverside Community College),
William Crest
(Baltimore/Dunbar)
The skinny:
Coach Dana Holgorsen struggled to replace
Geno Smith
last year, using three quarterbacks to limited success. But Holgorsen is bringing in a pair of talented players at the position who could be immediate factors. Howard was the No. 3 dual-threat juco QB in the country and is already enrolled for spring ball. Crest is the No. 11 high school dual-threat QB nationally.
February, 4, 2014
Feb 4
9:00
AM CT
National signing day is now just 24 hours away. To get you ready, we checked in with our ESPN.com recruiting experts for their takes on the major storylines in the Big 12.

Senior national recruiting writer Jeremy Crabtree and Big 12 recruiting reporter Damon Sayles took time from their extremely busy schedules this week to address a few questions:

Oklahoma is closing strong here. With a few blue-chip players still in play, could the Sooners end up with the top class in the Big 12


January, 14, 2014
Jan 14
10:30
AM CT
Some top prospects headed to Big 12 schools rose in
the new ESPN 300
, and others fell. While one athlete saw one of the biggest jumps in recent history, a few watched their stocks plummet.
Fortunately for many Big 12 commits, the stocks rose and the expectations are high. Here are five athletes who are committed to a school in the conference or are a high target.
DB Parker makes huge leap in rankings
One look at
Steven Parker II
(Jenks, Okla./Jenks) during the Semper Fidelis All-American Bowl, and it's clear to see that whatever school lands him will get a star in the making. Parker, who rose an impressive 61 spots in the ESPN 300 from 200 to 139, was extremely active in the bowl game and his play epitomized what he's done all year as a high school senior.
Parker, who has Oklahoma, Texas A&M, Auburn and several other schools high on his list, is one of those players who could excel at multiple skill positions. Although listed as a safety, Parker can play wide receiver and cornerback effectively. The 6-foot-2, 175-pound athlete also can help out on special teams.
To continue reading this article you must be an Insider
December, 31, 2013
12/31/13
10:00
AM CT
A few years ago, Kendal Briles sent Facebook friend requests to prospective recruits knowing that expressing Baylor's interest might be a futile practice.
Plenty of those requests were denied. No, thank you. Not playing at Baylor.
"Now," Briles says proudly, "we're making some moves."
The Baylor receivers coach has a much easier time selling what the Bears have to offer these days. Kids want to play in this high-tempo offense. They're the ones befriending him now. The reason why is obvious.
[+] Enlarge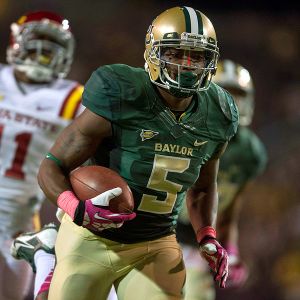 Jerome Miron/USA TODAY SportsAntwan Goodley and his Baylor teammates are picking up where their wide receiver predecessors left off.
Baylor is becoming the new Wide Receiver U.
Sorry, Tennessee. No offense, USC. But since arriving in Waco, Texas, in 2008, Art Briles has quickly built arguably the premier receiver factory in college football. The proof is all over, from his former players to current Bears to the next ones up.
What Briles' son is selling now is tangible proof that Baylor can turn receivers into stars. Just look at Kendall Wright, the Tennessee Titans slot man who surpassed 1,000 yards in his second season. Former Baylor teammate Terrance Williams finished third among rookies in receiving for the Dallas Cowboys.
And how about Josh Gordon? The former Bear led the NFL in receiving with 1,646 yards this season. You bet Briles and his son are throwing their names around these days when recruiting.
Baylor replaced those three with one of the top receiving duos in the country in All-Big 12 wideouts
Antwan Goodley
and
Tevin Reese
and one of the conference's best slot receivers in
Levi Norwood
. They have underclassmen
Corey Coleman
,
Robbie Rhodes
and
Jay Lee
on the way.
And coming soon, Baylor has three of the best wide receiver prospects in Texas in ESPN 300 verbal commits
K.D. Cannon
,
Davion Hall
and
Ishmael Zamora
. The surprisingly rich are about to get richer.
"There's no doubt you've got guys who are proven in the system and now proven on the next level," Kendal Briles said. "If you're a 16-, 17-, 18-year-old kid in high school and you're looking at where to play in college and you're looking at the things we're doing with throwing the football, it's a pretty good deal. You've got to take a pretty heavy look at us."
Art Briles' first receivers coach at Baylor, Dino Babers, just landed the Bowling Green head-coaching job this month. Briles' son has been on the staff from the start and now coordinates Baylor's passing game. He's had plenty of talent to work with in this gig.
This season, Goodley became the third consecutive Bear to lead the Big 12 in receiving. He insists his 1,319-yard, 13-touchdown breakout season wouldn't have been possible without his predecessors.
"I just knew you better show up to work every day, because those guys work hard every day," Goodley said. "They play with a passion and love being out there. They taught me a lot and built me into the receiver I am today."
In Wright, Williams and Reese, Baylor has three of the six most prolific receivers in the Big 12 since 2008. They all still send text messages to each other on a daily basis. Their position group is becoming a fraternity.
Gordon had the best hands of the bunch. Reese indisputably was the fastest. Williams was the superior route-runner. Goodley, at 222 pounds, might be the strongest. And Baylor cornerbacks say Wright was the most impossible to cover.
One thing nearly all of them had in common: They were not coveted recruits.
Goodley was a three-star prospect. Reese was a two-star recruit who weighed 138 pounds in high school. Gordon was ranked No. 128 among receiver prospects by ESPN. Only Wright was a member of the ESPN 150, but as a quarterback who'd never played receiver.
"We've been overlooked a little bit, but we like that," Goodley said. "We show guys what we can do. You don't have to be a five-star athlete to be a great receiver."
Baylor's approach to evaluating and recruiting receivers is no different than anyone else's: Get them in camp and see what they can do. Hitting on the trio of Wright, Williams and Lanear Sampson in the 2008 class gave Briles precisely the kind of weapons Robert Griffin III needed. Baylor loaded up on speed and more speed.
"Track speed, football speed, it's just speed, period," said Wright, who finished with 4,004 receiving yards at Baylor. "They just want somebody with speed. Everything else will come."
Kendal Briles would argue that Baylor's scheme is as easy as it gets for a receiver. Often times, Reese said he'll have three options on a route. A defender can't answer for all of them. With how wide the Bears split out their receivers, there's plenty of opportunity to get the ball in the open field.
What's remarkable is the fact that Baylor has built a top-five passing offense nationally while still running the ball on 55 percent of its snaps. Since Art Briles arrived, Baylor ranks No. 5 in the FBS in yards per catch at 13.7. Its best big-play threats, Williams and Reese, averaged a stunning 11.2 yards per target.
No wonder the big-name recruits are interested. Landing Rhodes, the No. 3 receiver in the class of 2013, was a coup. Getting Cannon and Hall on board was even better, and Zamora might have the most upside of the incoming three.
"Now you get some top-notch players in here," Kendal Briles said, "and it could be crazy what happens."
Only Reese is graduating, setting up Baylor to have a loaded group of wideouts in 2014. That will mean plenty of competition, and Reese frequently talks with Goodley and Norwood about becoming the vocal leaders when he's gone.
The way Reese sees it, there's a certain pay-it-forward mentality within the group. Wright took him under his wing and believed in him from the start.
He cares about maintaining what's quickly becoming a proud tradition.
"When we have wide receivers coming in, we're going to put it in their head: This is Wide Receiver University," he said. "You've got to play like it. Baylor produces the best wide receivers and the No. 1 offense in the nation."
And a few good pros, too. Wright is looking forward to seeing his successors join him at the next level soon. Together, they're planning to take over the NFL.
"That's what we plan to do, man," Goodley said. "They don't call us Wide Receiver U for nothing."
December, 30, 2013
12/30/13
10:00
AM CT
An 11-1 season resulted in a school-record for victories. There was also a first-ever Big 12 title and first-ever BCS bowl berth. And a new, state-of-the-art stadium is something to look forward to for next season.
[+] Enlarge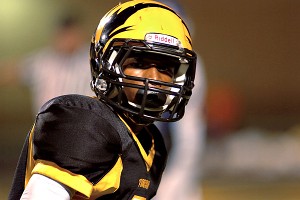 Max Olson/ESPN.comESPN 300 wide receiver K.D. Cannon likes what he's sees from Baylor's recruits.
Not a bad season for the Baylor Bears. And if Baylor's commits have anything to do with it, the 2013 success is just the beginning.
A group of commits are beyond elated about the future of the program. Baylor has 27 commits in its 2014 class -- four of whom have already signed as mid-year, junior-college transfers -- and three are in its 2015 class. The Bears have four ESPN 300 players, one ESPN Junior College 50 player and one ESPN Junior 300 player.
Ask the commits, and the classes get high marks. And, to many, rightfully so. "A-plus," said ESPN 300 athlete
Davion Hall
(Texarkana, Texas/Liberty-Eylau). "We have people that play different positions and not just same ones."
"Scale of 1-10, I'll give it a 10," added ESPN 300 wide receiver
K.D. Cannon
(Mount Pleasant, Texas/Mount Pleasant). "Baylor has done a good job in getting players who want to win and play every game like it's his last. We don't have a lot of five-star people, but we all are willing to show the world that stars don't mean anything."
When Baylor held its first junior day of 2013, it was fortunate to land verbals from three standouts in Hall, running back
Terence Williams
(Ennis, Texas/Ennis) and wide receiver
Chris Platt
(Willis, Texas/Willis). Since then, Baylor's class has grown to become a top-20 class nationally. The Bears are ranked No. 16 in the latest RecruitingNation class rankings, second only to No. 13 Texas in the Big 12 conference rankings.
ESPN 300 wide receiver
Ishmael Zamora
(Houston/Alief Elsik) graded the class a "95," a quality mark considering he's very critical of giving it or any other group a perfect score. Zamora is a fan of this class, and he's excited about his future teammates. Statistically, Baylor has 14 defensive commits, 11 offensive commits and two who could see time on both sides of the ball.
"We got basically all position [players] who were top talent and can flat-out ball," Zamora said.
The missing link of the class, according to Zamora? A lack of a quarterback commit. Every wide receiver commit wants his own quarterback in the class, but the Bears won't be hurting for a signal-caller in the immediate future.
Bryce Petty
said he will return to Baylor for his senior season.
Seth Russell
just finished his redshirt freshman campaign,
Andrew Frerking
will be a junior, and
Cole Edmiston
and
Chris Johnson
-- an ESPN 300 player from the 2013 class -- will be sophomores.
And then there's the 2015 class. Baylor received commits from ESPN Junior 300 athlete
Chad President
(Temple, Texas/Temple) and three-star athlete
Blake Lynch
(Troup, Texas/Troup) -- two players who can line up at both quarterback and wide receiver.
For both President and Lynch, who still have a year of high school ball remaining, the goals of following in the footsteps of this Baylor squad are sky high -- and attainable.
"Another Big 12 championship," President said, referring to upcoming college goals. "Hopefully, we can play in the national championship game. We have an A-plus, five-star recruiting class."
Lynch added: "I think we have one of the best 2014 recruiting classes in the nation. Our versatility and diversity is what makes our 2014 class special."
"





I think we have one of the best 2014 recruiting classes in the nation. Our versatility and diversity is what makes our 2014 class special.

"


-- Baylor commit Blake Lynch
Three-star safety
Chance Waz
(Pflugerville, Texas/Hendrickson), the latest high school player to commit to the Bears, switched his pledge to Baylor from Nebraska. He wanted the opportunity to play close to home, and he's excited about the talent he'll be surrounded by. Waz said the 2014 Baylor class could be compared to Ole Miss' 2013 class, a group that saw several freshmen thrust into starting positions and become major contributors in the super-competitive SEC.
"A lot of Ole Miss players saw PT [playing time]. I follow at least five [of them] on Twitter," Waz said. "I think a lot of us can get playing time; we just have to see what we do in camp."
When asked about the comparison and the shot at immediate playing time, Hall said, "It all depends on us and work ethic, but I don't think that will be a problem."
Expect all of the commits to be paying full attention to Baylor as it faces Central Florida on Jan. 1 at the University of Phoenix Stadium in Glendale, Ariz. And they'll continue monitoring who commits between now and Feb. 6, the first day to sign a national letter of intent. And they're watching the 2015 class as well.
Cannon said there are tons of talented players he'd love to call a teammate. And there's one in particular, however, who has caught his eye.
"I hope we get that No. 1 corner," Cannon said, referring to ESPN Junior 300
Kendall Sheffield
(Missouri City, Texas/Fort Bend Marshall), the nation's No. 13 overall player and the top-ranked player in Texas for the 2015 class. Sheffield has a Baylor offer but also has offers from Alabama, Texas A&M, LSU, Texas, Ohio State, Oklahoma and a host of other recruiting heavyweights.
Time will tell, but it looks like Baylor has set a new bar. And it doesn't plan on looking back.