Dallas Colleges:

J.J. McDermott
January, 7, 2012
1/07/12
3:32
PM CT
SMU beat Pitt
28-6 in the
BBVA Compass Bowl on Saturday. Here is an instant analysis.
How the game was won:
Pitt looked uninspired from the outset, and was totally outplayed in every aspect of the game. After SMU jumped out to a 21-0 first-quarter lead, you had to figure the game was just about over because the Panthers' anemic offense is simply not equipped to come from behind. The Pitt offensive line struggled once again, particularly left tackle Greg Gaskins, and so did quarterback
Tino Sunseri
-- who had two turnovers. Though Pitt was able to get pressure on SMU quarterback
J.J. McDermott
, he was able to avoid major sacks and find holes in the man-to-man defense to find wide open receivers.


Turning point:
First quarter. This is all you need to know about how the first quarter went. Total yards: SMU 159, Pitt minus-5; First downs: SMU 7, Pitt 0; Time of possession: SMU 10:56, Pitt 3:49.
Stat of the game:
7. Total rushing yards for Pitt in the game.
Player of the game:
SMU DE Margus Hunt. Pitt has now given up over 60 sacks on the season after the Mustangs got seven in the game. Hunt had four as he simply overpowered Gaskins all game long.
Second guessing:
Pitt was terrible inside the SMU 25 today. In four opportunities, the Panthers came away with two field goals, a missed field goal and an interception. The interception was a fluke, as it bounced off
Isaac Bennett
's hands, then off a helmet and into the arms of Stephon Sanders. On several of the other possessions, Sunseri took sacks at the worst possible time. Sums up the story of the season. Pitt also had two opportunities on special teams taken away -- one was a recovered onside kick negated by an inadvertent whistle; another was a fake punt for a first down negated because of a false start. SMU also blocked one Pitt punt.
Well wishes:
SMU running back
Jared Williams
broke his left leg on a scary hit with Pitt safety Andrew Taglianetti. Williams was carted off the field on a stretcher with an air cast on his leg, and Taglianetti was visibly distraught over the hit.
What Pitt learned:
There is plenty of work for new coach Paul Chryst to do. As has been the case in 2011, quarterback and offensive line play are two of the biggest issues that have to be fixed. Good thing Chryst and incoming offensive coordinator Bob Bostad have the experience needed to make these two areas better. Pitt is going to be a more traditional offense in the future, and to be able to do that, the offensive line has got to be better. One thing has to be said about the coaching in this game -- the Panthers only had five full-time coaches on the sideline, and interim coach Keith Patterson was put in an extremely difficult position to lead this team.
What SMU learned:
When the Mustangs are able to hold onto the football and make plays in the pass game, they win. SMU went into the game with the worst turnover margin in the nation (minus-17) but was plus-2 in this game. McDermott hit
Darius Johnson
for a 50-yard touchdown early in the game, and was able to pick apart a Pitt defense that at times had linebackers on the Mustangs' fastest receivers. Johnson ended up with seven catches for 121 yards -- and he returns next season along with injured running back
Zach Line
, Hunt and many other standouts on offense and defense.
January, 6, 2012
1/06/12
3:00
PM CT
You saw the preview and prediction. Now here are three keys for Pitt and SMU in the BBVA Compass Bowl:

Pitt
1. Focus.
The same question has to be asked again this year heading into the BBVA Compass Bowl: What will be the motivation for the Panthers, who are playing in this game for the second straight season under an interim head coach? There is no doubt these players and this program were rocked hard by the way former coach Todd Graham left. They must put those negative emotions behind them and play for themselves and each other. This is a team that has been maddeningly inconsistent, which led to a disappointing season. Can they pull it together one final time to win their third straight bowl game?
2. Run.
Pitt has experienced the most success this season when running the ball. That task got more difficult when
Ray Graham
was lost for the season. It will be even harder now that backup
Zach Brown
is questionable for the game with a bruised sternum. True freshman
Isaac Bennett
and
Corey Davis
will be relied upon to shoulder the load, so the game doesn't rest on the arm of quarterback
Tino Sunseri
.
3. Get after J.J. McDermott.
Pitt has been terrific with its pass rush all season, tied for fourth nationally in sacks with an average of 3.25 per game. The Panthers have 39 total sacks on the season. The Mustangs have given up 27 sacks on the year, so there should be plenty of opportunity for Aaron Donald and Brandon Lindsey to get after McDermott. That obviously is a huge key if the Panthers want to disrupt their passing game -- the strength of the team.

SMU
1. Limit the mistakes.
SMU ranks last in the nation in turnover margin (minus-17) and has at least one interception in 11 of its 12 games this season. Only East Carolina has thrown more interceptions than SMU's 19 in 2011, according to ESPN Stats & Information. On the bright side, Pitt only has eight interceptions this year. On the down side, Pitt did force six turnovers the last time out against Syracuse.
2. Make Sunseri win it.
SMU has some pretty talented players up front. Defensive end Taylor Thompson, who has seven sacks and six forced fumbles on the season, is going to need a big game to slow down the Pitt running attack and to take Sunseri down. Ja'Gared Davis is also an important player for the Mustangs on defense -- he has 4.5 sacks and 11 tackles for loss.
Taylor Reed
is a tackling machine and will be key to slowing down the Pitt run.
3. Pass game must get going.
There is no escaping this -- SMU has to pass the ball in order to win. The Mustangs went 2-4 in their last six games largely for this reason: Scoring an average of 17.7 points during the stretch, SMU averaged just 223.7 yards through the air and threw six touchdowns and 11 interceptions. The Panthers have been much better on pass defense in the second half of the season but will be challenged by
Cole Beasley
and
Darius Johnson
-- each has over 900 yards receiving and the duo has combined for nine of the team's 16 touchdowns this season. If SMU can protect McDermott and connect on big pass plays early to take a quick lead, Pitt could find itself in serious trouble. The Panthers are not equipped to play from behind.
December, 7, 2011
12/07/11
12:58
PM CT
SMU MUSTANGS
Record
: 7-5, 5-3 C-USA
The season appeared as if it would be an improvement over 2010, when the Mustangs won the West Division and played in the Conference USA championship game. They got off to a 5-1 start, including a huge 40-33 overtime win over cross-town rival TCU, their first win over a ranked team since the 1980s. SMU also avenged a loss to UCF -- which beat the Mustangs in the C-USA title game a year ago.

But then things began to fall apart for an offense that is known for its high scoring.
J.J. McDermott
, who replaced
Kyle Padron
in the season opener, started to struggle and the Mustangs ended up losing four of their final six games. In three of those losses, SMU scored a touchdown or less, unheard of for a June Jones run 'n' shoot offense. SMU squeaked out a 27-24 win over Rice to get to seven wins in the regular season for the second straight year. But SMU was unable to beat Tulsa and Houston this year, its top competition in the West.
Still, getting to a third straight bowl game tied the school record for consecutive bowl appearances. For a program ravaged by the death penalty, that is a huge measure of how far this program has come.
Offensive MVP:
Zach Line
, RB. Line led Conference USA in rushing for the second straight season with 1,224 yards and scored a league-best 17 touchdowns in just 10 games before suffering a season-ending foot injury. Still, he made the C-USA first team and was dependable all season long for an offense that struggled at times.
Defensive MVP:
Taylor Thompson, DE. The Mustangs got a lot of clutch performances on defense, but Thompson was a C-USA first-team selection after leading the team with seven sacks and six forced fumbles -- that tied him for No. 3 in the nation.
Turning point:
A 27-3 loss to Southern Miss. SMU only had 330 yards and 14 first downs in the loss, which started the slide at the end of the season. The Mustangs had opportunities in the second half, driving into Southern Miss territory twice, but they came away with no points. They also had nine penalties and were 4-of-13 on third downs.
What's next:
SMU plays Pitt in the BBVA Compass Bowl, and then it is off to prepare for a new conference home, as the Mustangs are reportedly set to join the Big East for 2013. Coach June Jones has been mentioned as a candidate at several openings, but has reportedly assured his staff he is staying. For how long is always a question that has surrounded him everywhere he has gone.
October, 15, 2011
10/15/11
7:48
PM CT
By
Art Garcia
| ESPNDallas.com
DALLAS -- J.J. McDermott couldn't ask for a better start to what's going to be a brief SMU career. The senior transfer from New Mexico State is 5-0 after taking over for Kyle Padron in the season-opening loss at Texas A&M.

Not only is McDermott still undefeated after Saturday's 38-17 win over Central Florida, he's setting records. The Katy native threw for a career-high 358 yards against the Knights, pushing his total to 1,064 yards over the last three games.

That's a three-game Mustang record, eclipsing the 1,049 set by Chuck Hixson in 1968. McDermott could break the school mark for consecutive 300-yard games if he notches his fourth straight next week at Southern Miss.

"He's doing some things that are good," June Jones said. "He sees the field."

McDermott pushed his season touchdown total to 10 with another two Saturday.
October, 3, 2011
10/03/11
12:09
PM CT
By
Jeff Caplan
| ESPNDallas.com
If there were doubts about the direction of the
SMU
offense prior to Saturday's showdown with
TCU
, senior quarterback
J.J. McDermott
and co., might have eased any concerns.
The Mustangs seem to be finding their stride and although McDermott has critics as not being the most accurate of passers, he now ranks 16th in the nation in passing yards a game at 296.4. He has completed 109 of 189 attempts for 1,482 yards, eighth-most in the nation. Coach June Jones would like to see his 57.7-percent completion rate rise, but remember McDermott was the backup starting the season.
In the 40-33 overtime win at TCU, McDermott was 23-of-45 for 349 yards. Many of his incompletions came on multiple attempts to beat TCU on deep routes. He had one interception, a poorly thrown ball, but he hit for four touchdowns, including a strike for the game-winner in overtime.
"If you ever want to be a great team," Jones said, "you'd better be able to execute, throw the ball deep and make plays in these kinds of games."
It was the third consecutive game the Ponies scored at least 40 points. The first two against Northwestern State and Memphis could be looked at with some measure of wait-and-see, but to do it against TCU, even with its struggling defense, lends a different level of credibility.
McDermott certainly seems capable of improving his throwing percentage as he gets to know a talented corps of receivers better. Even missing top target
Cole Beasley
Saturday, the Ponies had three receivers with 69 yards or more, led by exciting junior
Darius Johnson
, who put up his third consecutive 100-yard game with 12 catches for 152 yards and two touchdowns. On Monday, he was named the Conference USA Player of the Week.
Sophomore
Jeremy Johnson
, playing in place of Beasley, had six receptions for 69 yards and the touchdown grab in overtime.
Terrance Wilkerson
had three catches for 97 yards and a TD, showing his speed on a deep route for a 71-yard touchdown in the first quarter.
Darius Johnson is tied for 18th nationally in receiving yards per game at 110.0. He's 13th in receptions with 39 for 550 yards, and Beasley, in just four games, is 14th with 31 catches for 376 yards.
The SMU offense, which was being overshadowed by the an improving defense, ranks 29th in total offense (449.4 yards a game) and 15th in passing offense (326.8). Jones' run-and-shoot offense gets exactly what it needs on the ground from tough tailback
Zach Line
, who rushed for 120 yards against TCU and is averaging 116.6 yards a game with 11 touchdowns in five games.
September, 29, 2011
9/29/11
4:50
PM CT
If there is one area of the TCU defense that has struggled more than the rest, it has been against the pass.
There were glaring problems in the season opener against Baylor, in which the Bears had five touchdown passes of 25 yards or more. A lot of those came against one-on-one coverage, as the Horned Frogs seemed helpless to stop balls that were simply being thrown over their heads.
PODCAST
SMU head coach June Jones talks about the upcoming game against TCU, conference realignment, and much more with Ian Fitzsimmons.

Listen

Since then, TCU has not faced as big a test through the air. But that changes Saturday against SMU in the Battle for the Iron Skillet. The Mustangs are No. 15 in the nation in passing under June Jones, the run 'n' shoot master.
They have not really lost a beat with
J.J. McDermott
at quarterback, either. McDermott relieved an ineffective
Kyle Padron
in the season opener against Texas A&M and has thrown for 1,133 yards with four touchdowns and three interceptions.
Coach Gary Patterson knows what to expect out of this offense. So does his defense. He says his players are doing better against the pass.
"We gave up one long pass against Monroe; last week didn't give one up," he said. "We just have to keep getting better."
Indeed, of the nine passing touchdowns TCU has given up this season, eight have been of 20-plus yards. Consider TCU allowed just five passing touchdowns of 20-plus yards in all of 2011. There are new faces starting in the secondary, so they have needed time to get adjusted.
[+] Enlarge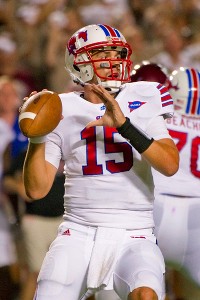 AP Photo/Dave EinselIn four games, J.J. McDermott has thrown for 1,133 yards and four touchdowns.
Also, Patterson said last week veteran cornerback Greg McCoy was not playing to the level he played at in the Rose Bowl, having given up three touchdown passes already this season. He wanted his team to get into sync, and play with confidence.
How does does a win over FCS Portland State do that? That remains to be seen. SMU gave TCU a challenge in the first half last season, taking a 14-10 lead into halftime.
Zach Line
had a monster game with 139 yards and one touchdown and an average of 8.2 yards a run.
Line is back, and already has 11 touchdown runs this season -- second in the nation behind
Bernard Pierce
of Temple. Though the Mustangs love to throw, Line has been a huge presence in the run game the last two seasons. He ranks No. 14 in the nation in rushing.
But what could hurt SMU is the potential loss of top receiver
Cole Beasley
, who has an injured right knee. Jones hasn't said whether Beasley will play. If he can't go, that would be a big blow for an SMU offense that is doing a better job of getting big plays in the pass game.
Beasley leads the team with 31 receptions for 376 yards. He and
Darius Johnson
have been the top two targets, combining for 58 of the team's 95 receptions.
On throwing the ball deep, Jones said, "I think we're better than we were last year at this point. We're making more throws up top and down the field. We still missed a few in the first three games, but last week we made a couple good throws so we'll just hope that we keep getting better each week."
Given what Baylor did to TCU, you can bet SMU will try to follow the same game plan.
September, 28, 2011
9/28/11
11:22
AM CT
By
Jeff Caplan
| ESPNDallas.com
During the first half of last week's SMU blowout of Memphis, Mustangs wide receiver
Cole Beasley
was all over the field, catching and running and slipping by defenders as SMU jumped out to a quick start.
After three catches for 50 yards, the speedy and dependable Beasley went down in the second quarter with a knee injury. He hasn't practiced this week and on Tuesday he was dragging around a right leg encased in a big blue brace. Coach June Jones was waiting on MRI results and didn't pronounce the team's leading receiver (31 catches, 376 yards) out for Saturday's Battle of the Iron Skillet at No. 20 TCU, but it certainly doesn't look good.
An SMU team that is monitoring several injuries and with quarterback
J.J. McDermott
's leading target on the sideline does not bode well against a Horned Frogs defense that has been dinged some, especially in the secondary, but has shown improvement since the 50-48 loss at Baylor in the season-opener.
How will the Mustangs cope?
"Next pony up," running back
Zach Line
said.
That's the hope.
Darius Johnson
is the second-leading receiver with 27 catches for a team-high 398 yards. He has half of SMU's four receiving touchdowns on the season, a low total for a Jones-coached offense.
Terrance Wilkerson
is next and he is the only other receiver with double-digit receptions. He has 13 catches for 183 yards. Sophomore
Jeremy Johnson
(four catches, 33 yards) and
Bradley Haynes
(one catch, 2 yards), would be next ponies up, so to speak.
It could mean more reliance on Line, the punishing, 230-pound junior tailback that is averaging 115.8 yards a game and went for 139 on 8.2 yards a carry a year ago against the Frogs.
"We better player our best game this week. This is the best defense that we'll play this season," Jones said. "Baylor made a lot of plays, a lot of one-on-one just big play. We're going to have to make our plays when we can and just be efficient offensively because they do a great job on defense."
September, 9, 2011
9/09/11
11:00
AM CT
UNIVERSITY PARK, Texas --
J.J. McDermott
sure doesn't seem rattled by the fact that he's starting Saturday's home opener against UTEP at 6 p.m. at Ford Stadium.
He says it doesn't feel any different to him from any other week of practice. Maybe that's because not much has actually changed at practice this week. McDermott and
Kyle Padron
have split snaps as both prepare for UTEP's defense. But when the offense heads onto the field for the first series, McDermott will lead them instead of Padron.
"I'm trying to prepare like I have been the past six weeks or whatever," McDermott said.
[+] Enlarge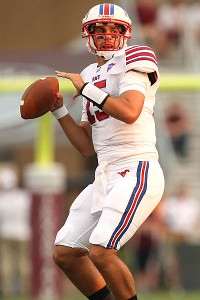 Thomas Campbell/US PresswireJ.J. McDermott
Padron threw two interceptions in his first two series and was benched in favor of McDermott in Sunday's loss to Texas A&M. The turnovers were a big reason head coach June Jones made the switch.
"Both he and Kyle have done good jobs with the scheme part of it," Jones said. "I think J.J. has done a good job of taking care of the football. He has bought into 'where can I go quickly if I get pressure.' He got a lot of pressure last week and a couple of times he didn't even have a chance. But he stood in there, took the licks and tried to make the throws."
The Mustangs won't likely see as much pressure or as many sets, but McDermott knows the offense still has to execute. And in analyzing his own performance from Sunday, McDermott felt there were things he could have done better.
"I feel like I missed some people that after looking at the tape it was pretty simple stuff," McDermott said. "There was a pass to Cole [Beasley] up the sideline that I overthrew that would have tied the game and a couple others I missed. I'm just trying to eliminate the mental mistakes and get the ball to the open guy."
McDermott was referring to a wide-open Beasley, who would have had an opportunity to tie the score at 20 (and maybe get the lead with the PAT) in the second quarter. SMU ended up punting and A&M scored, eventually running away with the game.
Dan Morrison, the soft-spoken assistant head coach who works closely with the quarterbacks, said one thing that helps with a starting change to McDermott is that his personality is similar to Padron.
"They both have a calm demeanor to them," Morrison said. "They both have a sense that they are in control of things. They understand what's going on. You don't get too many glitches where the lights go on and all of a sudden then misread the signals or make mistakes in play calling. Neither one really does that. They are both a little older and their voices and demanor are similar. It's not a quiet kid going to a loud rah-rah kind of guy. The players I talked to said everything is status quo in there."
Morrison said Padron has more mobility, but McDermott can see things and read thing quickly. Morrison said they are both working at getting the other thing better (McDermott on being mobile and Padron on reading).
"They both have strong arms and they are both reactive," Morrison said. "The ball just sailed on Kyle a little bit on that last interception. It might have been an incomplete pass at other times, but those athletes made plays. That's part of the learning process in that kind of environment."
Morrison said the coaching staff is curious to see how McDermott handles the start and if he can hang on to the football in key situations.
"He's getting his opportunity," Morrison said.
December, 24, 2009
12/24/09
3:28
PM CT
By
Jeff Caplan
| ESPNDallas.com
June Jones' run-and-shoot offense demands both a talented and intelligent quarterback to run the scheme, which can be complicated and difficult to pick up. Jones ran this offense in the NFL and it's basically the same stuff he's implemented at SMU.
That true freshman quarterback
Kyle Padron
out of Southlake Carroll was able to take over for the injured
Bo Levi Mitchell
at the end of October and succeed like he has is a testament to Padron and Jones. Padron stepped in to complete 103-of-160 passes (64.4 percent) with eight touchdowns and four interceptions. His QB efficiency rating is an eye-popping 152.63, which is why he never relinquished the position.
Padron leads
SMU
against
Nevada
in the Hawaii Bowl at 7 p.m. today. The game is on ESPN. It's SMU's first bowl appearance since 1984.
"I hadn't really planned on it," Padron said of starting as a true freshman. "Unfortunately when Bo went down in Houston I got my chance. Ever since then they gave me the job and I'm looking forward to the game in Hawaii, obviously, and then continuing my career."
Padron said he probably surprised others more than himself.
"I knew my abilities," he said.
Still, it seems Padron won't be guaranteed the starting job next season. Jones has a stable of quarterbacks on campus and he'll add highly touted passer Steve Kaiser out of St. Louis next year.
"Well, I think he [Padron] certainly has a jump on it," Jones said of starting next season. "I think we've got probably three guys on campus that have the potential to start, J.J. McDermott, himself and Bo. And we're adding a kid next year that is a pretty exciting quarterback, too. I think we've got that position covered for the next five years anyway."
And that's exciting news for SMU fans.