Dallas Colleges:

Jackie Sherrill
September, 4, 2012
9/04/12
3:58
PM CT
A little more spice has been added to Saturday's game between No. 24 Florida and SEC newcomer Texas A&M.
There's a humorous billboard standing in Gainesville, Fla., heralding Texas A&M and taking shots at the SEC.
[+] Enlarge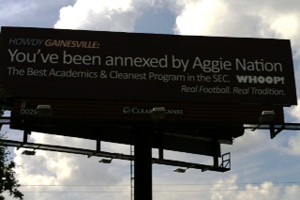 ESPN.com's Michael DiRoccoTexas A&M denies any involvement with this billboard displayed in Gainsville, Florida.
The billboard reads: "You've been annexed by Aggie Nation. The Best Academics & Cleanest Program in the SEC. WHOOP! Real Football. Real Tradition."
WHOOP, indeed!
Texas A&M spokesman Jason Cook said on Twitter that the university isn't associated with the billboard and had nothing to do with it being planted in Gainesville.
"The Gainesville billboard was NOT placed by Texas A&M University. We are investigating," Cook tweeted.
Cook later came out with a statement in which he clarified even more that the Aggies had nothing to do with the billboard:
"This billboard was not placed by Texas A&M University, and it is certainly not reflective of how we have handled our transition into the SEC. We are investigating aggressively, as we believe that our institutional trademarks have been infringed upon. Texas A&M has tremendous respect for the University of Florida, and we look forward to hosting the Gators in our first SEC football game this weekend."
Well, that's just no fun at all. Nothing wrong with a little trash talk and strategically placed billboards.
While the location of the billboard, which is at the intersection of 13th Street and 53rd Avenue, sits about four and half miles away from Ben Hill Griffin Stadium and Florida's campus, someone in Gainesville is bound to be irked by it.
"I really didn't pay attention to it," Florida safety Josh Evans said. "I saw it but my mind ain't on that. I'm about winning this game."
You just can't get upset at Texas A&M about it. The school didn't put it there and is associated with it by name alone. Still, it's funny. The creator of this sign used some interesting word play by stating that Texas A&M is the "cleanest" program in the SEC. How soon we forget about the two times A&M was hit with the "lack of institutional control" label under Jackie Sherrill and R.C. Slocum. And 1988 wasn't so great for the Aggies, as the NCAA uncovered numerous incidents involving improper incentives for prospective student-athletes.
Also, I think we can all agree that Vanderbilt takes home the academic trophy in this league.
The billboard is all in fun, but I'm sure Will Muschamp and his staff will find someway to use it as motivation for their players. And it's not like Texas A&M needs the Gators to be even more motivated. They are playing their first game of the season -- in their new conference, against a new conference foe -- while Florida is a game ahead. Florida can see what it needs to fix from an actual game. And something says the offense wants to do much better than it did over the weekend.
January, 7, 2011
1/07/11
9:40
PM CT
By
Scott Noll
| ESPNDallas.com
The Cotton Bowl is celebrating its 75th anniversary this year, and to help celebrate that milestone, 22 members of its Hall of Fame were honored during a halftime ceremony.

The attendees:

* Jim Brown, HB, Syracuse (1957)
* Frank Broyles, coach, Arkansas (1961, '65-'66, '76)
* Duke Carlisle, QB, Texas (1962-64)
* Mike Dean, OG, Texas (1969-71)
* Kris Haines, SE, Notre Dame (1978-79)
* Phil Harris, WB, Texas (1964)
* David Hodge, LB, Houston (1977, '79-80)
* Johnny Holland, LB, Texas A&M (1986-87)
* Kent Lawrence, TB, Georgia (1967)
* Warren Lyles, MG, Alabama (1981-82)
* Dicky Maegle, HB, Rice (1954)
* Russell Maryland, DT, Miami (1991)
* Lydell Mitchell, RB, Penn State (1972)
* Dat Nguyen, LB, Texas A&M (1998)
* Loyd Phillips, DT, Arkansas (1965-66)
* Jackie Sheririll, coach, Texas A&M/Miss. St. (1986-88, '99)
* Gene Stallings, coach, Texas A&M (1968)
* James Street, QB, Texas (1969-70)
* Jim Swink, HB, TCU (1956-57)
* Steve Worster, FB, Texas (1969-71)
* Bill Yeoman, coach, Houston (1977, '79-80, '85)
* Brad Bradley, photographer (1948-present)
May, 27, 2010
5/27/10
12:33
PM CT
By
Jeff Caplan
| ESPNDallas.com
Ray Childress
, one of the greatest defensive linemen to ever wear the
Texas A&M
uniform, and former coach Gene Stallings were both named to The National Football Foundation & College Football Hall of Fame today.
Childress played from 1981-84 and ended his A&M career with 360 career tackles, the most of any defensive lineman in school history. He earned first-team All-America honors in 1983 and 1984. At the close of his career, his 25 sacks were second only to Jacob Green's record 37 sacks at the time. The 1984 Aggies team captain is credited with changing the attitude and culture of Aggie football.
"Ray didn't say too much, he was a quiet leader," former Texas A&M head coach Jackie Sherrill recalled in a Texas A&M release. "After we got shut out in Arkansas (28-0), he challenged everyone on the team. We were facing two bowl teams in TCU and Texas to finish out the year and we won both games and set the course for three straight Southwest Conference championships."
Childress, a 1985 graduate, would go on to become the third player selected in the 1985 NFL draft. He played 11 seasons with the Houston Oilers, earning All-Pro honors six times. He made five Pro Bowl appearances. During his career in Houston, he helped the Oilers reach the playoffs seven times.
A 1990 member of the Texas A&M Hall of Fame and a 2008 member of the Texas Sports Hall of Fame, Childress and his wife, Kara, helped form the Childress Foundation to help at-risk youth during the 1990s. His son, Wells, is currently a redshirt freshman on the Aggie football team.
Stallings currently serves on The Texas A&M University System Board of Regents. His first head coaching position was at Texas A&M from 1965-71 and after an illustrious NFL coaching career which included serving with Dallas Cowboys' legendary coach Tom Landry, Stallings returned to coach Alabama from 1990-96, leading the Crimson Tide to the 1992 national championship.
Stallings played at Texas A&M and is a member of the "Junction Boys," the group of Aggie football players who survived a 1954 training camp put together by A&M head coach Paul "Bear" Bryant in Junction, Texas.