Dallas Colleges:

Jake Locker
December, 19, 2011
12/19/11
8:00
AM CT
The Pac-10 and Big 12 nearly got married last year, but only Colorado ended up eloping with the now-Pac-12.
You know: The conference that can count!
But the Pac-12, which has, yes, 12 teams, and the Big 12, which has 10 teams (though it's often hard to keep up with which ones), play each other in three bowl games this holiday season.
Joy to the world.


So it seemed like a good time for the Pac-12 and Big 12 bloggers -- Ted Miller and David Ubben -- to say howdy and discuss all the coming fun.
Ted Miller
: Ah, David, the bowl season. Pure bliss. Unless you're the Pac-12, which is expected to get a whipping from your conference over the holidays. We have three Pac-12-Big 12 bowl games with the Tostitos Fiesta Bowl between Stanford and Oklahoma State, the Valero Alamo with Baylor and Washington, and the Bridgepoint Education Holiday matching California and Texas. And the Big 12 is favored in all three!
Poor ole West Coast teams. What are we to do? It's almost like the Big 12 is the SEC or something. Speaking of which, how are things with your Cowboys? Are they over not getting a shot at LSU for the national title? Are they excited about getting a shot at
Andrew Luck
and Stanford? We might as well start with that outstanding matchup in Glendale.
David Ubben
: You know, I was actually a little surprised. I stuck around Stillwater for the BCS bowl selection show announcement, and the players took the news pretty well. They found out an hour before, but there wasn't a ton of down-in-the-dumpiness from the Pokes. When you've never been to this point before, it's a bit difficult to develop a sense of entitlement. If Oklahoma had OSU's record and was passed over by Alabama and sent to the Fiesta Bowl for the 17th time in the past six years, you might have had a different reaction.
But Oklahoma State's first trip to the BCS and first Big 12 title aren't being overlooked. These players are looking forward to this game. There's no doubt about that.
I know the Big 12 seems like the SEC, but I have a confession, Ted. I wasn't supposed to tell anybody, but I can't hold it in anymore. When the Big 12 began back in 1996 ... wow, I'm really going to do this ... then-SEC commissioner Roy Kramer graciously allowed the league to keep two of his teams. The league made a similar arrangement with the Big Eight a century ago, and the Southwest Conference around the same time. Missouri and Texas A&M are really wolves in sheep's clothing: SEC teams just pretending to be in other leagues. So, that might explain the Big 12's recent dominance.
These should all be fun games, though. I ranked two of the matchups among the top three in my bowl rankings.
As for the big one, they say you learn more by losing than by winning. Stanford got its first BCS win. How do you think that experience plays into this year's game? I hate to ruin the surprise, but Oklahoma State's a bit better than the Virginia Tech team Stanford beat last season. OSU's loss to Iowa State this season is bad, but it's nothing like the Hokies' loss to James Madison last season.
[+] Enlarge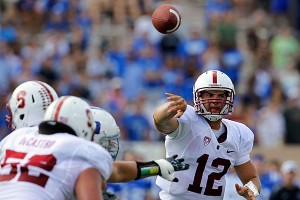 AP Photo/Gerry BroomeQuarterback Andrew Luck leads Stanford into its second consecutive BCS bowl, this season against Oklahoma State in the Fiesta Bowl.
Ted Miller
: Not only is Oklahoma State better than Virginia Tech, it's still questionable whether this Stanford team is better than last year's. Since we're going all crazy and whispering about the SEC, there was a feeling out West that by the end of the 2010 season the Cardinal might not only be the best team in the Pac-12 but also in the nation. They were big and physical and quarterback Luck actually had a solid receiving corps with which to work. After a loss to Oregon in the fifth game, they didn't lose again until playing, er, Oregon in this year's 10th game. If we could go back in time and have the Cardinal play Auburn, I think Stanford would have won the national title.
But that's 2010. The difference this year is the season-ending knee injury to middle linebacker Shayne Skov, who was an All-American candidate, a slight step back on the offensive line and a lack of top-flight receivers. But if Oklahoma State fans are looking for something to worry about it is this: Stanford's running game.
The Pokes are bad against the run, and they haven't faced a team that is as physical and creative in the running game as Stanford. As much as folks talk about Luck's passing, it's his run checks that often ruin a defense's evening.
The Fiesta Bowl matchup looks like a great one, perhaps the best of the bowl season. But I'm excited to see Mr. Excitement
Robert Griffin III
in the Alamo Bowl against Washington. Of course, I'm not sure that the Huskies, their fans and embattled Huskies defensive coordinator
Nick Holt
are as thrilled. First, tell us about what Washington should be most worried about with Griffin. Then tell us about Baylor in general. Such as: Can the Bears stop anyone?
David Ubben
: Nope. Not really.
Oklahoma State's defense unfairly gets a bad rap. Baylor's bad rap is earned. This is the same team that won five consecutive games late in the season -- but became the first team ever to win four consecutive in a single season while giving up 30 points in each.
[+] Enlarge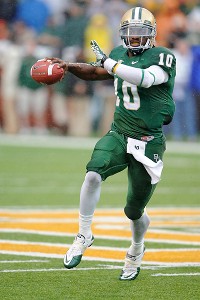 Jerome Miron/US PresswireBaylor's Robert Griffin III will try to make it three straight bowl victories by Heisman Trophy winners.
Which, if you ask me, says plenty about both the defense and the power of RG3. They've got a lot of athletes on the defense, but when four of your top five tacklers are defensive backs, well, you need a guy like RG3 to go 9-3.
The man is a nightmare. Top to bottom, he's the most accurate passer in a quarterback-driven league. Then, you add in his athleticism, which he doesn't even really need to be extremely productive. It sets him apart, though, and forces defenses to account for it, and it buys him time in the pocket. How many guys break a 20-plus yard run before hitting a receiver for a game-winning 39-yard score to beat a team like Oklahoma for the first time?
How do you think Washington will try to slow him down? What has to happen for them to have some success?
Ted Miller
: This game matches the 99th (Washington) and 109th (Baylor) scoring defenses. It has a 78-point over-under, the biggest of any bowl game. The offenses are going to score plenty, at least that's the conventional wisdom.
How does Washington stop RGIII? His name is
Chris Polk
. He's a running back. Baylor gives up 199 yards rushing per game. Polk right, left and up the middle is a good way to contain Griffin. The Huskies' best hope is to reduce Griffin's touches with ball control. It also needs to convert touchdowns, not field goals, in the redzone. The Huskies are pretty good at that, scoring 36 TDs in 45 visits to the red zone.
The Huskies also have a pretty good quarterback in
Keith Price
, who set a school record with 29 touchdown passes this year. He and a solid crew of receivers have prevented teams from ganging up against Polk. But Polk is the guy who burns the clock.
Should be a fun game. As should, by the way, the Holiday Bowl. David, Cal fans are
still
mad at Texas coach Mack Brown and his politicking the Longhorns into the Rose Bowl in 2004. Every team wants to win its bowl game, but the Old Blues really want to beat Brown.
Of course, neither team is what it was in 2004. Cal has an excuse. It's not a college football superpower. Sure you've been asked this before, but give me the CliffsNotes version of why the Longhorns have fallen so hard since playing for the national title in 2009.
David Ubben
: Cal fans are still mad? Really? I'd suggest they get over themselves. What's anybody on that Cal team ever done anyway? It's not like the best player in the NFL missed out on a chance to play in the Rose Bowl. Now, if that were the case, we might have a problem. But honestly, I don't think Tim Tebow cares all that much about the Rose Bowl.
As for Texas' struggles?
The easy answer is quarterback play. Texas relied on Colt McCoy and Jordan Shipley more than anyone realized. When they were gone, Texas couldn't run the ball, and quarterback Garrett Gilbert never made it happen. Two seasons later, the Longhorns still don't have a quarterback.
The other big answer last season was turnover margin. Gilbert threw 17 interceptions and the Longhorns were minus-12 in turnovers, which ranked 115th nationally.
They were still only 90th this year, and without solid quarterback play in a Big 12 dominated by passers, they scored five, 13 and 17 points in three of their five losses. Texas keeps people from moving the ball and runs the ball better this year, but without a solid passing game and a defense that changes games, it's tough to rack up wins in the Big 12.
It's been awhile since Cal was in the mix for the BCS, even as USC has fallen. Oregon answered the call and rose, but what has prevented Cal from winning the Pac-10 and Super Pac-10 since the Trojans' swoon?
Ted Miller
: You mention quarterback play. Cal fans ... any thoughts? You mention Aaron Rodgers. Cal fans? Oh, well, that's not very nice during this festive time of the year.
Cal has become a solid defensive team, but it's lost its offensive mojo, and that can be traced to a drop in quarterback play since Rodgers departed. The latest Bears quarterback,
Zach Maynard
, started fairly well, stumbled, but then seemed to catch on late in the season. It's reasonable to believe the team that gets better quarterback play -- mistake-free quarterback play -- is going to win this game.
Nice to cover a conference where quarterback play matters, eh David?
Speaking of quarterback play and winning, let's wind it up. Our specific predictions aren't coming on these games until after Christmas. But we can handicap the Big 12-Pac-12 side of things. We have a three-game series this bowl seasons.
I say the Pac-12, underdogs in all three games, goes 1-2. What say you?
David Ubben
: And to think, before the season, all I heard was the Pac-12 had surpassed the Big 12 in quarterback play. Did somebody petition the NCAA for another year of eligibility for Jake Locker and/or clone
Matt Barkley
? You West Coast folk are geniuses; I figured you'd find a way. We can't all be Stanford alums ...
Clearing out all the tumbleweeds here in middle America, I'll go out on a limb for the Big 12 in this one. Every matchup is a good one, and I don't think Cal has seen a defense like Texas' and Washington hasn't seen an offense like Baylor's. People forget that, yeah, RG3 is outstanding, but the Bears also have the league's leading receiver and leading rusher.
Stanford-OSU is a toss-up, but I'll go with a perfect sweep for the Big 12. The Cowboys haven't played poorly on the big stage yet, so I'll give them the benefit of the doubt in this one, and they clean up for the Big 12 against what was almost its new conference this fall.
Oh, what could have been. Ubben and Miller on the same blog? Divided ultimately by a little thing we call the Rockies.
December, 1, 2010
12/01/10
1:00
PM CT
Nebraska's secondary won't see the same
Landry Jones
on Saturday, but Jones won't see the same Nebraska secondary, either.
"Last year when we played him, he was a young quarterback just learning the system and everything," defensive back DeJon Gomes said. "One of the biggest things we took away from that game is he's a competitor and he's going to do the best he can to get his team into a situation to win."
And one more thing.
[+] Enlarge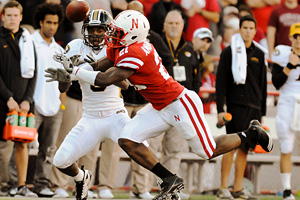 Eric Francis/Getty ImagesPrince Amukamara and the Nebraska secondary have had success against Oklahoma in the past.
"He also likes throwing the ball. That's good for our secondary," Gomes said.
No kidding. Jones has racked up 527 pass attempts in 2010, in part because of Oklahoma's hurry-up offense and in part to find more success as a sophomore passer.
No quarterback in the Big 12 has more than 500, and
Dominique Davis
at Eastern Carolina is the only quarterback in America with more attempts than Oklahoma's Jones.
The Blackshirts picked off Jones five times in Lincoln in 2009 -- including three by departed safety Matt O'Hanlon -- though Huskers coach Bo Pelini tossed a wet blanket on talk of that game having any relevance over a year later.
"It's a different time, different place, different offense, new challenges," Pelini said. "The furthest thing from my mind is what happened in that game last year."
What does matter is what's happened this year. Nebraska has put together the No. 2 pass defense in the country, allowing just 144 yards a game. Jones averages almost 330 a game, good for No. 3 nationally.
"It's going to be an exciting game, especially with them having one of the top offenses in the country and us priding ourself on defense," Gomes said. "It'll be a fun one to watch."
If history repeats itself, it'll be a lot more fun for Huskers fans than Oklahoma fans when it comes to passing the ball. On the way to that No. 2 ranking, the Nebraska secondary has ruined the days of a handful of good quarterbacks. A sampling:
Only Iowa State's
Austen Arnaud
, Oklahoma State's
Brandon Weeden
and
Ryan Tannehill
at Texas A&M managed decent days against the secondary. Part of Weeden's success was in finding receiver
Justin Blackmon
, one of the nation's best, for 135 of his 283 yards and both touchdowns. Only Tannehill got a victory with his success, however moderate (19-29, 172 yards).
Jones has another of the nation's best receivers,
Ryan Broyles
, to throw to, but even Broyles could only manage eight catches for 74 yards in 2009, one of his lowest outputs of the season while healthy.
"They have a trigger man who can get the ball to everybody," Pelini said of Jones. "They stretch the field on you. It's a good challenge for us."
It could be an even bigger challenge for Jones.
January, 14, 2010
1/14/10
11:22
AM CT
By
Jeff Caplan
| ESPNDallas.com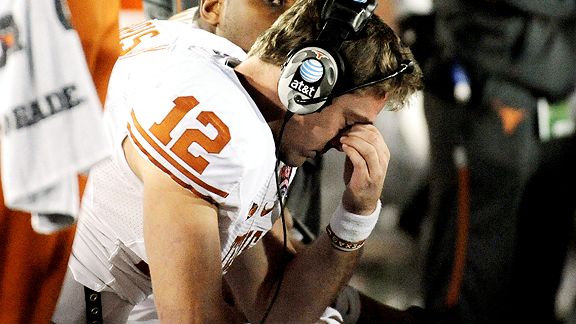 Harry How/Getty ImagesColt McCoy sits on the bench after injuring his shoulder in the Citi BCS National Championship game against Alabama.
In the days since a freak shoulder injury forced him out of the biggest game of his life, former Texas quarterback
Colt McCoy
is finding that life does go on.
Just this week, McCoy received a clean bill of health from world-renowned orthopedic surgeon Dr. James Andrews, proposed to his longtime girlfriend on the very field in which he became a Longhorn football legend (she said yes), hired an agent, began training in Southern California for his professional career, and Thursday morning accepted one final achievement award, the Manning Award, named in honor of the college football accomplishments of Archie, Peyton and Eli Manning.
During a conference call Thursday, McCoy said that Dr. Andrews termed his injury a "burner," and told him he should regain full strength in his arm in two weeks. McCoy was running on an option play on Texas' opening possession of the BCS National Championship Game at the Alabama 11-yard line when he got tackled and hit on the shoulder. The type of injury he sustained, at first believed to be a pinched nerve, causes temporary loss of feeling in the extremity affected. In McCoy's case it happened to be his golden right arm. He exited the game and, despite efforts to regain feeling in his throwing arm, McCoy couldn't muster enough arm strength to accurately toss a football to his dad in the locker room.
"If the rest of my body was numb and my right arm was healthy, I would have been out there," McCoy said. "There was no way. I did everything I could to get back out there."
After the game, McCoy described his arm as feeling like a "noodle." On Thursday, he said he could raise his arm up over his shoulder by the start of the second half, but that he didn't have the strength or control needed to throw a football. He said the doctors that examined him in the locker room suggested he shower and change into his clothes before heading back to the sideline to watch the remainder of the game.
McCoy scoffed at that suggestion and returned to the sideline in full uniform and pads, just in case his arm somehow came to life.
"I would have done anything in the world to be out there and play on that stage for the last game of my senior year, something I worked for for my whole career," McCoy said. "That is something I will question, why it had to happen, for the rest of my life."
McCoy said he was down in the dumps in the days immediately following the game. But a phone call placed to Texas coach Mack Brown helped to cheer him up and refocus on what's ahead.
"President Obama called Coach Brown and told him to tell me he was sorry for me, hopes my shoulder gets better and he can't wait to watch me play in the NFL," McCoy said. "I think of all people, that actually was pretty neat, it kind of lifted my spirits."
[+] Enlarge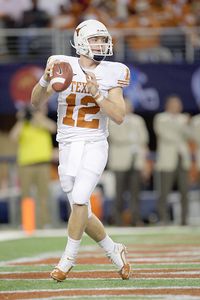 Jamie Squire/Getty ImagesWith an outpouring of support, including the likes of President Obama, McCoy remains optimistic that his best football has yet to be played.
McCoy said with each day of rehab he sees noticeable improvement, and he expects to be completely healthy before the NFL Scouting Combine in February in Indianapolis. McCoy is under the representation of NFL player agent David Dunn of Athletes First, based in Irvine, Calif. McCoy will remain in Orange County, not far from where the Longhorns prepared for the BCS title game, to train.
"My main focus is my shoulder right now, but I certainly expect to go and do things at the Combine," McCoy said. "I haven't thought that far ahead yet, but I would certainly expect to be down there and go through the Combine."
Some NFL draft experts contend that McCoy's draft stock took a blow because he was unable to perform against a top-rated Alabama defense after his subpar outing against Nebraska in the Big 12 championship game. Of course, the week prior, McCoy executed an epic performance at Texas A&M with 479 total yards (304 passing) and five touchdowns.
Projected to be selected anywhere from the second round to fourth round, the 6-foot-2, 210-pound McCoy said he's unsure of where he fits in the draft order. It is a deep and interesting draft class of quarterbacks, including
Jimmy Clausen
(Notre Dame),
Sam Bradford
(Oklahoma),
Tim Tebow
(Florida),
Jake Locker
(Washington),
Tony Pike
(Cincinnati) and
Jevan Snead
(Mississippi), among others.
"That's not something I can think about or even hazard an educated guess about right now," McCoy said. "I'm focusing on the task ahead of me, which involves getting both physically and mentally prepared to play in the NFL and getting mentally and physically prepared to have a long and successful career. That's my focus right now. I can't even really give you an educated guess about that.
"I know the quarterback that I am. I know how hard I'm going to work. I know how hard I'm going to prepare and I know what I've done the last four years and that's very special to me. I absolutely expect my shoulder to be 100 percent, ready to go, and I'll be fine."
McCoy, from tiny Tuscola, succeeded Vince Young and went on to start four seasons for the Longhorns. He left with an NCAA-record 45 victories. He threw for 13,253 career yards and 112 touchdowns while completing a remarkable 70.3 percent of his passes. He also rushed for 1,571 yards and 20 touchdowns.
With little rushing game to speak of the past two seasons, McCoy guided Texas to a 25-2 record while throwing for 7,380 yards. He connected on 61 touchdowns with 20 interceptions.
Who knows what might have happened one week ago at the Rose Bowl had McCoy not been injured.
That lingering thought has made finding closure to his collegiate career difficult. But McCoy, 23, boasting a degree in sport management, a new fiancee and the next phase of his football career in his future, has made peace with his past.
"To be able to be in a national championship, the ups and downs of a season is long and hard and we were there. We made it," McCoy said. "For it to be taken away like that, obviously, for me, it's very, very tough. Hard to handle, hard to deal with.
"But, at the same time, I've moved on. I know the best football of my career hasn't even started yet."