Dallas Colleges:

Jake McDonough
April, 29, 2013
4/29/13
11:30
AM CT
More than 250 players were drafted over the weekend, but not everyone who plans on playing in the NFL made it happen.
Minicamps aren't far away, but players can sign with teams as soon as the draft ends. Many did over the weekend. Here's a look at the Big 12's notable signings.
A few thoughts:
Collin Klein is the obvious headliner on this list, and I'm torn on him. On the one hand, there's nothing like playing quarterback, and that's the position he wants to play and loves to play. On the other, he hasn't looked like an NFL passer at any point in his career, and he did his future career a disservice by not letting scouts get a look at him at receiver or tight end. He's a big body and an athletic, tough guy. If he wants to play quarterback and only quarterback, then fine. That's up to him. If he really is open to doing something else at the next level, he should have done more work at other positions. I don't see him making an NFL roster as a quarterback.
Safeties Tony Jefferson and Cody Davis should definitely make their respective rosters, however, and I'll be intrigued to see what Jefferson looks like and says once he's in camp. He sounded pretty salty on Twitter over the weekend. "I can't even attempt to express how I feel right now. Y'all really don't know how hurt/confused I am!" he tweeted. "Y'all don't even understand the fire inside of me man." Him going undrafted was definitely the most shocking Big 12 development of the draft for me, but he'll have a whole lot of motivation and a lot to prove.
I have to think Jake Knott would have gotten drafted if not for his shoulder surgery and being limited in workouts for NFL teams. He makes his name on his smarts, instincts and toughness because he lacks speed and a ton of agility, but being banged up and not testing well certainly didn't bode well for him in the immediate future. Mildly surprised that somebody didn't start drooling over his game tape and take a shot on him in the sixth or seventh round.
First guy in this group to get paid big soon? My money is on Quinn Sharp, the do-everything special teamer.
Very surprised to see Darrin Moore and Meshak Williams go unsigned so far. Moore is physically gifted, but lacked production and didn't make a team fall in love with him. Williams, though? I get that he's not exactly ideal size, but for his effort and production, how does some team not at least bring him into minicamp? That's just insane.
Watching the Big 12 quarterbacks is always interesting. Doege didn't have great arm strength, but had solid accuracy. Crist had the big arm, but his decision-making and accuracy were lacking. We'll see if either of those guys can make a splash with a fresh start in a new spot.
One final thought: If I have to hear the phrase "chip on their shoulder" another time in the next week, I'm going to lose it. For the record, if you really did have one, I'm fairly certain that's something that would require surgery.
February, 5, 2013
2/05/13
11:30
AM CT
We're back ranking the top 10 players at positions across the Big 12. Today, we'll turn our eyes to the defensive lines across the Big 12. Here's what you've missed so far:

Here's what you've missed so far:
Let's get to it.

1. Devonte Fields, TCU: You could make a case for either of these two guys, and Fields wasn't as productive in conference play, but Fields' raw talent is eye-popping. I give him the No. 1 spot on this list after leading the league with 18.5 tackles for loss and 10 sacks.

2. Meshak Williams, Kansas State: Williams' motor runs higher than anyone else's in this league, and the juco transfer made a ton of the talent he was given to win the Big 12's Defensive Lineman of the Year Award. He was second in the league with 10.5 sacks and added 15.5 tackles for loss.

3. Alex Okafor, Texas: Okafor finished his career in unbelievable fashion, making 4.5 sacks and dominating Texas' Alamo Bowl win over Oregon State. That jolted him into the Big 12 title with 12.5 sacks and he was second in the league with 16.5 sacks. His career has been a bit up and down, but this was a fitting crescendo to a big talent.

4. Calvin Barnett, Oklahoma State: Barnett was the league's best interior defensive lineman this year, constantly getting a push and generally being a handful for offensive lines. He fixed his early-season penalty issues and finished with nine tackles for loss.

5. Jake McDonough, Iowa State: McDonough wasn't too far behind. He was a breakout star in the middle for Iowa State this season, pushing his way to two sacks and 5.5 tackles for loss. You can't grade interior linemen on numbers, but watch Iowa State's defense sometime. McDonough freed up a lot of space for the rest of the defense, one of the league's most underrated.

6. Adam Davis, Kansas State: Davis doesn't have the name recognition around the league that Williams did, but he was solid on the other side of the line, ranking fourth in the league with six sacks and eighth in the league with 11.5 sacks. K-State's defense was one of the Big 12's best last year. The D-line was a huge reason why.

7. Kerry Hyder, Texas Tech: Hyder was a breakout star this season for the much-improved Tech defense. He was fifth in the league with 14 tackles for loss and seventh with 5.5 sacks. The 6-foot-2, 281-pounder is versatile along the defensive line and could be due for a big 2013.

8. Jackson Jeffcoat, Texas: Jeffcoat's junior year came to a sad end when he injured his pectoral and underwent surgery, but even with the abbreviated season, he still had four sacks and 9.5 tackles for loss in just six games. Ridiculous. He could be a top 10 pick next April after electing to return to Texas for his senior season in 2013.

9. Stansly Maponga, TCU: Maponga was a little underwhelming this year, but still turned in a solid effort when you look from a wide angle and not from the high expectations he brought in as the Frogs' only preseason All-Big 12 selection and an All-Mountain West first-teamer. He battled injuries all year and finished with four sacks and 6.5 tackles for loss.

10. David King, Oklahoma: Maximus was mighty for the Sooners this season, who needed him to do a lot. Injuries and suspensions forced him to move all over the place on the defensive line. He was inside, outside and every other possible side. He finished with 2.5 sacks this season.

Honorable mention: Dartwan Bush, Texas Tech; Vai Lutui, Kansas State; Chris McAllister, Baylor; Chucky Hunter, TCU
December, 27, 2012
12/27/12
4:00
PM CT
Every year,
we crown an All-Big 12 team here at ESPN.com
, but we also like to give some recognization to guys who don't get enough credit for just how good they really are. These are their stories.
DL: Jake McDonough, Iowa State
McDonough quietly put together a season that was definitely an All-Big 12 first-team type of year. His numbers aren't eye-popping (31 tackles, 5.5 TFL, two sacks), but you can't often grade nose guards on their statistics. The 280-pounder was a force in the middle of the line for the Cyclones.
DL: Kerry Hyder, Texas Tech
Hyder was a big piece of Texas Tech's defensive resurgence under Art Kaufman this year. The defensive tackle bulled his way to 13.5 tackles for loss, the same number as Big 12 Defensive Lineman of the Year
Meshak Williams
. Tech needed help rushing the passer and slowing the run. Hyder did both.
DL: Adam Davis, Kansas State
Meshak Williams and
Arthur Brown
get all the press on K-State's defense, but Davis was a huge force, too. He had two sacks in the win over Miami, 1.5 sacks in the win over West Virginia and finished sixth in the league with 11.5 tackles for loss. He was fourth in the league with six sacks.
DL: Toben Opurum, Kansas
Opurum's got a well-chronicled road to his current spot on the D-line, leading KU in rushing in 2009 before switching postitions under Turner Gill. KU's defense was better this year, and so was Opurum. It's tough to put up big numbers when KU was getting beaten, but he made six tackles for loss and forced two fumbles.
LB: Bryce Hager, Baylor
Yes, when your offense is on the field, you get more opportunities to make tackles, but ask K-State what it thinks of Hager. He was a cruise missile against the Cats and seemed to be in
Collin Klein
's face all night. He led the league with 115 tackles and added eight tackles for loss and three sacks. He also forced two fumbles and had six games with double-digit tackles.
LB: Ben Heeney, Kansas
Heeney's another playmaker all over the field for a defense that struggled at times. He's a speedy, versatile playmaker for the Jayhawks, who made 112 tackles and 12 tackles for loss.
LB: Jarell Childs, Kansas State
Childs' biggest play of the season was the scoop and score against Oklahoma, but he was solid for the Wildcats all year, and filled in admirably after
Tre Walker
's knee injury forced him into more playing time. He recovered two fumbles and finished with 64 tackles and 4.5 tackles for loss.
DB: Karl Joseph, West Virginia
Joseph broke out as a true freshman and was basically the lone bright spot on a deservedly maligned West Virginia defense this season. He forced three fumbles, intercepted two passes, made seven tackles for loss and racked up 95 tackles. There's a big career ahead of him.
DB: Bradley McDougald, Kansas
McDougald was the Jayhawks' best defender this season and one of the big reasons for KU's big improvement on that side of the ball. He picked off three passes, forced two fumbles, had four tackles for loss and made 92 stops at safety.
DB: Durrell Givens, Iowa State
Givens was a turnover machine this season. He forced four fumbles, picked off three passes and made 77 tackles. His money stat, though? He recovered a nation-high six fumbles for the Cyclones. That's just ridiculous and is good enough on its own to land him on this list.
DB: Cody Davis, Texas Tech
The Red Raiders' leader doesn't get the press of the league's elite safeties like
Kenny Vaccaro
,
Tony Jefferson
or even
Ty Zimmerman
, but he's solid, even if he doesn't have the physical skills of Vaccaro or Jefferson. He's still one of the league's brightest players. That shows up in his decision making and on-field discipline that kept Tech from giving up the bushels of big plays it did a year ago.
December, 10, 2012
12/10/12
11:00
AM CT
Congrats to all these guys for turning in fantastic seasons. Naturally, there will be some snubs and some things that need to be explained. Check the blog later today for more thoughts.

Without further ado, here's the All-Big 12 team from ESPN.com.

OFFENSE

QB: Collin Klein, Kansas State
RB: Joseph Randle, Oklahoma State
RB: James Sims, Kansas
FB: Trey Millard, Oklahoma
WR: Stedman Bailey, West Virginia
WR: Terrance Williams, Baylor
WR: Tavon Austin, West Virginia
TE: Jace Amaro, Texas Tech
OL: Cyril Richardson, Baylor
OL: Gabe Ikard, Oklahoma
C: Joe Madsen, West Virginia
OL: Lane Taylor, Oklahoma State
OL: LaAdrian Waddle, Texas Tech

DEFENSE

DL: Devonte Fields, TCU
DL: Meshak Williams, Kansas State
DL: Calvin Barnett, Oklahoma State
DL: Alex Okafor, Texas
LB: A.J. Klein, Iowa State
LB: Arthur Brown, Kansas State
LB: Jake Knott, Iowa State
CB: Jason Verrett, TCU
CB: Aaron Colvin, Oklahoma
S: Ty Zimmerman, Kansas State
S: Tony Jefferson, Oklahoma

SPECIALISTS:

PK: Quinn Sharp, Oklahoma State
P: Quinn Sharp, Oklahoma State
KR: Tyler Lockett, Kansas State
PR: Tavon Austin, West Virginia

Honorable mention: Geno Smith, QB, West Virginia; Landry Jones, QB, Oklahoma; Anthony Cantele, K, Kansas State; Kenny Vaccaro, S, Texas; Justin Brown, PR, Oklahoma; Tanner Hawkinson, OL, Kansas; Jake McDonough, DL, Iowa State; Lane Johnson, OL, Oklahoma; John Hubert, RB, Kansas State; Travis Tannahill, TE, Kansas State; Durrell Givens, S, Iowa State; Cody Davis, S, Texas Tech
August, 21, 2012
8/21/12
10:15
AM CT
Big 12 defensive linemen, we need to have a talk. This isn't getting it done. This position may be the weakest of any in the league. The top five is solid, though there's a little bit of a dropoff after the top three. Beyond the top five, though? A whole lot of question marks, and not a lot of truly impressive talents.
I had some trouble even finding 10 guys who deserved spots on this list. This could be a banner year for quarterbacks. The only thing shallower than the defensive ends in the league this year is the defensive tackles. Sheesh. Unless we see some stars emerge from nowhere this year, this position's going to look a little raw all season long.
More position rankings:
Anyway, here goes.
One final note: No freshmen or newcomers allowed. Sorry,
Brandon Moore
.
[+] Enlarge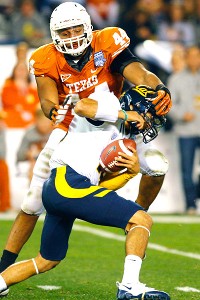 Jody Gomez/US PresswireJackson Jeffcoat is not only the top defensive end in the conference, but is one of the best in the nation.
1. Jackson Jeffcoat, DE, Texas:
Jeffcoat is a freak and leads this list as the most talented linemen in the league. He's not as experienced as his teammate who also made this list, but the 6-foot-5, 245-pounder could play his way into the top 10 of next year's NFL Draft.
2. Alex Okafor, DE, Texas:
Okafor may be a first-rounder, too. He's moved around along the line during his career, but he's found a home at end. He won the league's preseason Defensive Player of the Year honors after making six sacks and 12.5 tackles for loss last season.
3. Stansly Maponga, DE, TCU:
Maponga was extremely productive last season, and we'll see how he does against bigger and better offensive lines in the Big 12. He had nine sacks and 13.5 tackles for loss, and forced five fumbles. He's the most talented player on TCU's defense.
4. Meshak Williams, DE, Kansas State:
I'm a bigger proponent of Williams than most, but he's yet another fantastic juco find from Bill Snyder. Last year, he made 10 tackles for loss and seven sacks to tie for sixth in the Big 12 and earn second-team All-Big 12 honors.
5. Toben Opurum, DE/LB, Kansas:
Opurum's unbelievable story is about to start its final chapter in 2012. He's played under three different coaches and transitioned from KU's leading rusher in 2009 to one of the league's best along the defensive line in 2012. Nobody else on this list has done anything like that, and he'll be a captain in Year 1 under Charlie Weis.
6. Nigel Nicholas, DT/DE, Oklahoma State:
Nicholas sounds like he's moving to defensive end this season, but he's played both throughout his career. The 6-foot-3, 269-pounder is needed at end for the Cowboys, and made 10 tackles for loss last season and two sacks.
7. R.J. Washington, DE, Oklahoma:
Washington's got the pedigree and the physical skills, but it's time to see the production after a disappointing 2011 season. He broke up five passes and had five sacks last season, but made just 16 tackles as a member of the DE rotation behind stars Ronnell Lewis and Frank Alexander.
8. Ashton Dorsey, DT, Texas:
Dorsey has plenty of experience and is pushing 300 pounds in the middle of Texas' line. Jeffcoat and Okafor will attract plenty of double teams, but Dorsey's got the talent to be a wrecking ball in the middle. He had seven tackles for loss and a sack last year.
9. Jamarkus McFarland, DT, Oklahoma:
McFarland's been a part-time starter the past two seasons, and could finally break through with a big year as a senior. The 6-foot-3, 288-pounder made 3.5 tackles for loss and had 20 tackles last season.
10. Jake McDonough, DT, Iowa State:
McDonough holds down the nose tackle spot for Iowa State, and made 34 tackles with 4.5 tackles for loss last season. The 280-pounder needs a big year to help out his talented set of linebackers.
July, 21, 2011
7/21/11
11:43
AM CT
We've tackled every other spot, and now we'll wrap up out Big 12 position rankings with the defensive lines across the Big 12.
Here are the rest of the position rankings.
Now that we've finished ranking the complete units, we'll start ranking the top 10 at each position very soon leading into the 2011 season.
This is a decent position for the Big 12 this season, and the top half of the league should feel pretty good about their group. There aren't many studs in this group, but there are a whole lot of solid players.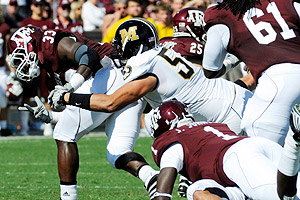 AP Photo/Pat SullivanMissouri has one of the Big 12's best pass rushers in Brad Madison.
1. Missouri --
Missouri has the Big 12's best returning pass rusher and a Defensive Player of the Year contender in Brad Madison, but its depth is what lands it on top of the list. Jacquies Smith is solid at the opposite defensive end spot, and Michael Sam and Kony Ealy provide great depth at DE. Dominique Hamilton's absence last season hurt after breaking his ankle against Oklahoma, but he's back, alongside Terrell Resonno. Sheldon Richardson, who may be transferring from junior college, is a wildcard that could be anywhere between a complete game changer, irrelevant or absent.
2. Oklahoma --
Oklahoma's defensive tackles are somewhat suspect, but the defensive end combo of Ronnell Lewis (provided he is eligible come fall camp) and Frank Alexander is on par with the best in the Big 12. Both were preseason All-Big 12 selections, but Jamarkus McFarland needs to make good on his potential. Stacy McGee and Casey Walker should both get time at the other tackle spot.
3. Texas --
Defensive end Jackson Jeffcoat is loaded with potential as the nation's former No. 1 recruit. He had a big impact early last season before being slowed by an ankle injury. Alex Okafor moved outside from defensive tackle just before spring and had five sacks in the spring game. Inside, Kheeston Randall is an All-Big 12 favorite, but Ashton Dorsey had a strong spring and could help out with Reggie Wilson opposite Randall.
4. Texas A&M --
The Aggies have one of the best linemen in the league in Tony Jerod-Eddie, but Jonathan Mathis, Eddie Brown Jr. and Ben Bass have a lot to prove around him after the loss of Lucas Patterson, who was outstanding in 2010.
5. Texas Tech --
Sam Fehoko has moved to defensive end from middle linebacker, and should provide some good speed to the front line. Scott Smith looked on his way to an All-Big 12 campaign last season, but was suspended for the remainder of the season by coach Tommy Tuberville and has yet to be officially reinstated. For now, Dartwan Bush and Aundrey Barr will help out at defensive end, outside of Donald Langley, Kerry Hyder and Pearlie Graves. The Red Raiders did snatch a big pickup from departed UNC signee Delvon Simmons, a defensive tackle that could have an impact immediately.
6. Oklahoma State --
Defensive line is the biggest weak spot for the Cowboys, who have a decent set of ends in Jamie Blatnick and former heralded recruit Richetti Jones, but an even bigger question mark at defensive tackle where Christian Littlehead and Nigel Nicholas enter fall camp as starters.
7. Kansas --
Top rusher turned defensive end Toben Opurum came on strong late last season and should be one of the most exciting Jayhawks to watch in 2011, but the rest of the line leaves a bit to be desired. Keba Agostino has the other starting spot at defensive end ahead of Pat Lewandowski, who had a great spring. Patrick Dorsey and John Williams enter fall camp as starters at defensive tackles.
8. Kansas State --
K-State recruited this position hard in its 2011 class. For now, defensive end Brandon Harold will try to bounce back from a disappointing 2010 after a promising 2009. Lance Dunbar and Taylor Martinez think this group is ranked too high, but Meshak Williams could start opposite Harold, while Ray Kibble and Raphael Guidry should be the tackles inside.
9. Baylor --
Tevin Elliott was limited this spring because of offseason shoulder surgery, and Terrance Lloyd exited spring practice as the starter, but I'd expect Elliott to regain the spot by the time the season arrives. Phil Taylor, a first-round pick, is a big loss, but Gary Mason Jr. will try to fill his spot next to Nicolas Jean-Baptiste.
10. Iowa State --
Having a pair of linebackers combine for 241 tackles is a good and bad thing. They've got outstanding linebackers, but the defensive line was the Big 12's worst last season for a unit that ranked 10th in rush defense and had just 11 sacks. That was the fewest sacks in the Big 12 and more than just three teams in all of college football. The good news is all four starters return, but for now, this is where the Cyclones start. Stephen Ruempolhamer has some promise, but Cleyon Laing, Jake McDonough and ends Patrick Neal and Roosevelt Maggitt have a lot to prove. Jacob Lattimer ran into offseason trouble, but re-appeared atop the depth chart released by the Cyclones on Wednesday.