Dallas Colleges:

Jamie Blatnick
August, 13, 2012
8/13/12
3:44
PM CT
To begin the season, I see six teams with a legitimate chance to win the Big 12. Today we'll continue our series looking at why each team will or will not win the league. Next up: The defending champs -- Oklahoma State.
More contenders:
Why Oklahoma State will win the Big 12
1. The Cowboys offense is set up for Wes Lunt to succeed.
Most importantly, the bulk of the Cowboys offensive line returns, as does coach Joe Wickline. Never underestimate the power of an extra second in the pocket. Those add up over time. He's got arguably the league's best 1-2 punch at running back in
Joseph Randle
and
Jeremy Smith
, and though his receivers aren't the most experienced, they're hardly green, and he's got lots of targets who will be productive, starting with
Josh Stewart
,
Tracy Moore
and
Isaiah Anderson
. There's no Justin Blackmon or Brandon Weeden in this offense, but Lunt should do well, and he'll have loads of help.
[+] Enlarge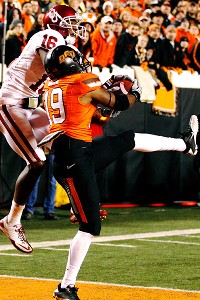 AP Photo/Sue OgrockiBrodrick Brown made five interceptions last season, including this one against Oklahoma.
2. This is becoming a theme: The defense is a lot better than most everyone realizes.
Everyone wants to pretend they can write off Oklahoma State without Weeden and Blackmon, while conveniently overlooking that just about everyone else on the team comes back, especially on defense. Defensive linemen Jamie Blatnick and Richetti Jones are gone, leaving a pretty big hole on the defensive line, but the Cowboys have one of the Big 12's best secondaries, and colleague
KC Joyner says the cornerback duo
of
Justin Gilbert
and
Brodrick Brown
is the nation's second best, behind only Texas. Add in a great set of linebackers in
Shaun Lewis
,
Alex Elkins
and
Caleb Lavey
, and you've got a unit that's due a lot of respect. Too many people forget that this unit is the same one that led the Big 12 in scoring defense in conference play last year. Yes, it even gave up fewer points than Texas.
3. The Cowboys know what it takes to win a Big 12 title.
Never underestimate the ability of a team that knows what it's like to reach the summit. No, Oklahoma State is not the best team in the Big 12 to begin the season, but it's stocked full of players who know what it takes to be that team. My guess is they're willing to push the rest of the team to that level if the players who need to step up are able to match that effort. You can't duplicate experience, but last year OSU broke the Oklahoma-Texas duopoly that dominated this league. The pieces are in place for the Cowboys to have a reasonable shot to do it again.
Why Oklahoma State won't win the Big 12
1. They're starting a true freshman at quarterback.
The offense that Dana Holgorsen brought to Stillwater in 2010 is much simpler than what it ran when Mike Gundy was in charge of the offense piloted by Zac Robinson, but Lunt is still a true freshman. He'll make plays, and he'll make mistakes -- probably too many to ultimately win a title. History is absolutely against him. Only two first-year starting quarterbacks have won Big 12 titles, to say nothing of true freshmen, which has never been done, even if there have only been a handful of true freshmen to start in this league.
2. The turnover avalanche won't be quite as plentiful.
Oklahoma State forces turnovers. Period. That's what the defense does. Last season, when the Cowboys forced an FBS-best 44 turnovers, was not a complete aberration. That said, it was still somewhat of an outlier, and in a few of those games, OSU needed every one of the turnovers it forced. OSU forced 34 turnovers in 2010 (fifth nationally) and 30 in 2009 (11th nationally). That's a pretty clear trend since the arrival of defensive coordinator Bill Young. OSU's defense should be very, very good, but it's a little silly to expect another 44 turnovers to roll in this season. No other team in college football had more than 39 last year.
3. The rest of the contenders are more talented.
Oklahoma State has a ton of talent, but do the Cowboys have as much as the teams ahead of them in the conference poll? Certainly not Oklahoma. Depending on where you want to see talent, it's close between the Cowboys and West Virginia or Texas when you assess the depth chart from top to bottom. I'd probably lean toward West Virginia and Texas in both of those cases. Last year, OSU had as much talent as any team in the league, if not more. This year, the Cowboys have enough talent to win the league, but they don't have as much as other teams in the Big 12.
May, 10, 2012
5/10/12
9:30
AM CT
2011 overall record:
12-1
2011 conference record:
8-1
Returning starters:
Offense 6; defense 8; P/K 2
Top returners

RB
Joseph Randle
, WR
Tracy Moore
, WR
Isaiah Anderson
, CB
Brodrick Brown
, LB
Shaun Lewis
, S
Daytawion Lowe
, LB
Alex Elkins
, CB/KR
Justin Gilbert
Key losses
QB Brandon Weeden, WR Justin Blackmon, S Markelle Martin, DE Jamie Blatnick, C Grant Garner, RT Levy Adcock, WR Josh Cooper, WR
Michael Harrison
2011 statistical leaders (*returners)
Rushing:
Joseph Randle* (1,216 yards)
Passing:
Brandon Weeden (4,727 yards)
Receiving:
Justin Blackmon (1,522 yards)
Tackles:
Daytawion Lowe* (97)
Sacks:
Jamie Blatnick (8)
Interceptions:
Justin Gilbert*, Brodrick Brown* (5)
Spring answers
1. Handing the reins to the youngster:
I had my doubts about whether OSU would actually pull the trigger and name a starting quarterback. For the Cowboys to name 18-year-old true freshman Wes Lunt is a big move, and proof of the staff's confidence that the Illinois native is the best man for the job. The summer will be about him establishing himself as the team's leader, but seeing how he handles the fall will be fascinating.
2. Rebooting the offensive line:
You could say OSU must replace four starters on the offensive line, but sixth-year senior
Jonathan Rush
has plenty of experience while he returns from a knee injury, and
Lane Taylor
returns, too.
Michael Bowie
was a starter-quality contributor last year, and
Parker Graham
earned rave reviews for his work in the second unit last year, moving into a starter role for the final five games.
Evan Epstein
is the man at center, but replacing Grant Garner won't be easy. This is a unit hardly devoid of experience.
3. Emerging stars at receiver:
OSU knew Justin Blackmon and Josh Cooper would be gone this year, but Michael Harrison's exit from the team was a surprise. OSU needed talents to emerge in the spring, and they did.
Josh Stewart
was a big standout, as was juco newcomer Blake Jackson, in the mold of former Sooners star Jermaine Gresham.
Charlie Moore
exploded for 243 receiving yards and three touchdowns in the spring game.
Fall questions
1. How far can Lunt take the Cowboys?
Oklahoma State will carry the banner of defending Big 12 champs for the first time in school history next fall. They'll do so with a wide-eyed true freshman making his way through plenty of unfamiliar territory and playing plenty of new faces for the first time. His ceiling is high, but Oklahoma State will start in the top 25 and is good enough to be a factor in the Big 12 title race. How far will Lunt carry them?
2. Who's filling in for Markelle Martin?
Martin was the leader of the defense in 2011, but defensive coordinator Bill Young says replacing him will be done by committee.
Lavocheya Cooper
,
Zack Craig
and
Shamiel Gary
will be in the mix, but how will that rotation work out in the fall?
3. Can the defense carry more of the load?
OSU forced 44 turnovers last season, the most of any team in college football. It also finished 107th nationally in total defense. The Cowboys won't have the same awe-inspiring offense in 2011, but the defense returns a lot of experience and a lot of talent. Defensive ends Jamie Blatnick and
Richetti Jones
leave holes in the pass rush. The defense should be better, but it has to be. The margin for error will be much smaller.
February, 28, 2012
2/28/12
8:15
AM CT
Another day down at the NFL combine.
You'll need Insider to see this post from Steve Muench, but here are a few snippets from our team on the ground in Indianapolis:

West Virginia's Bruce Irvin ran a 4.43-second 40-yard dash, which is faster than most outside linebackers, let alone defensive ends. That's good for Irvin, who projects as a pass-rushing outside linebacker. He's undersized (6-3, 245) and lacks the power to anchor against the run as an end. He would have been better off working with the linebackers at the combine because he is a developmental prospect, and it showed in his footwork when he dropped.
Obviously, I didn't get a big chance to see Irvin from week to week in the Big East, but that 40 time is nuts. Reminds me of ... wait for it ... Von Miller?

What about another Big 12 pass rusher you know a bit better?
Oklahoma State DE Jamie Blatnick isn't as explosive or athletic as some of the other prospects, and his arms are as short as Ingram's, so there are some red flags. On the other hand, Blatnick performed well during the drill. His hands were active and violent during bag work while he did a good job of staying low in his backpedal when asked to drop.
Blatnick's a tough guy, but like Muench said, doesn't have the jaw-dropping measurables of some other guys we've seen in this league or guys at the combine this week.
He was productive, though, and technique will take you a long way in the NFL. Blatnick isn't lacking in athleticism necessarily, he just doesn't wow you.
Now, time for a few results from Monday at the combine:
LINEBACKERS
Najee Goode
, West Virginia
40-yard dash: 4.66 seconds (sixth among inebackers)
Ronnell Lewis
, Oklahoma
40-yard dash: 4.68 seconds (T-8 among linebackers)
225-pound bench press: 36 reps (most among linebackers -- by four reps)
Tank Carder
, TCU
40-yard dash: 4.69 seconds (11th among linebackers)
225-pound bench press: 19 reps
Emmanuel Acho
, Texas
40-yard dash: 4.73 seconds (14th among linebackers)
225-pound bench press: 24 reps (T-10th among linebackers
Travis Lewis
, Oklahoma
40-yard dash: 4.88 seconds
225-pound bench press: 22 reps (14th among linebackers)
Keenan Robinson
, Texas
225-pound bench press: 27 reps (T-6th among linebackers)
January, 24, 2012
1/24/12
10:57
AM CT
Signing day is coming fast. Next Wednesday, the next round of players will sign up for their respective programs and start what could be storied careers.
Here's what each team across the Big 12 needs. You'll find Texas A&M and Mizzou on the SEC blog and West Virginia on the Big East Blog.

BAYLOR
Quarterback:
This one's pretty simple.
Robert Griffin III
is taking his talents to the NFL early.
Nick Florence
is waiting to take over, and the Bears have
Bryce Petty
behind him, but more reinforcements at quarterback are needed. Dual-threat quarterbacks, ideally.
Defensive tackle:
Baylor already was one of the nation's worst teams (102nd nationally) at stopping the run. Now it'll need to replace both its interior linemen,
Nicolas Jean-Baptiste
and
Tracy Robertson
.
Offensive linemen:
Baylor's offensive line, meanwhile, has been solid. It loses junior college transfer and two-year starter
Robert T. Griffin
, as well as All-Big 12 center
Philip Blake
.
John Jones
, a reserve guard, also has exhausted his eligibility.

IOWA STATE
Receiver:
This has been a weak spot for the team for several years, and its top overall talent,
Darius Reynolds
, is gone.
Darius Darks
is, too.
Aaron Horne
and
Josh Lenz
will be the team's best weapons in 2012, but the pair of shifty slot guys will be seniors. This position needs reinforcements.
Defensive back:
The DBs have been a quiet strength for ISU, especially in 2011. Cornerback
Leonard Johnson
and safety
Ter'Ran Benton
both have exhausted their eligibility, though, and defensive backs coach Bobby Elliott left for Notre Dame. You'll see plenty of new faces in the Cyclones' secondary next year.
Defensive line:
Experienced starters
Stephen Ruempolhamer and Jacob Lattimer are both gone, and Iowa State has struggled to stop the run consistently the past few seasons.

KANSAS
Quarterback:
Kansas landed high-profile transfers
Dayne Crist
(Notre Dame) and
Jake Heaps
(BYU), but this is still a huge position of need. Last year's starter,
Jordan Webb
, left the team.
Quinn Mecham
is out of eligibility. Heaps is sitting out his NCAA-mandated year after transferring. Crist is the starter, but he badly needs a backup, especially if
Brock Berglund
's transfer appeal allows him to leave.
Wide receiver:
Kansas lacks a big threat at this position. It needs a talent upgrade in a big way. Oklahoma transfer
Justin McCay
is joining the team, but he's no guarantee to a) be granted immediate eligibility or b) become an impact player.
Defensive tackle:
Kansas is thin here, too. Richard Johnson,
Patrick Dorsey
and
Michael Martinovich
are gone, and Kansas couldn't stop much of anything on defense. Some push up front could help make everything look better. A late addition to the 2012 class from a junior college seems like a no-brainer. The Jayhawks need physically mature players to contribute immediately.

KANSAS STATE
Offensive line:
K-State's offensive line was much better in 2011 and could be again in 2012. It needs help replacing All-Big 12 lineman
Clyde Aufner
, though. Starter
Colten Freeze
is also gone.
Defensive line:
Kansas State is bringing back about as many starters as anyone in the Big 12, but the biggest losses are along the defensive line. Kick-blocking specialist (five in 2011) Ralph Guidry is gone, along with tackle
Ray Kibble
. Juco transfer
Jordan Voelker
exploded onto the scene this year, but he's gone, too.
Defensive backs:
Cornerback
David Garrett
leaves a huge hole behind.
Tysyn Hartman
may not be as talented as teammate
Ty Zimmerman
, but his experience leaves a big hole. Zimmerman will have to mentor a younger safety in the near future.

OKLAHOMA
Receiver:
The Sooners are thin here in a big way. That was obvious late in the season when
Ryan Broyles
' storied college career ended a few weeks early with a knee injury. The team also lost Justin McCay (transfer) to Kansas.
Jaz Reynolds
and
Kenny Stills
are the likely top two targets, but they need help.
Tight end:
This position inspired a bit of panic at the end of the season. Seniors
James Hanna
and
Trent Ratterree
are gone.
Austin Haywood
wasn't allowed back on the team, and two more tight ends left the team for various reasons. That left the Sooners suddenly without a scholarship player at the position returning in 2012.
Offensive line:
Starting tackle
Donald Stephenson
must be replaced, as will guard
Stephen Good
, who moved in and out of the starting lineup throughout his career. The Sooners bring back a lot of talent and aren't dying for depth there, but those two will leave holes. Three more offensive line starters will be seniors in 2012.

OKLAHOMA STATE
Offensive line:
The Cowboys need a whole lot of help here to fill in behind young players stepping into the starting lineup. Starters
Levy Adcock
,
Nick Martinez
and
Grant Garner
are gone. Backup center
Casey LaBrue
is gone, too. Those are two All-Big 12 linemen who leave big shoes to be filled.
Receiver:
Justin Blackmon
surprised no one by leaving a year early, and
Josh Cooper
leaves with perhaps the most underrated career of any receiver in school history. In OSU's offense, there's always room for depth here. Nine receivers had at least 19 catches in 2011. Blackmon and Cooper combined for 192, though.
Defensive ends
: The pass rush was solid for Oklahoma State this year, but both starters,
Jamie Blatnick
and
Richetti Jones
, are gone. Replacing both is a necessity.

TEXAS
Receiver:
Texas lacks a true game-changer at the position, though
Jaxon Shipley
and
Mike Davis
may develop into that role in 2012. Former blue-chip recruit
Darius White
left for Missouri, too.
Quarterback
:
David Ash
and
Case McCoy
didn't show a ton of potential at quarterback this year, though Ash may grow with an offseason to prepare as starter. Garrett Gilbert got a big chunk of the work in the spring, summer 7-on-7 and fall preseason camp. Even if Ash does grow, the Longhorns need reinforcements at the position.
Linebacker:
Two senior impact players are gone. Texas is left trying to replace
Emmanuel Acho
and
Keenan Robinson
, though
Jordan Hicks
may mature into a star in 2012.
TCU
Offensive line:
TCU's offensive line is headed for some major turnover. OT
Robert Deck
, OG
Kyle Dooley
and OG Spencer Thompson are gone. Two more starters, OG
Blaize Foltz
and C
James Fry
, will be seniors in 2012.
Defensive linemen:
TCU isn't losing a lot at this spot, but
Ross Forrest
and
D.J. Yendrey
will be seniors in 2012. The Horned Frogs would be well-served to prepare, and offer some depth next year.
Specialists:
TCU will have to break in a pair of new starters on special teams next season. Kicker
Ross Evans
and punter
Anson Kelton
have exhausted their eligibility.
TEXAS TECH
Receiver:
The Red Raiders' offense requires a lot of depth here.
Tramain Swindall
is the only loss at the position, but three more (
Alex Torres
,
Cornelius Douglas
,
Darrin Moore
) will be seniors. Douglas moved to cornerback this year after the team was racked with injury, but we'll see whether he moves back this offseason.
Offensive line:
Tech has a huge need here. Four players won't be returning in 2012.
Lonnie Edwards
,
Mickey Okafor
and center
Justin Keown
must be replaced.
Defensive linemen:
Tech's
Donald Langley
and
Scott Smith
are both out of eligibility, and juco transfer
Leon Mackey
will be a senior.
December, 13, 2011
12/13/11
7:48
PM CT
The season has come and gone, and
brought with it an All-Big 12 team
. But where do these guys come from? How easy is it for a no-name recruit to earn all-conference first-team honors?
We took a
look at the offense earlier today
.
Now, let's examine the All-Big 12 defense and see who surprises us.
You'll need ESPN Insider

to see each player's recruiting page from back in the day, but I excerpted a bit of what the scouts had to say about each player coming out of high school.
DE:
Frank Alexander, Oklahoma
Was the nation's No. 41 defensive end and graded out at 77 by ESPN. Was also recruited by Auburn and Tulane. Scouts take: Alexander is a high school tight end / defensive end. He has good hands and good speed, but projects best as a defensive end in college. He has the frame to bulk up and play either position and has good size in general for a high school prospect. Right now his strength is rushing the passer.
DT:
Dominique Hamilton, Missouri
Was the nation's No. 22 defensive tackle in 2007 and was recruited by Arizona State, Oklahoma State and Texas A&M. Graded out at a 78. Scouts take: Hamilton is a big, physical presence on the interior of the defensive line. He has good size for a high school prospect and the potential to develop into a physical beast at the college level. You would really classify him at this stage as a bit raw. He plays with a bullying style and not much technique. He is capable of coming off the ball and knocking blockers back.
DE:
Alex Okafor, Texas
Okafor was No. 149 on the 2009 ESPNU 150, and was the nation's No. 12 defensive end. Was also recruited by Oklahoma, Nebraska and LSU. Scouts take: Okafor is a tall wiry defender with a high motor. He needs to get into a college weight program and add some bulk, but for a tall lean kid he displays the ability to play with good leverage. He has a solid get-off and can come out of his stance, keep his knees bent, and on contact generate power from his lower body.
DE:
Jamie Blatnick, Oklahoma State
Was the nation's No. 105 defensive end and graded out at 71. He was also recruited by Texas Tech, TCU and Duke. Scouts take: Blatnick is an effort guy on the football field. He will probably fit best as a six or seven technique in college or add bulk and play defensive tackle. He has a good get-off and charges up-field hard. He does an adequate job of using his hands, but needs to be more consistent coming off the ball and shooting them to create separation.
LB:
Sean Porter, Texas A&M
Porter was the nation's No. 70 outside linebacker and was originally committed to Houston. He was also recruited by Oklahoma State and Kansas. He graded out at 76. Scouts take: Porter is a good-looking athlete with great upside when projecting for the next level. He is tall, high-cut and layered with good muscle tone. Lean frame with plenty of room to add great bulk while maintaining speed and quickness. Very active and athletic 'backer who can run and is light on his feet. Mirrors ball carriers well, changes direction and transitions smoothly.
LB:
Jake Knott, Iowa State
Knott was the nation's No. 114 linebacker, and graded out at 74 by ESPN. He was also recruited by Army, Iowa and Northern Illinois. Scouts take: Knott is a great football player who will make any roster better at the next level. This is a kid who is not going to blow you away at a combine with blazing speed and agility, but he gets it done on both sides of the ball and is a tough, instinctive, productive football player. Is tall, well-built and should continue to pack on good bulk.
LB:
Emmanuel Acho, Texas
Acho was the nation's No. 9 linebacker and No. 100 on the ESPNU 150 in 2008. He was also recruited by Nebraska, LSU and Michigan. He graded out at an 81. Scouts take: Acho is a very productive outside linebacker who flashes all the tools to be successful. Possesses the size, speed and athletic ability to disrupt an offense on any given play. Displays very good feet that are extremely light for a linebacker with his stature. This allows him to play better in space and in coverage, which is why he will probably remain on the outside in college.
NB:
Tony Jefferson, Oklahoma
Jefferson was the nation's No. 4 athlete and No. 21 on the 2010 ESPNU 150. He was a four-star recruit and graded out at an 84. He was also recruited by Arizona, UCLA, USC and Florida. Scouts take: There may not be a more fast-twitched athlete in this class -- period. Jefferson has rare burst and acceleration between the white lines and has the ability to be playmaker on both sides of the ball in college. He lacks ideal height at linebacker but is very compact, tightly-built and his striking explosiveness allows him to play much bigger. Pursues to the football like he was shot out of a cannon.
CB:
Nigel Malone, Kansas State
Malone was a juco recruit and not rated by ESPN.
CB:
Carrington Byndom, Texas
Byndom was the nation's No. 10 cornerback and No. 122 on the 2010 ESPNU 150. He was a four-star recruit that graded out at an 81. He was also recruited by LSU, Oklahoma, Missouri and Oklahoma State. Scouts take: Byndom is a very instinctive defensive back with excellent deep coverage skills and range. While we could see programs recruiting him as strictly a corner, he has all the physical and mental tools that project high as a free safety. Has a taller, rangier frame and its that great length that allows him to be so effective breaking up passes as a deep centerfielder.
S:
Kenny Vaccaro, Texas
Vaccaro was the nation's No. 42 safety and graded out at a 78. He was also recruited by USC, Florida, LSU and Oklahoma. Scouts take: Vaccaro flies around and makes plays as a safety. He looks the part, tall and stout in stature, he plays like he looks. Really flies around the secondary and attacks the line of scrimmage with ferocity. Instinctive player that reads the run then breaks to the ball with velocity and aggressiveness. Has made many big hits on the blitz and on inside-out contain. Needs to come under a little bit more control; sometimes overruns ball carrier or misses tackle.
S:
Markelle Martin, Oklahoma State
Martin was the nation's No. 15 safety and graded out at a 79. He was also recruited by Oklahoma, Texas A&M, Texas and Kansas State. Scouts take: Martin possesses excellent size, range and toughness at his safety position. He will break off the hash over sideline routes and the next play step down and make a physical hit near the line of scrimmage. He is very versatile and well rounded in all facets. His greatest attribute might be his savvy diagnosing skills. He expertly reads the quarterback and underneath routes.
Gotta say, most of these scouting reports were pretty spot-on for the defense, but there weren't very many small-time recruits that crashed onto the defensive list.
December, 9, 2011
12/09/11
4:30
PM CT
Editor's Note: Tune into the "AT&T ESPN All America Team Show" on Saturday (ABC, 1:30 p.m. ET) to see who ESPN's writers and experts selected.
It's been a fun season across the Big 12, with a few big names who didn't play as well as we thought, and lots of unknowns who became household names by the end of the season.
I'll offer my comments below, but here's our All-Big 12 team for 2011.
OFFENSE
[+] Enlarge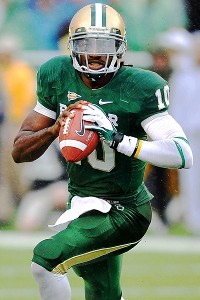 Jerome Miron/US PresswireThe heroics of Robert Griffin III got Baylor to 9-3 and made him a Heisman Trophy finalist.
QB:
Robert Griffin III
, Baylor
All-purpose:
Collin Klein
, QB, Kansas State
RB:
Terrance Ganaway
, Baylor
RB:
Henry Josey
, Missouri
FB:
Trey Millard
, Oklahoma
WR:
Kendall Wright
, Baylor
WR:
Justin Blackmon
, Oklahoma State
WR:
Ryan Broyles
, Oklahoma
TE:
Michael Egnew
, Missouri
C:
Grant Garner, Oklahoma State
OL:
Kelechi Osemele, Iowa State
OL:
Levy Adcock, Oklahoma State
OL:
Gabe Ikard, Oklahoma
OL:
Luke Joeckel, Texas A&M
DEFENSE
DE:
Frank Alexander, Oklahoma
DT:
Dominique Hamilton, Missouri
DE:
Alex Okafor, Texas
DE:
Jamie Blatnick, Oklahoma State
LB:
Sean Porter, Texas A&M
LB:
Jake Knott, Iowa State
LB:
Emmanuel Acho, Texas
NB:
Tony Jefferson, Oklahoma
CB:
Nigel Malone, Kansas State
CB:
Carrington Byndom, Texas
S:
Kenny Vaccaro, Texas
S:
Markelle Martin, Oklahoma State
SPECIALISTS
P:
Quinn Sharp, Oklahoma State
PK:
Randy Bullock, Texas A&M
PR:
Dustin Harris, Texas A&M
KR:
Tyler Lockett, Kansas State
Finally, a few notes and explanations:
I loved the media's idea to craft an all-purpose spot to accomodate Collin Klein. The Big Ten did the same for Michigan's Denard Robinson last season. I followed suit, and did so on the defensive side of the ball with a nickel-back spot for Oklahoma's Tony Jefferson. Two players that missed first-team designation by the coaches, but clearly deserve to be recognized.

Additionally, I prefer the teams to reflect the Big 12 style of play, so the nickel back fits. Each team doesn't have 11 players, but there were deserving linebackers. The same with Egnew and Millard. Does every team use a fullback or a tight end? No, but both are standout performers. They'd rotate in anyway, just as Jefferson would in a theoretical package.

Tough call to leave Philip Blake from Baylor off my team, but Garner's been better. Blake is very, very close, though.

Hated to leave off Brodrick Brown and E.J. Gaines, but I went with a more traditional two corners and two safeties, rather than four corners like the media's team.

Steven Johnson and Arthur Brown would have been right behind my three linebackers. That race was probably closer than at any other position, except maybe cornerback. Difficult to leave either of those guys off my first team, but the three on the team were better. I gave Brown my Newcomer of the Year nod, though.

I don't like going with three defensive ends and one defensive tackle, but there wasn't a defensive tackle who deserved the honor more than Okafor, my third defensive end. Okafor was a defensive tackle last year anyway, so that's close enough, right? He moved from tackle to end before spring practice earlier this year. In the Big 12, an additional pass rusher is necessary, too, right?

I made a similar move with my offensive line. Went tackle-heavy, but the guards didn't have quite as many standouts.
December, 7, 2011
12/07/11
3:00
PM CT
OKLAHOMA STATE COWBOYS
Record:
11-1 (8-1)
Oklahoma State achieved a ton in 2011, but even the most optimistic will always wonder how much more it could have done. Only .0086 points in the BCS standings separated Oklahoma State from Alabama, the closest margin in the history of the BCS. A 44-10 blowout win over rival Oklahoma, the first Bedlam win since 2002, was enough to win the Big 12 title in convincing fashion, but not enough to convince voters that Oklahoma State deserved to play for the national title, instead of giving the Crimson Tide a rematch with LSU. The loss to Iowa State on Nov. 18 was too much to overcome.

For all the attention given to Dana Holgorsen's exit, it proved to be a non-story. Todd Monken stepped in and helped OSU score 49.3 points a game, nearly breaking Oklahoma's NCAA scoring record from back in 2008. Last season, the Cowboys scored just over 44 points a game.
Joseph Randle
stepped in perfectly for Kendall Hunter, and
Brandon Weeden
and
Justin Blackmon
were both outstanding, as expected. Combine that with a defense that finished second nationally (behind LSU) in turnover margin, and you get a historic season in Stillwater. The first 11-win regular season ever and the first Big 12 title ever, celebrating it in perfect fashion: With thousands of Cowboys fans who rushed the field at Boone Pickens Stadium after the win over Oklahoma.
Offensive MVP:
Brandon Weeden, quarterback. Receiver Justin Blackmon's probably the most "talented" player on the offense, but Weeden is its most valuable asset, the man who makes it all go. His Heisman hopes were dashed by an interception in the second overtime of the Iowa State loss, but he still led the Big 12 with 4,328 yards, 34 touchdowns and 12 interceptions.
Defensive MVP:
Jamie Blatnick, defensive end. Really, really tough call here. OSU didn't have a big-time player on defense, but had a ton of solid ones that could probably earn this award. Markelle Martin, Brodrick Brown, Shaun Lewis and Daytawion Lowe are all on that list. In the Big 12, though, pass rushers are so, so valuable, and Blatnick was the Cowboys' best. He had seven sacks, four more than any other Cowboy, and led the team with 11.5 tackles for loss. That's a lot of time in opposing backfields.
Turning point:
The Iowa State loss
. Oklahoma State had been perfect to that point, surviving heart-stopping wins over Kansas State and Texas A&M and staying on track for a national title game appearance. Then the 24-7 third-quarter lead evaporated and the Cowboys didn't play again for two weeks. The blowout win over Oklahoma proved it was a bit of an aberration, but those final few moments and turnover in double overtime forever altered the season.
What's next:
Time to rebuild. Oklahoma State's recruited really, really well lately and brings back a lot on defense, but offensively, the Cowboys will have a new look. Blackmon's NFL Draft entrance is a mere formality after being honored as a junior on Senior Night, and Weeden is headed to the NFL. The Cowboys will need a new primary target to step up after Blackmon, a likely two-time winner of the Biletnikoff Award, is gone, and after a huge Fiesta Bowl showdown with Stanford, will have a quarterback competition on their hands this spring, likely between
Clint Chelf
,
J.W. Walsh
and possibly incoming freshman Wes Lunt, who's still mulling an early entrance to OSU.
December, 3, 2011
12/03/11
10:44
PM CT
STILLWATER, Okla. -- That's as thorough a beating as any Bob Stoops team has taken since USC back in the Orange Bowl.
I believe for their efforts, the Trojans were given a ... national championship? Just some food for thought.
Followed by some analysis for dessert.


How the game was won:
Oklahoma State dominated from start to finish in the
44-10 win
. Oklahoma moved it early, but Oklahoma State piled on points after a
Landry Jones
fumble that set up the Cowboys' second touchdown. The second half never materialized as a real contest, especially after Jones inexplicably fumbled while trying to throw a bubble screen and Oklahoma State DE Richetti Jones scooped and scored from five yards out to make it 34-3 early in the third quarter.
Turning point:
Down 10-0 and facing a 3rd-and-6 at OSU's 19, Jones was flushed out of the pocket, but OSU LB Alex Elkins caught him. He stripped the Sooners QB, and Jamie Blatnick returned the fumble 59 yards to the OU 1-yard line. The rout, as they say, was on.
Stat of the game:
Remember that opportunistic Oklahoma State defense? The one that ranks second in the nation in turnover margin? It grabbed three turnovers in this one, stuffing an OU drive in OSU territory on one, returning another for a touchdown and returning a third to the 1. A solid beating turns to a rout fast when that happens.
Players of the game:
Oklahoma State's offensive line. The holes were huge.
Brandon Weeden
had all day to throw. The Big 12's best front five played a heck of a game and gave the offense what it needed to operate, despite lots of early blitzes from Oklahoma that the Cowboys countered with screen passes. Late in the game, OSU continued to punish OU up front, too.
Second guessing:
Poll voters and BCS computers. OSU didn't get any help from LSU, but Oklahoma State and Alabama were pretty close in my mind coming into Saturday night's game. The beatdown swung it in the Pokes' favor from where I'm sitting. No rematch. Let's see LSU's stifling defense take on an Oklahoma State offense that's scoring on everybody. LSU has never seen an offense like it would see in the Superdome. Oklahoma State's never seen a defense like it would encounter. Who doesn't want to see that?
What Oklahoma learned:
It can't bounce back offensively from the loss of
Ryan Broyles
. It struggled last week against Iowa State. Baylor's defense? Well, it's not very good. But the Sooners struggled all night to put together a drive. Receivers weren't open, and OSU's corners, Brodrick Brown and Justin Gilbert, played outstanding games and both grabbed interceptions. Those receivers were plagued with the drops again, too, and without DE Ronnell Lewis, Oklahoma's pass rush was non-existent.
What Oklahoma State learned:
It can deliver a beating just like Oklahoma has done time and time again in this rivalry. The worst beating OSU had ever delivered before Saturday was a 47-0 win in 1945. Midway through the fourth quarter of this matchup, Oklahoma State fans started chanting "L-S-U! L-S-U!" in hopes that a date with the Tigers in the Superdome was on the way. Oklahoma State didn't surprise anybody by hanging as many points as it did, but the defense completely shutting down the Sooners? That's a shocker.
What it means:
We're in for a very tense next 20 hours or so until the BCS standings are revealed on Sunday night. Virginia Tech, who was ahead of Oklahoma State in both human polls that factor into the BCS, lost to Clemson. That helps, and the lopsided fashion the Cowboys won will make lots of voters think twice about automatically putting Alabama at No. 2 behind LSU on their ballots. Oklahoma State can't hide from its horrible loss at Iowa State. But it has more quality wins than Alabama and has won all but two of its games impressively. Which will carry more weight?
December, 3, 2011
12/03/11
9:07
PM CT
STILLWATER, Okla.--Not quite the shootout most expected, but a fun
game
. Plenty of passes. Quite a few more incompletions than we thought we'd see, perhaps. Most of them by Oklahoma.


Oklahoma State has completely dominated to this point, even more complete than anyone probably could have expected. A mental block against the Sooners, who have won eight consecutive Bedlams? I think not. OSU is on point. The Cowboys are a better team than Oklahoma, but not
this
much better. The Cowboys are out to prove something to ... pretty much everyone.
Oklahoma banged in a 48-yard field goal at the halftime gun.
Turning point:
Oklahoma needed to move the chains. Facing a 3rd-and-6 at the OSU 19-yard line, OSU brought a big blitz and linebacker Alex Elkins knocked the ball away from quarterback
Landry Jones
. Defensive end Jamie Blatnick scooped it up and rumbled, young man, rumbled 59 yards down to the Oklahoma 1-yard line.
Joseph Randle
punched in his 22nd rushing touchdown of the season a play later to give OSU total control at 17-0. OU went three-and-out on the ensuing possession.
Stat of the half:
Oklahoma has inexplicably ignored its running game, despite not having receiver
Ryan Broyles
. Jones has thrown the ball
38 (!)
times. The Sooners' backs have carried the ball just eight times.
Best player in the half:
Brandon Weeden
, QB, Oklahoma State. Weeden's been very, very sharp while Jones has struggled. The Cowboys passer has completed 14 of 21 passes for 156 yards and consistently moved the chains, though he hasn't thrown a touchdown pass yet. The Cowboys have been running free on intermediate throws over the middle, and Weeden's been on the money all night.
What Oklahoma needs to do:
Find a balance between a fast-paced offense capable of putting up points and an offense that doesn't ignore the running game. If it sounds near impossible, that's because it is. But that's life with a 21-point deficit at halftime against the nation's No. 3 team. Oklahoma's passing game simply isn't the same without Broyles. Against the kind of pressure OSU's defense puts on opposing offenses, that's abundantly clear tonight. Did Oklahoma feel like it had to come out and outgun OSU?
What Oklahoma State needs to do:
Uh, everything it just did. Lost in the "24" on the scoreboard is the "3." Oklahoma State's defense has been aided by a few drops, but they've tackled well, hit harder than Oklahoma and has been sound everywhere with no busts. Opportunistic turnovers have surfaced, too. For Oklahoma State, if it wants a chance at the title, it better keep scoring and preventing Oklahoma from answering. Now is not the time for mercy. Now is the time for style points.
October, 22, 2011
10/22/11
3:15
PM CT
The roadblocks for Oklahoma State reaching Bedlam undefeated with a chance to play for the national title are dwindling.


Missouri was a major one on Saturday. Plenty across the league, yours truly included, had the Cowboys on upset alert.
Oklahoma State's response? Another solid performance, exactly like this team has put together in every other game this season.
Brandon Weeden
was sharp, unfazed by numerous drops from a solid receiving corps that could have frustrated less mature, less experienced passers. He finished with
338 passing yards
and three scores.
Joseph Randle
ran for 138 yards and three touchdowns, scoring another on a 13-yard catch.
The defense gave up 463 yards of offense, but forced four turnovers, including a monster second half from Jamie Blatnick, who tipped two passes to teammates for interceptions and forced a fumble on a sack.
OSU's only turnover was costly. Weeden threw an interception to E.J. Gaines in the end zone and Gaines returned it to midfield, igniting the crowd with Missouri trailing by just 14. OSU's answer? Force another turnover deep in its own territory to snatch back momentum.
A strong sign. Like last week against Texas, OSU wasn't at its best. It still won convincingly on the road. This time, against a good opponent and good offense, the Cowboys took another step toward an unprecedented season. If you're coach Mike Gundy, that's exactly what you want to see.
Justin Blackmon
suffered an injury and missed the entire second half, too.
"Justin got dinged in the head, and he's fine, but that young man's got too much in the future," Gundy told the FX sideline reporter in postgame. "We're just not going to put him back in there."
Gundy said he'd be back at practice this week.
So, too, will the rest of the Cowboys, with a perfect record and a lot to play for.
July, 21, 2011
7/21/11
11:43
AM CT
We've tackled every other spot, and now we'll wrap up out Big 12 position rankings with the defensive lines across the Big 12.
Here are the rest of the position rankings.
Now that we've finished ranking the complete units, we'll start ranking the top 10 at each position very soon leading into the 2011 season.
This is a decent position for the Big 12 this season, and the top half of the league should feel pretty good about their group. There aren't many studs in this group, but there are a whole lot of solid players.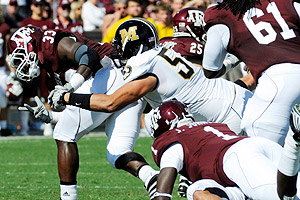 AP Photo/Pat SullivanMissouri has one of the Big 12's best pass rushers in Brad Madison.
1. Missouri --
Missouri has the Big 12's best returning pass rusher and a Defensive Player of the Year contender in Brad Madison, but its depth is what lands it on top of the list. Jacquies Smith is solid at the opposite defensive end spot, and Michael Sam and Kony Ealy provide great depth at DE. Dominique Hamilton's absence last season hurt after breaking his ankle against Oklahoma, but he's back, alongside Terrell Resonno. Sheldon Richardson, who may be transferring from junior college, is a wildcard that could be anywhere between a complete game changer, irrelevant or absent.
2. Oklahoma --
Oklahoma's defensive tackles are somewhat suspect, but the defensive end combo of Ronnell Lewis (provided he is eligible come fall camp) and Frank Alexander is on par with the best in the Big 12. Both were preseason All-Big 12 selections, but Jamarkus McFarland needs to make good on his potential. Stacy McGee and Casey Walker should both get time at the other tackle spot.
3. Texas --
Defensive end Jackson Jeffcoat is loaded with potential as the nation's former No. 1 recruit. He had a big impact early last season before being slowed by an ankle injury. Alex Okafor moved outside from defensive tackle just before spring and had five sacks in the spring game. Inside, Kheeston Randall is an All-Big 12 favorite, but Ashton Dorsey had a strong spring and could help out with Reggie Wilson opposite Randall.
4. Texas A&M --
The Aggies have one of the best linemen in the league in Tony Jerod-Eddie, but Jonathan Mathis, Eddie Brown Jr. and Ben Bass have a lot to prove around him after the loss of Lucas Patterson, who was outstanding in 2010.
5. Texas Tech --
Sam Fehoko has moved to defensive end from middle linebacker, and should provide some good speed to the front line. Scott Smith looked on his way to an All-Big 12 campaign last season, but was suspended for the remainder of the season by coach Tommy Tuberville and has yet to be officially reinstated. For now, Dartwan Bush and Aundrey Barr will help out at defensive end, outside of Donald Langley, Kerry Hyder and Pearlie Graves. The Red Raiders did snatch a big pickup from departed UNC signee Delvon Simmons, a defensive tackle that could have an impact immediately.
6. Oklahoma State --
Defensive line is the biggest weak spot for the Cowboys, who have a decent set of ends in Jamie Blatnick and former heralded recruit Richetti Jones, but an even bigger question mark at defensive tackle where Christian Littlehead and Nigel Nicholas enter fall camp as starters.
7. Kansas --
Top rusher turned defensive end Toben Opurum came on strong late last season and should be one of the most exciting Jayhawks to watch in 2011, but the rest of the line leaves a bit to be desired. Keba Agostino has the other starting spot at defensive end ahead of Pat Lewandowski, who had a great spring. Patrick Dorsey and John Williams enter fall camp as starters at defensive tackles.
8. Kansas State --
K-State recruited this position hard in its 2011 class. For now, defensive end Brandon Harold will try to bounce back from a disappointing 2010 after a promising 2009. Lance Dunbar and Taylor Martinez think this group is ranked too high, but Meshak Williams could start opposite Harold, while Ray Kibble and Raphael Guidry should be the tackles inside.
9. Baylor --
Tevin Elliott was limited this spring because of offseason shoulder surgery, and Terrance Lloyd exited spring practice as the starter, but I'd expect Elliott to regain the spot by the time the season arrives. Phil Taylor, a first-round pick, is a big loss, but Gary Mason Jr. will try to fill his spot next to Nicolas Jean-Baptiste.
10. Iowa State --
Having a pair of linebackers combine for 241 tackles is a good and bad thing. They've got outstanding linebackers, but the defensive line was the Big 12's worst last season for a unit that ranked 10th in rush defense and had just 11 sacks. That was the fewest sacks in the Big 12 and more than just three teams in all of college football. The good news is all four starters return, but for now, this is where the Cyclones start. Stephen Ruempolhamer has some promise, but Cleyon Laing, Jake McDonough and ends Patrick Neal and Roosevelt Maggitt have a lot to prove. Jacob Lattimer ran into offseason trouble, but re-appeared atop the depth chart released by the Cyclones on Wednesday.