Dallas Colleges:

Jamie Pollard
October, 16, 2014
Oct 16
11:00
AM CT
AUSTIN, Texas -- Did Iowa State get robbed against Texas a year ago?
Jordan Hicks
couldn't help but crack a sly grin after hearing the question.
"No," Texas' senior linebacker said. "No, we won that game."


You won't hear Paul Rhoads delving into that topic this week. It's a safe bet that Cyclones AD Jamie Pollard, already out $25,000 this season, isn't touching it either. They've already said plenty in the past, and a full 12 months have now passed.
But it's clear, based on Pollard's comments earlier this month, that there's still somewhat of a scar. Don't expect the Cyclones to forgive and forget when it comes to the controversial goal-line fumble in Ames last season.
"We've been on the short end of several controversial calls," Pollard said on Oct. 4, "and it's hard to sit idle and watch ESPN, Fox, other announcers not debate but feel sorry for Iowa State because maybe there will be another apology for a call."
The play on a Thursday night in Ames on Oct. 3, 2013, was high up on Pollard's list of grievances. Iowa State fans will tell you that Jeremiah George clearly stripped
Johnathan Gray
at the goal line before he went down, forcing a fumble that could've sealed the deal for Iowa State and its 30-24 lead in the final minute.
Gray will tell you his forward progress was halted, and he was down before the ball came out. That's the story the game officials were sticking to, and replay upheld the call due to a lack of indisputable evidence. Case McCoy stuck in the go-ahead score on the next play, and Jackson Jeffcoat clinched victory with a game-ending interception.
The Gray play rightfully evoked fire from Rhoads in his
postgame comments
. He expressed his outrage over having his potential game-winning play "taken away" when a fumble should've been "clear to everybody." Rhoads also took a not-too-veiled shot at game officials for the number of penalties (10 for 118 yards) his team received. He later received a public reprimand from the Big 12.
Another source of frustration that week: the cut block by former Texas receiver Mike Davis on ISU's Deon Broomfield also elicited a few days of controversy and, eventually, an apology delivered via one uncomfortable
video
.
So, yeah, the Cyclones have reason to want a little revenge on Saturday.
"I think they're going to come in here with a chip on their shoulder," Hicks said. "I know their coach is probably preaching that right now, that we shouldn't have won last year and this and that. Whatever it may be, we've got to be ready to match their intensity and exceed that."
Iowa State players have not taken the bait this week when it comes to that questionable call. They've moved on and recognize that the 31-30 game wasn't decided on just that one play.
"You can talk about that [controversial play]," Cyclones defensive end
Cory Morrissey
said, "but there were plays throughout the game we should have won the game with."
He's right about that. Had the Cyclones not settled for a field goal on their previous possession, after driving all the way down to the Texas 6-yard line, they could've led 34-24 and taken control of the game for good. But, again, that's the past now.
The stakes are much different this time around -- both teams are currently 2-4 -- but this much hasn't changed: Iowa State gave Texas a four-quarter fight in 2013 that UT didn't see coming. They can do so again this weekend.
"Those guys are going to come out and play their tails off. They have a phenomenal coach," Texas cornerback
Quandre Diggs
said. "I have a lot of respect for him because he gets the most out of those guys.
"They're going to try to upset us and try to beat us. It's going to be a fun game, because those guys are always coming to play us, and it's always been like that since I've been here."
October, 6, 2014
Oct 6
10:00
AM CT
Taking stock of Week 6 in the Big 12:
Team of the week:
The Horned Frogs landed their biggest win since joining the Big 12, with a 37-33 victory over then fourth-ranked Oklahoma. TCU's revamped attack moved the ball up and down on Oklahoma's vaunted defense.Then in the fourth quarter, the Horned Frogs locked up the Oklahoma offense, which had the ball three times on the TCU side of the field in the final 7 minutes and failed to score a point. With the preseason favorite Sooners vanquished, TCU can take command of the Big 12 race this weekend with a win over the defending Big 12 champs in Baylor.
Disappointment of the week:
On a weekend in which Oregon, Alabama, Texas A&M and UCLA all loss, the Sooners had an opportunity to cement their status as a playoff team. Instead, Oklahoma fell victim to the upset, as well. The Sooners had their chances. But two
Trevor Knight
interceptions in the fourth quarter helped seal the TCU win late. The Sooners aren't out of the playoff race yet. But their chances took a hit.
Big (offensive) man on campus:
Trevone Boykin
went into the offseason not knowing if he would be a quarterback or a wide receiver on the TCU offense. But Boykin's rededication to the finer points of being a quarterback culminated with a speculator effort against Oklahoma. Boykin accounted for a career-high 395 yards of offense, and two touchdowns. TCU is finally a contender in the Big 12, and Boykin's dramatic improvement as a quarterback is a major reason why.
Big (defensive) men on campus:
The linebackers often get overshadowed by the rest of the TCU defense, but nobody played a bigger part in the Horned Frogs' win over Oklahoma than
Paul Dawson
and
Marcus Mallet
. Dawson picked off Knight at the beginning of the fourth quarter and raced 41 yards for the touchdown that would put TCU up for good. Then late in the fourth quarter on fourth-and-1 Mallet stuffed Oklahoma running back
Samaje Perine
short of the first down to help clinch the Horned Frogs' victory. Together, the two combined for 21 tackles in a pair of Herculean efforts.
Special-teams players of the week:
As Baylor's offense sputtered, its special teams trio of Beau Blackshear,
Terrell Burt
and
Spencer Roth
was the difference in the Bears' 28-7 win over Texas. Blackshear blocked Texas' 52-yard field goal attempt in the first quarter, and Burt scooped it up and returned it for a score, which remained Baylor's only touchdown until Roth sparked the next in the third quarter. The Baylor veteran punter called his own fake, and dashed 19 yards for a first down to midfield. Three plays later,
Bryce Petty
hit
Antwan Goodley
with a 29-yard touchdown pass, catapulting the Bears to the win in Austin.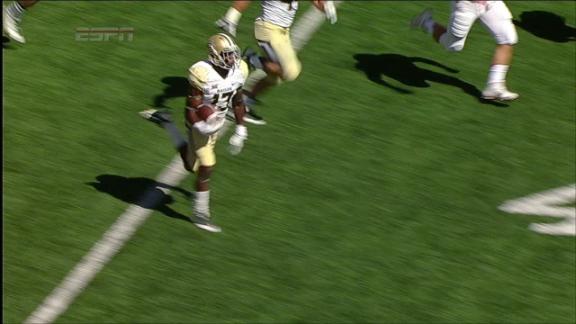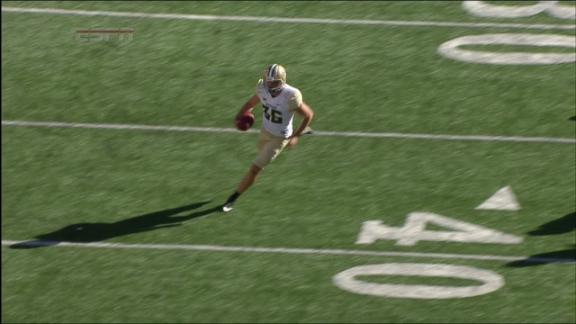 Play of the week:
Tyler Lockett
is the man at wide receiver for Kansas State, but
Curry Sexton
has emerged as a dynamic wingman, highlighted by this one-handed touchdown grab in K-State's 45-13 win over Texas Tech.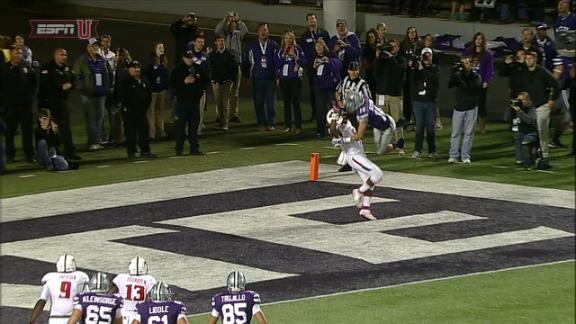 Stat of the week:
Kansas'
Trevor Pardula
punted 14 times in a 33-14 loss at West Virginia. The 14 punts were the most by an FBS team in one game since 2010. The Jayhawks punted on their first 10 possessions, and took only one snap in West Virginia territory until late in the third quarter.
Quote of the week:
"I don't know how things change, but it's frustrating and it's not fair." -- Iowa State athletic director Jamie Pollard, on Big 12 officiating
Quote of the week II:
"Trevor Knight, call me!" -- Katy Perry, while hitting on the Oklahoma quarterback during her guest picker segment on "College GameDay"
Welcome, @katyperry, to the @trevor_knight9 fan club. pic.twitter.com/OQHFKHSRXw

— Oklahoma Football (@OU_Football) October 4, 2014
June, 1, 2012
6/01/12
8:00
AM CT
The Big 12's second day of spring meetings came and went on Thursday in Kansas City, Mo., with no real news after the conference reaffirmed its commitment to 10 members on Wednesday.
Until the new configuration of the BCS is settled (i.e., what form will a four-team playoff take?), the Big 12 won't be taking much action, if any. Outgoing commissioner Chuck Neinas confirmed at least that much. Neinas also said he might stay on through July to relieve new commissioner Bob Bowlsby, who has other obligations on the United States Olympics Committee's board of directors. Bowlsby would still come aboard June 15, but there would be a period of overlapping commissioners.
"It was great to see Bob and Chuck together today at the head table, talking about things," Oklahoma State president Burns Hargis
told reporters Thursday
. "I think the transition will be smooth."
The league's presidents were in attendance Thursday and reaffirmed the athletic directors' stance on expansion.
[+] Enlarge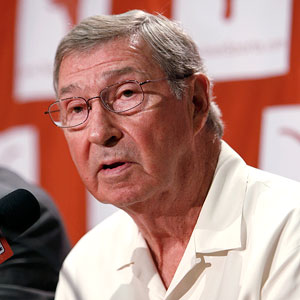 Erich Schlegel/Getty ImagesTexas athletic director DeLoss Dodds lit into the SEC and Big East during the Big 12 meetings.
"We're all very satisfied with 10 teams," Hargis said. "We're not shutting the door to any opportunity that might arrive. We're not in the market, we're not receiving applications. Our expansion committee is inactive."
To my knowledge, that's the first public confirmation that the expansion committee is indeed inactive. Interesting stuff. If Notre Dame becomes a possibility, it's clear the Big 12 would listen, and I'd assume that Florida State would engender a similar reaction, to a lesser extent. For now, though, the Big 12 maintains it's sitting at 10, even if no one (yours truly included) really believes it.
With Florida State officials expressing conflicting messages about the school's future conference affiliation, and the future of the Big East very much in flux, how could you?
A few other quick notes:
Texas AD DeLoss Dodds came out firing on Thursday, tossing barbs just about everyone's way. The SEC has Texas in its footprint? "They have a sliver of the east side," he told reporters. On the Big East? "I don't know if they qualify as a BCS [conference]. They've lost a lot of strength."

Neinas, on the league extending its six-year grant of media rights agreement, which is in progress, but not a done deal? "I don't believe the membership feels it's a gun-at-the-head arrangement. It's just a step forward moving together."

The league membership also didn't sound very fired up about re-instituting a championship game in the new iteration of the BCS. Reports John Hoover of the Tulsa World: "We have come to really appreciate the position we're in right now by not having a championship game," said Iowa State's Jamie Pollard, chairman of the Big 12 athletic directors. Said Dodds: "If this all happens the way we're visualizing today, I think there are some football coaches out there that will say, 'Well, what are we doing? We're 12-0, we've got to go into play a team that's 9-3, we've got a shot at getting beat.' Or, 'We win the game, it's a struggle, we get two kids hurt' -- I mean, those kinds of things are gonna be the reality of it."
Dodds might not have been making many friends Thursday, but he did make some among the league's coaches with that comment for sure.
Friday is the final day of meetings, but it's been a quiet week compared to the past two years at Big 12 spring meetings. For now, it's mostly just been the league's members drawing battle lines on where they stand in relation to the playoff and expansion.
May, 31, 2012
5/31/12
9:46
AM CT
The Big 12's spring meetings kicked off with the league's athletic directors meeting in Kansas City on Wednesday, and made it clear beforehand that expansion would be only informally discussed.
Still, the questions had to be asked, and they were answered. For now, the league is happy with 10 members, echoing its stance for the past few weeks.
Will anyone believe them? (Does it matter?)
"We could expand to some number. You name the number -- 12, 14, 16," Texas AD DeLoss Dodds
told CBSSports.com
. "We could expand, but the question is, do we need to expand?"
Big 12 commissioner Chuck Neinas, in fact, made it simple.
"The Big 12
,
athletic directors reaffirmed their commitment to 10 members," he said.
For now, anyway. Florida State is still only flirting, but if the Seminoles make up their mind, the safe bet is that stance will change very quickly.
Until then ... here we are.
Playoffs were a hot topic, but the league's athletic directors reiterated what we essentially already knew: The Big 12
is in favor of a four-team playoff
.
"We're in favor of taking the four highest-ranked teams," said Neinas, who has begun to transfer power to new Big 12 commissioner Bob Bowlsby. "We think it should be some type of selection committee operation, and how you rate a conference champion, strength of schedule must be included."
I love the selection committee idea personally, an idea reiterated by chairman of the league's athletic directors, Iowa State's Jamie Pollard.
The BCS has its flaws. That's obvious. The biggest flaw in piecing together a selection committee? How do you do it? How do you find panel members without bias? Is that possible? Do you copycat the NCAA's formula for the basketball tournament?
All difficult questions with answers to come.
"There needs to be a human element to kind of handle the unknowns. You can't always say computers get it right or opinion polls will get it perfect," Oklahoma athletic director Joe Castiglione said. "You still need someone with good, rational thinking to deal with unforeseen circumstances that may come up.
"Who knows what form that takes, but some form of human element that gets college football to the point of determining the best teams."
Chalk me up on board with that.
September, 28, 2011
9/28/11
11:15
AM CT
Iowa State and Texas met at a crossroads a year ago. Cyclones coach Paul Rhoads notched a second tenure-defining win, beating the Longhorns for the first time in program history.
It came on the Longhorns home field a week after Texas beat undefeated, then-No. 5 Nebraska on its home field.
Against Iowa State, the Longhorns hit what coach Mack Brown called the worst moment of a season full of awful moments. Rock bottom, if you will, followed by a memorable rant from Brown that foreshadowed the offseason coaching overhaul.
[+] Enlarge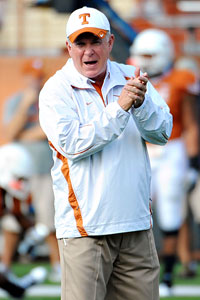 Brendan Maloney/US PresswireMack Brown called last season's loss to Iowa State the worst moment in a season of awful moments.
"You can't trust your team and you can't trust your coaches ... They're not getting (players) ready to go," he said after the loss, which Texas trailed 28-6 in the fourth quarter of a game it lost 28-21.
It was the first of five consecutive conference losses to close the season.
"They're just a very good team and they took it to us last year. They hit us in the mouth from the start, so we better sure we're ready to play," said Texas safety Blake Gideon.
A year later, both teams are trending upward. Both teams are 3-0 entering their conference opener.
And both are at another crossroads. Where each goes from here could be decided on Saturday.
"We want to win every game, but for this being the conference opener, we want to start 1-0," Gideon said. "We want to set the stage for a great year and want to be able to start on the right foot. It would be huge for us."
Win Saturday, and Texas is a rivalry game win over Oklahoma away from announcing itself as a factor on the national stage once again after 2010's 5-7 embarrassment.
But lose? All of a sudden, upcoming dates with a pair of top 5 teams in Oklahoma and Oklahoma State make 3-3 a very real and very undesirable option in Austin.
"There's definitely a different feel around the building starting conference," Gideon said.
Rhoads added another benchmark win earlier this season, beating rival Iowa in overtime.
After going on the road to beat UConn, Rhoads has a chance to notch another legendary win and likely launch his 4-0 team into the top 25.
"Those guys have shown they can win close games and go compete on the road and they protect their house very well," Gideon said.
This week, the Cyclones will have plenty of help. The school had never had a sold out game before this season, athletic director Jamie Pollard said Tuesday. This season, the Cyclones already have three.
The school record for attendance through three games was around 154,000, Pollard said.
This week, the Cyclones are expected to top the 166,000 mark.
The first two games came against in-state competition. Now, it's a marquee opponent. Each win this season for the Cyclones has featured a fourth-quarter comeback.
Saturday, we'll see if there's more thrilling theater waiting at Jack Trice Stadium.
"It shows maturity of their team and how they're going to keep fighting to the end," Gideon said. "It will be important for us to match their intensity."