Dallas Colleges:

Jamie Pollard
June, 1, 2012
6/01/12
8:00
AM CT
The Big 12's second day of spring meetings came and went on Thursday in Kansas City, Mo., with no real news after the conference reaffirmed its commitment to 10 members on Wednesday.
Until the new configuration of the BCS is settled (i.e., what form will a four-team playoff take?), the Big 12 won't be taking much action, if any. Outgoing commissioner Chuck Neinas confirmed at least that much. Neinas also said he might stay on through July to relieve new commissioner Bob Bowlsby, who has other obligations on the United States Olympics Committee's board of directors. Bowlsby would still come aboard June 15, but there would be a period of overlapping commissioners.
"It was great to see Bob and Chuck together today at the head table, talking about things," Oklahoma State president Burns Hargis
told reporters Thursday
. "I think the transition will be smooth."
The league's presidents were in attendance Thursday and reaffirmed the athletic directors' stance on expansion.
[+] Enlarge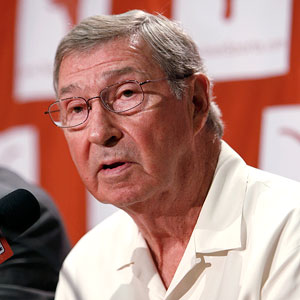 Erich Schlegel/Getty ImagesTexas athletic director DeLoss Dodds lit into the SEC and Big East during the Big 12 meetings.
"We're all very satisfied with 10 teams," Hargis said. "We're not shutting the door to any opportunity that might arrive. We're not in the market, we're not receiving applications. Our expansion committee is inactive."
To my knowledge, that's the first public confirmation that the expansion committee is indeed inactive. Interesting stuff. If Notre Dame becomes a possibility, it's clear the Big 12 would listen, and I'd assume that Florida State would engender a similar reaction, to a lesser extent. For now, though, the Big 12 maintains it's sitting at 10, even if no one (yours truly included) really believes it.
With Florida State officials expressing conflicting messages about the school's future conference affiliation, and the future of the Big East very much in flux, how could you?
A few other quick notes:
Texas AD DeLoss Dodds came out firing on Thursday, tossing barbs just about everyone's way. The SEC has Texas in its footprint? "They have a sliver of the east side," he told reporters. On the Big East? "I don't know if they qualify as a BCS [conference]. They've lost a lot of strength."

Neinas, on the league extending its six-year grant of media rights agreement, which is in progress, but not a done deal? "I don't believe the membership feels it's a gun-at-the-head arrangement. It's just a step forward moving together."

The league membership also didn't sound very fired up about re-instituting a championship game in the new iteration of the BCS. Reports John Hoover of the Tulsa World: "We have come to really appreciate the position we're in right now by not having a championship game," said Iowa State's Jamie Pollard, chairman of the Big 12 athletic directors. Said Dodds: "If this all happens the way we're visualizing today, I think there are some football coaches out there that will say, 'Well, what are we doing? We're 12-0, we've got to go into play a team that's 9-3, we've got a shot at getting beat.' Or, 'We win the game, it's a struggle, we get two kids hurt' -- I mean, those kinds of things are gonna be the reality of it."
Dodds might not have been making many friends Thursday, but he did make some among the league's coaches with that comment for sure.
Friday is the final day of meetings, but it's been a quiet week compared to the past two years at Big 12 spring meetings. For now, it's mostly just been the league's members drawing battle lines on where they stand in relation to the playoff and expansion.
May, 31, 2012
5/31/12
9:46
AM CT
The Big 12's spring meetings kicked off with the league's athletic directors meeting in Kansas City on Wednesday, and made it clear beforehand that expansion would be only informally discussed.
Still, the questions had to be asked, and they were answered. For now, the league is happy with 10 members, echoing its stance for the past few weeks.
Will anyone believe them? (Does it matter?)
"We could expand to some number. You name the number -- 12, 14, 16," Texas AD DeLoss Dodds
told CBSSports.com
. "We could expand, but the question is, do we need to expand?"
Big 12 commissioner Chuck Neinas, in fact, made it simple.
"The Big 12
,
athletic directors reaffirmed their commitment to 10 members," he said.
For now, anyway. Florida State is still only flirting, but if the Seminoles make up their mind, the safe bet is that stance will change very quickly.
Until then ... here we are.
Playoffs were a hot topic, but the league's athletic directors reiterated what we essentially already knew: The Big 12
is in favor of a four-team playoff
.
"We're in favor of taking the four highest-ranked teams," said Neinas, who has begun to transfer power to new Big 12 commissioner Bob Bowlsby. "We think it should be some type of selection committee operation, and how you rate a conference champion, strength of schedule must be included."
I love the selection committee idea personally, an idea reiterated by chairman of the league's athletic directors, Iowa State's Jamie Pollard.
The BCS has its flaws. That's obvious. The biggest flaw in piecing together a selection committee? How do you do it? How do you find panel members without bias? Is that possible? Do you copycat the NCAA's formula for the basketball tournament?
All difficult questions with answers to come.
"There needs to be a human element to kind of handle the unknowns. You can't always say computers get it right or opinion polls will get it perfect," Oklahoma athletic director Joe Castiglione said. "You still need someone with good, rational thinking to deal with unforeseen circumstances that may come up.
"Who knows what form that takes, but some form of human element that gets college football to the point of determining the best teams."
Chalk me up on board with that.
September, 28, 2011
9/28/11
11:15
AM CT
Iowa State and Texas met at a crossroads a year ago. Cyclones coach Paul Rhoads notched a second tenure-defining win, beating the Longhorns for the first time in program history.
It came on the Longhorns home field a week after Texas beat undefeated, then-No. 5 Nebraska on its home field.
Against Iowa State, the Longhorns hit what coach Mack Brown called the worst moment of a season full of awful moments. Rock bottom, if you will, followed by a memorable rant from Brown that foreshadowed the offseason coaching overhaul.
[+] Enlarge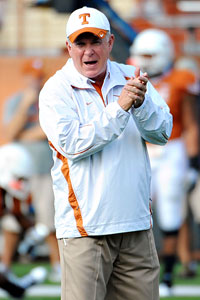 Brendan Maloney/US PresswireMack Brown called last season's loss to Iowa State the worst moment in a season of awful moments.
"You can't trust your team and you can't trust your coaches ... They're not getting (players) ready to go," he said after the loss, which Texas trailed 28-6 in the fourth quarter of a game it lost 28-21.
It was the first of five consecutive conference losses to close the season.
"They're just a very good team and they took it to us last year. They hit us in the mouth from the start, so we better sure we're ready to play," said Texas safety Blake Gideon.
A year later, both teams are trending upward. Both teams are 3-0 entering their conference opener.
And both are at another crossroads. Where each goes from here could be decided on Saturday.
"We want to win every game, but for this being the conference opener, we want to start 1-0," Gideon said. "We want to set the stage for a great year and want to be able to start on the right foot. It would be huge for us."
Win Saturday, and Texas is a rivalry game win over Oklahoma away from announcing itself as a factor on the national stage once again after 2010's 5-7 embarrassment.
But lose? All of a sudden, upcoming dates with a pair of top 5 teams in Oklahoma and Oklahoma State make 3-3 a very real and very undesirable option in Austin.
"There's definitely a different feel around the building starting conference," Gideon said.
Rhoads added another benchmark win earlier this season, beating rival Iowa in overtime.
After going on the road to beat UConn, Rhoads has a chance to notch another legendary win and likely launch his 4-0 team into the top 25.
"Those guys have shown they can win close games and go compete on the road and they protect their house very well," Gideon said.
This week, the Cyclones will have plenty of help. The school had never had a sold out game before this season, athletic director Jamie Pollard said Tuesday. This season, the Cyclones already have three.
The school record for attendance through three games was around 154,000, Pollard said.
This week, the Cyclones are expected to top the 166,000 mark.
The first two games came against in-state competition. Now, it's a marquee opponent. Each win this season for the Cyclones has featured a fourth-quarter comeback.
Saturday, we'll see if there's more thrilling theater waiting at Jack Trice Stadium.
"It shows maturity of their team and how they're going to keep fighting to the end," Gideon said. "It will be important for us to match their intensity."