Dallas Colleges:

Jammal Brown
March, 28, 2013
Mar 28
11:27
AM CT
Roughly 90 percent of college football programs would be thrilled to win 10 games in a season. Oklahoma is not one of those programs.
Sharing a Big 12 title? That trophy is a whole lot less satisfying when there are seven others waiting in the trophy case since 2000 that weren't shared with anybody.
"Our expectations are different than everybody else. Everybody's not Oklahoma," defensive coordinator Mike Stoops said. "When you have Oklahoma across your chest, you expect to win championships, and that's never going to change here."
He knows firsthand. Stoops helped his brother, coach Bob Stoops, win Oklahoma's seventh national title back in 2000, and the Sooners came up short two more times, once losing in the title game with Mike Stoops in 2003 and again a year later with Stoops coaching at Arizona. Without him coordinating the defense, the Sooners gave up 55 points to USC, more points than any team has ever scored in the BCS National Championship Game.
Arizona fired Mike Stoops six games into the 2011 season, and the Sooners' struggling defense needed an offseason jolt, despite winning 10 games that same season. Mike Stoops returned and brought assistant Tim Kish with him to coach linebackers and help coordinate the defense.
"Sometimes change is good, new ideas are good always, and change is good sometimes," Mike Stoops said. "That happens for whatever reason, and whether it's complacency or just being stagnant, those things occur. Just trying to reinvent ourselves is something we need to do."
In 2012, there were more late-season defensive struggles after a strong start, but yet again, a 10-win season and a shared Big 12 title weren't enough. Losing three games isn't good enough, and nobody wants to hear that all three losses came to teams that spent time in the top five last season. The Sooners want to get back to competing for national titles, and Bob Stoops went the route of coaching changes to help get Oklahoma back there.
Assistant coaches Jackie Shipp and Bruce Kittle were shown the door, along with offensive line coach James Patton. The Sooners scooped up Bill Bedenbaugh from West Virginia to replace Patton and brought in Jerry Montgomery from Michigan to coach the defensive line. Jay Boulware filled Kittle's spot on the staff after coaching tight ends at Auburn. The Sooners' reboot was complete, and they're working toward results in the spring.
"[They bring] a new perspective in some areas, new ideas. They're not drastic changes," Mike Stoops said. "Obviously, the coaches we had in here were involved and knew our systems well, but there's always little changes in technique and little things schematically that can help you, so we're always looking for fresh ideas."
Ten wins tastes bitter when you're used to winning 11 or 12, which can be the difference between proving yourself as a very good team and a great team. Oklahoma won at least 12 games six times since 2000 and 11 games on three more occasions. Ten wins isn't good enough, and a few former players and one famed coach were more than willing to speak up about it, echoing fan concerns.
Barry Switzer started it in September when he told one local paper that the Sooners "just don't have the talent."
"We're not as good as we have been," Switzer said. "We don't have the Tommie Harrises or Gerald McCoys squatting down there in the middle [of the defensive line]."
Offensive lineman Jammal Brown, an All-American who played in Norman from 2000 to '04, said he was "mad as hell" about the Sooners' 28-point Cotton Bowl loss to Texas A&M to cap the 10-win season, calling the Sooners "soft." CBS analyst Spencer Tillman, a Sooners running back in the '80s, said Oklahoma lost concentration on what made the program great in the first place.
Considering the Sooners let Shipp go at the end of the season, it's hard to believe Bob Stoops didn't agree in part with what Switzer had to say. As for the rest of it?
"We may not be as skilled at some of the positions as we want to be, but our toughness and pride is what made Oklahoma what it is, whether it was Bud Wilkinson or Barry Switzer or Bob Stoops, I think that's the common thread that goes to being a great team," Mike Stoops said.
"Some of those, from the outside, may have felt like we didn't have that common thread between us. I never felt that; I always thought our teams played hard and together. They're certainly entitled to their opinions, you know. We've got to look at ourselves, and if it's true, we need to change it. The things we needed to change, we're working on changing, and nobody knows our program like we do.
"There's areas we certainly need to get better at, and we're aware of those. Some of those take time. Some of those take adjustments each day to get better."
The Sooners lose a four-year starter at quarterback in
Landry Jones
from last year's team, along with seven starters from Mike Stoops' defense. The task of winning more than 10 games seems difficult in a Big 12 that's deeper than it has ever been.
"We just need to get better, again, individually and schematically and play better across the board and come up with better ideas and a better scheme. We're not far off when you look at the big picture," Mike Stoops said. "We had a chance to win 12 games, we lost them all late in the game and down the stretch and didn't make the plays we needed to, but again, we're not that far off."
March, 11, 2013
Mar 11
4:00
PM CT
ESPN draft expert Mel Kiper has two Big 12 players -- Oklahoma's
Lane Johnson
and Texas'
Kenny Vaccaro
-- potentially going in the first round of this year's NFL draft.
Fellow expert Todd McShay has the same two as Kiper and also is optimistic about the chances of West Virginia's
Geno Smith
and
Tavon Austin
.
So let's split the difference and label the potential Big 12 first-round picks as an optimistic three, with Johnson being the only absolute first-round lock.
Those three would represent the fewest Big 12 players taken in the first round of the NFL draft since 2008. Even if four went, the Big 12 still would have the fewest since 2008.
That year, only Kansas -- yep, the Jayhawks -- managed a first-rounder,
Aqib Talib
to Tampa Bay with the 20th pick. In the four drafts that followed, the Big 12 has always put at least five players into the first round, including the first four overall picks in 2010.
How well this year's group of first-round picks will fare might not be known for years. What is known, though, is how well Big 12 players have done when they are selected in the first round. With that in mind, here is a ranking -- from worst to best -- of the Big 12's best first-round draft classes over the past 10 years.
2008
: It's all about quantity, and a little bit of quality. In 2008, the Big 12 only produced one first-round pick, Talib. He has not produced dramatic returns in the NFL. In the past two years, he has only started nine games. He was somewhat productive for Tampa Bay in the previous three seasons, starting 41 games and playing in 53. But, again, he was the only Big 12 player taken in the first round in 2008.
2006:
Vince Young
is working out at Texas' pro day at the end of March. Enough said.
Davin Joseph
and
Michael Huff
have been solid producers. But when the No. 3 overall pick is out of the league and having to work out at his alma mater's pro day, it means it was a bad year for the Big 12 in the first round of the NFL draft.
2004:
Tommie Harris
and Marcus Tubbs, the two defensive tackles taken in the first round, were productive for a few years, with Harris selected to Pro Bowls in 2005, '06 and '07 before he was beset by injuries. Tubbs lasted four seasons in the NFL. Roy Williams had 5,715 receiving yards but never lived up to the hype he generated coming out of Texas. Rashaun Woods played only two years and had seven career catches.
2005:
The lack of numbers might be what hurts this group the most.
Cedric Benson
,
Jammal Brown
,
Derrick Johnson
,
Mark Clayton
and
Fabian Washington
all proved they could play at the NFL level. Benson has had three 1,000-yard-plus seasons. Johnson is one of the top linebackers in the game. Brown remains a solid option on the offensive line. Clayton played seven NFL seasons; Washington played six. But there were only five guys selected and that isn't enough to push 2005 to the top of the list.
[+] Enlarge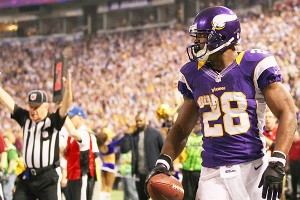 Andy Clayton King/Getty ImagesThe Big 12's 2007 draft class wasn't huge, but did feature 2012 NFL MVP Adrian Peterson.
2009:
Every Big 12 player selected in the first round in 2009 has produced and appears to be poised to continue to do so. Only
Jason Smith
didn't have a start last year. But the offensive lineman still played in all 16 games for the
New York Jets
.
Michael Crabtree
,
Brian Orakpo
,
Josh Freeman
,
Jeremy Maclin
,
Brandon Pettigrew
and
Ziggy Hood
are all starters for their respective teams.
2007:
It wasn't the biggest group, but it did include
Adrian Peterson
, so there could be some quibbling that maybe 2007 should be higher in the rankings. Throw in
Aaron Ross
and
Michael Griffin
and the debate could get even more heated.
Adam Carriker
was also taken this year. He started his career strong but suffered an injury and only played in two games last season.
2003
:
Kevin Williams
has been the standout of this group. The defensive tackle has started every game but four in his 10-year career.
Terence Newman
has been effective as a defensive back, first in Dallas and last season in Cincinnati. Tyler Brayton played at least 15 games on the defensive line in a nine-year career.
Ty Warren
played eight solid seasons for New England but tailed off last season with Denver. Andre Woolfolk lasted four seasons, mostly as a reserve.
2011:
Von Miller
, who was the highest pick among Big 12 players this year, has proved to be the top player so far.
Aldon Smith
is not far behind. Add in
Prince Amukamara
,
Phillip Taylor
, who when healthy is a starter at defensive tackle, a somewhat productive
Blaine Gabbert
and
Nate Solder
as well as reliable backups
Danny Watkins
and
Jimmy Smith
and this proved to be a successful year for Big 12 first-round selections.
2012:
Three quarterbacks, and all were not only starters as rookies but also made huge differences for their respective squads. Clearly,
Robert Griffin III
made the most dramatic impact, but
Ryan Tannehill
, with the Dolphins, and
Brandon Weeden
, with Cleveland, were both solid.
Kendall Wright
and
Justin Blackmon
each had 64 catches, for Tennessee and Jacksonville, respectively. Blackmon was targeted more (133 to 104) and had 200 more receiving yards.
2010:
This list maybe doesn't have the star power and is not littered with offensive playmakers, but six of the nine players picked were selected for the 2013 NFL Pro Bowl:
Gerald McCoy
,
Trent Williams
,
Ndamukong Suh
,
Earl Thomas
,
Russell Okung
and
Jermaine Gresham
. And the other three players --
Dez Bryant
,
Sam Bradford
and
Sean Weatherspoon
-- were vital pieces for their respective teams.
May, 30, 2012
5/30/12
3:09
PM CT
We took a look at the All-Big 12 crossover team earlier this week, but colleague Ted Miller took a look at the All-Pac-12/NFL team
over at the Pac-12 blog on Tuesday
.
So, what about the Big 12? I'm glad you asked.
I love the NFL, and it's time to take a look at the Big 12's top players at the next level. This isn't about what you did in college. This is about what you've done at the next level. Sorry,
Vince Young
.
You must be active, and I'm judging this team based on how good players are
right now
. However, I included players from teams in the Big 12 during the 2011 season.
Let's start with the offense:
QB: Sam Bradford, St. Louis Rams (Oklahoma)
Bradford edges out Kansas State's
Josh Freeman
for this award. Bradford won Rookie of the Year honors after winning the Heisman at OU, but had a rough sophomore season. Either way, it's Bradford's spot here.
RB: Adrian Peterson, Minnesota Vikings (Oklahoma)
Peterson's recovering from a serious knee injury, but he's got a case as the game's best running back.
RB: Jamaal Charles, Kansas City Chiefs (Texas)
Charles is coming back from a torn ACL, but he rushed for 1,467 yards in 2010, his second consecutive 1,000-yard season.
WR: Wes Welker, New England Patriots (Texas Tech)
I hated to leave
Michael Crabtree
off this list, but there's no doubt Welker belongs. His 1,569 receiving yards in 2011 were a career high, and his fourth 1,000-yard season.
WR: Jeremy Maclin, Philadelphia Eagles (Missouri)
Maclin is a deep threat for
Michael Vick
and dangerous as a runner, too. Anybody who saw him at Mizzou isn't surprised. He dealt with a cancer scare in 2011, but should get back to his form in 2012 like he was in 2010, catching 70 passes for 964 yards and 10 scores.
WR: Dez Bryant, Dallas Cowboys (Oklahoma State)
Bryant's a rising star, but health issues have slowed him a bit. He nearly doubled his production in 2011, his second season, with 928 yards and nine touchdowns.
TE: Jermichael Finley, Green Bay Packers (Texas)
Finley's been a big target for MVP
Aaron Rodgers
, and caught eight touchdown passes on 55 catches for 767 yards.
OL: Jammal Brown, Washington Redskins (Oklahoma)
Brown is a two-time Pro Bowler and a one-time All-Pro who left OU as an Outland Trophy winner in 2004. Most impressive? He's started 84 of a career 85 games.
OL: Davin Joseph, Tampa Bay Buccaneers (Oklahoma)
Joseph made two Pro Bowls (2008, 2011) and helped pave the way for
LeGarrette Blount
and a powerful Bucs rushing offense. He only took a season as a part-time starter before earning full-time honors in his second year in Tampa.
OL: Jeromey Clary, San Diego Chargers (Kansas State)
Clary started 60 games since being drafted in the sixth round in 2006.
OL: Phil Loadholt, Minnesota Vikings (Oklahoma)
Loadholt was a juco transfer who made a big impact on one of the best O-lines in Big 12 history for the 2008 Sooners. He's started every game of the first three years of his career for the Vikings helping pave the way for Adrian Peterson.
OL: Louis Vasquez, San Diego Chargers (Texas Tech)
Vasquez was the only rookie starter for the Chargers in 2009, and he's started all 34 games of his career. He already established himself as one of his division's top linemen.
Come back later this week when we tackle the defense.
Who would you have on the team?