Dallas Colleges:

Jarrick Williams
October, 1, 2014
10/01/14
9:30
AM CT
October has arrived and most teams have played a third of their regular-season schedule. One team has fallen off our playoff tracker (South Carolina) but the rest remain from last week. Let's dive in and see where the College Football Playoff contenders from the SEC stand as of today:
Alabama Crimson Tide
Record:
4-0
AP rank:
No. 3
Next big obstacle:
Oct. 4 at Ole Miss
Reason for optimism:
The bye week came at the right time for Alabama. It needed
Blake Sims
,
Jarrick Williams
and
DeAndrew White
healthy for Ole Miss on Saturday. And if it needed any extra motivation, Rebs safety
Cody Prewitt
delivered, telling reporters that, "We don't think Bama has really been as good as they have been."
Cause for concern:
Survive Ole Miss and things don't get any easier. You thought that Oct. 11 trip to Arkansas would be a cake walk? Ha! You thought Texas A&M would be an easier out without
Johnny Manziel
? That's a good one. That schedule you thought was littered with SEC cupcakes like Tennessee now looks more like a minefield.
Who they'll be rooting for this week:
Mississippi State over Texas A&M. If the Bulldogs can upset Texas A&M and Auburn the next two weeks, the West might loosen up some.
--Alex Scarborough
Auburn Tigers
Record:
4-0
AP rank:
No. 5
Next big obstacle:
Oct. 4 vs. LSU
Reason for optimism:
Nick Marshall
continues to look more and more like his old self. On Saturday, he passed for 166 yards and three touchdowns, and he also rushed for 105 yards. His new favorite target? OK, it's still
D'haquille Williams
, but fellow wide receiver
Quan Bray
has emerged as a playmaker on both offense and special teams for the Tigers.
Cause for concern:
There are a lot of question marks as to who's going to play this Saturday against LSU. Linebackers
Cassanova McKinzy
and
Kris Frost
are day-to-day with injuries, and starting right tackle
Patrick Miller
is questionable with an ankle injury. It also looks like Auburn will be without safety
Jermaine Whitehead
for the third straight game.
Who they'll be rooting for this week:
Ole Miss over Alabama
--Greg Ostendorf
Texas A&M Aggies
Record:
5-0
AP rank:
No. 6
Next big obstacle:
Oct. 4 at Mississippi State
Reason for optimism:
The Aggies passed a big test by showing that their run defense -- while still having a lot of room for improvement -- can do just enough to help them win after being tested thoroughly against Arkansas, the best rushing team in the SEC. The offense also showed it can win when it's not at its best and
Kenny Hill
responded to adversity emphatically, showing poise in fourth quarter and overtime. Health-wise, the Aggies are in relatively good shape, which is critical considering what lies ahead.
Cause for concern:
The schedule gets only tougher in the next few weeks. This weekend it's a trip to Starkville to meet undefeated Mississippi State. They return home the following week to host Ole Miss. Then on Oct. 18 they go to Tuscaloosa for a showdown with Alabama. These are all teams and places the Aggies have won before, but now they're doing it with a team that has a lot of young players in key positions, like quarterback, free safety, defensive end and receiver. This three-week stretch is a monumental test for Texas A&M.
Who they'll be rooting for this week:
LSU over Auburn. (This would help the Aggies jump Auburn in the national rankings and gain an advantage in the standings)
--Sam Khan Jr.
Ole Miss Rebels
Record:
4-0
AP rank:
No. 11
Next big obstacle:
Oct. 4 vs. Alabama
Reason for optimism:
The defense ranks first in the SEC and fourth nationally, allowing 248 yards per game and has 11 takeaways on the season. QB
Bo Wallace
is also spreading his passes around very nicely. Even with depth an issue at receiver, the Rebels already have five players with double-digit receptions.
Cause for concern:
The West is easily the toughest division in college football. There really isn't a major weak link when it comes to teams on this side of the division, and Ole Miss still has to go through everyone. We'll find out if Ole Miss has the depth needed to make a real SEC run.
Who they're rooting for this week:
LSU over Auburn
--Edward Aschoff
Mississippi State Bulldogs
Record:
4-0
AP rank:
12
Next big obstacle:
Oct. 4 vs. Texas A&M
Reason for optimism:
With an open date between their dismantling of LSU and this Saturday's showdown with Texas A&M, the Bulldogs have had time to rest and scheme to face perhaps the best opponent they've played to date. It had to help their confidence to see A&M struggle against Arkansas the way it did, too.
Cause for concern:
Mississippi State's secondary has been one of the team's few weaknesses, and that's a bad weakness to have against a high-flying offense like Texas A&M's. It also doesn't help that veteran center
Dillon Day
will miss the A&M game while serving a one-game suspension for unsportsmanlike play against LSU.
Who they'll be rooting for this week:
Alabama over Ole Miss (because why not?) --
David Ching
Georgia Bulldogs
Record:
3-1
AP rank:
No. 13
Next big obstacle:
Oct. 11 vs. Missouri
Reason for optimism:
The SEC East is still a mess, and South Carolina's loss to Missouri means the Bulldogs once again control their own destiny in the division. Just win, baby, and the Dawgs are headed back to Atlanta. Also,
Todd Gurley
seems like he's getting better and better with each week.
Cause for concern:
Passing, whether it's by the Bulldogs or against them.
Hutson Mason
admitted Saturday that the chemistry between himself and his receivers isn't where it should be, especially when it comes to throwing the deep ball. Right now, Georgia's defense can't stop any sort of passing over the middle of the field.
Who they're rooting for this week:
Tennessee over Florida
--Edward Aschoff
LSU Tigers
Record:
4-1
AP rank:
15
Next big obstacle:
Oct. 4 at Auburn
Reason for optimism:
It seems unlikely that anyone in the SEC West will finish undefeated, so the Tigers can stick around in this race if they start winning. A win in Saturday's game at Auburn could potentially jump-start LSU's chances, especially if
Brandon Harris
goes off as the new starting quarterback.
Cause for concern:
Auburn's running game has to scare LSU defensive coordinator John Chavis a bit after Mississippi State had so much success against the Tigers two Saturdays ago. LSU might be able to stick around in the SEC West race with two division losses, but a playoff bid would almost be out of the question if the Tigers fall again.
Who they'll be rooting for this week:
Texas A&M over Mississippi State --
David Ching
September, 14, 2013
9/14/13
11:12
PM CT
COLLEGE STATION, Texas — There was no plan for
Johnny Manziel
to speak to the media on Saturday.
In fact, win or lose,
Texas A&M
officials made it clear before the game that the Heisman Trophy winner would not be available for postgame interviews. Earlier this week, coach Kevin Sumlin noted that Manziel's family and attorneys advised him not to speak publicly this week.
[+] Enlarge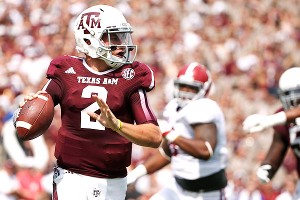 Scott Halleran/Getty ImagesJohnny Manziel produced more than 500 yards but admitted there were a couple of throws he wished he could take back.
But Manziel wasn't going to be told no. He approached Sumlin and Texas A&M associate athletic director for media relations Alan Cannon and said he was going to speak. When Cannon mentioned the objections from Manziel's parents and lawyers, Manziel said, according to Cannon, "My team didn't quit on me, so I'm not quitting on them."
The No. 6 Aggies showed no quit in their 49-42 loss to No. 1
Alabama
on Saturday at Kyle Field in one of the most highly anticipated games in school history. What they did show is that they're a good team with a lot of flaws that still need ironing out.
The message from Manziel, who played brilliantly for much of the day but had a couple of throws he'd like to have back, was that the Aggies had to keep playing -- both on Saturday and moving forward.
"My initial reaction is that I'm just proud of these guys," said Manziel, who threw for 464 yards and five touchdowns and ran for 98 yards. "I kept telling them that no matter what point in the game it was, we were never out of it. Didn't matter what [Alabama] did. I told the offense that going into it, that no matter what happened on the defensive side of the ball, no matter what happened on special teams, we felt like we could come out and score points. So I was proud initially more than anything else, proud of the way they kept fighting until the very end. I mean, we're a young team. That's impressive to me."
The Aggies (2-1) were down by as many as 21 points in the third quarter after taking a 14-0 lead in the first quarter. Alabama roared back with 35 unanswered points and used its power running game and efficient passing attack behind
AJ McCarron
to eat up yardage and extend drives to score points while keeping the Aggies' offense on the sideline.
The biggest flaw seen on Saturday was on defense. The Aggies' front seven was hammered by the Alabama offensive line -- a unit that struggled in its season opener against Virginia Tech -- to the tune of 234 rushing yards and 6.3 yards per carry, led by
T.J. Yeldon
's 149-yard effort. McCarron was rarely pressured in the passing game and wasn't sacked a single time; only one player on the Aggies defense,
Kirby Ennis
, recorded a quarterback hurry. There were big plays given up in the passing game as well, as the Tide threw for 334 yards.
"We've got to get some things shored up in our front defensively," Sumlin said. "We're playing a lot of young guys in there. [Gavin] Stansbury was back and [Steven] Jenkins was back [from suspensions], so they were a little rusty. We didn't have
Isaiah Golden
today because of the tragedy [involving the death of a family member] earlier this week. That put a lot of pressure on Hardreck [Walker] to handle that type of stuff with Kirby. We just have to get those guys in a routine, a steady routine and a rotation and shore some things up up front."
Mike Evans
, who already was considered one of the country's better receivers, made his case to be considered among
the
best after catching seven passes for a school-record 279 yards and a touchdown. He beat man-to-man coverage consistently, ran good routes and was an asset for Manziel when scrambling.
"I couldn't be prouder of him," Manziel said. "Last night in the hotel, me and him, we're roommates, and we were just talking about how the game was going to play out. I knew he was going to come out and play really well."
Manziel wasn't perfect. A fade pass to Ja'Quay Williams in the end zone was intercepted by
Cyrus Jones
in the second quarter ("We probably could have run a better route," Sumlin said). He tried to squeeze a pass in to
Travis Labhart
early in the third quarter but it was tipped by Alabama defensive back
Jarrick Williams
and intercepted by
Vinnie Sunseri
, who returned it 73 yards for a touchdown.
[+] Enlarge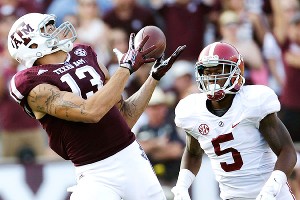 AP Photo/David J. PhillipMike Evans set a school record with 279 receiving yards, including this 95-yard touchdown.
"I had a couple throws that I want to have back, two in particular," Manziel said. "Coach Sumlin always says there's no regrets. Leave it all out on the field. I think that's what we all did. I know I did."
But he was, like the Aggies, still very good. He set the single-game school record for passing yards and put up the second-most total offensive yards in a game (562), second only to his own total (576) against Louisiana Tech last year.
He made what many would call an ill-advised throw in the second quarter after magically evading a sack while in the grasp of Alabama defensive end
Jeoffrey Pagan
, heaving a jump ball 40 yards downfield while falling backward. The ball wound up in the hands of a leaping
Edward Pope
for a first down that sent the crowd into a frenzy. The gain was only 12 yards; Manziel retreated back far to evade pressure.
At some point, it seems it might just be worth chalking it up to a little Manziel magic, since he has seemingly found an uncanny ability to make jaw-dropping plays of the sort each week. It's part of what captivated the college football world en route to his Heisman Trophy last year.
For those who said Manziel's eventful and sometimes tumultuous offseason would come back to haunt him when the games started this year, none of that seemed to be a factor. Though there were some mistakes made on the field, Manziel's play is hard to criticize, especially against the team that was No. 1 in the country last season in total defense. Manziel said afterward that it wasn't a factor.
But for all the flash, the bottom line was that Manziel and the Aggies fell short of their goal on Saturday. They were beaten by a better team.
The disappointment could be heard in the voices of the players afterward; they wanted Saturday's win badly. But with nine games to go in their season, they feel that what they want -- an SEC West title, SEC title and BCS title game berth -- is still within reach; it's just more difficult to obtain now that they're 0-1 in SEC play.
But if the Aggies are still serious about pursuing those goals, there's still much work to do.
"Just got to go game by game," Manziel said. "Just like last year, continue to get better, week by week, and the result was what happened in the Cotton Bowl. For us this wasn't the end of our season. This wasn't the Super Bowl. This wasn't the last game of the season.
"Alabama lost a game last year and still went on to win a national championship. They lost to
LSU
the year before and still went on to win the national championship. Our season isn't over. Anything can happen. This is college football. Some of the craziest things happen every week. So you never know. All we can do is take care of ourselves, take care of what's in this locker room and continue to get better as a team."