Dallas Colleges:

Jarvis Harrison
October, 27, 2013
Oct 27
10:00
AM CT
COLLEGE STATION, Texas — Texas A&M's 56-24 win over Vanderbilt showed us a lot. Here are three things we learned about the Aggies from their performances:
When it's intact, the defense can perform:
Well, it's not completely intact as the Aggies were minus two starting defensive tackles (
Alonzo Williams
, left foot, and
Kirby Ennis
, who's done for the year with a torn ACL), but there was enough personnel on the field that defensive coordinator Mark Snyder was comfortable with. So, he he dialed up blitzes. The results were positive: seven sacks, 95 rushing yards allowed, 329 total yards allowed and three turnovers.
Johnny Manziel can get it done without running:
His ability to run is one of Manziel's signature traits, but he ran four only times on Saturday, partially to avoid taking too much contact on his injured throwing shoulder. The result was still pretty good: 25-of-35 passing for 305 yards and four touchdowns in basically two-plus quarters. He had one interception, but otherwise had a stellar day.
Changes aren't a bad thing:
There were some lineup changes on defense and for the most part, they worked out well. True freshman
Noel Ellis
played well in his time at nickelback.
Donnie Baggs
hadn't started since Sept. 14 but did well in his return to the starting lineup on Saturday. And on offense, the offensive line saw some shifting because of an injured
Cedric Ogbuehi
.
Jarvis Harrison
moved from left guard to left tackle,
Jake Matthews
from left tackle to right tackle, and
Garrett Gramling
stepped in at left guard. Overall, it was hard to tell there was much of a difference as the unit performed well.
October, 18, 2013
Oct 18
2:30
PM CT
COLLEGE STATION, Texas — After losing a left tackle who was the No. 2 pick in the NFL draft and a center who was a two-year starter at the position and a four-year starter overall, it was easy to believe that there would be a drop-off in performance from the Texas A&M offensive line.
Through six games, the No. 7 Aggies can safely say all is well up front. Even with two newcomers and some shuffling by moving returning starters around, the unit is again performing at a high level and is one of the reasons Texas A&M's offense continues to be one of the best in college football.
While it's difficult to replicate what the Aggies had last season, when all five starters last season played multiple seasons together, it's easy to see how well this year's group is doing. All it takes is watching quarterback
Johnny Manziel
drop back and sit comfortably in the pocket for five, six and sometimes seven seconds looking for a receiver or deciding to use his scrambling ability to gain yardage.
[+] Enlarge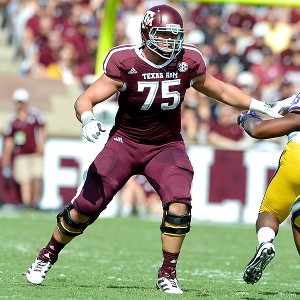 Cal Sport Media via AP ImagesJake Matthews is playing well at left tackle after playing right tackle in 2012.
And in the Aggies' victory over Arkansas on Sept. 28, the line paved the way for two second-half touchdown drives that consisted of all running plays. Texas A&M had more rushing yards than passing yards.
"Offensive line has played really good, with the exception of one game," offensive coordinator Clarence McKinney said. "I think those young guys in one of those six games -- I think it was SMU -- had some struggles. But for the most part, they've played great."
Against SMU, there were some penalties and self-inflicted errors that the Aggies needed to clean up. Their performance against No. 1 Alabama was strong and they've been consistent, for the most part, the rest of the year.
The transition began back in spring, moving
Jake Matthews
from right tackle to left tackle to replace Luke Joeckel. To fill Matthews' void, right guard
Cedric Ogbuehi
kicked out to right tackle. Jake's younger brother
Mike Matthews
stepped in as the starter at center and redshirt freshman
Germain Ifedi
slid in at right guard. The only player still in the same position last season is left guard
Jarvis Harrison
.
Behind that quintet, the Aggies are putting up 586.5 yards per game (No. 3 in the country) and have allowed only seven sacks, which puts them in the top 30 statistically in the country. They're 20th in rushing yards (224.6 yards per game) and sixth in passing yards (361.8 per game).
"They're getting better every week," senior running back
Ben Malena
said. "It's hard to compare this year's group to last year's because they're only six games in, but I can tell you every week they are getting better."
The biggest question marks coming into the season centered around the first-time starters. So far, they've answered the questions.
"I'm really pleased with the young guys," offensive line coach B.J. Anderson said. "I think they've made some strides. They've played in some atmospheres where we had to communicate. Mike's done a really good job. I've changed protections on him a couple games. ... I'm really pleased with where he's at, and the same way with Germain. He's getting better every game and we're fixing some things that need to get fixed and we'll just keep working."
Anderson noted that they're not holding anything back from Mike Matthews, who is just a sophomore, when it comes to game-planning and protections. That's critical considering the vast array of defensive looks Anderson said opponents have thrown at the Aggies.
"If you had told me that I had that flexibility back in August, I'm not sure I would have believed you," Anderson said. "But he's got the kitchen sink right now. I'm not doing anything that I didn't do with Pat Lewis, who was a senior. He's able to make all the adjustments I need and I'm really pleased with the mental work he does during the week, preparation-wise."
The "older guys" -- senior Jake Matthews and juniors Harrison and Ogbuehi -- have also shined. Matthews' adjustment to left tackle has been smooth, as has Ogbuehi's to right tackle. Harrison has impressed Anderson with his effort week to week.
"Jake's Jake and Ced's doing a good job and Jarvis Harrison is playing his tail off -- as well as he's played since I've been here," Anderson said. "He's playing with great effort. It shows on tape and I'm happy with those older guys."
Manziel's progression and mastery of the offense in the second season in the scheme has helped as well. Players say they notice Manziel has tried to stay in the pocket more often.
"I feel more this year that he hasn't scrambled as much and he has been more patient," Ogbuehi said. "He looks to throw more, too. He's always looking to make a big play with his arm, and that's good."
Perhaps the best aspect of this group is it has stayed healthy. The Aggies were fortunate to keep all five starters healthy last season, and that's been the case this year, too. It isn't a perfect group, but it is a smart, talented one that continues to improve every day.
"This year, we're still trying to get there but so far we're getting there," Ogbuehi said. "It's exciting so far what we've done in the little time we've had together."
October, 21, 2012
10/21/12
12:37
PM CT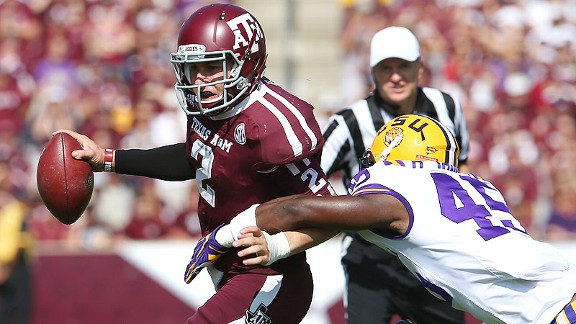 Ronald Martinez/Getty ImagesJohnny Manziel and Texas A&M hung tough, but LSU prevailed.
COLLEGE STATION, Texas -- Are they good enough?
That is a question that many fans, observers and pundits posed or tried to answer when Texas A&M initially announced it was moving to the Southeastern Conference.
Are the Aggies good enough to compete with the best the SEC -- college football's premier league -- has to offer? There were many skeptics and there still will be some after the No. 18 Aggies'
24-19 loss to No. 6 LSU
on Saturday at Kyle Field.
But if you watched closely, one thing became evident as the events unfolded in front of the 87,429 in the building. Not only are the Aggies good enough to compete with a top-10 team from the SEC, they're good enough to
beat
said team.
The Aggies lost for many reasons, some self-inflicted, some imposed by the Tigers. But it wasn't because they were outclassed or simply weren't good enough. The Aggies proved to be more than up to snuff against the physicality of one of the SEC's traditional powers, LSU, a two-time BCS champion since 2003.
Saturday was evidence that Texas A&M, by the looks of it, is ready to go toe-to-toe with the SEC's big boys. But it was also evidence that the Aggies have a long way to go.
"This one hurts a lot," senior center
Patrick Lewis
, a Louisiana native, said. "I know a lot of those guys on that team and it would have been real nice to get a win, not only for myself but for our team and for Kyle Field. It's a win that Texas A&M has needed for a real long time. But we've got to get over it. We have a lot of ball to play. We go on the road next week in another hostile environment. We're going to learn from the mistakes we made today and we're going to continue to get better."
The Aggies left points on the board when a chop block penalty on offensive lineman
Jarvis Harrison
and
Luke Joeckel
erased a throwback screen pass to
Ben Malena
that would have been a 34-yard first-quarter touchdown. That would have given Texas A&M a possible 13-0 lead fewer than 10 minutes into the game.
Instead, it had to settle for a field goal and it took until the 7:24 mark in the second quarter before the Aggies pushed the lead to double digits.
Redshirt freshman kicker
Taylor Bertolet
missed 2-of-4 field goals, one of which came from 33 yards in the fourth quarter after a 76-yard kickoff return by freshman
Trey Williams
. So after starting from the LSU 16-yard line and cutting into a 17-12 Tigers lead, the Aggies came away with no points.
"We left some points out there, obviously, with a couple missed field goals," Texas A&M coach Kevin Sumlin said. "Against a team like that, you want to score touchdowns in the red zone."
And Saturday was also a learning experience for redshirt freshman quarterback
Johnny Manziel
, who has dazzled onlookers with his ability to improvise and make plays with his legs and his right arm and appeared on the verge of taking college by storm.
The Kerrville (Texas) Tivy product still showed some of his signature playmaking ability, but LSU kept the young man dubbed "Johnny Football" from breaking the game open. The speed of the Tigers defense was able to run him down and prevent big ground gains (he finished with a season-low 27 yards on 17 carries) and when he tried to force passes while scrambling -- like the one
Tharold Simon
picked off with 3:20 to go in the game -- they made him pay.
Earlier this season when the Aggies defeated SMU, Manziel made one of many highlight-worthy plays when he was able to spin out of a sack, throw off one foot and complete a touchdown pass to
Kenric McNeal
. Against LSU, there was a moment where Manziel scrambled left, switch the ball to his left hand and threw it and was nearly intercepted by an LSU defender.
It was a learning experience for the young quarterback, who was appearing in just his seventh game.
"He learns from everything," Sumlin said. "He learns from every series. Every experience is a learning experience for him right now. This is game seven for him. It's a completely different environment. He's as hard on himself as we are as coaches. [Offensive coordinator] Kliff [Kingsbury's] doing a great job with him. We just have to keep getting better and he'll continue to do that."
Sumlin said the mistakes can be attributed to a combination of youth, lack of execution and the caliber of the Aggies opponent.
"Where we have to get over the hump is execution and being consistent," he said. "It's no different than what I've said from Game One. Against a very talented team the margin for error gets really, really slim. We made too many today."
It's clear that the Aggies aren't there yet, but potential for success against the SEC's elite is there if the mistakes made on Saturday are corrected.
"I think we're very close," Aggies senior receiver
Uzoma Nwachukwu
said. "We're a team that defensively, they're excited, they're jumping around, they're running to the ball. We have a great defense and offensively, the sky is the limit for us. We just have to focus down on the little things that make great things: turnovers, penalties and things like that. We have to harp on that and if we want to get to elite status, that's what we have to do."