March, 3, 2014
Mar 3
3:00
PM CT
Baylor
is already on the practice field, set to begin its Big 12 title defense. Below is a preview of what to look for from the Bears during their spring practices:
Offensive returner ready to take next step:
Playing time was hard to come by last season for freshman wideout
Robbie Rhodes
. On top of competing in a loaded rotation, Rhodes injured his knee early in the season and gradually drifted out of the rotation. But Rhodes, the nation's No. 3 WR in the Class of 2013, has the talent to be an elite pass-catcher in the Big 12, and he should have opportunities in his second season.
[+] Enlarge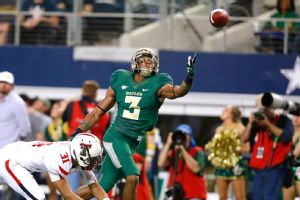 Tim Heitman/USA TODAY SportsA healthy Robbie Rhodes should be able to play a significant role in Baylor's passing attack.
Defensive returner ready to take the next step:
DT
Andrew Billings
. Last season, Billings signed with the Bears despite a strong recruitment by Texas, and immediately contributed as a freshman. With the bulk of Baylor's defense gone, the time has come for him to elevate his game. And all signs point to Billings, who has the talent to be the best defensive tackle in the entire league, being ready for the challenge.
Redshirt freshman to watch:
Even though the Bears lost their top two running backs in
Lache Seastrunk
and
Glasco Martin
, they bring back a clear-cut starter in
Shock Linwood
. The coaching staff, however, has been waiting in delighted anticipation to see what
Johnny Jefferson
can do on the field after redshirting last season. Jefferson had offers from the likes of Ohio State, Notre Dame and UCLA coming out of high school, and he has the blend of speed and power to command a role in the offense.
Most significant position battle:
With four of five starters gone from its secondary -- and that one starter back (
Terrell Burt
) out for the spring with shoulder surgery -- the battle for time in the defensive backfield is wide open. The spotlight will be on cornerbacks
Tyler Stephenson
,
Xavien Howard
,
Ryan Reid
and
Tion Wright
, as well as
Orion Stewart
,
Taion Sells
,
Terrence Singleton
,
Alfred Pullom
and
Patrick Levels
at safety.
Key midterm enrollee:
The Bears face the task of replacing All-Big 12 linebacker
Eddie Lackey
, but they're hoping Bakersfield College transfer
Grant Campbell
can step in and take his place. Other than
Bryce Hager
, who is out this spring with a groin injury, the Bears have little experience at linebacker. Campbell filling a major hole will be a huge step forward in coordinator Phil Bennett retooling his defense.
Question that could be answered:
The Bears
should have a feel after this spring about who will be their primary playmakers. Even with Seastrunk and receiver
Tevin Reese
gone, the Bears should boast plenty of offensive firepower next season to surround All-Big 12 quarterback
Bryce Petty
with. Rhodes,
Jay Lee
and
Corey Coleman
should be able to fill out Reese's production, while Linwood, Jefferson and
Devin Chafin
could give the Bears another prolific combination at running back.
Question that won't be answered until fall:
The Bears had one of the best defenses in the Big 12 last season, but it could be a while before Baylor discovers what it has defensively in 2014. Billings,
Beau Blackshear
and
Shawn Oakman
have the talent to field the best defensive line Baylor has had in years. But the back seven is a major question mark, with Hager and Burt being the only incumbents.
February, 27, 2014
Feb 27
9:00
AM CT
There few assistants in college football who pulled in a better recruiting haul this year than Kendal Briles.
Earlier this month, the Baylor wide receivers coach and passing game coordinator inked four receivers ranked in the ESPN 300, padding what was already a loaded position in Waco.
As the defending Big 12 champs get ready to open spring practice Friday, Briles took time to talk to ESPN.com about his signing class, the new expectations at Baylor and what he's learned coaching under his dad -- Bears head coach Art Briles.
Let's first go through the four receivers you signed, and what each brings to the table. Start with K.D. Cannon, who was recruited by virtually everyone in the country.
[+] Enlarge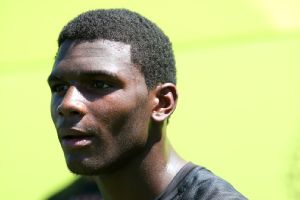 Tom Hauck/ESPN.comK.D. Cannon is one of four ESPN 300 wide receivers that Baylor signed in the 2014 class, making an already-rich position that much more stacked.
Briles:
Well, we feel like we know a lot about K.D. already. He possesses a lot of things you look for in a wide receiver. His body control, how he catches the ball, his shiftiness, competitiveness -- all those things. He's got a great family and all the intangibles to become a great wide receiver. We're real excited to get him here in June. From a talent standpoint, he's off the charts. We're very excited about him.
What about Davion Hall?
Briles:
Davion is already here and is doing a really good job. His body weight has already come up. He looks real good. He's a powerful, powerful athlete. He's got really good ball skills. He's not going to be as fluid as a K.D.-type player, but he's a really powerful kid [who] runs well. He's a great, great person, and wants to be extremely successful. That's the thing we really love about him; that's a really good person. We'll see what he can do here in a few days. He's going to get a chance to put the pads on and see where he's at. He's a little bit nervous, as he should be. But he's been great since he's been here working with the strength and conditioning program, and he's going to compete in spring ball.
Ishmael Zamora?
Briles:
Ishmael is a guy who might have the greatest upside of all of them. He was up to 210 pounds when I talked to him the other day. I expect him to win the state title in the 110-meter hurdles again in [Texas Class] 5A. He's a great athlete whose talents didn't flourish in high school because of the offense he played in. I think he had like five catches as a junior. But his upside is incredible. We're very, very excited about him.
Last, but not least, what about Chris Platt?
Briles:
Chris Platt is a sleeker guy, 168 pounds probably right now. He's going to win the state track meet and become the first four-time state champ in the 400 meters in Texas state high school history. He's a guy [who] can play -- good ball skills. We had him in camp, and you might think he's just a straight-line guy, but he's got some good hip flexion. He catches the ball, is competitive. He's got tremendous upside as well.
OK, let's get to the guys you have coming back, starting with Antwan Goodley. I remember talking to a Big 12 coach last October, and he was like, 'Where did Antwan Goodley come from?' How did Goodley make so much improvement, and where can he go after a monster junior season?
Briles:
Antwan was a really good high school football player. I saw him, and the kid could run. He wasn't real tall. He committed to us on a junior day in February and held strong the whole time. He was 192 pounds, and he's been as high as 222 -- he's gained 30 pounds of pure muscle. He's one of the strongest kids we have on the team without a doubt. My expectation for him now is to be the best wide receiver in the United States of America. He's proven what he can do on the football field, now we have to make sure he keeps getting better. The spring is big for him. We won't let him go as much -- we have other guys we want to get reps, and we know what he can do. But there are things for him to work on, and he's very excited to get back out there and get back to work.
You've got two highly-touted young guys in Corey Coleman and Robbie Rhodes who haven't made that big splash yet. What is your expectation for them as sophomores?
Briles:
With Corey, you don't think he had a splash as a freshman, but if you look at it, he was second all-time among Baylor freshmen in receiving yards next to Kendall Wright. That's pretty good company. He has a chance to have a tremendous career. He's a little bit raw, but has tremendous speed, tremendous hands and catches the ball very well. He wants to be great. And he's a tough guy. That allows us to play him inside and outside. He's not a big guy (5-foot-10) but at 190 pounds, he's very stout. He can play inside and outside because he can handle the blocking stuff well with how strong he is. We're going to have him plugged in all over the field, and he gives a really dynamic factor.
As for Robbie, it's hard to come in and play as a true freshman. I probably should have redshirted Robbie because he didn't get the experience that he probably needed. He got to play in some big games, but he hurt his ankle early against West Virginia, then again against Kansas, and was out the latter part of the year. He gained 10 pounds in the fall, changed his body in the last two months and looks tremendous. He's going to have an unbelievable spring, and I can't wait for the fall for him. He's about as natural as it gets.
[+] Enlarge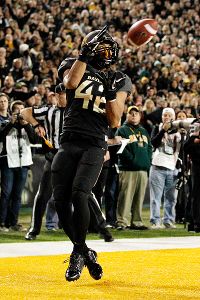 Tim Heitman/USA TODAY SportsLevi Norwood's size and ability to get open makes him a lethal weapon in Baylor's high-powered offense.
How would you characterize Clay Fuller's role on this team? Seems like he's a reliable target for you.
Briles:
That's Clay. That's what we call him. If it's third down or we're in the red zone, you throw it up to him, and he'll make the catch for you. He runs really well, and he's reliable. Add in
Levi Norwood
, who's in the same mold, and you're playing two big guys inside who are long, rangy, block well, catch the football well, run well. They do a tremendous job for us. Both do a great job on special teams for us, too.
With so many options at receiver, seems like you've got a good problem to have, right?
Briles:
Yeah it is. One guy we haven't talked about,
Jonathon Lee
, came on at the end of the year. I expect him to have a good year, too. We've done a good job recruiting as a staff. And playing wide receiver at Baylor is a pretty good deal. Wide receivers in this league have had success. We've led the country in total offense, we chuck the ball around, play in space. We have great uniforms, we're going to be playing in a great stadium. It's a pretty good gig playing wide receiver for us.
This season is going to have a different feel for you guys. As the defending Big 12 champs, you're going to have a target on your backs. How will you guys adjust?
Briles:
There's no doubt there's going to be a target on our backs, but we've always had a chip on our shoulder the way we play. We're not going to change our mindset. Our guys play fearless, physical and fast. People will be gunning for us, but we'll be ready for the task. We have a great team, and we're looking forward to defending our Big 12 championship.
What is the most valuable thing you've learned about being a coach from your dad?
Briles:
Treating people right. The way he treats people on a daily basis is one reason why he's been so successful. The humility, the way he cares for people, he truly wants people to be successful. He makes people around him feel good, and he gets the best out of people. That's a great trait that he has.
There was a lot of talk leading up to the bowl game about him possibly taking a job elsewhere. How did you guys handle that behind the scenes, and what was it like with all that around you?
Briles:
To be honest with you, it never came up inside this office or practice field with our players. People say stuff, put stuff out there. No telling what's true and not true. But if other people are coming after your head coach, then you're doing something right. But I think Baylor University understands the coach we have here, and weren't going to let him go anywhere. And Art Briles understands how much he loves Baylor, and doesn't want to go anywhere. It's a great marriage, and we're looking forward to being here a long time.
What's the one thing about your dad that people don't know about him?
Briles:
Everyone knows he's competitive. But if he sends you a text message to play golf at 11:30 in the morning, you better understand you're getting into a war. He's not going out there to enjoy the scenery. He's going out there to kick someone's [butt]. Most people don't know that. But it better be understood by the people getting into that situation.
December, 31, 2013
12/31/13
10:00
AM CT
A few years ago, Kendal Briles sent Facebook friend requests to prospective recruits knowing that expressing Baylor's interest might be a futile practice.
Plenty of those requests were denied. No, thank you. Not playing at Baylor.
"Now," Briles says proudly, "we're making some moves."
The Baylor receivers coach has a much easier time selling what the Bears have to offer these days. Kids want to play in this high-tempo offense. They're the ones befriending him now. The reason why is obvious.
[+] Enlarge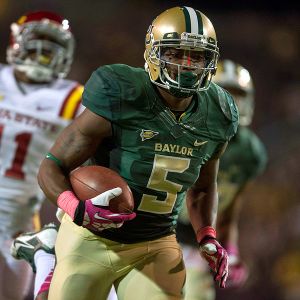 Jerome Miron/USA TODAY SportsAntwan Goodley and his Baylor teammates are picking up where their wide receiver predecessors left off.
Baylor is becoming the new Wide Receiver U.
Sorry, Tennessee. No offense, USC. But since arriving in Waco, Texas, in 2008, Art Briles has quickly built arguably the premier receiver factory in college football. The proof is all over, from his former players to current Bears to the next ones up.
What Briles' son is selling now is tangible proof that Baylor can turn receivers into stars. Just look at Kendall Wright, the Tennessee Titans slot man who surpassed 1,000 yards in his second season. Former Baylor teammate Terrance Williams finished third among rookies in receiving for the Dallas Cowboys.
And how about Josh Gordon? The former Bear led the NFL in receiving with 1,646 yards this season. You bet Briles and his son are throwing their names around these days when recruiting.
Baylor replaced those three with one of the top receiving duos in the country in All-Big 12 wideouts
Antwan Goodley
and
Tevin Reese
and one of the conference's best slot receivers in
Levi Norwood
. They have underclassmen
Corey Coleman
,
Robbie Rhodes
and
Jay Lee
on the way.
And coming soon, Baylor has three of the best wide receiver prospects in Texas in ESPN 300 verbal commits
K.D. Cannon
,
Davion Hall
and
Ishmael Zamora
. The surprisingly rich are about to get richer.
"There's no doubt you've got guys who are proven in the system and now proven on the next level," Kendal Briles said. "If you're a 16-, 17-, 18-year-old kid in high school and you're looking at where to play in college and you're looking at the things we're doing with throwing the football, it's a pretty good deal. You've got to take a pretty heavy look at us."
Art Briles' first receivers coach at Baylor, Dino Babers, just landed the Bowling Green head-coaching job this month. Briles' son has been on the staff from the start and now coordinates Baylor's passing game. He's had plenty of talent to work with in this gig.
This season, Goodley became the third consecutive Bear to lead the Big 12 in receiving. He insists his 1,319-yard, 13-touchdown breakout season wouldn't have been possible without his predecessors.
"I just knew you better show up to work every day, because those guys work hard every day," Goodley said. "They play with a passion and love being out there. They taught me a lot and built me into the receiver I am today."
In Wright, Williams and Reese, Baylor has three of the six most prolific receivers in the Big 12 since 2008. They all still send text messages to each other on a daily basis. Their position group is becoming a fraternity.
Gordon had the best hands of the bunch. Reese indisputably was the fastest. Williams was the superior route-runner. Goodley, at 222 pounds, might be the strongest. And Baylor cornerbacks say Wright was the most impossible to cover.
One thing nearly all of them had in common: They were not coveted recruits.
Goodley was a three-star prospect. Reese was a two-star recruit who weighed 138 pounds in high school. Gordon was ranked No. 128 among receiver prospects by ESPN. Only Wright was a member of the ESPN 150, but as a quarterback who'd never played receiver.
"We've been overlooked a little bit, but we like that," Goodley said. "We show guys what we can do. You don't have to be a five-star athlete to be a great receiver."
Baylor's approach to evaluating and recruiting receivers is no different than anyone else's: Get them in camp and see what they can do. Hitting on the trio of Wright, Williams and Lanear Sampson in the 2008 class gave Briles precisely the kind of weapons Robert Griffin III needed. Baylor loaded up on speed and more speed.
"Track speed, football speed, it's just speed, period," said Wright, who finished with 4,004 receiving yards at Baylor. "They just want somebody with speed. Everything else will come."
Kendal Briles would argue that Baylor's scheme is as easy as it gets for a receiver. Often times, Reese said he'll have three options on a route. A defender can't answer for all of them. With how wide the Bears split out their receivers, there's plenty of opportunity to get the ball in the open field.
What's remarkable is the fact that Baylor has built a top-five passing offense nationally while still running the ball on 55 percent of its snaps. Since Art Briles arrived, Baylor ranks No. 5 in the FBS in yards per catch at 13.7. Its best big-play threats, Williams and Reese, averaged a stunning 11.2 yards per target.
No wonder the big-name recruits are interested. Landing Rhodes, the No. 3 receiver in the class of 2013, was a coup. Getting Cannon and Hall on board was even better, and Zamora might have the most upside of the incoming three.
"Now you get some top-notch players in here," Kendal Briles said, "and it could be crazy what happens."
Only Reese is graduating, setting up Baylor to have a loaded group of wideouts in 2014. That will mean plenty of competition, and Reese frequently talks with Goodley and Norwood about becoming the vocal leaders when he's gone.
The way Reese sees it, there's a certain pay-it-forward mentality within the group. Wright took him under his wing and believed in him from the start.
He cares about maintaining what's quickly becoming a proud tradition.
"When we have wide receivers coming in, we're going to put it in their head: This is Wide Receiver University," he said. "You've got to play like it. Baylor produces the best wide receivers and the No. 1 offense in the nation."
And a few good pros, too. Wright is looking forward to seeing his successors join him at the next level soon. Together, they're planning to take over the NFL.
"That's what we plan to do, man," Goodley said. "They don't call us Wide Receiver U for nothing."
May, 23, 2013
5/23/13
1:00
PM CT
The Big 12's receiver tradition has been unbelievable over the course of the past few years. The NFL draft drained much of it last season, and the result is one of the least heralded corps we've seen conference-wide in a while.
Still, this is the Big 12, and just like the quarterbacks, receivers will emerge. Six players in the Big 12 topped 1,000 yards last season, including two teams (West Virginia, Texas Tech) who had two each. Back in 2011, just four players did it.
Here's who I'm picking to do it in 2013:
1. Josh Stewart, WR, Oklahoma State:
Stewart is the Big 12's leading returning receiver with 1,210 yards last season, and he did that with three different quarterbacks throwing him the ball. Barring injury, it's likely to just be
Clint Chelf
this season. Stewart still has a ways to prove himself as a truly elite receiver on par with some of the greats we've seen in the Big 12, but he's got a great shot to lead the Big 12 in 2013.
2. Eric Ward, WR, Texas Tech:
Ward joined Stewart as the only other returning 1,000-yard receiver, and in a fast-paced offense under Kliff Kingsbury and a promising young quarterback in
Michael Brewer
, he's in position to to do it again. Ward's been really consistent throughout his career, and uses his body well with decent speed and good hands.
3. Tevin Reese, WR, Baylor:
Reese has a case as the Big 12's fastest player, and has a lot of experience as a complementary piece of a high-powered offense. He's going to need to be a more integral piece of the Bears' offense this year, which should again be racking up points and yards by the bunches. His experience pushes him over the 1,000-yard mark.
4. Brandon Carter, WR, TCU:
TCU didn't have a 1,000-yard receiver last year, but much of that was because of
Trevone Boykin
's struggles with accuracy.
Casey Pachall
is back, and he's likely to regain his status as the Frogs' starter. He makes prudent decisions, has a big arm and puts the ball where it needs to go. With no Josh Boyce or Skye Dawson on the roster, Carter's ready to be the featured receiver in the offense.
5. Mike Davis, WR, Texas:
I went back and forth here. It seems like
Jaxon Shipley
was at his most productive when
Case McCoy
was under center, and
David Ash
's confidence and competence throwing the ball downfield was huge for Davis' numbers. Both players should be even better this year. Davis should lead the Horns in receiving as a senior with a big finish to a somewhat up-and-down career.
6. Jalen Saunders, WR, Oklahoma:
Saunders is reliable and is a dark horse to lead the Big 12 in receiving. After becoming eligible in the middle of 2012, he was uncoverable at times for the Sooners. The Fresno State transfer had five games with at least seven catches last season, including 15 for 181 yards in a loss to Notre Dame. He finished the regular season with three consecutive 100-yard games.
Just missed:
Jace Amaro
, TE, Texas Tech;
Jay Lee
, WR, Baylor; Jaxon Shipley, WR, Texas
May, 1, 2013
5/01/13
11:15
AM CT
2012 record:
8-5
2012 Big 12 record:
4-5
Returning starters
: Offense: 6; defense: 7; kicker/punter: 1

Top returners:
OL
Cyril Richardson
, RB
Lache Seastrunk
, S
Ahmad Dixon
, WR
Tevin Reese
, LB
Eddie Lackey
, DE
Chris McAllister
, LB
Bryce Hager
, K
Aaron Jones
Key losses:
WR
Terrance Williams
, QB
Nick Florence
, WR
Lanear Sampson
, S
Mike Hicks
, C
Ivory Wade
, DT Gary Mason Jr.
2012 statistical leaders (*returners)
Passing:
Nick Florence (4,309 yards)
Rushing:
Lache Seastrunk* (1,012 yards)
Receiving:
Terrance Williams (1,832 yards)
Tackles:
Bryce Hager* (124)
Sacks:
Chris McAllister* (6)
Interceptions:
Eddie Lackey* (4)
Spring answers:
1. Bryce is the guy.
It was going to take a lot for
Bryce Petty
to lose his starting spot, but he looked like a guy who suited up for his fourth spring this year and cemented his status as the heir apparent to a crazy-good quarterback tradition under Art Briles. He'll follow Robert Griffin III and Florence, who both set school records for passing yards.
2. Defense changes its identity.
The Bears didn't have a ton of speed in the secondary last season, and as a result, relied heavily on zone and didn't play a lot of tight coverage. To start fixing the problem, Dixon moved back to traditional safety, and as the defense's most physically skilled talent, that was a wise decision. Baylor wants to play more man and play tighter this year, and we'll see if it pays off in the fall.
3. Offense finds its playmakers.
Williams is gone and so is Sampson, two of the team's top three receivers. Reese returns, but
Antwan Goodley
and
Jay Lee
emerged to win starting spots this spring, and both look like big-time targets for one of college football's best offenses. Count on those guys and
Clay Fuller
to keep the tradition going.
Fall questions
1. Can the defense prove itself?
The Bears were definitely one of the best defenses in the Big 12 over the last month of the season. The same unit, however, was also a big reason why Baylor limped to an 0-5 start in conference 12 play before ripping off four wins to end the season. The defensive line should be improved and young talents like
Javonte Magee
and
Shawn Oakman
could make names for themselves this fall.
2. Is the offensive line deep enough?
Baylor's history under Briles at this position makes me pretty confident, and the Bears have a solid starting five. But losing
Troy Baker
this spring is a big knock, and the Bears only had 10 healthy offensive linemen this spring. Come fall, more injuries could force the Bears to force inexperienced players into the rotation. This was probably the biggest concern for Briles all spring.
3. Just how good is Petty?
He looks good for now, and was productive and impressive during the spring. That's also the spring. RG3 and Florence broke school records for passing yards in consecutive seasons, though, so the bar is sky-high. There's every reason to believe in Petty, but expectations are high and reaching them won't be easy. The good news is he has a huge talent in Seastrunk and a solid receiving corps around him to support his efforts.
March, 25, 2013
3/25/13
11:15
AM CT
Baylor coach Art Briles' track record gives any bystander reason to have faith that despite losing talented receivers like
Lanear Sampson
and
Terrance Williams
, the Bears will find others on their roster to fill the void.
If Saturday's scrimmage is any indication, Briles is getting ready to reward that faith.

Quarterback
Bryce Petty
, the likely heir to Robert Griffin III and
Nick Florence
's throne -- both set the school record for passing yards in consecutive seasons -- completed 22 of 32 passes for 326 yards and a pair of touchdowns with an interception.
He's not officially the starter, and
Seth Russell
completed 20 of 29 passes for 220 yards.
Still, a pair of receivers had strong days, and the safe bet is you haven't heard of either of them. Sophomore
Jay Lee
had seven grabs for 111 yards, highlighted by a 50-yard score from Petty.
"It kind of translates from the way he's been working out," Briles
told reporters
. "He's been exceptional in workouts, exceptional all winter in the weight room in strength and conditioning, and he was exceptional today. It just shows that if you do things right for a long time, pretty soon it pays off for you."
Lee didn't have a catch last season and redshirted in 2011, and
Brandon Brown
is still looking for his first career catch, too. The former minor league baseball player is a walk-on but caught a game-high eight balls for 116 yards.
Running back
Lache Seastrunk
broke loose for a 28-yard touchdown run but finished with just 24 yards on six carries.
Ultimately, you've got to be pleased with Petty's progress, and his completion percentage and production have to be encouraging moving forward.
"Every time I get out here, my confidence is growing," Petty told reporters. "Every day is something new, something to get better at, something to grow on. I'm starting from the bottom and trying to work my way up."
Penn State transfer
Shawn Oakman
, a 6-foot-8, 250-pound sophomore, had two sacks to lead all defenders.
The offense gave up eight sacks, which could mean one of two things: The quarterbacks don't quite feel comfortable making decisions quickly enough just yet, or the pass rush is improving. I'm betting it's a little bit of both, but there's only so much stock you can put in a spring scrimmage.
Earlier in the week, the Bears debuted some pretty sharp-looking uniforms, too. I'm loving these. Here's a look:
I love everything about those, and I'm glad to finally see the terrible bear claw mark gone from the pants, replaced by a more tasteful, subtle bear paw on the shoulder.
Gotta love what's in store for Baylor next season.
March, 21, 2013
3/21/13
11:14
AM CT
It's hard not to wake up with a smile on your face on a day like today. Sure, I cover football, but the first two days of the NCAA tournament are two of the best of the year. In just a few hours, 16 college basketball games will tip off and we'll do the same thing again on Friday.
To celebrate, we'll have a little theoretical bracket competition in the Big 12 with next season's teams.
Here's how I'm seeding the league's 10 teams:
Oklahoma State
TCU
Texas
Oklahoma
Baylor
Texas Tech
Kansas State
West Virginia
Iowa State
Kansas
So, how would a 10-team bracket play out? Here's how I slot it. Feel free to provide your own conclusions in the comments. The Big 12, like this year's NCAA tournament, is wide open. Anything could happen, but assume that these games are played during this week. (Note: Players injured this spring will be included, as will early enrolling freshmen. Freshmen not on campus are not eligible for these games).
Play-in games (at Hutchinson Junior College in Hutchinson, Kansas):
No. 7 Kansas State vs. No. 10 Kansas:
KU's got a bit more experience on its side, but experience doesn't mean much in this latest iteration of the Sunflower Showdown. Bill Snyder gets the best of the Jayhawks on the kind of field he knows very, very well.
Kansas State 38, Kansas 20
No. 8 West Virginia vs. No. 9 Iowa State:
This game was too close for comfort in November, but Iowa State's Sam Richardson makes enough plays to outgun an inexperienced WVU offense and a still-learning defense. West Virginia goes with experience at quarterback in
Paul Millard
, but the timing is still a bit off.
Iowa State 31, West Virginia 30
FIRST ROUND (in the Alamodome in San Antonio, Texas)
No. 1 Oklahoma State vs. No. 7 Kansas State:
These two have had some classic battles over the past two years, but OSU quarterback
Clint Chelf
finishes without a turnover, and that gets the job done. If OSU hadn't thrown an interception against Kansas State in Manhattan last year, the Pokes might have pulled the upset. Cowboys running back
Jeremy Smith
goes off against Kansas State's new defensive line.
Oklahoma State 47, Kansas State 31
No. 2 TCU vs. No. 9 Iowa State:
Iowa State beat the heck out of TCU in Fort Worth last year, but that was just days after the Frogs lost quarterback
Casey Pachall
. Pachall is back, and so is running back
Waymon James
. Iowa State's green linebackers get bowled over by James' power.
TCU 21, Iowa State 13
No. 3 Texas vs. No. 6 Texas Tech:
Texas Tech is still searching for its offensive identity, and Texas defensive end
Jackson Jeffcoat
isn't all about giving the Red Raiders time to do it. The Red Raiders get off to a nice start, though Texas' running game seizes control in the second half. Tech's
Michael Brewer
hits
Jace Amaro
for a pair of long gains and finds
Eric Ward
for the game-winning touchdown in the final seconds. Sounds oddly familiar, no?
Texas Tech 31, Texas 27
No. 4 Oklahoma vs. No. 5 Baylor:
Oklahoma's quarterback gets off to a decent start, but Baylor's defense is still red-hot and Baylor's
Bryce Petty
outguns Oklahoma's
Blake Bell
in the debut for both quarterbacks. It's a breakout game for redshirt freshman Baylor receiver
Jay Lee
, too. The Sooners' young defense is caught off guard.
Baylor 41, Oklahoma 31
SEMIFINALS (at Reliant Stadium in Houston, Texas)
No. 1 Oklahoma State vs. No. 5 Baylor:
Baylor sprung the upset late in the season, and leads by double digits early in this one before Chelf rallies with a pair of touchdown passes to
Charlie Moore
and a third to Blake Jackson. The senior is trying to prove he deserves the job permanently, but OSU seals the game with a late score on the ground from
J.W. Walsh
in the short-yardage formation, overcoming 185 rushing yards from Baylor's
Lache Seastrunk
.
Oklahoma State 44, Baylor 31
No. 2 TCU vs. No. 6 Texas Tech:
Texas Tech's offense gets completely suffocated by TCU's defense, and defensive end
Devonte Fields
makes life tough for Tech's Brewer. Tech can't establish the running game to offset the rush, and TCU's cornerbacks lock down the Red Raiders' screen game, too. Ugly, ugly game to watch. For anyone but TCU fans, anyway.
TCU 20, Texas Tech 10
CHAMPIONSHIP (at Cowboys Stadium in Arlington, Texas)
No. 1 Oklahoma State vs. No. 2 TCU:
Are we allowed to have a Big 12 title game (and semifinals) without Texas or Oklahoma involved? The league's top two squads in my book survived a pair of games to reach the finals, and both teams are solid on both sides of the ball. Oklahoma State's offense is better. TCU's defense is better. Both teams' weaker units are still solid, though. At the end of the game, it's exactly what we wanted to see. Chelf, Smith and
Tracy Moore
going head to head with Fields and
Jason Verrett
for the Frogs. OSU has been there before and drives the length of the field before kicker
Bobby Stonebraker
proves Oklahoma State's edge in the special teams is the difference with a 45-yard, game-winning field goal.
Oklahoma State 31, TCU 28
Cue up One Shining Moment!