Dallas Colleges:

Jeff Banks
November, 14, 2013
11/14/13
1:15
PM CT
COLLEGE STATION, Texas — Even though Texas A&M sophomore running back and kickoff return specialist
Trey Williams
had a touchdown return nullified for a penalty, special teams coordinator Jeff Banks didn't rant to Williams about the miscue. He didn't have to.
[+] Enlarge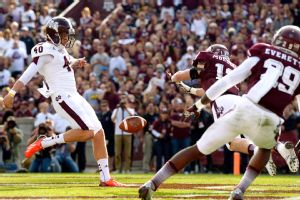 Thomas Campbell/USA TODAY SportsThe Aggies special teams unit, seen here blocking a punt against Mississippi State, has come up big in recent weeks.
"I told him 'I hate it for you because you took away what a great play you made. That's punishment enough. I don't need to yell at you,'" Banks recalled telling Williams.
Early in the fourth quarter of the Aggies' 51-41 win over Mississippi State last Saturday, Williams returned a kickoff 100 yards for a touchdown. As he approached the goal line, he kept in the air, diving in the end zone, but officials ruled it "unsportsmanlike conduct" as part of a new rule established in recent seasons. The fact that Williams began the act before the end zone meant the penalty would be enforced from that spot. The Aggies scored a few plays later and head coach Kevin Sumlin discussed the matter on the sideline with Williams shortly thereafter, but on Monday, Banks credited his return man anyway.
"I felt bad for Trey but yesterday, I rewarded him with an award [Monday] for having a [100]-yard return for a touchdown," Banks said. "I think he knows enough what happened. I'm sure he'll be on a 'Not Top 10,' or a 'C'mon Man!'"
Jokes and penalties aside, it was part of a solid special teams performance for Banks' group, something that turned out to be significant in Saturday's win. Throughout the season, the Aggies have had their ups and downs in the third phase of the game, but lately it appears they're steadily improving.
Banks noted in recent weeks that his kickoff return group was getting closer and closer to breaking free for a score. When it finally happened, it was the result of Williams' ability, blocking and coaching.
"This was a team that was pretty good at kickoff coverage, but at the same time they had done something different every week," Banks said. "And Trey Williams is phenomenal in improvisation and being able to make people miss in short space and get to the open field. So it was a combination of both of those things."
Because of the different looks Mississippi State showed every week in covering kickoffs, Banks chose to have his group block man-on-man rather than try to scheme something in particular to generate a return. It paid off.
Perhaps the most significant progress on special teams has come in the kicking game. After an inconsistent start to the season on field goals and point-after-touchdown kicks by placekicker
Taylor Bertolet
(which followed a rough freshman season), Banks made a change, going with walk-on
Josh Lambo
.
Since taking over, Lambo is 6-of-7 on field-goal attempts and 39-of-40 on PATs. Both misses were the result of miscues on holds. His success includes a game-winning 33-yard field goal as time expired at Ole Miss on Oct. 12.
Bertolet still has a role in the kicking game, serving as the kickoff specialist. He's averaging 62.4 yards per kickoff and has 34 touchbacks to his credit.
"It's huge peace of mind, both on kickoff and the field-goal kicking situation, to know what we're getting every game and to know that they can do it at a high level," Banks said. "I think that's probably more of why I'm feeling so good now. Taylor Bertolet's kicking off really well, kicking to the corners when we need him to, kicking it out [of the end zone] when we need him to and then Lambo's kicking really well. He just hasn't had a lot of opportunities to kick field goals. ... I'm looking forward to him being a big factor in the next two weeks."
And in each of the past two weeks, the Aggies have also come up with a blocked punt. They started the UTEP game on Nov. 2 by blocking a punt on the Miners' first possession that turned into a safety. On Saturday against Mississippi State, they did it again ... and again ... got two points.
"They run several different protections, this last team, and we didn't know which one they would run, so we had to bring an overload type of a block that would block it versus every protection," Banks said. "We got lucky that they switched their protection completely and we wound up getting two guys free as opposed to one. There were some schematics involved with that."
The performance is certainly something that made Sumlin happy.
"I thought all in all, it was another really good performance by our special teams unit again," Sumlin said. "We blocked a punt and a field goal. We had a great kickoff return. All those things helped us win that football game. Across the board, we did some things that were really good, but I thought our special teams unit was exceptional."
October, 15, 2013
10/15/13
6:00
PM CT
COLLEGE STATION, Texas -- The scene was one
Josh Lambo
might never forget.
As his game-winning 33-yard field goal sailed between the uprights with triple zeroes on the clock and fell to the turf at Vaught-Hemingway Stadium in Oxford, Miss., Lambo ran toward the Texas A&M sideline and performed a soccer-style celebratory slide, an homage to his pre-A&M background.
[+] Enlarge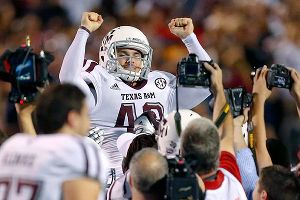 AP Photo/Rogelio V. SolisWalk-on kicker Josh Lambo was the Aggies' hero as he hit a 33-yard field goal to win the game vs. Ole Miss.
Aggies mauled him, screaming, yelling and jumping in joy as they reveled in the satisfaction of again escaping with a hard-fought
41-38 win over Ole Miss
. They lifted Lambo into the air and as the seconds passed, coaches and players came to Lambo to hug him, congratulate him, thank him.
Even
Johnny Manziel
, the Aggies' all-everything player and Heisman Trophy winner, approached the walk-on kicker. With his hand clutching the back of Lambo's head to bring him in close, Manziel shared more than a few private words into Lambo's left ear mere feet away from the goal posts that Lambo successfully split moments before.
It was a scene Lambo would have never pictured a couple years ago while playing goalkeeper for Major League Soccer squad FC Dallas.
"I could say I've had better [nights] but I'd probably be lying to you," Lambo said.
The journey to that moment is an unlikely one for the walk-on kicker. Before arriving in Aggieland in 2012, Lambo never put on football pads. He was a soccer player from Wisconsin and found his way to Texas through the 2008 MLS Super Draft, when FC Dallas selected him eighth overall in the first round.
Lambo was with the club through 2011. Before his final season, he was having a meal in a diner with his mother when she suggested he return to his home state and give college football a try. Lambo dismissed the idea initially.
"My mom said 'Come kick for the Badgers. Come back up to Madison,'" Lambo recalls. "I said 'No mom, there's no way I can kick. It's too boring, they don't do anything.'"
But throughout his last season with FC Dallas, he said the thought nagged at him. After his time with the club was up and he didn't get a new contract, he passed on other contract offers from other clubs and decided to give it a shot. He got in touch with former Wisconsin kicker Taylor Mehlhaff and asked if Mehlhaff could teach him how to placekick. Mehlhaff obliged and Lambo began training.
He walked on with the Aggies in 2012 and didn't see any on-field action but competed for a job during preseason camp prior to this season and became the backup to returning starter
Taylor Bertolet
. When Bertolet struggled early in the season on point-after-touchdown kick attempts, the staff turned to Lambo for that duty.
His first career attempt against SMU on Sept. 21 was unsuccessful as the result of a bobbled hold, but his next attempt went smoothly and his first field goal attempt that night, from 40 yards away, was also good.
Lambo has held on to field goal and PAT duties ever since, while Bertolet continues to handle kickoffs. But the transition Lambo had to go through to transition from goalkeeper on the soccer pitch to placekicker on the gridiron was a significant one.
"The biggest difference was definitely the pads and the helmet and having a snap and a hold," Lambo said. "Going toward a target where there's not a ball and then there's suddenly a ball appears and then you have to kick it, that took a little bit of time. I think my first couple of kicks with a snap and a hold here were pretty ugly last fall in 2012. But I kept on working at it and it paid off."
On Saturday, with the game tied at 38 and time ticking down, coach Kevin Sumlin knew where his offense had to go in order to get within range for a game-winning kick by Lambo. Special teams coordinator Jeff Banks told Sumlin prior to the game that the 33-yard line would be the goal, which would give Lambo a 50-yard attempt.
"I was not quite comfortable with the 33-yard line," Sumlin said with a laugh. "So we kept running the ball."
The Aggies eventually reached the 15, setting Lambo up for a 33-yard attempt. He drilled it, said after the game it was his "best kick" of the night and carved himself out a small spot in Aggie lore.
"I'm just really appreciative of the coaching staff giving me a chance to prove my worth and show them what I can do," Lambo said. "Unfortunately the circumstances came to where I got to go in [earlier in the season], but you know, whenever I got my chance, I knew I was going to take it and I just praise God that I've been able to utilize my opportunities."
September, 26, 2013
9/26/13
1:00
PM CT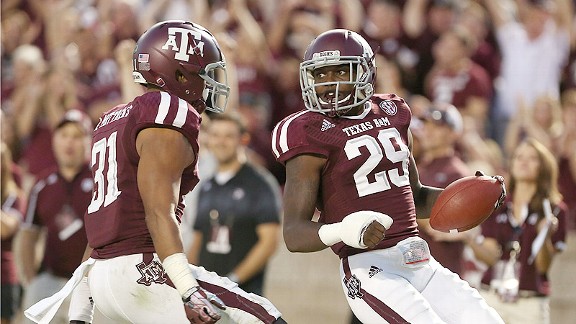 Thomas B. Shea/Getty ImagesTexas A&M's willingness to use starters such as safety Deshazor Everett (right) on special teams has allowed the Aggies to have one of the best units in the SEC.
COLLEGE STATION, Texas — When Alabama receiver and return specialist
Christion Jones
carried the ball out of the end zone on the Crimson Tide's first kickoff return against Texas A&M on Sept. 14, he was quickly faced with a host of defenders.
The first Aggie to make contact was cornerback
Tramain Jacobs
. Defensive back
Toney Hurd Jr
. followed him by wrapping up Jones for a tackle. If Hurd would have been unable to wrap him up, cornerback
Deshazor Everett
was nearby, and so was linebacker
Steven Jenkins
.
The common thread among the above names? They're all either regular starters or players who have started before for the Aggies.
Special teams -- kickoff and punt coverage units in particular -- are a place where many non-starters find their homes, and Texas A&M is no different. But the Aggies' coaching staff is also liberal about using its best players when the need arises.
The Alabama game was a prime example. With the threat of a return man such as Jones, who returned a punt and a kickoff for a touchdown in the Crimson Tide's season-opening win against Virginia Tech, Texas A&M special teams coordinator Jeff Banks wanted to ensure he had the best players available to prevent Jones from making a game-breaking play. The Aggies got the desired result, as Jones finished with 83 yards on four kickoff returns and just 5 yards on his one punt return.
"We're
always
going to use the best players," Banks said. "Coach Sumlin's an advocate of 'Jeff, you just tell me who you need and who you want and that's how we're going to do things.'"
Banks said offensive coordinator Clarence McKinney, defensive coordinator Mark Snyder or any of the other A&M assistants also have no qualms about the policy. Since he has been at Texas A&M, Banks said not one coach has said a word about who he can use or not use on special teams, whether it's in the return game or punt or kick coverage.
That luxury is something Banks, who is in his first year in Aggieland, hasn't always had in his career as a special teams coach.
"Usually you get a deal where it's 'Hey, take that guy off of there,' or 'Hey, don't use that guy,'" Banks said. "And here's my deal with that: That's fine. Because I try to be as flexible as I can because we're dealing with 60-80 people and players that have to go in and out, seniors, veterans, juniors, sophomores, freshmen, true freshmen, you've got to coach what you can get and get the best on the field.
"But you also have to be careful because if you practice them in training camp for 30 days and then you get them in the first week and someone says 'Oh no, he can't play on that many special teams,' now you're playing a guy with no experience.'"
So the planning has to begin in August when preseason training camp starts. Banks tries to get a feel for which newcomers have the size, speed or physicality to contribute, and the first week of camp is largely spent trying out numerous players in different roles to get a feel for who he can rely on. The rest of training camp is about getting those that are going to make his two-deep on special teams as many repetitions as possible so that he's comfortable with who is out there come the start of the season.
Playing offensive and defensive starters is nothing new for a Sumlin-coached team. It was something done regularly at Houston when he was there. One of the Cougars' special teams aces in their 12-1 season in 2011 was running back Michael Hayes, who played a major role in the Cougars' backfield, but could regularly be seen making tackles in punt coverage.
That attitude has carried over to Texas A&M. McKinney, who also coaches running backs, made it clear to his position group in the spring of 2012 that they would be expected to contribute on special teams. Players accepted the challenge, and
Ben Malena
and
Trey Williams
became key players on special teams.
Malena eventually emerged as the starting running back for the Aggies last season and remains that this season but can be seen on the kickoff return team making blocks and last season spent time covering kicks and punts at times, too.
"You have to realize that special teams wins and loses games," Malena said. "You need the best players out there, whether you're a starter or just a special teams guy. If you're the best player at that position, we need you on the field to help us win. I just took that to heart and will do anything for my team to win."
The example set by players with that attitude has an effect on the younger players, many of whom have a role on special teams. Many true freshmen such as
Darian Claiborne
-- who started at linebacker last week -- linebacker
Shaan Washington
, safety
Jonathan Wiggins
and cornerbacks Alex Sezer and
Tavares Garner
are already playing key roles on coverage units, and the example set by their elders is important.
"It's huge," Banks said. "They see Ben in practice, they see Jenkins in practice, they see those guys doing special teams drills at a high level.
Howard Matthews
,
De'Vante Harris
, Floyd Raven when he was healthy. That's huge. That's bigger than anything I can say. When they go out there and they give us great effort as a staff, that sells it and now you get the buy-in of the younger guys."
Banks said it helps increase the desire for the younger players to contribute, particularly in high-profile games.
"You see the Alabama game and go 'Man, I want to be out there,'" Banks said. "Tavares Garner's a prime example. He gets substituted in for Deshazor Everett and he's like 'Man, I know Deshazor's a veteran guy and he's going to make the play, but I want to be in there.' Then he gets in there and makes a tackle."
There's a balance to be struck, however. Playing starters constantly on coverage teams can fatigue them, especially if they're playing a large amount of snaps on offense or defense. So Banks is conscious to employ the personnel wisely.
"You can't wear a guy out because a Deshazor Everett or a Toney Hurd is so good at everything, you can't overuse them and start them on four special teams and expect them to play 60-80 snaps on defense," Banks said. "There's kind of a responsibility on my end, because I've gotten the leeway from the head football coach and the coordinators to use whoever we want. I think it's really important that you don't take advantage of that deal either."
Complementing players such as
Sam Moeller
, who has been the Aggies' special teams player of the week twice already this season and doesn't have a major role on defense, with some of these starters are what help the Aggies find a mix that Banks and Sumlin hope lead to one them having one of the best special teams units in the SEC.
"With Coach Sumlin being as awesome as he is about letting us use whoever we need to in order to be the No. 1 team, special teams-wise, in the conference, I think we've got a good mix of him and I of making sure we have the right guys on there, but also give an opportunity to guys who maybe aren't starting on offense or defense," Banks said.