Dallas Colleges:

Jeff Lebby
October, 9, 2013
10/09/13
8:51
PM CT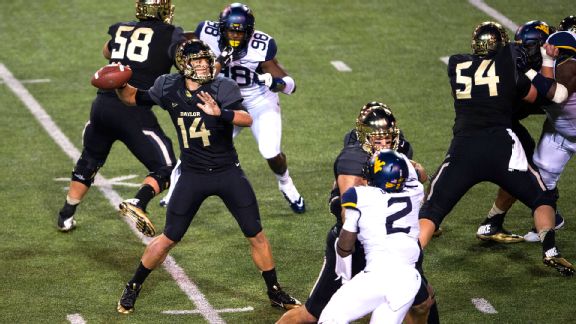 Jerome Miron/USA TODAY SportsPhilip Montgomery's Baylor offense has been something to behold, as quarterback Bryce Petty and company are averaging a mind-boggling 70.5 points and 779.5 yards per game.
Philip Montgomery doesn't do many interviews.
It's not a matter of the Baylor offensive coordinator trying to avoid them; he just leaves that responsibility to Art Briles. Makes things easy for him, he says, and they don't matter much.
"I think that's definitely his style," former Baylor quarterback Nick Florence said. "He likes being in the background, doing his part and running the machine."

Philip Montgomery
He doesn't seek the fame, Florence said, because Montgomery gets enough satisfaction out of calling games and coaching players. He's simple like that.
While fame has quickly found Dana Holgorsen, Gus Malzahn, Chad Morris and so many other of college football's spread offense gurus, Montgomery remains a bit of a mystery man nationally. Maybe that's what he prefers.
"I don't know how he hasn't gotten attention nationally," Florence said. "But at the same time, I know he doesn't like it. He's definitely deserving."
Perhaps he's just busy plotting what comes next for perhaps the best offense in college football. For all the reverence Briles receives, Montgomery is the one calling the plays, the guy who decides when it's time for
Lache Seastrunk
to carve up a defense and when the time is right for
Bryce Petty
to go deep to
Antwan Goodley
or
Tevin Reese
.
He will take little credit and won't accept much praise for this offense. Most offensive coordinators -- at any level of football -- can only dream of achieving what Baylor did last week against West Virginia: 73 points and a Big 12-record 872 yards.
Here's how Montgomery summed it up: Line played well. Skill guys played well. Petty played well. Running backs played well. Went in with a good plan. Good things happened.
"Those guys on the field, they make plays," Montgomery said.
He's staying humble, and there's no doubt the greatest influence on how Montgomery perceives offensive football has been Briles. This is the 15th season they've spent coaching together, starting in 1996 when Montgomery joined Briles' coaching staff at Stephenville (Texas) High School.
"I think a lot of that starts with Coach," Montgomery said. "Even when we were back in Stephenville, we were kind of progressive offensively and started spreading it out before a lot of people did. All of that has really got to lay at his feet."
But don't underestimate the third member of this coaching trio. Randy Clements has been coaching with Montgomery for 17 seasons and first began working with Briles at Stephenville in 1990. He's tasked with overseeing the Baylor run game and offensive line.
Perhaps Montgomery doesn't take the credit simply because this has always been a team effort, with all three serving as the idea men behind the evolution of their scheme.
"It's a special bond that we have," Montgomery said. "When you've worked with those guys for as long as we've worked together, you kind of have a good feel of what you're doing in that room when it comes to preparation and starting a game plan. There's not much that can replace that type of camaraderie and the unit that's formed there."
Montgomery coached Baylor receivers coach Kendal Briles, Art's son, at Stephenville and at the University of Houston. Running backs coach Jeff Lebby is married to Art's daughter and has been on the staff since 2008.
"When you start putting all those factors together, it's a tight unit that is pretty special in college football," Montgomery said.
When Briles landed the head job at Houston in 2003, Montgomery and Clements were two of his first hires. They turned the Cougars offense into one of the nation's 10 best in passing yards, total yards and explosive plays during their tenure.
And they've done it again at Baylor, once again ranking among the top 10 in those same categories since 2008 while averaging a run-pass balance of 55-45.
Having elite quarterbacks has certainly helped. Three of Montgomery's pupils -- Robert Griffin III, Case Keenum and Kevin Kolb -- are in the NFL. Florence followed Griffin and was the Big 12's leading passer in 2012. Of course, he'll take no credit.
"The good Lord has blessed us with good guys," Montgomery said. "We've done a decent job of helping them and making sure we're giving them a chance to make plays and grow within what we do offensively.
Florence believes it's Montgomery's coaching style that has helped beget so much success. He's a player's coach, a hands-on mentor who doesn't chew out his quarterbacks. It's about being straightforward, honest and open. Plus, he's pretty good at calling plays.
"I think he's got good schemes, and him and Coach Briles together is dynamite," Florence said. "Coach Montgomery is an outstanding playcaller. He's always looking out for the QB and takes shots when it's good to take shots. He has great balance with playcalling, and you can see that on the field. It's not a science -- he has a great feel for the game."
[+] Enlarge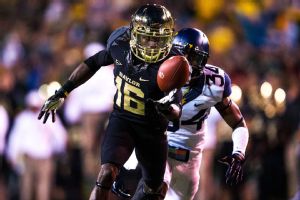 Jerome Miron/USA TODAY SportsTevin Reese set a Baylor record with 21 career touchdowns of 40-plus yards.
Good luck engaging Montgomery in a discussion on what makes this offense so successful, or why the Baylor spread is unlike most offensive attacks in college football. He's not sharing the recipe.
"Well, there's some things you talk about, and then there's some things you don't," he said with a chuckle.
He's proud of how far his offense has come and the product the Bears are putting on the field today. Montgomery was the lead recruiter for Petty and Goodley, the two breakout stars of this year's Baylor offense. He knew how good they could eventually become, but this is just the start.
Baylor running back
Glasco Martin
said Saturday this is the best and most dangerous BU offense he's been a part of in four seasons. Montgomery isn't ready to go that far.
"As far as the best one, you know, it's still real early in this season," Montgomery said. "So as the paint keeps getting painted, we'll see what it comes out to.
"The offense we had in 2011 with Robert was pretty dang special. Last year with Nick, it was pretty dang special. There are some standards that have been set that those guys are striving to make sure we try to exceed those every year."
If they pull that off, the nation just might start figuring out who Montgomery is -- whether he likes it or not.
March, 6, 2012
3/06/12
10:57
AM CT
Baylor's next in line to kick off spring practice, and the party gets started in Waco this afternoon. Here's a closer look on what to watch for.

Schedule:
The first of Baylor's 15 practices is today, leading up to the annual spring game on April 14. Baylor's spring game is a controlled scrimmage at the practice field. Practices are open to the media.
What's new:
This is the first spring since 2008 that
Robert Griffin III
won't be on the field at Waco, and the first since 2009 that he's not in the spring as the starter. It'll be a little jarring without his No. 10 jersey on the field making plays, but the time is now for his understudy for much of that time,
Nick Florence
.
New faces:
Special teams/wide receivers coach Dino Babers took the head coaching job at Eastern Illinois, and he was replaced from within. Coach Art Briles promoted assistant Jeff Lebby to a staff position. Baylor is also welcoming two new scholarship players: juco signee Eddie Lackey, a linebacker, and
2012 Recruiting All-Name team MVP
Lynx Hawthorne, an early enrolling freshman athlete.
Big shoes to fill:
Terrance Williams
. The senior might have had the quietest 59-catch, 957-yard, 11-touchdown season of all time last year. He's supremely talented, but
Kendall Wright
led the Big 12 with 1,662 yards and leaves after leading the Bears in receiving for the past four seasons. Williams made some big catches in 2011, including the game-winner over Oklahoma that will live on as the defining moment of the Bears' dream year that ended with the first Heisman Trophy in school history. Williams has to show he can handle being the No. 1 target for a new quarterback.
Question mark
: Will the defense progress? It should in Year 2 under coordinator Phil Bennett, who Baylor aggressively pursued after the 2010 season. The Bears were one of the league's worst defenses in 2011, but had the best player in the country on offense the pick up the slack. Florence is good. He's not the best player in the country. Will the payoff for getting Bennett begin to show up this spring? It was rough last year from what I saw on my trip to Waco. Leading tackler
Elliot Coffey
and DT
Nicolas Jean-Baptiste
are gone, but the team returns nine of its top 10 tacklers.
Breaking out:
Running back
Lache Seastrunk
. The Oregon transfer tried to become eligible for 2011, but didn't do so after joining the team just before the season. The Bears didn't need him anyway;
Terrance Ganaway
rumbled to a Big 12 rushing title. Ganaway's gone now, though, and Seastrunk will try and win the job this spring alongside promising, more experienced backs in
Glasco Martin
and
Jarred Salubi
.
All eyes on:
Florence. It's pretty obvious. Florence hasn't been handed the job just yet.
Bryce Petty
is behind him on the depth chart and loaded with potential, too. Florence, though, played most of the 2009 season and looked good in relief of RG3 this year, leading the Bears to a win over Texas Tech on Thanksgiving weekend. I'm betting Florence is above average this year, and he'll have arguably the Big 12's best receiving corps (with apologies to West Virginia), a good offensive line and a great group of backs. In Briles' system, though, the quarterback makes it all go.