Dallas Colleges:

Jeremy Beal
August, 3, 2011
8/03/11
11:00
AM CT
Oklahoma's Ronnell Lewis started just four games last season, but last month, showed up as the media's All-Big 12 first-team pick at defensive end.

He made just 22 tackles and had one sack, but Lewis' opportunity is coming fast.
"We had guys in front of him and it was hard, because that standup position that he plays, Jeremy [Beal] played, and Jeremy played well," said Oklahoma linebacker Travis Lewis. "You can only get him in so much, because you're taking an All-American off the field."
Beal is gone now, though, as is Pryce Macon, who took on a starring role in last season's Big 12 title game, making five tackles for loss, forcing two fumbles and making three sacks. Lewis suffered a scary injury in the Fiesta Bowl against UConn that forced him to be carted off the field, but despite spending the night in a hospital before returning home, he's back for the fall.
Now, he's set to start opposite Frank Alexander as the Sooners' second defensive end, with a chance to start the play from a standing position, a more natural fit for the former linebacker who starred in eight-man football back in his hometown of Dewar, Oklahoma.
"He just has to play and get on the field," Travis Lewis said. "He's a guy that can make plays. He's a physical specimen. He's strong, he's powerful, he's fast. You just need to get him out there in space and make plays."
With the exodus of talent at Oklahoma, now is his chance. But with one talent's exodus comes another's rise, especially at programs like Oklahoma, which annually fields top 10 recruiting classes.
"This year, it's all him," Travis Lewis said. "He can go out there and get it."
May, 2, 2011
5/02/11
9:00
AM CT
The NFL draft has come and gone, and I hope you're all prepared for no more NFL anything for awhile. I know I'm not.
Anyway, here's how the Big 12 shook out over the weekend, with a few thoughts to follow.
First round (8)
Second round (2)
Third round (2)
Fourth round (6)
Fifth round (3)
Sixth round (1)
Seventh round (8)
No. 216: Mikail Baker, CB, Baylor (St. Louis)

No. 227: Scotty McKnight, WR, Colorado (New York Jets)

No. 229: Jonathan Nelson, DB, Oklahoma (St. Louis)

No. 232: Baron Batch, RB, Texas Tech (Pittsburgh)

No. 234: Andrew Gachkar, LB, Missouri (San Diego)

No. 246: Jay Finley, RB, Baylor (Cincinnati)

No. 247: Jeremy Beal, DE, Oklahoma (Denver)

No. 248: Eric Hagg, S, Nebraska (Cleveland)
Here's how the Big 12 teams ranked in terms of total draftees:
1. Nebraska
- 7
2. Baylor
- 4
2. Colorado
- 4
2. Oklahoma
- 4
2. Texas -
4
6. Missouri
- 3
7. Kansas State
-1
7. Oklahoma State
- 1
7. Texas A&M
- 1
7. Texas Tech
- 1
11. Iowa State
- 0
11. Kansas
- 0
And the major conferences (counting where players
actually
played):
SEC
- 38
Pac-12
- 33
Big 12
- 30
Big Ten
- 29
ACC
- 35
Big East
- 22
Texas A&M had just one player drafted, but the Aggies will have plenty next year, including a handful of possible first-rounders. Cyrus Gray, Ryan Tannehill and Jeff Fuller could all go very early in 2012, depending on what happens between now and then.

[+] Enlarge

Matthew Emmons/US PresswireOklahoma defensive end Jeremy Beal was drafted in the seventh round by Denver.

Interesting that Miller went 245 selections before the Big 12's Defensive Player of the Year, according to the media, Jeremy Beal. Also an interesting coincidence? The same team drafted both. I do think Beal will have a productive NFL career, and there's no denying what he did at Oklahoma, but the measurables were never quite there for Beal. What's not measurable? How difficult he is to block. That said, Miller was my vote for the Big 12's Defensive Player of the Year.

Good to see some hard-working, perhaps under-respected guys get drafted. This was an important year for that, considering those left over won't be able to get into NFL minicamps until the lockout ends and won't be able to do anything to further their NFL careers besides work out on their own. I'll have a post later today on some of those snubs. There's no guarantee that late-drafted guys like Baron Batch, Scotty McKnight, Jay Finley or Eric Hagg will catch on in the the pros, but I'd be willing to guarantee they'll do everything in their power to maximize what opportunities they get.

One of the most interesting selections? Mikail Baker. He wasn't invited to the combine, and played just one full season on defense at Baylor after working as a kick returner and a cornerback in 2009 before a season-ending knee injury. You don't see that kind of impressive athleticism at Baylor traditionally.

Let the debate continue: Kendall Hunter vs. DeMarco Murray. Murray getting drafted 40-some spots earlier only intensified that discussion, if you ask me.

Also, what's more impressive from Art Briles? That Baylor had four picks, the most in school history since 1996? Or that despite those four picks, Baylor's returning an even better team than last season, when it ended a 16-year bowl drought?

Colorado's draft, meanwhile? Not exactly a ringing endorsement for Dan Hawkins' coaching job in Boulder.

Alex Henery didn't win the Lou Groza Award, but his fourth-round selection makes him the earliest kicker draft pick since 2006. Will that end the state of Nebraska's blood feud against respectable OSU kicker Dan Bailey, who did win the Lou Groza Award? I doubt it. (Save your emails. For the 100th time, I agree, Nebraska fans. Henery > Bailey.)

A few guys who went way lower than I thought they would. In order of my surprise level: Beal, Gabbert, Amukamara, Hagg, Hunter.

A few guys who went way higher than I thought, in the same order: Aldon Smith, Batch, Gachkar, Baker.
January, 28, 2011
1/28/11
9:00
AM CT
ESPN the Magazine had a fascinating feature
looking back at the past 25 No. 1 high school recruits
, where they are now and what the ranking meant to them. With apologies to Vince Young, there aren't a ton of Big 12 talents on the list, but there have been plenty of great recruits to come through the Big 12. We took a look on Thursday at
how the All-Big 12 team stacked up as recruits
, and you saw quite a mixed bag.
Well, it's the same for the recruits who came to campus with high rankings and high profiles. Going back to 2006, here's how every Big 12 commit from the ESPNU 150 turned out. We'll look at 2006 in this post before eventually reaching 2010 and the current class, 2011, by signing day.
2006
No. 6: DeMarco Murray, RB, Oklahoma.
Murray set school records for touchdowns (64) and all-purpose yards (6,498) as a Sooner. He's projected to be drafted on the first day of this year's NFL Draft.
No. 7: Sergio Kindle, OLB, Texas.
Kindle was a finalist for the Butkus and Hendricks Awards and was a two-time All-Big 12 performer with 176 career tackles. He was drafted by the Baltimore Ravens in the second round last of year's NFL Draft but missed his rookie season after fracturing his skull in a fall on the stairs at his home.
No. 13: Jevan Snead, QB, Texas.
Lost a quarterback battle to Colt McCoy following the 2005 season. Played sparingly as a freshman before transferring to Ole Miss. Went undrafted in 2010. Now plays for Arena League's Tampa Bay Storm.
No. 21: Gerald McCoy, DT, Oklahoma.
McCoy was a Lombardi finalist, a three-time All-Big 12 performer and two-time All-American who left Oklahoma after his junior season and was selected No. 3 overall by the Tampa Bay Buccaneers in the 2010 NFL Draft.
No. 22: Eddie Jones, DE, Texas.
Jones just finished his career at Texas with an All-Big 12 honorable mention year in 2010. Finished his career with 111 tackles and 13.5 sacks.
No. 34: J'Marcus Webb, OT, Texas.
Webb played one year at Texas before transferring to Navarro College and eventually West Texas A&M. He was drafted in the seventh round of the 2010 draft and spent the season with the Chicago Bears.
No. 36: Adron Tennell, WR, Oklahoma.
Tennell finished his four-year career at Oklahoma with 40 catches, 505 yards and five touchdowns.
No. 42: Dustin Earnest, LB, Texas.
Earnest finished his college career in 2010 with 84 tackles and a sack for the Longhorns.
No. 45: Mike Goodson, RB, Texas A&M.
Goodson was the Big 12 Freshman of the Year in 2006 with his career-high 847 yards. He finished with 1,966 yards and 13 TDs in three seasons before being drafted in the fourth round by the Carolina Panthers.
No. 67: Phillip Payne, WR, Texas.
Caught his first career pass in 2009, his third year at UT, before transferring after the season.
No. 75: Derek Burton, DE, Oklahoma State.
Started 15 games in four years for the Cowboys, recording 67 career tackles.
No. 82: Ben Alexander, DT, Texas.
Made four career starts, with 51 tackles and half a sack in 38 career appearances.
No. 104: Terrance Anderson, CB, Oklahoma State.
Made 96 tackles in four years with the Cowboys. Had four career interceptions.
No. 110: Jonathan Nelson, CB, Oklahoma.
Started all 14 games in 2010 for the Sooners after earning All-Big 12 honorable mention as a junior in 2009. Finished career with 155 tackles and five interceptions.
No. 111: Jermaine Gresham, TE, Oklahoma.
Caught 111 passes for 1,629 yards and 26 touchdowns in three seasons, including an All-American season in 2008. Missed all of 2009 with knee injury. Drafted No. 21 overall in the 2010 draft by Cincinnati Bengals.
No. 137: Jeremy Beal, DE, Oklahoma.
Had 224 tackles, 58.5 tackles for loss, and 29 sacks in four seasons, including three All-Big 12 seasons, an All-American season and was a Hendricks Award finalist in 2009. Projects as middle-round pick in 2011 NFL Draft.
No. 141: Josh Freeman, QB, Kansas State.
Threw for 8,078 yards and 44 touchdowns and 34 interceptions in 35 career games. Also ran for 404 yards and 14 touchdowns as a junior. Drafted No. 17 overall by the Tampa Bay Buccaneers in the 2010 NFL Draft.
December, 7, 2010
12/07/10
2:03
PM CT
Now, that's more like it.

Oklahoma is back in familiar territory: On top of the Big 12.
It's the Sooners seventh Big 12 title this decade, and it's not entirely unexpected. Along with Nebraska and Texas, Oklahoma was one of the favorites to win the league, and they knocked off the Huskers in the title game to do it.
After a 2009 filled with an unprecedented string of injuries that had fans groaning and coaches working overtime, Oklahoma's disappointing 8-5 season last year is officially in the rear-view mirror.
All those injuries helped the Sooners put together a solid 2010, and perhaps no one was helped more than
Landry Jones
. The sophomore amassed 10 starts last year, and came back this year looking like a brand-new player -- most of the time, anyway.
Oklahoma's defense proved its worth with solid performances against Oklahoma State and Nebraska, and its secondary, with a pair of first-year starters at cornerback, is extremely underrated.
Ryan Broyles
did what everyone expected him to do: be consistently productive and grab hold of eight of Oklahoma's nine major receiving records.
Add it all up, and the Sooners finish at 10-2 with a pair of road losses to good teams.
Offensive MVP: Landry Jones, QB.
Broyles deserves a look here, but the pick is Jones. His 568 pass attempts were more than any quarterback in college football, and he turned them into 4,289 yards and 35 touchdowns, which both rank second nationally. He also cut down his interceptions. He threw 14 in 449 attempts last year. This year, he had just 11.
Defensive MVP:
Jeremy Beal, DE. Beal won the media's Defensive Player of the Year award, and it was well-deserved. He finished with 8.5 sacks, 18 tackles for loss, three forced fumbles and 65 tackles. No pass rusher in the Big 12 this year was more disruptive more consistently over the course of the season.
Turning point: The first three quarters at Baylor.
Oklahoma was a good team, but didn't look like a team that could even win the South with a trip to Oklahoma State looming. That was until it proved it could take its best game on the road, leading Baylor 53-10 after three quarters and producing two more great performances away from home in wins over Oklahoma State and Nebraska to win the Big 12.
What's next:
Probably more of the same. Jones will be back. I'd expect Broyles to leave for the NFL and running back
DeMarco Murray
's eligibility runs out this year after roughly nine seasons in the Big 12. As great programs do, the Sooners have plenty of talent waiting for its chance. Running back
Roy Finch
looks like a future star, and receiver
Kenny Stills
broke Broyles freshman record for receiving yardage this year. Defensively, the Sooners will lose Beal and safeties Quinton Carter and Jonathan Nelson. Travis Lewis might leave for the NFL Draft. But get ready for another generation of Oklahoma defensive stars to make names for themselves next year. Tony Jefferson, Ronnell Lewis, Tom Wort, Jamell Fleming and Corey Nelson could all be household names this time next year.
October, 1, 2010
10/01/10
8:14
AM CT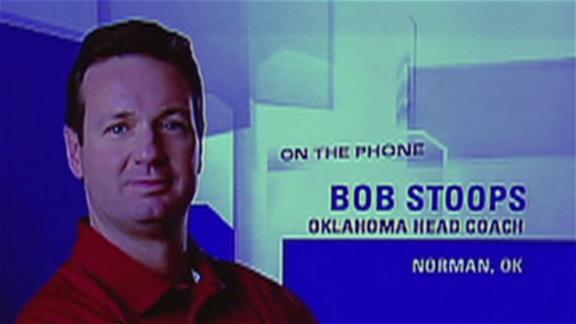 Make DeMarco Murray a factor
: Murray says doesn't remember the details of his spectacular performance in Oklahoma's only win over Texas in the last five years. He insists he's never seen a replay of his hurdling 65-yard touchdown run, the highlight of his 128-yard rushing day as a freshman in 2007. His two trips to the Cotton Bowl since then have certainly been forgettable. Murray has a total of 4 yards on 11 carries in his two losses to UT. The Sooners need him to get rolling again, especially since the team with the most rushing yards has won the Red River Rivalry the last dozen years. Murray rushed for 208 yards on 35 carries in the opener against Utah State, but he has averaged only 3.2 yards per carry in the last three games. "We need to be much more physical," OU offensive coordinator Kevin Wilson said. "Whether it's scheme, personnel or performance, we need to run the ball much better."
Get Ryan Broyles the ball:
Broyles beat the odds just by playing against the Longhorns last season only two weeks after suffering a hairline fracture of his shoulder blade. But the two-catch, 33-yard, one-touchdown performance is subpar by his lofty standards. He's completely healthy now and can claim that he's the nation's most productive receiver, ranking first in receptions (41) and second in yards (482) despite being the focus of every foe's defensive scheme. He's far from intimidated about facing three UT cornerbacks – Aaron Williams,
Curtis Brown
and Chykie Brown – who will be NFL draft picks. "Well, hopefully one day I'll be playing on Sunday, too," he said. "I'm looking forward to the challenge."
Prevent the big plays:
Big plays are the primary reason the Sooners rank a stunning 97th in the nation in total defense, 421.3 yards per game. Cincinnati racked up 461 yards while scaring the Sooners last week – and 269 of those yards came on seven plays. "We're just being too inconsistent," defensive end Jeremy Beal said. "It's just here or there guys messing up. It can be one guy each play. It's fundamental technique. We just need to fix it." UT's has trouble sustaining drives, but the Longhorns are loaded with speedy skill players with the ability to exploit mistakes by the Sooners.
Rattle Garrett Gilbert:
Texas' quarterback was one of the nation's top recruits a couple of years ago, but he's unproven at this level and will be making his Red River Rivalry debut. Gilbert threw four interceptions the last two weeks and has looked hesitant to throw the ball downfield. The Sooners' defense excels at forcing turnovers. They've come up with 12 takeaways this season – six fumble recoveries and six interceptions. They need to add to that total Saturday against a talented quarterback who is early in the learning process. "By the time that he leaves Texas, I think he's going to be really good," safety Jonathan Nelson said. "He has all the tools. Potential is the word that comes to mind. I'm sure he's going to have a great career. Hopefully, he doesn't start it this weekend."
Finish strong:
Oklahoma has been outscored by a 41-10 margin in fourth quarters this season. That's why the Sooners have had to sweat in the final minutes of three games despite leading by at least 15 points every week during their 4-0 start. OU isn't likely to have such a large margin of error in the final 15 minutes against their archrival. "We've got to show that killer instinct," linebacker Travis Lewis said.
September, 28, 2010
9/28/10
2:12
PM CT

NORMAN, Okla. – Coach Bob Stoops built a dynasty at Oklahoma with a dominant defense, so it's stunning to have to scan so far down the national defensive rankings to find the Sooners.

How low do you have to go? All the way down to 97th overall in total defense.

Oklahoma is 4-0 despite allowing 421.3 yards per game – and more than 400 yards three times already this season. The Sooners rank in the 90s against the run (177.5 yards per game, 93rd) and pass (243.8 yards, 90th).

"We're not what the numbers say," defensive tackle Adrian Taylor said. "We've just got to get on track in a hurry and play Oklahoma football."

The scheme, which the Sooners used to rank fifth in the nation in total defense (223.3 yards) and first against the run (40.7), hasn't suddenly become flawed. The talent hasn't drastically dropped off, with defensive end Jeremy Beal, linebacker Travis Lewis and safety Quinton Carter all considered candidates for major national awards.

Players and coaches agree that effort isn't an issue, either. The biggest problem is the Sooners' tendency to allow big plays, which stems from sloppy technique, poor tackling and too many mental errors. Redshirt freshman linebacker Tom Wort took a lot of the blame for several big plays by Cincinnati, although Stoops defended Wort during his Tuesday press conference.

"I have confidence in this defense," Lewis said. "Looking at the film over these past four games, we've been inconsistent and we've been messing up on little things. Those are two things that as time goes on you can fix. I feel like we have a lot of playmakers on this defense. I'm not worried about it."

Added Stoops: "We want to be more consistent. We're working on it. I believe we can. I'm confident guys will settle in and start making those plays."