Dallas Colleges:

Jermaine Gresham
March, 11, 2013
3/11/13
4:00
PM CT
ESPN draft expert Mel Kiper has two Big 12 players -- Oklahoma's
Lane Johnson
and Texas'
Kenny Vaccaro
-- potentially going in the first round of this year's NFL draft.
Fellow expert Todd McShay has the same two as Kiper and also is optimistic about the chances of West Virginia's
Geno Smith
and
Tavon Austin
.
So let's split the difference and label the potential Big 12 first-round picks as an optimistic three, with Johnson being the only absolute first-round lock.
Those three would represent the fewest Big 12 players taken in the first round of the NFL draft since 2008. Even if four went, the Big 12 still would have the fewest since 2008.
That year, only Kansas -- yep, the Jayhawks -- managed a first-rounder,
Aqib Talib
to Tampa Bay with the 20th pick. In the four drafts that followed, the Big 12 has always put at least five players into the first round, including the first four overall picks in 2010.
How well this year's group of first-round picks will fare might not be known for years. What is known, though, is how well Big 12 players have done when they are selected in the first round. With that in mind, here is a ranking -- from worst to best -- of the Big 12's best first-round draft classes over the past 10 years.
2008
: It's all about quantity, and a little bit of quality. In 2008, the Big 12 only produced one first-round pick, Talib. He has not produced dramatic returns in the NFL. In the past two years, he has only started nine games. He was somewhat productive for Tampa Bay in the previous three seasons, starting 41 games and playing in 53. But, again, he was the only Big 12 player taken in the first round in 2008.
2006:
Vince Young
is working out at Texas' pro day at the end of March. Enough said.
Davin Joseph
and
Michael Huff
have been solid producers. But when the No. 3 overall pick is out of the league and having to work out at his alma mater's pro day, it means it was a bad year for the Big 12 in the first round of the NFL draft.
2004:
Tommie Harris
and Marcus Tubbs, the two defensive tackles taken in the first round, were productive for a few years, with Harris selected to Pro Bowls in 2005, '06 and '07 before he was beset by injuries. Tubbs lasted four seasons in the NFL. Roy Williams had 5,715 receiving yards but never lived up to the hype he generated coming out of Texas. Rashaun Woods played only two years and had seven career catches.
2005:
The lack of numbers might be what hurts this group the most.
Cedric Benson
,
Jammal Brown
,
Derrick Johnson
,
Mark Clayton
and
Fabian Washington
all proved they could play at the NFL level. Benson has had three 1,000-yard-plus seasons. Johnson is one of the top linebackers in the game. Brown remains a solid option on the offensive line. Clayton played seven NFL seasons; Washington played six. But there were only five guys selected and that isn't enough to push 2005 to the top of the list.
[+] Enlarge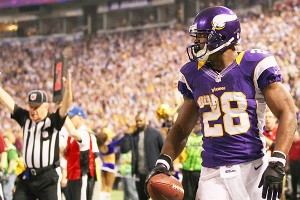 Andy Clayton King/Getty ImagesThe Big 12's 2007 draft class wasn't huge, but did feature 2012 NFL MVP Adrian Peterson.
2009:
Every Big 12 player selected in the first round in 2009 has produced and appears to be poised to continue to do so. Only
Jason Smith
didn't have a start last year. But the offensive lineman still played in all 16 games for the
New York Jets
.
Michael Crabtree
,
Brian Orakpo
,
Josh Freeman
,
Jeremy Maclin
,
Brandon Pettigrew
and
Ziggy Hood
are all starters for their respective teams.
2007:
It wasn't the biggest group, but it did include
Adrian Peterson
, so there could be some quibbling that maybe 2007 should be higher in the rankings. Throw in
Aaron Ross
and
Michael Griffin
and the debate could get even more heated.
Adam Carriker
was also taken this year. He started his career strong but suffered an injury and only played in two games last season.
2003
:
Kevin Williams
has been the standout of this group. The defensive tackle has started every game but four in his 10-year career.
Terence Newman
has been effective as a defensive back, first in Dallas and last season in Cincinnati. Tyler Brayton played at least 15 games on the defensive line in a nine-year career.
Ty Warren
played eight solid seasons for New England but tailed off last season with Denver. Andre Woolfolk lasted four seasons, mostly as a reserve.
2011:
Von Miller
, who was the highest pick among Big 12 players this year, has proved to be the top player so far.
Aldon Smith
is not far behind. Add in
Prince Amukamara
,
Phillip Taylor
, who when healthy is a starter at defensive tackle, a somewhat productive
Blaine Gabbert
and
Nate Solder
as well as reliable backups
Danny Watkins
and
Jimmy Smith
and this proved to be a successful year for Big 12 first-round selections.
2012:
Three quarterbacks, and all were not only starters as rookies but also made huge differences for their respective squads. Clearly,
Robert Griffin III
made the most dramatic impact, but
Ryan Tannehill
, with the Dolphins, and
Brandon Weeden
, with Cleveland, were both solid.
Kendall Wright
and
Justin Blackmon
each had 64 catches, for Tennessee and Jacksonville, respectively. Blackmon was targeted more (133 to 104) and had 200 more receiving yards.
2010:
This list maybe doesn't have the star power and is not littered with offensive playmakers, but six of the nine players picked were selected for the 2013 NFL Pro Bowl:
Gerald McCoy
,
Trent Williams
,
Ndamukong Suh
,
Earl Thomas
,
Russell Okung
and
Jermaine Gresham
. And the other three players --
Dez Bryant
,
Sam Bradford
and
Sean Weatherspoon
-- were vital pieces for their respective teams.
April, 5, 2012
4/05/12
1:38
PM CT
When it comes to quarterback, Bob Stoops lives a charmed life these days.
Not many coaches can boast a bona fide Heisman contender --
Landry Jones
-- with 37 career starts to his name entering the 2012 season. Stoops can.
But looking at both of the Sooners' rivals, it's a different picture.
Texas is engrossed in a two-man derby between
David Ash
and
Case McCoy
. North of the Sooners, Oklahoma State is playing host to a battle between junior
Clint Chelf
and a pair of freshmen,
J.W. Walsh
(redshirt) and Wes Lunt (early enrollee).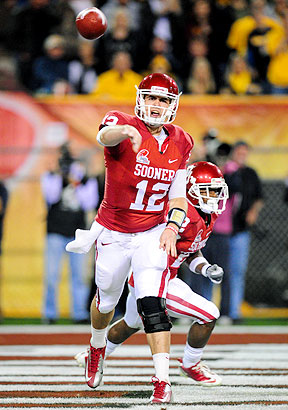 Matt Kartozian/US PresswireOklahoma has the luxury of returning Landry Jones at quarterback next season. The Sooners' rivals are much more in flux.
Texas nearly has its man; Ash is handling the majority of the first-team snaps.
Meanwhile, Oklahoma State is still splitting first-team reps evenly and doesn't have much separation between the three. Neither Texas or Oklahoma State has named a starter.
Stoops will have to replace Jones next season, but if he were in Mike Gundy or Mack Brown's shoes, he wouldn't hurry to name a quarterback.
"There's so much that can happen from the end of spring," Stoops told ESPN in Norman this week. "Just think about the amount of time before you take a snap in a game. So, I always felt having our guys continue to remain very competitive was the best thing."
Brown didn't name Garrett Gilbert his starter until the week before the Longhorns' opener against Rice last season. Texas' spring ended with Sunday's spring game and once again, Brown didn't name a starter.
Gundy, meanwhile, has seven practices remaining in the spring and wants separation. What about the notion that a team needs a commanding presence during the summer, when coaches can't oversee player workouts and it's up to a team leader to organize?
"I think that's overrated," Stoops said. "What, Ryan Broyles can't do that? A big-time receiver can't orchestrate it? Or the two (quarterbacks) can't say, 'Hey, we're meeting at this time.'?
"Or your team pride. What, I need the quarterback to tell me I need to come in here and work hard? You've got 100 guys on a team … they oughtta all be pushing each other to get in here and work. Heck, (former OU tight end) Jermaine Gresham could have grabbed everybody by the throat and made sure they were here."
Gundy and offensive coordinator Todd Monken see it quite differently.
"I don't think it's overrated," Gundy told ESPN in Stillwater this week. "I think it needs to be there. Can you have a lineman do it? Yeah. It's not the same. This'll be a big summer for us, because whoever we feel like is going to be our quarterback, he has to develop some leadership and I feel like that's all part of it."
Said Monken: "You're staring at two guys who played quarterback, Mike and I. So from our end of it, that's how we're going to see it. Stoops, he played DB, so he doesn't care. He sees it a different way, and he's right, anybody can organize it, but that's not usually the case."
Monken's biggest reason? Quarterbacks need it more than anyone else. OSU receiver
Justin Blackmon
lived with a walk-on quarterback during his career, and anytime he wanted to get some work, he had an arm who could throw him balls at full speed.
Quarterbacks, though? Work is work, but throwing to walk-ons or friends isn't the same as throwing to targets with sub-4.5 speed like they will in live games.
"Quarterbacks need those guys to function," Monken said. "I don't blame anybody for their opinion. That's their opinion, but the reality is that the guys that are usually in charge of the summer workouts are the QBs because it affects them the most."
He added: "There's something to be said for the guy that leads your team being the organizer. It doesn't have to be, but it certainly helps."
Oklahoma State doesn't know who its quarterback will be. It would love to name him by spring. But even with the stakes high during the summer, they have no plans to force a decision.
"If we don't know, then we won't do it, but if we do, then we'll do it," Gundy said. "That's as important as anything we do in the offseason."
August, 9, 2011
8/09/11
11:53
AM CT
The comparisons to the upcoming 2011 season and what Oklahoma experienced in 2009 have been unmistakable.
[+] Enlarge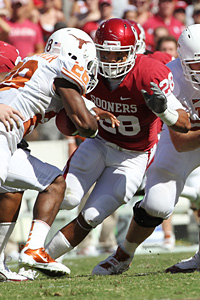 Matthew Emmons/US PresswireThe Sooners will open the season without defensive leader Travis Lewis.
Now,
after the latest news emerging from fall camp in Norman
, the similarities have become a bit eerie.
The Sooners opened 2009 as a top-five team with a Heisman-winning quarterback leading a loaded offense with a defense good enough to win a national title a year after coming up short against Florida.
This year, the Sooners
opened the coaches' preseason poll as the nation's No. 1 team
with a Heisman favorite leading a loaded offense and a defense likely better than the 2009 team. Additionally, the Sooners are coming off a 12-win season that culminated in a BCS bowl win against Connecticut.
But before the 2009 season, just days before the opener against BYU, news leaked that senior tight end Jermaine Gresham, named an All-American after his junior season, had suffered a knee injury. The severity was unknown, but it seemed likely he could return at some point.
Gresham never played again for OU after tests revealed torn cartilage in the knee, and the Sooners suffered a season-opening loss to BYU in Cowboys Stadium. In that loss, Sooners quarterback Sam Bradford played with a shoulder injury that he never fully recovered from. He had midseason surgery and ceded control of the team to
Landry Jones
.
Which brings us to today. Jones is still healthy. So is the rest of the team.
But linebacker Travis Lewis' toe injury can't help but conjure up scary images of a chase for a title gone awry before it even had a chance to begin.
Unlike the loss of Gresham, the Sooners have a fit replacement for Lewis with tons of promise.
Tight end essentially became irrelevant in Oklahoma's offense, which scored more points than any team in college football history during the run to the national title game in 2008.
Lewis, the preseason Big 12 Defensive Player of the Year, leaves a void at weakside linebacker, but he's backed up by touted blue-chip recruit Corey Nelson. The only thing keeping Nelson off the field was Lewis, who chose to turn down NFL money and chase a title, just like Gresham, Bradford, Gerald McCoy and Trent Williams did in 2009.
Now is Nelson's opportunity. Fans will get a chance to see him work at his natural position instead of the nickel back spot he'd been working at during fall camp.
This isn't 2009 yet, though it certainly smells similar.
Oklahoma finished 8-5 that season, hurt further by a rash of injuries on the offensive line that at one point forced defensive tackle Stacy McGee (a backup on this year's team) to move to offensive line.
The Sooners can still rise above Lewis' injury. They're good enough everywhere else to beat ranked teams Florida State and Missouri, who have September dates with the Sooners. Lewis could return in October, and until then, weakside linebacker could still remain a strength.
There's no replacing Lewis' experience, or his on-field energy, where he's one of the most talkative players in the league and the defense's unquestioned leader. Nelson can hold things together with his talent, though.
Barring further injury, Nelson and the Sooners have a chance to rewrite the forgettable history of 2009. In September, we'll find out if they can do it.
April, 18, 2011
4/18/11
11:04
AM CT
NORMAN, Okla. -- This time last year, receiver was still a glaring question mark on a team with Big 12 title hopes.
Ryan Broyles
was a likely All-American, but he was the only established player from a group that was one of the Sooners' weak spots in 2009.
"I felt like we almost didn't have a purpose," Broyles said of the nightmarish '09 campaign. "We set out with the greatest quarterback in OU history, I feel: Sam Bradford. One of the greatest tight ends [Jermaine Gresham], and both of those guys got hurt early in the season, so we lost that first game against BYU, and I felt like the season was just up in the air."
A return to the national title game, where Oklahoma had been denied by Florida months earlier, looked unlikely just 30 minutes into the 2009 season, when Bradford suffered a shoulder injury that cost him most of his junior season. Gresham never made it on the field after a knee injury just days before the opener. Two of the biggest pieces of the national runner-up were gone.
[+] Enlarge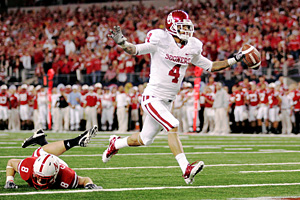 Tim Heitman/US PRESSWIREKenny Stills had a breakout freshman season at Oklahoma, catching 61 passes for 786 yards and five touchdowns.
"We really lost out on what we were working toward after the first game, so I felt like it was almost like we were going through the motions, and it showed," Broyles said. "We went 8-5, and that was one of the biggest things that hurt us."
Freshman
Kenny Stills
burst onto the scene in the spring of 2010 after enrolling early at Oklahoma, but few knew what to expect from the receivers come fall.
They did a great job, especially toward the second half of the year," Sooners coach Bob Stoops said.
Most impressive, besides Broyles' nation-leading 131 receptions, was the unit's depth.
Stills was second on the team with 786 yards on 61 catches, including five touchdowns. A torn mensicus sidelined
Dejuan Miller
in mid-October after the junior had played two of his best games of the year against Texas and Cincinnati. But even with Miller out, Oklahoma had an answer.
Senior
Cameron Kenney
caught just 14 passes in Oklahoma's first 11 games but finished with 19 in its final three -- the Sooners' three biggest of the season. He accounted for 264 yards and three scores, including a momentum-swinging, third-and-long, 86-yard touchdown against Oklahoma State in Stillwater to help the Sooners win a South title.
"That was a major spark," Stoops said. "There's no question they became a strength, and it became a big difference in the latter part of the year."
Freshman
Trey Franks
added 29 receptions, and although Kenney's eligibility is done, the Sooners' receiving corps looks like one of the Big 12's deepest heading into 2011.
"They worked," Stoops said. "[Receivers and co-offensive coordinator] coach [Jay] Norvell did a great job working with them, and they gained a little maturity and confidence as they went and gained positive experience."
Stills, after another spring, looks to cement his place as one of the league's best receivers in 2011.
"He came in early in the spring, he learned the offense, and that helped," Broyles said. "Guys come here in the summer and they're a step behind. It's not as easy. The faster you get out there, the easier it is to relax and be able to play the way you can play. He was able to get out and get in crunch time. He's going to be electrifying. People label me as a guy you can expect great things from every game. And he's another one of those guys."
Broyles, a senior, is plugging what he's learned into young receivers like Franks. He's gearing up for what could be that big year the Sooners missed out on in 2009.
"To be honest, it took me three years to learn the offense and what the coaches expected," Broyles said. "But I feel like those guys are getting a grasp of that."