Dallas Colleges:

Jerry Jones
October, 1, 2011
10/01/11
5:49
PM CT
ARLINGTON, Texas -- R.C. Slocum coached Texas A&M to its first and what now looks like it will be its only Big 12 title in 1998.
Dallas Cowboys owner Jerry Jones was a co-captain of Arkansas' only national title team back in 1964. Before Saturday's game, the two shared a moment on the Texas A&M sideline.
"How 'bout those Aggies comin' to the SEC?" Jones asked. His school made the move from the Texas-based Southwest Conference to the SEC in 1991.
"Oh, man," Slocum said with a grin of anticipation as the two shook hands.
Oh man, indeed.
If Slocum had known what he was about to watch, that grin would have been a groan.
Last week, Texas A&M blew a 17-point halftime lead in a loss to Oklahoma State. A day later, it celebrated its move to the SEC.
This week? Try 18 to Arkansas, which roared back to take its first lead with 1:41 left and beat the Aggies, 42-38.
Broderick Green
's 244-pound frame barreled over the goal line, and the Arkansas contingent exploded as the Aggies in attendance began wondering what the traffic on Interstate 30 would look like on the way back home.
Not the best first impression for the Texas A&M Aggies, who didn't quite fill their half of Cowboys Stadium as Hog fans showed up in force.
[+] Enlarge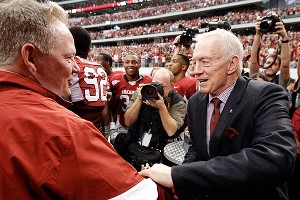 AP Photo/Brandon WadeJerry Jones congratulates Arkansas coach Bobby Petrino after the Razorbacks beat Texas A&M.
By game's end, Jones was back on his alma mater's sideline, handing over the trophy for the Southwest Classic (a game he helped create) to Bobby Petrino's Hogs.
"It's a travesty that we didn't win this football game," Texas A&M coach Mike Sherman said.
The Razorbacks won this game where good SEC teams win games: at the line of scrimmage.
Texas A&M sacked Arkansas quarterback
Tyler Wilson
four times and harassed him on countless other occasions, assuring he wakes up Sunday morning as sore as he's been all season. Arkansas' struggling running game continued to do so, rushing for just 71 yards on 30 carries.
The Aggies, meanwhile, protected quarterback
Ryan Tannehill
well and ran for 376 yards on 54 carries, an average of seven yards a carry on Arkansas' defense, which played without its two best defensive linemen: Tenarius Wright and Jake Bequette.
Texas A&M, though, lost this game where the rest of college football loses games: on the scoreboard.
"The stats don't matter," Tannehill said. "The only things that matter are the W or L and we didn't get it covered in the second half."
For a day, Texas A&M looked on the field exactly what it is off the field: an odd hybrid of an SEC and Big 12 defense. For all of Texas A&M's strength up front, it lost the game the way Big 12 teams have lost games for the majority of the league's 15-year history.
Wilson racked up a school-record 510 yards passing, shattering Ryan Mallett's record of 409 yards against SEC doormat Vanderbilt.
Texas A&M's defense has now gone 15 quarters without forcing a turnover, with apologies to
Justin Blackmon
's gifted touchback at Kyle Field last week.
"This defense is structured -- we take some risks defensively," Sherman said of his defense, which ran defensive backs at Wilson from various angles throughout Saturday's loss. "There's some gain when you create turnovers, and we've not been able to do that now for three weeks. That is certainly an obvious concern."
Also of concern for the Aggies was Sherman's unwillingness to try to convert a fourth-and-2 at Arkansas' 39-yard line, nursing a 35-20 lead, and a fourth-and-1 on Texas A&M's 49-yard line with a 35-27 lead.
The Aggies punted both times -- first for 19 yards to the Arkansas 25 and second for 37 yards down to Arkansas' 14 -- and the Hogs scored touchdowns after both kicks.
"If I felt like our defense was playing a little bit better, I probably would have gone for it. I felt like I just couldn't give them a shortened field," Sherman said. "If we were had been playing better defense--if this had been last year -- probably would have."
Said Tannehill: "That's the head coach's call. That's what he gets paid the big bucks for. Whatever he calls, we're going to go with it. ... We trust coach and you've just got to go with the call."
The game ended, and despite holding a huge lead early, Texas A&M was serenaded with an "S-E-C" chant at Cowboys Stadium for a fourth time in three seasons, dropping to 0-4 on the field in Arlington.
"It's emotionally tough," Tannehill said.
Maybe soon, the Aggies will be the chanters and not the chant's target. But for now, another painful loss.
For two consecutive weeks, Texas A&M has known well what it feels like to lose a game it should have won.
For at least another few months at the end of a 16-year and seven-game drought, the Aggies are left wondering how it feels to beat an SEC team.
October, 9, 2010
10/09/10
5:42
PM CT
This is a busy weekend in Arlington.

On Saturday, the Rangers are hosting the Tampa Bay Rays in Game 3 of the ALDS, and Texas A&M takes faces Arkansas at Cowboys Stadium.

Sunday, the Cowboys host the Titans at Cowboys Stadium. But if the Rays should beat the Rangers, a Game 4 will happen at the Ballpark.

It's making Arlington the place to be in the sports scene in Dallas-Fort Worth.

"I think it's a big plus," Jerry Jones said of the weekend events in Arlington. "There's a championship feeling in the air over there with the Rangers. It's an exciting time. It lifts all boats. You've heard me say a lot of times, I think we have the highest per capita interest in sports in this area than any place in the country."
June, 17, 2010
6/17/10
10:06
AM CT
By
Jeff Caplan
| ESPNDallas.com
First came this emphatic statement: "We're not looking to expand at all." Those are the words of Big 12 Conference commissioner Dan Beebe on Tuesday as he explained how the Big 12 avoided collapse, emerged richer as 10 and how it plans to move forward as such.
In the same breath Beebe managed to turn "at all" into: "And certainly we wouldn't look to expand with any institutions that are in our geographic five-state area now."
If the Big 12 as 10 is not looking to expand at all, why the need to add the caveat of well, not in the five states we currently occupy? In college athletics we've learned never say never and no could mean yes and vice-versa. As long as money is green, nothing is certain.
This becomes all the more intriguing with word that Cowboys owner Jerry Jones, seeing green fly out the window now that he's suddenly left without the coveted Big 12 football championship game at his palace in Arlington,
is eager to bring his alma mater Arkansas
into the Big 12 fold -- oh yeah, and maybe even Notre Dame.
I'm no geography major, but I do know that Notre Dame is in the great state of Indiana and that Arkansas, although it sits next to Big 12-occupied Texas (hence, the beautiful border town of Texarkana) the Natural State is actually in Arkansas. The Big 12 currently reaches into Texas, Oklahoma, Kansas, Missouri and Iowa.
While Arkansas athletic director Jeff Long, in office a couple of years since coming from Pittsburgh to replace the legendary Frank Broyles, quickly nixed Arkansas to the Big 12, the move actually makes some sense. Leaving the SEC was always dismissed simply because of the financial muscle of the conference, but clearly we're seeing a Hog pity party that includes unhappiness with a lack of true rivalries, a lack of success in football and diminishing recruiting returns in Texas, once fertile Hog grounds.
The Big 12 has assured itself a highly profitable future after the threat of Texas and others moving to the Pac-16 (and possibly Texas A&M to the SEC). Arkansas could get in on that new revenue, get back to its natural, hated rival in the Longhorns and likely begin competing immediately as a top-four football program in the Big 12.
When Long says no, he might mean yes, in time, just as Beebe said the Big 12 won't expand, er, at least not in the current five-state setup.
June, 14, 2010
6/14/10
9:34
PM CT
By
Jeff Caplan
| ESPNDallas.com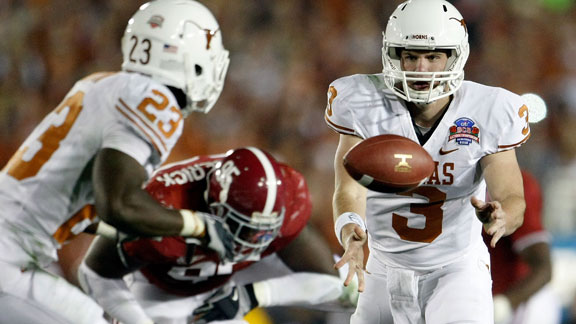 Texas A&M made itself the wild-card in conference realignment maneuverings, flirting with the SEC and threatening to set aside more than 100 years of rivalry with Texas to chart a new future.
But, the mega-TV dollars shoveled at the remaining Big 12 schools to avoid triggering an avalanche of mega-conference formation convinced the Aggies to walk away from the most powerful college football conference in the land.
"Texas A&M is a proud member of the Big 12 Conference and will continue to be affiliated with the conference in the future," A&M president R. Bowen Loftin said in a statement. "As athletic director Bill Byrne and I have stated on numerous occasions, our hope and desire was for the Big 12 to continue. We are committed to the Big 12 and its success today and into the future."
Judging by activity on some Aggie fan sites, there is a contingent of disappointed and angry A&M fans who preferred a move to the SEC rather than compete in the 10-team Big 12.
A spokesperson for Texas Tech said the school's board of regents still plans to meet on Tuesday even though the Red Raiders will continue in the Big 12 conference. Tech was prepared to leave the Big 12 with Texas, Oklahoma and Oklahoma State for the Pac-10 until the 11th hour television rights deal was hammered out. It promises to practically double Tech and the other nine members' annual revenue.
Tech officials will comment on the decision to stay on Tuesday.
In a joint statement, Oklahoma president David Boren and athletic director Joe Castiglione said: "The decision to stay in the Big 12 represents a consensus position which resulted from a collaborative effort with our colleagues in the conference. We value the strong working relationship that has been reaffirmed during this process among the conference members. We intend to work very hard to make the conference as lasting and dynamic as possible."
Texas president Bill Powers Jr., and athletic director DeLoss Dodds will also address the media on Tuesday, likely after the calm night of sleep in more than a week. Texas will reportedly reap up to $25 million between the new TV deal and its own network in the planning stages. Texas, A&M and Oklahoma will reap about $20 million annually in the deal, about $3 million to $6 million more than the other seven schools.
Baylor officials will likely also sleep well tonight. Baylor faced the unsettling proposition of being left out of a major conference if Texas and the others left for the Pac-10.
"Baylor athletics has a bright future and we look forward to continued success with our historic partners in the Big 12 Conference for many years to come," said Baylor Director of Athletics Ian McCaw in a statement. "We have been blessed with extraordinary efforts and leadership from the Board of Regents, President [Ken] Starr, key alumni and friends. We are both humbled and grateful for the tremendous outpouring of support from the Baylor family in recent days."
Contingency plans were under way among the five schools that would have been left out -- Baylor, Kansas, Kansas State, Missouri and Iowa State. Those schools' athletic directors were to gather Monday night in Kansas City, a city that is also at ease because it had just been awarded the lucrative Big 12 basketball tournament through 2014.
One plan on the table was for the remaining five Big 12 schools to absorb some or all of the 10 Mountain West Conference schools and retain the Big 12 name and the automatic BCS bid that would come with it. Now, Kansas and Baylor can rest easy, but the MWC might have other issues to tackle.
With Kansas locked into the Big 12, the Pac-10 will reportedly target Utah as its 12th team. It added Colorado last week. If Utah accepted a potential invite it would reduce the MWC to nine teams just days after it added Boise State to get to 10. The MWC, which has been home to TCU since 2005, is hopeful it will gain BCS standing in two more years once a four-year evaluation period ends.
It's unclear at the moment how the possible loss of Utah would affect the MWC's chances.
What is clear is the Big 12 conference lives on -- at least for 10 teams who might decide to start fresh with a new name.
It appears the only loser -- other than disappointed Pac-10 commissioner Larry Scott -- might be Cowboys owner Jerry Jones. Cowboys Stadium was just awarded the Big 12 football championship game through 2013. But, with 10 teams, the Big 12 likely will not play a title game.
Of course, the Big 12 remain with 12 teams, as contentious as that might be, for at least another year or two. Nebraska is hoping to begin play in the Big Ten in 2011. Next up on the Big 12 agenda is the league's football media days in July in DFW.
That should be just chummy.