Dallas Colleges:

Jevan Snead
May, 13, 2013
5/13/13
8:55
AM CT
Wes Lunt
's exit from Oklahoma State surprised a lot of people, but what kind of results can he expect over the rest of his career?
Here's an update on the Big 12's recent notable transfers. The results are all over the map.
Garrett Gilbert, transferred from Texas to SMU in 2011:
Struggled in 2010 during Texas' 5-7 season, despite a strong showing in relief of Colt McCoy in the 2009 national title game against Alabama. Earned a starting position in June Jones' offense in Dallas and threw for 2,932 yards, 15 touchdowns and 15 interceptions last season. He'll start as a senior in 2013.
Keith Nichol, transferred from Oklahoma to Michigan State in 2008:
Nichol was a superstar recruit but lost a quarterback competition to some guy named Sam Bradford. After taking his talents to Lansing, he earned some time at quarterback as a sophomore in 2009, but found a home at receiver. He finished his career with 50 catches for 625 yards and four touchdowns, highlighted by a game-winning, Hail Mary touchdown to beat Wisconsin in 2011. He also threw for 826 yards and nine touchdowns.
Jevan Snead, transferred from Texas to Ole Miss in 2006:
Played some in relief of Colt McCoy, but left for Oxford in search of playing time and found it. Carried the Rebels to a Cotton Bowl win and threw for 2,762 yards, 26 touchdowns and 13 interceptions in 2008. A year later, he tossed 20 touchdowns and 20 interceptions and racked up 2,632 yards. He left Ole Miss early, but wasn't drafted.
G.J. Kinne, transferred from Texas to Tulsa in 2008:
Kinne never cracked the field at Texas, but had a huge career as a Golden Hurricane. He threw for just under 9,500 yards, ran for 1,365 yards and accounted for 96 total touchdowns in three seasons as starter. He went undrafted and hasn't caught on in the NFL, but is under contract with the Philadelphia Eagles.
Connor Wood, transferred from Texas to Colorado in 2011:
Wood couldn't get on the field at Texas, but sought playing time in Boulder, and it looks like he's found it. After
Nick Hirschman
transferred last week, Wood is Colorado's likely starter in 2013, and has three years of eligibility remaining.
Jacob Karam, transferred from Texas Tech to Memphis in 2012:
Was eligible immediately because he had already received his degree. He won the Tigers' starting job and threw for 1,895 yards and 14 touchdowns with just three interceptions. He'll be a senior, and the starter again in 2013.
Scotty Young, transferred from Texas Tech to Louisiana Tech in 2012:
Never got on the field for the Red Raiders and sat out the 2012 season at Louisiana Tech. He's in good position to be the Bulldogs' starter next season, replacing Colby Cameron.
Drew Allen, transferred from Oklahoma to Syracuse in 2013:
Allen served as a backup his entire career, but after receiving his degree, started looking for a place to play out his career. He believes Syracuse is the place to do it, and he'll compete for the starting job in the fall.
Jared Barnett, transferred from Iowa State to Illinois State in 2013:
Barnett earned a place in ISU lore when he led the Cyclones to a win against undefeated, BCS No. 2 Oklahoma State in 2011, but struggled after that and throughout 2012. He finished the season on the bench behind Sam Richardson and elected to become a Cardinal after the season. He's eligible immediately, because his new team is an FCS school.
Bobby Reid, transferred from Oklahoma State to Texas Southern in 2007:
Reid was the subject of Mike Gundy's infamous "I'm a man, I'm 40!" rant, and later said he felt like that
rant ended his "life"
, though Gundy was defending his player. He threw for 1,791 yards, 12 touchdowns and six interceptions at Texas Southern in 2008, but he and Gundy seem close again. He joined Gundy's staff in an administrative role this year.
Rhett Bomar, transferred from Oklahoma to Sam Houston State in 2006:
Bomar's transfer wasn't his choice. Bob Stoops famously kicked Bomar off the team in the wake of reports that he had received payment from a local car dealership without doing the work. That was an obvious NCAA violation. He played just 19 games over the next two seasons, but finished as the school's all-time leader in passing yards, with 5,564 yards. He was a finalist for the 2008 Walter Payton Award as the nation's best FCS player. He was drafted in the fifth round of the 2009 draft by the New York Giants, but has been out of the NFL since May 2012.
Jordan Webb, transferred from Kansas to Colorado in 2012:
Started two seasons for the Jayhawks, but left town when Charlie Weis brought
Dayne Crist
and
Jake Heaps
with him to Lawrence. He played 10 games last season, throwing for 1,434 yards, eight touchdowns and eight interceptions. He tore his ACL in spring practice, though, and is questionable to get back on the field this fall. He's not helping his case to regain his starting status by
getting arrested on felony assault charges last weekend.
January, 28, 2011
1/28/11
9:00
AM CT
ESPN the Magazine had a fascinating feature
looking back at the past 25 No. 1 high school recruits
, where they are now and what the ranking meant to them. With apologies to Vince Young, there aren't a ton of Big 12 talents on the list, but there have been plenty of great recruits to come through the Big 12. We took a look on Thursday at
how the All-Big 12 team stacked up as recruits
, and you saw quite a mixed bag.
Well, it's the same for the recruits who came to campus with high rankings and high profiles. Going back to 2006, here's how every Big 12 commit from the ESPNU 150 turned out. We'll look at 2006 in this post before eventually reaching 2010 and the current class, 2011, by signing day.
2006
No. 6: DeMarco Murray, RB, Oklahoma.
Murray set school records for touchdowns (64) and all-purpose yards (6,498) as a Sooner. He's projected to be drafted on the first day of this year's NFL Draft.
No. 7: Sergio Kindle, OLB, Texas.
Kindle was a finalist for the Butkus and Hendricks Awards and was a two-time All-Big 12 performer with 176 career tackles. He was drafted by the Baltimore Ravens in the second round last of year's NFL Draft but missed his rookie season after fracturing his skull in a fall on the stairs at his home.
No. 13: Jevan Snead, QB, Texas.
Lost a quarterback battle to Colt McCoy following the 2005 season. Played sparingly as a freshman before transferring to Ole Miss. Went undrafted in 2010. Now plays for Arena League's Tampa Bay Storm.
No. 21: Gerald McCoy, DT, Oklahoma.
McCoy was a Lombardi finalist, a three-time All-Big 12 performer and two-time All-American who left Oklahoma after his junior season and was selected No. 3 overall by the Tampa Bay Buccaneers in the 2010 NFL Draft.
No. 22: Eddie Jones, DE, Texas.
Jones just finished his career at Texas with an All-Big 12 honorable mention year in 2010. Finished his career with 111 tackles and 13.5 sacks.
No. 34: J'Marcus Webb, OT, Texas.
Webb played one year at Texas before transferring to Navarro College and eventually West Texas A&M. He was drafted in the seventh round of the 2010 draft and spent the season with the Chicago Bears.
No. 36: Adron Tennell, WR, Oklahoma.
Tennell finished his four-year career at Oklahoma with 40 catches, 505 yards and five touchdowns.
No. 42: Dustin Earnest, LB, Texas.
Earnest finished his college career in 2010 with 84 tackles and a sack for the Longhorns.
No. 45: Mike Goodson, RB, Texas A&M.
Goodson was the Big 12 Freshman of the Year in 2006 with his career-high 847 yards. He finished with 1,966 yards and 13 TDs in three seasons before being drafted in the fourth round by the Carolina Panthers.
No. 67: Phillip Payne, WR, Texas.
Caught his first career pass in 2009, his third year at UT, before transferring after the season.
No. 75: Derek Burton, DE, Oklahoma State.
Started 15 games in four years for the Cowboys, recording 67 career tackles.
No. 82: Ben Alexander, DT, Texas.
Made four career starts, with 51 tackles and half a sack in 38 career appearances.
No. 104: Terrance Anderson, CB, Oklahoma State.
Made 96 tackles in four years with the Cowboys. Had four career interceptions.
No. 110: Jonathan Nelson, CB, Oklahoma.
Started all 14 games in 2010 for the Sooners after earning All-Big 12 honorable mention as a junior in 2009. Finished career with 155 tackles and five interceptions.
No. 111: Jermaine Gresham, TE, Oklahoma.
Caught 111 passes for 1,629 yards and 26 touchdowns in three seasons, including an All-American season in 2008. Missed all of 2009 with knee injury. Drafted No. 21 overall in the 2010 draft by Cincinnati Bengals.
No. 137: Jeremy Beal, DE, Oklahoma.
Had 224 tackles, 58.5 tackles for loss, and 29 sacks in four seasons, including three All-Big 12 seasons, an All-American season and was a Hendricks Award finalist in 2009. Projects as middle-round pick in 2011 NFL Draft.
No. 141: Josh Freeman, QB, Kansas State.
Threw for 8,078 yards and 44 touchdowns and 34 interceptions in 35 career games. Also ran for 404 yards and 14 touchdowns as a junior. Drafted No. 17 overall by the Tampa Bay Buccaneers in the 2010 NFL Draft.
January, 14, 2010
1/14/10
11:22
AM CT
By
Jeff Caplan
| ESPNDallas.com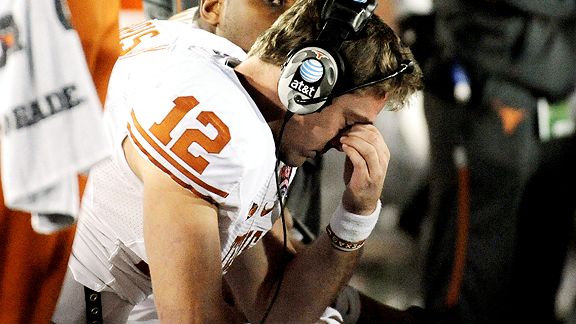 Harry How/Getty ImagesColt McCoy sits on the bench after injuring his shoulder in the Citi BCS National Championship game against Alabama.
In the days since a freak shoulder injury forced him out of the biggest game of his life, former Texas quarterback
Colt McCoy
is finding that life does go on.
Just this week, McCoy received a clean bill of health from world-renowned orthopedic surgeon Dr. James Andrews, proposed to his longtime girlfriend on the very field in which he became a Longhorn football legend (she said yes), hired an agent, began training in Southern California for his professional career, and Thursday morning accepted one final achievement award, the Manning Award, named in honor of the college football accomplishments of Archie, Peyton and Eli Manning.
During a conference call Thursday, McCoy said that Dr. Andrews termed his injury a "burner," and told him he should regain full strength in his arm in two weeks. McCoy was running on an option play on Texas' opening possession of the BCS National Championship Game at the Alabama 11-yard line when he got tackled and hit on the shoulder. The type of injury he sustained, at first believed to be a pinched nerve, causes temporary loss of feeling in the extremity affected. In McCoy's case it happened to be his golden right arm. He exited the game and, despite efforts to regain feeling in his throwing arm, McCoy couldn't muster enough arm strength to accurately toss a football to his dad in the locker room.
"If the rest of my body was numb and my right arm was healthy, I would have been out there," McCoy said. "There was no way. I did everything I could to get back out there."
After the game, McCoy described his arm as feeling like a "noodle." On Thursday, he said he could raise his arm up over his shoulder by the start of the second half, but that he didn't have the strength or control needed to throw a football. He said the doctors that examined him in the locker room suggested he shower and change into his clothes before heading back to the sideline to watch the remainder of the game.
McCoy scoffed at that suggestion and returned to the sideline in full uniform and pads, just in case his arm somehow came to life.
"I would have done anything in the world to be out there and play on that stage for the last game of my senior year, something I worked for for my whole career," McCoy said. "That is something I will question, why it had to happen, for the rest of my life."
McCoy said he was down in the dumps in the days immediately following the game. But a phone call placed to Texas coach Mack Brown helped to cheer him up and refocus on what's ahead.
"President Obama called Coach Brown and told him to tell me he was sorry for me, hopes my shoulder gets better and he can't wait to watch me play in the NFL," McCoy said. "I think of all people, that actually was pretty neat, it kind of lifted my spirits."
[+] Enlarge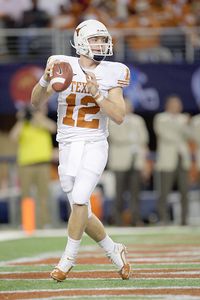 Jamie Squire/Getty ImagesWith an outpouring of support, including the likes of President Obama, McCoy remains optimistic that his best football has yet to be played.
McCoy said with each day of rehab he sees noticeable improvement, and he expects to be completely healthy before the NFL Scouting Combine in February in Indianapolis. McCoy is under the representation of NFL player agent David Dunn of Athletes First, based in Irvine, Calif. McCoy will remain in Orange County, not far from where the Longhorns prepared for the BCS title game, to train.
"My main focus is my shoulder right now, but I certainly expect to go and do things at the Combine," McCoy said. "I haven't thought that far ahead yet, but I would certainly expect to be down there and go through the Combine."
Some NFL draft experts contend that McCoy's draft stock took a blow because he was unable to perform against a top-rated Alabama defense after his subpar outing against Nebraska in the Big 12 championship game. Of course, the week prior, McCoy executed an epic performance at Texas A&M with 479 total yards (304 passing) and five touchdowns.
Projected to be selected anywhere from the second round to fourth round, the 6-foot-2, 210-pound McCoy said he's unsure of where he fits in the draft order. It is a deep and interesting draft class of quarterbacks, including
Jimmy Clausen
(Notre Dame),
Sam Bradford
(Oklahoma),
Tim Tebow
(Florida),
Jake Locker
(Washington),
Tony Pike
(Cincinnati) and
Jevan Snead
(Mississippi), among others.
"That's not something I can think about or even hazard an educated guess about right now," McCoy said. "I'm focusing on the task ahead of me, which involves getting both physically and mentally prepared to play in the NFL and getting mentally and physically prepared to have a long and successful career. That's my focus right now. I can't even really give you an educated guess about that.
"I know the quarterback that I am. I know how hard I'm going to work. I know how hard I'm going to prepare and I know what I've done the last four years and that's very special to me. I absolutely expect my shoulder to be 100 percent, ready to go, and I'll be fine."
McCoy, from tiny Tuscola, succeeded Vince Young and went on to start four seasons for the Longhorns. He left with an NCAA-record 45 victories. He threw for 13,253 career yards and 112 touchdowns while completing a remarkable 70.3 percent of his passes. He also rushed for 1,571 yards and 20 touchdowns.
With little rushing game to speak of the past two seasons, McCoy guided Texas to a 25-2 record while throwing for 7,380 yards. He connected on 61 touchdowns with 20 interceptions.
Who knows what might have happened one week ago at the Rose Bowl had McCoy not been injured.
That lingering thought has made finding closure to his collegiate career difficult. But McCoy, 23, boasting a degree in sport management, a new fiancee and the next phase of his football career in his future, has made peace with his past.
"To be able to be in a national championship, the ups and downs of a season is long and hard and we were there. We made it," McCoy said. "For it to be taken away like that, obviously, for me, it's very, very tough. Hard to handle, hard to deal with.
"But, at the same time, I've moved on. I know the best football of my career hasn't even started yet."
December, 27, 2009
12/27/09
2:34
PM CT
By
Jeff Caplan
| ESPNDallas.com
Mississippi
quarterback
Jevan Snead
, the former Stephenville High School star who initially went to Texas, but transferred to Ole Miss after
Colt McCoy
won the starting job, could be leaning toward leaving the Rebels for the NFL despite an up-and-down season that began with high expectations.
Snead will get a chance to showcase his talents at the Jan. 2 Cotton Bowl against
Oklahoma State
at Cowboys Stadium.
Next year the Rebels will lose offensive weapons in running back
Dexter McCluster
and receiver
Shay Hodge
and the offensive line will be in flux, so if Snead stays for his senior season it could mean a rebuilding year for the Rebels.
"I figure after this game I'll sit down with my family and close friends and kind of make a decision, look where I am, at least evaluate it and make a decision then," Snead said.
Snead's passing totals all declined in 2009, except interceptions, which rose from 13 in 2008 to 17. This season, Snead completed 178-of328 passes for 2,464 yards and 20 touchdowns. In 2008, he completed 184-of-327 for 2,762 yards and 26 touchdowns. At 6-foot-3, 220 pounds, pro scouts love his size and arm strength. Decision-making is one knock against him.
"I talked to him in the summer, that's really the only time I've really talked to him about that and I basically told him, you will know when it's time," Mississippi coach Houston Nutt said. "What I've told him here lately is focus. When you're focused, when you're concentrating on the game plan and you're doing it the right way, we've got a chance to win. That's basically our conversation. We'll talk after the game. The only thing that's important to us right now is this ballgame."
December, 15, 2009
12/15/09
4:09
PM CT
By
Jeff Caplan
| ESPNDallas.com
The 2010 Cotton Bowl, the 74th edition of the classic game, will be played at Cowboys Stadium in Arlington on Jan. 2. Perhaps playing under Jerry Jones' giant video board will serve as a consolation prize for both
Oklahoma State
and
Mississippi
, two teams that hoped to be playing a little later in the first week of January.
Mississippi, riding high off last year's Cotton Bowl victory over Texas Tech, came into the season ranked No. 8 in the Associated Press Top 25 poll, moved up to No. 4 after Week 2, and with former Texas quarterback
Jevan Snead
leading the charge, had high hopes. But, an ugly, 16-10 loss in Week 3 at South Carolina tumbled the Rebels all the way down to No. 21. After losses to Alabama, Auburn and Mississippi State, the Rebels come to the Cotton Bowl unranked.
No. 19 Oklahoma State also had its sights set on a BCS game. But, it had the setback of stud wide receiver
Dez Bryant
being suspended for lying to the NCAA about a visit to Deion Sanders' house and later quarterback
Zac Robinson
was stung by injuries.
Still, beat hobbled in-state rival Oklahoma and the Cowboys were likely headed to the BCS. The Sooners pasted OSU, 27-0.