Dallas Colleges:

Jim Christian
April, 2, 2012
4/02/12
5:22
PM CT
TCU basketball coach Jim Christian won't be back with the Horned Frogs next season. Here is the statement from TCU director of intercollegiate athletics Chris Del Conte.
PODCAST
ESPN analyst Fran Fraschilla joins Coop and Nate to preview tonight's national championship game and comment on a couple local coaching openings.

Listen

"Jim Christian will not be returning as TCU's head men's basketball coach. We appreciate Jim's contributions to TCU and wish him the best. A national search for a new head coach will begin immediately. With our entrance into the Big 12, the momentum on the TCU campus and the great city of Fort Worth, we are very excited about the future of our men's basketball program."
Christian is rumored to be taking over the head coaching job at Ohio. Christian is coming off an 18-15 season at TCU but was just 56-73 in four seasons with the school.
July, 5, 2011
7/05/11
4:24
PM CT
Former Ole Miss and Arizona State head coach Rob Evans has joined the TCU men's basketball staff as an assistant.

Evans, 64, has 42 years of collegiate coaching experience. As a head coach, six of his 14 teams have earned postseason tournament bids.

"Anytime you have a chance to add a national coach of the year to your staff, it is a great opportunity," TCU head coach Jim Christian said. "Rob also has strong ties to the state of Texas, so he is just a great overall fit for TCU basketball."

Evans arrives at TCU from Arkansas, where he spent four seasons as an assistant to John Pelphrey. Included among the highlights of his four-year tenure with the Razorbacks are trips to the finals of the SEC tournament and the second round of the NCAA Tournament.

"I am excited for the opportunity to coach at TCU," Evans said. "I have followed the TCU program for several years, especially since the arrival of Jim Christian. I can't wait to begin working with Jim and his staff."

Evans directed Ole Miss from 1993-98 and led the Rebels to back-to-back NCAA Tournament bids. He was named SEC Coach of the Year in 1997.

He guided Arizona State from 1999-2006 and led the program to postseason appearances in three of his last five years.

The native of Hobbs, N.M., was an assistant to Eddie Sutton at Oklahoma State in 1991 and 1992 after spending 15 years at Texas Tech (1976-90). He started his coaching career by spending seven seasons under Lou Henson at his alma mater New Mexico State (1969-75), a stint which included a trip to the Final Four in 1970.

A multi-sport star, Evans was drafted out of high school by the Colt 45s, who eventually became the Houston Astros. Following college, he signed as a free agent with the Dallas Chaparrals of the American Basketball Association and with the Oakland Raiders as a receiver.
November, 30, 2010
11/30/10
10:47
AM CT
By
Richard Durrett
| ESPNDallas.com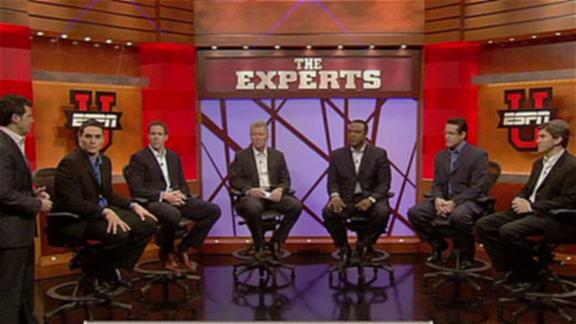 FORT WORTH, Texas -- The talk about TCU's move to the Big East has, rightfully, centered around football. But all of TCU's sports are making the conference change from the Mountain West to the Big East.
That means TCU's men's and women's basketball programs will be taking on many traditional basketball powers in a deep league.
TCU men's coach Jim Christian, who coached at Pittsburgh early in his career, knows all about the Big East and what it means to have to face tough competition like that on a regular basis.
"You're in a historic league, one with national champions and Hall of Fame coaches and great players," Christian said. "It's a tradition-filled conference and will be interesting for us. I'm looking forward to seeing the whole process unfold. We have to work hard and define who we want to be once we get to the Big East conference and that's going to be some great discussions."
And those discussions aren't just a coach with his players. TCU must decide how to best allocate its resources to boost the program if it wants to compete in a difficult league. Will that include more facility upgrades and an even stronger commitment to basketball? It will have to if the university wants to compete.
"It starts with recruiting and getting quality players and being in that league opens up a lot of doors," Christian said. "But it's a total commitment. You don't be those types of programs in those types of leagues without 100 percent support from the top on down. The Big East was founded as a basketball conference. I lived in New York and coached in the Big East. I understand the importance of it to all the schools there. I think it's an awareness with our university and we wouldn't be making this type of jump if we didn't have that kind of support and that's what is so exciting."
Does he expect his team to get beat up as he tries to build the program and compete in the Big East?
"Time will tell," Christian said. "I think we're so worried about what happened in the past that we're afraid to worry about what we can be. It can be the best thing that happened to us because it can open up a lot of eyes in playing in a big league. If we go about this thing the right way, it can be a great thing. It can separate us from a lot of people and open some doors."
Christian is excited about the chance to recruit players knowing he can sell the idea that they are playing tradition powers like Syracuse, UConn, Louisville and others in the Big East.
"It's new, it's different, it's something everyone knows," Christian said. "Recruiting is telling stories. But it's also hard work and relationships. It doesn't change the process, but it opens up some new doors hopefully and some things we can take advantage of."
Expect TCU to take some lumps in basketball because of this change. TCU AD Chris Del Conte takes the "rising tide floats all boats" approach to the change. That can work if TCU is committed. It will be an interesting thing to watch in the coming years.
December, 8, 2009
12/08/09
3:04
PM CT
By
Jeff Caplan
| ESPNDallas.com
Texas Tech plays at TCU tonight at 6:30 p.m. and brings with it a No. 23 ranking. The Red Raiders moved into the Associated Press Top 25 this week for the first time, believe it or not, in four years. What was that former head coach's name?
Oh yes, Robert Montgomery Knight, who clearly wasn't getting what he wanted out of his troops.
Patrick Knight is.
The son of Bob is in his second full season at the helm (Tech went 14-19 last season) and has the Red Raiders at 8-0, one of 11 undefeated teams in the Top 25. They're coming off an impressive overtime win last Thursday (Bob was in attendance) against then-No. 12 Washington.
While TCU (5-3) continues its rebuilding process under second-year coach Jim Christian, this will be a challenge for the Red Raiders, who have played just one other road game this season, a 63-61 win at Stephen F. Austin on Nov. 24.
One player to keep a close eye on is Tech's 5-foot-11 guard
John Roberson
, who was named the Big 12's Player of the Week.