Dallas Colleges:

Joe Paterno
January, 22, 2012
1/22/12
6:05
PM CT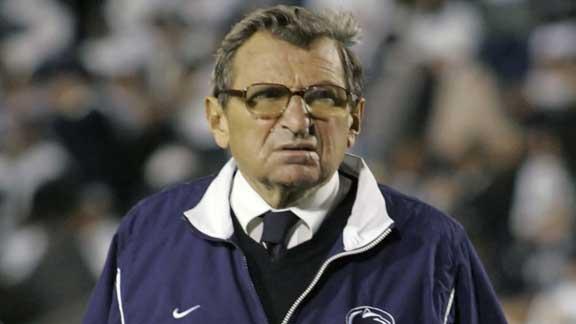 Former Texas football coach and athletic director Darrell Royal on the passing of former Penn State coach Joe Paterno, who died Sunday:
"What I remember about our days when we were both coaching is that Joe was very honest, he was a heckuva a coach, and he was one of the outstanding coaches of all time. You can't say that about every coach, but you darn sure can say that about Joe Paterno. He meant a lot to the game, and he meant a lot to me. He was a solid person, and a solid friend."
Royal and Paterno faced each other only once, 41 years ago, after the 1971 season in the 1972 Cotton Bowl Classic. Penn State won, 30-6.
January, 22, 2012
1/22/12
5:59
PM CT
Texas A&M football coach Kevin Sumlin issued the following statement about former Penn State coach Joe Paterno, who died Sunday.
"Our deepest sympathies, as well as our thoughts and prayers go out to Coach Paterno's family and the entire Penn State community. I was coaching wide receivers at Minnesota and we were Penn State's first Big Ten Conference game and out of respect for Coach Paterno, our head coach Glen Mason wore a coat and tie coaching in that game. Coach Paterno will be missed."
January, 22, 2012
1/22/12
3:56
PM CT
Texas football coach Mack Brown issued the following statement about former Penn State coach
Joe Paterno, who died Sunday
.
I've known Coach Paterno since I started coaching. Sally and I built a great relationship with him and Sue over the last 10 to 15 years, and we shared many great times. I know our lives are better because we had the opportunity to spend time with them. He was a gift to us, and when we heard the sad news today, we both openly wept, not only because college football lost a great man, but we lost a great friend. I appreciate all of the advice, the attention and the time he's given us over the years. We will miss him dearly and will always cherish the wonderful memories. College football will be left with a major void because he has done so much for our game and for Penn State. It's a very sad day, and with his passing, we have lost one of the greatest coaches our game, and all sports, will ever have. He leaves us with great stories, memories and records that may never be broken. There will never be another Joe Paterno. Our thoughts and prayers are with Sue and the family.
January, 22, 2012
1/22/12
10:58
AM CT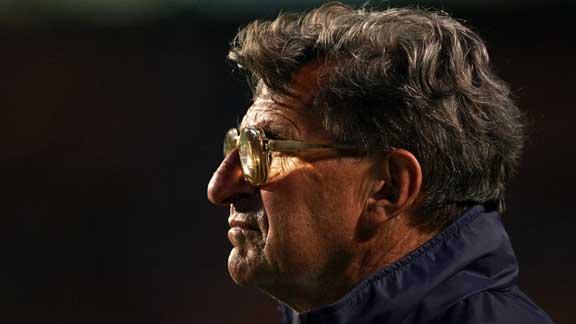 Texas Tech just released the following statement from football coach Tommy Tuberville on Penn State coach Joe Paterno,
who died Sunday at age 85
:
When you think of college football and its tradition, you can't help but picture those dark glasses, black shoes and plain uniforms that were his style and mark on Penn State University.

I have had the great fortune to coach against Coach Paterno four times during my career and each time I came away from those contests with a greater understanding of the game of football. A true highlight of my career, has been a 30-year relationship with Coach and his wife Sue.

Like many coaches, I grew up watching and learning from one of the greatest tutors and mentors of the game. I am deeply saddened to learn of his passing and wish to extend my condolences to Sue and the rest of the Paterno family.