Dallas Colleges:

Joe Powell
December, 10, 2012
12/10/12
12:19
PM CT
There's big trouble for one of Oklahoma's cornerbacks,
Joe Powell
. Powell hasn't played much leading up to the Sooners' date with Texas A&M in the Cotton Bowl, but this is a bad look for Oklahoma in a quiet part of the season.

From
SoonerNation's Jake Trotter
:
According to Cleveland County district attorney Greg Mashburn, Sooners cornerback Joe Powell has a preliminary conference hearing scheduled for Dec. 18 on charges of possession of marijuana with intent to distribute.

According to Mashburn and a Cleveland County court affidavit, Norman police connected Powell to the drugs when they tracked a FedEx package from California containing four pounds of "high-grade" marijuana.

Through a spokesman, Oklahoma coach Bob Stoops indicated he was aware of Powell's situation, and that Powell has been suspended from the team since October.

Mashburn said Powell had the package delivered to a friend's house on Oct. 8 under the guise that the package contained "shoes." When the package arrived, Powell had another friend go and pick it up and bring it to Powell's apartment, where a police surveillance team was stationed.

Mashburn said that Powell, 21, was waiting outside his second-floor apartment, took the package from the friend and disappeared around the building.

Police caught up with Powell at the University Greens apartments, where he confessed that the package contained marijuana.
Go to the
full story
for more on this.
April, 30, 2012
4/30/12
11:36
AM CT
NORMAN, Okla. -- Oklahoma linebacker
Joseph Ibiloye
kept hearing his coach scream his name.
"Joe! Joe!"
He turned around, heard his coach's demands and applied them to the next play. The problem? At least a few times, it would put him out of position or ruin a defensive rep.
That's what happens when he takes direction meant for cornerback
Joe Powell
.
Mike Stoops is back coordinating Oklahoma's defense, a job he held in 2000 during Oklahoma's last national title run, and there are bound to be a few mixups as he gets used to his new surroundings.
"He's calling me Ibi now, so we've got everything squared away," Ibiloye said.
Stoops' arrival, after eight seasons as Arizona's head coach, was cause for Sooner-fan celebrations. Last year's defense had high-profile struggles in the secondary in losses to Texas Tech, Baylor and Oklahoma State.
[+] Enlarge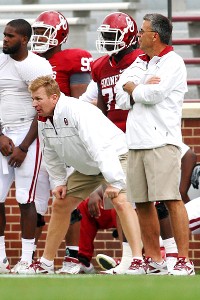 J.P. Wilson/Icon SMI The return of Mike Stoops, bending, as coordinator has brought Oklahoma's defense a simplified scheme.
Stoops' specialty? Defensive backs.
Safety
Javon Harris
didn't know much about Stoops when he met his new position coach and coordinator, but he knew that much.
"The one thing I knew is when he was here, he put out a lot of All-American DBs and guys who went on to the next level," said Harris, who endured the toughest struggle of anyone in the loss to Baylor, but re-earned a starting position this spring. "I was really excited to know he was coming in here."
The word of the spring for Stoops' new troops was simplification. Brent Venables fielded a whole lot of good defenses before leaving for Clemson this offseason, but the change was welcomed, especially by the Sooners' most scrutinized unit of 2011.
"In talking to some of my other teammates, I think everybody is liking the new defense and knowing exactly what they need to do. One of the things we were lacking last year was just not knowing exactly what's going on," Harris said. "Now we're learning those things and we feel one step ahead."
Step one in fixing what ailed the Sooners in 2011? Prevent the big play.
"We're just trying to get our players in the right positions to be more efficient and more effective players. That's the consensus of what we saw a year ago. How much we can simplify things, that's hard to say," Stoops said. "We're going to do what we need to do to be successful."
Stoops installed most of his defense this spring; the fall will be dedicated to perfecting it. The spring was about finding what the defense did well, establishing an identity, and putting everyone where he needs to be.
"The way he approaches things is easier to learn," Ibiloye said.
The biggest position move?
Tony Jefferson
is headed to traditional safety after holding down Oklahoma's nickel-back spot the past two seasons, including 2010, when he shared Big 12 Defensive Freshman of the Year honors.
"We're going to have flexibility. Our linebackers give us a lot of flexibility to do some things, and I think we have some secondary guys that give us some flexibility to get our best players on the field," Stoops said. "That's ultimately, that's what we're trying to do, is find the best 11, 12, 13 players and then take it from there."
Said Harris: "He wants to get players to know the defense and know their position and be able to play loose and not think as much."
That'll come with time, but Stoops made one thing clear when he met each of his new defenders.
"I'm not going to put you in those positions where, if I'm not sure you can do something, I'm not going to make you do them," Harris said Stoops told him. "That's one thing I appreciated from him, that I'll have that chance to come out here and do what I do best."
Players, particularly experienced seniors, had their doubts about the new coordinator, but the comfort level is high as doubts have receded. One place there's no lack of confidence? The top, where Stoops' brother, Bob Stoops, holds down the head job.
"I've got great confidence in him of course and what he sees. It's been great to have him back," Stoops said. "It gives me a strong sense of security that we're doing things the best way we can."
January, 27, 2011
1/27/11
10:09
AM CT
Signing day is exactly a week from Wednesday, and it's time to take a look at who needs what in its 2011 class.
Some schools have addressed these needs with their current class. Some haven't. Others are still trying.
Here's our look at the South, after running down the
Big 12 North
earlier this morning.

BAYLOR
Defensive tackle:
The Bears are loaded on offense and have a ton coming back, but anyone who watched Baylor in 2010 knows the big problems are on defense, starting with the front four. Phil Taylor is headed to the NFL and Nicolas Jean-Baptiste will be a senior next year. Reserve Chris Buford is gone, too. The Bears need to fill out some depth up front to avoid a repeat of their Texas Bowl debacle defending the run against Illinois.
Punter
: Derek Epperson was rock solid as a four-year starter for the Bears, averaging near 44 yards a punt for his past three seasons. He's gone now, and the Bears will need a replacement. The good news is Baylor's offense with
Robert Griffin III
doesn't make the position nearly as important as it used to be.

OKLAHOMA
Receiver:
Ryan Broyles
, a senior, and
Kenny Stills
look ready for big years in 2011, but senior
Cameron Kenney
is gone.
Trey Franks
,
Dejuan Miller
and
Joe Powell
could contribute in 2011, but beyond that, another big-time threat across from Stills would certainly help. One of the Sooners' top 2011 commits, Trey Metoyer, could become that player.
Safety:
Both starters, Quinton Carter and Jonathan Nelson, have graduated, and the Sooners will try to replace them with Sam Proctor, who has started plenty of games, and Javon Harris. The Sooners are pretty well-stocked about everywhere, but more depth in the secondary is always welcome.

OKLAHOMA STATE
Defensive line:
Three of the Cowboys' four starters are gone, and it's always necessary to fill in some depth behind them. Shane Jarka, Chris Donaldson and Ugo Chinasa all had good years in 2010.
Offensive line:
Oklahoma State brings back all five starters for 2011, but four will be seniors. That means replacing them in 2012, which will be a lot easier if those replacements don't end up being true freshmen. Oklahoma State kept offensive line coach Joe Wickline, a candidate for the same job at Texas, and his development of the line last year with four new starters was a big reason for the Cowboys' success. He'll need to do it again in 2012.

TEXAS
Running back:
Fozzy Whittaker
and
Cody Johnson
will both be seniors in 2011, and Tre Newton's career is over because of issues with concussions. Texas would be well-served if its top 2011 commit, Malcolm Brown, can come in and be effective immediately as a true freshman.
Cornerback:
Aaron Williams left early. Curtis and Chykie Brown graduated. Texas needs help at corner and will have big problems in the near future if they don't get it.
Linebacker:
Emmanuel Acho and Keenan Robinson will be seniors in 2011, and Dustin Earnest and Jared Norton already graduated. New talent behind them will help prevent a drop-off in 2012 after Acho and Robinson split.

TEXAS A&M
Kicker:
Randy Bullock will be a senior in 2011, but Texas A&M is already hoping his spot is filled by incoming freshman Taylor Bertolet, the nation's No. 2 kicker who won the Under Armour All-American game with a last-second field goal earlier this month.
Linebacker:
Michael Hodges and Von Miller have graduated, and Garrick Williams will follow them in 2011. The Wrecking Crew was pretty stout for most of 2010, but filling those holes in a four-linebacker front will be key in ensuring things stay that way.

TEXAS TECH
Secondary:
LaRon Moore and Franklin Mitchem are gone, so Texas Tech will be breaking in some new blood in the secondary for new coordinator Chad Glasgow and cornerbacks coach Otis Mounds. Freshmen cornerbacks Jarvis Phillips and Tre Porter made plays in 2010, but they also allowed offenses to make a few of their own. Stopping that will be a big step in Texas Tech getting things rolling under Tommy Tuberville.
Receiver:
Texas Tech already needs to replace
Detron Lewis
and
Lyle Leong
, and
Tramain Swindall
and
Jacoby Franks
will follow suit after 2011.
Alex Torres
was hampered by a back injury all year, but the Red Raiders will need some depth around him at receiver to keep the offense humming.