Dallas Colleges:

John Chavis
July, 22, 2014
Jul 22
9:40
AM CT
The Big 12 media days continue on Tuesday in Dallas, as Oklahoma's Bob Stoops and new Texas coach Charlie Strong each take the stage. Keep this page open throughout the day's proceedings as we bring you the latest from our reporters, who will cover all 10 teams at the event.
November, 25, 2013
11/25/13
3:00
PM CT
Many parts of Texas A&M's first two seasons in its new conference home, the SEC, have been dreamlike.
It has included top-10 rankings, a Heisman Trophy, historic wins, huge crowds, big television ratings and, at times, the eyes of the college football world.
But on Saturday in Baton Rouge, La., the Aggies were dealt a dose of cold, harsh reality during a 34-10 loss to LSU in what were, well, cold and harsh conditions. Life in the SEC is tough. For everyone.
Texas A&M's success in the nation's premier conference came much more quickly than people outside College Station anticipated and even faster than some wearing maroon-colored glasses could have pictured. Coming off a 7-6 season in its final Big 12 Conference campaign, it was widely thought the Aggies would, as Kevin Sumlin has said before, "get their brains kicked in."
[+] Enlarge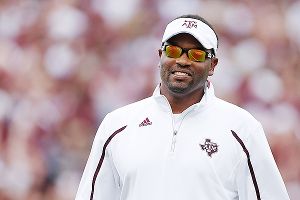 Scott Halleran/Getty ImagesKevin Sumlin has fashioned winning records in Texas A&M's first two seasons in the SEC, but will he stick around for the long haul?
That didn't happen. The Aggies went 11-2 in their first season in the league, beat No. 1 Alabama and took home sports' most prestigious individual award, the Heisman Trophy, which went to quarterback
Johnny Manziel
.
And even though there remained a window of hope this season for attaining a berth to a BCS bowl for the first time since 1998 and potentially a second Heisman for Manziel, LSU ended those hopes emphatically on Saturday.
It helped illustrate two points: (1) The Aggies still have a ways to go to reach the level of the league's very best programs, and (2) once you get to the top, it's hard to stay there.
Take LSU as an example. The Tigers have been consistently among the SEC elite for the last decade-plus. They've won four SEC championships since the turn of the century (2001, 2003, 2007, 2011) and two BCS national championships (2003 and 2007). But the Tigers currently have the same 2013 record as the Aggies (8-3), the team they just beat.
Two weeks prior to Saturday, LSU was beaten and battered at the hands of No. 1 Alabama. The second half of the Crimson Tide's 38-17 win, and in particular the fourth quarter, was intriguing to watch as the Tide asserted its will on both sides of the football.
That was done to a program that's 92-24 in the Les Miles era.
Florida (4-7), is by all accounts, a mess right now. Florida was in the Sugar Bowl last season and was ranked No. 3 before taking a beating from Louisville. It's also a program with two BCS national titles in the last decade (2006 and 2008).
Building a program that succeeds at the level of Alabama and LSU takes time. It takes talent and years of strong recruiting classes. It takes stability in the coaching staff.
Early in their SEC membership, the Aggies are taking steps in that direction. The work on a $450 million renovation of Kyle Field, to turn it into a 102,500-seat palace, is under way and scheduled for completion in time for the 2015 season. The Aggies had the country's eighth-ranked recruiting class in the 2013 cycle, and they currently have the sixth-ranked class in 2014.
After a strong debut season in Aggieland, Texas A&M took care of head coach Kevin Sumlin with a raise to take his annually salary to $3.1 million, so that commitment is in place. Whether Sumlin, whose name is thrown around for other jobs almost annually, chooses to stay or make another move is another matter, but if he chooses to remain at A&M the potential for a power program under his watch appears to be there.
As for the current squad, Saturday's result and the Aggies' losses to Alabama and Auburn earlier this season have made a few things evident. The depth and experience needed on defense for consistent SEC success is not present yet. The Aggies are recruiting heavily on the defensive line, but it will take time for those players to be ready to contribute. The way Alabama, Auburn and LSU were able to run the ball (not to mention several other teams) when they had to shows the need for growth there.
The offense, while usually productive in its first two SEC seasons and even in the losses to the Tide and Auburn, can still improve. Even with a one-of-a-kind player like Manziel, who can mask deficiencies with his playmaking ability, the Aggies weren't able to fool LSU, a team with speed at all three levels on defense and a well-respected defensive coordinator, John Chavis. And Manziel likely won't be around next year, so the Aggies will have to progress with another quarterback, whether it's one of the current backups,
Matt Joeckel
or
Kenny Hill
, or incoming ESPN 300 recruit Kyle Allen.
It's not a given that all of those things will work out. Fortunes can change fast in this league, as Auburn and Florida have shown us this year. But regardless of how the Aggies end this season, they've had two winning campaigns to start their membership in the SEC. Dreams of BCS bowls, SEC championships and national championships apparently have to wait. In this league, it takes time.
November, 24, 2013
11/24/13
2:30
AM CT
BATON ROUGE, La. -- Only now, with two games remaining (unofficially, of course) in
Johnny Manziel
's short but captivating college football career, do we have a handle on what it takes to make Johnny Football look mortal.
Put him on a field with LSU's defense on the other side.
The Tigers swarmed, suffocated and effectively snuffed out Manziel's quest for a second consecutive Heisman Trophy on the kind of wet, windy and cold day that made Texas A&M's 34-10 loss all the more miserable.
[+] Enlarge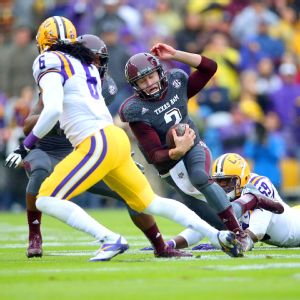 Crystal LoGiudice/USA TODAY SportsJohnny Manziel couldn't find much room to operate as LSU frustrated the Heisman winner once again.
They say it never rains in Tiger Stadium. But it sure rained Saturday, and it rained the hardest on the No. 12 Aggies, who had no answers for an LSU team that put together its most complete game of the season.
"You could sort of see it coming with the way we practiced last week," said LSU receiver
Jarvis Landry
, who had a pair of touchdown catches in the first half to help stake the Tigers to a 21-10 halftime lead.
"We've flirted with this a few times this season and always knew we were capable. I mean, we might have lost a lot of players to the NFL last year, but there's still a lot of NFL-caliber talent on this team. We went out and played like it tonight in every phase of the game."
But LSU's defense stole the show.
It was obvious early that Manziel wasn't real comfortable in the nasty weather conditions, and that was a factor.
A much bigger factor, though, was LSU's energy, speed and discipline on defense, not to mention a scheme that veteran defensive coordinator John Chavis has obviously perfected against these Aggies.
It was also a defense that had grown increasingly tired this past week of hearing about what Manziel was going to do to the Tigers.
"Everybody was talking about how this game was going to be a shootout," LSU defensive tackle
Anthony Johnson
said. "Coach Chavis told us, 'It ain't going to be no shootout.' We weren't going to let that happen."
In many ways, it was a carbon copy of what happened a year ago when these two teams met in College Station. LSU won that game 24-19 and held Manziel without a touchdown -- rushing or passing. He managed just one Saturday, that coming on a 51-yard pass to
Derel Walker
with 1:08 left in the first half when LSU cornerback
Tre'Davious White
fell down.
Chavis' goal was simple: Make Manziel beat the Tigers throwing the football.
"I have great respect for him and know what happens when he's able to get outside, run around and make plays," Chavis said. "As a coach, it's all about putting your kids in a position to make plays. We had to throw some of our younger kids to the fire this year. You don't like to do that, but we didn't have any choice.
"What's so pleasing about this game is to see a lot of those same kids go out against a great player and a great offense and show how far they've come. We needed this. We needed it for our psyche, and we needed to get this done."
Johnson could sense that frustration was starting to set in Saturday with Manziel, who finished 16-of-41 for 224 yards and two interceptions. He was also sacked twice and held to just 54 rushing yards on 12 carries.
It was the first time in Manziel's career that he'd been held to fewer than 300 yards of total offense.
"He wasn't used to not being able to run around and get those plays that he's used to making," Johnson said. "Everybody stayed disciplined. Our defensive backs stayed back on their routes and didn't try to come up and help on the run.
"We stayed true to the scheme, and you saw the results."
The Tigers were successful most of the game in not allowing Manziel to roll right, and their defensive ends did an excellent job of staying home and not giving him any room to scramble outside.
"There's a lot of pride on this defense, and we've haven't always played the way we wanted to this year," LSU linebacker
Lamin Barrow
said. "But we went out there today and took our pride back.
"That's the way LSU defense is supposed to be played."
Manziel, to his credit, wasn't offering any excuses. There was talk of a thumb injury during the television broadcast, but he said it was more a case of the Tigers hitting the Aggies in the mouth and the Aggies never really responding.
"They came out and mixed a lot of things up," Manziel said. "They kept us guessing, and it really took us a while to figure it out."
That makes it two years in a row. The Aggies have now scored just three touchdowns in the past eight quarters against the Tigers.
Until Saturday, they'd scored at least 40 points against everybody they'd played this season.
The Tigers' secret?
"No secrets," Barrow said with a smile. "It's playing LSU football."
November, 20, 2013
11/20/13
8:00
AM CT
COLLEGE STATION, Texas — In Texas A&M's brief history in its new league,
Johnny Manziel
and the Aggies have had the opportunity to beat every SEC opponent they've faced, except two: Florida and LSU.
[+] Enlarge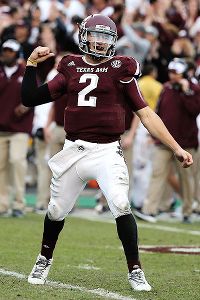 Scott Halleran/Getty ImagesLSU will see a different Johnny Manziel than the one it faced last October in College Station.
A&M's two losses this season came to teams -- Alabama and Auburn -- that it defeated last season. Florida wasn't on the schedule this fall and won't be next season so it will be some time before the Aggies get another shot at the Gators.
But if Manziel and Co. want redemption against LSU, the opportunity affords itself on Saturday in Death Valley. The Tigers are the dragon that Johnny Football has yet to slay.
The 2012 season was a wild one for Manziel, who became the first freshman in college football history to take home Heisman Trophy. Team after team seemed to struggle to find an answer for the unpredictability that Manziel possesses.
LSU was not one of those teams.
The Tigers are the team that held Manziel to career-worsts in several areas. according to ESPN Stats and Information. His completion percentage was the lowest he has ever had (51.8) in a game. So were his yards per pass attempt (4.9). His minus-3 touchdown-to-interception ratio was a career low as was his Total QBR (25.8). His signature running ability? That was bottled up too, as LSU held him to 27 yards, a season-low in 2012 and a career-low 1.6 yards per carry.
A lot of factors went into that performance and much has changed since the two teams met on Oct. 20, 2012 at Kyle Field.
LSU's defensive front was filled with elite talent last season. Five players from LSU's two-deep in the front seven were chosen in the first five rounds of the 2013 NFL draft (four of them were juniors who declared for early entry into the draft – defensive ends Barkevious Mingo and Sam Montgomery, defensive tackle Bennie Logan and linebacker Kevin Minter).
While the Tigers are still talented up front, they're not quite as experienced and might not be up to the caliber that last season's group was.
"I think their defense last year, you had a bunch of NFL guys [who] were pass rushers," Texas A&M offensive coordinator Clarence McKinney said. "Not that these guys aren't, but those guys were really, really good. It was just a battle between our tackles and their outside rush guys."
Those battles were key in LSU's success. Tigers defensive coordinator John Chavis appeared to craft an effective plan against Manziel, who had a tendency to escape the pocket and devastate teams with his running ability. Combine the strategy Chavis and his assistants employed with the speed and athleticism of guys like Mingo, Montgomery and others, and you had the desired result for the Tigers.
Earlier this season, Texas A&M offensive line coach B.J. Anderson recalled specific strategies used by the LSU defensive ends.
"They rush hard vertically, then you can tell Chavis has given them spots [on the field to pause]," Anderson said. "When they get to [the spot, they] stop and they squeeze and press those [offensive] tackles. They want him to feel the pressure, but they know if they blow up the field, he'll just run underneath him and there he goes. We had to adjust to that."
LSU head coach Les Miles said that there are elements of the 2012 attack that the Tigers will employ, but it won't necessarily be the same game plan.
"We're going to do similar things," Miles said. "We're going to not necessarily do what we did a year ago, but I think some of the principles will be the same."
The Tigers also appeared careful not to "over-rush" too hard vertically up the field off the edges to prevent open running lanes for Manziel. However, they were still able to get good pursuit, often times bringing a quick linebacker or even a safety off the edge to utilize their speed and catch Manziel before he could escape. That helped them limit him to a career-low 2.6 yards per play on plays outside the pocket, according to ESPN Stats and Information.
"You'd like for him to be pressured, not only by a rush lane, but by coverage," Miles said. "In other words, not necessarily say hold, but you would push the pocket at him, and hopefully his running opportunities would minimize as his time to throw it grew short, he had to make a decision. And that's what you'd like to have happen.
"And then cover during that time. At those other times, where you add a guy to the rush, now you'd better cover it very quickly and then you'd better be able to chase. I think chase is a part of the game, as well."
This will be a grand stage and a challenging setting, as LSU is an elite home team that's 25-1 at Tiger Stadium since 2010. Manziel, however, has thrived on the road, where he's 9-0 and has been responsible for 31 touchdowns with just eight turnovers, while averaging 417.2 yards of offense.
Manziel has improved significantly since the teams' meeting in 2012, the seventh game of his career. Miles noted earlier this week that Manziel is "bigger, faster, stronger," and it's clear that he has improved as a passer, something that should help him this week.
Texas A&M coach Kevin Sumlin noted that not much stock should be put into last season's game because of the difference in the teams, as well as the fact that the Aggies progressed and even changed some after the 24-19 loss to the Tigers last October.
"I'll be honest with you, there's two different football teams on the field this year," Sumlin said. "They lost a bunch of guys, particularly edge players defensively. I think it goes without saying that offensively, schematically, we changed as the season went on after that football game. Last year's video is important, but not nearly as important as the last seven or eight weeks of video."
June, 22, 2013
6/22/13
12:30
PM CT
In keeping with the theme of peering into our crystal balls to see what's in store for the future of college football, it's time to look at how all 14 SEC teams will do over the next few years.
To come up with our future rankings, we looked at coaching, current players, depth, recruiting and the current state of each program.
It was a very tough process, but someone had to do it. This shouldn't cause much of a stir at all:

1. Alabama:
So Alabama is equipped with the sport's best coach, has some of the best facilities in the country and is still recruiting better than anyone else? Yeah, I think Alabama will be just fine over the next few years and will continue to look down at the rest of the SEC. It'll be interesting to see what happens when
AJ McCarron
leaves, but Nick Saban might have his quarterback of the future in David Cornwell and appears to have plenty to work with on both sides of the ball for years to come.

2. LSU:
The Tigers will always be able to recruit with the best of them. Les Miles has a strong group of younger players, and many will get some valuable time this fall, especially on defense. With John Chavis around, LSU's defense will be fine. It's the offense that people wonder about. But the addition of Cam Cameron as offensive coordinator should definitely help. The plan is to become more explosive in the passing game, and a good start in 2013 would go a long way toward securing more passing deep threats.

3. Florida:
Will Muschamp has seen both the good and bad during his two years with the Gators, but he's building his program the right way. Florida could miss out on another trip to the SEC championship game this year, but the Gators are built for the long run with the recruiting job Muschamp has done. He has a handful of young offensive players already on campus to build around and appears to have his quarterback of the future -- 2014 recruit Will Grier. Florida's future on defense looks extremely bright as well with the foundation being built up front.

4. Texas A&M:
Johnny Manziel
will soon be gone, but Kevin Sumlin has done a great job of recruiting since his arrival in College Station. As long he's around, the Aggies should be fine. Last year, he brought in highly touted pass-catchers Ricky Seals-Jones and Sebastian LaRue. Both could see good time this year and will eventually help Manziel's replacement, who could be 2014 commit Kyle Allen. There are some holes to fill this year, but the good news is that a lot of younger players will get valuable experience, which will only make this team stronger in the years to come.

5. Georgia:
Like the top SEC teams, Georgia won't have any trouble recruiting over the next few years. It's all about development and breaking through in the big games. Mark Richt doesn't always get the credit he deserves, but he's made back-to-back SEC championships. The Bulldogs are young on defense, but that won't matter over the next couple of years, as those players get all those game reps. The future of the offense looks bright with the players signed this year and how the 2014 class is shaping up.

6. South Carolina:
As long as Steve Spurrier is around, the Gamecocks will compete for an SEC East title. South Carolina has held its own in the recruiting world since Spurrier arrived, and while it's going to get tougher with schools like Kentucky, Tennessee and Vanderbilt recruiting at a much higher level these days, don't expect Spurrier to miss much of a beat. It helps that the Gamecocks have a good base of young players to work with now.

7. Ole Miss:
Hugh Freeze has totally changed the perception of this program, and he's recruiting like no other Rebels coach in recent history has. Ole Miss has depth issues, but that historic 2013 recruiting class will be the foundation of Freeze's first few years in Oxford. If it lives up to the hype, watch out. Ole Miss surprised many with its play last year, and expect that to improve as the talent continues to roll in thanks to Freeze's recruiting efforts.

8. Auburn:
Gus Malzahn hopes to have the right recipe for turning Auburn around. He was around when the Tigers won the national championship in 2010, and the hope is that his spread offense rejuvenates a team that took too many steps backward last year. He has his type of players on his roster now, and after closing strong on the recruiting front with his first class, Malzahn isn't missing a beat this year. He'll make sure the Tigers are more competitive in the SEC West.

9. Vanderbilt:
James Franklin has done a tremendous job transforming pretty much everything at Vandy, and he doesn't look like he's going to stop any time soon. The Commodores are recruiting at a very high level, and this team is looking for more than just bowl victories. The Commodores want an SEC title, and Franklin believes he can get his team there. If that attitude remains and the recruiting momentum keeps chugging along, the Commodores will stay around the eight- or nine-win mark.

10. Tennessee:
There's no question that Butch Jones has brought much more excitement to Knoxville since his arrival -- and he hasn't even coached a game yet. The Vols aren't built to win the SEC East right now, but if Jones can keep his current 2014 class intact, Tennessee will have a great foundation to work with. But we've seen that before with the Vols. This new staff has to make sure it's developing all that talent the right way as well.

11. Arkansas:
The success that Bret Bielema had at Wisconsin has Arkansas' fan base extremely excited about the future. Right now, he just doesn't have the players he needs to compete at the high level that he wants to. Bielema did a good job of closing his first class with the types of players he wants in order to have the big, physical team he wants. It'll be tough enough competing in the West, which will only get stronger, so Bielema has to make sure that his recruiting efforts improve and that he builds more evenly on both sides of the ball.

12. Mississippi State:
There's no question that Dan Mullen has done a great job during his time at Mississippi State, but the emergence of Ole Miss could hold the Bulldogs back when it comes to recruiting. The best players in and around Mississippi are now more interested in the Rebels, which certainly doesn't help. The Bulldogs also have to play much better in big games. Last year, Mississippi State waltzed through a very soft nonconference slate before ending the season with a 1-5 record, including four losses to ranked teams.

13. Kentucky:
Mark Stoops has one of the country's best recruiting classes, which bodes well for the future of this program. But can this staff develop this talent once it arrives? That's yet to be seen, as Stoops hasn't even coached a game at his new school. The good news is that the Wildcats will be built on a more defensive foundation. We know how important that is, but Kentucky is behind most of its conference counterparts when it comes to immediate talent as a whole.

14. Missouri:
We learned last year that the Tigers just weren't properly built to immediately compete in the SEC. Sure, injuries really hurt this team, but Mizzou has to get tougher all around and bigger up front if it wants to really compete in the SEC. It also has to start recruiting at a much higher level. With Kentucky, Tennessee and Vanderbilt currently outpacing Mizzou on the recruiting trail, the Tigers have a lot of ground to make up. And they have to start getting more SEC-ready players or they'll dig themselves into a deeper hole.
August, 31, 2011
8/31/11
5:49
PM CT
Everybody talks about Oregon's speed and explosiveness.
The Ducks are fast, and they play even faster. When a lot of teams are just trying to catch their breath at critical junctures in the second half, Oregon is trying to figure out a way to squeeze in a few more offensive plays.
"If you let them get on a roll, they're usually going to run you into the ground," LSU senior safety Brandon Taylor said.
The Tigers' defenders are confident they can match the Ducks' speed on the field. LSU defensive coordinator John Chavis thinks this might be the fastest defense he's ever coached.
[+] Enlarge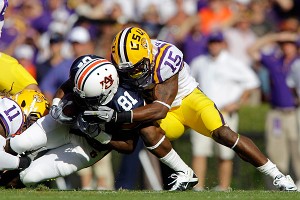 John Reed/US PresswireSlowing down Oregon's offense will be important for Brandon Taylor (15) and LSU.
It's not just in the secondary, either.
"We've got defensive ends who run like they should be playing back there with us," said Taylor, entering his third season as LSU's starting strong safety. "I think we match up with these guys in speed.
"What it's going to come down to is making sure we get our plays in and getting lined up on time."
LSU geared a portion of its offseason conditioning program to handling Oregon's blistering offensive pace and actually worked against two different scout teams. That way, the defense was always working against a fresh offense that was at the line and ready to snap the ball as soon as the last play ended.
One of the other things Taylor says this LSU defense has going for it is a keen understanding of Chavis' system, not to mention a deep bench. This is Chavis' third season in Baton Rouge, and if the preseason was any indication, Taylor said this defense will be the Tigers' most proficient yet.
"We know this defense inside and out now," Taylor said. "There's no hesitating on this defense. If you're out there hesitating and playing slow, you're going to get pulled, and the next man behind you is going to be in there.
"We've all seen what happens if you hesitate against Oregon. You better hit them before they hit you."
The Tigers have worn out the game tape from last season's BCS National Championship Game.
Oregon averaged 303.8 yards rushing in its first 12 games last season, but was held to 75 yards on the ground against Auburn in the championship game.
"Auburn's front seven did a great job of pursuing up the field and tackling the backs and quarterbacks," Taylor said. "If you don't tackle these guys, they're going to break a long one."
Nobody in college football was better last season than Oregon at scoring from long distance. Oregon tied with Auburn nationally for the most touchdown plays of 25 yards or longer (27).
The Ducks' 45 touchdown drives of two minutes or less last season were nine more than the No. 2 team nationally. Boise State had 36.
"It's an offense that commands your attention every snap," Chavis said.
One of the best things the Tigers did on defense last season was keep teams out of the end zone. They finished 11
th
nationally in scoring defense. They also led the SEC and tied for eighth nationally in forced turnovers (32).
What the Tigers didn't do as well was eliminate the big play, and it caught up with them in their two losses.
In fact, three big plays in particular might have cost them a shot at the national championship. In the Auburn game, Cam Newton scored on a 49-yard touchdown run, and
Onterio McCalebb
broke a tie game in the fourth quarter with a 70-yard touchdown run.
Then in the regular-season finale against Arkansas -- and with Taylor sidelined after injuring his leg against Alabama -- the Hogs hit the Tigers with an 80-yard touchdown pass on the final play of the first half.
If that wasn't enough, Arkansas also scored on touchdown passes of 85 and 39 yards in that contest.
Taylor's absence was a huge blow, and Chavis said the LSU defense also was never the same after end Sam Montgomery went down with a knee injury at the midway point of the season.
"We're all ready to go now, back to 100 percent," Taylor said. "I feel like I'm faster than I was last year."
The Tigers also get another shot at a spread offense after being shredded for 440 rushing yards by Auburn and Newton last season in that 24-17 loss on the Plains. It's the most rushing yards ever allowed by LSU.
"That's a game we didn't tackle well in, so we know what can happen if we don't get guys on the ground when we have a chance to make a play," Taylor said.
Chavis likes to play his "Mustang" package, which makes an already fast LSU defense even faster with six defensive backs on the field.
A former safety, Karnell Hatcher, is also playing some at middle linebacker for the Tigers.
"We've got enough depth that we're going to be able to rotate players in," Taylor said. "We know they're going to keep coming at us, but we're going to keep coming at them with a lot of fresh legs."