Dallas Colleges:

John Harris
March, 3, 2014
Mar 3
9:00
AM CT
Editor's note: This is the first part of a weeklong series breaking down Texas' most important spring position battles when the Longhorns begin practice in two weeks.
Moving on:
Texas is losing, statistically, one of the best wide receivers in its program's history in
Mike Davis
. He leaves Austin ranking No. 4 in the Longhorn record books in both career receptions and receiving yards, and fifth in receiving TDs. And imagine what he could have done had Texas enjoyed a little more stability at the quarterback position during his four years. He started 38 games and brought the deep threat needed to stretch Big 12 defenses.
The contenders:
We know what Texas has in reliable longtime starter
Jaxon Shipley
. No reason to worry about him. And you could argue that
Kendall Sanders
and
Marcus Johnson
aren't really competing with each other for snaps. They seem like logical choices to be the No. 2 and No. 3 guys in this unit, at least on paper.
Among those vying with Shipley, Sanders and Johnson to prove they should see the field in 2014:
John Harris
,
Jacorey Warrick
,
Montrel Meander
,
Jake Oliver
,
Armanti Foreman
,
Lorenzo Joe
,
Dorian Leonard
,
Roderick Bernard
and
Garrett Gray
.
And don't forget
Daje Johnson
, the versatile weapon who focused on receiver in 2013, and the injured
Bryant Jackson
, who will miss spring practice. Even if a few of these wideouts leave for playing time elsewhere, it's going to be a crowded receiver room this fall.
Moving forward:
What makes this a battle is the stunning number of young backups who will compete for playing time this fall. There's plenty of time for this number to change, and it will, but Texas could have as many as 14 scholarship receivers on the roster this fall.
Several of the incoming freshmen will redshirt, that much seems certain, but who knows what the Longhorns can expect from the rest. That's the upside of signing so many wideouts with different skill sets. Throw them all onto a practice field, see which ones improve and stand out, and play the best of the best. That's a luxury new receivers coach Les Koenning gets this fall.
Prediction:
Many will point to Foreman and Joe as immediate contributors, and they'll get a shot. But the trio of second-year receivers -- Warrick, Meander and Oliver -- will catch folks by surprise and find meaningful roles.
What'll be fascinating to watch this spring is how the new staff puts Daje Johnson to use, and whether he can get his act together after two suspensions last season. If he does, he's got a chance to become a nationally known and feared playmaker.
January, 22, 2014
Jan 22
1:00
PM CT
We've been counting down the 10 best games of the year in the Big 12. Here's No. 6, a true nail-biter that nobody saw coming.


No. 6: Oct. 3 -- Texas 31, Iowa State 30
In a Thursday night game neither team will soon forget, Texas came oh-so-close to fumbling away a loss in Ames but escaped with a one-point victory over Iowa State that was far closer than the score suggests.
What happened:
A game with twists and turns -- from a Hail Mary before halftime to a 97-yard pass and a whole bunch in between -- came down to one goal-line battle and one controversial play.
On first-and-goal at the 3,
Johnathan Gray
ran up the middle and, at some point, lost the football. Iowa State linebacker
Jeremiah George
scooped it up and ran off, believing he'd secured victory. Instead, game officials called Gray down at the 2, reviewed the play from five camera angles and determined no undisputable evidence of a fumble could be found.
Texas kept possession and scored two plays later on a
Case McCoy
dive to go ahead 31-30.
Jackson Jeffcoat
sealed the win with a last-second interception and the Longhorns improved to 3-2 by the slimmest of margins.
McCoy needed a career-high 45 pass attempts -- and a good bit of luck -- to pull off this win. Just as things were starting to look bleak, he lobbed a 44-yard touchdown pass to
John Harris
with time expiring in the second quarter, giving Texas a 17-13 lead.
The teams traded a few scores from there, highlighted by
Quenton Bundrage's
97-yard touchdown in the third quarter, and ISU led by 6 with 3:40 left. Texas answered with a 12-play, 75-yard drive that ended with a game-winning score and a very unhappy Paul Rhoads.
Player of the game:
Lots of possible choices, including a few Cyclones, but Gray had an important performance. He started the day off with a 45-yard touchdown run but was fairly underused from there, finishing with 89 rushing yards on 16 carries. He did chip in two key runs on the final drive before the controversy began.
Stat of the game:
With the win, Texas improved to 10-1 against Iowa State.
Quotable:
"I've got the privilege as the head coach of this football program to face my players, win or lose, and look them in the eye and [tell them] how proud I am of the work they put forth, the effort they gave. And to make a play on the 1-yard line, with their backs against the wall -- clear to everybody -- and have it taken away from them … that's hard to express. You don't just put an arm around a guy and tell him it's OK when that happens to him. I'm so proud of the effort my kids gave to win this football game tonight." -- Rhoads, during his postgame comments
Quotable, part II:
"I've got pretty good eyesight. The view I had of that gigantic screen in the north end zone showed a player that was not down and our guy with the football." -- Rhoads
The rest of the list:
November, 12, 2013
11/12/13
2:00
PM CT
AUSTIN, Texas -- Call it magic, or moxie, or luck, or whatever you want.
Case McCoy
likes a good comeback.
"I think sometimes he just likes to live close to the edge," Texas lineman
Mason Walters
said.
Following his trip to West Virginia last weekend, the senior quarterback's résumé now includes four comeback road victories. Texas has found some serious fortune when McCoy is facing a fourth-quarter deficit and a whole lot of pressure. He doesn't have an easy explanation for why this keeps working out for him and his Longhorns.
"I don't know what the formula is to any of that," McCoy said Monday.
He doesn't get away with it all the time (see: the 2011 Missouri loss). But these Longhorns have a strange knack for surviving close road games late when McCoy is behind center. Here's a review of the four comebacks he has pulled off in the last three years.
No. 25 Texas 27, Texas A&M 25
Nov. 24, 2011 | Kyle Field | College Station, Texas
[+] Enlarge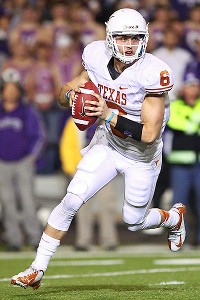 Tim Larson/Icon SMIThere's something about a late-game deficit on the road that brings out the best in Case McCoy.
The deficit:
Texas trailed 25-24 after Texas A&M quarterback Ryan Tannehill hit Jeff Fuller with a 16-yard touchdown pass with 1:48 left. The Aggies' two-point conversion failed.
The comeback:
McCoy led the Longhorns on a seven-play, 48-yard drive, and Justin Tucker became a Texas legend with his 40-yard field goal with time expiring to beat A&M in the final game of their century-old rivalry.
McCoy magic:
With 46 seconds left, McCoy dropped back to pass, then scrambled right and up the middle. He shed one tackle and bounced off another before gaining 25 yards, putting Texas in position for Tucker's game-winner.
Final line:
16 of 27, 110 passing yards; 7 rushes, 25 yards, 33.6 QBR
Quotable:
"I told him: 'Here's where you become the guy, and here's where you take us down and win the game. Every quarterback has to have a signature moment and this is going to be yours.' " -- Texas coach Mack Brown
No. 23 Texas 21, Kansas 17
Oct. 27, 2012 | Memorial Stadium | Lawrence, Kan.
The deficit:
Texas trailed 14-7 with 13:04 left when McCoy entered the game to replace an ineffective
David Ash
, who threw two interceptions. After going ahead 7-0 early, Texas' offense had produced five punts, two turnovers and one turnover on downs.
The comeback:
McCoy led two touchdown drives in the game's final 10 minutes and connected with tight end D.J. Grant for a 1-yard touchdown with 12 seconds left to escape a near-disastrous game with a victory and improve to 6-2.
McCoy magic:
After nearly throwing a game-sealing interception on his first attempt of the final drive, McCoy found
Jaxon Shipley
for an 18-yard gain on a fourth down, hit
Mike Davis
for a 39-yard gain one play later, then got the game-winner to Grant after
Johnathan Gray
was stopped twice at the goal line.
Final line:
5 of 7, 68 passing yards, 1 TD, 99.7 QBR
Quotable:
"It wasn't anything I did. I think our coaches and our team just decided to dig down deep and decide to fight. We definitely came out slow and sluggish, and that's something we can't do the rest of this year. We got lucky, and we were able to come out of here with a win." -- McCoy
Texas 31, Iowa State 30
Oct. 3, 2013 | Jack Trice Stadium | Ames, Iowa
The deficit:
Iowa State rallied with 10 points in the fourth quarter and extended its lead to 30-24 on a field goal with 3:40 left in the game.
The comeback:
Texas marched 75 yards in 12 plays, with the help of 38 yards off Iowa State penalties, to score with 51 seconds remaining. Of course, all anyone will remember from this drive are Gray's two controversial near-fumbles at the goal line.
McCoy magic:
After Gray's two short-yardage failures, McCoy pushed in for a 1-yard touchdown run on third-and-goal to put Texas ahead for good. More memorably, he found
John Harris
on a 44-yard Hail Mary to take a lead into halftime.
Final line:
26 of 45, 244 passing yards, 1 TD, 66.4 QBR
Quotable:
"This will be a real positive for us moving forward. I'm really excited. I think I love comeback wins on the road more than anything in football." -- Brown
Texas 47, West Virginia 40, OT
Nov. 9, 2013 | Milan Puskar Stadium | Morgantown, W.Va.
The deficit:
Texas trailed 26-16 midway through the third quarter, scored two touchdowns, gave up the lead, retook it and lost it again. The Longhorns were down 40-37 with 2:35 left in regulation.
The comeback:
The Longhorns went 57 yards in 12 plays and forced overtime with a 24-yard field goal from
Anthony Fera
, then found the end zone in six plays in overtime and got a four-play goal-line stand from its defense for the win.
McCoy magic:
The 10-yard touchdown to Jaxon Shipley to put Texas up 37-33. The 9-yard completion to Shipley on fourth-and-7 in the final drive of regulation. The 14-yard pass to
Marcus Johnson
on third-and-4 in overtime. The third-and-goal pass to
Alex De La Torre
that he missed against Oklahoma. He had a few big moments.
Final line:
27 of 49, 283 passing yards, 3 TDs, 1 INT, 71.9 QBR
Quotable:
"Never been more proud of my team, my offense and my defense. We didn't do everything right by any means, but we came into a hostile environment and got a win." -- McCoy
July, 30, 2012
7/30/12
6:30
PM CT
AUSTIN, Texas -- Texas guard David Snow rarely came off the field in 2011.
The same goes for guard
Mason Walters
, defensive end
Alex Okafor
, defensive tackle Kheeston Randall and so many others on the first line of Texas' depth chart. That's because Texas had no depth, except, as every fan painfully remembers, at quarterback.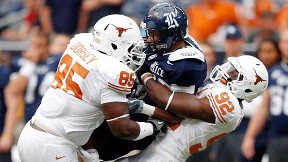 Bob Levey/Getty ImagesDepth along the defensive line will be a huge asset for Texas in 2012.
Nothing has changed with the quarterback situation. But when it comes to the other 21 spots, Texas is no longer and all-hat-no-cattle organization. It has depth, not everywhere, but there is enough to allow for a sigh of relief from those who had nowhere to turn or sideline to sit on in 2011.
"Right now there are three to four guys who can come in there and with [offensive line coach Stacy] Searels, you never know where any of them might play," Walters said. "But you know they will be ready."
Ready is one thing, able is the key when it comes to depth.
Clearly Texas is more than able at multiple positions.
At running back the Longhorns have
Malcolm Brown
and
Joe Bergeron
returning and add
Johnathan Gray
.
Along the offensive line Texas has four starters back, added
Donald Hawkins
at tackle and has
Sedrick Flowers
(guard),
Luke Poehlmann
(tackle),
Garrett Porter
(center) and
Thomas Ashcraft
(guard/tackle).
"Those guys are ready to step up," Mack Brown said.