Dallas Colleges:

John Marinatto
December, 18, 2012
12/18/12
12:00
PM CT
Former Big East commissioner Mike Tranghese spoke out about the
breakup of the Big East
, telling our very own Brett McMurphy, "If they want to blame someone, blame me."
There is plenty of blame to go around, no question, and Traghese does deserve his share of criticism. The Big East breakup began under his watch, when Miami, Virginia Tech and Boston College defected to the ACC in the early 2000s. But of all the comments he made to McMurphy, this one stuck out to me the most:
"The thing the Big East didn't have was a football leader -- a Florida, Alabama or USC -- a team that contended for the national championship every year or carried the league. It wasn't strong enough football-wise."
I wholeheartedly disagree with that assertion, and it sounds as if Tranghese is practicing a bit of revisionist history here. Because he had Miami as his leader when the league added football in 1991 -- the year the Hurricanes won their fourth national championship. In 1992, Miami played for another national championship before losing to Alabama. While the Hurricanes did suffer through NCAA sanctions and probation for a short period, Miami won another national championship in 2001 and played for another in 2002.
All under the Big East umbrella. Tally up the numbers, and Miami finished in the Top 25 in 12 of its 13 years in the league, won two national titles and played for two more. The Hurricanes had more Top 25 finishes and played for more national titles than Alabama and USC during that stretch.
Virginia Tech also played for a national title and had eight Top 25 finishes during its stay in the league.
So to say the Big East had no football power is either mis-remembering, or trying to make excuses for how the league began to fall apart when he was still commissioner. I think it is safer to say that the Big East failed to embrace the growing power of football and the corresponding growth in television dollars because of its split interests. This league put basketball first at just about every step. Football was never made a priority, and Miami, Boston College and Virginia Tech made the first move to get out. That, in turn, left the Big East open to more defections, as Tranghese points out:
"Everything in this day and age is about money," Tranghese said. "I don't know what Mike (Aresco), John (Marinatto) or I could have done. We weren't strong enough football-wise and we got picked apart. If there was someone out there that could have made us more powerful we would have went after them."
And now the Big East is no more.
February, 14, 2012
2/14/12
12:13
PM CT
When West Virginia defiantly announced in October that it would leave for the Big 12 as soon as possible, did anybody really think the Big East would be able to stop it?
We are talking about the Big East, after all, a league that never seems to win. A league that seems to get taken advantage of at almost every turn. There is a reason the Big East has the reputation of being a league that gets kicked around. West Virginia just did it again.
The Big East should have had the advantage in this fight, what with the conference bylaws that specifically state any departing school must wait 27 months before leaving. Allowing TCU out of the league without a wait had something to do with West Virginia pushing forward. But there are clear rules that every member of the Big East agreed to follow, rules that did not apply to TCU as an incoming member.
[+] Enlarge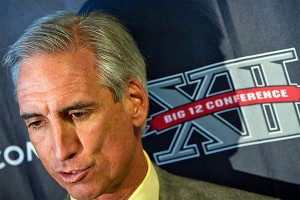 AP Photo/David SmithWest Virginia athletic director Oliver Luck is looking forward to the school's move to the Big 12.
Pitt and Syracuse had no problem agreeing to abide by the rules when they announced they were leaving for the ACC back in September. West Virginia had problems, because it was inconvenient. And the way the school went on the offensive from the outset essentially sealed the eventual settlement
that was announced Tuesday
.
West Virginia filed its lawsuit first, claiming the Big East had failed in its responsibilities to remain a viable conference. It wasn't too long before the Mountaineers accepted Big 12 membership when athletic director Oliver Luck made this comment during a television interview Oct. 1:
"Let's be honest, the reason TCU wants to be in this league so badly is that they think it's an easier path to the national championship than it is going through Norman, Okla., or Austin, Texas, or Stillwater, Okla., and playing some of their regional schools out there. So we've got some quality schools that are very interested in getting involved, including both Air Force and Navy. It's no secret there. I think both of those institutions are academically excellent, very important nationally and also, I think we all can agree, they play some pretty good football.

"In fact, I would trade Air Force or Navy for Syracuse every day of the week in terms of the quality of the football program. No disrespect, but that's just an observation I think most would agree with who understand football."
TCU officially left the Big East on Oct. 10 for the Big 12. West Virginia bolted Oct. 28. You cannot mean to tell me the departure of TCU was the tipping point for West Virginia. TCU had never played a down of football in the Big East.
The argument was a convenient one to make in court. But it also was the first one to be filed, clearly giving West Virginia the upper hand. Its arguments, whether they were thin or not, hit first. The Big East filed its own suit in Rhode Island shortly thereafter, arguing about its specific bylaws that should be followed.
Bylaws, shmy-laws, right? The Big 12 then
went on the offensive
in the form of interim commissioner Chuck Neinas, who said, "The Big East gets on planes and flies all over the country inviting other schools. But they raise hell when West Virginia wants to come to the Big 12?"
Luck made it clear in several more interviews that he didn't care what the Big East did and his school was outta here. Then West Virginia went ahead and canceled its nonconference game against Florida State to make way for nine Big 12 games.
The Big East's response -- nada. The league remained mum on the subject, as West Virginia and the Big 12 talked freely. Commissioner John Marinatto declined to answer questions because of the litigation. Athletic directors refused to comment publicly, for fear of speaking out of turn. Privately, some are upset about the way the entire situation has been handled, firmly believing West Virginia had taken advantage of the Big East once again.
It is obvious that West Virginia did not want to be in the Big East a second longer. But this was not about the Big East holding onto West Virginia because of some vendetta against the school. It was about holding a team to bylaws it drafted and agreed to, in large part to fill out its schedule and not have gaping holes everywhere.
Yes, there was a domino effect when Missouri did to the Big 12 what West Virginia just did to the Big East. But in the conference pecking order, you kinda figured the Big 12 would win this fight.
January, 19, 2012
1/19/12
7:48
PM CT
DALLAS – After taking part in a celebration at SMU for its future membership, Big East commissioner John Marinatto said Thursday the conference's expansion wouldn't end with additions coming in 2013.

Marinatto reiterated the conference's wishes to expand to at least 12 football schools, but he would not discuss a timetable or potential schools to be pursued.

"We're working very hard," Marinatto said. "I made it a practice over the last year to never discuss institutions specifically by name, so I'm not at liberty to get into specifics, but yeah, we want to get to at least 12 and that's been our goal. We're very happy with where we are, but obviously we have a little bit more work to do."

Marinatto included, for at least 2012, West Virginia in the roll call for the conference. In 2013, Boise State, San Diego State, Houston and Central Florida will join, along with SMU. Whenever West Virginia leaves for the Big 12, an issue that hasn't been resolved, the additions will leave a total of 10 football schools in the Big East.

Marinatto said he participated in the two meetings that concerned the future of the BCS after the national championship football game in New Orleans. He characterized the meetings as "brainstorming sessions" which yielded 50 or 60 ideas of what the future could hold for the BCS system.

There will be another meeting at the end of January and another in February to continue these discussions as part of four meetings scheduled before any new manifestation of the BCS is finalized.

Marinatto believes some changes will be made, but said they will add to the good the BCS has done to college football, in his opinion.

"I think everyone around the table agrees the BCS has helped college football in so many ways," Marinatto said. "It has made college football relevant and it has given schools that may have not had the opportunity to play in some of the major bowls the opportunity to play in some of the major bowls, but there's also another side to it, and that's the discussion. How do we keep what has been put in place, that's been so helpful to so many, and at the same time reduce some of the negatives that go along with it?"

Losing the conference's BCS automatic-qualifying status was not a concern of the commissioner, citing the strength of the programs the conference added in this newest phase of realignment, if, of course, automatic qualifying bids remain part of the BCS framework.

The addition of new teams is also a bargaining chip in landing a major TV contract in September of 2012, which Marinatto believes will provide the stability that the conference has lacked over the past year.

"Most of the expansion initiative's complete, but when that's done, certainly the glue that will continue to hold us together will be that when we get to the market, we can deliver with the kind of TV agreement similar with what the other five major conferences have, and that's something we anticipated," Marinatto said.

The final step in the process once expansion has been finalized for the conference and a TV deal is in place is to discuss the matter of divisions in a conference that will span across the entire country. All teams that will be members of the conference will have a vote in any major decisions such as a TV deal or the formation of divisions.
January, 19, 2012
1/19/12
6:13
PM CT
DALLAS – In front of alumni, students, faculty and coaches at the Hughes-Trigg Student Center on Thursday, school president R. Gerald Turner announced that SMU has officially reached a level of national prominence that the university hasn't seen since the days of the Southwest Conference.

At the celebration event for alumni and students, Turner announced that SMU will officially become a member of the Big East conference in all sports on July 1, 2013.

In attendance at the event, alongside Turner, was Big East commissioner John Marinatto, who personally accepted SMU into the Big East fold. Marinatto was greeted with an SMU football helmet, presented by the student body president.

The prize of this Mustangs victory, on the surface, is the chance to sit at the big boys' table in football with a BCS automatic qualifying bid opportunity through a Big East championship.

However, the treasure in SMU's big move east is the financial gains the university will see in conference TV revenues and bowl payouts. That money will help resurrect aspects of the Mustangs' athletic department that had been downsized or eliminated due to budget cuts and financial problems faced as a mid-major school in Conference USA.

With a fatter pocketbook, SMU will make it a top priority to reestablish a marketing department within athletics to hopefully raise attendance at home events, athletic director Steve Orsini said.

Since the days of the football team's death penalty, SMU has managed to get by with little or no marketing effort that was specific to athletics. The Big East transition will not only allow SMU to make a national presence in college athletics, it will allow the school to be much more visible in its hometown.

Orsini said SMU is already beginning the planning phases of establishing a marketing department so it will be fully functional by July 2013, when the school will begin receiving its raised allowance.

"Even though it's about 18 months until our first official day in the Big East, now is the time to start planning it because it will take a redesign, so to speak, a reallocation of our resources, plus just allocation of extra resources that we never had before," Orsini said. "Surely marketing, to meet our number one objective, which is increasing the attendance of every athletic event we have."

SMU hopes the marketing push will add to the football attendance rise that has occurred with June Jones at the helm.

SMU averaged 23,515 at 2010 home football games, 2,167 more than the previous year. That increase was 30th in the nation, according to the NCAA. That still doesn't explain a half-empty stadium for most contests at Ford Stadium.

"We haven't really sat down, but right now in the priority of things, but marketing, increasing attendance - that would be priority one," Orsini said. "I think by marketing ourselves more, by having more success, we'll generate even more resources, more sponsorship sales, more fundraising, more ticket sales, etc."

Once SMU can scratch off the top item on its to-do list, it then has several options for which it can use the remainder of its Big East payout, if the school decides to put the money back into athletics.

One possibility that Orsini mentioned is the creation of new sports programs. He said baseball, softball, lacrosse and men's track could be in the debate.

SMU's tradition in baseball spans back to the second year of the university in 1916. SMU fans could watch Dallas' boys of summer at Reverchon Park, a few miles away from campus, headed by several big names, including Dallas coaching legend Steve Adair. The team was disbanded in 1980 for financial reasons.

SMU never had a lacrosse program, but it might be a good fit now.

"Lacrosse, as you know, is growing here, and the Big East represents the footprint of the best lacrosse in America," Orsini said. "Those are all things we'll discuss and see at the presidential level here."

Lacrosse is big on the East Coast but in its infancy in Texas. It's not recognized as a varsity sport by the UIL, but high schools have formed club teams that compete throughout the state. Squads from Coppell and Dallas St. Mark's, schools just miles from SMU's campus, have been nationally ranked.

Looking at the big picture, SMU's move to the Big East represents movement toward a point where the school shares equal emphasis and success in both academics and athletics, Orsini said.

"I think we're getting close to that balance now," Orsini said. "We want both. We want excellence in academics and athletics. We're here now, but we aren't winning. Now we want to win. This is an example of winning because now we're at the highest level, the field of competition for me as an administrator is level again."