Dallas Colleges:

Johnny Thomas
August, 24, 2012
8/24/12
2:30
PM CT
Today we continue our look across the league at few players from each team who had low profiles last year, but you'd better get to know before 2012. They just might be household names by season's end.
More fresh faces:
Next up: Oklahoma State.

Josh Stewart, WR:
You probably remember a bit from Stewart last year, who broke out and caught 19 passes for 291 yards and two touchdowns, but the time is now for Stewart to become a star. OSU needs him after losing Justin Blackmon, Josh Cooper and Michael Harrison. He had a huge spring, and coach Mike Gundy predicted running back
Joseph Randle
would lead the team in receptions, though it might be Stewart, too. The 5-foot-10, 178-pound Denton, Texas native is as shifty as you might expect, and could emerge as freshman
Wes Lunt
's favorite new target.
Parker Graham, OT:
I knew OSU was going to be replacing starters along the offensive line this year, and at last year's Fiesta Bowl, asked around the Cowboys' line for the young guys who were the most impressive. The same name kept popping up over and over: Parker Graham. He started five games last year and became the team's starting right tackle by season's end after having almost no experience. Now, he's a junior loaded with potential. The 6-foot-7, 315-pounder is now the starter at left tackle and had 20 knockdowns last season, though he did give up two of the 12 sacks given up by OSU's line last season.
Shamiel Gary, S:
Gary had no profile last year because he was sitting out after transferring in from Wyoming. Now, he's a co-starter alongside
Lavocheya Cooper
at strong safety, looking to replace Markelle Martin. Losing Johnny Thomas hurt this squad, but Gary has been a big reason why it won't be a huge issue this fall. He's got prototype safety size at 6-foot, 210 pounds and could challenge for Big 12 Newcomer of the Year honors by season's end.
September, 8, 2011
9/08/11
12:00
PM CT
Here's what I'm watching in this week's slate of games:
1. Oklahoma State's secondary.
Starting safety Johnny Thomas is ineligible for the entire season, so it's up to senior Markelle Martin to lead a very young group of cornerbacks and promising safety Daytawion Lowe, to try to fill the void left by Thomas. They're going up against a difficult passing offense in Arizona and a fantastic receiver in
Juron Criner
. Criner reportedly may miss tonight's game, but the secondary still better learn fast.
2. Texas' running backs.
Foswhitt Whittaker
is the starter, but
Malcolm Brown
got
hot in the second half and took over
, leading the team in yardage and carries.
Joe Bergeron
may be a factor, too, but how does this situation look on and after Saturday's game against BYU?
3. Missouri's offensive line.
Center Travis Ruth isn't back yet, and senior left tackle and captain Elvis Fisher is out for the season. They'll face a tough test at Arizona State, highlighted by linebacker Vontaze Burfict, who had three sacks in the Sun Devils' season opener.
4. Justin Blackmon.
By his standards, he actually had kind of a quiet night (8 receptions, 144 yards) while his offense racked up 60 points in its season opener. He'll need another big game in a matchup with Arizona that looks like it will be extremely high scoring. Watch for him to get as many as 20 targets in Oklahoma State's passing game, which tore up the Wildcats in the Alamo Bowl.
5. Iowa State's linebackers.
Marcus Coker
looked fantastic against Missouri in his debut in last year's Insight Bowl. In Iowa's opener? Not so much. Iowa State struggled to stop the run last year, but Jake Knott and A.J. Klein will need to slow Coker down if Iowa State is going to take home the Cy-Hawk trophy.
6. Kansas' receivers.
Daymond Patterson
may not play against Northern Illinois, but somebody's got to step up. True freshman
JaCorey Shepherd
caught three passes for 107 yards and two scores last week, but no other Kansas receiver had a catch. The Jayhawks will lean on their running game again this week, but their receivers have to be better in Week 2.
7. Second-time starters at quarterback.
Missouri's
James Franklin
and Iowa State's
Steele Jantz
didn't have fantastic first starts, but both showed some promise. Jantz did it with two big drives late in the game to get the win. Franklin played well outside of one big pick that cost the Tigers seven points and a couple near interceptions. Both will have to continue their development for their teams to pull upsets this week.
8. Texas' secondary.
I
put them "On the Spot" this week
. Of course, I put Baylor wide receiver
Kendall Wright
on the spot last week, and he had a huge game.
Jake Heaps
was unimpressive against Ole Miss last week, but don't count him out this week. His potential is enormous. Texas has to slow him down or prepare for a long day in Austin.
July, 3, 2011
7/03/11
11:00
AM CT
We'll move on to the safeties today in our position rankings across the Big 12.
Here's what we've covered so far:
The group of safeties across the Big 12 isn't fantastic, without any truly elite groups, but it's decent. There aren't any teams that look really hopeless at the position in the immediate future.
I haven't given it real close examination so far on the positions we haven't covered yet, but this is by far the closest gap between 1-10 of any position so far.
Here's how I ranked them. (Remember, I lumped in nickel backs with linebackers, so Ahmad Dixon and Tony Jefferson won't be found anywhere in this post.)
[+] Enlarge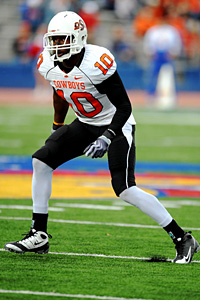 John Rieger/US PRESSWIREOklahoma State's Markelle Martin is the Big 12's best overall safety.
1. Oklahoma State
-- The Cowboys have Markelle Martin, the Big 12's best overall safety who's a big talent but a much better hitter than he is a cover man. Johnny Thomas is solid and both safeties got a lot better as the 2010 season progressed. OSU's depth lands them here, though. Daytawion Lowe could start for a few Big 12 teams and is slightly better than A&M and Texas' reserves, the other two teams with the deepest group of safeties.
2. Texas
-- Blake Gideon takes his share of criticism, a good deal of it fair, but there's a reason he's starting for Texas for a fourth season this fall. He knows what he's doing. Kenny Vaccaro will challenge OSU's Martin, among others, for the title of the Big 12's biggest hitter and Nolan Brewster and Christian Scott are strong reserves at the position. The Longhorns lose a lot at corner, but all the safeties are back from a defense that allowed just over 170 yards a game through the air in conference play last season.
3. Texas A&M
-- The Aggies' Steven Terrell and Trent Hunter are solid, and Hunter is a big playmaker who made 62 stops and picked off two passes last year. Toney Hurd Jr. is the backup and was one of the most impressive freshmen in fall camp last year, joined by Steven Campbell in the rotation.
4. Kansas State
-- Tysyn Hartman has loads of experience and is one of the Wildcats that Bill Snyder loves to rave about. Ty Zimmerman was one of the Big 12's best freshman last year, and picked off three passes. They should be solid again next year, and for as much criticism as K-State's defense faced last year, they were fifth in the Big 12 in pass defense. Logan Dold should be in the rotation, too.
5. Oklahoma
-- Reserve Sam Proctor has starting experience, but Javon Harris and Aaron Colvin enter fall camp as starters. That says plenty about how Bob Stoops and Brent Venables feel about them. In a word: confident. Colvin has the most potential in the group, but the two starters will have to learn on the go. Proctor, a senior, should be able to help. James Haynes will also be in the rotation.
6. Missouri
-- Jasper Simmons is gone, but Missouri's safeties might be a bit underrated in this spot. Kenji Jackson has loads of experience and should be solid, and Tavon Bolden and Matt White are a pair of promising sophomores who should compete at free safety. Kenronte Walker should be in the rotation, too.
7. Texas Tech
-- Injuries were a problem last year for the Tech secondary, but Cody Davis and D.J. Johnson will hold down the traditional safety spots away from the line of scrimmage in new coordinator Chad Glasgow's 4-2-5. The unit gave up lots of big plays in 2010 (151 over 10 yards, 46 over 20, and 25 over 30, all the most in the Big 12), but I'd expect that number to drop under Glasgow if the secondary stays healthy. Davis is the team's leading returning tackler, with 87 stops. Brett Dewhurst and Giorgio Durham should be in the rotation.
8. Kansas
-- Keeston Terry and Bradley McDougald give Kansas a lot of speed and athletic ability at the position, but both of the team's safeties from 2010 graduated and Terry and McDougald are short on experience. Lubbock Smith should add some solid depth to the position.
9. Iowa State
-- Iowa State loses their top playmaker at the position, David Sims, but returns starter Ter'Ran Benton. He'll be helped out by some combination of Jacques Washington, Earl Brooks and Deon Broomfield once the season starts. Iowa State's biggest weakness is on the defensive line, so it's hard to get a good read on how good the safeties really are with such a poor pass rush up front.
10. Baylor
-- This group might move up the list during the year under Phil Bennett, but the two best raw athletes (Ahmad Dixon, Prince Kent) at the position moved to nickel back and linebacker, respectively. The team's leading tackler, Byron Landor, graduated, and that left Mike Hicks as the other starter. He'll be helped out at safety by Sam Holl, Josh Wilson and K.J. Morton. Last year, the Bears ranked last in the Big 12 in pass defense in conference play, giving up over 300 yards a game. That'll have to change or Baylor won't get past seven wins.