Dallas Colleges:

Jonathan Anderson
August, 9, 2012
8/09/12
3:15
PM CT
Camp is open up over in Fort Worth. Before we get too deep in sweltering hot practices, I'll offer up a quick preview of what you need to know heading into the season.
See
more fall camp previews.
Next up: TCU.

Media's predicted finish:
Fourth (received one first-place vote).
Biggest story line:
TCU always wanted to be in the Big 12, and now, the Horned Frogs legitimately won their way into rejoining their former Southwest Conference rivals in Texas. But after a steady diet of schedules with only a few featured opponents, can TCU handle a tougher week-to-week schedule in the Big 12? Depth could be an issue, but so could preparing for a brutal line of great opponents in the Big 12.
Biggest question mark: Linebacker.
Depth questions were going to come all season long, but the Horned Frogs are now razor thin in the middle of the defense. Tanner Brock was kicked off the team before spring after being arrested in a campus drug sting, and promising linebacker Deryck Gildon is off the team because of academic issues.
Kenny Cain
is back in the middle of TCU's 4-2-5 defense, but look for
Joel Hasley
to grab the other spot. It was a disappointing offseason for the Frogs.
Who needs to step up: The safeties.
Sam Carter
,
Elisha Olabode
and
Jonathan Anderson
will likely start the season as the three safeties, but this unit struggled last season in spots. Safeties coach Chad Glasgow is back in Fort Worth after a disastrous season coordinating the defense for Texas Tech, but we'll see if he's able to step right back into his old gig.
Possible distractions:
None were bigger than the recent news that quarterback
Casey Pachall
failed a Feb. 1 drug test and admitted to police he had used cocaine and ecstasy. Gary Patterson earned some criticism for not coming down harder on Pachall considering the recent drug issues on TCU's team, but he did what was required of him in the school's student handbook. Pachall apologized and pledged he'd do better. We'll find out if that's the case.
Don't forget about:
DE Stansly Maponga
.
Jackson Jeffcoat
and
Alex Okafor
get all the accolades down in Austin, but don't be too surprised if Maponga blows up in his first year in the Big 12 and outshines either one of them or both. He's got plenty of experience and made nine sacks while also forcing five fumbles. That earned him first-team All-Mountain West honors, but he's a preseason All-Big 12 honoree, too. Expect him to validate it.
Breaking out:
WR LaDarius Brown
. You know about the trio of
Josh Boyce
,
Brandon Carter
and
Skye Dawson
. They're outstanding. Brown might end up being better than all of them. Maybe not this year, but expect the freshman to show flashes. He's 6-foot-4, 220 pounds and coming off a redshirt year. Beware.
April, 10, 2012
4/10/12
4:30
PM CT
Time to continue our series breaking down each team's best and worst positions entering the 2012 season. TCU is up next.
More spring superlatives:

Strongest position: Running back
Simply put, this position is pretty absurd for TCU. The Horned Frogs have by far the deepest set of running backs in the league.
Ed Wesley
,
Waymon James
and
Matthew Tucker
all topped 700 yards rushing but each got at least 120 carries and not more than 123. That's crazy balance.
The Horned Frogs may not have a gamebreaker in the unit, and they put those numbers up in the Mountain West, but it's still impressive.
Casey Pachall
spearheads a great passing attack, but the Horned Frogs are more than capable of getting physical on the ground. Balance has been a benchmark of Gary Patterson's program, and it'll be especially true this year. Nobody in the Big 12 can boast anything close to three 700-yard rushers coming back, and TCU will use them all liberally.
Weakest position: Safety
TCU's safeties outpace the linebackers here, but after
Tanner Brock
got mixed up in the campus drug sting, there's a big question mark at both positions.
Tank Carder
was a stalwart at the position for the past three seasons, including the Rose Bowl win in 2010, but he's gone now. Brock missed 2011 with an injury, but the former All-American was expected back. He almost certainly will not return.
Safeties
Tekerrein Cuba
and
Johnny Fobbs
are both gone, and the position was already a trouble spot last year. You saw plenty of it in the loss to Baylor that opened the season.
Devin Johnson
, a likely starter this season, was also arrested in the drug sting and barring a stunning turn of events, won't be with the team this year. Now, it's up to sophomores
Sam Carter
,
Jonathan Anderson
and juniors
Elisha Olabode
and
Trent Thomas
to fill the void.
The good news? Coach Chad Glasgow is back to coach them after a year coordinating the defense at Texas Tech. The Horned Frogs were the nation's leader in total defense in 2008, 2009 and 2010 with Glasgow. That'll change in their new home in the Big 12, but hopes are still high.
February, 9, 2012
2/09/12
3:19
PM CT
As we welcome nearby TCU to the league, the offseason spotlight Thursday shines on the Horned Frogs:
Spotlight:
A rotating group of safeties that need a big offseason.

2011 summary:
Tekerrein Cuba
and
Johnny Fobbs
combined for 135 tackles and were two of the team's top four tacklers. Cuba broke up three passes and forced two fumbles and Fobbs intercepted one pass with six breakups and forced three fumbles. Both are gone and must be replaced.
The skinny:
I'm guessing most of you saw TCU just once last season, and it wasn't a great impression. The first night of the season was an ugly one for TCU full of deep balls and a painful loss, courtesy of future Heisman winner
Robert Griffin III
. Some of those five touchdowns came in single coverage, but the safeties at TCU left a lot to be desired, especially after losing Tejay Johnson after the 2010 season, a Thorpe Award finalist.
This year,
Jonathan Anderson
and
Elisha Olabode
slide into the new safety spots. Offenses like Baylor's are pretty common in the Big 12. Not so much in the Mountain West. That duo has to step into new roles and be effective for the Horned Frogs to succeed in their new league.
Anderson is a promising sophomore who made 17 tackles in a win over BYU at Cowboys Stadium this past season, including 11 solo tackles. Olabode didn't quite have that kind of impact, but both players' development this spring and in fall camp will be enormous.
For so much focus on the offense in this league, you can't forget about the defense, which last year was below what's been expected at TCU.
October, 28, 2011
10/28/11
11:36
PM CT
By
Art Garcia
| ESPNDallas.com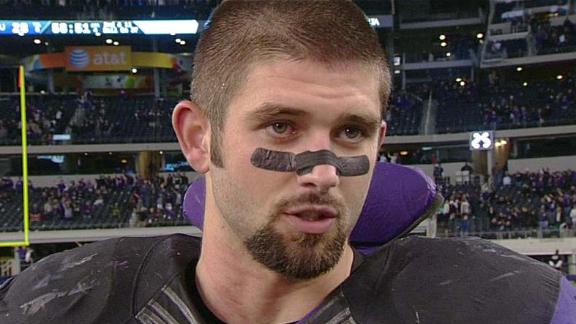 ARLINGTON -- The TCU defense bent some Friday night, but didn't break against BYU's high-powered attack.
The Cougars piled up season highs in points (59) and yards (572) last week. BYU quarterback Riley Nelson had thrown for at least two touchdowns in the previous four games.
The Horned Frogs allowed 354 yards, with only 136 coming in the second half, and forced three turnovers in the 38-28 victory at Cowboys Stadium. Two of the takeaways occurred when BYU was in TCU territory, including an interception by Kenny Cain in the end zone.
"Any turnover is big in any kind of situation," Frogs safety Johnny Fobbs said, "but I know the one where they were driving, Kenny Cain caught the interception and tiptoed in the back of the end zone. It was real big. It was just a relief. It gets the defense off the field and makes our offense stay on longer."
Riley passed for 215 yards and ran for another 84, but accounted for only one touchdown. He was also sacked four times and had all three turnovers -- two picks and a fumble.
"Their quarterback was hard to handle," TCU coach Gary Patterson said. "He moved the ball around and really did a good job at times, in scramble situations, but I was really proud of my team."
Fobbs said the defense has come a long way from the 50-48 loss to Baylor to open the season. TCU came into the game having used 12 first-time starters on defense this season.
"Going through the adversity of the year and the ups and downs, and finally getting things together it makes us seem like we're mature defense now," Fobbs said.
TCU safety Jonathan Anderson had 17 tackles -- tied for the third-most in the Patterson era -- and an interception.