Dallas Colleges:

Jordan Shipley
June, 11, 2014
6/11/14
10:30
AM CT
Jordan Shipley
retired from the NFL in February, and he has never been busier.
The former All-America wide receiver at Texas had an easy time transitioning into life after football following his three-year stint in the pros. Shipley has a burgeoning TV career as the host for "Bucks of Tecomate" and "Tecomate Whitetail Nation" on Outdoor Channel and is chasing his love of fishing, hunting and all things outdoors.
Shipley is also trying out acting in his spare time. He's portraying former Texas great Cotton Speyrer in "My All American," a movie about Freddie Steinmark and UT's 1969 national title team which is filming in Austin. ESPN.com recently caught up with him to talk about his new ventures, his brother and his former coach.
[+] Enlarge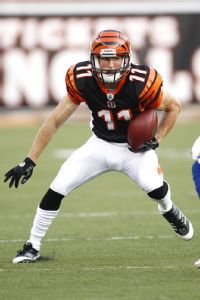 John Grieshop/Getty ImagesJordan Shipley has traded professional football for an acting and outdoor television hosting career.
First off, how is the life of a movie star treating you so far?
Shipley:
Oh man, I was laughing the other day because they gave me my own trailer. I think they have to. That deal is going to be really fun. Growing up here, you hear all these stories about the national championship teams in '69 and '70 and Freddie Steinmark and all these guys. To have it made into a movie is pretty special. I'm happy to be a part of it and playing Cotton.
How do you like seeing the old-time uniforms and haircuts?
Shipley:
What I'm having to get used to is no facial hair. I've been bearded for a while now, so I still haven't gotten used to that. But the uniforms, it feels a lot like junior high when you have the big pads. The biggest difference is being in pads for 12 hours a day. In the NCAA and NFL, they can only keep you on the field so long. That's been a little different.
How is working with Aaron Eckhart? Think he's doing a good job portraying Darrell Royal?
Shipley:
Actually, I've talked to Aaron a ton. The other day, I probably visited with him for an hour and a half. He's taking the role very seriously and it's obviously big shoes to fill. I took him to the stadium and showed him around, showed him the building and the old pictures of these guys in the movie, all the memorabilia. I think he's going to do a great job.
How did you get your break with Outdoor Channel?
Shipley:
It's a pretty incredible deal. David Morris, who's a hunting legend, was co-hosting the shows with Jeff Foxworthy for a long time. I've basically taken Jeff Foxworthy's spot. It's awesome and it's a full-time job.
Josh Hamilton was supposed to come down on a hunt with these guys and his whole family got sick and had to cancel. They called me and I came down. I was in Amarillo and I drove all the way down to Laredo, about 11 hours, with my wife and did the hunt. That went great and David pulled me aside and said he was looking for somebody to take the load off of him and eventually become the face of "Tecomate." He said, 'If you think you might be ready to be done playing football ...' and I didn't even let him finish. 'I'm ready. Sign me up.' Really, I guess I should thank Josh Hamilton.
I'd imagine that kind of work takes you all over the country, right?
Shipley:
Yeah, for my hosting next year we have hunts on the docket for Montana, Oklahoma, Kansas, Ohio, South Dakota, Wisconsin and then I'll have some in Texas. It's all over the place.
Is there pressure when the cameras are following you on a hunt and you need results?
Shipley:
There is, yeah. One hunt this year, it was down to the wire, the last afternoon of my hunt. With our schedule there's no extra days, you've got to get it done. I shot my deer from 300-something yards the last day and it was the only one I saw that was potentially for the show. So yeah, it's pressure. It's a lot like playing a football game. You've got the cameras on you and you've got to make something happen.
You knew your playing days would end eventually. Is it crazy to you that this is what you ended up doing? Or was this your plan all along?
Shipley:
This is crazier to me than playing in the NFL. This was my dream job. A lot of people laugh about that. My uncles were giving me a hard time, saying, 'What are you trying to do, do all of our dream jobs?' I wanted to do something in the outdoor industry, I knew that, but to get a hosting job on one of the highest-watched show in outdoor television has been a huge blessing. It kind of just happened.
You spent some time this spring fishing with Mack Brown. How'd that go?
Shipley:
It was fun. He wanted me to show him Lake Austin because he spends a lot of time out there and he knew I'd caught some really good fish out there. I took him out there and showed him some of my fishing holes, and we're going to do that again sometime.
Did he seem like he's enjoying the time off and the chance to relax?
Shipley:
He told me before he does anything else, he wants to spend a good amount of time playing golf and fishing. I know him and Miss Sally have gone on some trips. I think it's been great for him to have some time to decompress. We all know that job at Texas is super stressful and a high-demand job. I'm sure he's liked having some time to be a normal person again.
Your brother, Jaxon Shipley, is entering his senior year. What are you expecting this fall?
Shipley:
A lot of people don't know this, but he had a pretty significant surgery right before last season started and missed all of two-a-days. They went in and cut the attachments for his groin muscle on both sides and reattached them. They were torn and frayed everywhere. I don't know how he was even back to being able to play. That was four weeks before two-a-days.
He just didn't feel great last year, and I was impressed he played the way he did for going through that. I think watching him in the spring game, he looks like he's way ahead. I think he's going to have a great year.
November, 4, 2013
11/04/13
1:35
PM CT
The Big 12 has featured some prolific wide receiver tandems over the years.
Baylor's
Tevin Reese
and
Antwan Goodley
, however, have a chance to top that list.
[+] Enlarge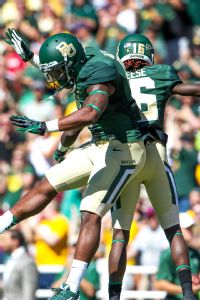 Jerome Miron/USA TODAY SportsAntwan Goodley and Tevin Reese rank 1-2 in the Big 12 in receiving yards per game.
This season, Reese is second in the Big 12 with 118 yards receiving a game. He trails only Goodley, who leads the league with an average of 128 yards receiving. They are a big reason why the Bears are on pace to break the FBS records for points (56.0) and yards (624.9) per game that were set by Army in 1944 and Houston in 1989.
But Reese and Goodley aren't the only big-time duos in the Big 12 this year.
Kansas State's
Tramaine Thompson
and
Tyler Lockett
have been lighting it up since returning from injury. The last two weeks the two have totaled five touchdown catches.
Jalen Saunders
and
Sterling Shepard
lead the Sooners with five touchdowns apiece. Texas Tech's
Eric Ward
and
Jakeem Grant
are fifth and sixth in the league in receiving. Oklahoma State's
Josh Stewart
and
Tracy Moore
are beginning to warm up with
Clint Chelf
at QB. And
Jaxon Shipley
and
Mike Davis
have been stalwarts in this league for years.
But who are the best tandems ever to play Big 12? We lay it out below.
Tight ends were not included (sorry Jermaine Gresham and Chase Coffman). The tandems were evaluated on what they accomplished together, not on whether their careers simply overlapped (eliminating Jeremy Maclin and Danario Alexander, for example); and, this is a list for duos, not singles, trios or quartets (apologies to Rashaun Woods, and the 2008 Oklahoma and 2010 Baylor receiving corps).
To the list:
1. Stedman Bailey and Tavon Austin, West Virginia (2012):
In their only year in the league, this tandem was one-two in the Big 12 in receiving, combining for 224 receptions and 2,914 receiving yards. Bailey himself had 25 receiving touchdowns; nobody else in the league had more than 13. Austin, meanwhile, also rushed for 344 yards in one game at running back. As Bailey tweeted out earlier Monday morning on this topic, "case closed."
2. Michael Crabtree and Danny Amendola, Texas Tech (2007):
Crabtree got all the headlines in 2007 on his way to winning his first of two Biletnikoff awards. But out of the slot, Amendola quietly put up 109 receptions for 1,245 yards, as Tech went 9-4.
3. Jordan Shipley and Quan Cosby, Texas (2008):
Shipley and Cosby starred on one of the three best Big 12 teams that didn't win a conference title. The two each had 1,000 receiving yards and double-digit TDs from QB Colt McCoy, as the Longhorns finished the year 12-1, their only loss coming on Crabtree's game-winning touchdown in the final seconds in Lubbock. The two were also prolific on special teams, with Shipley's kick return touchdown sparking Texas' 45-35 comeback win over Oklahoma.
4. Justin Blackmon and Josh Cooper, Oklahoma State (2011):
As with Crabtree-Amendola, Blackmon got all the attention on his way to a second Biletnikoff award. But Cooper was a pivotal piece in OSU's first Big 12 title team, as he racked up 71 receptions out of the slot. Blackmon, of course, had a monster year with 121 catches and 18 touchdowns.
5. Kendall Wright and Terrance Williams, Baylor (2011):
Reese was actually the third wheel to this duo, which shined with RGIII at quarterback. Wright was an All-American with 108 catches, 1,663 yard and 14 touchdowns. Williams was big time, too, finishing fifth in the Big 12 in receiving before taking over the No. 1 role in 2012.
6. Ryan Broyles and Kenny Stills, Oklahoma (2010):
Broyles led college football with 131 receptions on his way to becoming the all-time FBS leader in career catches. Stills broke OU's freshman single-season receiving record, as the Sooners stormed back to capture the Big 12 crown after a pair of midseason losses.
7. Kerry Meier and Dezmon Briscoe, Kansas (2008):
It might be difficult to remember now, but the Jayhawks used to play some ball. Meier tied Crabtree for second in the league with 97 receptions. Briscoe trailed only Dez Bryant with 1,402 receiving yards. This was an underrated duo.
8. Quincy Morgan and Aaron Lockett, Kansas State (1999):
On one of the first passing teams in the Big 12, Morgan and Lockett shined. Morgan had 42 receptions for 1,007 yards and nine touchdowns and was a first-team all-conference selection. Lockett, Tyler Lockett's uncle, was a second-team all-league pick for the Wildcats, who went 11-1 and finished the year ranked sixth in the polls.
9. Jarrett Hicks and Joel Filani, Texas Tech (2005):
Neither might be a household name around the Big 12 anymore, but these two were both first-team All-Big 12 selections in '05 along with Iowa State WR Todd Blythe.
10. Mark Clayton and Travis Wilson, Oklahoma (2004):
Clayton carried the moniker of best receiver in OU history until Broyles came around. Because of Adrian Peterson, Clayton's numbers dipped in '04, but he was still an All-American with 66 catches. Wilson led the Sooners with 11 TD grabs, as OU advanced to a second consecutive national championship game.
December, 19, 2011
12/19/11
8:00
AM CT
The Pac-10 and Big 12 nearly got married last year, but only Colorado ended up eloping with the now-Pac-12.
You know: The conference that can count!
But the Pac-12, which has, yes, 12 teams, and the Big 12, which has 10 teams (though it's often hard to keep up with which ones), play each other in three bowl games this holiday season.
Joy to the world.


So it seemed like a good time for the Pac-12 and Big 12 bloggers -- Ted Miller and David Ubben -- to say howdy and discuss all the coming fun.
Ted Miller
: Ah, David, the bowl season. Pure bliss. Unless you're the Pac-12, which is expected to get a whipping from your conference over the holidays. We have three Pac-12-Big 12 bowl games with the Tostitos Fiesta Bowl between Stanford and Oklahoma State, the Valero Alamo with Baylor and Washington, and the Bridgepoint Education Holiday matching California and Texas. And the Big 12 is favored in all three!
Poor ole West Coast teams. What are we to do? It's almost like the Big 12 is the SEC or something. Speaking of which, how are things with your Cowboys? Are they over not getting a shot at LSU for the national title? Are they excited about getting a shot at
Andrew Luck
and Stanford? We might as well start with that outstanding matchup in Glendale.
David Ubben
: You know, I was actually a little surprised. I stuck around Stillwater for the BCS bowl selection show announcement, and the players took the news pretty well. They found out an hour before, but there wasn't a ton of down-in-the-dumpiness from the Pokes. When you've never been to this point before, it's a bit difficult to develop a sense of entitlement. If Oklahoma had OSU's record and was passed over by Alabama and sent to the Fiesta Bowl for the 17th time in the past six years, you might have had a different reaction.
But Oklahoma State's first trip to the BCS and first Big 12 title aren't being overlooked. These players are looking forward to this game. There's no doubt about that.
I know the Big 12 seems like the SEC, but I have a confession, Ted. I wasn't supposed to tell anybody, but I can't hold it in anymore. When the Big 12 began back in 1996 ... wow, I'm really going to do this ... then-SEC commissioner Roy Kramer graciously allowed the league to keep two of his teams. The league made a similar arrangement with the Big Eight a century ago, and the Southwest Conference around the same time. Missouri and Texas A&M are really wolves in sheep's clothing: SEC teams just pretending to be in other leagues. So, that might explain the Big 12's recent dominance.
These should all be fun games, though. I ranked two of the matchups among the top three in my bowl rankings.
As for the big one, they say you learn more by losing than by winning. Stanford got its first BCS win. How do you think that experience plays into this year's game? I hate to ruin the surprise, but Oklahoma State's a bit better than the Virginia Tech team Stanford beat last season. OSU's loss to Iowa State this season is bad, but it's nothing like the Hokies' loss to James Madison last season.
[+] Enlarge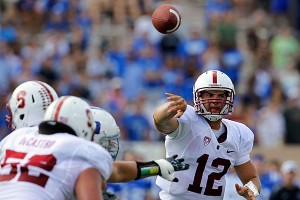 AP Photo/Gerry BroomeQuarterback Andrew Luck leads Stanford into its second consecutive BCS bowl, this season against Oklahoma State in the Fiesta Bowl.
Ted Miller
: Not only is Oklahoma State better than Virginia Tech, it's still questionable whether this Stanford team is better than last year's. Since we're going all crazy and whispering about the SEC, there was a feeling out West that by the end of the 2010 season the Cardinal might not only be the best team in the Pac-12 but also in the nation. They were big and physical and quarterback Luck actually had a solid receiving corps with which to work. After a loss to Oregon in the fifth game, they didn't lose again until playing, er, Oregon in this year's 10th game. If we could go back in time and have the Cardinal play Auburn, I think Stanford would have won the national title.
But that's 2010. The difference this year is the season-ending knee injury to middle linebacker Shayne Skov, who was an All-American candidate, a slight step back on the offensive line and a lack of top-flight receivers. But if Oklahoma State fans are looking for something to worry about it is this: Stanford's running game.
The Pokes are bad against the run, and they haven't faced a team that is as physical and creative in the running game as Stanford. As much as folks talk about Luck's passing, it's his run checks that often ruin a defense's evening.
The Fiesta Bowl matchup looks like a great one, perhaps the best of the bowl season. But I'm excited to see Mr. Excitement
Robert Griffin III
in the Alamo Bowl against Washington. Of course, I'm not sure that the Huskies, their fans and embattled Huskies defensive coordinator
Nick Holt
are as thrilled. First, tell us about what Washington should be most worried about with Griffin. Then tell us about Baylor in general. Such as: Can the Bears stop anyone?
David Ubben
: Nope. Not really.
Oklahoma State's defense unfairly gets a bad rap. Baylor's bad rap is earned. This is the same team that won five consecutive games late in the season -- but became the first team ever to win four consecutive in a single season while giving up 30 points in each.
[+] Enlarge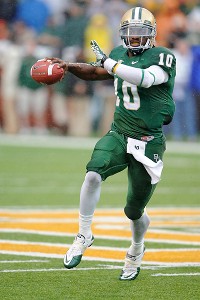 Jerome Miron/US PresswireBaylor's Robert Griffin III will try to make it three straight bowl victories by Heisman Trophy winners.
Which, if you ask me, says plenty about both the defense and the power of RG3. They've got a lot of athletes on the defense, but when four of your top five tacklers are defensive backs, well, you need a guy like RG3 to go 9-3.
The man is a nightmare. Top to bottom, he's the most accurate passer in a quarterback-driven league. Then, you add in his athleticism, which he doesn't even really need to be extremely productive. It sets him apart, though, and forces defenses to account for it, and it buys him time in the pocket. How many guys break a 20-plus yard run before hitting a receiver for a game-winning 39-yard score to beat a team like Oklahoma for the first time?
How do you think Washington will try to slow him down? What has to happen for them to have some success?
Ted Miller
: This game matches the 99th (Washington) and 109th (Baylor) scoring defenses. It has a 78-point over-under, the biggest of any bowl game. The offenses are going to score plenty, at least that's the conventional wisdom.
How does Washington stop RGIII? His name is
Chris Polk
. He's a running back. Baylor gives up 199 yards rushing per game. Polk right, left and up the middle is a good way to contain Griffin. The Huskies' best hope is to reduce Griffin's touches with ball control. It also needs to convert touchdowns, not field goals, in the redzone. The Huskies are pretty good at that, scoring 36 TDs in 45 visits to the red zone.
The Huskies also have a pretty good quarterback in
Keith Price
, who set a school record with 29 touchdown passes this year. He and a solid crew of receivers have prevented teams from ganging up against Polk. But Polk is the guy who burns the clock.
Should be a fun game. As should, by the way, the Holiday Bowl. David, Cal fans are
still
mad at Texas coach Mack Brown and his politicking the Longhorns into the Rose Bowl in 2004. Every team wants to win its bowl game, but the Old Blues really want to beat Brown.
Of course, neither team is what it was in 2004. Cal has an excuse. It's not a college football superpower. Sure you've been asked this before, but give me the CliffsNotes version of why the Longhorns have fallen so hard since playing for the national title in 2009.
David Ubben
: Cal fans are still mad? Really? I'd suggest they get over themselves. What's anybody on that Cal team ever done anyway? It's not like the best player in the NFL missed out on a chance to play in the Rose Bowl. Now, if that were the case, we might have a problem. But honestly, I don't think Tim Tebow cares all that much about the Rose Bowl.
As for Texas' struggles?
The easy answer is quarterback play. Texas relied on Colt McCoy and Jordan Shipley more than anyone realized. When they were gone, Texas couldn't run the ball, and quarterback Garrett Gilbert never made it happen. Two seasons later, the Longhorns still don't have a quarterback.
The other big answer last season was turnover margin. Gilbert threw 17 interceptions and the Longhorns were minus-12 in turnovers, which ranked 115th nationally.
They were still only 90th this year, and without solid quarterback play in a Big 12 dominated by passers, they scored five, 13 and 17 points in three of their five losses. Texas keeps people from moving the ball and runs the ball better this year, but without a solid passing game and a defense that changes games, it's tough to rack up wins in the Big 12.
It's been awhile since Cal was in the mix for the BCS, even as USC has fallen. Oregon answered the call and rose, but what has prevented Cal from winning the Pac-10 and Super Pac-10 since the Trojans' swoon?
Ted Miller
: You mention quarterback play. Cal fans ... any thoughts? You mention Aaron Rodgers. Cal fans? Oh, well, that's not very nice during this festive time of the year.
Cal has become a solid defensive team, but it's lost its offensive mojo, and that can be traced to a drop in quarterback play since Rodgers departed. The latest Bears quarterback,
Zach Maynard
, started fairly well, stumbled, but then seemed to catch on late in the season. It's reasonable to believe the team that gets better quarterback play -- mistake-free quarterback play -- is going to win this game.
Nice to cover a conference where quarterback play matters, eh David?
Speaking of quarterback play and winning, let's wind it up. Our specific predictions aren't coming on these games until after Christmas. But we can handicap the Big 12-Pac-12 side of things. We have a three-game series this bowl seasons.
I say the Pac-12, underdogs in all three games, goes 1-2. What say you?
David Ubben
: And to think, before the season, all I heard was the Pac-12 had surpassed the Big 12 in quarterback play. Did somebody petition the NCAA for another year of eligibility for Jake Locker and/or clone
Matt Barkley
? You West Coast folk are geniuses; I figured you'd find a way. We can't all be Stanford alums ...
Clearing out all the tumbleweeds here in middle America, I'll go out on a limb for the Big 12 in this one. Every matchup is a good one, and I don't think Cal has seen a defense like Texas' and Washington hasn't seen an offense like Baylor's. People forget that, yeah, RG3 is outstanding, but the Bears also have the league's leading receiver and leading rusher.
Stanford-OSU is a toss-up, but I'll go with a perfect sweep for the Big 12. The Cowboys haven't played poorly on the big stage yet, so I'll give them the benefit of the doubt in this one, and they clean up for the Big 12 against what was almost its new conference this fall.
Oh, what could have been. Ubben and Miller on the same blog? Divided ultimately by a little thing we call the Rockies.
September, 16, 2011
9/16/11
10:09
AM CT
HornsNation writer Carter Strickland has profiled
two familiar last names for Texas fans
-- McCoy and Shipley. But we're not talking Colt or Jordan. Instead, the Longhorns' faithful will be seeing a healthy dose of their younger brothers -- Case McCoy and Jaxson Shipley -- vs. UCLA on Saturday.
Here's a snippet:
For Texas, not many shadows are larger than those hanging over Case McCoy and Jaxon Shipley.

Case is the brother of Colt, who owns a litany of Texas and NCAA records, and whose Longhorns career was ended by injury just a few plays into the 2009 BCS Championship Game -- at the Rose Bowl, no less.

Jaxon is the brother of the Texas wide receiver who couldn't be stopped by Alabama, or anyone. Jordan Shipley had 10 catches, 122 yards and two touchdowns as Jaxon watched from the Rose Bowl stands with his father, Bob. That was also the last day of Jordan's career in burnt orange and white.

Now it is Case and Jaxon's turn. The stakes are not as high. UCLA is not Alabama, and the third week of the season is not make-or-break. But the shadows are still large.

"We both have big shoes to fill,'' Shipley said. "For me, I am just trying to go out there and have fun and not worry about the pressure, not get caught up in the pressure side of things and live up to what your brother did. You can get caught up in that."
For more of HornsNation writer Carter Strickland's feature on these two familiar last names for Texas fans,
click here.
September, 9, 2011
9/09/11
11:00
AM CT
AUSTIN, Texas --
Jaxon Shipley
has been around Texas' campus for quite awhile.
So has coach Mack Brown.
Of course, when Shipley first got there, he was rolling down the hills surrounding the practice field. He later graduated to sliding down the hill on cardboard.
Give Shipley a break, though. That was back when big brother Jordan Shipley was practicing and he was "watching."
Now, it's Jaxon Shipley's turn, and he's making noise early in his career.
[+] Enlarge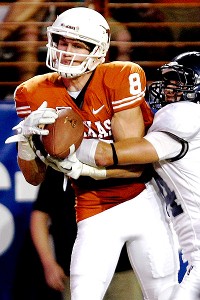 AP Photo/Eric GayTexas freshman Jaxon Shipley caught two passes for 54 yards, including this TD in Week 1.
"He's come in mature beyond his years and he hasn't been overwhelmed by whatever, the fanfare, the moment, 100,000 people in the stands, he just hasn't been overwhelmed," said senior safety Blake Gideon.
The result? Shipley became the first true freshman receiver to catch a touchdown pass in a season opener in Texas history. He caught a pass from
John Harris
on a trick play for his 36-yard touchdown and added another 18-yard catch to finish with 54 yards.
Shipley won the team's offensive MVP award for the game, and Brown had a tough time remembering the last freshman to do so in his first game.
"During 7-on-7 stuff this summer he was hopping in there with the first group very quickly and did a good job, so you know, I knew from the start he was going to be a good player," said junior quarterback
Garrett Gilbert
. "He really shined the other night."
Gilbert loved what he saw during the summer, but he didn't get to see much of Shipley during the spring. Despite graduating high school early, he decided to spend the spring semester working with the player that he may never stop being compared to: his brother, Jordan Shipley.
Brown called the decision "smart." Shipley's academics were in order and he didn't need to enroll at Texas early. He had a sore knee, too. Jordan Shipley was locked out by the NFL and planned to get married in the spring.
"This gave him a chance to spend more time with his brother than he'll probably ever get again," Brown said. "He said he could spend all spring working on their route running together, so it made sense to me."
The comparisons are obvious, and far from forced.
Both can "run forever" Brown said, noting that Shipley stood out in Sunday's conditioning workout after the win over Rice. Brown credits having a father as a coach, and, of course, the work with his brother.
"The way they run looks similar and they both run very good routes," Gilbert said. "Jordan is doing it at the highest level right now ... and I'm sure he taught his little brother some of that stuff."
Jaxon Shipley hasn't encountered any of the injuries that kept Jordan on campus for six seasons, but his potential? Undeniable.
"He's a great young cat," said linebacker Keenan Robinson. "He's a guy that's shown me a lot in camp. He hardly ever drops the ball in practice. He's a guy that's following in the right footsteps. He could be as good or better than his brother was. He's definitely that. He definitely has a chance to put up big numbers, and I expect him to possibly be a freshman All-American this season."
That's a long way from sliding down a grass hill during Longhorns' practices.
August, 30, 2011
8/30/11
7:54
AM CT
We know less about Texas than any team in the Big 12.
That's by design, of course, but after the team released its Week 1 depth chart on Monday, that's still the case, with apologies to Kansas State.
Texas hasn't had a practice open to the media all offseason. Quarterbacks spoke to the media today for the first time since a Thanksgiving night loss to Texas A&M.
Players weren't made available to the media during fall camp until 11 days had passed.
So, more so than any team in the league, these Horns are an unknown commodity. Coach Mack Brown provided a peek underneath the veil on Monday, but we won't get a real sense for how good Texas can be until it opens the season Saturday against Rice. We'll learn a good deal more of what we need to know when BYU travels to Austin the following week.
For now, though, here's what we've got:
The big news is obvious: Garrett Gilbert gets the nod at quarterback. He was the safe bet all offseason, and the guy I thought would eventually get it. I doubted originally how "open" the job actually was, but to be clear, I don't think this whole QB race was a ruse. It was open. Gilbert re-won it. As for the difference this year? There's no doubt that if Gilbert struggles like he did in 2010, backup Case McCoy will get a look much quicker. "He's the starting quarterback. If he moves the ball and scores, he'll keep the job," Brown told reporters on Monday.
Hyped freshman corner Quandre Diggs wowed in the spring game, and has mesmerized his teammates all fall. He's a co-starter at one of the cornerback spots alongside Adrian Phillips.
Jordan Hicks missed the spring with a broken foot, but he's come on strong in the fall, seizing a starting spot at strongside linebacker. The Ohio native was one of the nation's best linebackers in the 2010 class, but he'll get a chance to grow alongside Keenan Robinson and Emmanuel Acho.
Fozzy Whittaker is the starter at running back. His backup? A three-way tie between Joe Bergeron, Malcolm Brown and D.J. Monroe. The race at running back should be fascinating to watch.
Good to see Blaine Irby back after his awful knee injury. He'll start at H-back.
Look out for Shipley 2.0. Jaxon Shipley, Jordan's younger brother, is the starter at H receiver and will return punts. Every indication we've heard is he's a playmaker and will get a chance to show it early on. He graduated early, but instead of enrolling at UT and going through spring practice, he worked out with Jordan during the NFL lockout.
Diggs and Monroe will handle kickoff return duties.
Starting center? Redshirt freshman Dominic Espinosa. Tray Allen is back at left tackle, too, after missing all of last season because of a foot injury.
July, 19, 2011
7/19/11
8:18
AM CT
Heading into the season, I see five teams in the Big 12 with a realistic chance to win the league. I'll be breaking them down in order (which
won't be the same as my post-spring power rankings
) of their chances to leave the season with the Big 12 title.
No. 1 on the list was
the favorite: Oklahoma
.
No. 2 was Texas A&M
.
Oklahoma State came in at No. 3
.
No. 4? Missouri.
And now, we'll tackle the fifth and final team that I could realistically see winning the Big 12.
And yes, it's the team racking up good will from its conference brethren at a record rate.
[+] Enlarge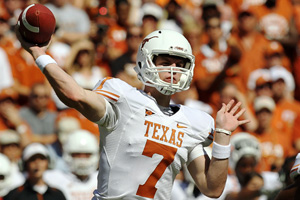 Ronald Martinez/Getty ImagesGarrett Gilbert struggled in his first season as a full-time starter, throwing 17 interceptions to just 10 touchdowns.
Why the Longhorns will win the Big 12
1. They're Texas.
You've heard it before, and cliche or not, it isn't meaningless. "They're Texas" simply means the Longhorns aren't short on athletes. Defensively, that was true even last year. Offensively, did Texas recruit a handful of guys that either a) haven't panned out or b) haven't fit into the offensive scheme well? The answer to that was pretty obvious after Colt McCoy and Jordan Shipley checked out for the NFL. But Texas has the athletes on defense, and 2010 struggles aside, the potential for big years is there for running back Malcolm Brown and receiver
Mike Davis
. If
Garrett Gilbert
can bounce back from last year, or whoever Texas puts out there at quarterback plays well, and the offensive line can at least be decent, Texas will look radically different.
2. Last year's team was a lot better than 5-7.
Mack Brown has repeatedly emphasized it, but he's not blowing smoke. Combine two simple stats from last year and Texas likely would have won 7-8 games. In 2009, when Texas went to the national title game, it turned the ball over 28 times and forced 37 turnovers. Last year, it turned the ball over just two additional times, totaling 30. The Longhorns, though, forced just 18 turnovers, including a big drop from 25 interceptions in 2009 to just eight in 2010. That margin put the Horns ahead of just three teams in all of college football. There's a lot of reasons for the drop in forced interceptions (not leading games and forcing teams to pass, weak pass rush, etc.) but there's no way that number will be as low in 2011. Manny Diaz's defense has emphasized forcing turnovers since Day 1, including pre-practice drills the Longhorns hadn't previously done. Additionally, Texas lost four games by one possession, and a couple bounces of the ball could have landed the Longhorns in the postseason, making the chasm between last year's last-place finish in the Big 12 South and a first-place finish in the Big 12 this year look much less imposing.
3. There's a renewed sense of purpose.
Texas restocked its staff with rising talents in the coaching profession and guys eager to make a name for themselves. Additionally, Mack Brown has lauded his team's offseason efforts, no doubt aided by having to stare at the garish 5-7 record in 2010 next to all those double-digit totals for almost a decade before them. You're crazy if you don't think that's major motivation for a team that should have good leadership behind guys like Keenan Robinson, Emmanuel Acho, Blake Gideon and
Fozzy Whittaker
. That will manifest itself on the field.
Why the Longhorns won't win the Big 12
1. There isn't enough offensive production.
For now, Texas has an underwhelming offensive line to block for a corps of running backs with two seniors who have never topped 600 yards in a season. Much-hyped incoming freshman Malcolm Brown won't join the team until fall camp, though he's on campus this summer. Texas has no receivers who have ever topped 550 yards in a single season or caught more than two touchdown passes in any given year. And there's an uncertain quarterback competition between three guys with no meaningful career snaps and another with 12 starts, 17 picks and just 10 touchdowns. Not exactly the recipe for a Big 12 champ.
2. The list of contenders is deeper than most years.
This isn't your favorite college football-glossing fan's Big 12, which hinges on the Red River Rivalry every year. Texas can't hope to best Oklahoma in Dallas and cruise to a Big 12 title. If Texas does knock of OU, it's still going to have to beat Oklahoma State, Texas A&M (in College Station, by the way) and Missouri (in Columbia). If it can't do that, or at least finish with 1-2 losses, the Longhorns won't have a chance. There is zero chance the Big 12 champion will have three losses.
3. Players won't have either new system down in time.
We haven't seen much from Texas, outside of its spring game, but this postgame quote from Diaz, the new defensive coordinator, definitely raised my eyebrows: "We are a defense that has to do everything right to be successful, and on the plays when 11 guys lock in and do their job, we are hard to move against. But we still have very little margin of error when we don't play within our technique or we don't play within our assignments." So what, pray tell, happens when all 11 guys aren't doing everything right? It's reasonable to suggest that in a new system, that might happen, and combined with the offensive issues we discussed earlier, 2011 could be another tough year for Texas. Of course, if things do come together and that potential becomes production, Texas might end up back on top of the Big 12.
April, 4, 2011
4/04/11
10:15
AM CT
AUSTIN, Texas -- Taking a big-picture look at Texas' spring game on Sunday, I can't say it was much better or worse than I expected. Our postgame coverage can only say so much, but there was plenty more leftover after Sunday. Here's a few thoughts and notes:
First things first: Texas, to me, looks like a seven- to eight-win team. The defense in 2010 was better than it gets credit for, but the truth is the talent on offense isn't there, and unless
Malcolm Brown
is quite literally the reincarnation of Adrian Peterson, I don't see it happening right away. Maybe Texas proves some people wrong and exceeds expectations. Maybe not. If so, they're going to have to do it as the season goes along. A month of fall camp and improving over the summer isn't going to give the Longhorns enough offense to compete in a league that should be as high-scoring as ever next season.
That said, when fall comes around, Texas will get votes in the preseason poll. Big 12 fans, just be ready for it. Those that do put Texas in their preseason top 25 though, simply aren't paying attention to anything more than the name on the front of the jersey. Texas could certainly improve over the course of the season and play their way pretty quickly into the top 25 with BYU and UCLA on the nonconference schedule along with a likely early-season conference game on the slate. But to start the season, the only teams in the Big 12 that Texas looks markedly better than are Kansas, Kansas State, Iowa State and ... well for now, that's it. To beat anyone else (i.e., Missouri, Baylor, Texas Tech) they'll have to overachieve a bit and improve rapidly, especially on offense. It's really, really hard to envision the team I watched on Sunday knocking off Oklahoma, Texas A&M or Oklahoma State next season.
Texas isn't far off. I believe Mack Brown when he says turnover ratio (-12 in 2010, ranking 116th nationally) is the biggest thing they have to fix. But fixing that will only get them to 7-8 wins. The talent level across the board on offense, quarterback, running back, receiver and offensive line, just isn't what it was in past years. Bringing in more guys like
Mike Davis
or perhaps
Darius White
and Malcolm Brown can help change that, but looking back, Colt McCoy and Jordan Shipley carried the Longhorns offense perhaps even more than any of us knew.
So, that's where I see the Longhorns right now. That's not to say there weren't plenty of positives on Sunday.
For all the pressure he's under, Brown did a nice job of not showing it too much on Sunday. He was all smiles and even left the media room just after entering for interviews to visit with some recruits who were making visits rather than begin answering questions again. "You all are a really important part of our lives, but not nearly as important as recruits," Brown joked when he returned. "I know that's disappointing, but it's fact." He also joked about being undefeated a few times. I'm sure part of him has to be at least a little rejuvenated by what should be a big challenge next year.
Everyone had to be really impressed with both defensive end Alex Okafor and early-enrolling freshman cornerback Quandre Diggs. Okafor looks like he and Jackson Jeffcoat should be great up front, though Jeffcoat's two tackles on Sunday pale in comparison to Okafor's five sacks, a feat he said he never even duplicated in high school. Okafor is even more impressive when you consider he was planning on remaining at defensive tackle until a few days before spring practice began. "We saw that he had the ability to move around and change direction where he could be that guy that can move around. And he is a big imposing figure out there at defensive end," defensive coordinator Manny Diaz said. "The thing is this: he has to be that guy for us. If you look around, he is it. He is our elder-statesman at defensive end. If he feels like he can be good some of the time, then we're going to be good at defense some of the time. For us to be really great on defense, we need him to be great on defense."
As for Diggs, I don't mean to overhype him, but the coaches did it plenty after the game. He looks a lot like a player who could leave Texas with "All-American" affixed to the front of his name. "Quandre is a guy who was born to play defensive back. He just has the knack," Diaz said. "Some guys you have to draw them a map, but Quandre understands what it takes to play there."
Of Diggs, Brown later added: "He does get it," Brown said. "You would never think he's a guy who should be a high school senior." Brown credited Diggs being around his brother, NFL defensive back Quentin Jammer, who was in attendance on Saturday. Texas' secondary is replacing three corners next season, and I'd be shocked if, at the very least, Diggs wasn't in the rotation along with Adrian Phillips and Carrington Byndom. I wouldn't rule him out as a starter, even. Considering everyone is starting on even ground this spring, I doubt he's far behind either.
And one final note on Diggs, a rousing endorsement from senior safety Blake Gideon: "Quandre's going to be a very good player. He's got a chance to do some great things while he's here. There's only so much you can coach. Coach [Duane] Akina tells us that all the time, and he seems to have that natural part, that instinct, that knack for the game, stems on routes and feeling a receivers hips, and that's something that, for a young defensive back is pretty rare," he said. "I think everybody is pretty excited about Quandre and what he brings, and he keeps his mouth shut, which is a very important aspect of being a freshman here."
I'd caution fans not to put a ton of stock in
Case McCoy
's performance on Sunday for two reasons:
It was one scrimmage, albeit an important one.
The numbers were good, but the performance left a lot to be desired.
I was really impressed with McCoy's ability to keep the chains moving and make completions, which is definitely important. But he still looked uncomfortable in the pocket, unwilling to set his feet and throw despite no threat of taking any big hits in a spring game that protected Texas' quarterbacks. He threw off his back foot often, and mechanics like that will have to be fixed if he's going to have consistent success and put up the kind of numbers he did on Sunday throughout next year.
It was a nice step for the quarterback, but when Texas' coaches insist there's no real leader in this competition, I don't believe they're slow playing anyone and trying not to show their hand. I do believe the coaches really have no idea who's going to start next season and need someone to step up and play. With this new system being as complex for quarterbacks as Brown says it is, I don't see last season's experience for
Garrett Gilbert
being a huge advantage.
Finding a quarterback will be a good test for offensive coordinator Bryan Harsin, who found a freshman named
Kellen Moore
in 2008 and got to the Fiesta Bowl the last time he had one of these competitions. In practices, Harsin will let his quarterbacks throw until they have an incompletion in pass skeleton drills, a move to make separation more obvious and one Brown called "genius."
December, 15, 2010
12/15/10
10:53
AM CT
We're taking a look at some of the nation's higher profile bowl misses in 2010, and no one personified that in the Big 12 more than the
Texas Longhorns
.

How it happened:
Well, for starters, Colt McCoy and Jordan Shipley took their talents to Ohio and the NFL. No receiver ever emerged to fill Shipley's void, and all other problems aside, first-year starting quarterback
Garrett Gilbert
threw 10 touchdowns and 17 interceptions. Good luck finding those kind of numbers on a winning team. No other Big 12 quarterback threw more than 13 interceptions, and only three had double-digits. Additionally, Texas' commitment to a power running game throughout the spring and fall was a certified flop. The Longhorns never found a consistent back, and the team's leading rusher,
Cody Johnson
, finished with just 592 yards. No one else had more than 400.
The defense had a good season on the stat sheet, but a first-quarter lapse against Oklahoma and a poor second half against UCLA resulted in a pair of early-season losses that derailed the season. The Longhorns still managed to beat Nebraska in Lincoln, vaulting them back into the top 25. But the win was a result of the Huskers getting caught off guard by Gilbert using his legs to jump out to an early lead, while the defense corraled
Taylor Martinez
. Texas' only win the rest of the season came over Florida Atlantic.
What needs to change:
Texas has to find offense from somewhere. Freshman receiver
Mike Davis
offers hope, but of the Longhorns touted freshman receivers from the 2010 class, he was the only one to make a real contribution.
Darius White
didn't play much, and finished with just one catch. Gilbert must improve, and look for the Longhorns to ride tailback
Malcolm Brown
, a much-hyped 2011 commitment, in next year's offense.
Will they go bowling in 2011:
Uh, we'll wait and see when they fill the coaching staff. Defensive coordinator Will Muschamp bolted for Florida, offensive coordinator Greg Davis was forced to resign and two other assistant coaches had to retire. What the Longhorns look like next year is anyone's guess. You'd like to think boatloads of top-tier recruits will get you to a bowl game regardless, but we saw this year that's not necessarily the case.
April, 23, 2010
4/23/10
8:38
PM CT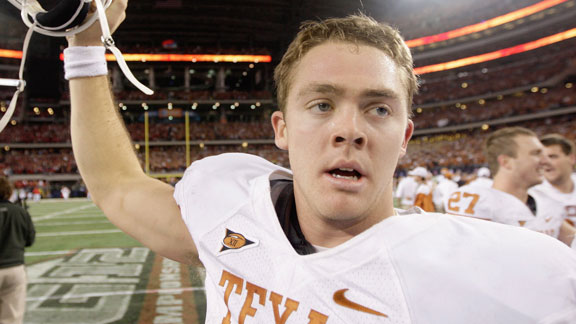 The best friends were drafted back-to-back.
Texas quarterback
Colt McCoy
was drafted by the
Cleveland Browns
with the 85th overall pick, one spot after the
Cincinnati Bengals
drafted receiver
Jordan Shipley
, McCoy's favorite target and hunting buddy.
McCoy waited about 50 picks longer than anticipated, but he landed in a good spot. He'll get to work under quarterback guru Mike Holmgren for a team that has major questions at quarterback.
"You won't regret it," McCoy recalled telling Holmgren when he called. "We're going to win a lot of games."
In somewhat of a strange twist, Texas coach Mack Brown announced the Browns' pick in New York.
SMU's
Emmanuel Sanders
, a slot receiver with better speed than Shipley, went to Pittsburgh a couple of picks before Shipley.