Dallas Colleges:

Josh Cochran
September, 26, 2013
9/26/13
1:00
PM CT
AUSTIN, Texas -- At last, we've reached a one-week reprieve after a rollercoaster month of Texas football. Now is a good time to look back and break down what we know and what we're still trying to figure out about this Longhorn offense.
Here are five things we've learned about Texas' offense after four games:
1. There's a question mark at quarterback.
David Ash
is Texas' No. 1 quarterback, and nobody doubts that. He gets more than a week to recover from the concussion-related symptoms that forced him out of the Kansas State game, and there's optimism that he'll be fine and cleared in time to play Iowa State next Thursday. There's still a chance, though, that Texas coaches will use the wild card up their sleeve and play freshman
Tyrone Swoopes
, at least in a limited capacity. Protecting Ash is an absolute necessity, and if he has more issues going forward we'll see more
Case McCoy
and more opportunity for Swoopes to contribute.
[+] Enlarge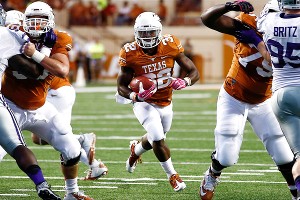 Jim Cowsert/USA TODAY SportsJohnathan Gray has assumed the role of Texas' workhorse in the backfield.
2. Texas is getting a hang of its tempo
Mack Brown's ambitious goal in the preseason was 84 plays per game. Texas is doing OK on that front, having surpassed 80 twice this season with an average of 77 per game. The Longhorns struggled early in the season to put the foot on the gas pedal and get off to fast starts, though jumping ahead 10-0 against Kansas State was promising. When the Longhorns are really moving the ball, they can play at a blistering pace and wear down a defense, especially with the run game. Now that the Big 12 slate has begun, expect to see this become more of a factor.
3. Johnathan Gray is taking the next step
The lion's share of the run game is being entrusted to the former five-star recruit, and against K-State he showed just what he's capable of when he gets a big workload. At 350 yards he's the No. 2 rusher in the Big 12, and the mix of agility, vision and power he brings to the table are beginning to set him apart. Gray is getting 60 percent of Texas' carries in 2013, with
Malcolm Brown
and
Joe Bergeron
splitting the remaining 40 percent evenly. No matter what happens at quarterback, Gray is the guy Texas can lean on.
4. Texas has depth to deal with its pileup of injuries
If you'd told Texas fans in August that Ash,
Mike Davis
,
Daje Johnson
,
Josh Cochran
and several other starters would get injured during the first quarter of the season, they might be a bit more understanding of a 2-2 start. But a handful of second-year players, including
Marcus Johnson
,
Kennedy Estelle
and
Kendall Sanders
, rose to the occasion last Saturday when replacing those key cogs. That depth needs to keep providing for Texas if it hopes to survive (and thrive) in conference play.
5. We don't know how good this offense can be
If the season opener taught us anything, it's that Texas can maximize its tempo, speed and versatility when Daje Johnson is on the field. The running back/receiver can hit the home run on any play and creates lots of problems for opposing defenses. The Longhorns offense can start playing up to its potential when its X-factor returns to the lineup from an ankle injury, possibly next week against Iowa State. Unless more injuries derail this unit, its best days and performances are still ahead.
August, 7, 2013
8/07/13
1:20
PM CT
AUSTIN, Texas -- You're not supposed to mess with a good thing, right?
Texas' offensive line is as experienced as any in the country this fall. All five starters return and have a combined 124 career starts under their oversized belts.
So why is each of them at risk of losing their jobs? Because, in 2013, Texas thinks it has a chance to have not just a good offensive line, but a great one.
"If one of these guys coming in is better than the starters, we will replace them, without question," Texas coach Mack Brown said. "And they know that. We've told them that."
[+] Enlarge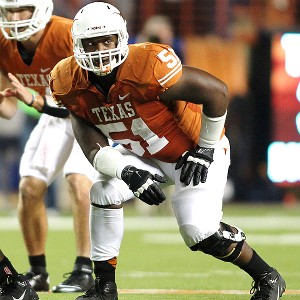 Tim Heitman/US PresswireDonald Hawkins, a junior college transfer in 2012, could find his starting job in peril because of another junior college lineman.
Seniors Mason Walters (38 career starts), Trey Hopkins (29) and Donald Hawkins (11) and juniors Dominic Espinosa (26) and Josh Cochran (20) enter fall camp as the incumbents and received nearly all of the first-team reps in the Longhorns' first two days of practice this week.
But for the first time in his tenure at Texas, third-year offensive line coach Stacy Searels has options. He's wanted 10 offensive linemen he can lean on, 10 he can trust. Thanks to two years of strong recruiting, the cupboard is now well-stocked.
The star of that two-year talent infusion could very well be a lineman who arrived in Austin only three weeks ago:
Desmond Harrison
.
He's never put on pads for the Longhorns, and the sum total of his experience in the program is one fall practice. But the 6-foot-8, 310-pound offensive tackle is already the talk of fall camp after wowing his new teammates.
"He is huge. He's a massive human being," Hopkins said. "Probably the only person I've seen stand next to Mason and make him kind of look short."
If the touted transfer from Contra Costa (Calif.) College is everything he's hyped up to be, Harrison could become the starting left tackle by the end of the month. If that's the case, the rest of the line would be in for a reshuffling.
Hawkins, a junior college transfer last year, could move from left tackle to guard, prompting Hopkins to take over the center duties. Or he could bump off Cochran for the right tackle job. Or he could get benched.
"Your position could change, and you could be second- or third-string really quick," Walters said. "The guys we have here now really want to play. We have a lot of bodies and talent right now. I love it. We want to be as good as possible, and you have to have somebody pushing you."
Harrison isn't the only threat. Brown and Searels have high hopes for four true freshmen who have a serious shot a cracking the two-deep.
"This recruiting class for offensive linemen could be one of the best offensive line classes ever before they finish at Texas," Brown said. "I can't wait to see them when we put the pads on. I'm really excited about them. We haven't been able to find these guys and get these guys on campus like this. It's going to be fun to watch them. Don't know how soon that will be, but our future is very bright there."
Kent Perkins
is already working as the second-string right tackle. Guards
Darius James
and
Rami Hammad
and center
Jake Raulerson
lined up with the third-team offense Tuesday. Several could be worthy of serious playing time this fall.
If they are good enough, that puts Searels in somewhat of a difficult position. How does he explain to three seniors and two juniors that the freshmen must play?
Walters and the rest of the veteran linemen have been through a lot together. When Searels arrived in the spring of 2011, the 6-foot-6, 320-pound guard was one of only seven scholarship linemen in the program. He's started 38 straight games because Texas really had no choice. He and Hopkins have lined up together for 25 of Texas' last 26 games.
"[Hopkins has] grunted at me before and I knew exactly what he was saying," Walters said. "That's just with all of us. You can tap somebody on the shoulder at a certain time and we all know what to look for on certain plays."
They share that bond with Cochran and Espinosa, both of whom started as true freshmen. Through the good times and the bad these past two years, they survived together. There has to be some intangible value to that.
But the veterans know this is a meritocracy. Searels had six offensive linemen he trusted in crunch time last season. He needs more than that. The added depth comes at a critical time, when an up-tempo scheme will require more rotating to keep the line fresh and effective.
No matter what, Searels needs 10 good men. And that's only going to make his five starters work even harder.
"Our togetherness is big, and I think that helps with the guys who have been around for a while," Walters said. "But at the same time, Coach Searels has definitely made it clear he'll play the five best."
August, 6, 2013
8/06/13
1:15
PM CT
Texas is the next Big 12 team who'll begin preseason camp. Let's have a closer look at the Longhorns.
Schedule:
Texas will have its first practice Monday after players reported on Sunday. In a somewhat surprising decision, the Longhorns will host three open practices for fans at Darrell K Royal-Texas Memorial Stadium. They'll all be this week, beginning with Thursday and Friday's 7:30 p.m. ET practice and followed by an 8 p.m. ET practice on Sunday.

Setting the scene:
It's no understatement to say this season could define Mack Brown's tenure at Texas. If the Longhorns turn the corner and find themselves in a BCS game come January, he'll have successfully turned around Texas. He'll have a strong team returning in 2014 and an uptick in recruiting that signals greener pastures ahead and a more placid end to his career in Austin, whenever that happens. If we see an 8-9 win season or worse, an amazing run in the 2000s will have led to a post-Colt McCoy downfall and Brown likely won't be around to coach those 2014 and 2015 recruits. It'll color how he's remembered and this season will have a huge impact on what the next three to four years look like at Texas.
All eyes on:
The defense. We're not going to learn anything about
David Ash
in preseason camp, but the defense has to show signs that it's capable of bouncing back from last season's nightmare that gave up more rushing yards than any team in Texas' history.
Manny Diaz
stuck around, and the Longhorns brought back 2004 defensive coordinator Greg Robinson to analyze film and do other tasks to help out, mostly from his home in Los Angeles. The personnel is there with the return of
Jordan Hicks
and stars
Jackson Jeffcoat
and
Quandre Diggs
, but this unit has a lot to prove. We'll get an idea of their progress in camp.
Key battle:
Offensive tackle. Sophomore
Josh Cochran
(right) and junior college transfer
Donald Hawkins
(left) both turned in good efforts a year ago, but Cochran missed the spring with a broken leg. Junior college tackle
Desmond Harrison
has finally joined the team and could complicate that race. Texas may shift some guys around, like the versatile
Trey Hopkins
, but the battle for the tackle spot should be one to watch over the next month.
On the mend:
Jeffcoat (pectoral) and Hicks (hip) are finally both healthy and ready to go, and the best news of all for Texas is Hicks being given a medical redshirt. That makes him a junior again this season and means he didn't waste last season when he missed 10 games. Jeffcoat has dealt with pectoral injuries in consecutive seasons as well as a high ankle sprain as a freshman. He's got to stay healthy.
Breaking out:
Peter Jinkens
. The sophomore linebacker had a big finish to the season after grabbing his first start against Iowa State. He had three tackles for loss and a sack against Kansas State, and nine tackles and a pick against Oregon State in the Alamo Bowl win. He's got a lot of speed at 6-foot-1 and 218 pounds roaming the outside, and earned playing time at both weak and strongside.
Outlook:
Texas has the potential to be better than any team in the Big 12 with a talented defense, experienced quarterback, deep stable of running backs and a physical, experienced offensive line. Still, all you have to do is look at games against Oklahoma and Kansas a year ago for a healthy, fair dose of skepticism. That's how a team that won nine games a year ago and returns 19 starters gets picked fourth in the Big 12 by the league's media. These Longhorns have a ton to prove, and a bit more experience and talent to do it than they've had in any year since 2010.
Quotable:
Brown, on the struggles over the past few years. "We're a quarterbackdriven league, and if you just look at the last ten years, this league has been known for the best quarterbacks in the country and the best passers and the best offenses. So the fact that we've struggled at quarterback for two years on and off is a true fact that we've struggled as a team some because he touches it every time. ... So when you think about the importance of that player at all levels of our game, it is really, really key, and that's why we're so excited to have David with experience, with maturity, with confidence not only in himself but in his team. He's leading the team much better, and they believe in him right now."
June, 12, 2013
6/12/13
10:30
AM CT
AUSTIN, Texas -- The thin burnt orange offensive line that has broken apart and allowed Texas to be pushed from good to bad is supposed to be fixed this time around.
Stacy Searels, who has long bemoaned the lack of talent, bodies and blocking ability of his charges along that line, has earned the praise of Texas coach Mack Brown, not only for his patience but his persistence in rebuilding that line.
[+] Enlarge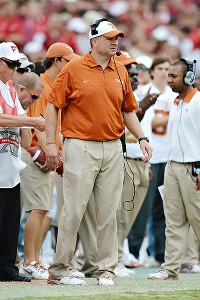 Matthew Emmons/USA TODAY SportsTexas offensive line coach Stacy Searels finally has enough depth in his group to have a two-deep.
"He didn't know until he got here there were only seven scholarship guys that were going through spring practice," Brown said. "He has done a tremendous job of reloading our offensive line."
Reloading might not be the right word to use there, as such a term leads one to believe the line was recently loaded. It has been several seasons since that argument could be made. Texas hasn't produced an NFL lineman since 2008. Prior to that, Brown's program had seven offensive linemen selected over a nine-year span -- a healthy number and one that exceeds the production of Alabama and Oklahoma over the same time period.
So Searels has been more pouring a foundation than restocking the shelves. And now the time has come to find out if there are cracks or if Texas is ready to build on a solid base.
Heading into 2013, the offensive line has all five starters returning. Four of those players were also starters on the 2011 offensive line with the fifth,
Donald Hawkins
, coming in as a junior college transfer after that season. Those starters did have less than stellar performances throughout 2012, however, and, quite frankly, were shoved around by TCU, Oklahoma, Kansas State and a few other teams.
Texas, with its loaded backfield, averaged 3.4 rushing yards per attempt against the six ranked opponents it played in 2012. Against TCU, Oklahoma and Kansas State, the Longhorns failed to reach 100 yards rushing and averaged 3.0 rushing yards per attempt.
Safe to assume those type numbers have not exactly locked down a starting job for every player that started along that offensive line. To that end, Texas does have a potential new tackle waiting in the wings in the form of junior college transfer
Desmond Harrison
.
His arrival should signal some shifts along the line at every position, save for that of
Josh Cochran
's at the opposite tackle spot.
"He (Cochran) is a tackle, so you'd leave him there," Brown said. "But the fact that
Trey Hopkins
has played everywhere; Donald Hawkins could play different places, guard or tackle, just gives you a lot more flexibility for depth. [Sedrick] Flowers would be a center or guard. You wouldn't move him outside. But you have flexibility and you have to look at that great freshman class coming in, too, to see if any of those guys are ready to play."
Texas signed five offensive linemen in its 2013 class and could play at least one of those.
Darius James
, who was ranked No. 17 in the ESPN 150, appears to be the odds on favorite to be that player. He could fill in at the guard spot and also has some center in his background.
Given that Texas wants to average about 84 plays per game, it is not unreasonable to believe that up to 10 linemen could see time in each game. To believe that Texas had that many linemen even available in the past would have been a ludicrous assumption.
Even last season Texas could barely go beyond six offensive linemen. But the emergence of
Kennedy Estelle
(tackle) Flowers (guard), the improved health of
Camrhon Hughes
(tackle), Harrison's arrival, as well as James', does make a deeper rotation at least a plausible thought.
"I really think that we can have two-deep and that will be the first time we have been two-deep around here in a long time," Brown said. "And I think we are -- I know we are headed in the right direction with our depth in the offensive line."
May, 1, 2013
5/01/13
8:38
AM CT
2012 record:
9-4
2012 conference record:
5-4 (third in the Big 12)
Returning starters:
Offense: 10; defense: 9; kicker/punter: 1

Top returners:
QB
David Ash
, RB
Johnathan Gray
, WR
Mike Davis
, WR
Jaxon Shipley
, LT
Donald Hawkins
, RT
Josh Cochran
, G
Mason Walters
, DE
Jackson Jeffcoat
, LB
Jordan Hicks
, CB
Quandre Diggs
, CB
Carrington Byndom
Key losses:
P Alex King, S Kenny Vaccaro, DE Alex Okafor, WR Marquise Goodwin
2012 statistical leaders (*returners)
Rushing:
Johnathan Gray* (701 yards)
Passing:
David Ash* (2,699 yards)
Receiving:
Mike Davis* (939 yards)
Tackles:
Kenny Vaccaro (107)
Sacks:
Alex Okafor (12.5)
Interceptions:
Quandre Diggs* (4)
Spring answers:
1. Under center:
Texas has finally ended all the debate about its quarterback situation and settled on David Ash. While Ash has yet to be stellar in his first two years at Texas, the junior has steadily improved -- he was top 25 in pass efficiency rating in 2012 -- and has won the trust of new quarterbacks coach Major Applewhite. Applewhite believes Ash is the quarterback best suited to run the new up-tempo, spread attack.
2. Loaded at linebacker:
One year after being the worst tackling team in the Big 12, Texas went into the spring looking to shore up its linebacker position. And it had plenty of options. Texas has seven linebackers who have started at least one game. Included in that group is Jordan Hicks, who is back after missing 10 games last year because of a hip injury. Hicks will team with true sophomores,
Dalton Santos
and
Peter Jinkens
for what should be a much faster and aggressive unit in 2013.
3. Along the lines:
While there were a sprinkling of injuries along the offensive line this spring (Josh Cochran and
Trey Hopkins
), Texas appears to have finally solved the depth riddle at that position. Tackle
Kennedy Estelle
was able to get quality snaps and should prove to be a solid backup and
Sedrick Flowers
finally emerged as an option at guard. While Texas returns all five starter from a year ago along the line, the Longhorns know that in the new up-tempo offense it will have to lean heavily on these backups.
Fall questions
1. Speed thrills:
Texas wants to move the ball fast. So fast that the offensive players were even taught how to quickly get the ball back to the official so that they could put it down and Texas could line up and run the next play. But Texas only decided it wanted to play this way in mid-December when there was a change in playcallers from Bryan Harsin to Applewhite. So Texas has only had a handful of practices to get up to speed. With a schedule that has Texas at BYU for the second game of the season there doesn't appear to be much time to get things perfected.
2. Safety dance:
Texas' defense was the worst in school history and that was largely due to the play of the back seven on defense. And now the best player in that back seven, Kenny Vaccaro, is gone. He was a first-round draft pick. That has left Texas wondering who will step up and make some stop at the safety position.
Adrian Phillips
takes over for Vaccaro, but he was inconsistent last season. The coaches blamed a shoulder injury and the fact he missed the spring.
Mykkele Thompson
and
Josh Turner
also missed their share of tackles but both are being called on to be possible starters.
3. Receiving praise:
Texas has not had a 1,000-yard receiver since Jordan Shipley in 2009. Mike Davis had 939 yards last year and appears poised to break the 1,000-yard mark this season. But to do that he will need help. And right now there are some questions as to where that help will come from. Texas wants to go with four wide receivers but two of the four players expected to fill those roles --
Cayleb Jones
and
Kendall Sanders
-- are currently suspended because of legal issues. Both will probably be back. But even then, Texas is very thin at wide receiver and needs some other players to step up to help take the double teams away from Davis.