Dallas Colleges:

Josh Gordon
July, 10, 2012
7/10/12
9:14
PM CT
Former Baylor Wide Receiver Josh Gordon talks about his
pro day workout
and preparing for the NFL's supplemental draft.
September, 1, 2011
9/01/11
12:00
PM CT
Here are ten things I'm keeping an eye on in Week 1 of Big 12 football.
1. Garrett Gilbert.
Everything else aside, Gilbert is ultimately the one guy who will decide how far Texas gets this season. Or, at least whoever Texas' quarterback is by midseason. Gilbert needs to play well to a) make sure he's that guy and b) help Texas rebound from last year's debacle.
[+] Enlarge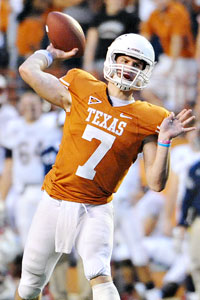 Brendan Maloney/US PresswireThe success of Texas' season likely rides on the shoulders of Garrett Gilbert ... or his replacement.
2. Does Baylor have a second go-to receiver?
Josh Gordon is a huge loss. Everything pointed to a breakout year for the big receiver, but who's going to emerge as
Robert Griffin III
's other top target. Baylor has talent at the position, but it's going to help if one receiver makes his presence clear.
Terrance Williams
?
Tevin Reese
?
Lanear Sampson
? Bueller?
3. Oklahoma's safeties.
Javon Harris and Aaron Colvin have a ton of potential, but they've got a tough test in Week 1. Last year, Oklahoma broke in two brand new corners against Utah State and nearly was upset on its home field.
G.J. Kinne
is a stud, and with both of last year's safeties in the NFL, are Harris and Colvin up for the task?
4. Weeden2Blackmon.
Here's the deal: This game won't be close. But I love watching these two play. And they're going to be putting up some big highlights for the first time in eight months. Football! Finally!
5. James Franklin's arm.
We've seen Franklin run plenty as a freshman playing behind Blaine Gabbert. But Missouri will go about as far as Franklin's arm will take them. His teammates have been impressed with what he's down through the air in the offseason. Will he validate them in the opener?
6. Steele Jantz's legs.
Nobody outside Ames has really seen Jantz, a transfer from a California junior college, do much. But he won the starting job over the more experienced
Jerome Tiller
(before he was ruled academically ineligible for the season) and has Cyclones fans excited. Is he the dynamic playmaker Iowa State's offense has been missing?
7. Kansas State's running backs.
Bill Snyder called it the closest competition on the team. The WIldcats have three co-starters, and third on the list is the Big 12 transfer with the most hype:
Bryce Brown
. Will he establish himself as the clear replacement for Daniel Thomas, who led the Big 12 in rushing the past two seasons?
8. Kansas' point total.
Kansas simply needs to show it can execute. It did it against New Mexico State last year and briefly against Colorado, but this is largely the same team from last year, with a handful of new faces added. How much better is the offense? Good enough to compete in the Big 12? Because the Jayhawks weren't close in 2010.
9. Texas A&M's linebackers.
Most of the attention is paid to quarterback
Kyle Padron
, but the Mustangs' 230-pound, rumbling running back
Zach Line
is no joke, either. He had at least 94 yards rushing in six of the past seven games in 2010, and the Aggies have a big hole at middle linebacker that Jonathan Stewart will try to fill.
10. Texas Tech's playcalling.
Tommy Tuberville wants a new commitment to the running game, but where will that show up? The Red Raiders have what I think will be a good QB, but lots of unanswered questions at receiver next to a deep stable of running backs and a good offensive line. I'm also excited to see what freshman tight end
Jace Amaro
can do.
August, 2, 2011
8/02/11
9:00
AM CT
Moving on in our rankings of the top 10 at each position in the Big 12 entering 2011.
Here are the top 10s you've missed so far:
There's no question that receiver is the strongest position for the Big 12, which has the most talent at the position of any conference in America. Considering the lack of elite talents on the defensive line and at cornerback in this league, look for these guys to put up big numbers this season.
[+] Enlarge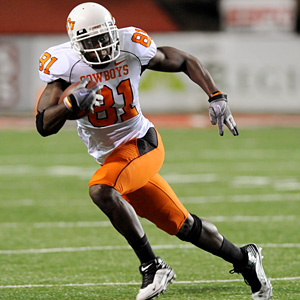 Chuck Cook/US PresswireOklahoma State's Justin Blackmon enters the season as arguably the best receiver in the nation.
1. Justin Blackmon, Oklahoma State:
Blackmon's big year met a big finish, earning him the Biletnikoff Award as the nation's top receiver. He'll be the favorite again this year thanks to his quarterback's decision to return. Last season he had 111 catches for 1,782 yards and 20 touchdowns. His touchdown and yardage numbers led the nation in 2010, and he also topped our
ranking of the Big 12's top 25 players in 2010
.
2. Ryan Broyles, Oklahoma:
Broyles lost his spot as the Big 12's top receiver, but he's still a Biletnikoff finalist and my pick as the nation's No. 2 receiver, right behind Blackmon. Broyles led the nation with 131 catches a season ago, turning them into 1,620 yards and 14 scores as a valuable piece of the Sooners' passing game, long and short. Broyles (5-foot-10, 188 pounds) doesn't have Blackmon's size (6-foot-1, 315 pounds), but what he lacks in the ability to muscle up defenders, he possesses in a feel for space and precision route-running.
3. Jeff Fuller, Texas A&M:
Fuller might get more attention if he played in another league, but he's sadly a bit overlooked in the Big 12 behind Broyles and Blackmon, doomed to difficulty earning All-Big 12 first-team honors, despite being the first Texas A&M receiver to ever record a 1,000-yard season and staking a solid claim as one of college football's top five receivers. Look for Fuller to top his 1,066 yards, 72 catches and 12 scores this year.
4. T.J. Moe, Missouri:
This fourth spot is close, but I went with Moe, who lacks the physical speed and strength of
Kendall Wright
, but has perhaps unrivaled sense for space among any receiver in the Big 12, save Broyles. Just 19 attempts separated Missouri and Baylor's passing offenses, but Moe caught 14 more passes than Wright and accounted for almost 100 more yards, catching just one fewer touchdown. You could make a case for Wright at No. 4, but I'm going with Moe for now.
5. Kendall Wright, Baylor:
He's the top target for
Robert Griffin III
, and if
Josh Gordon
's suspension carries through the season opener, the Bears will need a big game from the 5-foot-10, 190-pounder to beat TCU. He's topped 50 catches and 600 yards in each of the past three seasons with constant improvement, but 2011 might be the year he finally tops the 1,000-yard mark.
6. Kenny Stills, Oklahoma:
Stills is one of two sophomores on this list, and no other freshman receivers in 2010 really came close to his production. Stills showed lots of promise in spring and fall camp after enrolling early, and finished with 786 yards and five touchdowns on 61 catches, entrenching himself as the Sooners' No. 2 target and the heir apparent to Broyles, who will be a senior in 2011. Much bigger things should be ahead for Stills.
7. Ryan Swope, Texas A&M:
Swope proved a huge complement to Fuller, hauling in some of the biggest catches of the season for the Aggies, including touchdowns against Oklahoma and Oklahoma State. He finished with 825 yards and four touchdowns on 72 receptions, and should be poised for similar production in a similar role this season.
8. Josh Cooper, Oklahoma State:
Cooper gets overlooked with the amount of talent in the Big 12, but he was a huge part of Oklahoma State's passing game last season, catching 68 passes for 736 yards and five touchdowns. He might have to hold off teammate
Hubert Anyiam
for touches in 2011 to remain on this list, but for now, Cooper gets some recognition for a job well done that not enough people saw.
9. Alex Torres, Texas Tech:
Torres' numbers (39 rec, 481 yards, 3 TD) took a tumble in 2010, but I give him the benefit of the doubt and keep him on this list after battling through a frustrating back injury for the majority of his sophomore season. He's got tons of promise, and as long as he stays healthy, should get plenty of opportunities as a junior in 2011 after the Red Raiders lost both of their top two receivers from last season's team.
10. Mike Davis, Texas:
Davis needs help from his offensive line and especially his quarterback (
whoever it ends up being
), but he was impressive enough to become one of the Longhorns' top receivers as just a freshman, catching 47 passes for 478 yards and a pair of touchdowns. If Texas' offense improves, look for Davis' numbers to skyrocket and flirt with 1,000 yards.
Just missed:
Josh Gordon, Baylor;
Jerrell Jackson
, Missouri
July, 23, 2011
7/23/11
9:07
PM CT
Junior receiver Josh Gordon has been suspended indefinitely from the Baylor football team for violation of team rules, head coach Art Briles announced in a press release from the university Saturday.

"Josh has been suspended from our program for team rules violations," Briles said. "This disciplinary action, as all past and future actions, will be handled internally."

Gordon caught 42 passes for 714 yards and seven touchdowns as a sophomore in 2010 and also made the longest reception in school history, a 94-yard score in a win over Kansas last season.
July, 4, 2011
7/04/11
9:00
AM CT
You're counting down the days, I'm sure. We're so close, and yet so far from the season's opening weekend. I can't wait for it, and I'm sure every player in the Big 12 can't either. So, despite being a bit far off, we'll take a look at each team's opener, inspired by our friends over at the Big Ten Blog.
We'll start this series at the top of the alphabet.
Baylor Bears


Week 1 Opponent:
Texas Christian
Coach:
Gary Patterson (98-28, 12th season)
2010 record:
13-0 (8-0, Mountain West)
Returning starters:
10 (four offense, four defense, two specialists)
About the Horned Frogs:
I didn't feel great about Baylor's chances to actually beat TCU last year in Fort Worth, but I thought it had a good chance to make things interesting. After the first quarter, it was 21-0.
This year, I think the same, but the Bears should have a much better shot of pulling the upset.
TCU loses more talent from last year's team than any team in the country except Auburn, which brings back just seven starters. That heavy turnover, plus playing in the season opener at home versus the third game of the year on the road last year, should favor the Bears, who will play host at Floyd Casey Stadium in Waco.
TCU must replace NFL-bound quarterback Andy Dalton, three offensive linemen and standout receiver Jeremy Kerley. Linebacker Tank Carder
and his gratuitous arm bands
are back, but both safeties must be replaced. Baylor quarterback
Robert Griffin III
loves to go vertical to
Josh Gordon
and
Kendall Wright
, so look for him to do it, and the Horned Frogs' secondary coach, Chad Glasgow, is now at Texas Tech.
TCU should start the season somewhere in the top 20, but Baylor will have a great opportunity to notch an attention-grabbing win with a Friday night kickoff on national TV. The game will be broadcast at 8 p.m. ET on ESPN.
Random factoid:
TCU leads the series between the former Southwest Conference foes, 50-49-7. Baylor can even it up with a win.
Totally unscientific percentage chance Baylor wins:
42 percent. Baylor has lots of experience, especially on offense, and it's hard to imagine the defense being much worse than it was last year, especially against Dalton and the Horned Frogs' offense, which did anything it wanted to the Bears' D.
Will the player turnover be enough to offset TCU's advantages in overall talent and depth?
June, 22, 2011
6/22/11
8:50
AM CT
The Big 12 might be weak at the top of the running back heap, but it's definitely not at receiver. The conference has at least three of the top five receivers in the country, and the top two. They highlight a very strong group of receivers across the league, and I continue our position rankings with receivers today.
Remember that depth plays a big part of these rankings. We'll be ranking the top 10 individuals at each position later on before the season begins.
Other position rankings:
1. Oklahoma
[+] Enlarge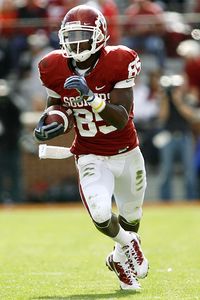 J.P. Wilson/Icon SMIRyan Broyles finished the 2010 season with 131 catches for 1,622 yards and 14 touchdowns.
The Sooners have the nation's No. 2 receiver,
Ryan Broyles
, but found a handful of others to surround him in 2010 and should have a couple more in 2011. Sophomore
Kenny Stills
broke Broyles' freshman receiving record and looks like a budding star.
Dejuan Miller
came on strong before a season-ending knee injury, but he's back. The Sooners lose
Cameron Kenney
, but
Trey Franks
had a strong freshman campaign, and freshmen
Justin McCay
(redshirt) and Trey Metoyer could provide even more playmakers.
2. Oklahoma State
The Cowboys boast the returning Biletnikoff Award winner and 2011 favorite,
Justin Blackmon
, with a great group around him, too. Slot machine
Josh Cooper
returns for his senior year, and fellow senior
Hubert Anyiam
(the team's leading receiver in 2009) is hoping to return to form after being slowed by an ankle injury in 2010.
Isaiah Anderson
is a shifty speedster, while
Michael Harrison
and
Tracy Moore
offer a more aerial approach to receiving.
3. Texas A&M
The Aggies have the Big 12's No. 3 receiver,
Jeff Fuller
, who is arguably one of the top-five in the college game. But they also have the Big 12's most experienced receiving unit, with guys who won't be surprised by anything they see in Big 12 play. Juniors
Ryan Swope
and
Uzoma Nwachukwu
are the team's second and third options, but fellow juniors
Kenric McNeal
and
Brandal Jackson
could be bigger pieces of the offense in 2011. Tight end
Nehemiah Hicks
should see his profile rise in his coming sophomore year.
4. Baylor
Top target
Kendall Wright
will likely end his career as the Bears' leading receiver for all four of his seasons on the field, and 6-foot-4, 220-pound junior
Josh Gordon
looks like the new Jeff Fuller.
Terrance Williams
,
Lanear Sampson
and Tevin Reese round out the Bears' top five, who all had at least 40 catches last season, and all return.
5. Missouri
Missouri still lacks a proven big-play threat, but has two pass-catchers who have some of the best hands in the game. Receiver
T.J. Moe
and tight end
Michael Egnew
won't drop many passes, and combined to catch 182 for 1,807 yards and 11 touchdowns.
Wes Kemp
and
Jerrell Jackson
bring a lot of experience and both had at least 39 catches last season. If
Marcus Lucas
or
Rolandis Woodland
can become a consistent downfield threat, Missouri will rise up these rankings by season's end.
6. Texas Tech
Tech's top two receivers,
Lyle Leong
and
Detron Lewis
, must be replaced, but the Red Raiders have a few solid candidates to do it. Junior
Alex Torres
will likely lead the group, but fellow junior
Austin Zouzalik
and seniors
Jacoby Franks
and
Tramain Swindall
will be counted on for more production. Dark horse/juco newcomer Marcus Kennard could blossom into a household name across the Big 12 by season's end.
7. Texas
Sophomore
Mike Davis
and redshirt freshman
Darius White
are loaded with potential, but two of the team's top three receivers (
James Kirkendoll
,
John Chiles
) are gone, and no Texas receiver caught more than two touchdowns last season.
Malcolm Williams
and
Marquise Goodwin
are as different as two receivers could be, but both need to break out to help whoever becomes the Longhorns quarterback next fall.
8. Kansas State
Brodrick Smith
will be back this season after breaking his leg in a loss to Nebraska. But two of the team's top three receivers are gone, leaving converted quarterback
Chris Harper
as the leading returner, though Smith might have held that title if he'd stayed healthy. Sophomore speedster
Tramaine Thompson
can make plays if he gets the ball with some space.
9. Iowa State
The Cyclones will be breaking in a new quarterback this season and they will need a playmaker to step up. Tight end
Collin Franklin
led team in receiving last season but he is now gone.
Darius Reynolds
looks like a possible candidate to fill the role, although incoming slot receiver Aaron Horne might rack up a few catches in space.
Darius Darks
and
Josh Lenz
should earn some more targets too.
10. Kansas
Converted defensive back Daymond Patterson is the team's top receiver, but the team's No. 3 receiver junior
Bradley McDougald
, moved to safety in the middle of the season. Tight end
Tim Biere
is one of the Big 12's best and led the team with four touchdowns last season.
Chris Omigie
and
D.J. Beshears
have some potential, and converted quarterback
Christian Matthews
keeps showing up in spring games. But all three, along with the rest of the group, would benefit from some consistency at the quarterback spot.
May, 12, 2011
5/12/11
10:34
AM CT
College football is all about promotion and development. Players undergo enormous growth in their time on campus, but every year, there's a handful of guys who make the jump from good to great. Who will make the biggest jump in the Big 12?
Brad Madison led Missouri in sacks last season, but did it as a backup. Fellow defensive end Aldon Smith is gone now, though, and Madison slides into a starting role. What's he have in store for 2011?
Like Madison, Damontre Moore filled in for an injured future top 10 pick early in the season, and excelled. Moore, though, did it as a true freshman. Once Von Miller got to full strength from his ankle injury, Moore was relegated back to the bench. Will he become a household name as a sophomore?
Baylor's
Josh Gordon
showed some flash as a sophomore in 2010, but has the size and speed to become one of college football's top receivers. Will that potential turn to production?
Joseph Randle
caught more passes last year than every running back but DeMarco Murray. This year, though, he'll be counted on in a bigger role in the running game. What will be bring as a sophomore?
Corey Nelson made huge waves this spring, further intensified when Oklahoma coach Bob Stoops called him the best player on the defense. There's no room for him, it would seem, in the starting lineup for the Sooners, but he'll be on the field somehow. Can he crash the party?
March, 23, 2011
3/23/11
2:51
PM CT
We'll kick off a series today looking at the weakest and strongest positions for each team in the Big 12. First up: the
Baylor Bears
.

Strongest position: Wide receiver
Key returnees:
Kendall Wright
,
Josh Gordon
,
Terrance Williams
,
Tevin Reese
,
Lanear Sampson
Key losses:
None, although tight end
Brad Taylor
graduated after catching 20 passes for 269 yards last year.
Analysis:
Quarterback
Robert Griffin III
keys Baylor's offense, but he's got plenty of targets to throw to, and last year he distributed the ball well. All five of his top receivers had at least 40 receptions and 390 yards, and Wright led the group with 79 receptions for 952 yards and seven scores. Wright is already one of the Big 12's best receivers. Gordon could become one this year after emerging as a big red-zone target at 6-foot-4 and 220 pounds. Former blue-chip recruit
Darius Jones
also looked impressive during my visit to Waco for spring practice last week. Because Griffin has so many targets and isn't forced to rely on just one, none of the five may ascend to the Big 12's absolute elite, but Gordon and Wright both have that potential. At worst, all five will be solid and keep Baylor's passing game a huge boost to the Bears hopes at being a Big 12 title contender.
Weakest position: Linebacker
Key returnees:
Elliot Coffey, Chris McAllister
Key losses:
Antonio Johnson, Chris Francis, Earl Patin
Analysis
: Baylor already ranked ninth in the Big 12 in rush defense last season, and loses Francis and Johnson, two of four Bears to make at least 70 tackles last season. Johnson was also one of the defense's leaders. The Bears' D has had problems stopping the run early in spring practice, and needs someone to help solidify the defense's second line. McAllister has plenty of potential after a strong freshman season in 2010, but he'll need to turn that potential into production to help the linebackers eliminate their status as a weakness before the season. Baylor loses both safeties -- the team's two leading tacklers from last season. Though the depth chart is still very much in flux, there's plenty of talent on the back line, as Ahmad Dixon and Mike Hicks that could be ready to replace Tim Atchison and Byron Landor.