Dallas Colleges:

Josh Wilson
September, 19, 2012
9/19/12
2:03
PM CT

David Ubben says Baylor's defensive ends are on the spot this week against Louisiana-Monroe.
April, 16, 2012
4/16/12
10:13
AM CT
Miss Baylor's spring game on Saturday? We've got you covered.
What happened:
Nick Florence ruined the defense's day, completing 14-of-18 passes for 180 yards and three touchdowns. Bryce Petty completed 18-of-27 passes for 146 yards and a touchdown.
Lache Seastrunk stole the show with 135 yards on just seven carries, including a 75-yard touchdown.
Lanear Sampson caught five passes for 65 yards and a touchdown. Tevin Reese had four catches for 89 yards.
Josh Wilson led all tacklers with 10 stops.
The Bears ran 112 plays in the 75-minute scrimmage.
About 2,750 fans showed up.
What we learned:
When I visited Baylor this spring, Seastrunk was the third man in what looked like a pretty balanced backfield by committee. Now, though? If he's that productive for the rest of fall camp, he may be validating that recruiting hype and hoopla that followed his transfer from Oregon. His competition, Jarred Salubi (88 yards, seven carries) and Glasco Martin (58 yards, TD eight carries) were productive, but Seastrunk has that home-run capability. Salubi does, too, but the senior hasn't shown it on the field. Fall camp should be an interesting race. All three could be productive, but Briles prefers to have a featured back in the offense. Jay Finley and Terrance Ganaway were outstanding the past two years, and I like Baylor's chances to have a third 1,000-yard rusher.
Color me unsurprised at Florence and Petty's big day. Baylor, Oklahoma and West Virginia all have a case as the league's deepest roster of QBs.
The easy rebuttal from those numbers is Baylor's defense is terrible. Well, it was last year. It won't be great this year, and it might not be a ton better. That said, putting up those kinds of numbers is difficult, and my point is this: Baylor's still going to have one of the league's most productive offenses. RG3 had lots of help around him and lots of potential behind him. We'll get a chance to see it this year. The spring game didn't change my mind about Baylor as a 6-8-win team, but this is not a program that's going to flatline without RG3 at quarterback. The receivers are really talented, really deep and really smart. The offensive line should be really good and the running backs will be productive.
They said it:
"I'm learning. I know my teammates are going to keep helping me. As long as I keep my head in the books and keep understanding all the checks and calls, I'll be fine." - RB Lache Seastrunk, on his day
July, 3, 2011
7/03/11
11:00
AM CT
We'll move on to the safeties today in our position rankings across the Big 12.
Here's what we've covered so far:
The group of safeties across the Big 12 isn't fantastic, without any truly elite groups, but it's decent. There aren't any teams that look really hopeless at the position in the immediate future.
I haven't given it real close examination so far on the positions we haven't covered yet, but this is by far the closest gap between 1-10 of any position so far.
Here's how I ranked them. (Remember, I lumped in nickel backs with linebackers, so Ahmad Dixon and Tony Jefferson won't be found anywhere in this post.)
[+] Enlarge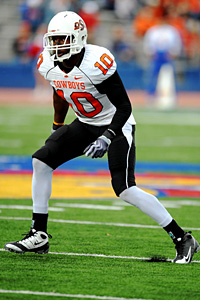 John Rieger/US PRESSWIREOklahoma State's Markelle Martin is the Big 12's best overall safety.
1. Oklahoma State
-- The Cowboys have Markelle Martin, the Big 12's best overall safety who's a big talent but a much better hitter than he is a cover man. Johnny Thomas is solid and both safeties got a lot better as the 2010 season progressed. OSU's depth lands them here, though. Daytawion Lowe could start for a few Big 12 teams and is slightly better than A&M and Texas' reserves, the other two teams with the deepest group of safeties.
2. Texas
-- Blake Gideon takes his share of criticism, a good deal of it fair, but there's a reason he's starting for Texas for a fourth season this fall. He knows what he's doing. Kenny Vaccaro will challenge OSU's Martin, among others, for the title of the Big 12's biggest hitter and Nolan Brewster and Christian Scott are strong reserves at the position. The Longhorns lose a lot at corner, but all the safeties are back from a defense that allowed just over 170 yards a game through the air in conference play last season.
3. Texas A&M
-- The Aggies' Steven Terrell and Trent Hunter are solid, and Hunter is a big playmaker who made 62 stops and picked off two passes last year. Toney Hurd Jr. is the backup and was one of the most impressive freshmen in fall camp last year, joined by Steven Campbell in the rotation.
4. Kansas State
-- Tysyn Hartman has loads of experience and is one of the Wildcats that Bill Snyder loves to rave about. Ty Zimmerman was one of the Big 12's best freshman last year, and picked off three passes. They should be solid again next year, and for as much criticism as K-State's defense faced last year, they were fifth in the Big 12 in pass defense. Logan Dold should be in the rotation, too.
5. Oklahoma
-- Reserve Sam Proctor has starting experience, but Javon Harris and Aaron Colvin enter fall camp as starters. That says plenty about how Bob Stoops and Brent Venables feel about them. In a word: confident. Colvin has the most potential in the group, but the two starters will have to learn on the go. Proctor, a senior, should be able to help. James Haynes will also be in the rotation.
6. Missouri
-- Jasper Simmons is gone, but Missouri's safeties might be a bit underrated in this spot. Kenji Jackson has loads of experience and should be solid, and Tavon Bolden and Matt White are a pair of promising sophomores who should compete at free safety. Kenronte Walker should be in the rotation, too.
7. Texas Tech
-- Injuries were a problem last year for the Tech secondary, but Cody Davis and D.J. Johnson will hold down the traditional safety spots away from the line of scrimmage in new coordinator Chad Glasgow's 4-2-5. The unit gave up lots of big plays in 2010 (151 over 10 yards, 46 over 20, and 25 over 30, all the most in the Big 12), but I'd expect that number to drop under Glasgow if the secondary stays healthy. Davis is the team's leading returning tackler, with 87 stops. Brett Dewhurst and Giorgio Durham should be in the rotation.
8. Kansas
-- Keeston Terry and Bradley McDougald give Kansas a lot of speed and athletic ability at the position, but both of the team's safeties from 2010 graduated and Terry and McDougald are short on experience. Lubbock Smith should add some solid depth to the position.
9. Iowa State
-- Iowa State loses their top playmaker at the position, David Sims, but returns starter Ter'Ran Benton. He'll be helped out by some combination of Jacques Washington, Earl Brooks and Deon Broomfield once the season starts. Iowa State's biggest weakness is on the defensive line, so it's hard to get a good read on how good the safeties really are with such a poor pass rush up front.
10. Baylor
-- This group might move up the list during the year under Phil Bennett, but the two best raw athletes (Ahmad Dixon, Prince Kent) at the position moved to nickel back and linebacker, respectively. The team's leading tackler, Byron Landor, graduated, and that left Mike Hicks as the other starter. He'll be helped out at safety by Sam Holl, Josh Wilson and K.J. Morton. Last year, the Bears ranked last in the Big 12 in pass defense in conference play, giving up over 300 yards a game. That'll have to change or Baylor won't get past seven wins.