Dallas Colleges:

Julius Randle
April, 7, 2014
4/07/14
9:00
AM CT
ARLINGTON, Texas --
Kentucky
's ridiculous run to Monday's national championship game against
UConn
seemed probable and even likely last summer. Then, John Calipari had an unprecedented number of McDonald's All-Americans and NBA prospects in the same freshman class. Add them to returning sophomores
Alex Poythress
and
Willie Cauley-Stein
and a lengthy stay in the Big Dance seemed possible.
But the Wildcats took five months to finally achieve this lofty potential. They knocked off Kansas State, Wichita State, Louisville, Michigan and Wisconsin to secure a slot in the national title game. Now the same Wildcats who lost to Arkansas and South Carolina toward the end of the SEC season have found a rhythm at the most crucial juncture of the season.
"I just knew that we had the talent and it was just a couple of things missing,"
Aaron Harrison
said Sunday. "We trusted Coach [Calipari] and he just put it all together for us. We just went out there and just started fighting and playing harder and playing for each other. I think that was the biggest thing."
The Huskies are a team full of solid defenders who can create chaos for opposing players.
Shabazz Napier
will be the best player on the floor, too. But the Wildcats have the length, overall talent and depth to win their second national title in three seasons and ninth overall.
The path to victory
For months, Florida had been the best team in America. Until it met UConn Saturday for the second time this season. Napier didn't score a point for the first 10 minutes of the game. And the Gators had a 16-4 lead early.
[+] Enlarge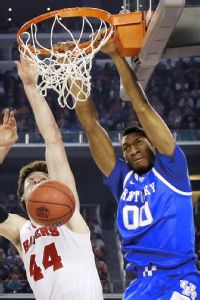 AP Photo/Eric GayMarcus Lee, who averaged only 6.3 minutes per game in 2013-14, could play more for the Wildcats next season.
But then the Huskies ruined the Gators. Napier and
Ryan Boatright
harassed
Scottie Wilbekin
(2-of-9 shooting, three turnovers). They were physical inside and
DeAndre Daniels
(20 points, 10 rebounds) was a monster.
That trio is the key to the national title game.
Kentucky has to corral Napier. That's the first step. He has done a great job of getting to the free throw line, creating shots inside of the arc and hitting 3-pointers. Florida did a good job of containing Napier early. But the Gators failed to protect the rim.
The Wildcats won't have that problem. Aaron Harrison and
Andrew Harrison
are big guards who have the agility and athleticism to stick Napier and disrupt UConn's offense. And
Julius Randle
,
Dakari Johnson
,
Marcus Lee
and Poythress will contest every shot at the rim. The Wildcats won't let Boatright and Napier penetrate the way they did against the Gators on Saturday.
And their length will frustrate Daniels, too. If Kentucky can limit the effectiveness of those three players, beginning with Napier, it will be in a good position to win in the end.
But the Wildcats are also a matchup nightmare for a UConn team that will struggle with their size and brawn. Johnson and Randle will just keep attacking until they get to the rim and/or foul line.
Louisville defeated Connecticut three times by a combined 55 points this season. Sophomore forward
Montrezl Harrell
had a double-double in each game.
Plus the Harrison twins and
James Young
are potent in transition. When the Wildcats run, they can score in impressive flurries.
"First of all, we want to get back in transition," UConn coach Kevin Ollie said Sunday. "That's our No. 1 key every game, especially [with] them. They got a lot of great athletes. They use their quickness, their speed, their jumping ability to get inside the paint. So we want to locate, want to get back, want to keep them in front of us, and then play solid defense. We want to limit the penetration and make them shoot over the top."
Monday's title game will be played above the rim on both ends of the floor. Kentucky will penetrate and get easy buckets inside, while denying UConn similar opportunities with its defense.
The Wildcats have been in battles for the past three weeks. But they've survived them all. The Huskies can pressure backcourts and stop offenses from flowing. They can get hot from the 3-point line. Plus, Napier has been a master at getting to the free throw line, and he rarely misses when he gets there (86.9 percent this season).
The Wildcats, however, continue to overwhelm veteran, balanced units. They've faced adversity in every game they've played in the
NCAA tournament
. Yet they've prevailed in every situation.
Randle can get a bucket when he wants. Johnson cleans up behind him. Lee is the perfect energy guy who can give Calipari 10-15 solid minutes. Young is a playmaker. The Harrisons are the anchors now.
They're difficult to defend in zone defense because they're so athletic, quick and big inside. They're difficult to guard man-to-man for the same reasons.
The Huskies have been impressive throughout this magical run to the national title game.
The Wildcats, however, are just on a different level. That's why they'll win.
April, 6, 2014
4/06/14
1:13
AM CT
By
Richard Durrett
| ESPNDallas.com
ARLINGTON, Texas -- Wisconsin got the shot it wanted with time winding down against Kentucky on Saturday night.
Traevon Jackson
created some space off the dribble, stepped back and got a good look inside the 3-point arc with the game on the line.
"Once it was out of my hands, I thought it had a chance to go in," Jackson said.
But the buzzer sounded as the ball bounded off the glass, off the rim and out.
"He got in his favorite position," Badgers coach Bo Ryan said. "I felt pretty good that he was able to get to that spot where he's hit shots before. It just didn't go."
The fact that it came down to that final shot is a testament to Wisconsin's resilience.
[+] Enlarge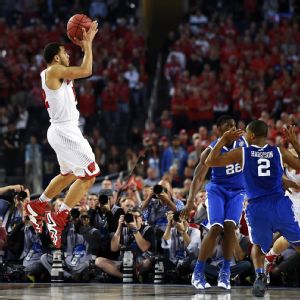 Robert Deutsch/USA TODAY SportsTraevon Jackson wasn't able to one-up Aaron Harrison, as his last-second game-winning attempt did not fall.
There was a time, early in the second half when it looked like the Badgers' Final Four experience might end with a Kentucky-blue wave washing them out in a rout. The Wildcats, fresh off a timeout called in the first minute of the half, jacked up the tempo and went on a 15-0 run that might have crushed most teams.
Wisconsin, as it has shown throughout this entire tournament, is not like most teams. It's not like Kentucky, either. Kentucky is faster. The Wildcats are longer. They have more depth. And they've got more players ready to put on suits and shake the NBA commissioner's hands at the draft soon, too.
But the Wildcats needed all of it to pull off a 74-73 victory over a pesky and tough Wisconsin team making its first Final Four appearance since 2000. But the big run wasn't the reason Kentucky is going to play UConn on Monday night for the national championship. Kentucky is in that game because it made the critical shot at the end --– an NBA-range 3-pointer from
Aaron Harrison
, a player whom big games always seem to find -- and the Badgers didn't.
"They did everything they were supposed to do to win the game and we hit a ridiculous shot," Kentucky coach John Calipari said. "And the shot they took -- if it banks in, they win. It was a heck of a game."
No question about that. But the final sequence didn't go the Badgers' way, leaving Ryan to console his team.
"I really loved coaching this team," Ryan said. "I knew there was something in there, and getting it out of them was sometimes a challenge, but they answered it. They answered everything, and that's how we got here."
What they didn't have an answer for on Saturday was how to get forward
Frank Kaminsky
more involved. The 7-foot junior was dominant in the Badgers' road to Arlington. He had 19 points against Oregon and Baylor and then poured in 28 points and 11 rebounds in the overtime win over Arizona. His play earned him the NCAA West region's most outstanding player award.
Calipari's plan was to run a lot of different players at Kaminsky in hopes of slowing him down. It worked. Kaminsky had just eight points in 32 minutes and attempted only seven shots.
Kentucky had
Dakari Johnson
on him most of the time but also had
Alex Poythress
and
Julius Randle
battling with him to give him some different looks.
Kentucky used its size down low, penetrating inside and trying to dump the ball in to Randle and others whenever possible. Wisconsin, as Ryan pointed out, tried to get bodies in front of those cutting to the hoop. But if a foul wasn't called in their favor, it meant the Badgers weren't in position to box out and get rebounds.
"That's why they had all those second-chance points," Ryan said.
It was 23, to be exact. Kentucky was so intent on playing the game inside that it didn't attempt but five 3-pointers the entire game, making just two of them. In fact, they were 1-for-2 in the second half, with Harrison's winning shot -- Calipari called him the "assassin, making the shot that is the dagger shot" -- the only one the Wildcats made from behind the arc.
Calipari was visibly relieved to still be playing on Monday after another close game, and Wisconsin must deal with the reality that a season that included a streak of five of six losses in February and then a run of 13 wins in the final 16 games, ends in the Final Four.
"I'm extremely proud of these guys," said Ryan, who was making his first Final Four appearance with the Badgers. "When it comes down to a one-possession game, the last possession always seems so magnified. We just came up one short. We've been on the other end of those. We know that it's like. It's hard. It means we're done playing for the year."
April, 5, 2014
4/05/14
11:44
PM CT
ARLINGTON, Texas -- A brilliant Final Four game ended with the Kentucky Wildcats -- those frustrating, late-coming, remarkable, young Wildcats -- moving on. Five things from a classic:
1. Aaron Harrison did it again. By "it" we mean a last-second 3 … 25 feet from the rim … from the left wing … with a defender in his face. Kentucky trailed 73-71 with 15 seconds to play, and when Andrew Harrison's baseline drive stalled, the Wildcats swung the ball to the sideline to Aaron Harrison. Harrison sized up the defense, glanced at the clock -- there were eight seconds left, then seven -- and let it fly. It went in. Of course it went in.


Harrison ran back down the floor waving his arms, nodding his head, as if to say exactly that: Yep. Again.

Wisconsin had a great look to win -- Traevon Jackson stepped back for a wide-open jumper -- a shot he has made with the buzzer running out a handful of times already in his career -- and it looked good off the glass. It rimmed in and out. Jackson stood in disbelief. Bo Ryan reached to console him and then walked to shake John Calipari's hand.
2. Kentucky shut down Frank Kaminsky -- for most of the game. Kentucky's strategy against Kaminsky -- who had carried the Badgers offensively throughout the tournament, and especially in UW's Elite Eight win over Arizona -- worked. The Wildcats double- and triple-teamed Kaminsky, forcing him to kick the ball and refusing to give him any easy layups. With 90 seconds to play, Kaminsky had six points. His offensive rebound and putback with 1:15 was, to that point, the most important play of the game. It brought Wisconsin back into a tie, but it wasn't enough at the end.
3. Kentucky's offensive rebounding was too much -- for most of the game. For all of the big plays down the stretch, Wisconsin spent most of the game being overwhelmed by the Wildcats' relentless offensive rebounding. It's the same story every game with Kentucky: Calipari's team pummels its way to the rim and bullies its way to the offensive boards, getting easy putbacks. Through the first half and the first five minutes of the second, Julius Randle & Co. were grabbing 48 percent of their missed shots. It wasn't until Wisconsin made its second-half surge that the Badgers finally slowed the Big Blue brawlers down.
4. And Wisconsin did weather that inevitable Wildcats run. Near the end of the first half, after Randle finished a feathery spin-move hook around Kaminsky, he turned and told his team, "We're taking this." The first 10 minutes of the second half bore that confidence out: Kentucky came right at Wisconsin, driving at the Badgers' chests, gobbling up offensive rebounds and locking in on the defensive end. Within six minutes, Kentucky's 15-0 run turned a seven-point UW lead into a 51-43 deficit. The Badgers were in that familiar danger zone, in which a couple more misses or turnovers can turn into a sudden blowout.
But then, on Wisconsin came: With 14:34 to play, Duje Dukan got an easy layup on a gorgeous backdoor pass from Nigel Hayes. Dukan hit a 3-pointer to cut the lead to three. Ben Brust responded to Andrew Harrison's layup with a 3 of his own. Two possessions later, Brust's free throws tied the game at 53-53. Or 0-0. The national semifinal would hang in the balance until the final buzzer.
5. That was a classic. If you watched, you don't need us to tell you, but let's make sure to reiterate it anyway: That was a massive 40 minutes of Final Four basketball. Both teams shot the ball well, both teams executed, both teams scored well above a point per possession (about 1.20 each), both teams had huge, and hugely loud, fan followings. Both teams traded big basket after big basket, one crucial play after the next.
And it ended as it felt destined to: With Harrison making that same unlikely 3 from that same spot, sending these same suddenly unstoppable Wildcats through to the next NCAA tournament challenge. Again.
April, 4, 2014
4/04/14
7:45
PM CT
ARLINGTON, Texas -- Police dogs sniffed the backpacks and purses of men and women who entered AT&T Stadium on Friday morning. One of the officers claimed that the black Labradors were deployed to search for bombs and other explosive devices.
But that might not be the full story about the security operation. Perhaps they were really there to protect "the tweak."
For weeks, John Calipari has discussed "the tweak." It's a mystery, but he swears that the tweak changed
Kentucky
basketball in 2013-14.
It all started about a month ago, as the Wildcats were prepping for the SEC tournament. That's when Calipari tweaked -- not to be confused with "twerked" -- something within his program. Even though Kentucky lost to
Florida
by a point in the conference tourney title game, it seemed renewed in Atlanta.
The Wildcats were jelling and connecting in ways that weren't evident in the previous weeks and months. They were moving the ball and defending better than they had all season.
What changed? Tell us about the tweak.
"I'm not supposed to talk about it, but it has definitely changed the energy of the team and our chemistry,"
Julius Randle
said. "It just improved the team."
Calipari has promised to divulge the tweak sometime in the future. Once the season ends, he said, he'll discuss the alteration that morphed Kentucky into the juggernaut that it has become in recent weeks.
[+] Enlarge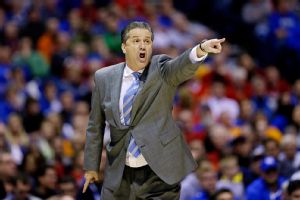 AP Photo/David J. PhillipJohn Calipari isn't talking about the adjustments made by the Wildcats.
The media, however, won't understand the tweak, even when Calipari finally blesses us with a full explanation.
"What I told these guys after I saw what it did, I just said, 'You know what? I screwed this up. Make me look good,'" Calipari said. "And they have. The media doesn't have enough basketball savvy to figure it out, so …"
Who can blame Calipari for his approach to this? He's in the middle of a battle for the national championship, and the goal is to maintain a shroud over any strategic maneuverings that could give his opponent the edge. He'll face a veteran coach and a talented program in Bo Ryan and
Wisconsin
during Saturday's national semifinal.
So it's better to say less right now.
Reveal the tweak? Nah. This is secret societies stuff. Knights Templar. Freemasons. Skull and Bones.
The tweak might be something simple. Maybe Calipari gave
Dakari Johnson
a pep talk or granted Randle the freedom to annihilate any mortal who dares to stop him.
Who knows?
It's obvious, however, that the tweak worked.
Randle has been more aggressive and effective in the NCAA tournament.
Aaron Harrison
has made nearly 50 percent of his 3-pointers in the Big Dance.
Andrew Harrison
has been a leader.
Johnson and
Marcus Lee
have contributed.
James Young
is confident.
The Wildcats snatched a spot in the Final Four after defeating
Kansas State
,
Wichita State
,
Louisville
and
Michigan
.
No team in the Final Four encountered a more difficult path to Arlington, Texas.
No team in the Final Four made the U-turn that this program has experienced over the past month. On Selection Sunday, the Wildcats were a disappointing 8-seed that entered the season as one of the most hyped squads in recent college basketball history.
Then, they lost to
Arkansas
and
South Carolina
in SEC play. As a result, many doubted the program's postseason potential. Inside the locker room, however, Kentucky still believed.
Look at the Wildcats now. Look at the power of the tweak. Tweakability.
Kentucky's third trip to the Final Four in four seasons? Don't credit the kids.
Thank the tweak, whatever it was.
"I mean, Coach said don't give any details about it, so I can't really say what it is," Aaron Harrison said.
OK, fine.
But what is the tweak? Is it tangible? Can you touch the tweak? Is it edible? Is there video evidence of the tweak? If we close our eyes, click our heels and dream, will the tweak appear?
And where is the tweak? A safe somewhere in Lexington, Ky? A vault in Dallas? Does Jerry Jones have access to the tweak?
"I cannot give any details," said
Dominique Hawkins
, who wore the look of a young man who knew far more than he disclosed. "I can't say anything about it."
But maybe it's not as complicated as Calipari suggests. Maybe it's simple.
This isn't the first time a group of young men have unified at the right time. The development of chemistry is a gradual process for most programs. That's why juniors and seniors discuss their bonds according to years. These Wildcats have been together for only six months, and they're all freshmen and sophomores.
That makes the tweak even more intriguing.
"I don't know what the mystery is,"
Alex Poythress
said, "to be honest."
Young doesn't mind sharing the secret behind the tweak: The Wildcats have embraced their individual roles and taken a more selfless approach to each game, he said.
"It really wasn't a tweak," Young said. "It was just us playing hard, I guess, and getting open shots for each other. Just really penetrating."
Added Poythress: "We just came together as a team. We just try to look for open players more, try to play more team ball. Less is more."
Still, that only shows the impact of the tweak.
We still don't know exactly what it is, and we may never know, because the Wildcats won't talk about it. There's a gag order.
And if they beat Wisconsin on Saturday, Calipari will probably mention the tweak again, but don't expect him to ruin this covert operation.
Leave that to his players.
"I can't give you details," Johnson said.
It was worth a try.
April, 4, 2014
4/04/14
7:00
PM CT
ARLINGTON, Texas -- After five days of prelude, it's hard to find something new to say about these games -- every angle has been explored, discussed, dismissed and recycled, often in the matter of an afternoon. No analytical stone goes unturned, and yet, the underlying matchups we'll see on Saturday remain as fascinating and exciting as ever.
UConn vs. Florida



What to watch: Can UConn's defense keep it in the game? Fact is, no matter good Shabazz Napier is -- and he's really, really good -- the Huskies are probably going to struggle on offense. Florida's defense is the best in the country, and it's also well suited to guarding a perimeter-oriented, guard-dominant group like Kevin Ollie's. But UConn's defense is a top-10 per-possession unit in its own right, and if the Huskies frustrate Florida inside and keep Michael Frazier II from knocking down 3s from the wings, and they can keep the game close enough to give themselves a shot in the final few minutes … well, is there any player you'd rather have in that situation than Shabazz?
Who to watch: Napier is the star of the show here, obviously, and UConn's chances are inextricably tied to how well its point guard plays. But that won't necessarily be enough: Ryan Boatright will have to create some rotation havoc with dribble penetration; DeAndre Daniels will have to get to the rim here and there; Niels Giffey will have to make shots.

Key matchup: Again, there is an obvious answer here: Napier, the best guard in the country, will frequently be guarded by Scottie Wilbekin, arguably the best perimeter defender in the country. And vice versa: Napier will have to check the always-calm SEC player of the year when Florida runs its spread pick-and-roll stuff. But I'm also interested to see how UConn matches up with Casey Prather, Will Yeguete, Dorian Finney-Smith and especially Patric Young down low. If Florida gets easy post buckets early and often, look out.
Who wins (with final score): Florida 72-66
---
Kentucky vs. Wisconsin



What to watch: Is "everything" an acceptable answer? There's so much to see here: John Calipari leading the nation's most talented team to an unlikely (if not exactly surprising) late-season renaissance. Bo Ryan reaching his first Final Four with a team that plays an up-tempo, picture-perfect rendition of his elegant swing offense. The startling youth of Kentucky. The reliable veterans of Wisconsin. The high likelihood of a game decided by one or two possessions in the final moments. A massive state-of-the-art stadium filled with die-hard fans in red and blue.
There is no such thing as a bad Final Four game, and Florida-UConn is going to be great. But this has all the makings of a classic.
Who to watch: Frank Kaminsky's uber-efficient offensive play is what lifted the Badgers' already lights-out offense to even greater heights in March; it's what allowed them to score 1.19 points per trip in four games (the latter of which included Arizona's smother defense and a Baylor team that destroyed Creighton two nights before Wisconsin put it through a clinic). And so much of the discussion here this week has revolved around how Kentucky will stop Kaminsky. Zone doesn't seem like a viable option, UK is missing Willie Cauley-Stein and Dakari Johnson can't play far from the rim. Can Julius Randle take on the task? Marcus Lee? Does Kentucky go small and use Alex Poythress -- who has had a very solid tournament -- at the 4?
Key matchup: The above are all valid questions, but Wisconsin's offense is crafty enough to score against athleticism in all kinds of configurations. (See: last weekend.) Wisconsin's defense -- or, more precisely, its defensive rebounding -- may decide the game. Kentucky is the best offensive rebounding team in the country. It grabs nearly 43 percent of its misses. It uses drives to the rim to peel defenders away from their assignments, at which point Randle and company devour easy second-chance points. Wisconsin is a pretty solid defensive rebounding team, but it hasn't seen anything like UK. Can it hold the line?
Who wins (with final score): Wisconsin 68-67
March, 20, 2013
3/20/13
12:47
PM CT
Plano Prestonwood's Julius Randle, the No. 3-ranked college basketball prospect, has chosen to attend the University of Kentucky on Wednesday. He opted for the Wildcats over Kansas, Florida and Texas.
Also, Dave Telep breaks down Julius Randle's commitment to Kentucky, where the Wildcats' loaded freshman class ranks all-time, and what this does for Kentucky's outlook on next season.
Watch here.