Dallas Colleges:

Justin Tucker
November, 12, 2013
11/12/13
2:00
PM CT
AUSTIN, Texas -- Call it magic, or moxie, or luck, or whatever you want.
Case McCoy
likes a good comeback.
"I think sometimes he just likes to live close to the edge," Texas lineman
Mason Walters
said.
Following his trip to West Virginia last weekend, the senior quarterback's résumé now includes four comeback road victories. Texas has found some serious fortune when McCoy is facing a fourth-quarter deficit and a whole lot of pressure. He doesn't have an easy explanation for why this keeps working out for him and his Longhorns.
"I don't know what the formula is to any of that," McCoy said Monday.
He doesn't get away with it all the time (see: the 2011 Missouri loss). But these Longhorns have a strange knack for surviving close road games late when McCoy is behind center. Here's a review of the four comebacks he has pulled off in the last three years.
No. 25 Texas 27, Texas A&M 25
Nov. 24, 2011 | Kyle Field | College Station, Texas
[+] Enlarge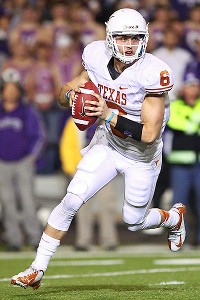 Tim Larson/Icon SMIThere's something about a late-game deficit on the road that brings out the best in Case McCoy.
The deficit:
Texas trailed 25-24 after Texas A&M quarterback Ryan Tannehill hit Jeff Fuller with a 16-yard touchdown pass with 1:48 left. The Aggies' two-point conversion failed.
The comeback:
McCoy led the Longhorns on a seven-play, 48-yard drive, and Justin Tucker became a Texas legend with his 40-yard field goal with time expiring to beat A&M in the final game of their century-old rivalry.
McCoy magic:
With 46 seconds left, McCoy dropped back to pass, then scrambled right and up the middle. He shed one tackle and bounced off another before gaining 25 yards, putting Texas in position for Tucker's game-winner.
Final line:
16 of 27, 110 passing yards; 7 rushes, 25 yards, 33.6 QBR
Quotable:
"I told him: 'Here's where you become the guy, and here's where you take us down and win the game. Every quarterback has to have a signature moment and this is going to be yours.' " -- Texas coach Mack Brown
No. 23 Texas 21, Kansas 17
Oct. 27, 2012 | Memorial Stadium | Lawrence, Kan.
The deficit:
Texas trailed 14-7 with 13:04 left when McCoy entered the game to replace an ineffective
David Ash
, who threw two interceptions. After going ahead 7-0 early, Texas' offense had produced five punts, two turnovers and one turnover on downs.
The comeback:
McCoy led two touchdown drives in the game's final 10 minutes and connected with tight end D.J. Grant for a 1-yard touchdown with 12 seconds left to escape a near-disastrous game with a victory and improve to 6-2.
McCoy magic:
After nearly throwing a game-sealing interception on his first attempt of the final drive, McCoy found
Jaxon Shipley
for an 18-yard gain on a fourth down, hit
Mike Davis
for a 39-yard gain one play later, then got the game-winner to Grant after
Johnathan Gray
was stopped twice at the goal line.
Final line:
5 of 7, 68 passing yards, 1 TD, 99.7 QBR
Quotable:
"It wasn't anything I did. I think our coaches and our team just decided to dig down deep and decide to fight. We definitely came out slow and sluggish, and that's something we can't do the rest of this year. We got lucky, and we were able to come out of here with a win." -- McCoy
Texas 31, Iowa State 30
Oct. 3, 2013 | Jack Trice Stadium | Ames, Iowa
The deficit:
Iowa State rallied with 10 points in the fourth quarter and extended its lead to 30-24 on a field goal with 3:40 left in the game.
The comeback:
Texas marched 75 yards in 12 plays, with the help of 38 yards off Iowa State penalties, to score with 51 seconds remaining. Of course, all anyone will remember from this drive are Gray's two controversial near-fumbles at the goal line.
McCoy magic:
After Gray's two short-yardage failures, McCoy pushed in for a 1-yard touchdown run on third-and-goal to put Texas ahead for good. More memorably, he found
John Harris
on a 44-yard Hail Mary to take a lead into halftime.
Final line:
26 of 45, 244 passing yards, 1 TD, 66.4 QBR
Quotable:
"This will be a real positive for us moving forward. I'm really excited. I think I love comeback wins on the road more than anything in football." -- Brown
Texas 47, West Virginia 40, OT
Nov. 9, 2013 | Milan Puskar Stadium | Morgantown, W.Va.
The deficit:
Texas trailed 26-16 midway through the third quarter, scored two touchdowns, gave up the lead, retook it and lost it again. The Longhorns were down 40-37 with 2:35 left in regulation.
The comeback:
The Longhorns went 57 yards in 12 plays and forced overtime with a 24-yard field goal from
Anthony Fera
, then found the end zone in six plays in overtime and got a four-play goal-line stand from its defense for the win.
McCoy magic:
The 10-yard touchdown to Jaxon Shipley to put Texas up 37-33. The 9-yard completion to Shipley on fourth-and-7 in the final drive of regulation. The 14-yard pass to
Marcus Johnson
on third-and-4 in overtime. The third-and-goal pass to
Alex De La Torre
that he missed against Oklahoma. He had a few big moments.
Final line:
27 of 49, 283 passing yards, 3 TDs, 1 INT, 71.9 QBR
Quotable:
"Never been more proud of my team, my offense and my defense. We didn't do everything right by any means, but we came into a hostile environment and got a win." -- McCoy
July, 13, 2012
7/13/12
5:53
PM CT
Another summer ESPYS has come, and the Big 12 was up for a few awards.
Robert Griffin III was beaten by Jeremy Lin for the Breakthrough Athlete of the Year, and the Los Angeles Kings' unlikely run to the Stanley Cup earned them a nod for "Best Upset," over Iowa State's season-changing win over Oklahoma State.
RG3 won for Best College Athlete, but it's time to hand out a few awards of our own. It's time once again for the Big 12 Blog ESPYS.
Most memorable moment:
Texas K Justin Tucker beats Texas A&M
. Tucker booted a 40-yard field goal as time expired to literally silence a deafening Kyle Field and send a very talented Aggies team to 6-6 and a devastating finish to a forgettable final Big 12 season. It also gave the burnt orange faithful a claim to "Scoreboard" for a long while, until (if?) the two teams ever play again.
Best breakthrough performance: Oklahoma State.
The Cowboys edge out
Collin Klein
for this award, but did anyone really, truly believe Oklahoma State could go all the way and win the Big 12 title in 2011? Sure, they had the horses and were good enough on paper, but you lose enough games and come up short enough over time, and people can't help but doubt you. OSU silenced those doubts in 2011. My hat is off, and the Cowboys
ended the seemingly endless Oklahoma-Texas duopoly at the top of the Big 12.
Best play: RG3 beats Oklahoma.
Two images will define the 2011 Big 12 season: Iowa State storming the field and RG3's bomb to
Terrance Williams
in the final seconds to beat Oklahoma for the first time in school history. Iowa State's upset had a big impact, but RG3 had the more memorable play, and wins the award here.
Best audience: Texas A&M fans vs. Texas.
No crowd was louder for a longer period, and no atmosphere was better. Kansas State and Arkansas in the Cotton Bowl was close, but even Oklahoma State's Bedlam romp didn't compare to the Thanksgiving heartbreak at Kyle Field.
Best athlete: RG3.
Not like there was any competition for this one, no?
Toughest athlete: Collin Klein, QB, Kansas State
. Klein was the workhorse who took a beating and left the season with the bloodiest elbows in college football. They're healed now, and he's ready to do it again. He carried the ball 316 times last year and helped K-State win 10 games. No other QB in college football had more than 250 carries.
Honorable mention:
Jake Knott
, LB, Iowa State. Wondering why?
Here you go. Insane
.
Best encore performance: Oklahoma State's pass-catch combo of Justin Blackmon and Brandon Weeden.
Sure, the sequel wasn't
quite
as good, but that's just on the stat sheet. Who really cares? They sat together at a table in January 2011 and announced their intentions to return for one more season. What were they imagining? Exactly what they got the next fall: A Big 12 title. They parlayed that into a two spots in the NFL draft's first round this spring, too.
Best coach: Bill Snyder.
The Wildcats kept on winning through all the outside doubting, and proved over and over again that they'd be a tough out for anybody. Ultimately, only Oklahoma State proved capable of shutting down the SnyderCats late-game magic, but Snyder took K-State from a modest pick of eighth place to begin the season all the way to a second-place finish and 10 wins.
Best game: Kansas State 53, Texas A&M 50 (4 OT):
Kansas State found themselves trailing by 10 midway through the fourth quarter, but a long touchdown pass changed the game and K-State did what so many did to Texas A&M in 2011: Came back to win. It took four overtimes and a lot of big plays, but K-State defended their home field.
Honorable mention:
Baylor 50, TCU 48; Oklahoma State 41, Stanford 38 (OT)
Best finish: Lone Star Showdown
. Texas A&M took the lead in the final minutes, but Texas QB
Case McCoy
engineered an unbelievable, unlikely final drive that got the Longhorns back in field goal range and allow Tucker to boot the game-winner. Pure drama in a game loaded with emotion from all sides.
What other awards should be handed out?
January, 18, 2012
1/18/12
9:43
PM CT
We took a
look at the best atmospheres on Tuesday
, and today, it's time to rank the top 10 games involving Big 12 teams of 2011.
1. Kansas State 53, Texas A&M 50 (4 OT):
Kansas State erased a double-digit lead in the final half of the fourth quarter to force overtime.
Collin Klein
burrowed into the end zone on a quarterback sneak to earn a huge win and a memorable night in Manhattan.
2. Baylor 50, TCU 48:
The first game of the entire season for the Big 12 began in style.
Robert Griffin III
began his Heisman campaign with five touchdown passes, but the Bears blew a 47-23 lead in just over 11 minutes, giving up 25 fourth-quarter points. Griffin, though, hauled in his only catch of the season to extend a game-winning drive on third down, and
Aaron Jones
booted a 37-yard game winner with just over a minute left, cueing the Baylor fans to storm the field after a game-clinching interception.
3. Oklahoma State 41, Stanford 38 (OT):
This was what we thought it was. Neither defense could stop the opposing offense, and Oklahoma State converted a fourth down from
Brandon Weeden
to
Justin Blackmon
to extend the game and take the lead, but Stanford drove back down the field and missed a 35-yard field goal as time expired. It missed another kick in overtime, and OSU kicked a game-winning field goal after
Colton Chelf
's game-winning touchdown was overturned to just a 24-yard gain.
4. Baylor 45, Oklahoma 38:
This gave way to the signature moment of Robert Griffin III's Heisman campaign, and it wasn't the 87-yard touchdown pass to
Kendall Wright
off
Tevin Reese
's helmet. The teams traded second-half leads and Oklahoma erased a 14-point, fourth-quarter lead before Griffin extended a play and hit
Terrance Williams
for a 34-yard, game-winning touchdown pass with eight seconds left.
5. Iowa State 37, Oklahoma State 31 (2 OT):
This game made our top 10 moments of 2011, too. The Cowboys lost a 24-7 second-half lead and missed a game-winning field goal. Brandon Weeden threw an interception in the second overtime and
Jeff Woody
set off the biggest party in Ames in a long while with his game-winning, four-yard touchdown run in the second overtime.
6. Texas 27, Texas A&M 25:
The Aggies led 10-0 and 16-7, but once again, it didn't matter.
Jeff Fuller
gave the Aggies back the lead with a big 16-yard touchdown with 1:48 to play. The two-point conversion failed, though, and
Case McCoy
got free for a 25-yard scramble that set up a 40-yard, game-winning field goal by
Justin Tucker
as time expired to give the Longhorns bragging rights in the heated rivalry for as long as they want, perhaps forever. The two teams aren't scheduled to meet again after A&M leaves for the SEC.
7. Oklahoma State 52, Kansas State 45:
OSU fell behind 24-14 early after a pick six by Weeden, putting the undefeated season in doubt. The teams traded three touchdowns in just under two minutes, and
Joseph Randle
's 23-yard run gave OSU the lead for good with 3:16 to play, making it four touchdowns in three minutes. Kansas State drove to tie the game and possibly win it with a two-point conversion, but two Collin Klein passes fell incomplete, and OSU survived to move to 9-0.
8. Baylor 31, Kansas 30 (OT):
This game wasn't televised, but it was quietly a classic. Baylor struggled to stop the run, and trailed 24-3 in the fourth quarter before RG3 broke a 49-yard run and hit on two long touchdown passes to tie the game. The two teams traded touchdowns in overtime, but Kansas failed to convert a game-winning two-point conversion, and Turner Gill's guts went unrewarded. Kansas also went without a win in conference play. Baylor loses this game, and RG3 doesn't win the Heisman.
9. Missouri 31, Texas Tech 27:
This is a sneaky pick for our top 10 list. Texas Tech jumped out to a 14-0 lead, and Missouri trailed by 10 in the fourth quarter, but
James Franklin
threw one touchdown pass and ran for another to take the lead. Texas Tech drove inside the Missouri 10-yard line in the final minute, but a tipped
Seth Doege
pass was intercepted to give Mizzou a dramatic win.
10. Missouri 38, Texas A&M 31 (OT):
The SEC bowl helped bury Texas A&M's season and spark Missouri's. The Tigers trailed by 14 early and 11 points at half before taking the lead in the fourth quarter.
Randy Bullock
tied the game with a field goal in the final minutes to force overtime. James Franklin hit
Marcus Lucas
for an 11-yard score and
Ryan Tannehill
's final pass was batted down as Missouri stormed the field and celebrated the end of their three-game losing streak. The Tigers would win four of their final five games, and that bounced Mizzou to 4-4 instead of 3-5. That loss for then-No. 16 Texas A&M keyed off four in the final five regular-season games, including two in overtime (K-State, Mizzou) and another as time expired (Texas).
Honorable mention:
Kansas State 28, Miami 24; Baylor 67, Washington 56; Iowa State 44, Iowa 41 (3 OT); Texas 17, BYU 16; Arkansas 42, Texas A&M 38; Oklahoma State 30, Texas A&M 29.
January, 12, 2012
1/12/12
10:25
AM CT
As quickly as it arrived, the Big 12 season is gone.
Alas, here's a look at the 10 moments we'll remember most from the 2011 season. These aren't necessarily the best or worst moments, but simply that: memorable. When we look back on 2011, this is what will stick out.
[+] Enlarge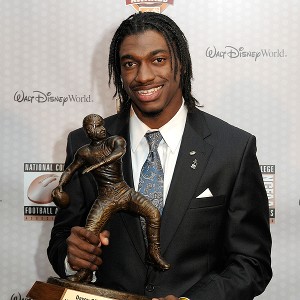 AP Photo/Phelan M. EbenhackRobert Griffin III, Baylor's first Heisman winner, had a season for the record books.
1. Heisman moment? Take your pick.
There were plenty of them in Baylor quarterback
Robert Griffin III
's run to an "
unbelievably believable
" Heisman win. What about his only reception of the season (that resulted in him getting the wind knocked out of him) on a dramatic final drive to beat TCU in the opener? What about a 21-point comeback in the fourth quarter of an overtime win over Kansas? The best on-field moment was probably his 39-yard TD pass to
Terrance Williams
in the final seconds to beat Oklahoma for the first time and thrust himself back into the Heisman race, despite three losses. And after beating Texas: "I think Baylor just won its first Heisman tonight," he said. Yep. It did.
2. Iowa State storms the field ... and bowl season
. Oklahoma State looked headed for a showdown with Oklahoma to play for a national title, but Iowa State had other things in mind.
Jared Barnett
topped 375 yards passing and 75 yards rushing in just his third start to give the Cyclones a win over a top six team for the first time in 58 tries. It set off a party on the field at Jack Trice Stadium and put ISU into its second bowl in three years.
3. Texas A&M and Missouri say adios, muchachos.
The Aggies had enough of Texas and wanted some of Alabama. Missouri had enough drama and wanted some stability. Texas A&M made it official in late September and Mizzou followed in early November. Texas A&M called it a "100-year decision."
4. The Big 12 says hello to two new friends
. With Texas A&M and Missouri gone, expansion was the obvious necessary step. The Big 12 took it by
welcoming Southwest Conference expatriate TCU home
into the Big 12 on Oct. 11. And 17 days later, West Virginia followed, announcing its plans to help expand the Big 12's footprint wayyy, wayyy east.
5. The Aggies sound like a broken record. Shattered record, maybe.
Texas A&M started as a Big 12 title contender with a top-10 ranking. It led 12 games by double digits. It lost six games. How'd it happen? Nobody knew, and as a result, coach Mike Sherman was fired. Over and over, it was the same story. The 20-3 and 35-17 halftime leads over Oklahoma State and Arkansas evaporated. The Aggies blew big leads over Missouri, Kansas State and Texas, too.
6. Oklahoma State finds new life ... twice.
Most were resigned to Alabama and LSU meeting again for the title, but OSU made it interesting with a satisfying 44-10 embarrassment of Oklahoma, putting late pressure on voters and finishing behind Alabama by the slimmest margin in BCS history. And once OSU was in its bowl game, Stanford's Jordan Williamson yanked a 35-yard kick to send the game into overtime, where the Cowboys capitalized in a 41-38 win.
7. Texas grabs Lone Star Showdown bragging rights for...ever?
The Longhorns were the underdogs in a veritable powder keg that was Kyle Field on Thanksgiving night. Then Colt, er,
Case McCoy
got loose for a 25-yard scramble that set up Justin Tucker's
game-winning 40-yard field goal
that gave Texas bragging rights in the now-defunct rivalry for as long as it would like. The Longhorns say they have no plans to continue the rivalry after the Aggies leave for the SEC.
8. The Little Apple hosts a classic.
You never know when the longest game in Big 12 history is going to show up. Kansas State and Texas A&M played it. The Aggies led by 10 midway through the fourth quarter, but
Collin Klein
rallied the Wildcats and got the 53-50 win on — what else — a QB sneak for a game-winning touchdown.
[+] Enlarge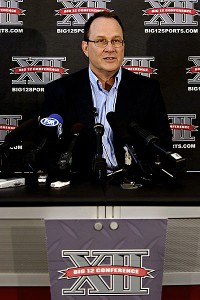 AP Photo/Cody DutyThe Big 12 saw a lot of transition over the course of 2011, including commissioner Dan Beebe's ouster.
9. Texas Tech ends Oklahoma's epic streak.
The night began with ominous thunderstorms that delayed the game, but the Sooners struggled against Texas Tech's slip screens, and let
Alex Torres
go wild for three touchdown catches. The four-touchdown underdogs walked into Owen Field and became the second Big 12 team to ever beat Bob Stoops on his home field, and first since 2001. The Red Raiders also became the first team since 2005 to win there, ending the Sooners' 39-game home winning streak. The problem: Tech didn't win another game the rest of the season, and finished with the first losing season since 1992.
10. Dan Beebe gets the ax.
The damage was done. Beebe was seen as someone who ceded to Texas at all costs, even if he did it as a last option to keep the Big 12 together in the summer of 2010. That hurt the league, and Oklahoma called for Beebe to be removed. He was, and replaced by interim commissioner Chuck Neinas, who had helped many of the league's ADs hire coaches. A permanent replacement still hasn't been named.
Honorable mention:
OSU FB Kye Staley and Texas TE Blaine Irby score
touchdowns in emotional returns
from
catastrophic knee injuries
, K-State runs out of time in a near upset over Oklahoma State (and an earthquake followed), Kansas State becomes the first team to intercept RG3 and stays undefeated in an "upset" of Baylor, RG3 has
his version of the "Immaculate Reception
"; Missouri QB
James Franklin
goes beast mode on a 20-yard touchdown run in a win over Texas A&M; Missouri coach Gary Pinkel "ices" his own kicker in a loss to Arizona State; Kansas reaches a new low and trails Oklahoma State 56-7 at halftime;
Ryan Broyles
' career meets an unfair end with a torn ACL.
December, 7, 2011
12/07/11
4:00
PM CT
TEXAS A&M AGGIES
Record:
6-6 (4-5)

Through all the rough moments for the Aggies in 2011, the lasting image will be the ecstatic Longhorns sideline emptying onto Kyle Field to chase down Justin Tucker, who kicked a game-winning field goal to beat A&M in the final iteration of the Lone Star Showdown. Texas might come to College Station again at some point before the end of the world, but with an ending like that, it could be awhile. The Aggies are headed to the SEC, but did it with one of the most disappointing seasons in school history, which resulted in coach Mike Sherman's postseason firing.
By now, the numbers are well known. The Aggies were good enough to lead 11 games by double digits and bad enough to lose six of those games. It was truly maddening. Texas A&M was so, so much better than 6-6, and stocked with as much talent as any team in the Big 12, and maybe the country. Why were there so many second-half meltdowns? Sherman and everyone else involved never figured it out, and the Aggies will try and bring in a coach to fix it.
Offensive MVP:
Ryan Swope
, wide receiver. This is a bit of an upset, but the only other option is going with
Cyrus Gray
and
Christine Michael
as a shared option. Both could be replaced by the other and missed key games, but Swope was consistent most of the year, and played his best in conference games. He finished with a team-high 81 catches for 1,102 yards with 11 touchdowns. He was one of only four Big 12 receivers to top 1,000 yards receiving. Even with his year, the former high school running back might be the most underrated player in the Big 12. Without him, Texas A&M's passing game wouldn't have been functional, and without that, what happens to the running game?
Defensive MVP:
Sean Porter, linebacker. Porter's production slowed a bit late in the season, though he did notch 2.5 tackles for loss against Texas. Even still, he had one of the best years of any defender in the Big 12. He led the team with 16 tackles for loss and had 8.5 sacks. He finished with 73 tackles.
Turning point:
The loss to Oklahoma State
. That's the game that started it all and was the first of many blown leads. The 20-3 halftime lead was gone before the end of the third quarter, and the 30-29 loss cost them control of the Big 12. That didn't matter long, of course. A&M blew another lead to Arkansas a week later, but the three-game losing streak to Missouri, Oklahoma and Kansas State officially made the 2011 season a wash.
What's next:
They'll be walking into the SEC West with a yet-t0-be-determined coach and lots of new faces. The first year in the SEC could be rough. Tannehill is gone, Gray is gone,
Jeff Fuller
is gone after an underwhelming senior season and four of the top eight tacklers are gone. That's a whole lot of production. A new quarterback, likely
Jameill Showers
, will have to adjust to much tougher defenses in a new league. The Aggies will rely on a very experienced offensive line and power back, Michael.
November, 28, 2011
11/28/11
12:04
PM CT
Here's our look back at the weekend that was in the Big 12, which set up a de facto Big 12 Championship game between Oklahoma and Oklahoma State.
Best offensive player:
Terrance Ganaway, RB, Baylor.
Ganaway quite literally "put da team on his back, doe." The 250-pounder rumbled for 247 yards and two touchdowns on a school-record
42
carries.
Robert Griffin III
was out with a concussion and Baylor needed somebody to step up. Ganaway did it in spectacular fashion, helping the Bears hold off Texas
[+] Enlarge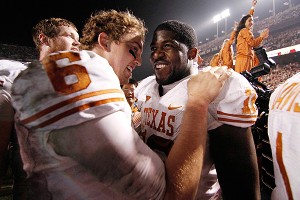 Brett Davis/US PresswireQB Case McCoy, 6, celebrates with Emmanuel Acho after Texas defeated Texas A&M last week.
Best defensive player:
Emmanuel Acho, LB, Texas.
Acho was everywhere for the Longhorns in their 27-25 win against Texas A&M. He made 14 tackles (10 solo) and had a tackle for loss in the win.
Best play:
Texas kicker Justin Tucker's 40-yard game-winner to beat Texas A&M.
No pressure, man. Just the bragging rights of one of America's quintessential football states for a long, long time. Tucker's kick was perfect. A no-doubter as soon as he kicked it. No matter what happens in the future, Tucker will always hold a special place in burnt orange lore. An ugly game with a gorgeous finish for the Longhorns.
Best game:
Baylor 66, Texas Tech 42.
So, Texas and Texas A&M had all the drama, but it was a pretty unattractive game. The Bears and Red Raiders in Cowboys Stadium was a ton of fun and had a different kind of drama. We had a crazy trick play, a team trying to rally without perhaps the nation's best player, big plays by his replacement, tons of turnovers and lots of offensive talent that put a ton of points on the board. This one was just fun to watch. A lot more fun than the Lone Star Finale.
Coolest play:
Texas Tech's mistaken identity TD
. Texas Tech backup quarterback
Jacob Karam
's No. 3 jersey was torn in pregame, and the Red Raiders gave him a nameless No. 85 jersey instead. Quarterback
Seth Doege
faked a handoff to the running back and tossed it to Karam on the end around, and we can only assume Baylor had no idea who No. 85 was. Karam slung it downfield to
Darrin Moore
, who caught it over a defender, stayed on his feet and trotted in the last few yards for a 43-yard score that cut Baylor's lead to 24-21 midway through the second quarter.
Best fashion sense:
Texas A&M
. The Aggies broke out maroon jerseys, maroon pants and maroon helmets for the first time since 2006 in their rivalry finale against Texas. A solid look.
Craziest statistic:
Texas A&M
. I heard it on Thursday and double-checked it. In the Aggies' six losses this season, they've been outscored 83-0 in the third quarter.
Best team performance:
Texas
. The Longhorns didn't do it pretty, but the defense kept them in it with a defensive touchdown, and Quandre Diggs added a huge 81-yard punt return to help Texas outscore the Aggies 17-0 in the third quarter. Texas played in one of the most frenzied atmospheres in the league this year, and strung together a huge late drive after the Aggies snatched the lead with 1:48 to play. Texas showed a lot of guts in this one.
Best appearance in relief:
Nick Florence, QB, Baylor
. RG3 came back in after taking a hit to the head and having it slammed against the turf. He looked dazed, but returned to the game and ran for a touchdown. When the Bears returned from halftime, though, the Bears announced that Griffin was done. Enter Florence. He made plays and threw two 40-plus yard touchdown passes, completing 9-of-12 passes for 151 yards and two scores.
Worst moment:
The clock running out in Texas' and Missouri's victories
. To me, it's nothing but sad. I watched games like Ohio State and Michigan on Saturday. It's rivalry weekend. The idea of never playing that game again is insanity. In the Big 12, though, it's accepted. The Border Showdown and Lone Star Showdown are done for awhile, and to me, it's the worst aspect of the recent realignment moves.
Best tweets:
Cyrus Gray, RB, Texas A&M
. Gray was hurt and stuck on the sidelines in a letter jacket after suffering a stress fracture in his shoulder against Kansas. Gray, though, was tweeting and taking photos from the sideline and
giving some love to his replacement
,
Ben Malena
, who played outstanding against the Aggies.
November, 27, 2011
11/27/11
11:44
AM CT
Time to hand out a few awards for a job well done.

Justin Tucker, K, Texas:
Tucker's 40-yard kick against Texas A&M will live forever in Texas lore.
Case McCoy
helped set up the game-winning kick with a 25-yard scramble after the Aggies took the lead with 1:48 left to play, but Tucker's boot was perfect as time expired for the
27-25 victory
and the Longhorns got the better of the Aggies in the last Lone Star Showdown for some time.
Terrance Ganaway, RB, Baylor:
Ganaway's previous career highs were 24 carries in this season's opener against TCU and 200 yards in an October victory over Iowa State. With
Robert Griffin III
out after taking a hit to the head, Ganaway had to carry the load, and he did exactly that. He carried the ball 42 times for 246 yards and a two touchdowns in Baylor's
66-42 win
over Texas Tech. Big-time performance in a big spot. The 42 carries were a school record and the 66 points were the most in a conference game in school history.
James Franklin, QB, Missouri:
You've got to love some redemption. Franklin threw three first-half interceptions and two of them helped provide Kansas with an early 10-0 lead. Franklin rebounded, though, and threw touchdown passes of 25 and 53 yards to help Missouri
beat Kansas 24-10
in the last chapter of that rivalry for awhile, too. He also ran for 45 yards on 17 carries and finished with 187 yards on 14-of-22 passing.
Oklahoma's defense:
When the only touchdown of the day is a pass off a defensive lineman's helmet, that's a good day. Iowa State's
Jared Barnett
put Iowa State up 6-3 off a fortunate bounce, but the Cyclones didn't score again in a
26-6 loss
to Oklahoma. The Sooners suffocated the Cyclones and forced four turnovers during a lackluster day for the offense without receiver
Ryan Broyles
. The defense picked up the slack after a rough outing last week against Baylor.
November, 25, 2011
11/25/11
1:22
AM CT
COLLEGE STATION, Texas --
History waited for the last second
.
As it should after 118 games between Texas and Texas A&M.
But when history finally did arrive it wrapped it arms around Justin Tucker,
Case McCoy
, and the Texas football team.
Texas 27. Texas A&M 25
.
"Instant classic," linebacker Keenan Robinson said.
More like a game and a moment forever frozen in time. With one 48-yard drive and one 40-yard kick as time expired, a middling Texas team became instantly unforgettable.
"To know that's what we accomplished, to know what this means and you hardly have the words for it," cornerback Carrington Byndom said.
November, 24, 2011
11/24/11
11:11
PM CT
COLLEGE STATION, Texas -- The script was so familiar and all too painful for the Aggies.
Texas A&M wasn't perfect in the first half, but it played well enough to firmly be in control, just like it was in four of its earlier losses this season.
And then ... there went that third quarter again. Followed by some big-time fourth-quarter drama.


Time for some instant analysis:
How the game was won:
Justin Tucker hit a 40-yard field goal as time expired to
beat the Aggies 27-25
. Texas A&M took the lead with 1:48 remaining, but the Longhorns' offense awakened with a huge drive, highlighted by a 25-yard scramble by
Case McCoy
.
Turning point:
Texas got the ball back with 1:48 left and a fresh-faced quarterback. The Longhorns made a history-changing drive to seize control of the rivalry for who knows how long. So long to Texas University, indeed.
Stat of the game:
Texas A&M QB
Ryan Tannehill
completed 20 of 49 passes for 224 yards and three interceptions. The normally solid, reliable senior had his worst career outing in a huge spot against a tough defense. His two turnovers helped swing the game in favor of the Longhorns as well.
Player of the game:
Justin Tucker, K, Texas. He'll go down in history for that one. His 40-yard kick silenced the Kyle Field crowd and emptied the stands with amazing speed before being mobbed by his teammates as "The Eyes of Texas" blared through Aggieland.
Best call:
Bryan Harsin's first-half trickery. The Longhorns had done almost nothing offensively through the first quarter and change. After a muffed punt, though, Harsin called a double pass and
Jaxon Shipley
found a wide-open
Blaine Irby
for a 41-yard touchdown pass that got the Longhorns on the board. A&M never saw it coming.
What Texas A&M learned:
It still can't hang on to a second-half lead. It truly is unbelievable. Texas A&M has put itself in position to be 11-1 this season. Instead, it falls to 6-6 with five losses in which it held a double-digit lead. Four of those losses featured a second-half, double-digit lead, and the Aggies led by nine at the half against Texas Thursday night. The Aggies rallied for a huge late drive, but it didn't matter. Texas got the best of them again, and the rivalry stands 76-35-5.
What Texas learned:
Even when its backed up in its own territory, the defense can make plays. The Aggies had better field position all game, but the Longhorns held strong and gave the offense a chance. The offense took advantage.
What it means:
The eyes of Texas won't be upon Texas A&M for quite some time. The Aggies leave for the SEC with a 6-6 season and have standing wins over every FBS team in Texas except ... Texas.