Dallas Colleges:

Kamari Murphy
July, 22, 2014
Jul 22
9:40
AM CT
The Big 12 media days continue on Tuesday in Dallas, as Oklahoma's Bob Stoops and new Texas coach Charlie Strong each take the stage. Keep this page open throughout the day's proceedings as we bring you the latest from our reporters, who will cover all 10 teams at the event.
February, 11, 2014
Feb 11
11:04
PM CT
AUSTIN, Texas -- With less than three minutes left, the taunting was brief and almost merciful.
"Where is Marcus?"
The chant came from a small contingent of Texas fans standing under the basket, and lasted no more than one Oklahoma State possession. In this Frank Erwin Center crowd more than half-gone amid a blowout, everyone could hear it.
"Where is Marcus?"
Marcus Smart
wasn't in the building. As mandated by his three-game suspension, he couldn't travel with his Cowboys to Austin. And without their star, an Oklahoma State team whose season is spiraling looked even more lost.
[+] Enlarge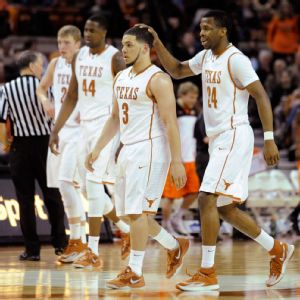 Brendan Maloney/USA TODAY SportsThe Longhorns had plenty to celebrate in their win over the struggling Cowboys.
The Cowboys took their fifth straight loss, this one a 87-68 road beatdown from No. 19 Texas. With or without its star player, this team has now lost six of its last seven games.
"This has nothing to do with Marcus Smart. He wasn't here tonight," Oklahoma State coach Travis Ford said. "So we had to play with what we've got. We can't get caught up in any of that, to be honest with you. I don't even really want to talk about it. Doesn't do us any good. This team has to form its own identity and get out there and play."
The result might've been no different had the Pokes had Smart on the court. Texas (19-5, 8-3 Big 12) came out firing and stayed hot throughout, draining 11 3-pointers on the night and leading by as much as 29 at one point.
This one fell apart quickly on Oklahoma State, (16-8, 4-7), which gave up 54 first-half points to a team that had scored a total of 57 and 59 in its previous two games and was missing its top scorer,
Jonathan Holmes
, to a knee injury.
Going in, Oklahoma State liked its defensive plan in theory. Open up in the zone, defend
Cameron Ridley
,
Connor Lammert
and
Prince Ibeh
inside and dare Texas to make tough shots from long range.
The result: The Longhorns ran off to leads as big as 36-14, 49-25 and 54-28 en route to a season-best half.
Javan Felix
answered the challenge, dropping 17 of his game-high 27 in the first half and hitting a career-high six 3-pointers.
"Give Texas credit. They're a team that's last in the Big 12 in 3-pointers made and they go out and make 11 threes," Ford said. "So they played well, they made shots, they did a great job moving the ball."
Ford liked how his team responded in the second half, with more physical defense and better aggression on both ends, but there was no chipping away at a 21-point halftime deficit.
"We just waited until the second half to start playing how we know how to play," OSU center
Kamari Murphy
said. "It was too late by then."
In three weeks, Oklahoma State has gone from No. 9 in the nation to unranked and eighth place in the Big 12, a staggering slide that got worse Saturday when Smart shoved Texas Tech fan Jeff Orr at the end of a 65-61 loss in Lubbock and received a three-game ban as punishment.
"There was no way I would've thought we would've won the game the way we did. They've got a good team and it's a tough situation for them," Texas coach Rick Barnes said. "I really feel for Travis and their team. This is a team that, you talk about Murphy's Law, what can go wrong has. But there's still a lot of basketball left to play."
Ford isn't making excuses, but the days following that incident haven't been easy. The Cowboys didn't practice on Sunday and arrived in Austin late on Monday after a flight delay. They got in just one practice, around 6 p.m. Monday, to prepare for their stint without Smart.
Add up the loss of Smart, starting center
Michael Cobbins
(ruptured Achilles) and guard Stevie Clark, who was dismissed from the program last week, and you're left with a brutally thin team in need of help.
OSU had no bench players averaging more than 1 point per game available on Tuesday, and just six players who averaged more than 5 minutes per game in Big 12 play.
"I hope we will be better Saturday as far as comfortability," Ford said. "We had guys out there who hadn't played very much."
Added Murphy: "We knew that we would have to get extreme effort from other players that we aren't used to."
And now Oklahoma State is staring down a fate the program can't get used to: Missing the NCAA tournament for a third time in four years. The road ahead doesn't look any easier and it starts with a meeting with rival Oklahoma on Saturday.
"We're going through a tough time right now," Murphy said. "I think everybody in the locker room still has their head in winning. We're not down, not blaming nobody else, not making excuses. We just have to find some way on the team, somewhere in our heart, to win a game."
The question after Tuesday isn't really, "Where is Marcus?" No, the better question is: Who are these Cowboys without him? They received a brutal and honest answer on Tuesday.
February, 3, 2014
Feb 3
2:50
PM CT
There are plenty of things to ponder in the wake of
Stevie Clark
's dismissal from the Oklahoma State basketball team.
Top of the list is why Clark would think that urinating out of a moving vehicle was a good idea. Outraging public decency, the violation cited in his arrest, sounds about right for this one.
Second is why Clark, who also was arrested in January for a seatbelt violation and then offered the added bonus of having marijuana in his car, would so much as jaywalk.
But Clark's combination of stupidity and immaturity is the least of coach Travis Ford's problems. (Officially, now that Ford made the easy decision and booted Clark off the team.)
[+] Enlarge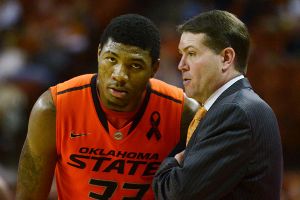 Brendan Maloney/USA TODAY SportsMarcus Smart and Travis Ford are running out of time to right the ship and now have a further depleted roster.
In five years in Stillwater, Ford has three NCAA tournament berths but has never gotten the Pokes out of the first weekend. That was supposed to change this year. After
Marcus Smart
defied conventional wisdom and opted to return for his sophomore season, Oklahoma State was picked to share the Big 12 title with Kansas.
Instead, here we are. The Cowboys have dropped three of their past four to fall to 4-4 in the league. They have just one conference win (Texas) with any meat on the bone and are a long way from sharing much of anything with Kansas.
Some of this is just bad luck. Michael Cobbins' Achilles injury has devastated the Cowboys' inside game, and while
Le'Bryan Nash
and
Kamari Murphy
have tried to help inside, they can only do so much.
But some of it is self-inflicted, too.
Clark probably should have been booted in January. That was his second arrest since coming to Oklahoma State, and blown second chances are usually the sign of a pattern instead of the road to penitence.
Now his lack of concern for his team and his apparent disregard for his Bible studies -- according to a recent Oklahoman story, Clark was meeting daily with his mother, to prevent, in his mother's words, the devil a chance "to get in and get busy" -- have left the Cowboys even more depleted on the bench. Oklahoma State went only seven-deep with Clark on the roster.
And then there is the elephant in the room that no one wants to talk about. That would be Smart. The onetime lock for national player of the year isn't even in the conversation right now. He's in a woeful shooting slump (13-of-53 in his past four games) and has been relatively ineffective in the entire Big 12 season, shooting only 34 percent in eight games.
Worse, he's acted less and less like the leader the Cowboys desperately need. A helpless chair took the brunt of his frustrations amid a lousy shooting night against West Virginia, and when people talk at all about Smart these days, it's usually more about his flopping than his play.
If Oklahoma State is to salvage this season, it has to start with Smart playing smart and acting a whole lot smarter.
The Cowboys are at the strange time of the season when there is plenty of time to fix what's wrong but time also is quickly flying by. We are a little more than a month away from the end of the regular season, six weeks from Selection Sunday.
What ails the Cowboys isn't easy to fix, especially in the Big 12, but Oklahoma State had better start searching for some answers before a season that started with such promise ends in a heap of a mess.
January, 17, 2014
Jan 17
9:00
AM CT
Kansas has lost exactly twice in the past 46 games at Allen Fieldhouse, so the Jayhawks and their dedicated fan base tend to remember the L's.
Follow up a road win at the Phog with a celebratory backflip and you're certain to never be forgotten.
Follow up a road win at the Phog and celebratory backflip with a shot over the bow directed at Kansas' stud freshman?
Welcome to infamy,
Marcus Smart
.


The Jayhawks were in need of someone new to hate after Missouri ditched them for the SEC. Thanks to Smart's perfect 10 and preseason suggestion that perhaps
Andrew Wiggins
play a game before being considered the greatest college basketball player of all time, Oklahoma State has at least temporarily filled the void.
To which we say, thank you, Mr. Smart.
The truth is, the Oklahoma State sophomore was merely doing what kids do when he turned his flip, and as for his preseason "knock" against Wiggins, he was just speaking the truth. The kid had to prove it.
But there is nothing like a little vitriol, contrived or not, to make a game more fun.
And Allen Fieldhouse will be a whole lot of fun Saturday for the 4 p.m. ET tipoff.
This game lost a little bit of its luster early, as Kansas' record got a little sideways through growing pains and Oklahoma State regrouped after losing
Michael Cobbins
. But everything seems back in order.
The Big 12 right now is the best conference in the country, and with apologies to Iowa State, these are the top teams in that league.
Once dogged by questions of what ails them, the Jayhawks are hitting their stride. They have won three in a row, including an absolute drubbing of Kansas State and on the road at Iowa State. Wiggins, who was doing too much alone early in the season, now has plenty of help, much of it coming in the form of fellow lottery pick
Joel Embiid
.
Meanwhile, the Cowboys have a three-game tear of their own to claim, with Smart averaging 22 over that span.
Aside from the sideshow shenanigans, what makes this game intriguing is that one team's weakness is really the other's strength. Kansas' biggest attribute is its frontcourt, Oklahoma State's the backcourt.
Naadir Tharpe
has to find a way to stop Smart from driving the ball while the Cowboys, sans Cobbins, need
Le'Bryan Nash
and
Kamari Murphy
to somehow contain Wiggins, Embiid and
Perry Ellis
.
And then there is the X factor: Allen Fieldhouse, where Oklahoma State knows it can win and Kansas remembers ...