Dallas Colleges:

Kansas State
March, 8, 2012
3/08/12
2:02
PM CT
By
ESPN.com wire services
KANSAS CITY, Mo. -- Duncanville native
Perry Jones III
scored a career-high 31 points, hitting 11 of 14 shots, and powered Baylor (No. 11 ESPN/USA Today, No. 12 AP) past Kansas State 82-74 Thursday in the Big 12 tournament.
The 6-foot-11 Jones, whose season was a bit of a disappointment after being the coaches' preseason pick as conference player of the year, also had 11 rebounds for his eighth double-double for the fourth-seeded Bears (26-6).
The tournament's opening game was a sharp contrast to last year for Jones, who was suspended by the NCAA just hours before the team was to leave for Kansas City and wound up sitting out the first five games of this season as well.
Brady Heslip
had 15 points and
Pierre Jackson
added 13 points and eight assists for Baylor, which shot a sizzling 57 percent while debuting bright, fluorescent yellow uniforms.
January, 7, 2012
1/07/12
12:07
AM CT
ARLINGTON, Texas -- The Kansas State fans sure seemed ready for Friday's AT&T Cotton Bowl. It seemed all the seats on the press box side were filled with purple-clad Wildcats fans.
And while they were fired up, the Wildcats' offense couldn't seem to do the same early in a 29-16 loss to Arkansas.
[+] Enlarge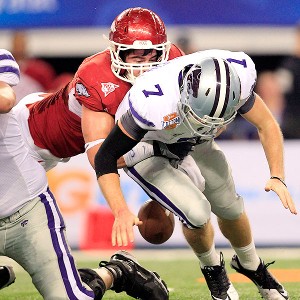 Tim Heitman/US PresswireArkansas held Kansas State quarterback Collin Klein, a 1,000-yard rusher, to 41 yards on 24 carries.
A Kansas State team that relies on a ground attack, timely special teams and limiting mistakes didn't follow its usual blueprint. In fact, Arkansas beat Kansas State at its own game.
Despite not having a first down for much of the first quarter, Arkansas snagged a 10-0 lead. The Razorbacks did it with a fumble recovery deep in Kansas State territory and a 51-yard punt return for a touchdown by the electrifying Joe Adams.
"We knew he was a talented player and we knew he could make you miss him," Kansas State coach Bill Snyder said. "That's not the first time he's done that."
The Kansas State defense worked hard to limit Arkansas' offense, but the Wildcats' offense wasn't able to get anything going.
"We just weren't ready to play," Snyder said of his offense.
Arkansas took a 19-0 lead with just more than four minutes left in the first half, and it appeared the Wildcats were in danger of getting blown out. But a blocked PAT returned for two points -- finally a big special teams play -- and two touchdowns in the next two possessions got the Wildcats within three points.
Kansas State couldn't keep it going. A team that likes to run the football wasn't able to do it consistently enough against a strong Arkansas defense.
"We needed to stop the run and we needed to stop this quarterback," Arkansas coach Bobby Petrino said.
They didn't stop Kansas State quarterback Collin Klein completely, but they contained him. And they forced Klein to throw the ball more than he'd prefer. He had 30 attempts, the second most he's thrown this season. The only other time he threw more than 29 times was against Oklahoma State in a 52-45 loss.
It was Klein's rushing ability that worried the Razorbacks the most, but he was held to 41 yards on 24 carries. The only time he rushed for fewer yards this season was against Texas.
Klein didn't make any excuses for the offense's slow start. Some of his receivers dropped passes. Klein didn't see as many open holes as he normally does when he's rushing the football, and he wasn't able to strike for the big play.
"We had our chances, and weren't able to finish the job and execute on the field," Klein said. "We came up short. We didn't get it done as a unit. We'll learn from it."
October, 3, 2011
10/03/11
9:50
AM CT
»
Power Rankings
:
ACC
|
Big 12
|
Big East
|
Big Ten
|
Pac-12
|
SEC
Big weekend of conference play with a pair of Big 12 teams getting upset means lots of movement. Here goes.
1. Oklahoma (4-0, 1-0, last week: 1):
Sooners are still looking like the Big 12's best team, but Alabama and LSU have passed them in the media's poll while Oklahoma remains the coaches' No. 1. Everything's gone according to plan for OU's chase for an eighth national title, but Saturday's showdown with Texas at the Cotton Bowl will be a fun one.
2. Oklahoma State (4-0, 1-0, LW: 2):
Oklahoma State got some rest and coach Mike Gundy got some face time as a guest analyst at ESPN for a day. Here comes Kansas.
3. Texas (4-0, 1-0, LW: 5):
The Longhorns are in the top 10 but far from validated after wins against only Iowa State, BYU and UCLA. Here's the Longhorns' chance. Beat Oklahoma, and any doubts about Texas being back will disappear.
4. Kansas State (4-0, 1-0, LW: 6):
What an unbelievable rise for the Wildcats. Two weeks ago, this team was at No. 9 in the power rankings. A goal-line stand against Miami and a late interception against Baylor have the Wildcats in the polls and undefeated. You know what they say: "Defense moves you up in the Big 12 Blog Power Rankings."
5. Baylor (3-1, 0-1, LW: 4):
Baylor rightfully feels like it should be 4-0 after blowing a nine-point fourth quarter lead that included a missed field goal in a one-point loss. The offense was rolling, but the defense couldn't make stops when it needed them. Like the blown lead against TCU, Baylor inexplicably stopped testing Kansas State's secondary on vertical routes up the field late in the game. The difference between Baylor and A&M right now is narrow, but they meet at Kyle Field next week.
6. Texas A&M (2-2, 0-1, LW: 3):
The Aggies' first halves are befitting of a top 5 team, if not better. The second halves? A team in the bottom third of the Big 12. I guess this is a compromise between the two. The Aggies blew one lead at home and another at a neutral site. Baylor lost by a point on the road to a top 20 team.
7. Texas Tech (4-0, 1-0, LW: 9):
Still waiting to figure out how good Texas Tech is. At least now we know they can erase a 20-point first-half deficit against the worst team in the Big 12. So that's ... good? ... I guess? We'll figure this team out as the schedule toughens, but it's undefeated, and only five teams in the Big 12 can still say that.
8. Missouri (2-2, 0-1, LW: 8):
Missouri's tough early schedule continues to be difficult with a trip to face burgeoning Kansas State. That's three consecutive road games against top 25 teams for the Tigers, who sat at home last week on a bye.
9. Iowa State (3-1, 0-1, LW: 7):
Iowa State fell behind 34-0 against Texas by way of turnovers and a secondary that got burnt by an average passing game. Not good signs. Iowa State has to cut down on the turnovers if it's going to max out its potential.
10. Kansas (2-2, 0-1, LW: 10):
Kansas at least learned it can outplay a pretty good team for a quarter. The Jayhawks just have to figure out how to carry that through 60 minutes. The running game is legit, and will continue through the season, but the defense won't give it a chance giving up rapid-fire points like it's done the past few weeks.
February, 28, 2011
2/28/11
11:45
PM CT
Two weeks after being on the verge of the No. 1 ranking in the nation, Texas is spiraling.
Kansas State pushed around the Longhorns in Austin, 75-70
, on Monday. It was Texas' third loss in four games and first home loss in Big 12 play.
The Wildcats held the Longhorns to 34 percent shooting. That number drops to 26 percent if you remove Tristan Thompson's 9-for-14 effort (26 points). Kansas State, meanwhile, hit half of its shots from the floor.
Texas fell to No. 8 in the coaches poll
that was released earlier Monday, and now the Longhorns are in jeopardy of slipping out of the top 10. They wrap up their regular season at Baylor on Saturday night.
June, 4, 2010
6/04/10
10:49
AM CT
Obviously, there's a lot of talk about what all of this talk about the Pac-10 inviting six Big 12 teams would do to both leagues. But is there an opportunity here for the Mountain West Conference? Warning: This is just speculation on my part, but it's fun to discuss.
Let's say the Pac-10 takes a gaggle of Big 12 teams. At that point, shouldn't the MWC try to jump in and grab those remaining teams? Seems like Kansas, Kansas State and Baylor, for instance, would look good in the MWC. They could even grab SMU to try to push even more into the Dallas-Fort Worth market to join TCU.
Of course, the Big 12 might try to do the same, grabbing TCU and a few other teams, including Houston, Rice and SMU to try to keep the regional conference affiliation in this area. (
Richard Justice of the Houston Chronicle blogged about that this morning
). But the MWC is poised to strengthen itself with an invitation to Boise State. They could get even stronger with some sort of merger with as many remaining Big 12 teams as possible.
What about Nebraska? Maybe they could end up in the MWC if the Big 10 doesn't invite them and they are left out of this Pac-10 party.
Anyway, just a thought from the MWC perspective. We'll see if they can make a mark if this Big 12 raid occurs.
January, 30, 2010
1/30/10
9:05
AM CT
By
Jeff Caplan
| ESPNDallas.com
Hard-nosed
Oklahoma State
coach Travis Ford is an early candidate for Big 12 coach of the year. The former Kentucky Wildcat returned the Cowboys to the NCAA Tournament last season and there's been no slippage in his second year despite voters in both polls keeping OSU out of the Top 25.
Impressive wins at Kansas State and at home against Texas A&M have paced the Cowboys (16-4) to a 4-2 Big 12 record. Now they seek a first conference road win today at
Missouri
(15-5, 3-2). Coach Mike Anderson's Tigers are 12-0 at home. The Cowboys have dropped road games at Oklahoma and Baylor.
OSU is led by a dynamic backcourt featuring Big 12 leading scorer
James Anderson
(22.1 ppg) and
Obi Muonelo
(13.0), who scored 24 points in Wednesday's 76-69 win over A&M.