Dallas Colleges:

Karl Joseph
October, 28, 2013
Oct 28
2:00
PM CT
Here are the unsung heroes in the Big 12 for Week 9.
Baylor receiver Levi Norwood:
Nobody even mentions Norwood when the Bears come to mind. Yet he has been a solid contributor throughout the season and was one of five Bears to record at least 100 all-purpose yards (104), including six receptions for 66 yards, in their 59-14 win over Kansas. His returns and open-field ability provide yet another weapon for Art Briles' squad.
Kansas linebacker Victor Simmons:
Simmons has been consistently among the most productive defenders for the Jayhawks, recording at least five tackles in KU's past five games. He continued his productive play with six tackles, two forced fumbles and one tackle for loss in KU's 59-14 loss to Baylor.
Kansas State receiver Curry Sexton:
The junior provided a quality No. 2 receiving option for the Wildcats against West Virginia with six receptions for 112 yards in KSU's 35-12 win. He was starting to emerge with
Tyler Lockett
and
Tramaine Thompson
sidelined in the Wildcats' previous two games then continued his solid contribution to the offense on Saturday.
Iowa State receiver Quenton Bundrage:
The Cyclones receiver made two superb touchdown catches against Oklahoma State, beating standout cornerback
Justin Gilbert
in one-on-one situations. He finished with four receptions for 50 yards in ISU's 58-27 loss.
Oklahoma running back Damien Williams:
The senior had a quiet but enormous impact on the Sooners' 38-30 win over Texas Tech. A lot of the attention went to
Blake Bell
for his solid performance, but Williams had 19 carries for 97 yards and two touchdowns and added a 30-yard reception to finish with 127 all-purpose yards.
Oklahoma State offensive line:
The Cowboys passed for 78 yards yet scored six offensive touchdowns. OSU's offensive line has been much-maligned after the offense's struggles this season, but they played their best game of the season on Saturday, paving the way for 342 rushing yards including 219 rushing yards and four touchdowns from
Desmond Roland
in OSU's 58-27 win.
Texas defensive tackle Chris Whaley:
With
Jackson Jeffcoat
earning Big 12 defensive player of the week honors alongside him, Whaley was almost as productive. He finished with three tackles including two tackles for loss and one sack against TCU. The Longhorns' overall dominance up front played a key role in UT's 30-7 win.
TCU receiver LaDarius Brown:
The sophomore receiver finished with seven receptions for 87 yards and one touchdown in the Horned Frogs' 30-7 loss. He's a big, talented. target at 6-foot-4, 220 pounds but he needs to be more consistent and productive to provide a spark for TCU's offense. in the final month of the season.
Texas Tech safety Tre' Porter:
It was a rough day for the Red Raider defense but it would have been even worse without Porter. He had 13 tackles, including nine solo stops, and forced a fumble. He often ended up in one-on-one situations in the open field with OU's talented playmakers and Porter won his share.
West Virginia safety Karl Joseph:
The sophomore provided an early spark for the Mountaineers, forcing a fumble on Kansas State's first possession. He finished with a team-high 12 tackles, all solo, including two tackles for loss, one forced fumble and one fumble recovery.
June, 5, 2013
Jun 5
2:30
PM CT
I asked you earlier this week to weigh in on your pick for the Big 12's Preseason Defensive Player of the Year. Considering the postseason player of the year was just a freshman in 2012 and obviously returns for 2012, I figured the voting would be simple for the fans.
Apparently not.
TCU's
Devonte Fields
earned just 18 percent of the vote, finishing third in our poll. He
hasn't had a fantastic offseason
, but still, I'm surprised to see a pair of upperclassmen eclipse Fields in the voting.
Texas defensive end
Jackson Jeffcoat
took home the title with 30 percent of the vote, just ahead of fellow senior
Ty Zimmerman
, a safety from Kansas State. Zimmerman earned 26 percent of the vote.
Oklahoma cornerback
Aaron Colvin
checked in at fourth with 17 percent of the vote, well ahead of TCU cornerback
Jason Verrett
, who earned just nine percent of the vote.
Even though Fields finished a lot lower in the vote than he probably should have, I'd say the fans mostly got it right. I'm taking Jeffcoat as the single best defender in the Big 12 this year, and might have beat out Fields for the postseason honor if he'd stayed healthy. I hate to see what's becoming an annual injury for Jeffcoat, who's so loaded with potential. He's produced a lot when he's on the field, even though he still has to develop his technique and not rely quite so much on his freakish athleticism. I'm betting he does a good deal of that this offseason, especially since I'm sure he heard similar feedback from NFL teams.
A big year for Jeffcoat could mean a top-10 selection in next May's NFL draft. Zimmerman's a solid, instinctive player who Kansas State needs to play well this season, but I don't necessarily see him as a guy who'll end the season as the Big 12's best safety. He's solid. He's well above average, but it's hard for me to envision him winning the league's Defensive Player of the Year award in the pre- or postseason.
I'm surprised to see Verrett get as little of the vote as he did, especially considering he outplayed Colvin last season. We can only use five players in our polls, so don't be surprised if guys like
Karl Joseph
or
Calvin Barnett
get votes next month. Still, for me, when the ballots arrive, I'm with the fans on this one: Jeffcoat gets my vote.
June, 3, 2013
Jun 3
10:30
AM CT
Phil Steele knows college football, and rolled out his preseason all-conference teams recently, including the Big 12.
You can
see the full conference picks here
, but plenty of interesting selections from the college football guru. ESPN.com's teams won't be released until much later this offseason, but here's a few thoughts on Steele's teams:
March, 14, 2013
Mar 14
2:30
PM CT
We wrapped up our postseason list of the Big 12's top 25 players, and included a few guys who just missed.
What about next year's list? Here's a few guys you can probably expect to see on next year's postseason list who didn't make the 2012 version.
Brandon Carter, WR, TCU:
Josh Boyce
has been the headliner for TCU's receivers in each of the past two years, but Carter is a big talent with great hands (and a penchant for one-handed grabs) who'll be assuming a bigger role in TCU's offense this season. He's a balanced receiver who's shown great route-running talent and great straight-line speed. He caught just 36 passes for 590 yards and six scores, but without Boyce and
Skye Dawson
, look for Carter to top 1,000 yards as a junior next year with
Casey Pachall
set to return to the Frogs.
Jeremy Smith, RB, Oklahoma State:
Smith has a ton of experience, but with
Joseph Randle
emerging the past two seasons, he hasn't had a lot of opportunity. He's a 208-pound bruiser who plays like he's a whole lot heavier, while still possessing great speed. OSU is still going to be a pass-first team, but Smith is going to earn more than just the 70 carries he got a year ago. A midseason injury was part of the reason, but he still scored eight times and rushed for 371 yards. He averaged better than seven yards a carry in 2011, but I'd be shocked if he didn't have 1,000 yards rushing in 2013 as a senior.
Karl Joseph, S, West Virginia:
Joseph was a bright spot as a true freshman for a struggling defense this season, but with the amount that defense struggled, it's hard to put anyone in the top 25. Can that change under new playcaller Keith Patterson next year? Joseph showed an ability to be a playmaker with 102 tackles, seven tackles for loss, two interceptions, six pass breakups and three forced fumbles. With another year in the system and in college football, you figure that will grow.
Mike Davis, WR, Texas
: Davis quietly earned a reputation as a big-time deep threat for an inconsistent Texas passing offense last year, and flirted with 1,000 yards receiving. He also flirted with leaving for the NFL, but he may emerge as one of the Big 12's best receivers next season. He needed just 57 catches to amass 939 yards and caught 11 passes longer than 30 yards, tied for third-most in the Big 12.
Corey Nelson, LB, Oklahoma:
Nelson was a one-time super recruit who has been solid for the Sooners, but could definitely emerge as a superstar next season. He and
Aaron Colvin
are the only two players Mike Stoops knows he can for sure count on next season, and the third-year starter should be a bedrock of a transition Oklahoma defense next year after making 45 stops and 3.5 tackles for loss in 2012.
March, 8, 2013
Mar 8
10:37
AM CT
Recruiting is a fickle beast. Even if your school lands an elite prospect there's no guarantee that player will develop into an difference maker at the college level. It's a realization that makes evaluation just as important as recruiting and landing top prospects. Each year relative unknowns on signing day emerge as playmakers for their college programs in the fall. Here's a look at a signee from each Big 12 school during the past two recruiting cycles (2011 and 2012 signing classes) who has already exceeded expectations.

Baylor
Linebacker
Eddie Lackey
wasn't a highlight signee in February 2012. Yet the junior college transfer stepped right in and finished second on the squad with 104 tackles. He had five games with nine tackles or more and intercepted four passes, returning two for touchdowns.
In 2013:
Lackey could be even better with a year under his belt. His ability to be comfortable playing in space, while bringing the physical mindset of a linebacker is one of the reasons he could be poised to earn All-Big 12 honors as a senior.

Oklahoma
Folks in Norman, Okla., barely noticed when Arizona Western running back
Damien Williams
signed with the Sooners in February 2012. Senior
Dominique Whaley
was set to return alongside talented juniors
Roy Finch
and
Brennan Clay
, making it appear unlikely the junior college transfer would make an immediate impact. But Williams didn't get the memo, earning the starting job at the beginning of October and finishing with 176 carries for 946 yards and 11 touchdowns.
In 2013:
Williams will have to hold off a bevy of talented backs angling for carries in the Sooners backfield, but the senior has proven game-breaking ability that will be difficult to ignore.

Oklahoma State
Receiver
Austin Hays
was an afterthought on Signing Day 2012. The overlooked prospect outperformed several Cowboys receiver signees who were much more highly regarded in February. He started six games and finished with 29 receptions for 394 yards and two touchdowns.
In 2013:
His dependability, ball skills and competitiveness should make him a mainstay in the Cowboys lineup, even though he's not a game-breaking receiver in the mold of Dez Bryant or Justin Blackmon.

Texas
ESPN.com had
Joe Bergeron
as a three-star recruit who appeared to be destined to a career buried on the bottom of the depth chart behind the elite running backs the Longhorns were inking. Yet Bergeron made an immediate impact as a freshman and continues to be a productive force in UT's offensive backfield. He's scored 21 touchdowns in two seasons including 16 touchdown runs as a sophomore in 2012.
In 2013:
He enters his junior season as UT's best short-yardage runner and should continue to earn carries at running back thanks to his toughness and physical running style.

TCU
Offensive tackle
Aviante Collins
was a three-star prospect on ESPN.com, far from a recruit with expectations to start immediately. Yet that's exactly what Collins did, starting all 13 games of his true freshman season. And he showed some versatility by starting games at right and left tackle in 2012.
In 2013:
Collins will be a foundational member of TCU's offensive attack this season. There's no reason he cannot be a four-year starter for the Horned Frogs and leave a legacy as one of the most productive signees in the Gary Patterson era.

Texas Tech
Jakeem Grant
was never going to be considered the prototypical receiver prospect. At 5-foot-6, 163 pounds, it's a given to have people notice Grant's size (or lack thereof) before his ability. Size didn't stop him from becoming one of the most explosive players on the Red Raiders offense as a redshirt freshman, averaging 11.7 yards per touch thanks to his quickness and speed.
In 2013:
With Kliff Kingsbury taking over, the new Red Raiders coach will undoubtedly find ways to take advantage of Grant's speed and open-field ability. His physical gifts are difficult for most opponents to match up with.
January, 24, 2013
Jan 24
10:15
AM CT
Defensive numbers are
always harder to project than offensive numbers
, because they're so dependent on other teams' schemes. Still, let's take a look back at the most likely players to top 100 tackles before the season, and how they did this season.
The Big 12 had nine players with 100 tackles this season. There were 89 players in FBS with at least 100 tackles. Let's have a look at projections vs. reality.
1. Jake Knott, LB, Iowa State:
Knott was on track to hit 100, but a shoulder injury ended his career four games early. He was stuck on 79 tackles to end the season after nine games, capped by a home win over Baylor.
2. A.J. Klein, LB, Iowa State:
Klein was third in the Big 12 with 117 tackles, closing strong with 33 tackles in his final two games. After Knott's injury, Klein had six or fewer tackles in three consecutive games, but the strong finish helped him easily clear the 100-tackle threshold.
3. Arthur Brown, LB, Kansas State:
Brown made nine tackles in K-State's loss to Oregon to hit the 100-tackle mark on the number and finish ninth in the Big 12 in tackles.
4. Jordan Hicks, LB, Texas:
Hicks got off to a great start, making 20 tackles in Texas' first two games, but a hip injury ended his season early against Mississippi in the third game of the season. He earned a medical redshirt and will still be a sophomore next season.
5. Mike Hicks, S, Baylor:
Baylor's linebackers shouldered the load for tackles this year and were much stronger up front. Hicks needed just 67 tackles this season.
6. Alex Elkins, LB, Oklahoma State:
Elkins was Oklahoma State's leading tackler, but finished the season with just 75 tackles. In four of his last five games, he had five or fewer tackles.
Here are the guys we overlooked:
Bryce Hager, LB, Baylor:
Hager came out of nowhere to lead the Big 12 with 124 tackles. He made just 13 tackles in 2011.
Tony Jefferson, S, Oklahoma:
Oklahoma's scheme change under Mike Stoops funneled a whole lot more tackles Jefferson's way, and he was there to make the plays. He had just 74 tackles in 2011, but racked up 119 this season to finish second in the Big 12.
Ben Heeney, LB, Kansas:
Heeney made a rousing eight tackles in 2011, but emerged as a playmaker this season to finish fourth in the Big 12 with 112 tackles.
Eddie Lackey, LB, Baylor:
The juco transfer became Baylor's biggest big-play threat on defense late in the season with a pair of pick-sixes, but he also made 104 tackles.
Karl Joseph, S, West Virginia:
The true freshman became WVU's defense's biggest playmaker, racking up takeaways but making 102 tackles.
Ahmad Dixon, S, Baylor:
Baylor had two safeties make 100 tackles last year, but Dixon was the only one this year. It's hard to believe Baylor had three 100-tackle defenders this year, though. Dixon had 102.
Cody Davis, S, Texas Tech:
Davis is the least surprising player who I didn't project for 100 tackles. He's been a huge part of Tech's defense, and nearly topped 100 stops in 2011. This year, he made 101 as a senior four-year starter.
January, 15, 2013
Jan 15
11:30
AM CT
As we finish wrapping up the 2012 season, it's time to look forward today. Here's a look at a few players you need to keep an eye on in 2013:
Casey Pachall, QB, TCU:
If Pachall returns to form, you can bet on TCU as the Big 12 favorite in 2013, especially after
Joseph Randle
left Oklahoma State. He's officially back on the team after spending last fall in a treatment facility for drug and alcohol addiction, and we'll see what reports are out of spring in Fort Worth. He'll have to prove he's the same player and earn his job back, but if he is and he does, and TCU's defense does what it did in 2012 ... look out. Pachall was completing 66 percent of his passes with 10 touchdowns and a pick before his season ended following a DUI arrest in early October. The entire Big 12 race could very well shift on Pachall's return and subsequent development.
[+] Enlarge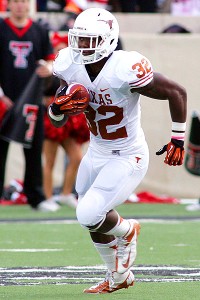 Michael C. Johnson/US PresswireJohnathan Gray rushed for 701 yards and three touchdowns during the 2012 season.
Johnathan Gray, RB, Texas:
Gray emerged as the most consistent back for the Longhorns this past season, becoming the second consecutive true freshman to lead the Longhorns in rushing. Gray rushed for more touchdowns than any back in high school football history, and if he can build on his 700 yards on fewer than 150 carries from 2012, he'll look more and more like the player Texas hopes he can be. He also might help Texas look like a real Big 12 title contender.
Lache Seastrunk, RB, Baylor:
No player in the Big 12 was hotter at the end of 2012, and Seastrunk already made a well-publicized statement that he's planning on winning the Heisman Trophy in 2013. We'll see about that, but Seastrunk began November with fewer than 200 yards rushing. He ended the season as one of three Big 12 backs with at least 1,000 rushing yards. Craziness.
Karl Joseph, S, West Virginia:
West Virginia's defense got all kinds of heat from critics and opposing offenses last year, but Joseph was the bright spot and a piece to build around for the future. He and fellow true freshman
Isaiah Bruce
showed real promise, but Joseph was sixth in the Big 12 with 102 tackles, forced three fumbles and had a pair of picks and seven tackles for loss. He's a stud.
Josh Stewart, WR, Oklahoma State:
Stewart takes my title as the Big 12's most underrated player entering 2013. He doesn't have the same reputation as an elite receiver, but he has put up the numbers to support the idea that he's exactly that. He caught 101 balls for 1,210 yards and will be the Big 12's leading returning receiver in 2013 by more than 150 yards. Only three Big 12 receivers hit triple-digit receptions last season, too. No returning receiver had more than 82.
Jake Heaps, QB, Kansas:
Heaps is a wild card, but if KU is truly going to get out of the Big 12 basement (or win a game in Big 12 play), it needs Heaps' transition after transferring to go better than
Dayne Crist
's. The BYU transfer, who signed on with the Jayhawks and Charlie Weis after Weis' hiring, threw 24 touchdowns and 17 interceptions in almost two seasons as the Cougars' starter. He very nearly quarterbacked BYU to a win at Texas in 2011, too.
Aaron Green, RB, TCU:
Green is another high-impact transfer this year, or at least could be. The San Antonio native sat out last year after transferring in from Nebraska. He was the No. 3 running back in the 2011 recruiting class and No. 11 on the ESPN 150. We saw this year the kind of impact a super recruit like Seastrunk can have, and TCU needs a big hitter in the backfield. We'll see what Green can do after rushing for 105 yards and two scores on 24 touches at Nebraska in 2011.
Michael Brewer, QB, Texas Tech:
Brewer followed in Garrett Gilbert's footsteps in high school with a huge career at Lake Travis in Austin, but here's guessing his college career will be much more impressive. Brewer earned a little time this year behind Seth Doege, but I love what I saw from him in spot duty, and he'll be responsible for what kind of a start the Kliff Kingsbury Era gets off to in Lubbock. Here's guessing it'll be a good one.
December, 27, 2012
12/27/12
4:00
PM CT
Every year,
we crown an All-Big 12 team here at ESPN.com
, but we also like to give some recognization to guys who don't get enough credit for just how good they really are. These are their stories.
DL: Jake McDonough, Iowa State
McDonough quietly put together a season that was definitely an All-Big 12 first-team type of year. His numbers aren't eye-popping (31 tackles, 5.5 TFL, two sacks), but you can't often grade nose guards on their statistics. The 280-pounder was a force in the middle of the line for the Cyclones.
DL: Kerry Hyder, Texas Tech
Hyder was a big piece of Texas Tech's defensive resurgence under Art Kaufman this year. The defensive tackle bulled his way to 13.5 tackles for loss, the same number as Big 12 Defensive Lineman of the Year
Meshak Williams
. Tech needed help rushing the passer and slowing the run. Hyder did both.
DL: Adam Davis, Kansas State
Meshak Williams and
Arthur Brown
get all the press on K-State's defense, but Davis was a huge force, too. He had two sacks in the win over Miami, 1.5 sacks in the win over West Virginia and finished sixth in the league with 11.5 tackles for loss. He was fourth in the league with six sacks.
DL: Toben Opurum, Kansas
Opurum's got a well-chronicled road to his current spot on the D-line, leading KU in rushing in 2009 before switching postitions under Turner Gill. KU's defense was better this year, and so was Opurum. It's tough to put up big numbers when KU was getting beaten, but he made six tackles for loss and forced two fumbles.
LB: Bryce Hager, Baylor
Yes, when your offense is on the field, you get more opportunities to make tackles, but ask K-State what it thinks of Hager. He was a cruise missile against the Cats and seemed to be in
Collin Klein
's face all night. He led the league with 115 tackles and added eight tackles for loss and three sacks. He also forced two fumbles and had six games with double-digit tackles.
LB: Ben Heeney, Kansas
Heeney's another playmaker all over the field for a defense that struggled at times. He's a speedy, versatile playmaker for the Jayhawks, who made 112 tackles and 12 tackles for loss.
LB: Jarell Childs, Kansas State
Childs' biggest play of the season was the scoop and score against Oklahoma, but he was solid for the Wildcats all year, and filled in admirably after
Tre Walker
's knee injury forced him into more playing time. He recovered two fumbles and finished with 64 tackles and 4.5 tackles for loss.
DB: Karl Joseph, West Virginia
Joseph broke out as a true freshman and was basically the lone bright spot on a deservedly maligned West Virginia defense this season. He forced three fumbles, intercepted two passes, made seven tackles for loss and racked up 95 tackles. There's a big career ahead of him.
DB: Bradley McDougald, Kansas
McDougald was the Jayhawks' best defender this season and one of the big reasons for KU's big improvement on that side of the ball. He picked off three passes, forced two fumbles, had four tackles for loss and made 92 stops at safety.
DB: Durrell Givens, Iowa State
Givens was a turnover machine this season. He forced four fumbles, picked off three passes and made 77 tackles. His money stat, though? He recovered a nation-high six fumbles for the Cyclones. That's just ridiculous and is good enough on its own to land him on this list.
DB: Cody Davis, Texas Tech
The Red Raiders' leader doesn't get the press of the league's elite safeties like
Kenny Vaccaro
,
Tony Jefferson
or even
Ty Zimmerman
, but he's solid, even if he doesn't have the physical skills of Vaccaro or Jefferson. He's still one of the league's brightest players. That shows up in his decision making and on-field discipline that kept Tech from giving up the bushels of big plays it did a year ago.
December, 11, 2012
12/11/12
11:00
AM CT
We took a look at our All-Big 12 Freshman team earlier today, but let's hand out a few superlatives from the young guys around the league.
Before we begin, a quick word:
Devonte Fields
was my defensive player of the year in the entire league. He is ridiculous
. He would also dominate this post if we included him. As such, I'm excluding him from all of these awards so we can talk about a few other outstanding freshmen. We love Fields here at the Big 12 Blog. We also like talking about people other than Fields. So, no worries Frogs. He will continue to dominate Big 12 offensive lines. He just won't dominate this post.
Best offensive performance: J.W. Walsh, QB, Oklahoma State.
Walsh lost the QB derby, but stepped up when
Wes Lunt
was hurt to lead Oklahoma State to a near-win over Texas, but did beat Iowa State and Kansas. After returning from a leg injury, he played a major role in a short-yardage package and accounted for five touchdowns in Oklahoma State's final three games. He finished with 11 touchdown passes to just three interceptions and completed 66.7 percent of his passes, the fourth-highest percentage in the Big 12. Walsh's passer rating of 165.67 led the Big 12.
Best non-Devonte Fields defense performance:
Karl Joseph
, S, West Virginia. Joseph was probably the single best player on a struggling West Virginia defense all season long. The freshman stepped in and made 95 tackles to lead the team, but his ballhawking ability is what earns him this award. He forced three fumbles, broke up six passes and intercepted two more, adding a sack and seven tackles for loss. Quite the debut for Joseph.
Biggest upside: Dalton Santos, LB, Texas.
Santos' teammate,
Kenny Vaccaro
, has the current title of the Big 12's biggest hitter, but Santos reminds us of a young Ronnell Lewis in the special teams. He made one start at linebacker this year, but had his biggest impact in the special teams, looking like a cruise missile at times. He had just 18 tackles and 1.5 tackles for loss, but hopes are high for him when he earns a bigger role on the defense.
Honorable mention: Sterling Shepard, WR, Oklahoma.
Biggest impact: Johnathan Gray, RB, Texas
. Texas needed help with
Joe Bergeron
and
Malcolm Brown
banged up, and Gray was there to pick up the slack. He racked up 100-yard rushing games in wins against Texas Tech and Kansas, and I don't think it's a stretch to say that if he's not out there logging those carries, Texas doesn't win those games. The Longhorns were 8-4, but could they be 6-6 without Gray? He led the Longhorns in rushing as a true freshman.
Best offensive lineman: Spencer Drango, Baylor.
He was on our watch list for fresh faces to begin the season, and showed why with a huge year after beefing up during his redshirt season. The 6-foot-6, 310-pounder seized a starting position at tackle and helped block for the nation's No. 1 offense.
Honorable mention: Le'Raven Clark, Texas Tech.
December, 3, 2012
12/03/12
1:55
PM CT
It's time to once again hand out a few superlatives to wrap up the final weekend of the Big 12 season.
Best offensive performance: Geno Smith, QB, West Virginia.
Smith looked more like his early-season Heisman form in his last game at Milan Puskar Stadium, a 59-10 win over Big 12 bottom-feeder Kansas. He completed 23 of 24 passes for 407 yards and three touchdowns to lead the Mountaineers to a seventh win.
Honorable mention: Lache Seastrunk, RB, Baylor.
[+] Enlarge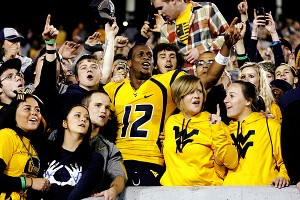 Charles LeClaire/US PRESSWIREGeno Smith's final performance at Milan Puskar Field was a reason to celebrate.
Best defensive performance: Karl Joseph, S, West Virginia
. Joseph was all over the field for West Virginia against Kansas. He made seven tackles, notched half a tackle for loss and intercepted a pass, returning it 22 yards. He also forced a fumble and broke up another pass.
Honorable mention: Kenny Vaccaro, S, Texas; Eddie Lackey, LB, Baylor.
Best team performance: Baylor.
The Bears looked dominant against an Oklahoma State team that has been beating the heck out of some good teams in the Big 12 to close the season. OSU made it interesting late, but Baylor was in control from start to finish during the 41-34 win, led by Lache Seastrunk's 178 yards on 16 carries.
Best game: Oklahoma 24, TCU 17.
This was fun from start to finish. Oklahoma let TCU in the game with an 80-yard touchdown on a busted play and an interception by
Landry Jones
to give the Frogs a touchdown on a drive that began inside the 10-yard line, but the Sooners won a third consecutive game that came down to the final play or final seconds. Amazing stuff, and the Sooners find a way yet again.
Best play: Lache Seastrunk, RB, Baylor.
Seastrunk has had cramping issues this season, and looked to suffer another one at the worst possible time -- right after clearing the Oklahoma State offense. No worries. He limped, stumbled and bumbled the last 30 yards of his 76-yard touchdown run to ice the game in the final minutes.
Honorable mention: Oklahoma's offensive line on Damien Williams' untouched, 66-yard touchdown run.
Biggest bailout: Nigel Malone, CB, Kansas State.
Malone was nearly a nominee for worst play, but an odd ruling earns him a special nod. Malone intercepted a wobbly ball to the sideline from
Case McCoy
and looked to return it for a touchdown, but pulled what's commonly known as a "DeSean Jackson," dropping the ball before he crossed the goal line. Instead of a touchback, K-State was given the ball on the half-yard line, and
Collin Klein
punched it in. Still. Mack Brown wasn't happy about the call, and I still don't think I understand why it wasn't a touchback.
Best quote: Tony Jefferson, S, Oklahoma,
on the Sooners' shared title with Kansas State. "Hey, sharing is caring."
Worst play: Blaize Foltz, G, TCU.
Trevone Boykin
would have escaped the defender, but Foltz still got flagged for a game-changing holding penalty on what might have been a game-tying touchdown in the final minute of TCU's 24-17 loss to Oklahoma. Boykin had escaped the pocket and reached the end zone to set off a celebration, but it was all for naught, and the penalty backed up TCU into a near impossible situation with the game on the line.
Best quarter: Baylor's first quarter.
The Bears scored a defensive touchdown and added another seven points on a 16-play, 98-yard drive to set the tone for the game. This would be Baylor's day against a team that Art Briles had never beaten, and had beaten Baylor six consecutive times. The Bears took control after falling behind 3-0 early and never looked back.