Dallas Colleges:

Kenny Frease
March, 23, 2012
3/23/12
9:21
PM CT
ATLANTA -- A quick look at Baylor's
75-70 win over Xavier
in a Sweet 16 matchup at the Georgia Dome.
Overview:
If you had turned off the television or left the Georgia Dome five minutes into the game, you would have thought Baylor should just cut down the nets in New Orleans. The Bears had one of the more impressive starts in the NCAA tournament, getting off to a 14-2 lead to begin the game.


Baylor can look incredibly impressive when it's out in the open floor.
Quincy Acy
is a force when he can get to the basket, especially on a dunk.
Pierre Jackson
runs a fluid game, and
Brady Heslip
is one of the better complementary role players with his shooting in the field.
But the Bears don't put teams away. Xavier fought back by going inside to
Kenny Frease
and was within two scores a number of times in the second half. The Musketeers couldn't make enough 3s, and that ultimately might have been their undoing.
Baylor survived and advanced to the Elite Eight. Just think about that. Baylor is in its second Elite Eight in three seasons. Baylor. That should speak volumes about how far this program has come under Scott Drew.
Key player:
Quincy Acy. The Bears desperately need a physical force. They have tremendous length, but they don't always use that size and strength to their advantage. Acy was a man among boys at times Friday. His ferocious dunks should be made into freeze-frame posters to hand out at the Georgia Dome. Acy allowed the Bears to settle down when they got a little too wild, and finished with 15 rebounds and 20 points. If Acy continues to play this way, the Bears have a legitimate shot to hang with Kentucky and, perhaps, pull off an upset.
Key stat:
The Musketeers' 3-point shooting was a woeful 3-for-15.
Justin Martin
made two 3s in the game. If the Musketeers were going to come all the way back from a 14-2 deficit, they were going to need to make 3s. Xavier did a fine job of getting the ball inside to Frease during a 13-0 run late in the first half. But the scoring droughts from
Tu Holloway
in the second half didn't help. The Musketeers did get the lead down to six with a little more than a minute left -- on that second 3-pointer by Martin. Holloway hit his first 3-pointer of the game with just less than 20 seconds left to cut Baylor's lead to 71-68. Heslip then converted four free throws to help the Bears to a 75-70 final.
Turning point:
Perry Jones III
has been rather quiet throughout the NCAA tournament. But Jackson made sure he was assertive and helped snuff out a mini Xavier run that seemed to be turning momentum. Following an
Anthony Jones
3-pointer, Jones III received two lobs -- the first from Jackson -- and hit a face-up jumper, pushing the Bears to a nine-point lead. The Musketeers didn't go away quietly and had it down to five points. But Jones' assertiveness definitely helped shift momentum back to the Bears at a critical time.
What's next:
No. 3-seeded Baylor will take on No. 1-seeded Kentucky on Sunday at the Georgia Dome. This will be Baylor's second Elite Eight in three seasons. The Bears have Final Four potential. The problem is that they're in Kentucky's bracket. Put Baylor in the West bracket, and it's not close which team would be the favorite.
March, 22, 2012
3/22/12
11:03
PM CT
ATLANTA --
Perry Jones III
doesn't have to be dominant for Baylor to advance to the Elite Eight.
All he has to do is stay on the floor.
The 6-foot-11 Jones has been much-maligned this season. There are times when he looks like a top-10 NBA draft pick. There are other times when he's just another lanky, athletic big from Baylor.
But his presence is enough to warrant plenty of attention -- and that can end up meaning buckets inside for
Quincy Acy
or
Anthony Jones
, and certainly open 3s for
Brady Heslip
.
If Jones were playing hockey, he'd get plenty of assists from his passes that lead to the pass for the score.
Jones hasn't had a breakthrough scoring game since his 31 against Kansas State in the Big 12 tournament. The sophomore's numbers have dipped recently, and he has a combined nine points in the first two NCAA tournament games. But he did have 11 boards in a win over South Dakota State and four in the win over Colorado.
[+] Enlarge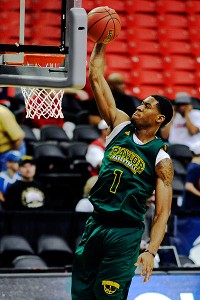 Richard Mackson/US PresswirePerry Jones III is showing that he doesn't have to score in bunches to be a factor for Baylor.
His offense wasn't needed in either game. But he did make the opposing teams pay attention.
"Sometimes my shot is not falling,'' Jones said Thursday in advance of Friday night's game against Xavier in the Sweet 16 at the Georgia Dome. "I shy away from keeping shooting the ball. Sometimes it's not my night. I mean, it doesn't bother me at all if we're winning the game. I feel like I help my team in other ways.''
Xavier will need to find Jones throughout the game Friday night.
"The best thing I can do is try to get the ball to whoever's hot in the game,'' Jones said. "If my shot's not falling, I'd rather go 1-for-7 than 1-for-20-something and then we lose. I just try to do something, just try to rebound, maybe get offensive rebounds, do whatever I can to help my team.''
Jones may have hurt his NBA draft stock a bit. But not much. You can't take away his length and athleticism. He still oozes potential. The goal in Atlanta is to ensure he's on the scouting report for the Musketeers.
And he will be.
"The best thing I can do is move forward and help our team break through for the next couple of games,'' Jones said.
If Baylor gets a chance to face Kentucky, Jones will need to be a factor against
Anthony Davis
and friends.
"You've got to have balance and that's the strength of our team,'' Baylor coach Scott Drew said. "We have unselfish players. Perry Jones wasn't making some shots the last two games that he normally does, but to his credit, a lot of times because of the help-side defense, he was making the hockey assist out, which led to baskets.
"Statistically, it doesn't show up, but at the end of the day, wins and losses are the most important thing. Without the front-line play, we definitely don't get two wins.''
Who to watch
Tu Holloway and Mark Lyons, Xavier:
The Xavier guards were the reason that some of us, notably me, picked the Musketeers to get to the Final Four in November.
The season has been a bit erratic, to say the least. But if this team advances, Holloway and Lyons will still be the reason. Holloway scored 21 points and made four 3s in the win over Lehigh in the third round. Lyons wasn't as productive, but he still made his presence felt.
Holloway was even more dominant in the win over Notre Dame. He scored 25 points and made an efficient 10 of 15 shots.
Brady Heslip, Baylor
: Heslip made nine 3s in the win over Colorado on Saturday. But the Musketeers are certainly going to defend him a bit tighter than the Buffs. Heslip still can deliver a dagger if he's open. The key will be to not play off him at any point.
"Any guy that can score 27 points in the NCAA tournament without dribbling, he's a really good player,'' Holloway said. "He's a great player. We have a lot of respect for not only him, but the Baylor team.''
"We have to make him take tough shots, because if he gets open, it's more than likely going to go down,'' Lyons said. "You've got to be ready to chase him.''
What to watch
Kenny Frease vs. the Baylor bigs:
Frease will have his hands full Friday night. The Xavier center has to stay out of foul trouble. He'll get some help from forward
Andre Walker
, but Frease must keep Perry Jones III, Quincy Acy and Anthony Jones off the offensive backboard.
If the Musketeers are going to have a chance to win, they must get second shots, too.
"We know the guards are going to be able to help us from the top, but we've got to take that responsibility on ourselves to try to contain [Jones] as much as possible,'' Frease said. "He'll pose a lot of problems for us, but it will depend on how we handle them.''