Dallas Colleges:

Kevin Jones
January, 28, 2012
1/28/12
6:57
PM CT
So much for a slow Saturday. College basketball fans and pundits alike should know better by now, but we always assume the worst on a supposedly "slow" weekend.
Let's change the rules, based on what we've seen today. If you survey the weekend slate and you can't find any meaningful games and potential upsets that you're overly interested in, that means it's time to call Earl and the crew (everybody has a friend named Earl), stock the fridge and get ready for some good basketball. If this was a lukewarm weekend in college basketball, what qualifies as a great one?


Iowa State 72, No. 5 Kansas 64
Many laughed when Fred Hoiberg began his tenure at Iowa State by recruiting from a pool of players known for their checkered pasts.
Royce White
, who left Minnesota two seasons ago after a tumultuous stay, led the bunch. But Hoiberg looks like a genius right now after the Cyclones handed No. 5 KU its first Big 12 loss of the season. The win snapped both the Jayhawks' 13-game winning streak over Iowa State and their 10-game overall winning streak (they hadn't lost since Dec. 19).
The postgame court-storming was well-deserved for the 'Clones and their fans. Hoiberg has as much job security as any coach in the country based on his legendary career in Ames, which allowed him to pursue so many transfers without worry. In other words, he'd get a mulligan if things didn't work out.
Against Kansas, however, Hoiberg proved that he's more than a risk-taking recruiter. He can coach, too. Iowa State, a squad that suffered an 82-73 loss at Kansas on Jan. 14, led by three points at halftime. But that didn't last. The Jayhawks scored 11 unanswered points early in the second half. The crowd's energy dropped after that KU run, but Iowa State kept fighting, something it had failed to do down the stretch in its earlier loss to the Jayhawks.
White led the charge. With his team leading 56-53 and five minutes to play, he scored the Cyclones' next eight points (three straight layups and a pair of free throws). He entered the game as a 51 percent free throw shooter -- ISU was the Big 12's worst free throw shooting team at 61 percent overall -- but he was 6-for-8 from the charity stripe in the second half. He finished with a team-high 18 points, nine rebounds and five assists, making up for his six turnovers. The team was 25-for-34 from the charity stripe.
So yes, the same Iowa State squad that lost at Drake Nov. 15 looks like an NCAA tournament team right now -- no matter what my colleague Doug Gottlieb might tweet. At 5-3, the Cyclones are off to their best Big 12 start in a dozen years and sure seem like they won't be fading away anytime soon.


No. 4 Syracuse 63, West Virginia 61
It just can't happen. Not in late January with the stakes so high. Not when it's so blatant. Officials in this game missed one of the more obvious and critical goaltending calls of the season. In the final seconds, West Virginia's
Truck Bryant
air-balled a 3-pointer that ended up in
Deniz Kilicli's
hands with his team down by a bucket. Kilicli's layup was swatted away in mid-air by Syracuse's
Baye Keita
, but replays showed what looked like a clear goaltending violation by Keita. Officials never blew their whistles.
West Virginia got the ball back and
Kevin Jones
(20 points, eight rebounds) missed a deep 3-pointer to win the game, but the final outcome might have changed had that crew flagged Keita for goaltending. Now granted, WVU had its chances.
Brandon Triche
(18 points) hit a pair of free throws with a minute and a half to play and the Mountaineers missed four consecutive shots. But the no-call clearly impacted the game.
Syracuse struggled in its third consecutive game without
Fab Melo
. The Orange just haven't looked like the same squad without him and his defensive presence. West Virginia secured an astounding plus-21 (41-20) rebounding edge over the Cuse and had nearly as many offensive boards (19) as the Orange had total. How does that happen? It's not like the Mountaineers are the biggest team in the country. They were just tougher than Syracuse most of the afternoon. And had it not been for that missed goaltending call, West Virginia might have avoided its 13th loss to the Cuse in 14 meetings.


No. 7 Baylor 76, Texas 71
With 4:09 to go, Texas'
Myck Kabongo
hit a 3-pointer as
Pierre Jackson
committed a ridiculous foul to put him on the line for a four-point play opportunity. Texas had been down by 12 points early in the second half, but Kabongo's shot cut Baylor's advantage to just one. Cameras panned to Baylor coach Scott Drew on the sidelines. He had the "I can't believe this is happening at home" look on his face.
Perry Jones
(22 points, 14 rebounds) was far more aggressive than he'd been in some of his efforts, but Baylor couldn't keep the pressure on the Longhorns and nearly blew one at home.
J'Covan Brown
scored 32 points (11-for-22), his third consecutive 30-point effort. But he had way more time to create a better shot than the deep 3-ball he took with 14 seconds on the clock. His team was down by three points in the closing seconds, so I understand why he'd take a deep shot, but he didn't have to shoot it when he did. He had more time on the clock.
Here's where you have to have more question marks about Baylor, though. The Bears are at home. Texas shot 36 percent from the field in the first half and was 1-for-12 from beyond the arc before halftime. Seemed like an opportunity for Baylor to flex its muscle. But it turned into another lukewarm finish for the Bears.


No. 13 Florida 69, No. 16 Mississippi State 57
The Bulldogs just couldn't handle Florida's inside-outside attack.
Patric Young
(12 points, six rebounds) was solid for the Gators, especially after halftime.
Bradley Beal
led the Gators' talented backcourt with 19 points. The nation's leaders in 3-point field goals hit 11 of them as they won their fifth straight and 17th in a row at home.
Arnett Moultrie
was 4-for-10 and scored 12 points for a Bulldogs team that committed 14 turnovers. It was MSU's third SEC road loss of the season. At 5-3 in league play, they'd better find a way to compete away from home. They're certainly talented, but the Bulldogs have really struggled on the road. Thought this one would have been a closer game, but give the Gators credit. They can spread teams out with their guard play and minimize their size disadvantages, a tactic they used to perfection against the Bulldogs.


No. 1 Kentucky 74, LSU 50
The Wildcats are in Beast Mode right now. They're just crushing teams. LSU entered this game following a tight road loss at Mississippi State. But the Wildcats are just a different animal.
Terrence Jones
led all scorers with a season-high 27 points and the Wildcats held LSU to a 1-for-9 clip from the 3-point line. Just two Tigers reached double figures.
Although LSU is only 2-5 in the SEC, you have to wonder how dangerous the Wildcats can be in March when a guy like Jones can explode despite some inconsistency this season. He entered the game averaging 11.6 ppg and he only scored five points against Georgia on Tuesday. But this game was further proof that Kentucky is a "pick your poison" kind of opponent. How do you defend a team with that number of studs? The Wildcats have so many weapons.
Syracuse is deep. Ohio State has balance. But no team in America looks as potent as Kentucky right now.
Some more observations from the afternoon games ...
January, 20, 2012
1/20/12
2:43
PM CT
For full coverage of all the top matchups,
check out Weekend Watch
.


Saturday's game
No. 5 Missouri at No. 3 Baylor (1 p.m. CT, ESPN):
Missouri
: The Tigers might have the quickest lineup in college basketball. Frank Haith's guards have been very efficient, and have made much better decisions on offense and defense this season. Missouri can still fall into some "chuck and duck" habits, which worked well under Mike Anderson but does not fit with the style favored by Haith.
[+] Enlarge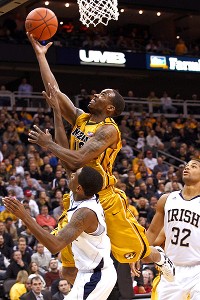 Jeff Moffett/Icon SMIMarcus Denmon is averaging 17.8 points and 5.5 rebounds per game for Missouri.
The Tigers run a set-play, quick-hitting offense that features four guards around undersized big man
Ricardo Ratliffe
. Point guard
Phil Pressey
is almost impossible to stay in front of, and he is an elite passer who willingly gives up the ball. Pressey has a near 3-to-1 assist-to-turnover ratio and leads the team in steals with 37. The wings are among the best in the nation, with All-America candidate
Marcus Denmon
and the ridiculously efficient
Kim English
. English's transformation has been remarkable. Last season, his confidence was waning. This season, he seemingly cannot miss. His decisions have improved, and he is hitting more than 50 percent of his 3-point shots. Ratliffe is benefiting from single coverage in the post and the drop-offs from his teammates to shoot better than 77 percent from the field. The single-season record is 74 percent by Oregon State's Steve Johnson back when Ralph Miller was the Beavers' coach.
Baylor
: The Bears are big, long, athletic and deep along the front line, and have one of the most talented frontcourts in the country.
Perry Jones III
,
Quincy Acy
,
Quincy Miller
,
Anthony Jones
and
Cory Jefferson
provide the bodies and length to overwhelm a smaller team on the glass and the defensive end.
Before the season, I was one who questioned the Baylor guards and whether the Bears would be able to improve ball security. Last season, Baylor turned the ball over at a very high rate. Turnovers are still an issue, but this team is much better with the ball. Guards
Brady Heslip
,
A.J. Walton
and
Pierre Jackson
are far better than I anticipated, and Jackson is a game-changing talent. He has the ability to guard the ball, see the floor with terrific vision and play with a fearlessness that allows his teammates to do their jobs without worrying about his.
Key players
: Denmon and Jackson. Denmon scratches in just about every category for the Tigers and is an attack guard. Denmon excels in transition, and Baylor can afford to put Walton, Jackson or a defender with more size on him. Denmon is a very good defender but might have some issues matching up with bigger Baylor players. Jackson is incredibly strong and athletic, and has the ability to guard Pressey and Denmon. If he can stay out of foul difficulty, Jackson has the ability to change the game with his pressure and steals. On the offensive end, Jackson is a potent scorer, but he is also a fabulous passer. He will get a lob dunk from deep for a teammate; you can bank on it. However, he also has 64 turnovers to go with his 98 assists.
Key shooters
: Heslip and English. Heslip transferred from Boston College and has a really quick release. He has hit 51 3s, by far the most on the Baylor roster, and is shooting 47 percent from 3. English is shooting better than 50 percent from deep, and his stroke is pure. He has hit 45 3s in only 88 attempts.
Key bigs
: Ratliffe and Perry Jones III. Ratliffe plays off his guards very well but must avoid fouls to be able to stay in the game. Without Ratliffe, Missouri can get overwhelmed on the glass. Jones is a special talent. He needs to be assertive and dominate his matchup. No player on the Missouri roster can guard him.
Key stat
: Turnovers and rebounding. Baylor should own the backboards but also has to get to long rebounds, which will be an issue in this game. Baylor turned the ball over against the pressure of Kansas and needs to take care of the ball against the pressure brought by Missouri. Pressey's initial ball pressure will be key.
Who wins
: Baylor is coming off a loss and playing at home. How the Bears guard the 3-point line will go a long way in determining this one. Expect Baylor to play some man-to-man in addition to some zone. If the Bears take good shots and limit Missouri in transition, I like the Bears to win. Baylor 74-70.


No. 7 Kansas at Texas (3 p.m. Saturday):
Kansas is playing at such a high level that the Jayhawks would have to come down a few notches if they're going to lose at erratic Texas. The Longhorns don't have the strength to deal with
Thomas Robinson
. I'd be surprised if Kansas loses this game.