Dallas Colleges:

Kevin Ollie
April, 8, 2014
4/08/14
2:10
AM CT
ARLINGTON, Texas -- Khalid El-Amin, the
Connecticut
point guard whose college career ended 14 years ago, sprinted over to former coach Jim Calhoun and gave him a bear hug in the victor's locker room.
Ray Allen, who started checking the Miami Heat's schedule a couple of weeks ago to see if he could attend the championship game, walked around UConn's locker room congratulating the newest Huskies to be crowned NCAA champions.
So did Richard Hamilton, another former UConn star, who played 14 NBA seasons.
[+] Enlarge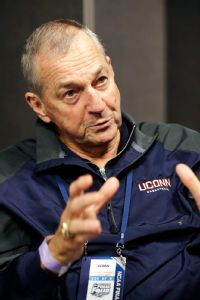 AP Photo/Eric GayFormer UConn coach Jim Calhoun had to recruit Kevin Ollie to his staff as Ollie weighed a coaching offer from the Oklahoma City Thunder.
Calhoun, the man who built this program, sat in a quiet corner of the Huskies' locker room, beaming proudly as he talked about Kevin Ollie and his hand-picked protege's ability to maintain the program's lofty standard.
UConn beat
Kentucky
60-54
on Monday night at AT&T Stadium to win its fourth national championship since 1999.
No program has won more in that span.
"No matter who you are and what you are, you always want an affirmation of things," Calhoun said. "We have had a great last 25 years. We're probably one of the top five winningest programs, and that's important.
"But teams like North Carolina, Indiana and Kentucky have been incredible for 50 years. We want to keep that thing going. I never wanted our program to be about one player, one team or one coach.
"That's what Dean Smith taught me when I was young coach at Northeastern."
Obviously, Calhoun took the lesson to heart.
Hamilton starred on the 1999 championship team. Emeka Okafor and Ben Gordon led the Huskies to their 2004 title and Kemba Walker starred on the 2011 team.
This season's team belong to
Shabazz Napier
, who was sensational in the title game with 22 points, six rebounds, three steals and three assists.
Any program can have a good run when blessed with a special talent. But the best programs keep their rosters stocked with players capable of leading them to championships.
Such is the case at UConn, where they expect to compete for the championship every season.
"Somebody told me we were Cinderellas, and I was like, 'No, we're UConn,'" Ollie said. "I mean this is what we do. We are born for this. We're bred to cut down nets. We're not chasing championships, championships are chasing us.
"We've got four now and Coach Calhoun started a tradition and my whole coaching staff is from UConn. We've all been through the same things. We love this university. It's always family first with us and they kept believing."
Ollie's attitude is why Calhoun wanted his former player to replace him when he retired two years ago.
Ollie played point guard for the Huskies from 1992-95, but he always returned to the community during the NBA offseason, so he has been connected to the program for more than 20 years.
Ollie can communicate with Cliff Robinson, UConn's first great player under Calhoun, and Walker because he was an assistant coach on 2011 team. Ollie understands what it means to be a Husky, and Calhoun knew Ollie would adhere to the ideals and standards that he established when he arrived before the 1986 season.
Before he accepted the Huskies' job, Ollie weighed an offer from the Oklahoma City Thunder. He could either be the assistant director of pro personnel or Scott Brooks' assistant coach.
"I had to recruit him again," Calhoun said. "I told him I'd already recruited him from Crenshaw High School in Los Angeles, so I shouldn't have to recruit him again."
But Calhoun did, and once again, Calhoun persuaded Ollie to come to UConn.
"The transition worried me," Calhoun said. "Kevin kept the things that are important to UConn and the things important to Kevin Ollie and made it work."
As the final seconds ticked off the clock, Ollie said he thought about his mentor.
He thought about the trust Calhoun bestowed on him to maintain the program. And he thought about the lessons Calhoun taught him about being a man and a father.
"He's right there beside me," Ollie said. "I told you, I'm not filling his shoes. I can't fill his shoes.
"He just a great resource for me -- to have a person that loves me and believed in me when a lot of people didn't. A lot of people questioned me about getting this job; he never did."
It's why both men were smiling broadly at the end of the night.
April, 7, 2014
4/07/14
10:00
AM CT
Myron Medcalf and Eamonn Brennan discuss what they believe UConn coach Kevin Ollie and Kentucky coach John Calipari are looking to prove in the national championship game on Monday night.
April, 6, 2014
4/06/14
12:41
AM CT
By
ESPN Stats & Information
For the first time ever, a 7-seed and 8-seed will meet in the national championship. It's the highest combined seed total in a title game.
The
Connecticut Huskies
are the first 7-seed ever to reach the national championship.
The
Kentucky Wildcats
are the third 8-seed since the tournament expanded in 1985 to reach the title game (2011
Butler
, 1985
Villanova
).
Villanova is the only 7-seed or lower to win the national championship.
CONNECTICUT
UConn defeated the
Florida Gators
to reach its fourth national championship, all since 1999.
UConn was led by
DeAndre Daniels
, who had 20 points and 10 rebounds. He's the first player with at least 20 points and 10 rebounds in a national semifinal win since
Syracuse
's
Carmelo Anthony
in 2003.
The loss was Florida's second against UConn this season. The Gators are 0-2 against UConn and 36-1 against everyone else.
UConn is now 7-1 in Final Four games, the best win percentage for any team with at least three games in the Final Four.
Only one of UConn's 14 made field goals in the second half came outside the paint.
Florida was outscored 9-0 in transition in the second half. The Gators didn't have a single transition opportunity in the second half.
Florida had just three assists, the fewest by any team in a Final Four game since assists became official in 1983-84.
Scottie Wilbekin
struggled when he was guarded by UConn's starting backcourt. He was 0-for-5 on field goals when guarded by
Ryan Boatright
and turned it over on three of four plays when guarded by
Shabazz Napier
.
The Huskies were at their best with
Terrence Samuel
on the court. In 18 minutes with Samuel on the court, they outscored Florida by 15 points and had 11 more points than they had in 22 minutes with Samuel on the bench.
Kevin Ollie is the first coach to reach the national championship within his first two seasons as a Division I head coach since
Indiana
's Mike Davis in 2002.
KENTUCKY
Kentucky defeated
Wisconsin
to reach its 12th national championship, tied with
UCLA
for the most all time (not including UCLA's vacated appearance in 1980).

Kentucky freshman
Aaron Harrison
made a game-winning 3-pointer with 5.7 seconds left, his third game-winning shot in the final minute in this NCAA tournament.
Aaron Harrison is 3-for-3 on game-tying and go-ahead 3-pointers in the final minute in the NCAA tournament after having zero such attempts in the regular season.
The Wildcats had 66 points from their freshmen, the most by a team's freshmen in a Final Four game (
Michigan
had 61 in 1992).
John Calipari is now 18-2 in the NCAA tournament as Kentucky head coach.