Dallas Colleges:

Kiehl Frazier
July, 22, 2014
Jul 22
9:40
AM CT
The Big 12 media days continue on Tuesday in Dallas, as Oklahoma's Bob Stoops and new Texas coach Charlie Strong each take the stage. Keep this page open throughout the day's proceedings as we bring you the latest from our reporters, who will cover all 10 teams at the event.
February, 10, 2012
2/10/12
9:30
AM CT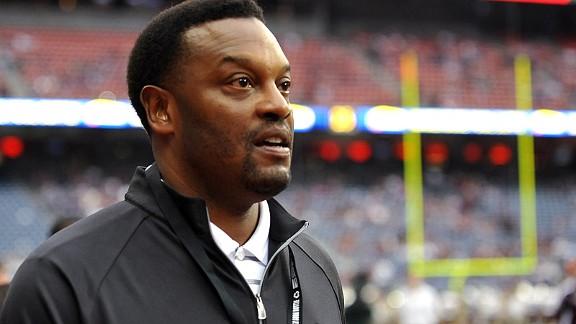 Cal Sport Media/AP ImagesBetween a young team and a tough new conference, coach Kevin Sumlin has his work cut out for him.
It's Moving Day No. 2 on the blog network today, and the Aggies are following Missouri out the door into the SEC blog today. We introduced the Aggies to the SEC earlier, but now it's time to debate.
The Aggies' move to the SEC was more about having the program grow in brand-new soil, whereas Missouri's move was more about conference stability.
Will the Aggies thrive? SEC blogger Chris Low and Big 12 blogger David Ubben go head to head to find out.
Chris Low:
OK, David, let's not tiptoe around. This is a big-boy conference in the SEC with big-boy stakes. I know everything is supposedly bigger in the state of Texas, but do the Aggies really know what they're getting themselves into? For one, they tend to play all four quarters in the SEC. Judging by what I saw from the Aggies last season, somebody might want to remind them that there is a second half. Come to think of it, that's not very hospitable of me. I take that back. But, honestly, how do you think the Aggies will handle the grind of this league?
David Ubben:
Now, now, Chris, that's not very nice. The Aggies are ...
As one final tribute to Texas A&M, I elected to forfeit the second half of that sentence.
In the early running, Texas A&M's going to have a lot of issues. Losing the volume and quality of talent they did in 2011 will hurt, especially on offense, as the program moves into a league -- and, particularly, a division -- known for defense.
Ryan Tannehill
wasn't great last year, but his experience helped, and
Jeff Fuller
and
Cyrus Gray
are a pair of NFL players that don't roll around every year.
I like the talent on campus at A&M a lot, though. They're just going to be young for now. With what they have now, they'll get better and better, as long as Kevin Sumlin does well. Based on what we've seen from his career, I think he will.
[+] Enlarge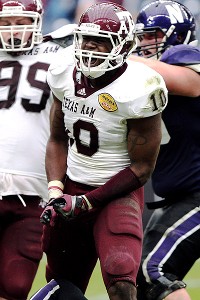 Troy Taormina/US PresswireLinebacker Sean Porter tallied 9 sacks for A&M last season, but the Aggies will need more from their defensive line.
Beyond these first three to four years, how well they progress will depend on recruiting. The Aggies think the SEC will be a big draw for Texas recruits who want to play in the best conference in college football. Being able to offer that could help them surpass Texas on the recruiting trail and on the field.
Are you buying that? I strongly lean toward no, but I could see it happening. What do you think? Is playing in the SEC going to be a draw for Texas kids? Why or why not?
CL:
I absolutely think the SEC will be a draw for some Texas recruits who see it as a chance to stay in the state and still play their college football and also be able to do it against SEC competition. That's a pretty sweet proposition: Stay close to home in the football-crazed state of Texas and compete in the football-crazed SEC, which has a standing order with the sculptor who designs that crystal trophy every year for the BCS national champion.
There's also another side to this story. The boys in the SEC think their chances of going deep into the heart of Texas and landing elite prospects are better than ever with Texas A&M joining the league. Rival coaches can tell mamas and daddies (that's the way the Bear used to say it) that they'll be able to keep up with their sons just like they were in the Big 12 with the Aggies now part of the SEC family, although the recruiting atmosphere in this league isn't very family-oriented. Just ask Urban Meyer. He got so tired of the recruiting shenanigans in the SEC that he's now pulling his own in the Big Ten, according to some of his new brethren there.
That leads me to my next question: Has anybody informed the Aggies that the rules are a little different in the SEC? Unlike the Big 12, it's not the first team to 40 points that wins.
DU:
For the record, the league changed those rules for Baylor-Washington in the Alamo Bowl. First to 60 wins now, but that's irrelevant news for the Aggies.
A&M's front seven's actually been really good these past two years, but this year, it was the secondary that let the team down. The Aggies led the nation with 51 sacks, but the team wasn't happy that it took a lot of risky blitzes to get those sacks. The defensive line wasn't the unit applying the pressure most often — it was linebackers and defensive backs. That meant a lot of big plays in the passing game; the Aggies ranked 109th nationally in pass defense, giving up more than 275 yards a game. Now, they won't see the same caliber of quarterbacks in the SEC, but we will see if the front seven can handle the power of teams in the SEC West, which, to their credit, do have a handful of quarterbacks with a lot of potential.
Tyler Wilson
's great now.
AJ McCarron
and
Kiehl Frazier
could be elite soon.
We'll see what new defensive coordinator Mark Snyder can fix.
On the flip side of the recruiting debate, how much do you think SEC teams will try and slide into Texas? Could we see some collateral damage in the Big 12? Will the SEC one day take over the world? I heard Nicolas Sarkozy already has a special security detail in place in case Mike Slive comes after him.
CL:
I'm not sure about taking over the world. It's just college football that the SEC one day would like to own. Some might suggest it already does.
Arkansas and LSU will probably be helped the most in terms of going into Texas and getting players. Other schools in the SEC might be more apt to target players in the state of Texas and make a push for those select players, but I don't think you're going to suddenly see a mass of teams in the SEC setting up camp in Texas on the recruiting trail. There's no need to when you look at how bountiful the states of Florida, Georgia, Alabama, Louisiana and South Carolina are in most years.
You mention some of the quarterbacks in the Western Division. It's fair to say that this wasn't a quarterback's league this season, and I also realize that the Big 12 has produced some quarterbacks over the last few years who've put up Xbox-type numbers.
[+] Enlarge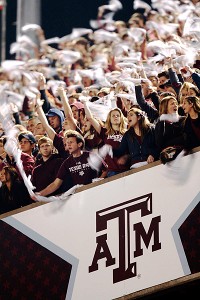 Thomas Campbell/US PresswireThere's little doubt that the state of Texas and the SEC share a deep passion for football.
But my question for you: Is Texas A&M capable of playing the kind of defense it takes to win big in the SEC?
DU:
I think so, eventually. They know they have to, which is huge. They've seen how teams succeed in the SEC, and it's with defense.
If you invest in something, especially with the resources A&M has, good things will happen. Don't forget, the Aggies defense was really, really good last year. The athletes are there. For A&M, it's about putting it together.
CL:
With all due respect, "really, really good" on defense in the Big 12 is entirely different than being "really, really good" in the SEC on defense. The more I watch this conference, the more it's ingrained in me that you're never going to win at a high level unless you can run the ball, stop the run and consistently win the turnover battle. Everything else is window dressing. I understand that's not exactly rocket science, but being able to run the ball creates a mindset that positively impacts your entire team. The same goes for playing good run defense.
So if I were offering any advice to the Aggies as they make the big jump, it would be to fortify their offensive backfield and recruit like crazy in the offensive and defensive lines. There's no such thing as too much depth in the SEC.
Having a little Texas flavor in the SEC is exciting. I know you're on record as saying the Aggies might struggle next season. But over time, I think they have what it takes to be an upper-echelon team in the SEC. Of course, that's the beauty of the SEC. So does everybody else in the league.
DU:
Oh, there's no respect due when we're talking Big 12 defenses. The best in the SEC are on another stratosphere from the best in the Big 12.
Your game plan sounds like what I'd recommend, but it's easier said than done. Like Mizzou, A&M will have to start mining some of those junior colleges down south like the rest of the SEC West.
Generally, I'd agree with you on A&M's long-term prospects. The Aggies will win less than they did in the Big 12 ... which is to say not much. But they could put it together and have a huge year every now and then. I don't see them surpassing Texas as a program, but they're on their own now.
For some Aggies, that's enough. Next year, the Aggies will struggle, but watching them grow and try to build a new program will be fascinating.
January, 19, 2012
1/19/12
11:16
AM CT
Hard as it is to believe, the start of spring practice for some teams isn't too far away.
In other words, the offseason is upon us, and we all know how important these next five or six months are to the development of any team.
Today, we'll unveil our offseason to-do lists for the newest SEC member.
TEXAS A&M
First-year head coach Kevin Sumlin will obviously want to put his stamp on the program, and just as pressing will be implementing his offense and making sure everybody understands it and is on the same page.
The Aggies need to find a replacement at quarterback for Ryan Tannehill, which likely means getting Jameill Showers ready. If it's not Showers, then maybe Johnny Manziel makes his move.
Something says Sumlin and the new staff will see to it that the Aggies' second-half issues from last season are also addressed.