Dallas Colleges:

LaColton Bester
May, 12, 2014
May 12
11:00
AM CT
Oklahoma won that Red River battle.
The NFL draft came and went last weekend without a player from University of Texas being taken
for the first time since 1937
. Meanwhile, OU had four Sooners selected on Saturday, including two fourth-round picks in
Jalen Saunders
and
Aaron Colvin
.
Here's a breakdown of the Sooners selected and how they could fit with their new teams.
WR Jalen Saunders, 4th round, N.Y. Jets
The fit:
The Jets should be a good fit for Saunders as they badly need guys who can change a game in one play. Expect him to help the Jets immediately on special teams.
Best-case scenario:
Saunders takes over as the punt returner and finds a role in the offense as a slot receiver to complement
Eric Decker
and
Stephen Hill
.
Worst-case scenario:
Questions about his size come to fruition as he's manhandled by bigger cornerbacks, or worse yet, the injury bug hits.
CB Aaron Colvin, 4th round, Jacksonville Jaguars
The fit:
It's probably not the best fit for Colvin to go to a franchise that has struggled for years. The Jaguars' probable on-field struggles could put a damper on a rookie season that will be spent on the sideline. That said, Jacksonville is trying to rebuild with young players and Colvin fits the bill.
Best-case scenario:
At the organization's request, Colvin takes his time rehabbing his ACL injury, which he suffered at the Senior Bowl in January, and returns to 100 percent before he gets on the field for the first time. Ideally, he could return late in his rookie season and get his feet wet down the home stretch.
Worst-case scenario:
Colvin has some type of setback that puts his 2015 season in question, particularly if it is sparked by any type of impatience from the organization.
LB Corey Nelson, 7th round, Denver Broncos
The fit:
The Broncos could end up with a steal in Nelson, who looked poised for a superb senior season before a pectoral injury. For Nelson, it's a good situation because he has to potential to fill multiple linebacker spots and help on special teams for a team that needs to fill roster spots as cheaply as possible after a high-spending offseason.
Best-case scenario:
Nelson becomes a staple on special teams while becoming someone the coaching staff thinks can help on defense in the future.
Worst-case scenario
: Nelson doesn't make the roster.
FB Trey Millard, 7th round, San Francisco 49ers
The fit:
Much like Colvin, Millard is coming off an ACL injury. But the 49ers are the perfect fit for Millard, who is physical and versatile and should become a useful piece in San Francisco's offense.
Best-case scenario:
Millard takes his time returning to 100 percent. Once he returns the field, he essentially becomes
Colin Kaepernick's
bodyguard in the backfield while becoming a key special team player.
Worst-case scenario:
Millard never returns to the player he was before an ACL injury ended his senior season.
Undrafted Sooners signees
S Gabe Lynn, Detroit Lions:
Lynn should get an opportunity on a Lions team in need of defensive backs.
C Gabe Ikard, Tennessee Titans:
Ikard's versatility could help him make the Titans roster, as he can play three spots in the interior.
WR Jaz Reynolds, Tennessee Titans:
If Reynolds can maximize his physical ability, he could earn a spot on the roster or practice squad.
G Bronson Irwin, Green Bay Packers:
Irwin, much like Ikard, could find himself on the Packers roster if he shows the versatility he did in crimson and cream.
RB Roy Finc, New England Patriots:
If Finch can show his big-play ability as a returner, his chances of sticking in New England increase.
RB Brennan Clay, Denver Broncos:
The Broncos are a solid fit for Clay, who was easily OU's most complete running back last season and could earn himself a spot on the roster by being dependable at running back and making an impact on special teams.
RB Damien Williams, Miami Dolphins:
The Dolphins have several young running backs who could make things tough on Williams, but he has NFL ability.
WR Lacoltan Bester, Houston Texans:
Bester will have to impress on special teams first if he hopes to make the roster.
January, 9, 2014
Jan 9
2:00
PM CT
Big plays changed the destiny of Oklahoma football in 2013. Without several key plays in key moments, the Sooner could have stumbled down the Big 12 standings. Instead, OU was a BCS bowl winner. Here are the top five plays of the 2013 season in terms of their impact on games and overall impact on how this season will be remembered:
[+] Enlarge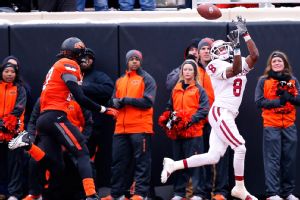 AP Photo/Sue OgrockiJalen Saunders made a number of clutch plays this season, but none bigger than his touchdown catch late against Oklahoma State.
1. Receiver Jalen Saunders' Bedlam touchdown.
This was the defining moment of the 2013 season for Oklahoma. No single play represents this season better than Saunders' seven-yard touchdown with 19 seconds remaining in the Sooners' 33-24 win over Oklahoma State on Dec. 7. The play capped an improbable game-winning drive and improbable Bedlam win which knocked OSU out of the Big 12 title hunt and thrust OU into the Sugar Bowl.
2. Defensive end Geneo Grissom's touchdown in the Sugar Bowl.
As Grissom dove toward the end zone, arm outstretched to score OU's final touchdown, Sooners fans erupted with the realization that OU was going to beat Alabama by double digits, 45-31. It was the best moment of the year for Sooner Nation and meant validation for Bob Stoops on many levels. And the actual play represented the foundation of OU's win, an opportunistic defense forcing four turnovers.
3. Linebacker Corey Nelson's touchdown at Notre Dame.
Nelson's 24-yard interception return for a touchdown was the first sign this could be a special year for Stoops' group. It got the Sooners off to a terrific start in their first road game of the season and sparked OU to the best nonconference win by a Big 12 team -- 35-21 over Notre Dame -- during the regular season. This play was also the first sign that linebacker
Eric Striker
was going to be a terror for opposing quarterbacks and a major playmaker for OU's defense this season.
4. Receiver Lacolton Bester's Sugar Bowl touchdown.
OU's first touchdown of the Sugar Bowl sent a message that the Sooners weren't going to back down against the Crimson Tide and weren't hesitant to place the game on the shoulders of redshirt freshman quarterback
Trevor Knight
. His perfect throw to Bester sent waves of confidence throughout the Sooners sidelines and OU rode that wave to a Sugar Bowl victory.
5. Cornerback Zack Sanchez interception return for touchdown against Kansas State.
Not only did it seal the Sooners' 41-31 road win, it is a good representation of the growth of the Sooners and how they turned that growth into on-field production. Sanchez had his struggles as a redshirt freshman but his competitiveness never wavered and his interception return against the Wildcats is an example of his development as a player. Several young Sooners, like Sanchez, grew a lot during the season and turned their development into on-field success as OU won three straight huge games against Kansas State, Oklahoma State and Alabama to end the season.
January, 7, 2014
Jan 7
12:00
PM CT
Here are the Big 12's unsung heroes during the bowl season:
Baylor defensive tackle Andrew Billings:
The Bears true freshman defensive tackle was active in the biggest game of his young career. He finished with 10 tackles including 0.5 tackle for loss in Baylor's 52-42 loss to UCF in the Tostitos Fiesta Bowl. Billings' three solo tackles led all Bears defensive linemen. If he continues to develop and has a jump in production as a sophomore, he could start becoming a force in the middle of Baylor's defense in 2014.
[+] Enlarge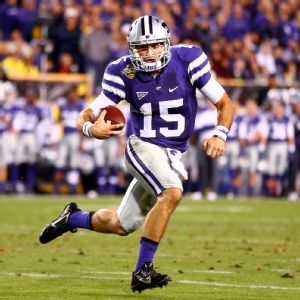 Mark J. Rebilas/USA TODAY SportsKansas State QB Jake Waters threw for 271 yards and three TDs in the bowl win over Michigan.
Kansas State quarterback Jake Waters:
The Wildcats signal caller was overshadowed by a stellar performance from
Tyler Lockett
(10 receptions, 116 yards, three touchdowns). But Waters was pretty good in his own right, particularly on third down. He finished with a 100 raw QBR (scale of 0-100 with 50 being average) on third-down plays during the Wildcats' 31-14 win over Michigan in the Buffalo Wild Wings Bowl. Waters was 4 of 7 for 44 yards and one touchdown and added three carries for 25 yards. He was the main reason KSU converted 7 of 11 third down attempts. Waters' strong play at the end of the year is one reason the Wildcats should be right in the mix to be crowned the Big 12 preseason favorite.
Oklahoma receiver Lacoltan Bester:
The senior had the quietest 100-yard receiving game of the bowl season. He finished with six receptions for 105 yards and one touchdown in OU's 45-31 win over Alabama in the Allstate Sugar Bowl. While fellow receivers
Sterling Shepard
and
Jalen Saunders
were combining for two touchdowns, Bester made the Crimson Tide pay whenever they focused too much on the Sooners' top two receivers.
Oklahoma State safety Daytawion Lowe:
The Cowboys fifth-year senior was all over the field in his final game. He finished with seven tackles and three pass breakups in OSU's 41-31 loss to Missouri in the AT&T Cotton Bowl. Lowe showed his versatility against the Tigers' running and passing game despite the loss.
Texas defensive end Cedric Reed:
The junior joined running back
Malcolm Brown
and defensive end
Jackson Jeffcoat
as one of the few bright spots in the Longhorns' 30-7 loss to Oregon in the Valero Alamo Bowl. Reed finished with four tackles, one sack and one forced fumble. If he decides to return for his senior season, he provides an exceptional foundation for Charlie Strong's first defense.
Texas Tech receiver Jakeem Grant:
Quarterback
Davis Webb
was the star of the National University Holiday Bowl leading the Red Raiders to a 37-23 win over Arizona State. But Grant, the sophomore dynamo, was a big play waiting to happen. He finished with 125 all-purpose yards, including six receptions for 89 yards and two touchdowns. Grant has unique speed and quickness and should be one of the Big 12's top playmakers in 2014.
January, 7, 2014
Jan 7
10:00
AM CT
Redshirt freshman quarterback
Trevor Knight
played the game of his career and the Sooners defense made key plays in key moments as Oklahoma knocked off Alabama 45-31 in the Allstate Sugar Bowl on Jan. 2. Here's a closer look, after a re-watch of the game, at five key plays that helped OU pull off the upset.
Safety Gabe Lynn's interception in the first quarter
The Sooners brought four pass rushers against Alabama quarterback
AJ McCarron
, who made a horrible decision, throwing into triple coverage despite not being pressured. The Crimson Tide had single coverage on every other receiver, making McCarron's decision even worse. He essentially threw the ball as if he didn't see that Lynn was sitting in center field to attack any deep throw.
Lynn, reading McCarron's eyes, made the easy interception. It was a key play for the Sooners as it came right after Knight threw an interception on OU's first possession, and it prevented the Crimson Tide from jumping out to a two-touchdown lead.
Knight's 45-yard touchdown to Lacoltan Bester in the first quarter
[+] Enlarge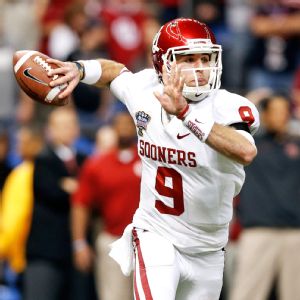 Derick E. Hingle/USA TODAY SportsTrevor Knight made several great throws in the upset of Alabama.
An exceptional play by everyone involved. Terrific protection from the offensive line, a great read and throw from Knight and superb athleticism from Bester to turn a 20-yard pass into a 45-yard touchdown.
It started with a play-action pass off a zone-read fake. OU only had two receivers running routes, with
Sterling Shepard
providing a safety net option after the fake. Without a perfect throw from Knight, this would not have been a touchdown. It was accurate with zip, allowing Bester to gather it in and turn upfield. Bester's stutter step provided just enough room to dive in for the score. The most underrated aspect of the touchdown was the confidence from Heupel to call a pass on the first offensive play after Knight's interception.
The fact coach Bob Stoops sought out Knight to congratulate him after the play speaks volumes about the importance of the touchdown. It was at that point the Sooners realized Knight had brought his "A" game and they would be able to take advantage of the Crimson Tide's focus on OU's ground attack.
Knight's 43-yard beauty to Jalen Saunders in the second quarter
Alabama defensive back
Deion Belue
gave Saunders' a 10-yard cushion before the snap, and still was beaten deep. This is where having NFL-caliber players on your roster pays off.
Play action helped get Saunders one-on-one against Belue, who bit on Saunders' double move. Knight delivered a perfect throw over the outside shoulder, where only Saunders could make a play on it. The senior receiver made a superb, over-the-shoulder catch while keeping one foot in bounds for the touchdown. Saunders' combination of quickness and acceleration was simply too much for Belue on the play.
Cornerback Zack Sanchez's interception
[+] Enlarge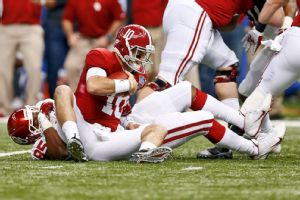 Derick E. Hingle/USA TODAY SportsThe Sooners were able to confuse AJ McCarron on occasion with their pass rush.
Defensive coordinator Mike Stoops deserves the credit for this one. Dime back
Kass Everett
and Lynn both blitzed on the play, but neither player appeared to be blitzing until six seconds remained on the play clock, and McCarron didn't have time to change the play. OU rushed seven defenders, leaving its secondary in one-on-one situations.
Everett, who was five yards behind the line of scrimmage when the ball was snapped, was in McCarron's face when the Bama quarterback threw the ball. Sanchez, knowing the blitz was on, jumped the hot route for the interception in front of
Amari Cooper
, who stopped his route for some reason. Alabama actually picked up the blitz well, but OU just brought too many defenders to block. Sanchez made a great play and Cooper didn't.
Geneo Grissom's touchdown to seal the game
Cyrus Kouandjio
is probably still waking up in the middle of the night from nightmares of trying to block Sooners linebacker
Eric Striker
. The sophomore blew past the All-SEC left tackle to force a fumble by McCarron that was scooped up by Grissom and returned eight yards for a touchdown.
The play is notable because it was a mirror representation of the key to OU's win. The Sooners were able to get pressure on McCarron while rushing four defenders. Striker got to McCarron less than three seconds after the snap and defensive end
Charles Tapper
, after a stunt, drove his man back into McCarron's face, preventing him from stepping up into the pocket to avoid Striker. Both players won their individual battles and the result was the game-sealing touchdown.
August, 9, 2013
8/09/13
1:03
PM CT
NORMAN, Okla. -- The ball floated toward the two competitors as they both battled for position to pluck it out of the air. Seconds later, Oklahoma receiver
Trey Metoyer
leaped over his teammate to pluck the ball from the sky with ease. It was a spectacular play during Metoyer's first spring game in Norman and one of the reasons he entered the 2012 season with plenty of preseason accolades.
In his first official game in a Sooners' uniform, Metoyer was in a similar situation and, again, outfought the defender to make the catch in the 2012 season opener against UTEP. But the would-be reception went down as an incompletion instead as Metoyer was out-of-bounds when he made the catch after not running his route with the precision required along the sidelines.
[+] Enlarge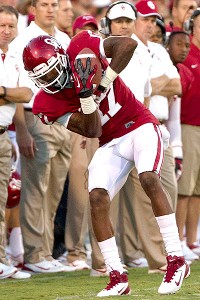 Richard Rowe/US PresswireSophomore wideout Trey Metoyer, who caught just 17 passes last season, could have a much bigger impact for the Sooners in 2013.
These are two drastically different examples of Metoyer's journey.
In his first 18 months at OU, the sophomore receiver starred during the spring of 2012, struggled during his true freshman season and heads into this season looking to help replace
Kenny Stills
and
Justin Brown
in OU's lineup.
"Success wasn't coming to him the way he wanted," receivers coach Jay Norvell said. "He was frustrated. He's used to playing well at a really high level. When you walk in that door [at OU], you better come in here expecting to come and play, or you're not really at the right place. That's the kind of mentality he had walking in the door and when he didn't have that kind of success, it was frustrating."
Metoyer entered the 2012 season as the Big 12's preseason newcomer of the year and started his first four games in crimson and cream. Then, after Fresno State transfer
Jalen Saunders
was cleared to play before the Texas game, Metoyer tumbled down the depth chart, finishing with just 17 receptions for 148 yards and a touchdown. Ten of those catches came before Saunders' was cleared in mid-October.
Yet, Saunders and Metoyer have become close friends, even spending time after practice during the spring to hone their skills. Saunders, a senior, has made a point to take the youngster under his wing.
"Last fall he was starting then kind of faded away from the offense," Saunders said. "It hurt him a little bit because he was expecting a lot of things. He was taking himself out of the picture because he had high expectations and was feeling bad about himself. This spring me and him sat down and talked a lot, I kind of took him under my wing like a younger brother. I treat him like my younger brother because I want him to be the best out there."
Heading into his second season in Norman, Metoyer is battling fellow sophomore
Durron Neal
, senior
Lacoltan Bester
and others to earn a starting spot at outside receiver for the Sooners. Metoyer's talent is readily apparent and his consistency is slowly starting to come to the forefront.
"I think it's coming together for Trey," Norvell said. "I think he understands our offense, I think he has been around our players and quarterbacks. He is getting to the point where he becomes more confident in what he's doing."
If Metoyer progresses to the point that Norvell considers him among the Sooners' most consistent receivers and puts him in the starting lineup, Big 12 defenses might have to take notice.
"He's going to be one of the best receivers, probably, to ever come through OU," cornerback
Cortez Johnson
said. "Trey Metoyer has the best hands on the team, that's why every play [during practice] I'm trying to go against him, trying to get myself better and get myself reps against an opponent like that."
As the projected starter at cornerback opposite
Aaron Colvin
for the Sooners, Johnson should know what Metoyer brings to the table. He has had several one-on-one battles with Metoyer during the spring, summer and early in preseason camp, resulting in his high praise for the Whitehouse, Texas, native.
"He runs good routes, he knows how to get in your cushion, open you up," Johnson said. "[He] has good footwork, great hands, he's just a great player. He has a lot to work on still, but he's going to be pretty good."
August, 30, 2012
8/30/12
9:30
AM CT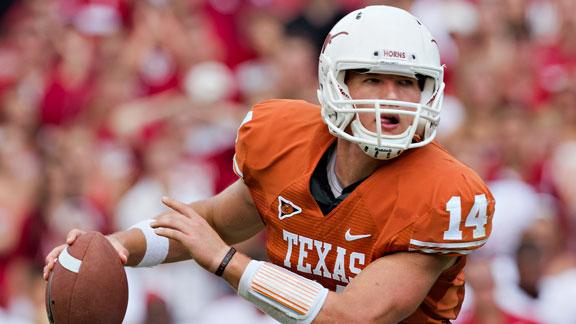 Here's what I'm keeping an eye on in the Big 12 openers this weekend:
1. Close calls.
It happens to somebody every weekend. You never know who, but some heavy favorite is going to get locked in a tight game. You can't really read into it too much later in the season, but you always know there's going to be drama somewhere when teams take the field after nine months off. Who's it going to be? Look out for unexpected excitement on Saturday.
[+] Enlarge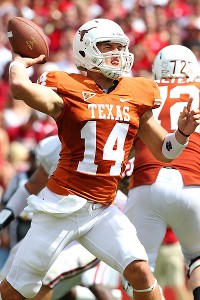 Matthew Emmons/US PresswireTexas will be counting on improvement from quarterback David Ash this season.
2. David Ash.
No single player has more power to reshape the Big 12 preseason landscape. He might look like a whole new quarterback this season, or he might show the same old mediocrity. The odds probably favor the latter, considering how little experience Ash had in practice before starting last season. How much better will he be?
3. West Virginia's offense.
The Mountaineers struggled with consistency last season, for those of you who didn't see WVU play a game last season before its Orange Bowl coming out party. For one, tune in to see how they look in Week 1. For two, I'm betting some of you have legitimately never seen
Geno Smith
,
Tavon Austin
or
Stedman Bailey
play before. Change that on Saturday. The Mountaineers are the only Big 12 game going at noon ET.
4. The youngest gun in the Big 12.
Wes Lunt
surprised a lot of folks when he beat out two older players to win the Oklahoma State quarterback job. He's got great running backs and should have some good targets. Few people have ever seen Lunt play in this offense. That changes this weekend.
5. Iowa State's quarterback(s).
Steele Jantz
has been named the starter, and he'll have a long leash, but how will he look? We didn't see much of him late in the season, and it's been a long time since this was really his team. It will be to start the season, but Iowa State's receivers need to help him out. Jantz needs to help himself out and control his turnovers, too. Nothing would put backup quarterback
Jared Barnett
on the field faster than turnovers.
6. Baylor's running back logjam.
This one should be interesting. There's no telling just yet what Baylor will do, but it hasn't used a real committee since 2009, when it didn't have Robert Griffin III. Since then, the Bears have had a pair of 1,200-yard rushers, and Terrance Ganaway won the Big 12 rushing title last season. Will
Lache Seastrunk
,
Jarred Salubi
and
Glasco Martin
form a committee? Or will a featured back emerge. Ganaway broke out in a big way last season against TCU.
7. Kansas' new faces.
I've got no idea what to think of Kansas this season. It's anybody's guess. Nobody's seen a complete overhaul this offseason like KU has. Charlie Weis saw a lot of work that needed to be done when he got to Lawrence and he did it. Big upgrades at quarterback and along the defensive line are the biggest change, but suspensions will keep running back
Darrian Miller
off the team forever, and
James Sims
for three games. What's Kansas look like? Here's guessing
Dayne Crist
holds the answer to that question.
8. Collin Klein's arm.
Klein put in a lot of work this offseason to progress as a passer, and threw for 480 yards and six scores in the spring game. That's about all we've seen of Kansas State this offseason, but that was against the Wildcats' second-team defense. That said, it was more than a third of Klein's production through the air in all of last season. How much better has he gotten this offseason? We'll get a preview this weekend.
9. Oklahoma's young receivers.
Kenny Stills
will be the only eligible receiver on Saturday night who has ever caught a pass in a Sooners uniform. Freshman
Trey Metoyer
and Penn State transfer
Justin Brown
will start alongside Stills, and we know they'll have a good quarterback in
Landry Jones
. owever, what can juco transfer LaColton Bester, and freshmen
Durron Neal
and
Sterling Shepard
do? Shepard has already drawn comparisons to Ryan Broyles.
10. Texas Tech's health and new defense.
Tech already lost one of its most talented special teamers in camp,
Aaron Fisher
, but can the rest of these guys finally stay in one piece? Art Kaufman has a new defense in place, and we'll get our first look at Eric Stephens on Saturday after a horrific knee injury ended his 2011 season.