Dallas Colleges:

LaQuan McGowan
March, 25, 2015
Mar 25
10:15
AM CT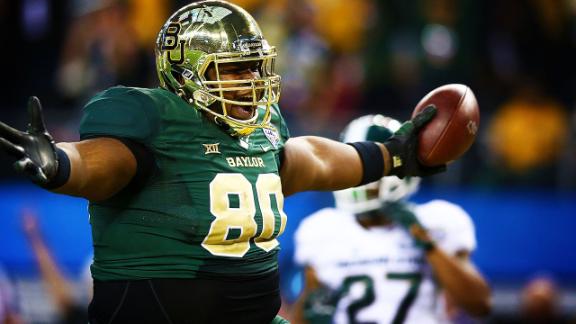 WACO, Texas -- Shortly after Baylor's "Friday Night Lights" scrimmage last week, LaQuan McGowan took in the photo capturing the second-biggest moment of his college football career.
The Bears' mammoth tight end had broken free down the seam of the field, snagged a pass and smashed through intrepid free safety Mallory Franklin, who dared to duck in his path.
"I'm 400 pounds," McGowan said. "Just doesn't seem fair or even."
Baylor inside linebacker Grant Campbell would agree.
During the first week of practice this spring, McGowan exploded off the line and met Campbell, who had sprinted right for him. Campbell later would explain that he wanted to see what would happen if he just hit McGowan as hard as he could.
"That wasn't the smartest idea," McGowan said.
The encounter left the 230-pound Campbell staring up at the sky, prompting coach Art Briles to summarily bar McGowan from anymore contact in practice.
[+] Enlarge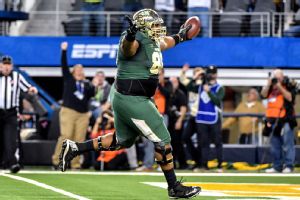 Cal Sport Media via AP ImagesLaQuan McGowan's big moment in the spotlight included this TD catch in last season's Cotton Bowl.
"It could have been really bad," McGowan said. "I have to watch how I hit people because it doesn't take much effort for me to knock someone over.
"But once the season starts, they're going to turn me loose again."
That's a frightening proposition for Baylor's 2015 opponents, who will have to deal with the unprecedented issue of matching up against a 6-foot-7, 410-pound tight end, who not only can decapitate defenders, but possesses the agility to run routes and has enormous, yet soft, hands.
"You can throw a ball as hard as you can at Quan, and he's going to catch it like this," said Baylor offensive coordinator Kendal Briles, picking up an iPhone case off his desk. "It's incredible."
Long before he hauled in a touchdown pass in the Cotton Bowl, McGowan had dazzled teammates in practice with a knack for snatching any ball tossed in his direction.
"He can catch passes one-handed, behind his back," said receiver KD Cannon. "He can do it all. His hands are so big. It's really fun to watch."
After watching McGowan warm up with the quarterbacks and receivers before every practice last season, Art Briles decided he wanted to install a play for the backup guard.
"That was Coach Briles' baby," Kendal Briles said of his father.
The Bears had planned to unleash McGowan in the regular-season finale against Kansas State, but never found the right moment.
But in their bowl game against Michigan State, McGowan's moment finally came.
Lining up to the left on the weak side of an unbalanced formation, McGowan looked up to see if any of the Spartans' defenders had noticed him. They hadn't.
"That's when I knew I had it," he said.
McGowan easily hauled in a 21-yard touchdown reception to deliver the most memorable highlight in a wild 42-41 loss chock-full of them.
If Baylor's spring scrimmage was any indication, many more pass-catching highlights could be on the way. But McGowan confessed he still watches the Cotton Bowl catch daily on YouTube, noting how it was a "proud moment" for him.
[+] Enlarge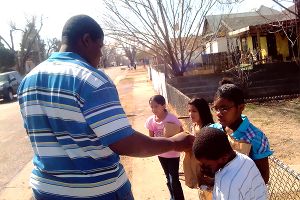 Courtesy of Cal Farley's Boys RanchWhile a student at Cal Farley's Boys Ranch, McGowan gave back one Spring Break by volunteering to deliver food to need-based areas.
"It opened doors for me," McGowan said of the play, which inspired his audition for tight end this spring.
That wasn't the first time, though, he has seen doors opened for him.
McGowan grew up in a rough Dallas neighborhood. So rough that his mother feared he might not ever make it out. When he was 11 years old, she enrolled him at the Cal Farley's Boys Ranch, a nonprofit school with about 250 students outside Amarillo, Texas, that takes in at-risk boys and girls.
"I remember first bumping into him in the dining hall line," said Mike Wilhelm, the school's chaplain. "I thought he was a junior in high school."
Being that big that young wasn't easy. McGowan kept mostly to himself at first. But sports eventually gave him an outlet.
Ironically, McGowan didn't enjoy contact initially, so he tried out for the cross country team his sophomore year.
"I did it for like two days," McGowan said. "Then I realized that was too much running."
Eventually, McGowan grew to love football. He starred for the basketball team, too.
The school, however, had difficulty finding basketball shoes for McGowan, who wore a Size 22 by the time he reached high school. Dan Adams, Cal Farley's president, tried everywhere, including the Dallas Mavericks, to find shoes that would fit. The Mavs couldn't help, either. But they put Adams in touch with the Phoenix Suns, who had the solution: Shaquille O'Neal wore the same size.
"This big box shows up in my office and it's two pair of Size 22 shoes from Shaq," Adams said. "LaQuan was just beaming."
McGowan doesn't know where he'd be now had he not gone to Cal Farley.
"I think one thing I always needed that I never had was a dad," McGowan said. "Every kid needs a father figure and the Boys Ranch kind of did that for me even though there were a bunch of different people there that filled that role."
Wilhelm and Adams were two of those men.
"LaQuan is a special person and it has nothing to do with his size," said Wilhelm, who recalled the time McGowan spent a spring break delivering food to kids who lived in a tough neighborhood in Amarillo. "He's a big man, but he has a big heart, too."
Through football, McGowan has given the Cal Farley kids another person to look up to.
"Even the younger kids who've never met him, they know LaQuan, they know about the Cotton Bowl catch," said Wilhelm, who's noticed a wave of green and gold attire surfacing on campus. "He's become a hero to a bunch of kids who have come here from all kinds of unfortunate backgrounds and needed a hero."
Another door is open for McGowan. Best of luck to anyone who tries to stop him.
March, 6, 2015
Mar 6
10:00
AM CT
Below are 10 bold predictions for the Big 12 this spring:
1. QB battles linger into the fall:
Tight quarterback competitions in Austin, Manhattan, Morgantown, Norman, Waco and even Lubbock and Lawrence emerge as dominant storylines. Baylor's
Seth Russell
, Texas Tech's
Patrick Mahomes
and Kansas State's
Joe Hubener
eventually are named starters before the summer. But the spring fails to bring resolution to the other battles, which all carry over into the fall.
[+] Enlarge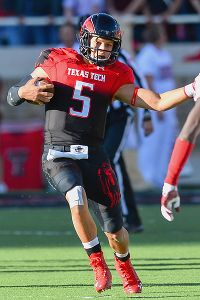 John Weast/Getty ImagesPatrick Mahomes will most likely have to compete for his role as the Red Raiders' starting quarterback.
2. TCU's defense struggles for a change:
Coach Gary Patterson's defenses perennially have been stout dating to his days as a coordinator in Fort Worth. But this spring, with several new starters in the secondary and at linebacker, a pair of new coordinators and facing off against one of the nation's most explosive passing offenses, the TCU defense takes its lumps. Ultimately, this makes the unit better prepared for the fall. But at times this spring, it's not pretty.
3. Joe Mixon steals the show in Norman:
Coach Bob Stoops has already said Mixon won't play in the Sooners' spring game -- the final punishment in his season-long suspension for punching a female student last year. But behind the scenes leading up to the open scrimmage, Mixon flashes the game-breaking ability that made him one of the top running back recruits in the country in 2014. After rushing for more than 1,700 yards as a true freshman last season,
Samaje Perine
remains the featured running back. But Mixon's talent prompts new coordinator Lincoln Riley to get creative about how to get Mixon on the field, including using him extensively in the slot.
4. Texas seeks grad transfer QB:
The spring delivers no great revelation to the quarterback position in Austin, prompting the Longhorns to heavily pursue a graduate transfer quarterback, à la
Everett Golson
or
Braxton Miller
.
Tyrone Swoopes
had his moments last season and redshirt freshman
Jerrod Heard
was highly recruited. But the Texas brass exits spring wondering if the long-term answer at quarterback has yet to step on campus. In the meantime, landing a difference-maker there in the short term becomes priority No. 1.
5. Baylor's LaQuan McGowan keeps scoring TDs:
In light of his nifty touchdown grab against Michigan State in the Goodyear Cotton Bowl Classic, Baylor
is experimenting with using
the 6-foot-7, 410-pound McGowan at tight end and H-back this spring. The experiment turns into a permanent position for McGowan, who caps the spring with another head-turning touchdown reception in Baylor's Friday Night Lights scrimmage.
6. Oklahoma State newcomer Todd Mays steps into the Tyreek Hill role:
Mays doesn't possess Hill's world-class speed. But having excelled playing running back, receiver and even quarterback last year for East Mississippi Community College, Mays' versatility proves to be a natural fit in the role Hill manned for the Cowboys in 2014 as a change-of-pace back, dangerous slot receiver and big-play returner.
7. Texas Tech's QB race is tighter than predicted:
Mahomes was spectacular for the Red Raiders down the stretch last season, intimating a two-man QB derby with
Davis Webb
would be a mere formality before Mahomes would be named the starter by spring's end. It's easy to forget, though, that Webb was terrific himself in Tech's 2013 bowl game before a turnover- and injury-plagued season sullied a potential encore campaign. Still, the Red Raiders were pumped about Webb this time last spring for a reason. And with Mahomes splitting time playing baseball -- he's missing Saturday's football workout
to travel with the baseball team
for a series at Cal State Fullerton -- Webb makes coach Kliff Kingsbury's decision much tougher than anyone anticipated.
8. Iowa State finds its featured back in Mike Warren:
Rising senior
DeVondrick Nealy
was set to become the Cyclones' starting running back in 2015, until he and coach Paul Rhoads stunningly parted ways in early February. After the spring, no one will be left lamenting Nealy's departure. Warren, who redshirted last season in Ames after rushing for more than 2,500 yards and averaging better than 9 yards per carry during his senior season at Lawton (Oklahoma) High School, emerges as the Cyclones' every-down back by the end of the spring, answering the biggest question for an offense that quietly has a chance to be very dangerous this season.
9. Kansas State, West Virginia exit spring with WR concerns:
No teams in college football were more decimated by graduation at receiver than K-State and West Virginia. The Wildcats and the Mountaineers between them graduated 359 receptions and 4,966 receiving yards in the forms of
Tyler Lockett
,
Curry Sexton
,
Kevin White
and
Mario Alford
. With quarterbacks
Jake Waters
and
Clint Trickett
gone, too, and without established go-to receivers, the passing games at both schools suffer this spring, leaving the receiver spot a huge question mark.
10. Baylor, TCU come out still on top:
Going into the offseason, TCU and Baylor looked like the clear-cut, top-two teams in the Big 12. Even with both teams carrying uncertainties -- Baylor at quarterback, TCU on defense -- the defending conference co-champs exit spring looking like the class of the league and are voted overwhelmingly to finish first and second in the Big 12 preseason polls in the summer.
January, 16, 2015
Jan 16
11:00
AM CT
Below, we recognize the best individual performances of the 2014-15 bowl season with our Big 12 all-bowl team:
OFFENSE
[+] Enlarge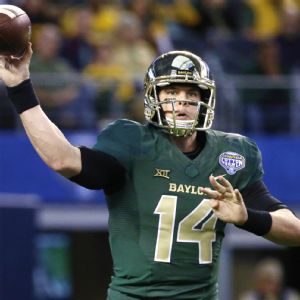 AP Photo/LM OteroBryce Petty had a huge game in his college finale.
QB: Bryce Petty, Baylor.
Petty didn't go out with a win, but he did go out with a monster performance, as he threw for a Goodyear Cotton Bowl Classic-record 550 yards and three touchdowns. He also ran for another score.
RB: Desmond Roland, Oklahoma State.
Roland ran for more than 100 yards for the first time all season and finished with 123 yards on 32 carries in Oklahoma State's TicketCity Cactus Bowl win.
RB: Samaje Perine, Oklahoma.
Perine was about the Sooners' only positive in the Russell Athletic Bowl. Playing on a bum ankle, he ran for 134 yards to finish his true freshman season with a Big 12-best 1,713 rushing yards.
WR: Tyler Lockett, Kansas State.
Lockett fueled a furious second-half comeback in the Valero Alamo Bowl with 164 receiving yards and two touchdowns. The rally came up short, but Lockett was fabulous in his final game at K-State.
WR: Kevin White, West Virginia.
White was unstoppable yet again in his last college game. He finished with 129 yards receiving and a touchdown in West Virginia's loss to Texas A&M in the AutoZone Liberty Bowl.
WR: K.D. Cannon, Baylor.
By hauling in eight caches for 197 yards and two touchdowns, Cannon became just the seventh receiver and first underclassman in Baylor history to finish with more than 1,000 yards receiving.
AP: Aaron Green, TCU.
Green ignited a 42-3 onslaught of Ole Miss in the Chick-fil-A Peach Bowl by hauling in a 31-yard pass on a trick play for TCU's first touchdown. He scored the Horned Frogs' second touchdown too and finished with 114 yards rushing and receiving.
OT: Halapoulivaati Vaitai, TCU:
With "Big V" locking up one of the edges, the Horned Frogs dominated the line of scrimmage and finished with 177 yards on the ground.
OG: LaQuan McGowan, Baylor.
The 400-pound backup guard delivered one of the most unforgettable plays of the bowl season, when he lined up as an eligible receiver then snagged an 18-yard touchdown pass to give Baylor a 20-point lead.
C: B.J. Finney, Kansas State.
With K-State struggling to protect quarterback
Jake Waters
through the first half, Finney swung from center to right tackle after halftime. The Wildcats had no trouble moving the ball the rest of the way.
OG: Brady Foltz, TCU:
Foltz had one of the best games of his TCU career as the Horned Frogs rolled up 423 total yards against Ole Miss' talented defense.
OT: Zach Crabtree, Oklahoma State.
Crabtree's return to the lineup late in the year helped stabilize the line. With Crabtree, the Cowboys controlled a Washington front seven that featured three All-Americans.
DEFENSE
DE: Ryan Mueller, Kansas State.
Mueller finished with seven tackles and produced a huge forced fumble of the Bruins in the third quarter that sparked K-State's rally.
DT: James Castleman, Oklahoma State.
Castleman's biggest contributions actually came on offense. In Oklahoma State's heavy set, Castleman rushed for a 1-yard touchdown, then late in the game hauled in a 48-yard yard reception off play-action that helped propel the Cowboys to victory.
DT: Malcom Brown, Texas.
Brown did what he could in a 31-7 loss to Arkansas in the Advocare V100 Texas Bowl by leading Texas with eight tackles, a tackle for loss and a pair of QB hurries.
DE: James McFarland, TCU.
McFarland essentially ended the game when he came up with an acrobatic, diving interception of
Bo Wallace
in the Ole Miss end zone that put the Frogs ahead 28-0 just before halftime.
LB: K.J. Dillon, West Virginia.
Dillon had a 35-yard interception return for a touchdown that gave West Virginia a 10-point lead over the Aggies and early command of the game. Neither the lead nor the command lasted, however.
LB: Marcus Mallet, TCU.
The Horned Frogs brutalized Ole Miss' offense, and Mallet was a big reason for that. He put up a game-high 10 tackles and forced and recovered a fumble, as the Rebels finished with just 9 yards rushing.
[+] Enlarge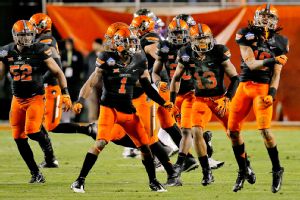 AP Photo/Rick ScuteriKevin Peterson (1) and the Oklahoma State defense made plenty of stops against Washington.
LB: Taylor Young, Baylor.
Young had a game-high 15 tackles and very nearly produced the game-clinching play. His 84-yard fourth-quarter interception return, however, was called back by a penalty.
CB: Kevin Peterson, Oklahoma State.
In addition to providing solid coverage all night, Peterson came up with the game-clinching interception of Washington in the final seconds.
CB: Ramon Richards, Oklahoma State.
The sure-tackling true freshman had perhaps the best performance in his young career and finished with six tackles, a tackle for loss and two pass breakups.
S: Karl Joseph, West Virginia.
Joseph led the Mountaineers with 10 tackles and delivered yet another devastating hit that resulted in a forced fumble.
S: Derrick Kindred, TCU.
Kindred picked off the Rebels in the first quarter and finished with five tackles and a tackle for loss as the TCU secondary swarmed Ole Miss' receivers all game.
SPECIAL TEAMS
K: Matthew McCrane, Kansas State.
McCrane nailed 47-yard and 29-yard field goals and nearly pulled off a remarkable onside kick using the "Rabona" soccer technique. Honorable mention honors here go to West Virginia's
Josh Lambert
, who broke the FBS season record with 39 made field goals.
P: Kip Smith, Oklahoma State.
Smith placed all four of his punts inside the Washington 20 to help the Cowboys control the field-position battle.
Returner: Mario Alford, West Virginia:
The electric Alford had two big kick returns, as well as a 45-yard touchdown reception off a quick pass in his final game as a Mountaineer.
January, 5, 2015
Jan 5
4:30
PM CT
Below, we break down the best and worst of the Big 12's bowl season:
Best win:
TCU proved it was in fact deserving of one of the four playoff spots, clobbering ninth-ranked Ole Miss in the Chick-fil-A Peach Bowl, 42-3. The Horned Frogs led 28-0 by halftime and 42-0 in the third quarter. No team was more impressive in its bowl game than TCU, which will return 10 offensive starters in 2015.
Worst loss:
Oklahoma's nightmare season ended appropriately, with a 40-6 loss to Clemson in the Russell Athletic Bowl. The 34-point margin tied for the second-worst defeat of the Bob Stoops era. It got so bad that ESPN announcer Ed Cunningham called for a running clock in the second half. Oklahoma's season began with national championship aspirations. It ended in embarrassment.
[+] Enlarge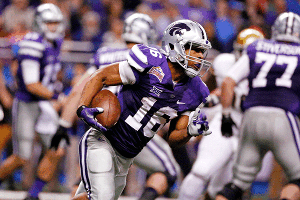 Soobum Im/USA TODAY SportsKansas State's Tyler Lockett shined in the Valero Alamo Bowl with a 13-catch performance.
Best offensive performance:
In a 40-35 loss to UCLA in the Valero Alamo Bowl, Kansas State wideout
Tyler Lockett
tied a bow on one of the finest careers in Big 12 history. He hauled in 13 catches for 163 yards and two touchdowns, as K-State nearly came all the way back from a 31-6 halftime deficit. Lockett also had a 41-yard punt return, as well as another touchdown return that was called back on a penalty. Like virtually everyone else he faced this year, the Bruins had no answer for Lockett.
Best defensive performance:
TCU obliterated the Ole Miss offense, and senior linebacker
Marcus Mallet
headed the effort with 10 tackles, a sack and a forced fumble and recovery. The Rebels were held to 9 yards rushing in the biggest margin of victory in Peach Bowl history. Mallet and the Horned Frogs were dominant.
Best special-teams performance:
K-State kicker
Matthew McCrane
capped off a fabulous freshman year by nailing both of his field goal attempts against UCLA, including a 47-yarder. He also very nearly pulled off a dazzling onside kick,
using the Rabona technique to throw off the UCLA hands team
. The Wildcats couldn't recover. But McCrane finished the season converting 18 of 19 field goal attempts.
Worst play:
Baylor's fourth quarter in the 42-41 Goodyear Cotton Bowl Classic loss to Michigan State was full of bad plays. But the worst came near the end when Baylor lined up for a 43-yard field goal attempt that would have clinched the game. Instead, the Spartans blocked the kick,
R.J. Williamson
scooped up the loose ball and
Tony Lippett
annihilated kicker
Chris Callahan
to clear a path, all of which set up Michigan State's game-winning touchdown drive.
Best plays:
The Big 12 struggled to win bowl games this year, but excelled at getting big men the ball in space. On its opening possession in the TicketCity Catcus Bowl, Oklahoma State lined up 300-pound defensive tackle
James Castleman
in the backfield. Castleman took the direct snap and
rumbled 1 yard for a touchdown
. That, though, was just a precursor. Late in the fourth quarter, the Cowboys needed a third-down conversion to keep the clock running. They put Castleman at fullback and ran him into the flat off play-action. Castleman
hauled in the pass
, turned up field, smashed his way through a pair of Washington defenders, then dragged another for a 48-yard gain. Castleman's performance overshadowed 400-pound Baylor offensive guard
LaQuan McGowan
, who
hauled in an 18-yard touchdown reception
to give the Bears a 20-point leading heading into the fourth quarter.
Best catch:
True freshman wideout
James Washington
helped ignite Oklahoma State's fast start in Tempe with a
one-handed, 28-yard touchdown stab
off a post route. Washington had a terrific debut season for the Pokes with 46 receptions and six touchdowns. Expect to hear (Mason) Rudolph-to-Washington plenty in the coming years.
Worst performance on a sideline:
This ignominious honor goes to Texas A&M student assistant coach Michael Richardson, who struck a pair of West Virginia players on the Aggies' sideline. Richardson punched West Virginia cornerback
Daryl Worley
in the back of the head, then elbowed running back
Andrew Buie
in another incident. He was fired after the game.
Best bounce-back performance:
K-State played its worst ball of the season in the first half in San Antonio, allowing UCLA to jump to a commanding 31-6 lead. But the Wildcats didn't quit, and fought their way back into the game with four touchdowns on five second-half possessions. It wasn't quite enough. But K-State turned what could have been a humiliating defeat into a thrilling finish.
Worst disappearing act:
The Oklahoma and Texas offenses completely no-showed in their bowl games. In the AdvoCare V100 Texas Bowl, the Longhorns gained just 59 total yards in a 31-7 loss to Arkansas. The Sooners didn't fare much better. Oklahoma turned the ball over five times and failed to convert a third down until the fourth quarter, when it trailed 40-0.
Best quote:
"I don't think I have to say anything." -- TCU coach Gary Patterson, when asked if the Horned Frogs' 42-3 win over Ole Miss was a statement to the College Football Playoff selection committee.
Worst example of class:
UCLA coach Jim Mora Jr., who brushed aside K-State coach Bill Snyder as the two went to shake hands at midfield. Mora, who was upset about a K-State defender trying to crash through UCLA's victory formation, found out the hard way Snyder is the wrong person to snub. He tried to defend his actions on Twitter, but after a monsoon filled his mentions, Mora deleted his account.
Best example of class:
TCU safety
Sam Carter
donated his entire Peach Bowl gift stash to the kids admitted at Atlanta's Egleston Children's Hospital.
January, 2, 2015
Jan 2
8:30
AM CT
No. 8 Michigan State stole a page from Baylor's book on Thursday: a furious 20-point, fourth-quarter comeback for a stunning
42-41 victory
in the Goodyear Cotton Bowl Classic in Arlington, Texas. Three things that stood out about the No. 5 Bears and their last-minute loss:
1. That was crazy.
According to ESPN Stats & Info, Baylor's odds of winning right before
Chris Callahan
lined up for his soon-to-be-blocked field goal attempt were 99 percent. This one was in the bag, even after a bunch of fourth-quarter craziness. The events that came next --
Connor Cook
driving and scoring in the final 20 seconds,
Bryce Petty
's sacks and interception to seal the deal -- were a series of intense, high-pressure moments that few could've expected. The Bears were cruising to victory ... until they weren't. There are a bunch of reasons Baylor fell apart, but stop for a moment and appreciate this was truly a fun and wild game with one of the most memorable finishes of this bowl season.
2. Penalties the problem once again.
Andrew Billings
' block in the back on the
Taylor Young
pick-six might've been the turning point on Thursday.
Corey Coleman
's offensive facemask penalty as he closed in on the goal line was costly, too, as was the false start right after it. This Baylor team led the nation in penalties at nearly 10 per game and paid dearly for that flaw. Since the start of the 2012 season no program has been penalized more than BU, and don't forget the 17 flags in the Fiesta Bowl loss to UCF. Baylor has won a ton of games despite the longstanding issue, but it'll be interesting to see how Art Briles elects to address that weakness in the offseason.
3. Kendal Briles impresses in debut.
The heartbreaking finish will stick with Baylor fans for a while, but so should the first impression their newly promoted offensive coordinator made. Under his guidance, Petty threw for a career-best 550 yards and three scores in his final game as a Bear. The way Briles mixed in deep shots and trickery --
Jay Lee
's double pass for a TD, big man
LaQuan McGowan
's big score -- with confidence deserves praise. The fact Baylor's backs gained just 22 yards on 14 carries is a testament to how stacked Michigan State's front was, but the head coach's son responded well with his plan and managed to give outgoing Michigan State DC Pat Narduzzi fits at times. The passing of the baton to Briles was a smooth transition with some exciting results.
August, 12, 2014
8/12/14
4:00
PM CT
WACO, Texas -- Two years ago, Baylor's backup quarterback rounded up the starting offensive linemen in the preseason and took them to Chuy's for a Mexican feast on his dime. He wasn't playing in 2012, but he understood the importance of keeping the big boys well fed.
Last August,
Bryce Petty
took the gang to Olive Garden. This time he brought six linemen. They capitalized on his kindness.
"They had appetizers and salads and two entrees -- one to take home, which was ridiculous," Petty said. "I didn't think they needed that, but I couldn't really tell them no."
[+] Enlarge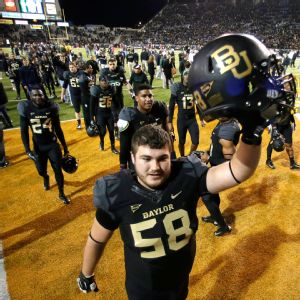 AP Photo/Tony GutierrezJunior tackle Spencer Drango is one of the leaders of the Baylor offensive line.
The final bill? More than $120. Petty would love to make these lineman dinners a weekly staple in 2014, but as he put it, "The budget doesn't really call for that all the time."
Tackle
Troy Baker
got the Olive Garden invite despite being out with a torn ACL, so he was especially appreciative. The love Petty has always shown his linemen, even before he was a starter or Big 12 Player of the Year, isn't lost on them.
"He's going to take care of his big guys. He knows we'll get beat up and we'll work for him," Baker said. "He knows what we mean to him. We know how important he is to us."
But Petty still has to tread lightly among his linemen in the locker room. Baylor's offensive line room is full of athletic freaks, blue-collar grinders and loudmouths, plus a Brit and two Aussies. And they can be merciless, even to QB1.
"Sometimes he'll come in wearing his decked-out Nike stuff, looking like Tiger, or he'll be wearing neon yellow Nike stuff head to toe," Baker said. "We'll give him some crap about that."
Petty doesn't get it as bad as
Jason Osei
, the 27-year-old sophomore from London with a martial arts and rugby background. He gets called "Pickle" on the days he's wearing his green skull cap, shirt, shorts and shoes.
"He's a character, man," tackle
Spencer Drango
said. "All the girls love him for his accent. It's pretty thick. We have a joke about who won the Revolutionary War. He says it was a tie."
Then you have brothers
Blake Muir
and
Sean Muir
, who arrived in Waco last year. Blake started 12 games at Hawaii in 2012 before transferring. Sean had never played football before joining the Bears. Their accents are just as beloved.
Blake is competing for the left guard job with
LaQuan McGowan
, a young man who might be from the future.
"LaQuan is legitimately 6-foot-8, 400 pounds," Baker said. "He's strong as can be. Coach [Art] Briles always says he's 20 years out of his time. It's unbelievable physically what he can do.
"You can't do anything to him. You literally can't. He can cut you in line and, even as another offensive lineman, you're like, 'Go ahead, buddy. It's yours. All you.'"
Drango jokes that the first time he shook hands with McGowan, his freshman-year roommate, he almost lost his.
"I have big hands," Drango said. "He completely dwarfed my hand and almost crushed it."
McGowan or Muir will line up to the right of Drango, an All-Big 12 tackle and NFL prospect who's fully recovered from the back injury that ended his 2013 season early. His backup,
Pat Colbert
, is known as "Sinbad" in the locker room. Look up his
mug shot
and it's easy to see why.
At center, there's
Kyle Fuller
, a redshirt sophomore who's described as no-nonsense and "very blue-collar" by teammates.
Desmine Hilliard
is the starting right guard and also an All-American at throwing the discus; he set school records at the NCAA track and field championships last year.
The backup at right tackle,
Tyler Edwards
, gets called "The Undertaker"
for his hair
. And then you have Baker, who's back from the torn ACL and can't wait to see what this group does at full strength.
[+] Enlarge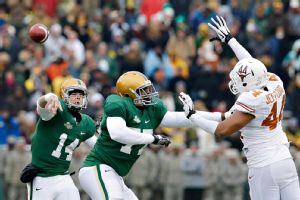 AP Photo/LM OteroBryce Petty knows his success is tied to staying upright, and he has a top-notch offensive line upon whom to rely.
As one of the old guys in the line room, Baker says he has witnessed an evolution in the past four years. The Waco native swears he wouldn't have been recruited by BU if he were a high schooler today. He wouldn't have been good enough.
"To be honest, I don't think I would," the former three-star recruit said. "They don't have to. They can recruit the studs, and the studs come after them now."
Randy Clements, Baylor's line coach, has been working alongside Briles since 1989. He oversaw linemen and power lifting back in their Stephenville High days. His linemen say he's brilliant, a coach capable of developing anybody. At Baylor, he's produced an NFL draft pick in six straight years.
The line began breaking through, in Baker's estimation, late in the 2012 season. Injuries hit the group hard last year during the stretch run, but they plugged in new starters and survived. Having All-American left guard Cyril Richardson to learn from no doubt helped.
"We had a perfect example," Baker said. "His technique was flawless and that's why he was so successful. He was able to do everything Coach Clem asked."
As Clements' linemen describe it, fall camp can be brutal. This 19-man line group averages 6-5 and 305 pounds. In practice, they run just as hard as everyone else to prep for hustling to the line of scrimmage. You can't sustain a four-plays-per-minute tempo without practicing faster than you play.
And while Petty, his trio of running backs and his endless supply of receivers get all the attention, his offensive linemen will be busy doing the dirty work.
Drango and Baker, the leaders of the gang, were stuck on the sidelines when Baylor's undefeated season fell apart at Oklahoma State. They know the run game faltered late, averaging 168 yards per game and 3.7 per carry in the final four games after putting up 300 a game and 6.0 per carry in the first nine. The seniors vow it can't happen again.
"We go as they go. I've always said that," Petty said. "I'm just praying those guys stay healthy."
His linemen are practicing and conditioning this month with December on their minds. Sure, they love to mess with each other and tease their quarterback in their spare time. But when it comes to title talk, they're not joking around.
"As we get closer to November," Baker said, "we plan on being in contention for the playoff."
May, 1, 2014
5/01/14
11:00
AM CT
A recap of what we learned about Baylor this spring as the program prepares to defend its Big 12 conference title.
Three things we learned in the spring
:

1.
The nation's No. 1 offense is ready to reload. There's no replacing guys such
Lache Seastrunk
and
Tevin Reese
, but
Bryce Petty
is fired up about the new weapons he gets to work with. RB
Johnny Jefferson
, TE
Tre'Von Armstead
and WRs
Corey Coleman
,
Robbie Rhodes
and
Jay Lee
were a few of the many who stepped up this spring.
2.
Art Briles loves this defensive line. The Baylor coach says he'll put his D-line up against any in the nation, and with good reason. Even after losing some key seniors, a unit that features ends
Shawn Oakman
and
Jamal Palmer
, tackles
Andrew Billings
,
Beau Blackshear
,
Byron Bonds
and the versatile
Javonte Magee
should frustrate opposing offenses.
3.
A historic season ending in heartbreak left the Bears with plenty of motivation this spring. The Tostitos Fiesta Bowl loss to UCF left a sting that troubled Baylor's players and coaches in the winter, and there's a stronger sense that there's unfinished business entering 2014.
Three questions for the fall:
1.
Can Baylor's defense play up to the level of its stellar 2013 unit? DC Phil Bennett is optimistic about the caliber of his new starters, and the depth that BU's strength program is fortifying. But you can't just assume the new guys will immediately match the quality play of
Ahmad Dixon
,
Eddie Lackey
,
Sam Holl
and so many other departed starters.
2.
How will the Bears' offensive line hold up? Losing left tackle
Spencer Drango
midseason was a major blow to this group last season, and while he's back, All-America guard
Cyril Richardson
was one of three senior starters who graduated. Baylor needs
LaQuan McGowan
,
Kyle Fuller
and several others to step up.
3.
What can the newcomers bring to the table? Briles brags that he signed the best wide receiver class in the country, but it's not as if Baylor needed much help at that position. You know the junior college additions will play early on, but what can the rest of the Bears' incoming class contribute?
One way-too-early prediction:
Calling Baylor a lock for a top-10 spot in the polls requires a lot of confidence in a defense that must replace 10 seniors on the two-deep, but the staff believes its talent evaluation and development will pay off big in 2014. But the Petty-led offense is absolutely loaded, and the Bears' sights should be squarely set on fighting for a playoff bid.