Dallas Colleges:

LeBryan Nash
March, 21, 2014
Mar 21
9:54
PM CT
SAN DIEGO -- In a matter of months, it all crumbled. More like the brick exterior of an old church than a cookie. A gradual but obvious decline.
Marcus Smart
returned to
Oklahoma State
to rid his program of the lingering stench that arose in the weeks that followed last season's opening-round loss to Oregon in the NCAA tournament. He wanted to refine his skills in hopes of securing a lengthier future in the NBA, too.
But Smart had the chance to take a top-three slot in the draft a year ago. He came back to help his teammates -- his brothers -- make a run in March. To pursue a national championship.
[+] Enlarge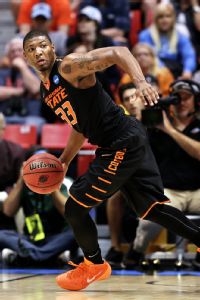 AP Photo/Gregory BullOklahoma State guard Marcus Smart, who scored 23 points and grabbed 13 rebounds vs. Gonzaga, is likely headed for the 2014 NBA draft.
And he could see that opportunity evaporating against No. 8 seed
Gonzaga
on Friday afternoon. But he couldn't plug the leak.
Seconds later, it was over. And then, Smart walked off the court.
"It's very difficult," said Smart, who finished with 23 points, 13 rebounds, 7 assists, 6 steals and 1 block. "This team has been through a lot this season, a lot of downs and a lot of ups, and it's especially difficult for me --
Markel [Brown]
being a senior -- words can't explain it right now."
It was likely Smart's last collegiate game, as most expect him to turn pro. He refused to discuss his future in detail after the game, but he suggested that the loss wouldn't change that plan.
But the game, an
85-77 loss
for No. 9 seed Oklahoma State, was also the conclusion of a bizarre season for the program. The Pokes entered the season tied with Syracuse in eighth place in the Associated Press Top 25 preseason poll.
That position seemed solid. With Smart, Brown and
Le'Bryan Nash
anchoring the team, Oklahoma State had the look of a Big 12 and national title contender.
From there, calamity ensued. Big man
Michael Cobbins
suffered a season-ending injury in late December. In early February,
Stevie Clark
was dismissed by coach Travis Ford following an arrest. Smart
shoved a Texas Tech fan
shortly after that and earned a three-game suspension and national scrutiny. Plus, the team endured a seven-game losing streak.
And it was over, it seemed.
But somehow, the Pokes fought back and became just the second team since 1985 to secure an at-large berth in the NCAA tournament after suffering a seven-game losing streak, according to ESPN Stats & Info. And that's notable, considering their challenges.
"In a sense, you could say that because 64 teams make it to this point and to be considered one of those teams is always an accomplishment, to be a part of this tournament," said Brown, who finished with 20 points. "We fell short of our goals, but it's always a positive when you get into the NCAA tournament."
They could not escape their past in San Diego, though. Without Cobbins, the Cowboys were futile in their attempt to contain 7-foot-1 big man
Przemek Karnowski
(15 points, 10 rebounds). They couldn't stop
Gary Bell Jr.
(17 points) or
Kevin Pangos
(26 points, 12-for-14 from the charity stripe), either.
Smart played 38 minutes even though he picked up four fouls. Nash, the team's best threat inside, played just 17 minutes due to foul trouble.
[+] Enlarge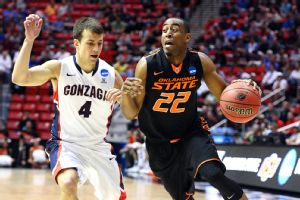 Christopher Hanewinckel/USA TODAY SportsIn his final game for the Cowboys, senior Markel Brown scored 20 points.
The Cowboys weren't big enough, deep enough or strong enough to stop a Gonzaga squad that shot 9-for-18 beyond the arc. Coach Mark Few's program is 6-0 now against the Cowboys and will advance to face No. 1 seed Arizona Sunday at Viejas Arena.
The postgame news conference for the Cowboys felt like a funeral. Brown fought off tears from the podium.
Phil Forte III
buried his head in his hands.
Coaches, team officials and trainers stood along the concrete wall outside the locker room in silence.
But Smart told the press that he had no regrets about returning for his sophomore season. A day earlier, he'd discussed the bond that developed within the team as it endured the drama. And even though Oklahoma State fell short of its dreams, Smart said he was proud of its effort Friday and throughout the season.
"I definitely think I left it all out there," Smart said. "This team left it all out there."
And that's not debatable. Oklahoma State's determination cannot be questioned.
But the season will end in mystery. The Cowboys left it out there, but how much more would they have left right now if everything had come together instead of fallen apart midway through the season?
We'll never know because it's over.
February, 3, 2014
Feb 3
2:50
PM CT
There are plenty of things to ponder in the wake of
Stevie Clark
's dismissal from the Oklahoma State basketball team.
Top of the list is why Clark would think that urinating out of a moving vehicle was a good idea. Outraging public decency, the violation cited in his arrest, sounds about right for this one.
Second is why Clark, who also was arrested in January for a seatbelt violation and then offered the added bonus of having marijuana in his car, would so much as jaywalk.
But Clark's combination of stupidity and immaturity is the least of coach Travis Ford's problems. (Officially, now that Ford made the easy decision and booted Clark off the team.)
[+] Enlarge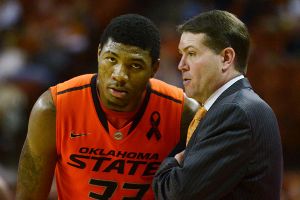 Brendan Maloney/USA TODAY SportsMarcus Smart and Travis Ford are running out of time to right the ship and now have a further depleted roster.
In five years in Stillwater, Ford has three NCAA tournament berths but has never gotten the Pokes out of the first weekend. That was supposed to change this year. After
Marcus Smart
defied conventional wisdom and opted to return for his sophomore season, Oklahoma State was picked to share the Big 12 title with Kansas.
Instead, here we are. The Cowboys have dropped three of their past four to fall to 4-4 in the league. They have just one conference win (Texas) with any meat on the bone and are a long way from sharing much of anything with Kansas.
Some of this is just bad luck. Michael Cobbins' Achilles injury has devastated the Cowboys' inside game, and while
Le'Bryan Nash
and
Kamari Murphy
have tried to help inside, they can only do so much.
But some of it is self-inflicted, too.
Clark probably should have been booted in January. That was his second arrest since coming to Oklahoma State, and blown second chances are usually the sign of a pattern instead of the road to penitence.
Now his lack of concern for his team and his apparent disregard for his Bible studies -- according to a recent Oklahoman story, Clark was meeting daily with his mother, to prevent, in his mother's words, the devil a chance "to get in and get busy" -- have left the Cowboys even more depleted on the bench. Oklahoma State went only seven-deep with Clark on the roster.
And then there is the elephant in the room that no one wants to talk about. That would be Smart. The onetime lock for national player of the year isn't even in the conversation right now. He's in a woeful shooting slump (13-of-53 in his past four games) and has been relatively ineffective in the entire Big 12 season, shooting only 34 percent in eight games.
Worse, he's acted less and less like the leader the Cowboys desperately need. A helpless chair took the brunt of his frustrations amid a lousy shooting night against West Virginia, and when people talk at all about Smart these days, it's usually more about his flopping than his play.
If Oklahoma State is to salvage this season, it has to start with Smart playing smart and acting a whole lot smarter.
The Cowboys are at the strange time of the season when there is plenty of time to fix what's wrong but time also is quickly flying by. We are a little more than a month away from the end of the regular season, six weeks from Selection Sunday.
What ails the Cowboys isn't easy to fix, especially in the Big 12, but Oklahoma State had better start searching for some answers before a season that started with such promise ends in a heap of a mess.
January, 27, 2014
Jan 27
11:00
AM CT
Just for kicks, let's start with a quiz: Is Oklahoma State a better offensive or defensive team?
Last season, the answer was obvious: The Cowboys were defined by their defense. Nowhere was the impact of
Marcus Smart
's arrival felt more acutely. In the matter of one season, Oklahoma State went from allowing nearly a point per possession to 0.90. The offense got better, but the gains were fractional compared to how Oklahoma State guarded.
This season, things are not so simple. Overall, Oklahoma State's year-over-year efficiency leap on offense rivals 2012-13's defensive jump. Meanwhile, the Cowboys' defense gives up 0.95 points per trip (adjusted, per
kenpom.com
) -- still very good, but a slight upward tick from last season.
[+] Enlarge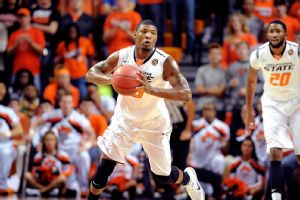 AP Photo/Brody SchmidtExpect Marcus Smart and Oklahoma State to push the pace against another team that likes to run, Oklahoma.
But! Since the start of Big 12 play, the Cowboys have played the league's tightest defense and rank a mere fourth in points per possession on offense. Some of that has to do with having nearly a fourth of their shots blocked by
Joel Embiid
at Kansas, but still. Confusing, right? If you asked the opening question to a Magic 8 Ball, it would tell you to concentrate and try again.
Fortunately, one Cowboys trait has remained consistent all season: speed. Also fortunately, it's one that Oklahoma happens to share and one that all but guarantees another gripping, up-and-down Big 12 affair Monday night in Norman, Okla. Because, believe it or not, Oklahoma and Oklahoma State are more alike than different.
The Cowboys average a healthy 70.8 possessions per game. This season, Ken Pomeroy introduced possession length data into his team reports, which provides a fine-grained look at exactly how fast teams are on both ends of the floor. Oklahoma State wants to score in a hurry: It averages just 15.5 seconds per offensive possession, the 15th-shortest average in the country.
This all makes sense: Oklahoma State has Smart pushing the ball and
Le'Bryan Nash
,
Markel Brown
and
Phil Forte
filling in on the wings. Of course it wants to run. It also wants to slow opposing offenses down: Oklahoma State opponents take 18.3 seconds (rank: 272) to fully deliberate the best course of action. It is this ability to dictate games -- to push the pace on offense and then force a struggle on the return serve -- that makes playing Oklahoma State so challenging in the first place.
Meanwhile, in Norman, the Sooners' success has been one of the surprises of the season. But it pales in comparison to the how. Lon Kruger's reputation for smart, solid basketball teams -- teams that don't hurt themselves with mistakes -- was well earned at UNLV, where Kruger's teams rarely ranked above average in matters of pace.
His first two teams at Oklahoma largely followed that script. This season, the Sooners are positively run-and-gun. They average 72.9 possessions per contest and 1.17 points per trip, and they dispose of those possessions even faster than State -- in just 15.0 seconds, 10th fastest in college basketball. Much like the Cowboys, the Sooners also seek to delay opponents in defensive transition but they're not nearly as good at it, which is among the reasons their defense is giving up 1.07 points per possession in Big 12 play.
That's where the similarities stop. Both teams will be happy to play a fast-paced game. Both teams will look to score in transition and secondary breaks. Both teams will try to do that, all while halting the other. Thus far, though, there is no confusion about what Oklahoma is. It has to outscore you to beat you. Oklahoma State has more than one tool in its box -- and the best two-way point guard in the country to wield them.
January, 17, 2014
Jan 17
9:00
AM CT
Kansas has lost exactly twice in the past 46 games at Allen Fieldhouse, so the Jayhawks and their dedicated fan base tend to remember the L's.
Follow up a road win at the Phog with a celebratory backflip and you're certain to never be forgotten.
Follow up a road win at the Phog and celebratory backflip with a shot over the bow directed at Kansas' stud freshman?
Welcome to infamy,
Marcus Smart
.


The Jayhawks were in need of someone new to hate after Missouri ditched them for the SEC. Thanks to Smart's perfect 10 and preseason suggestion that perhaps
Andrew Wiggins
play a game before being considered the greatest college basketball player of all time, Oklahoma State has at least temporarily filled the void.
To which we say, thank you, Mr. Smart.
The truth is, the Oklahoma State sophomore was merely doing what kids do when he turned his flip, and as for his preseason "knock" against Wiggins, he was just speaking the truth. The kid had to prove it.
But there is nothing like a little vitriol, contrived or not, to make a game more fun.
And Allen Fieldhouse will be a whole lot of fun Saturday for the 4 p.m. ET tipoff.
This game lost a little bit of its luster early, as Kansas' record got a little sideways through growing pains and Oklahoma State regrouped after losing
Michael Cobbins
. But everything seems back in order.
The Big 12 right now is the best conference in the country, and with apologies to Iowa State, these are the top teams in that league.
Once dogged by questions of what ails them, the Jayhawks are hitting their stride. They have won three in a row, including an absolute drubbing of Kansas State and on the road at Iowa State. Wiggins, who was doing too much alone early in the season, now has plenty of help, much of it coming in the form of fellow lottery pick
Joel Embiid
.
Meanwhile, the Cowboys have a three-game tear of their own to claim, with Smart averaging 22 over that span.
Aside from the sideshow shenanigans, what makes this game intriguing is that one team's weakness is really the other's strength. Kansas' biggest attribute is its frontcourt, Oklahoma State's the backcourt.
Naadir Tharpe
has to find a way to stop Smart from driving the ball while the Cowboys, sans Cobbins, need
Le'Bryan Nash
and
Kamari Murphy
to somehow contain Wiggins, Embiid and
Perry Ellis
.
And then there is the X factor: Allen Fieldhouse, where Oklahoma State knows it can win and Kansas remembers ...
January, 3, 2014
Jan 3
9:30
AM CT
Oklahoma State enters its Big 12 opener at Kansas State on Saturday trapped in drama created by a few recent developments.

On Tuesday, Travis Ford's program announced that center and top shot-blocker
Michael Cobbins
will miss
the rest of the season due to an Achilles injury
. On Wednesday, backup point guard
Stevie Clark
was arrested
for marijuana possession
.
ESPN analyst Fran Fraschilla recently tweeted that a college coach's greatest role is "crisis management coordinator." Oklahoma State's situation seems to back that statement, although Ford's predicament is not necessarily a "crisis" at this point. Plus, he still has one of the best players in the game --
Marcus Smart
-- leading his squad. And Smart's teammates
Le'Bryan Nash
and
Markel Brown
are both elite talents.
But Cobbins was significant for a team that is currently 17th in adjusted defensive efficiency per Ken Pomeroy. Oklahoma State's greatest challenge in league play will be its limited size. That's why the loss of Cobbins is such a blow for the program.
And Clark has averaged nearly 20 minutes per game for Oklahoma State. His 3.7 APG against 1.9 TPG comprises a better assist-to-turnover ratio than Smart's (4.1 APG, 2.9 TPG). He also answers the most significant question each night about Smart. What happens if the sophomore star endures early foul trouble?
With Clark's future in jeopardy and Cobbins out, Oklahoma State enters its matchup against Kansas State with questions that it can't answer until tipoff. But this is a different team without Clark and Cobbins.
If Smart is on the floor, Oklahoma State is still a contender. Its road to the title, however, is more complicated now. Depending on what Ford does with his lineup, Nash could log more minutes inside. Sophomore
Karami Murphy
's time on the floor should increase, too. And sharpshooter
Phil Forte
will be a greater factor in the backcourt.
Oklahoma State can make these adjustments and win the Big 12. But the Pokes will be on the road against a Kansas State squad that hasn't lost since Nov. 22 and owns a win over WCC contender Gonzaga.
With three or four potential contenders in the Big 12, one or two losses could separate the champ from the No. 2 team in the league. So an early stumble on Saturday could cost Oklahoma State down the road.
Oklahoma State's most immediate concern, however, is its new reality and the pressure it will face on the road in its first game of conference action.
January, 11, 2013
1/11/13
5:00
PM CT
Kansas is still the heavy favorite to win a ninth consecutive Big 12 title. But its path to the championship may be more difficult than Big 12 fans expected. That was evident Wednesday, when Iowa State nearly upset Bill Self's squad at Allen Fieldhouse. Some late-game heroics by
Ben McLemore
sparked a furious comeback that resulted in a 97-89 Kansas victory in overtime. Still, the effort by the unranked Cyclones served as a reminder that there are other capable teams in this league besides the Jayhawks. Here's a look at this week's Big 12 power rankings.

1. Kansas.
The Jayhawks have won 100 of their past 101 games at Allen Fieldhouse. The only home game they've lost there in the last six-plus years came against Texas in 2011, the morning after forward Thomas Robinson's mother passed away unexpectedly. KU plays at Texas Tech on Saturday before hosting Baylor on Monday. McLemore averages a team-high 16.9 points.
2. Iowa State.
It's rare that a team moves up in the polls after a loss, but the poise the Cyclones displayed in Wednesday's setback against KU was remarkable considering the opponent and venue. This team has a lot of nice pieces and will continue to improve as long as Michigan State transfer
Korie Lucious
plays at a high level. Fred Hoiberg is one of the country's more underrated coaches.
3. Baylor.
The Bears opened Big 12 play with an overtime win against Texas and looked scary good in Tuesday's road-thumping of Texas Tech. Baylor won by 34 points but probably could've beaten the Red Raiders by 60. Scott Drew, who returns to the bench this weekend after serving a two-game suspension, has already led his team to a victory at Kentucky's Rupp Arena. Winning against Kansas at Allen Fieldhouse on Monday will be even tougher.
4. Kansas State.
Rodney McGruder
looked like the best player in the league while scoring 26 points in the second half of Saturday's home victory against then-No. 22 Oklahoma State. Winnable road games against West Virginia (Saturday) and TCU (Wednesday) are up next. Reserve forward
Nino Williams
is averaging 16.5 points off the bench in his past two games.
5. Oklahoma State.
The Cowboys snapped a two-game losing streak with an 18-point home win over TCU on Wednesday. OSU needs to get more production out of wing
Le'Bryan Nash
. The potential first-round NBA draft pick ranks third on the team in scoring with 13.7 points per game. But he's shooting just 42.8 percent from the field and 24.1 percent from 3-point range.
6. Oklahoma.
The Sooners are the Big 12's most improved team. Lon Kruger's squad opened conference play with a road victory at West Virginia. Sure, the Mountaineers are struggling. But winning in Morgantown isn't easy no matter what. A victory in Saturday's Bedlam game against Oklahoma State in Norman would give the Sooners a huge jolt of momentum and generate legitimate NCAA tournament buzz.
7. West Virginia.
Bob Huggins' squad showed a ton of resolve by battling back from a double-digit deficit to force overtime against Texas in Austin on Wednesday. WVU went on to win 57-53 for its first league victory as a member of the Big 12. As poorly as things have gone for the Mountaineers thus far, a home win over K-State on Saturday could alter the course of their season. Huggins spent a year as KSU's head coach before taking over at WVU in 2007.
8. Texas.
After two consecutive overtime losses to open Big 12 play, it's tough to envision the Longhorns (8-7, 0-2) extending their streak of 14 straight NCAA tournament berths. Heck, at this point, they might not even make the NIT. Texas' next three games are: on the road against Iowa State, at home against Kansas and on the road against Oklahoma. The Longhorns will be underdogs in each.
9. Texas Tech.
Longtime followers of the Big 12 have opined that TCU might be the worst team in the history of the conference -- and that Texas Tech might be the second-worst. The Red Raiders weren't even close to being competitive in Tuesday's 34-point loss to Baylor. Whoever takes over this program in the spring will have a massive rebuilding job on his hands.
10. TCU.
No one will be surprised if the injury-riddled Horned Frogs finish 0-18 in Big 12 play. Their best chance for a victory game in last week's league opener against Texas Tech, but TCU lost at home by nine points. Saturday's road tilt at Baylor will be followed by back-to-back home games against Kansas State and Iowa State.
December, 21, 2012
12/21/12
9:46
AM CT
A Big 12 team other than Kansas finally picked up a quality nonconference victory when Texas upset North Carolina in Austin on Wednesday. Don't get too excited, though. This league still has a long way to go. Here are this week's power rankings.
1. Kansas.
Saturday's tilt with No. 7 Ohio State in Columbus will be the first true road game for Bill Self's squad. The Jayhawks' three most recent victories -- against Colorado, Belmont and Richmond -- came by an average of 31 points.
Jeff Withey
leads the nation with 5.4 blocks per game.

2. Oklahoma State.
Kudos to the Cowboys, who have won four straight since losing at Virginia Tech on Dec. 1. Travis Ford's squad, which gets a combined 30.2 points per game from
Le'Bryan Nash
and
Markel Brown
, hosts Tennessee Tech on Saturday and then has eight days off before a New Year's Eve date with Gonzaga in Stillwater.
3. Iowa State.
Christmas has come early for the Cyclones, who don't play again until Jan. 1. Guard
Tyrus McGee
has been playing extremely well for Fred Hoiberg's squad. He's averaging 13.3 points and shooting 48 percent from 3-point range. Iowa State is 9-3 with losses to Cincinnati, UNLV and Iowa.
4. Baylor.
The Bears host Brigham Young on Friday. They. Have. To. Win. Seriously, a team that's already toting home losses to College of Charleston and Northwestern can't afford to drop another non-league game against an inferior opponent. Baylor has zero chemistry on offense.
5. Kansas State.
The Wildcats' two losses are to Michigan (in New York) and to Gonzaga (in Seattle. That's nothing to be ashamed of. Still, even against mediocre teams at home, Kansas State has struggled to score. That's not a good thing for a team that takes on Florida on Saturday in Kansas City.
6. Texas.
Myck Kabongo
won't play for the Longhorns this season, but Texas didn't even need him during Wednesday's 85-67 whacking of an alarmingly sloppy, uninspired North Carolina club. Texas, which is getting 15.5 points from
Sheldon McClellan
, could pick up some additional momentum with a victory at Michigan State on Saturday.
7. Oklahoma.
Wouldn't you know it? The minute I start complimenting the Sooners for the strides they've made under Lon Kruger, Oklahoma goes out and drops a game to Stephen F. Austin. That's inexcusable, boys. The Sooners' next game, a Dec. 29 visit from Ohio University, won't be a cakewalk.
8. West Virginia.
The Mountaineers ended a two-game losing streak by squeaking past Oakland on Wednesday. Still, Bob Huggins' squad may be the Big 12's biggest disappointment thus far. Transfers
Aaric Murray
and
Juwan Staten
are averaging a collective 20.5 points.
9. Texas Tech.
Chris Walker is going to have a tough time earning the permanent head-coaching position if his team can't beat McNeese State at home. The Red Raiders showed some fight against Alabama three nights later but still lost 66-62. Arizona State, Saturday's opponent, is pesky.
10. TCU.
The Horned Frogs haven't caught any breaks in Trent Johnson's first season. Aaron Durley and Amric Fields were both lost to ACL injuries, and now
Jarvis Ray
is out six to eight weeks with a broken foot.
October, 18, 2012
10/18/12
4:00
PM CT
Here are five storylines I look forward to following in the Big 12 this season.
What I can't wait to see:
How will Kansas replace Thomas Robinson?

I know the Jayhawks have the goods to make a run at their ninth consecutive Big 12 title.
Jeff Withey
proved his worth in last season's run to the Final Four. He's one of the top interior defenders in America. And he has spent a lot of time working on his mid-range game. He should be a different player this season.
Highly touted recruit
Perry Ellis
joins the fold. I think
Elijah Johnson
can carry the program. And
Ben McLemore
is a projected lottery pick on some boards. Losing Tyshawn Taylor and Thomas Robinson will hurt, but it's not as though Bill Self hasn't replaced top-notch talent in the past.
Robinson, however, was an emotional leader for the team as much as he was its top player a season ago. There were moments in which the Jayhawks appeared to be on the brink of collapse and he simply willed them to a victory. I think that's the one question facing this team. Who's that guy right now? Perhaps it's Withey or Johnson. But someone clearly has to assume that role early, especially with so many young players in the mix. A failure to identify a player in that vital position could prove detrimental in Big 12 play.
What is Oklahoma State's ceiling?
Oklahoma State should challenge Kansas and Baylor for the Big 12 title. "Should" is the key word. But the Cowboys will fulfill their potential only if they find a way to play disciplined basketball, a challenge for the program last season.
It just didn't make sense for a program with this talent (
Le'Bryan Nash
,
Markel Brown
) to struggle the way it did last season (15-18, 7-11 Big 12). Freshman
Marcus Smart
has been listed as one of the top young point guards in America. If he can bring Oklahoma State's talented contributors together and teach them to man up on defense, Travis Ford could have a special year with this program. That, however, is the biggest "if" in the Big 12.
How will Bruce Weber and Bob Huggins fare in the Big 12?
The league welcomes Kansas State's Bruce Weber and West Virginia's Bob Huggins to the mix this season. Both coaches found success in their former leagues (Big Ten and Big East, respectively). And I think they have the talent to make a great first impression (though Huggins coached at Kansas State, so he has been in the Big 12 before) in 2012-13.
Rodney McGruder
and
Jordan Henriquez
give Weber the building blocks for a successful debut. Weber scored solid recruits at Illinois, but he couldn't meet expectations after the program's Final Four run. The expectations at Kansas State should be more modest, which should allow Weber to coach comfortably and challenge for a spot in the top tier of the league.
Huggins might have a sleeper in West Virginia. The Mountaineers are all over the board on preseason projections. But
Deniz Kilicli
and a heap of impact transfers (
Juwan Staten
,
Aaric Murray
and
Matt Humphrey
) form a nucleus that could surprise the conference in 2012-13.
Last place goes to TCU or Texas Tech?
Both teams are hurting. Texas Tech lost Billy Gillispie during a highly publicized offseason mess. And according to players, that's what they wanted. But even with him, Texas Tech's chances of escaping the bottom of the league were slim with only six scholarship players returning from last season's 8-23 squad. Trent Johnson introduces TCU to the league in what could be a very humbling debut. Johnson just doesn't have a lot of talent on the roster. He'll certainly take his lumps early. He already has added some pieces that will be available for the future. But for both TCU and Texas Tech, 2012-13 will be a tough season.
Can Baylor put it all together and upset Kansas?
Baylor is America's "on paper" team. On paper, last season, the Bears looked like national championship contenders with Quincy Miller, Perry Jones and Quincy Acy. They were good. But various challenges throughout the season brought criticism to Waco. Even though they reached the Elite Eight, the Bears didn't seem to come together until March. In 2012-13, Scott Drew has a roster that can challenge Kansas for the Big 12 title. He has one of the best backcourts in America (
Pierre Jackson
,
Brady Heslip
,
Deuce Bello
,
Gary Franklin
and
A.J. Walton
) and he's bringing in one of the top freshmen in the country in
Isaiah Austin
. If he can get this group to play to its strengths, Baylor will be the Jayhawks' toughest challenger for the Big 12 crown. The potential, once again, is very high. But seeing is believing with the Bears.
January, 26, 2012
1/26/12
12:29
AM CT
Shortly after he arrived on campus,
Le'Bryan Nash
was given a list of rules to follow as a member of the Oklahoma State basketball team. One stood out above the rest.
Never say anything negative.
"All negative talk does is bring people down," Nash said. "We always talk positive, always try to lift each other up."
It hasn't been easy.
[+] Enlarge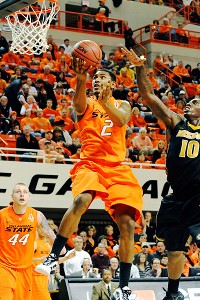 AP Photo/Brody SchmidtLe'Bryan Nash scored 27 as Oklahoma State upset No. 2 Missouri in Stillwater.
Oklahoma State entered Wednesday's game against second-ranked Missouri toting a 9-10 record and a three-game Big 12 losing streak. Part of the problem was Nash, who appeared to be crumbling under high expectations. A consensus top-10 recruit, Nash was averaging just over 11 points while shooting 35 percent from the field.
None of that mattered against the Tigers.
In what was easily the best game of his young career, Nash scored 27 points on 12-of-18 shooting to spark Oklahoma State to a
79-72 victory
over Missouri at Gallagher-Iba Arena. Cowboys fans rushed the floor and mobbed Nash as he and his teammates celebrated at center court.
"This win is going to do a lot for this team -- especially me," Nash said about 30 minutes later in a phone interview with ESPN.com. "My confidence has been up and down.
"I haven't been consistent scoring the ball, and I've needed to be more consistent as far as playing hard. That was one of the hardest games I've ever played in my life, because I wanted to win. When I play hard, good things will happen for me and this team."
Nash's big game came days after he scored just four points in a 66-58 home loss to Kansas State. One week earlier he managed six points in Oklahoma State's worst game of the season, a 41-point thumping at Baylor.
What's baffling is that Missouri beat that same Baylor squad in Waco, Texas, on Saturday, but couldn't beat Oklahoma State in Stillwater. Nash said he didn't feel as if the Tigers took him and his teammates lightly.
"(Missouri point guard)
Phil Pressey
is a good friend of mine," Nash said. "He talks to me all the time. He told me that if they didn't play their game, they could get upset. Their coach was motivating their team to play well, because (he knew) that they could get upset. I guess they didn't listen to him."
Oklahoma State -- which also got 22 points from guard
Brian Williams
-- shot 59 percent from the field Wednesday. This is a team that hadn't shot better than 50 percent against any opponent this season. Then again, Baylor shot 57 percent against Missouri in the Tigers' 89-88 victory on Saturday.
"We knew we could score at will against them," said Nash, who also praised Oklahoma State's effort on the other end of the court. "On defense ... we knew they liked to get out and run, that they are a transition team that likes to get quick shots.
"We tried to make them work and take long shots. We made them run down the (shot) clock and run their offense."
The victory brought smiles to the faces of Oklahoma State supporters, who have watched their team suffer through a brutal season marred by health issues and transfers. Third-leading scorer J.P. Olukemi suffered a season-ending knee injury in a loss to Virginia Tech on New Year's Eve. Around that same time, veterans Reger Dowell and Fred Gulley announced that they were transferring.
That put even more pressure on Nash who, by that point, didn't need it.
"Coming in as the highest-rated recruit in the history of the program, I knew all the hype was going to be about me," Nash said. "It was just motivation for me. When I don't play well and people say negative stuff, that just gives me motivation to play even harder, even better."
Oklahoma State's next two games -- against Texas A&M (Saturday) and Texas Tech (Tuesday) -- are both on the road.
"We've only got one road win all season," Nash said. "Everyone knows we can win at Gallagher-Iba, but doing it on the road is a lot tougher. But tonight shows that if we play hard, we can win any game we play.
"I'm just going to keep my head high, keep getting better and keep playing OSU basketball."
December, 28, 2011
12/28/11
8:15
AM CT
Oklahoma State will be looking to break a three-game skid vs. SMU, which has won five of its last six games, in the opening game of the second annual Dallas Showcase at American Airlines Center on Wednesday night.

The game -- the first of a doubleheader -- is scheduled to tip off at 5:30 p.m. and will be telecast on ESPNU.

SMU (7-4), making its first appearance at the AAC, will be battling Oklahoma State for the first time since 2005. Three of the Mustangs' four losses have been by a combined nine points.

"With young players, sometimes they get ahead of themselves and think they are better than they are and then you take a step back," said SMU coach Matt Doherty, whose roster includes eight freshmen and two sophomores. "Hopefully we've taken some steps backwards and have gotten better. This will be a great test for us."

The Cowboys (6-5) aren't much older. OSU's roster features six freshmen and one sophomore. Former Dallas Lincoln All-American Le'Bryan Nash, a 6-7, 230-pound freshman forward, leads OSU with 13.1 points and 7.1 rebounds per game.

"We have put our team in a very difficult situation as far as the schedule (is concerned)," OSU coach Travis Ford said. "We haven't played at home very often and we've played against teams much more experienced than us, but we're hoping at the end of the day it will help us get better down the road."

Tickets are on sale through Ticketmaster.com or at the American Airlines Center box office. Lower arena seats are priced at $29, $59 and $99. A portion of each ticket benefits Buckets and Boots, a Texas-based charity that supports volunteer firefighting efforts.
December, 9, 2011
12/09/11
1:46
PM CT
Based on results and not preseason expectations, here's my attempt at ranking the Big 12 teams one month into the season:
1. Baylor
: The Bears are the most talented team in the Big 12, and it's not even close. Just ask previously unbeaten Northwestern, which shot 24.1 percent in a 69-41 home loss to Baylor last weekend. The frontline is imposing, but guard play will determine the Bears' fate. Juco transfer
Pierre Jackson
(11.9 ppg, 4.4 apg) is off to a nice start.

2. Missouri
: Frank Haith's detractors are eating their words, as the guard-oriented Tigers have been one of the most impressive teams in the country thus far. Senior
Marcus Denmon
(21.8 ppg) has looked like an All-American candidate in victories against Notre Dame, Cal and Villanova.
Kim English
is playing the best basketball of his career.
3. Kansas
: We'll know a lot more about the Jayhawks after Saturday's game against Ohio State. For now, though, KU's streak of seven straight Big 12 titles appears to be in jeopardy. Forward
Thomas Robinson
(17.4 ppg, 12 rpg) will contend for national player of the year honors, but a lack of depth and poor guard play -- Kansas committed 22 turnovers Tuesday against Long Beach State -- have been issues.
4. Texas A&M
: The Aggies have done an admirable job in the absence of top player
Khris Middleton
, who is hoping to return in time for A&M's game against Florida on Dec. 17. Billy Kennedy's squad has won its past four games by an average of 16.3 points. Forward
Ray Turner
(14.3 ppg) and guard
Elston Turner
(12.2 ppg), a Washington transfer, have led the way thus far.
5. Kansas State
: The Wildcats aren't as strong as they've been the past few seasons, but Frank Martin has done an impressive job with a team that has a lot of nice pieces but no true star.
Jamar Samuels
is averaging 13 points and 9 rebounds for squad that beat Virginia Tech on the road before dropping a double-overtime heartbreaker to West Virginia on Wednesday.
6. Texas
: The Longhorns are rebuilding after losing Jordan Hamilton, Cory Joseph and Tristan Thompson to the NBA draft. But a pair of gut-wrenching losses (in overtime against Oregon State and by three to NC State) apparently didn't do anything to squelch Texas' spirits. Rick Barnes' squad is on a four-game winning streak thanks in part to J'Covan Brown (19.4 ppg).
7. Oklahoma State
: The Cowboys haven't been all that impressive. They lost to unranked Virginia Tech and Stanford in the NIT, and only managed narrow wins against UT-San Antonio and Tulsa. Highly touted freshman LeBryan Nash has been inconsistent, and is shooting just 40 percent from the field and 29 percent from 3-point range.
8. Iowa State
: Fred Hoiberg's squad has been the league's biggest disappointment thus far. Despite a cast of talented transfers and one of the top all-around players in the conference (
Royce White
), Iowa State finds itself toting losses to Drake and Northern Iowa, the latter of which came at home.
9. Oklahoma
: Lon Kruger is doing an excellent job during his first year in Norman, so don't be surprised if the one-loss Sooners move up a few spots in the rankings in the coming weeks. Nonconference wins against Houston, Arkansas and Cincinnati would do wonders for OU's confidence as it prepares to enter Big 12 play.
10. Texas Tech
: Billy Gillispie is doing the best he can, but he's basically working with a group of freshmen and junior college transfers who had never played a minute of Division I basketball prior to this season. The Red Raiders went 0-3 in the Old Spice Classic, losing to Indiana State, DePaul and Wake Forest. It's going to be a long season in Lubbock.